African Okra Soup
Published Jan 07, 2022
Updated Mar 31, 2023
Hearty and nourishing are some of the words to describe this African Okra Soup. It goes well with fufu of any kind or garri.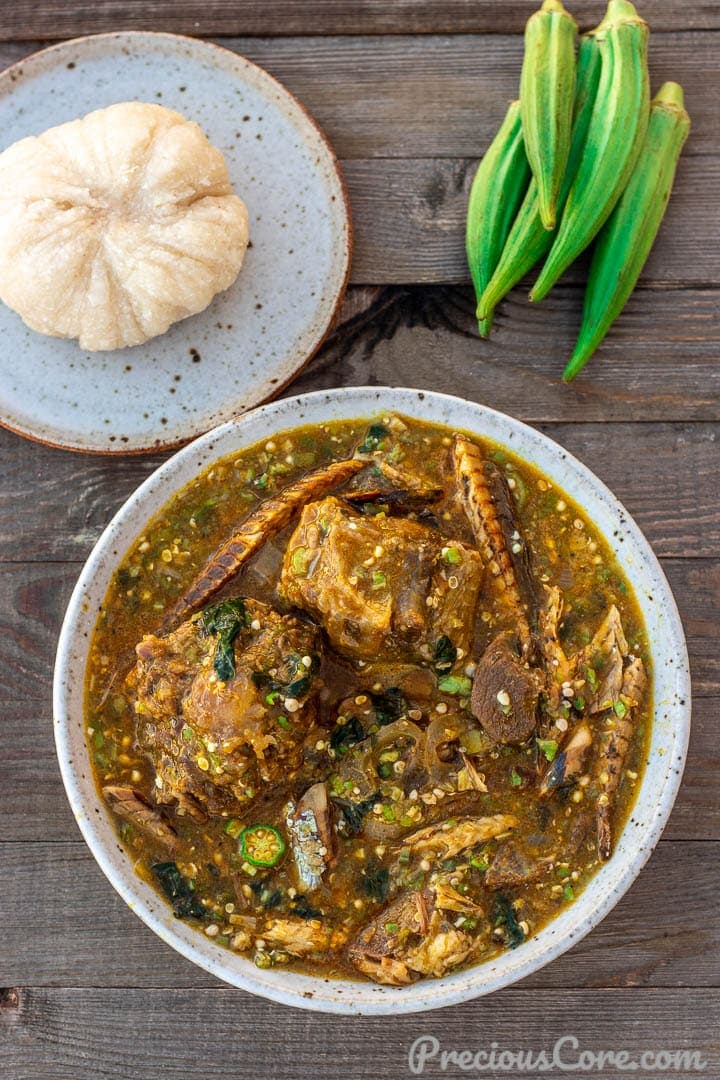 Okra Soup with fufu is a meal that is eaten across West and Central African countries. In French-speaking African countries, Okra Soup is called "gumbo".
The American meal gumbo could have originated from the enslaved people who were brought from Africa. Both meals are similar in that they contain okra (though present day American gumbo is sometimes made sans okra.)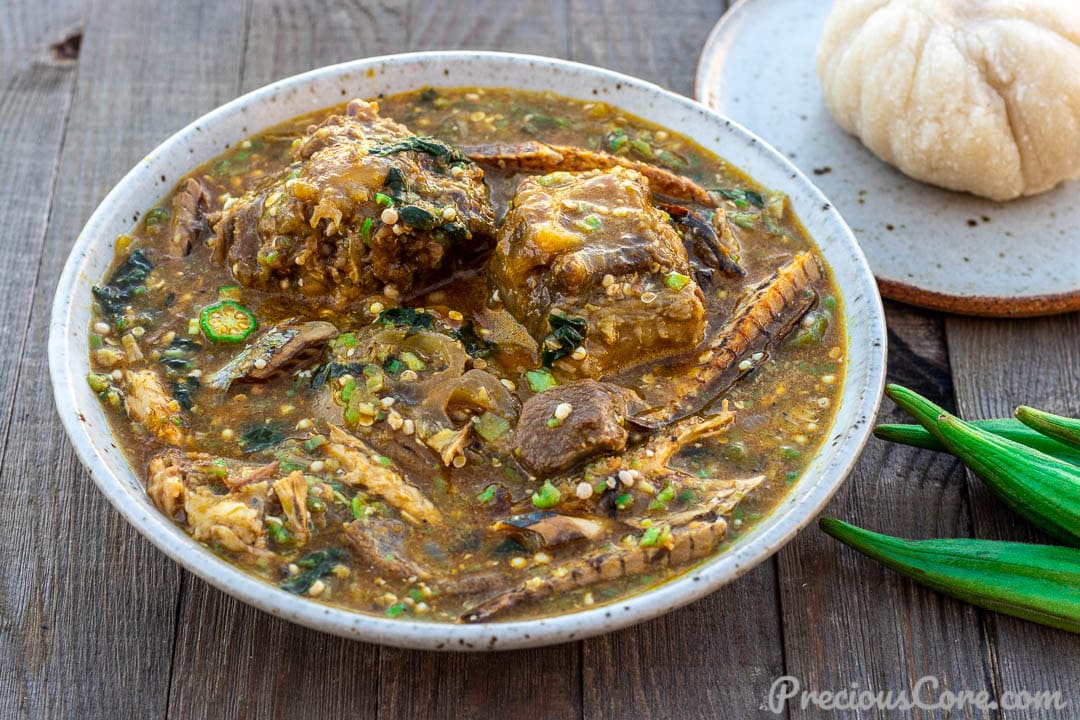 Another similarity is that different kinds of meat are used in the soup. Beef, goat meat, fish and other meats for African Okra soup and sausage, chicken shrimp and other sources of protein for American Gumbo.
But today we are all about this African Okra Soup made with fresh okra. Growing up in Cameroon in Central Africa this is one meal I always had paired with garri, corn fufu or cassava fufu.
Sometimes I make okra soup with egusi, sometimes I make it plain. But today I'm all about okra soup with lots of protein, a little bit of red palm oil for color and crayfish for some umami. It's a real treat!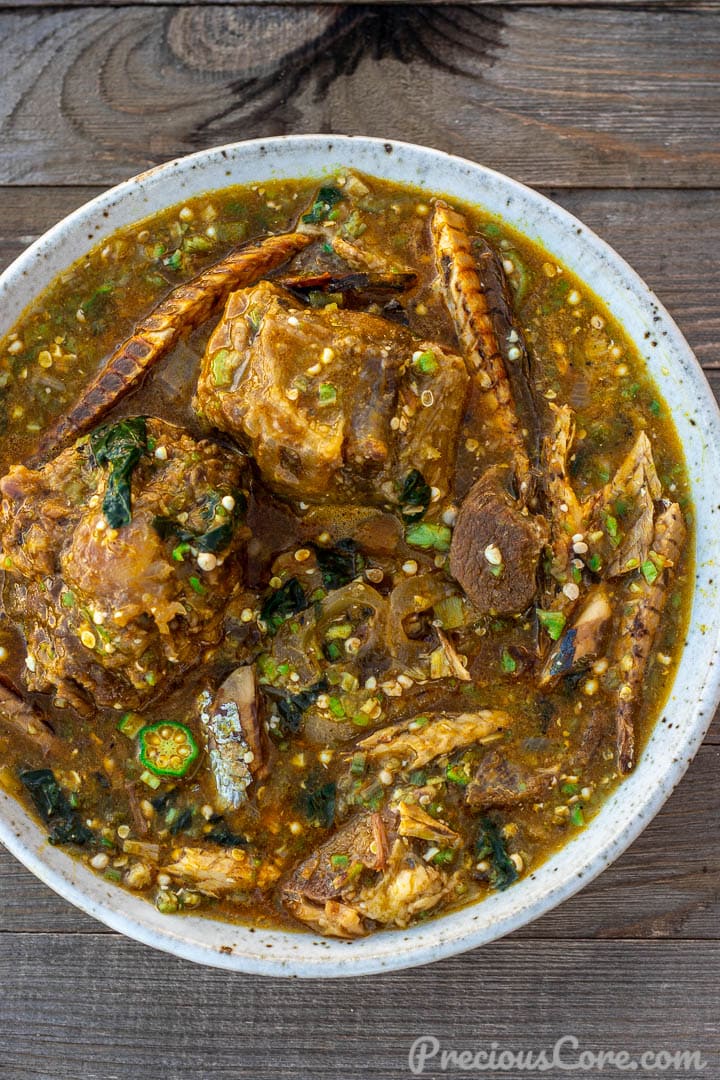 West African Okra Soup
When you eat this Okra Soup you have a true taste of West Africa. Still, note that different people cook their okra soup in different ways.
Pronounced as "okro" soup in West Africa there are many variations to this soup including a seafood version that has gained popularity in recent years.
If you are not familiar with West African cooking, some ingredients like red palm oil and crayfish might be strange to you. But do a quick search on Amazon and you will be able to purchase these ingredients online.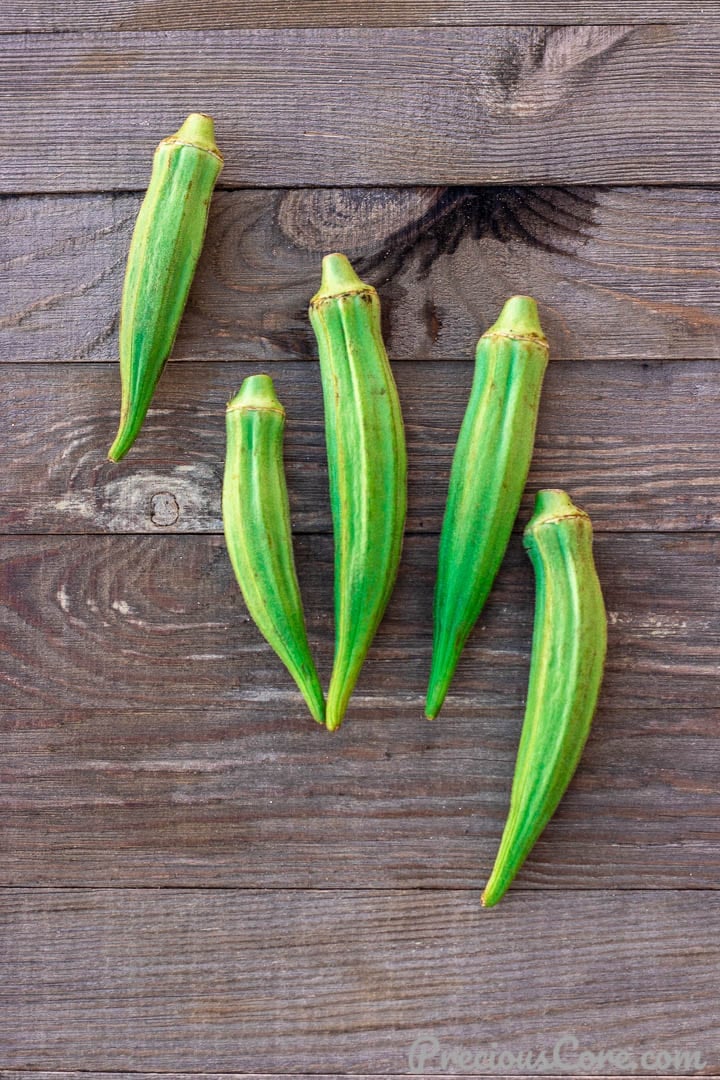 How To Make African Okra Soup
1. Boil meats with water, salt, and seasoning cubes until the meats are tender.
2. Add red palm oil to a pot and heat up. Add a little chopped onions and sauté to build a flavor base. Add crayfish and saute.
3. Add cooked meats and their stock to the pot. Bring to a simmer.
4. Add smoked or dried fish to the pot and let it simmer. Add full habanero peppers to the pot and let them simmer.
5. Add salt and seasoning/stock cubes to taste.
6. Add chopped okra to pot. Let it cook for 2-3 minutes. Tate and adjust seasoning as needed.
7. Add chopped spinach to pot and let it simmer for 1 minute.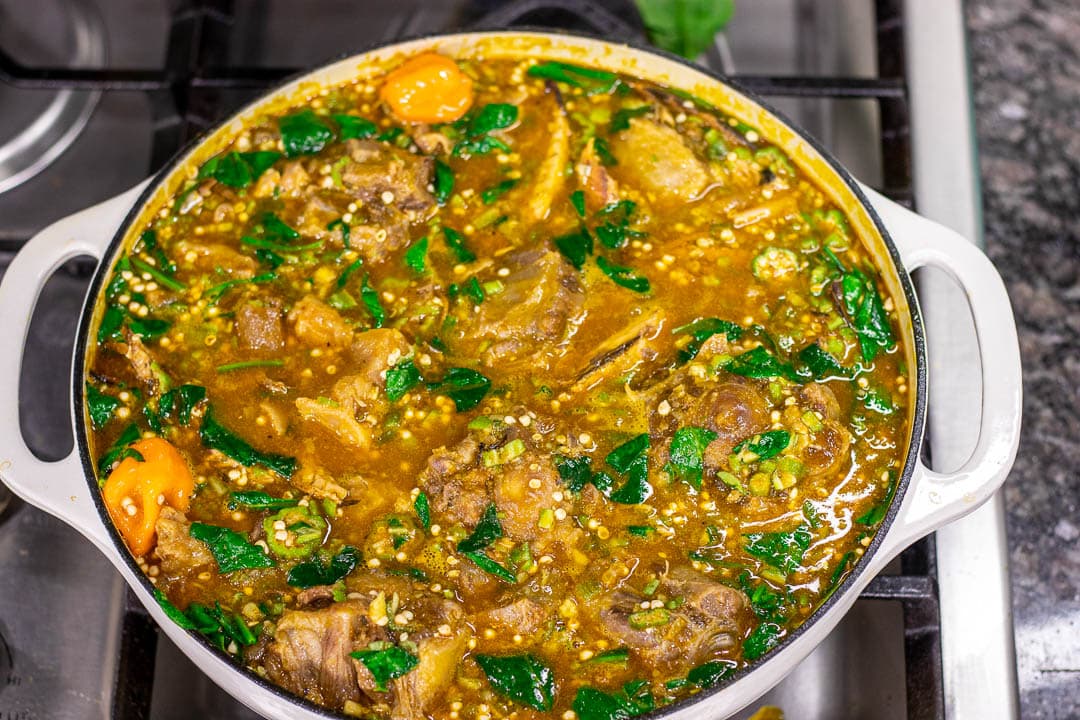 What To Serve With Okra Soup
Serve okra soup with any fufu of your choice. There are various kinds of fufu including:
Garri cooked hot.
Yam Fufu
Plantain Fufu
Watch How To Make African Okra Soup
Watch me show you step-by-step how to make African Okra Soup in the video below. If you would like to keep up with my cooking videos please subscribe to my YouTube channel and click on the notification bell.
More Hearty Soups and Stews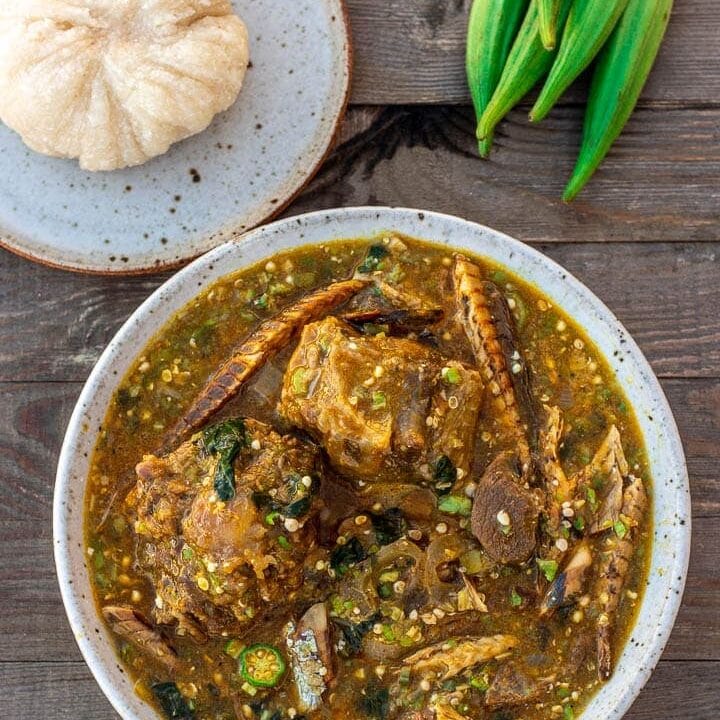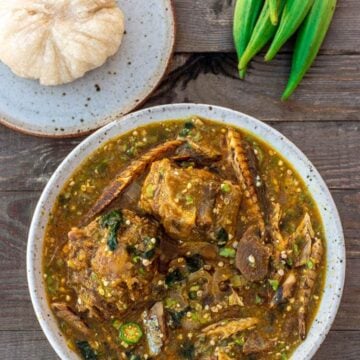 African Okra Soup
Hearty, healthy are some of the words to describe this African Okra Soup. It goes well with fufu of any kind or garri.
Ingredients
3-4

pounds

oxtail, goat meat, cow leg (foot cow), about 2 kg

boiled with water, salt , onions (for flavor), and stock cubes (Maggi) until tender

4

oz

smoked fish (deboned)

About 1 1/2 cups

1/3

cup

red palm oil

1/2

cup

chopped onion

1/3

cup

crayfish (coarsely ground)

crayfish is a kind of dried shrimp common in Cameroon, Nigeria, in West Africa

4

cups

beef stock

from boiling the meats used in this recipe

2

seasoning cubes (Maggi)

4g per cube

Salt to taste

2

habanero peppers (optional)

1

pound

fresh okra (chopped into circles), half kg

5

oz

fresh spinach (roughly chopped)
Instructions
Boil the Meats. Rinse the meats you choose to use thoroughly then put them in a pot. Add water to just over above the meat. Add salt and seasoning cubes (Maggi) as needed. Also add half a medium onion (chopped). Cover and let it cook on high heat until the meat is tender.

Note: start boiling tougher meats first before adding the other meats or boil all the meats at the same time then take out the ones that get tender first and leave the others to cook.

A pressure cooker or an instant pot makes boiling the meats easier.

Place a pot on high heat and pour in the palm oil. Let it heat up for 2 to 3 minutes then reduce the heat to medium high and add the onions and let them sauté for about 1 minute while stirring from time to time.

Add the crayfish to the pot and stir for only a few seconds to release its flavor. Do not allow the crayfish in oil for long or the crayfish will burn.

Add the cooked meats to the pot, followed by their stock. Bring to a simmer, spooning some of the liquid over the meats if they are not completely submerged.

Add the smoked fish to the pot. Taste for salt then add the 2 seasoning cubes. Note that seasoning cubes are salty so be the judge and use less if your stock was salty enough. Let everything simmer together on medium heat.

Add the habanero peppers whole to the pot. I do it this way to soften the peppers so those who want spicy soup can press some of the pepper into their soup to release its spiciness.

However, if you want the entire soup spicy feel free to blend one habanero pepper with water then add it to the soup.

While the pot simmers prepare the okra. Place about a cup of the okra into a blender or food processor and pulse about 2 seconds at a time to reveal a chopped consistency. (You can see how I do this in the video).

Repeat the process with all of the okra.

Add the okra to the pot. Gently stir to ensure it is evenly distributed. Let it cook for 2 minutes.

Add the spinach to the pot and stir in. Let everything cook for another 2-3 minutes. Turn off the heat and serve hot with your fufu of choice.
Notes
1. Types of meat you could use in this okra soup include beef, goat meat, beef tripes, smoked turkey, smoked chicken, beef feet, chicken.
2. For fish, you could use smoked fish, dried fish, stock fish, fresh mackerel or any fish with firm flesh.
3. If using stock fish, you'll have to cook it separately until done then add to the pot at the same time the recipe calls for fish to be added.
4. All smoked fish and dried fish must be properly deboned before adding to the pot.
5. To make spicy okra soup, blend one habanero pepper and add to the pot.
Nutrition
Calories:
645
kcal
|
Carbohydrates:
21
g
|
Protein:
62
g
|
Fat:
34
g
|
Saturated Fat:
15
g
|
Polyunsaturated Fat:
2
g
|
Monounsaturated Fat:
15
g
|
Cholesterol:
173
mg
|
Sodium:
25173
mg
|
Potassium:
697
mg
|
Fiber:
2
g
|
Sugar:
17
g
|
Vitamin A:
1687
IU
|
Vitamin C:
18
mg
|
Calcium:
143
mg
|
Iron:
7
mg