HOW TO MAKE WATER FUFU FROM SCRATCH – CASSAVA FUFU
Published Jul 14, 2017
Updated Sep 26, 2018
The word fufu is almost synonymous to some African countries. We love our fufu be it corn fufu, yam fufu or cassava fufu (water fufu). Fufu, foo foo or fou fou is a starchy side that is usually eaten with some sort of soup or vegetable. One of the common types of fufu is that made out of cassava. In Nigeria, it is called Cassava Fufu or Akpu. In Cameroon, it is called Water Fufu.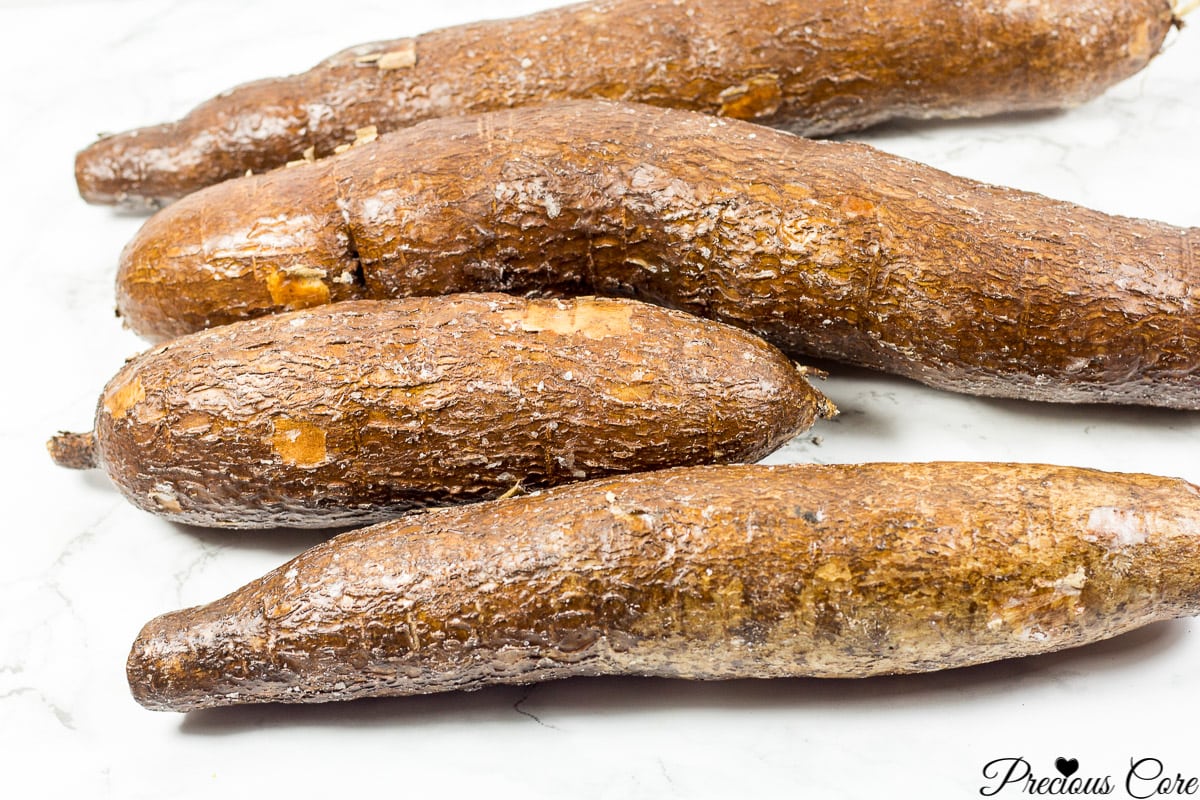 Water Fufu is made by fermenting some cassava, also known as yuca root. The fermented cassava is ground into a puree which is eventually cooked into delicious fufu.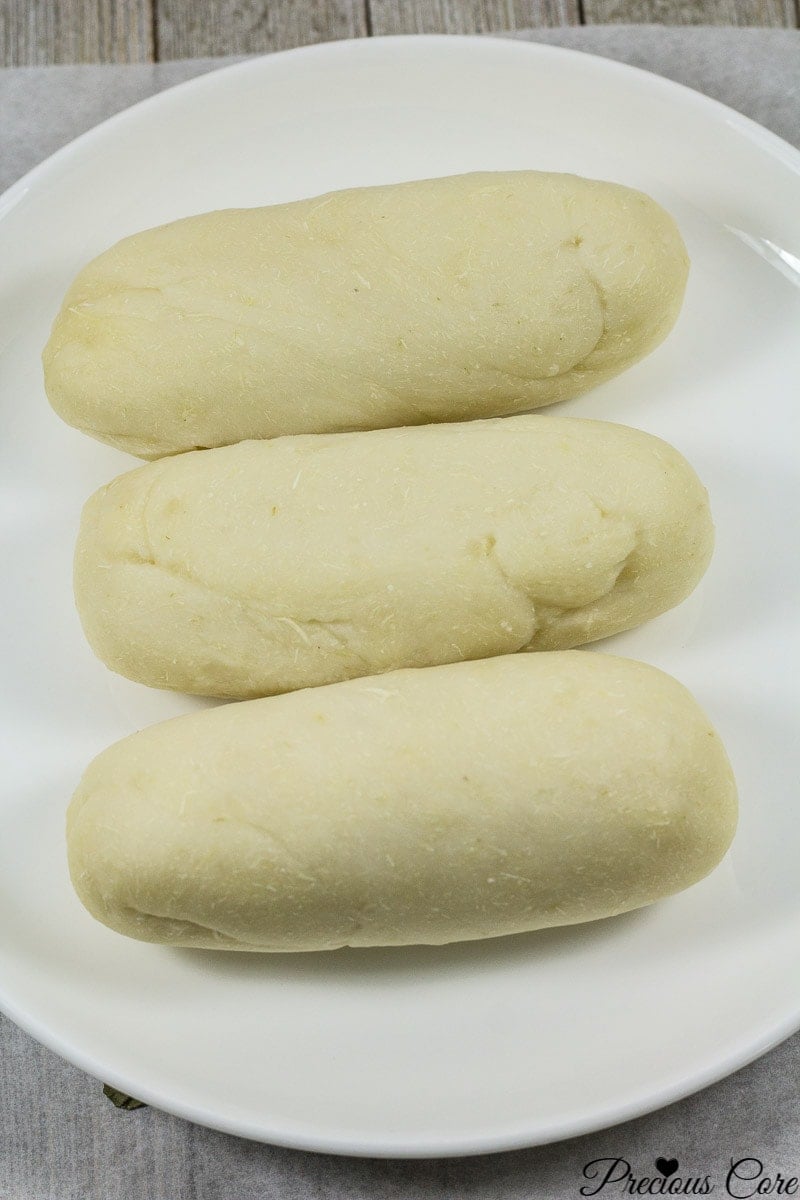 This can be eaten with a number of soups like ogbono soup or okra soup. The most common way it is eaten in Cameroon is with this vegetable called eru. The combination of water fufu and eru is absolutely delicious!
In Nigeria, cassava fufu is eaten with egusi soup, bitter leaf soup, ogbono soup, and a host of other soups. I love it with Nigerian egusi soup!
So how does it taste? Cassava Fufu has a taste that is hard to describe. Let's just say it tastes like ground cassava (LOL, I'm trying!) It has a rubbery texture and when paired with vegetable, it is so good.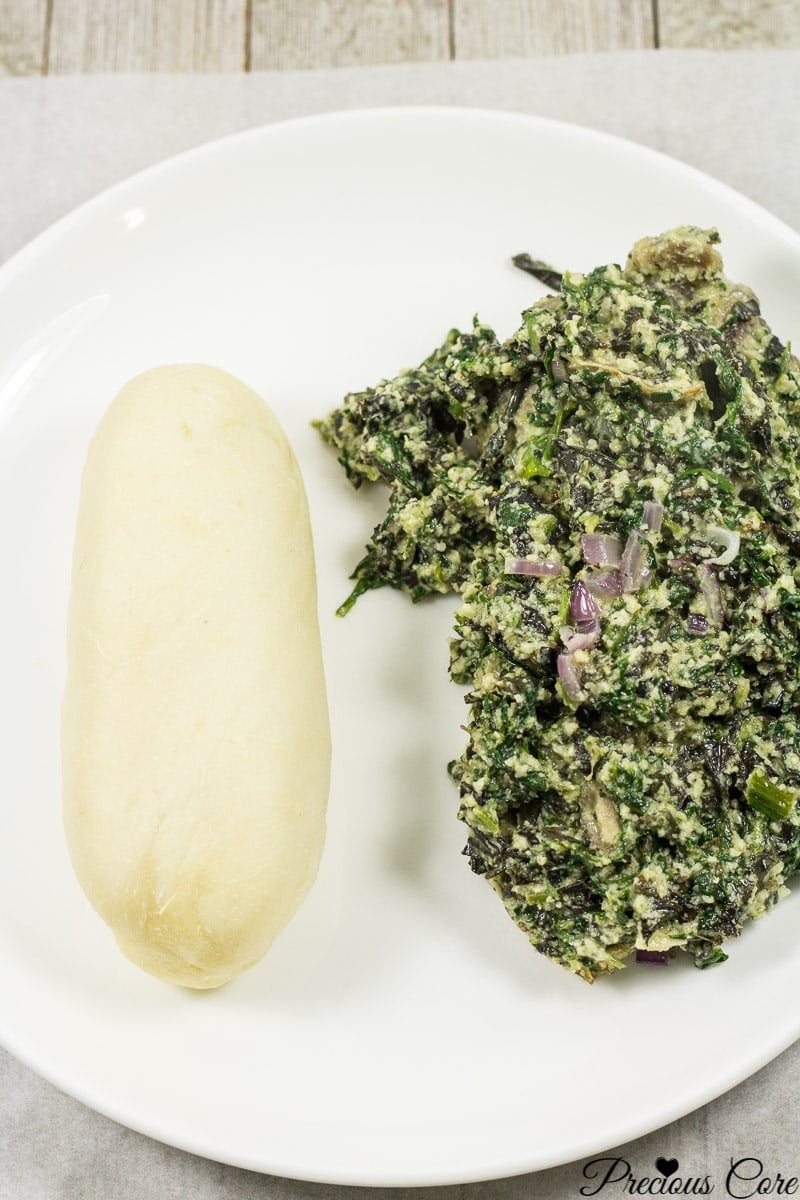 I served it here with Ndole because that's what I had at home (by the way, this combo is the truth!) I actually wanted to show you guys a picture of water fufu served with eru but I just couldn't resist eating all of the eru I had at home right after I finished making the fufu. Don't blame me – fufu and eru is just too good!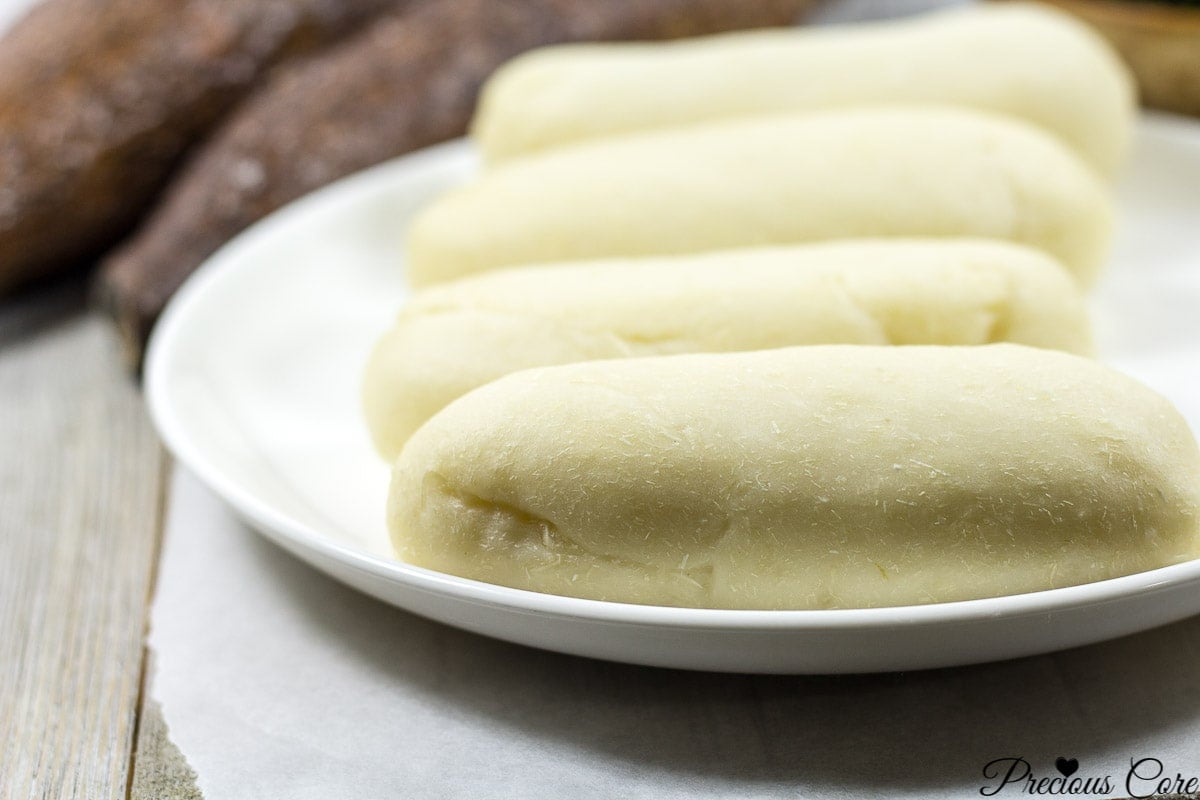 I made a video to show you guys how to make this fufu from scratch. Yep! You'll see me walk you through the entire process and share lots of tips on how to make your own Water Fufu. No matter where you are, as long as you can find cassava, you can make your own Cassava Fufu.
Watch how to make Water Fufu: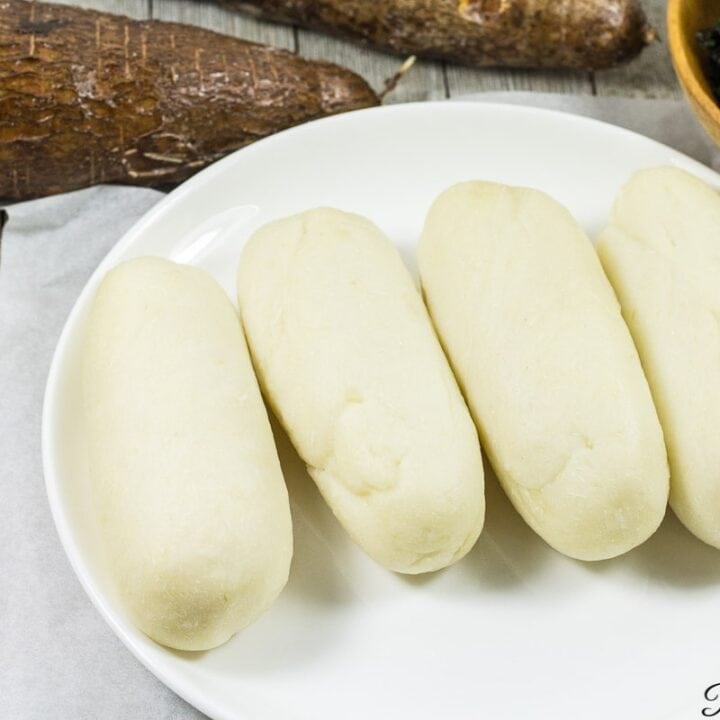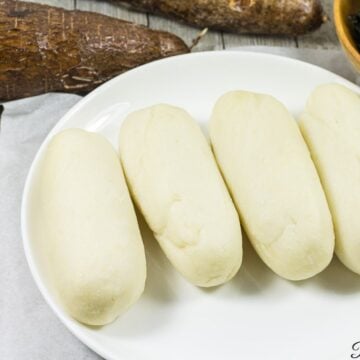 How to Make Water Fufu from Scratch - Cassava Fufu
Fufu is a staple in a good number of African countries. This version is made by fermenting cassava (yuca roots) then blending and cooking. It can be enjoyed with any soup of choice.
Ingredients
6

large tubers of cassava (yuca root)

2

teaspoons

baking soda

optional
Instructions
Peel the cassava. Cut each tuber into 5 or 6 pieces then split each piece in the middle part where you can see the fibre. Use a knife to lift up the skin from the divided cassava then use your knife or hand to take off the whole skin.

Wash the cassava thoroughly and place in a large container. Pour in water to completely cover the cassava then add in two teaspoons of baking soda. Cover the container and keep it to ferment in a warm corner for 3 - 5 days. To check if the cassava is well fermented, press with your fingers, if it is soft then it is okay. Note that all might not be very soft but if most are soft then you are good to go.

Strain the fermented cassava to remove excess water. Then place in a blender or food processor and process into a puree. You may have to do this in two batches.

Now remove any fibre you see in the puree. You can do this by either running your hand through the puree and picking out any fibre, or by adding water to the puree then passing it through a strainer. It is recommended that you use you hand if you intend on cooking the fufu right away.

Pour the puree into a clean kitchen towel or cheese cloth the squeeze to remove excess water. If you added more water to enable you pass the fufu through a strainer, you may need to squeeze longer. Or tightly tie the kitchen cloth containing the puree and place in the kitchen sink with a heavy object on top to help push out the water. When the excess water is out, your fufu is ready to be cooked!
To cook the cassava fufu:
Place the raw fufu in a pot then run through it with your hands to dissolve any excess lumps. Add a quarter cup of water and mix to form a paste.

Place on medium high heat then cover and let it rest for two minutes. Begin stirring with a wooden spoon, mixing hard enough to dissolve the lumps that form as it cooks.

Add water as needed (about 1 cup in total) while stirring to ensure that the fufu is not too strong. Please see video to see how the texture should be. Keep mixing on heat until the fufu moves from being bright white to an off-white colour. It is ready when it is an off-white colour.

Turn off the heat then mold the fufu into lumps (shaped like small logs of wood or like balls) if you wish.

Enjoy with any soup of choice! I love enjoying it with eru or ogbono soup.
Notes
1. The baking soda in this recipe helps initiate the fermentation process. This is important if you purchase your cassava outside Africa.
Nutrition
Calories:
783
kcal
|
Carbohydrates:
186
g
|
Protein:
7
g
|
Fat:
1
g
|
Saturated Fat:
0.4
g
|
Polyunsaturated Fat:
0.2
g
|
Monounsaturated Fat:
0.4
g
|
Sodium:
506
mg
|
Potassium:
1327
mg
|
Fiber:
9
g
|
Sugar:
8
g
|
Vitamin A:
64
IU
|
Vitamin C:
101
mg
|
Calcium:
78
mg
|
Iron:
1
mg