Seafood Gumbo
Published Mar 07, 2019
Updated Jan 02, 2023
This hearty luscious meaty Seafood Gumbo is the kind of meal to cook when you want to make a special dinner! I love all the flavors in this Southern dish!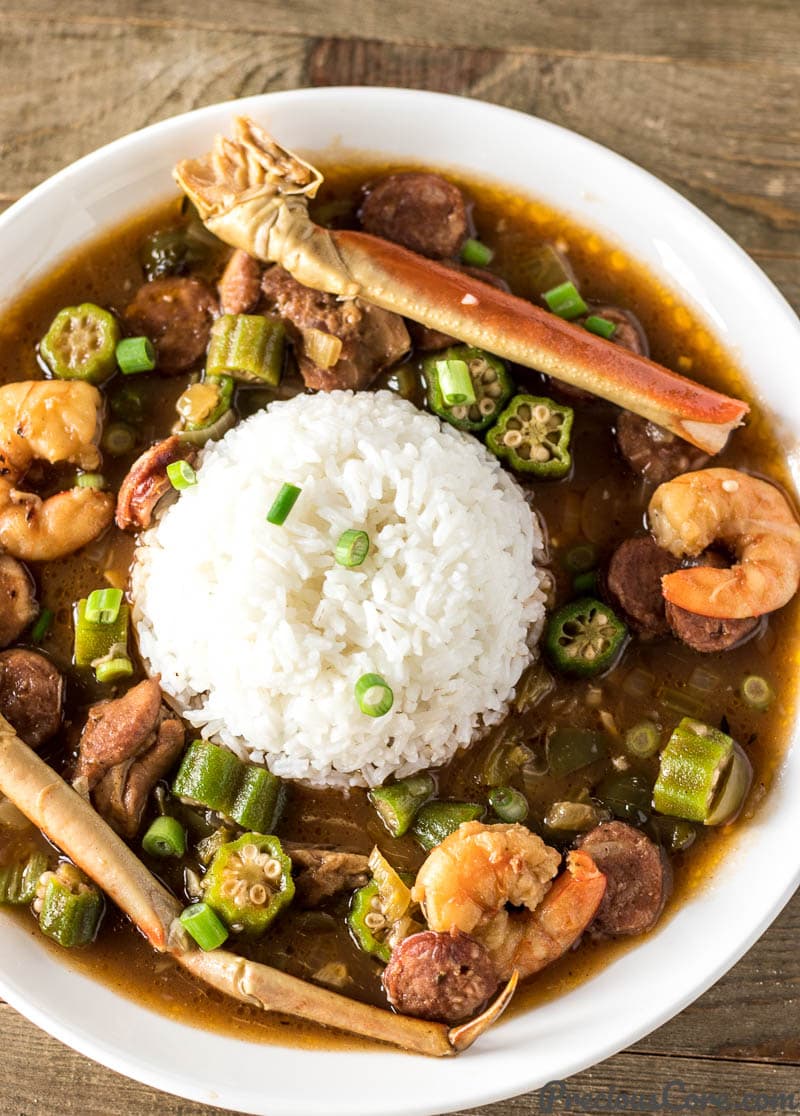 Because of how close gumbo is to West African cooking, I could tell that this Seafood Gumbo has its roots in West Africa where I grew up.
The mixture of seafood and meat in the same pot of food reminds me of the stews/soups I ate while growing up like African Okra soup or Egusi Soup.
About Gumbo
Gumbo is a meal native to the Creole/Cajun people of Louisiana, a Southern state in the United States. It is believed to have been developed by West African slaves who settled in the city of New Orleans in Louisiana years ago!
Gumbo is also said to have been influenced by French settlers in New Orleans. So this is food fusion at its best! Just like Jamaican Jerk chicken, this is a meal that tells a lot about the history of black people.
Gumbo literally means okra. In Cameroon, the French-speaking call okra soup Gumbo. That's why the main ingredient in Gumbo, is okra.
However, over the years the way the dish is made has evolved and some people make it this day without okra, using gumbo file instead.
Gumbo file is a powder made out of ground sassafras leaves and if you can't find it in a store near you, you could purchase it on Amazon.
Ingredients for Seafood Gumbo
1. The holy trinity: Onions, bell pepper, and celery are often referred to as the holy trinity of Cajun/Creole cooking.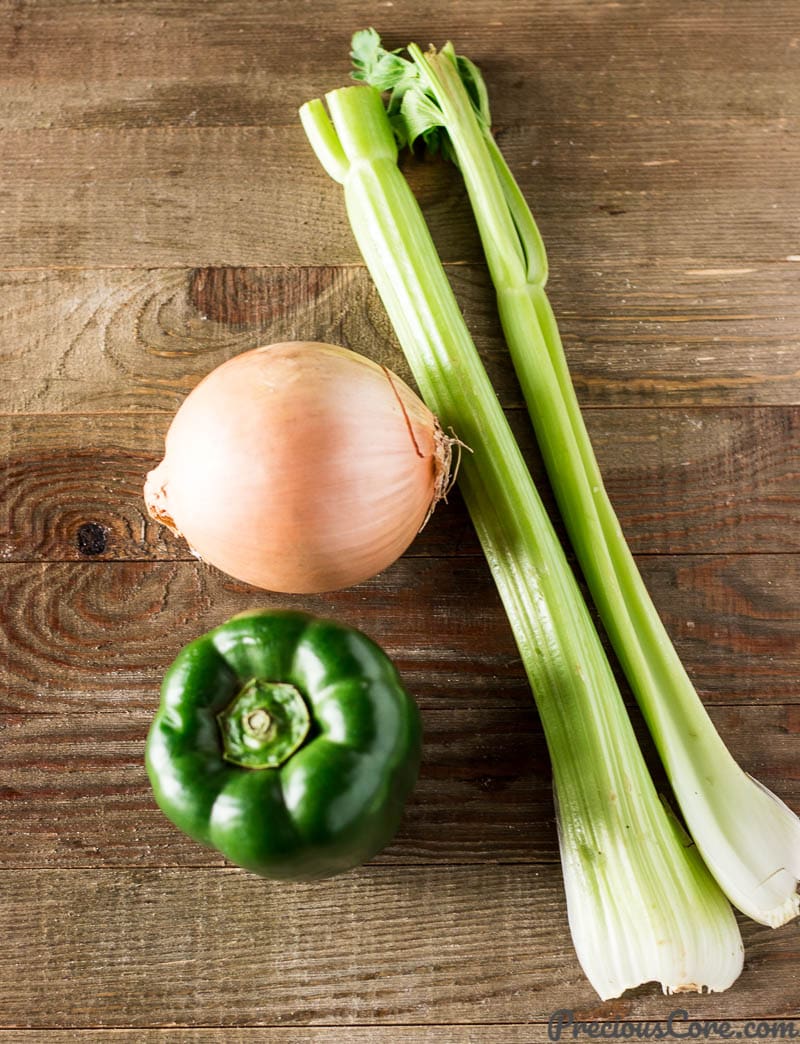 2. Shrimp: Big shrimp are preferable because they stand out and make the Seafood Gumbo enticing. Also, get wild-caught shrimp if you can because they taste way better than farm-raised!
3. Crab legs: I used snow crab legs!
4. Andouille Sausage: For an authentic Creole flavor and for meatiness, use andouille sausage but if you can't find Andouille sausage then use any other smoked sausage. Kielbasa is a great option.
5. Chicken: I use boneless skinless chicken thighs because they are so flavorful and they provide meatiness to the gumbo.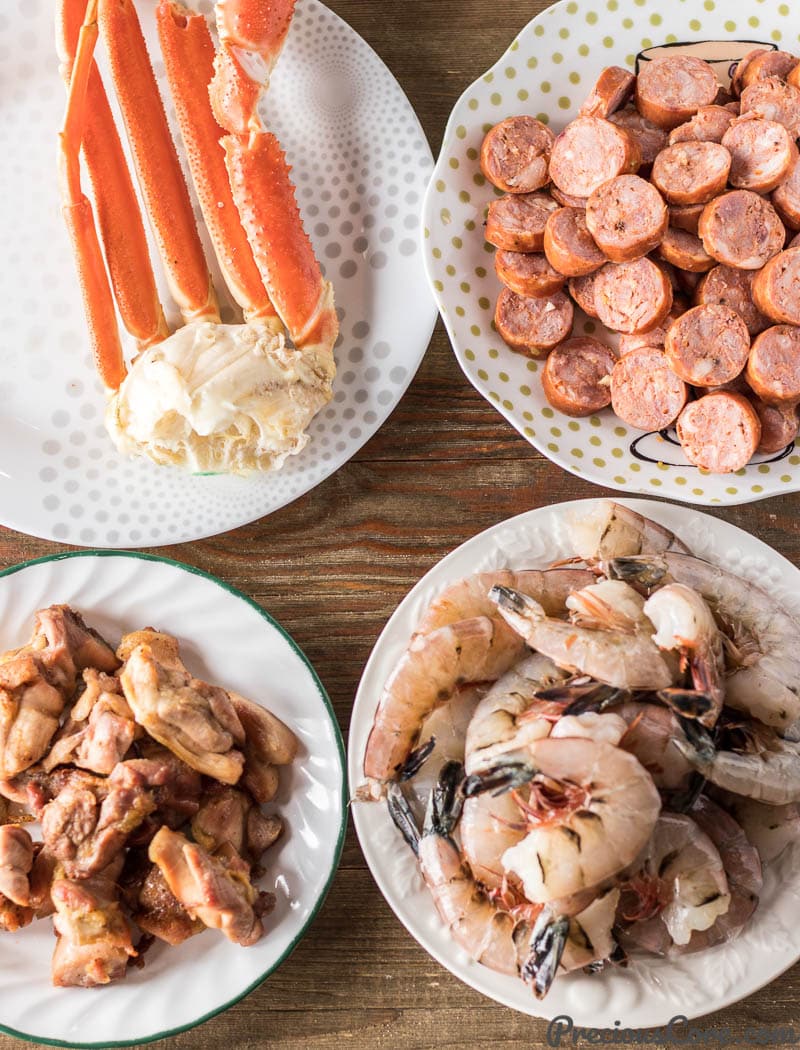 6. Gumbo file: This is a powder made out of ground sassafras leaves and can be found on Amazon or in grocery stores. You can use okra instead of the file or use both.
7. Okra: You could use either frozen or fresh sliced okra in Gumbo.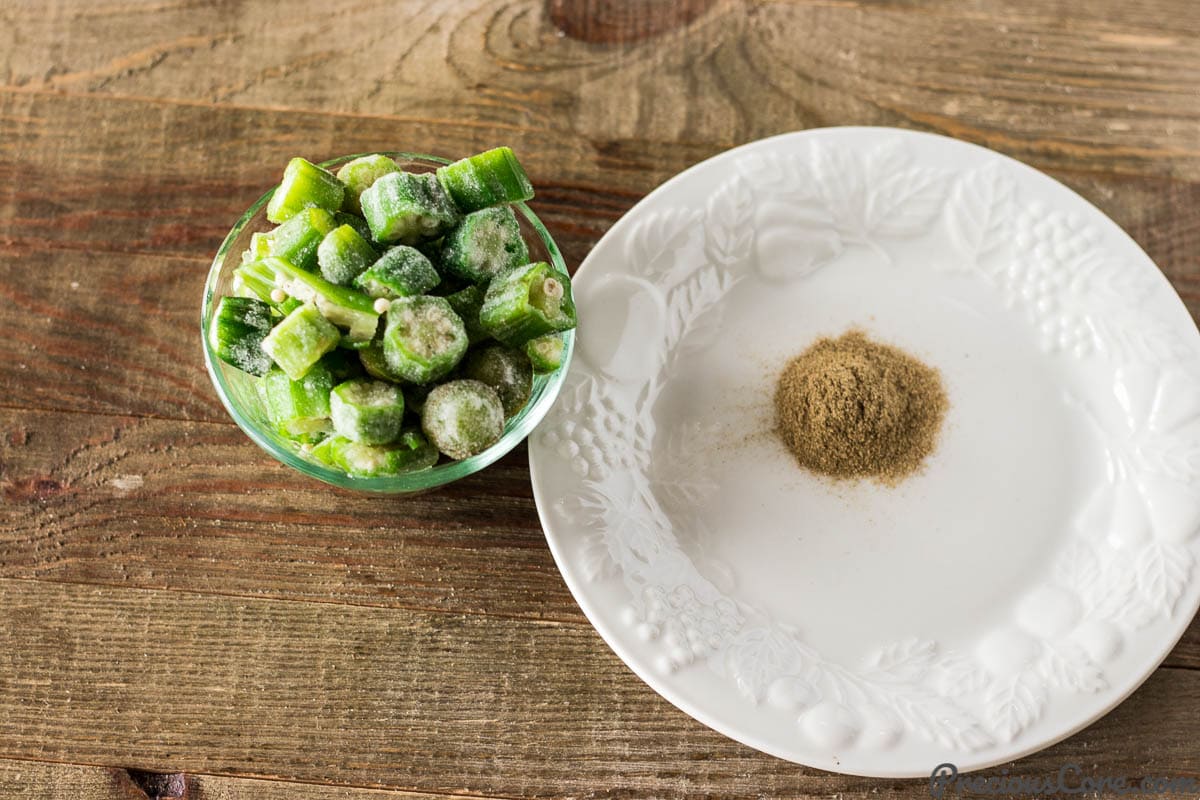 8. Garlic: Lots of it is needed because garlic lends great flavor.
9. Creole seasoning: You need creole seasoning for that authentic Creole taste.
10. Bay leaves: Simmering bay leaves in gumbo adds lots of flavor!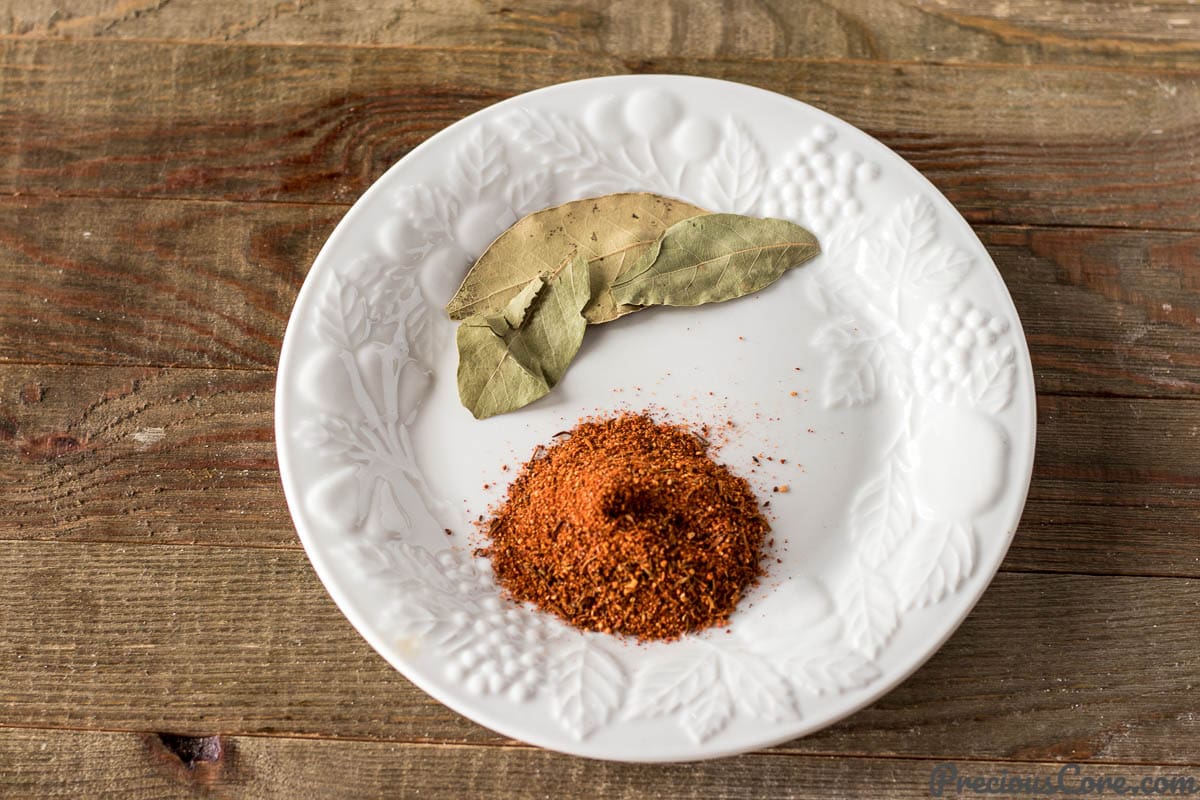 11. Chicken broth: I used regular chicken broth here so I didn't add any salt. If you use low-sodium chicken broth be sure to add salt to your dish as needed.
How To Make Seafood Gumbo
Here are the steps for making Seafood Gumbo together with images showing the process. Follow these steps for a really tasty stew!
Step 1: Dice the onions, celery, and bell peppers then set aside.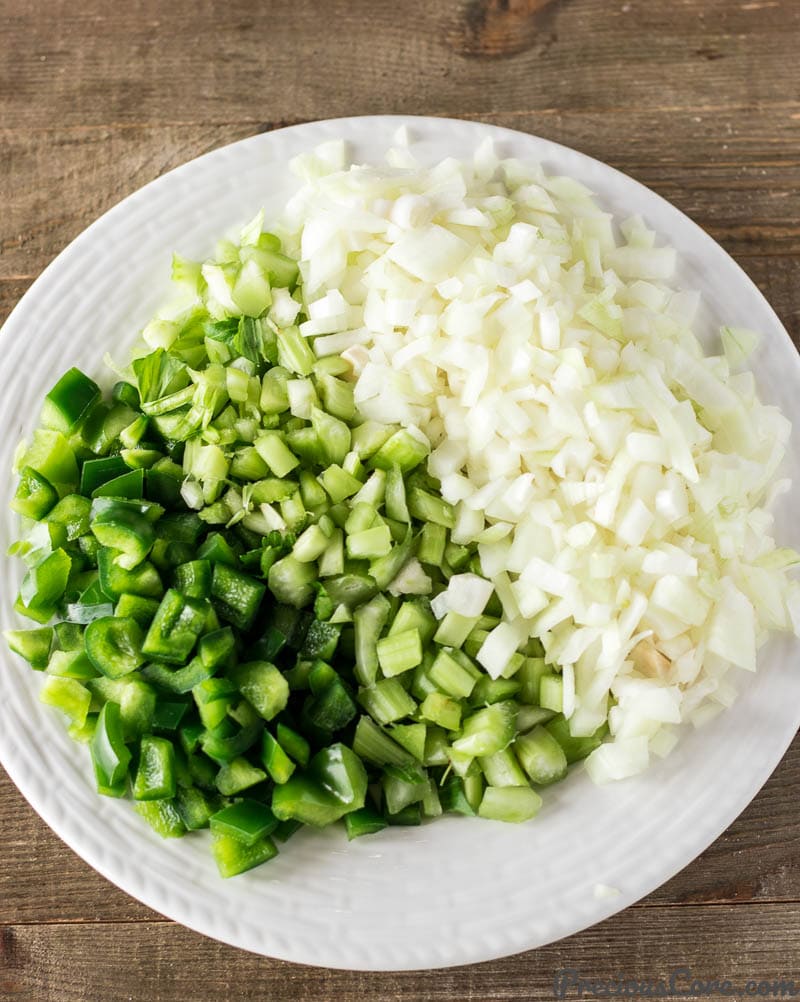 Step 2: Heat up oil in a cast iron pot then add flour and stir consistently to make a roux.
Expert tip: Making a roux takes time and requires patience. The flour will start off white, turn a pale brown then eventually become dark like chocolate. This process takes about 20 minutes so do not rush it.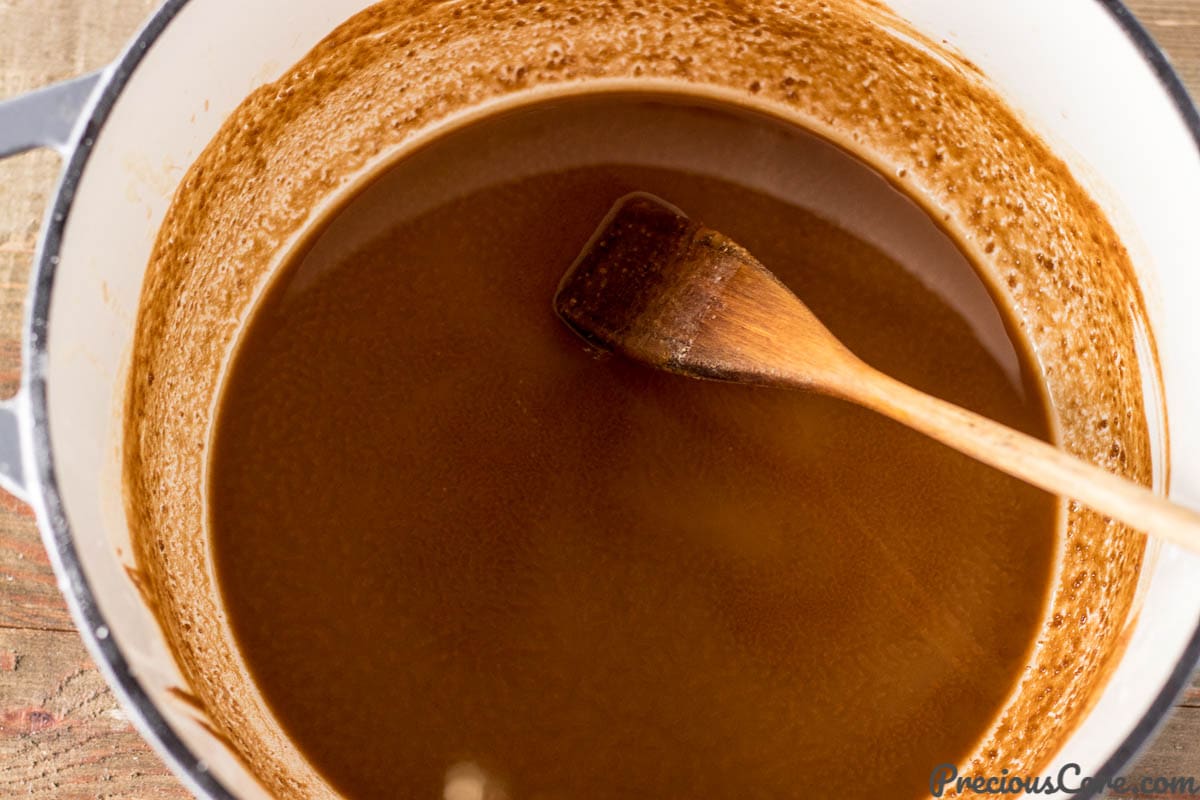 Step 3: Saute the onion, celery, and bell pepper. This builds the flavor base for the stew.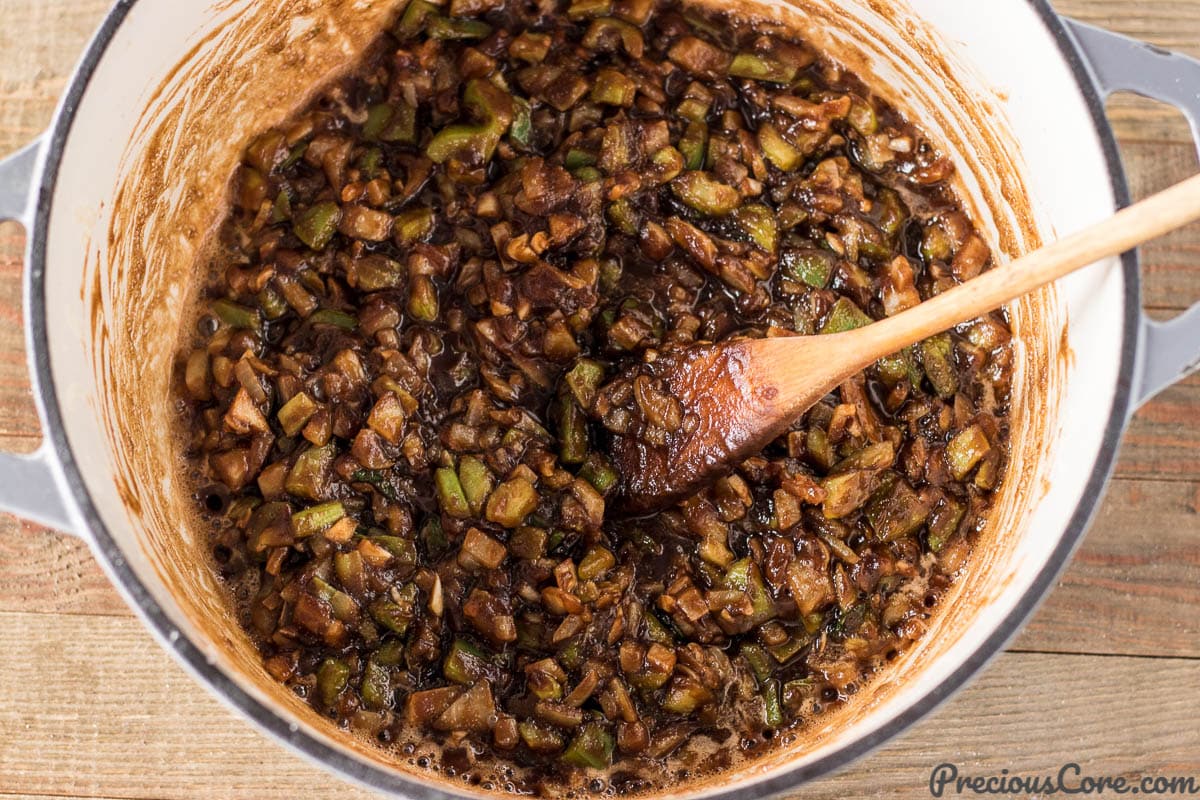 Step 4: Saute the garlic then add the chicken broth, sausage, bay leaves, chicken sausage, black pepper, and creole seasoning. Let everything simmer for several minutes.
Step 5: Add the seafood and let it simmer for a few minutes.
Step 6: Add the okra and/or gumbo file and let it simmer. Taste and adjust seasoning as needed.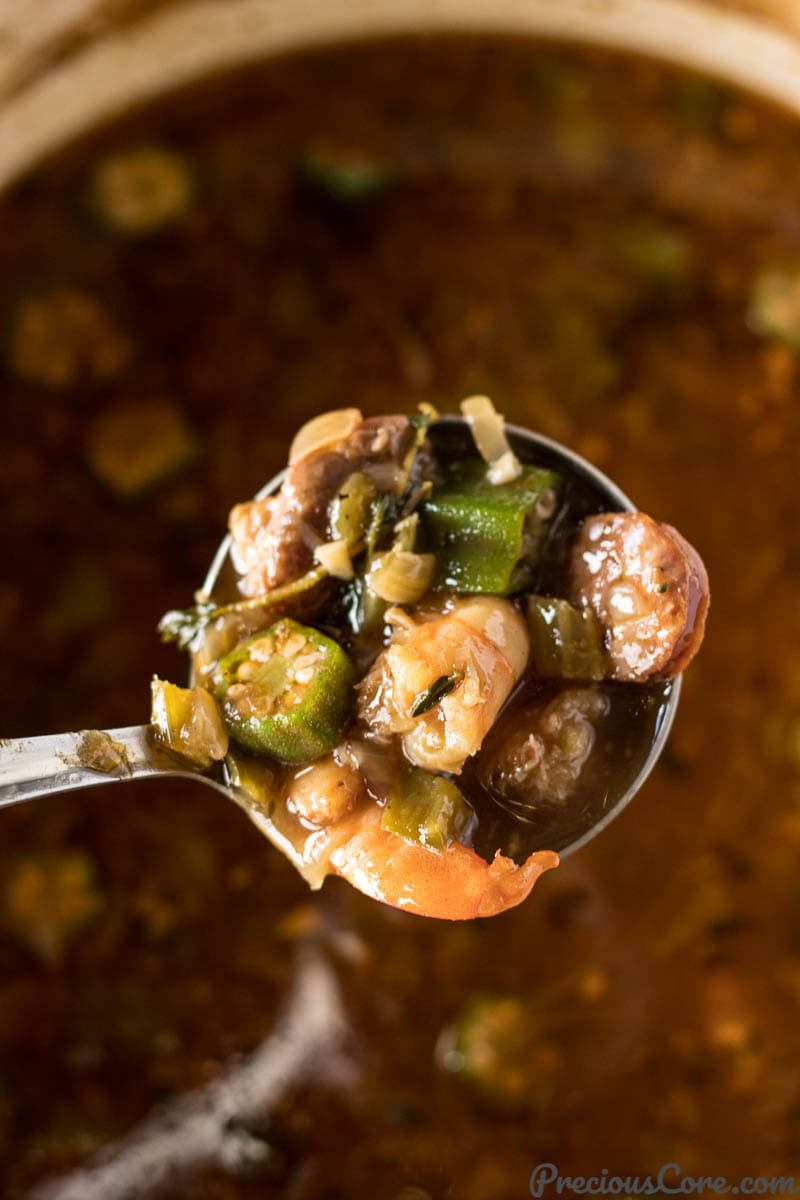 Step 7: Serve warm with boiled rice, grits, French bread, or any side of your choice.
Recipe FAQs
What is seafood gumbo made of?
Seafood gumbo contains shrimp, crab, chicken, andouille sausage, and other standard gumbo ingredients like bell peppers, onions, and celery
(also called the holy trinity).
What is the secret ingredient in gumbo?
The roux is what makes gumbo. A roux for gumbo is made by combining equal parts of flour and oil and cooking them together slowly until the flour gradually changes from white to a dark brown color reminiscent of chocolate.
What are the three types of gumbo?
Three common types of gumbo are chicken gumbo, seafood gumbo, and sausage gumbo.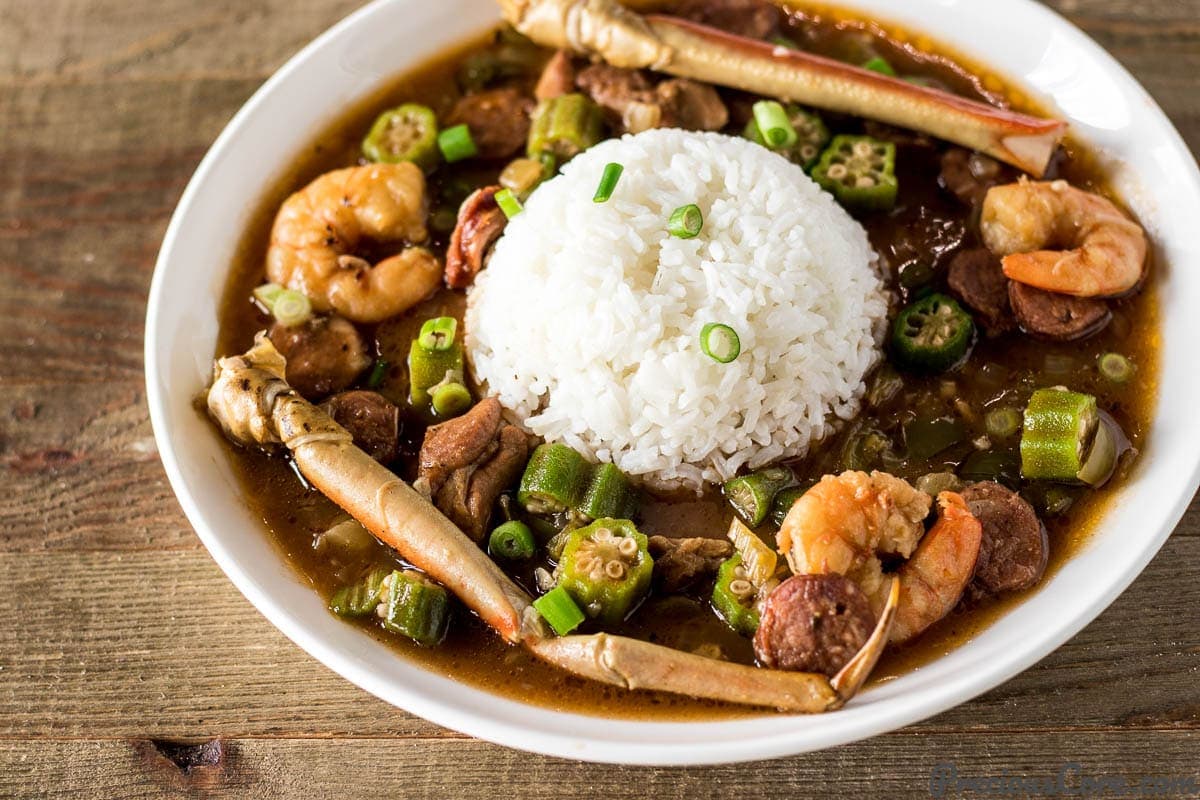 Serving Suggestions
Apart from rice, you could also serve gumbo with: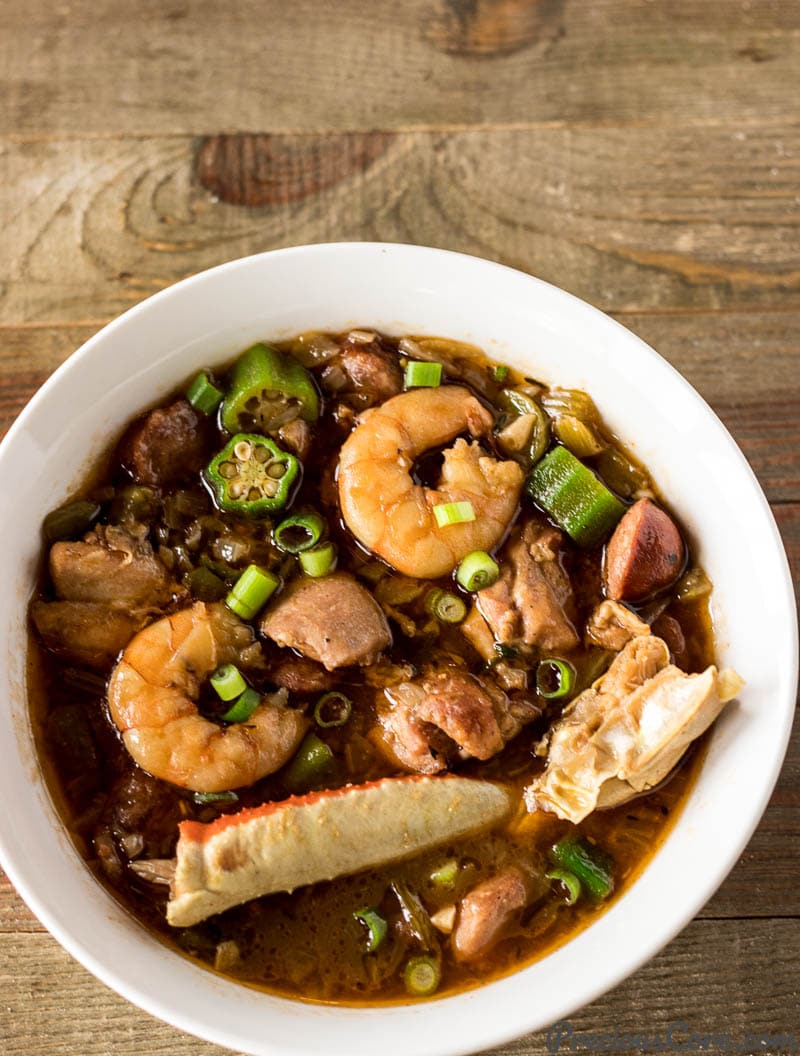 More Hearty Stews and Soups To Try
Hope you enjoy this easy Seafood Gumbo recipe! If you make this recipe, consider leaving a comment or star rating below. I love hearing from you!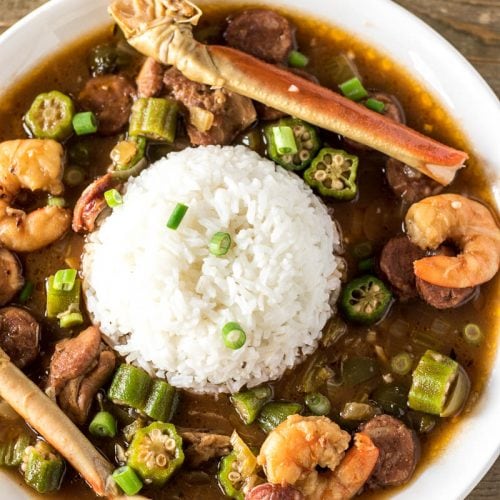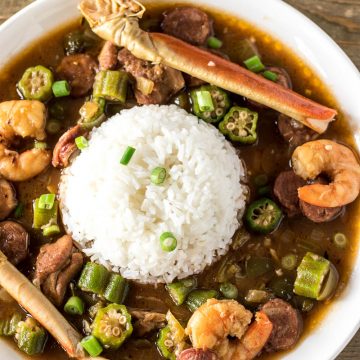 Seafood Gumbo
Rich Seafood Gumbo made with shrimp, crabs, sausage and chicken and so tasty with bold flavors. Serve with boiled rice, crusty French bread or grits. This Seafood Gumbo is a Creole dish that should be on your list of "special meals to make for my family". It is that special.
Ingredients
1

cup

corn oil

or other flavorless oil

1

cup

flour

1

green bell pepper

diced

2

celery stalks

diced

1

large yellow onion

diced

8

garlic cloves

minced

64

oz

chicken broth

I used 2 32oz boxes

3

bay leaves

12

oz

Andouille sausage – chopped into 1 inch slices

I used pork but you could use chicken or another type. Substitute with Kielbasa or other smoked sausage

1

pound

skinless boneless chicken thighs (1/2 kg)

1

tablespoon

Cajun/Creole seasoning

1/2

teaspoon

ground black pepper

2

cups

sliced okra

I used frozen okra

1

pound

large shrimp (1/2 kg)

peeled and deveined

1/2

pound

crab legs

Chopped green onions for garnishing

Boiled rice for serving
Instructions
Prepare the chicken.
Pre-heat oven to 400 degrees F.

Line a baking sheet with aluminum foil then rub some oil on the foil.

Cut chicken into about 1-inch pieces. Sprinkle with a pinch of salt (see Note 1) and 1 teaspoon of Creole seasoning and mix well to ensure that the seasoning gets to every part of the chicken.

Place the chicken on a single layer on the prepared baking sheet. Place in the oven and cook for 15-20 minutes until the chicken is golden brown.
Make the roux.
Place oil in a dutch oven/cast iron pot and let it heat up on high heat for about 3 minutes. Reduce the heat to medium.

Add the flour to the oil whisking as you add the flour. Continue whisking until there are no lumps. Keep the whisk aside then use a wooden spoon and continue stirring the flour. The mixture will turn from white to light brown, to peanut butter brown to chocolate brown. Once it is chocolate brown, proceed to the next step. It takes about 20 minutes to make the roux so don't rush it.
Saute the vegetables.
To the pot, add the diced onion, celery and bell pepper. Keep stirring and let the vegetables cook until they sweat. About 5 minutes.
Make the gumbo.
Add the minced garlic to the pot and stir for about 2 minutes. Then add all the chicken broth, the bay leaves, the chicken and the sausage. Cover the pot and bring to a simmer for about 20 minutes.

To the pot, add the black pepper, shrimp, crab legs and Creole seasoning. Let them simmer together for about 20 minutes.

Finally, add the sliced okra and let it simmer with the okra in for about 10 minutes. Taste to ensure that the seasoning is perfect. Note that I didn't add salt because my chicken broth was salty enough and made the dish sufficiently salty. If you use a low sodium chicken broth, be sure to adjust the salt as needed.
Serve.
Serve your Seafood Gumbo warm over boiled rice or with any side you like. Garnish with chopped green onions if desired.
Notes
1. Only add salt to the chicken if the Creole seasoning you use is salt-free.
2. An optional garnish for serving your gumbo is chopped parsley.
3. Some people fear using okra in their Gumbo because they do not want it slimy. I used sliced frozen okra and my Gumbo wasn't slimy. You could fry the okra separately in oil to cut the slime. Heat oil in a pan, add the chopped okra then cook until the slime is gone. Check out this video to see how to properly fry the okra to cut the slime. If you would rather not have okra in your meal, use gumbo file instead.
4. If you choose to use gumbo file, add it to the pot just before you turn off the heat.
Nutrition
Calories:
650
kcal
|
Carbohydrates:
24
g
|
Protein:
36
g
|
Fat:
46
g
|
Saturated Fat:
8
g
|
Polyunsaturated Fat:
12
g
|
Monounsaturated Fat:
23
g
|
Trans Fat:
0.2
g
|
Cholesterol:
165
mg
|
Sodium:
1067
mg
|
Potassium:
745
mg
|
Fiber:
3
g
|
Sugar:
3
g
|
Vitamin A:
637
IU
|
Vitamin C:
21
mg
|
Calcium:
128
mg
|
Iron:
3
mg
This post contains affiliate links.