EGUSI SOUP – NIGERIAN EGUSI SOUP
Published Feb 17, 2020
Updated Feb 28, 2022
Egusi Soup is a finger-licking good Nigerian soup made with a white variety of pumpkin seeds. It is spicy, nutty with exotic African flavors! See the video below on how to make Egusi Soup.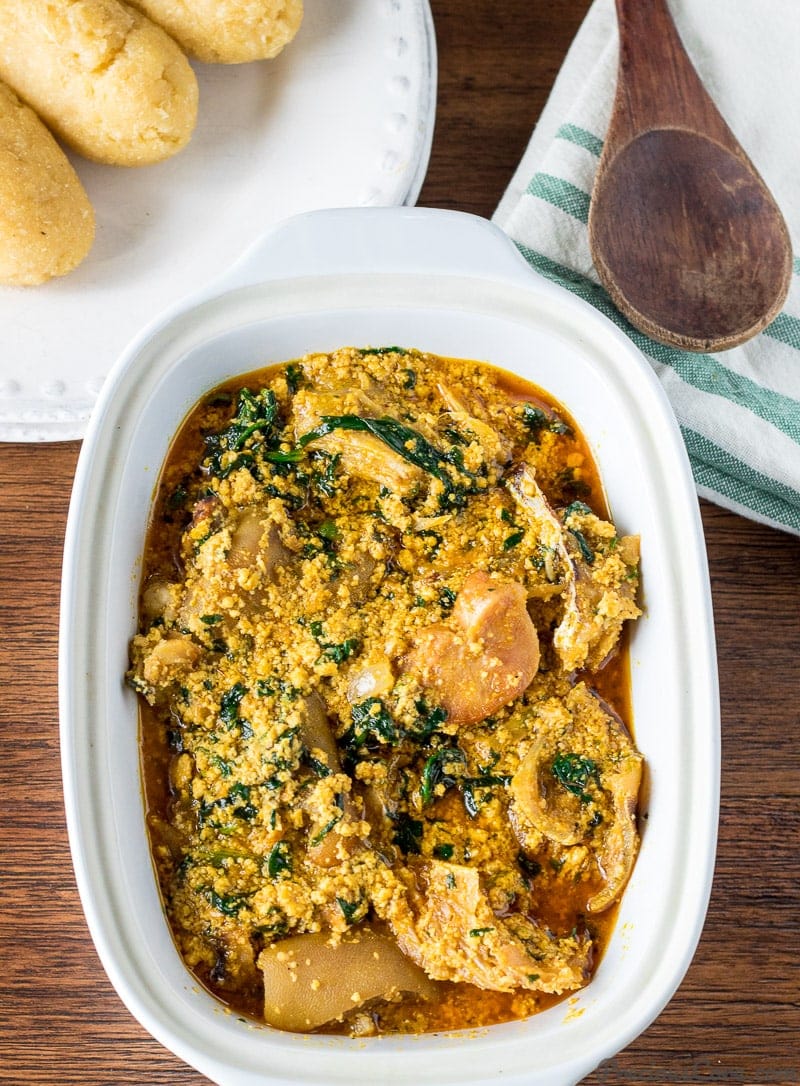 I had to post the recipe for this Egusi Soup sooner than I planned because after sharing a pic of it on Instagram I had urgent requests for the recipe.
So friends, in order not to keep you waiting for so long, here is some delectable Egusi Soup that will make your taste buds sing!
What is egusi soup made of?
Egusi Soup is a soup made with a white kind of pumpkin seeds (obtainable from African stores or Amazon.com).
Ground egusi (or pumpkin seeds) is the main ingredient. Other ingredients include red palm oil, African crayfish, meats and fish, seasoning, hot pepper and some form of leafy greens.
Egusi Soup is a Nigerian classic enjoyed in various forms across the country. Here is what egusi looks like: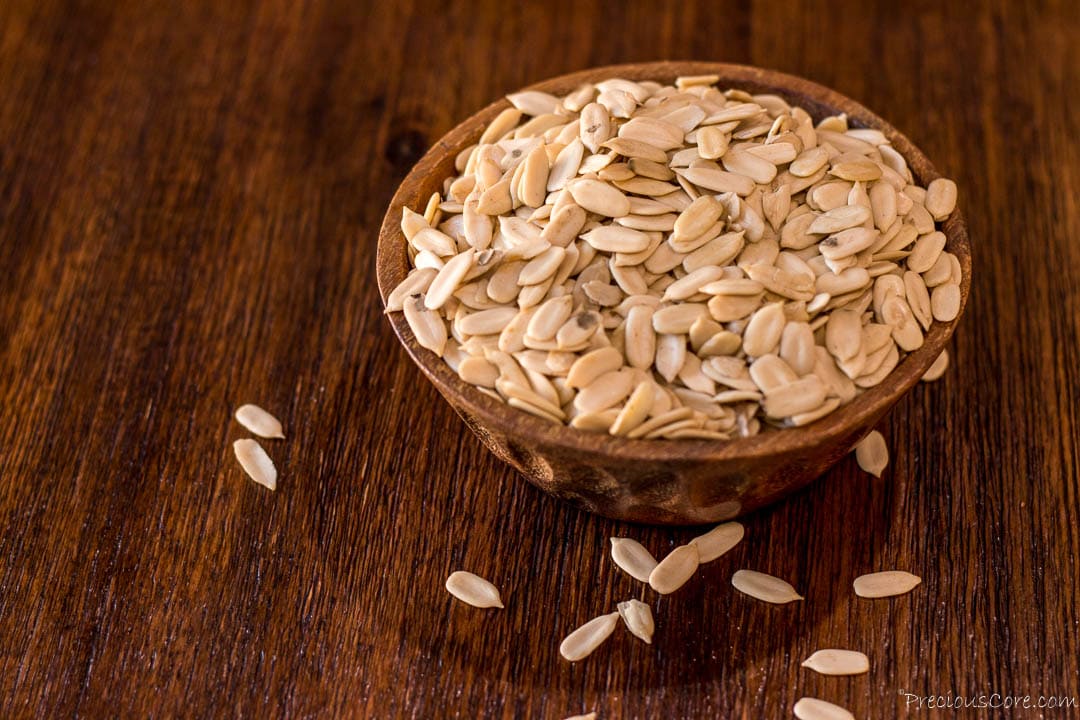 Egusi is basically white pumpkin seeds though some people prefer to call it melon seeds.
What does Egusi Soup taste like?
Egusi soup is nutty, spicy and so rich thanks to the variety of meats and fish often used.
Egusi is enjoyed in various ways in West Africa. Check out this Cameroonian Egusi Pudding or this Egusi Stew or even this Ogbono and Egusi Soup.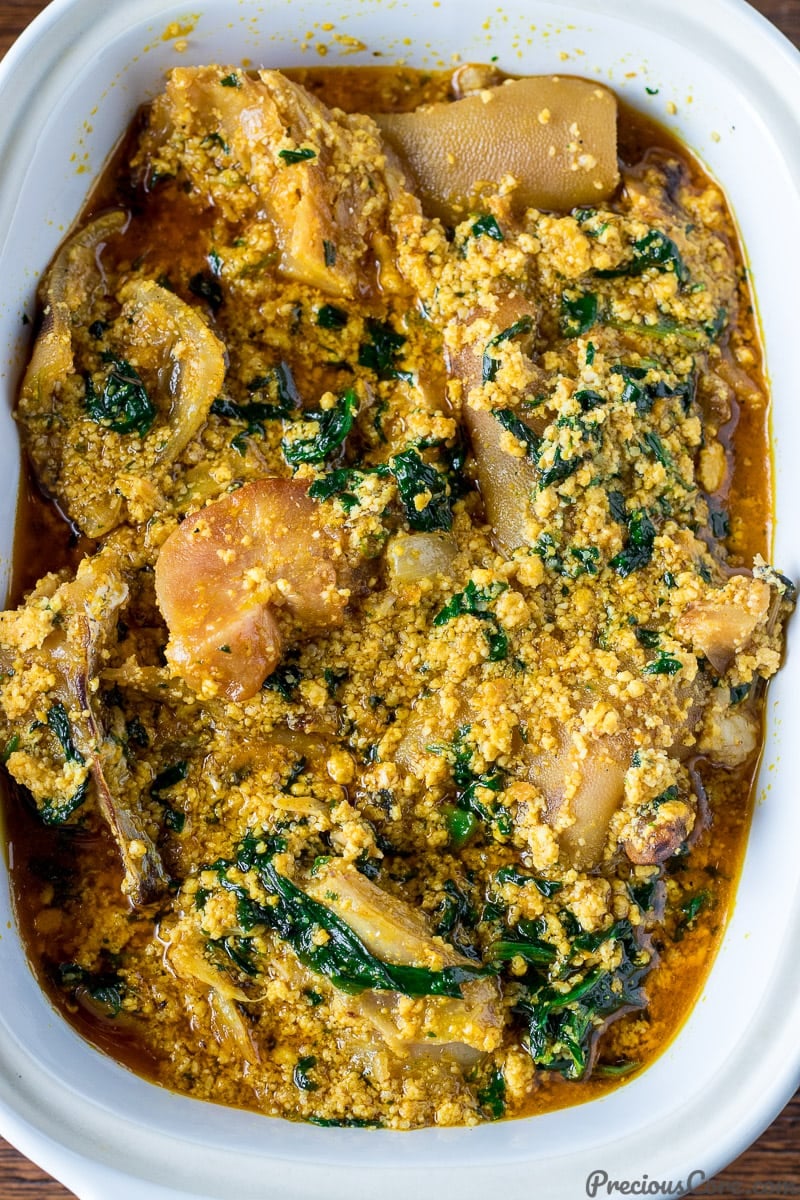 How To Make Egusi Soup
Egusi soup happens in three main steps.
1: Boil the meats and/or fish you intend to use. Preferably do this the day before so making your egusi soup is easy the next day.
2. Grind the egusi. I advise that you always buy whole egusi seeds and grind them yourself. That way you are sure of the quality of the seeds. Pre-ground egusi is not always the best.
3. Saute onions in red palm oil, cook egusi in red palm oil then add the boiled meats, crayfish and seasoning. It is really that easy!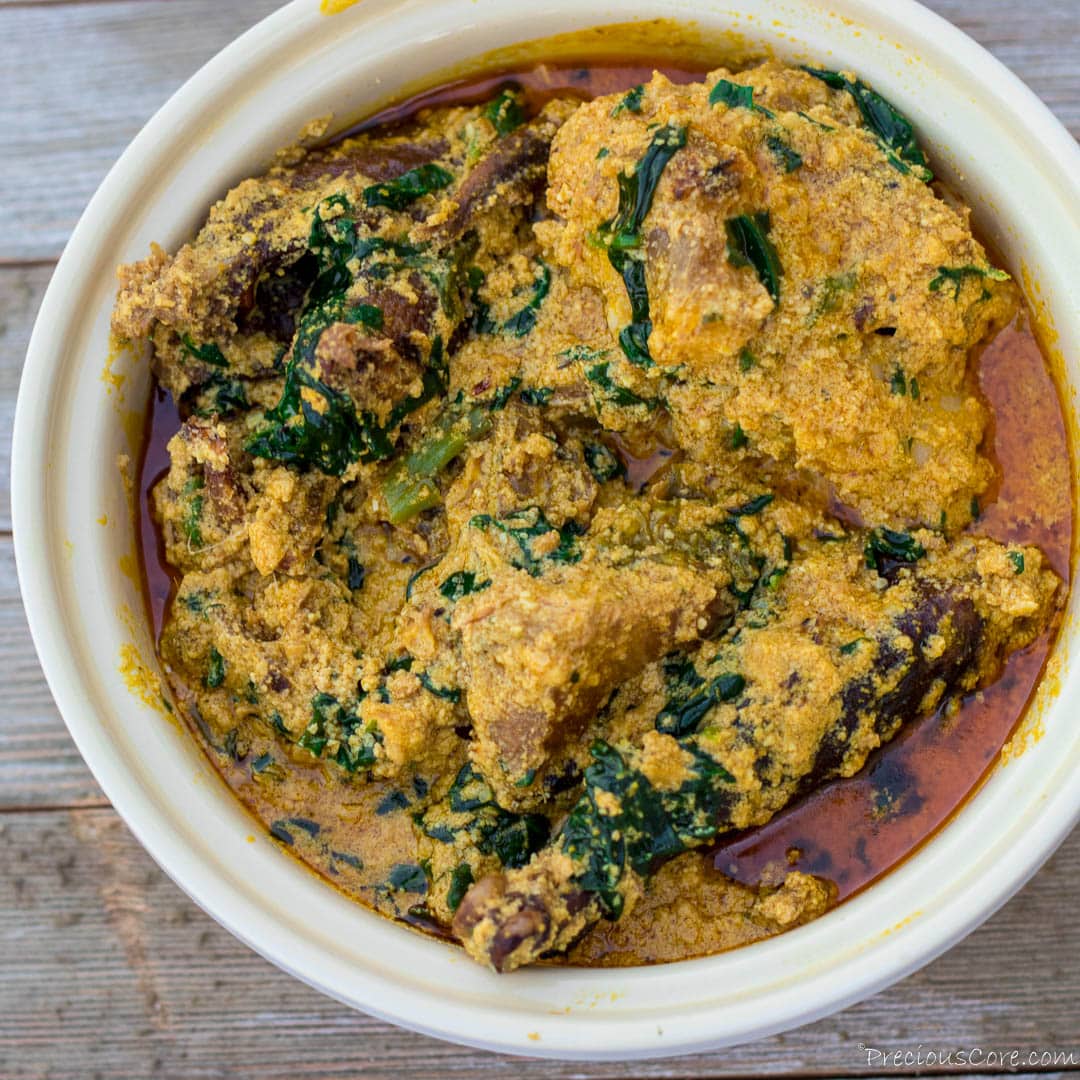 Egusi Soup and Pounded Yam
One famous way of eating egusi soup is with pounded yam – a dough-like side dish made out of pounded (or ground) African white yam.
These days, yam flour is available in African stores and on Amazon so you can easily make your own pounded yam at home.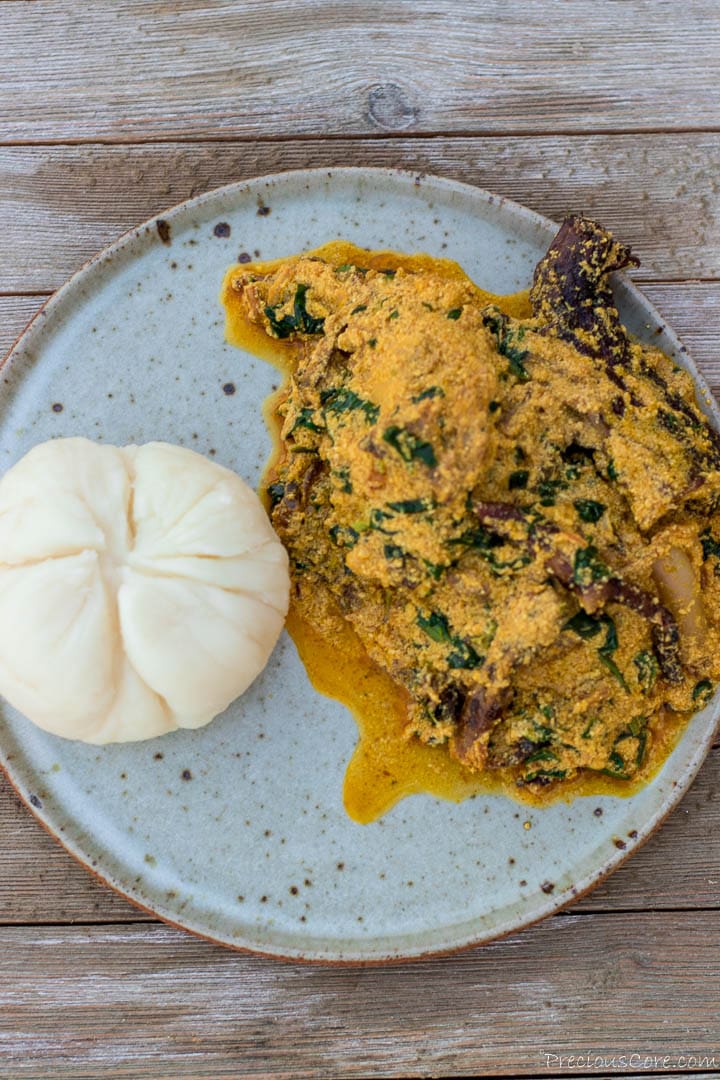 You could also serve Egusi Soup with garri (granules made out of cassava/yucca root).
To make garri, you simply have to boil water and add the granules to it. You can see how I make garri in this video.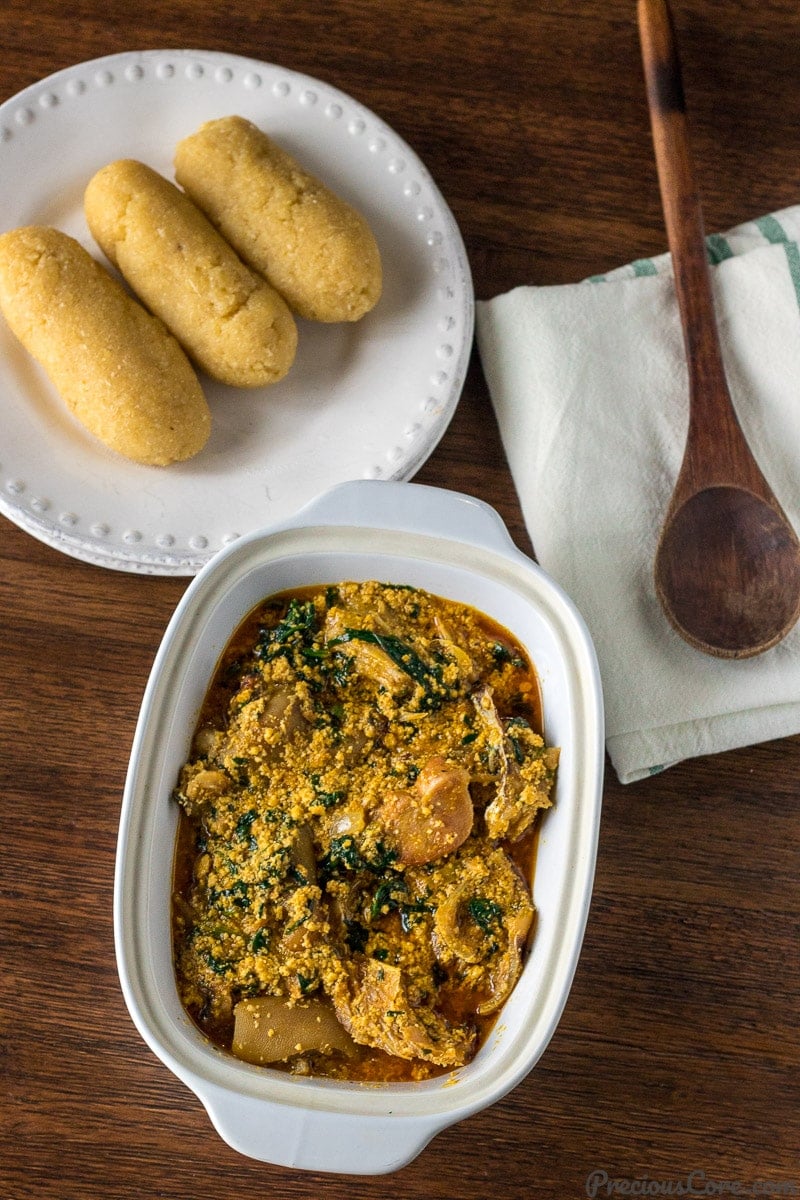 Egusi Stew
Egusi stew is similar to egusi soup in that they are all made out of egusi. But egusi stew is mostly made to be eaten with rice and the ingredients used are different. Check out my Egusi Stew recipe here.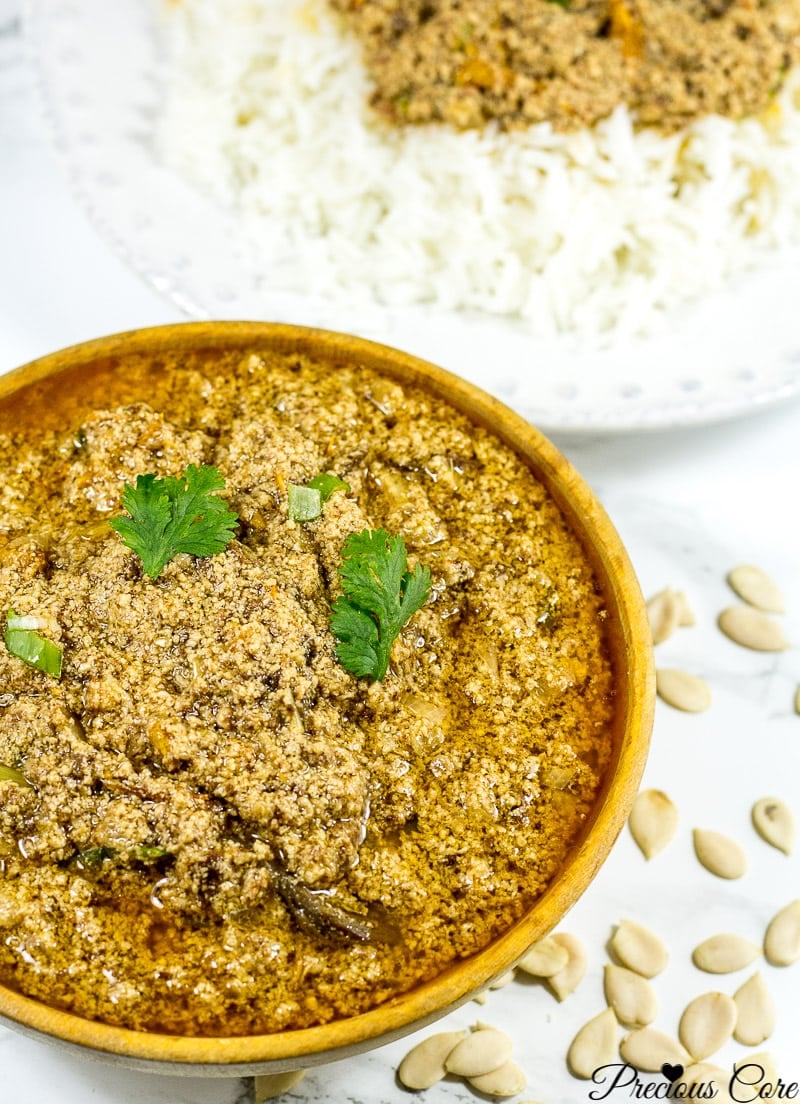 P.S. I finally made a video on how to make Egusi Soup. This has been a long time coming. Hope you enjoy the recipe!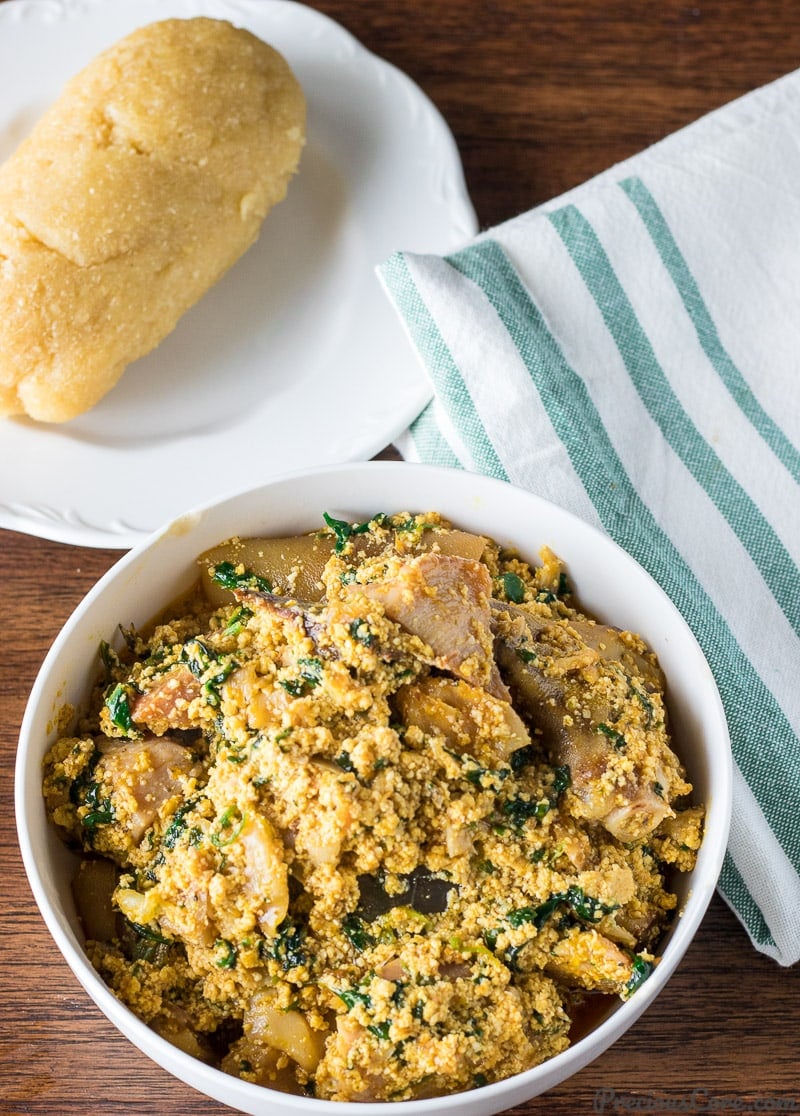 Watch How To Make Egusi Soup
Watch me making Egusi Soup in the video below. If you haven't subscribed to my Youtube channel yet, SUBSCRIBE so you do not miss any of my videos.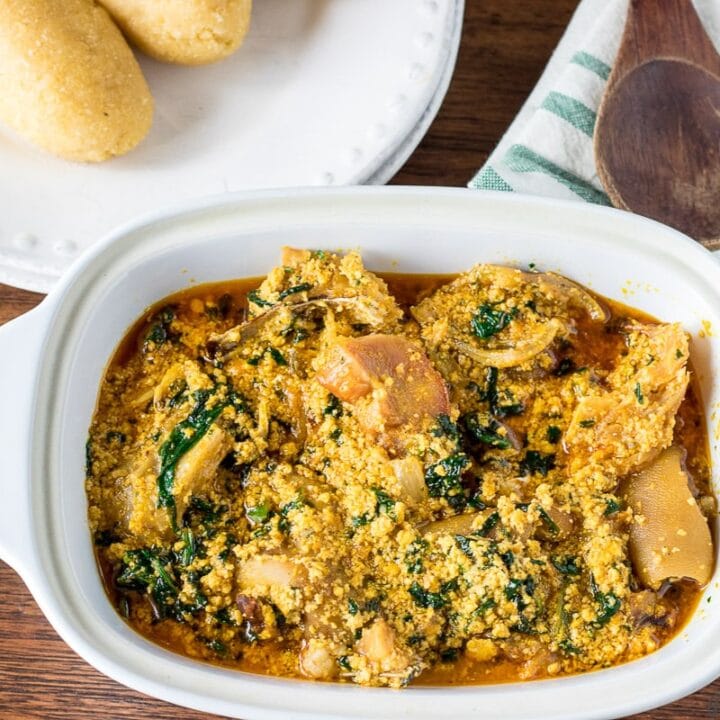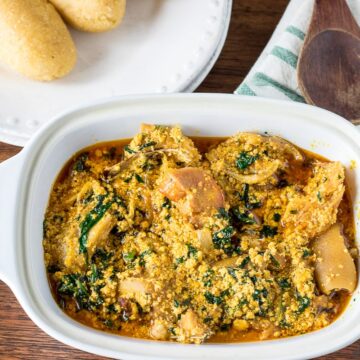 Egusi Soup – Nigerian Egusi Soup
Egusi soup made the Nigerian way with red palm oil and different kinds of meats. Enjoy with pounded yam, garri or other kinds of fufu.
Ingredients
2

cups

egusi (not ground)

3/4

cup

palm oil

1/4

cup

crayfish

1

shrimp seasoning cube

also known as Maggi Crayfish or Maggi Crevette

2

pounds

meats and fish

I used a variety of goat meat, stock fish and chicken

1/2

cup

onion – chopped

1

habanero (or scotch bonnet) pepper

1/2 -1

cup

chopped greens (you could use bitterleaf for an authentic taste or substitute with spinach or kale)

I used chopped spinach
Instructions
Boil the meats and fish. Preferably do this the day before so that cooking is easier the next day. Start by boiling the tougher meats then add the less tough ones. Add salt halfway through the cooking process (about a teaspoon of salt). Reserve the stock of the meat. Also, if using stockfish, be sure to soak it for some hours first and rinse thoroughly before cooking (cook it separately from the other meats/fish and discard of the stock). Stockfish has a very pungent smell so if you aren't used to it you might be shocked at how much it smells. But the taste is amazing in Egusi Soup!

Grind the egusi. Grind the egusi using the small cup of a blender, coffee grinder or whatever grinding machine you have on hand. Be sure to remove any bad seeds from the egusi before grinding.
Making the egusi soup.
Place palm oil in a pot and heat up on high for about 3 minutes (do not bleach). Add the onions to the palm oil and saute until fragrant.

Add the ground egusi to the palm oil and let it cook in it, while you stir from time to time until the egusi shrinks and starts sticking to the bottom of the pot. About 7 minutes.

Add a teaspoon of crayfish and stir then add the cooked meats and their stock. Add the remaining crayfish, crayfish seasoning cube, habanero or scotch bonnet pepper then add water if needed according to desired thickness. Stir well and taste to ensure that seasoning is perfect. Let all the ingredients simmer together for about 5 minutes.

Add the greens and let them cook in for about 2 minutes. Turn off the heat – your egusi soup is ready!
Notes
1. Options of meats to use include beef, goat meat, smoked/dried fish. I often just use a blend of what I have on hand or what I can easily find.
2. Most of the ingredients in this recipe can be found in African stores (for those who do not live in Africa).
Pin this recipe: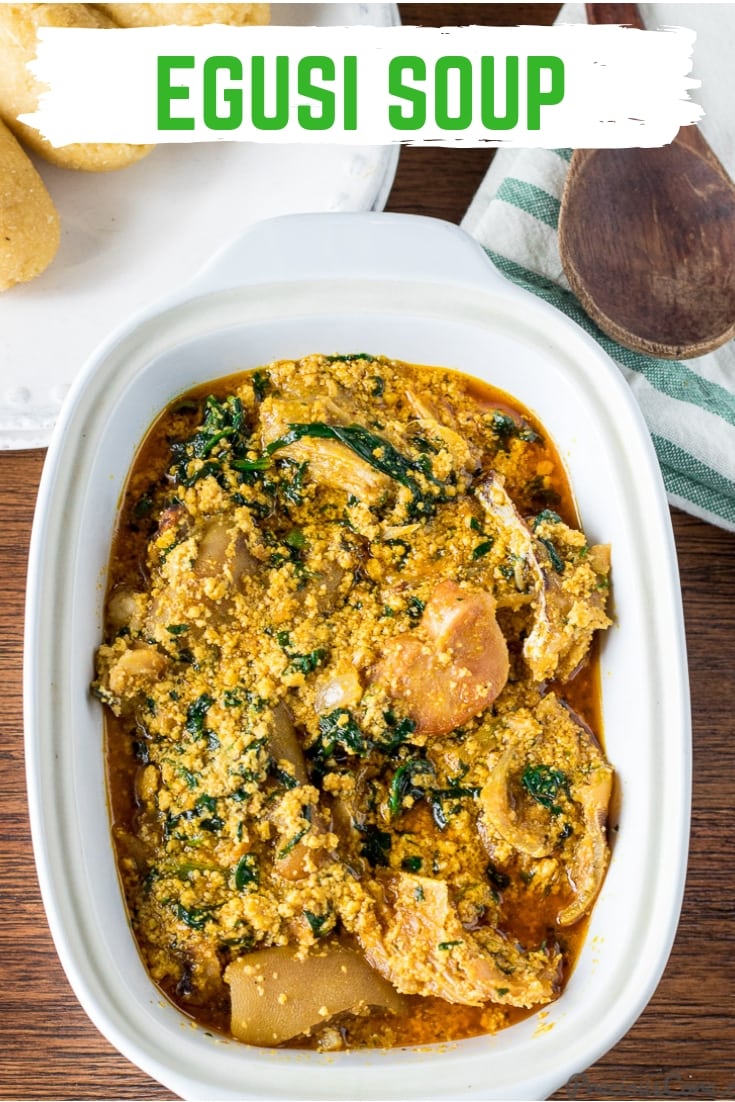 "For I know the plans I have for you," says the Lord. "They are plans for good and not for disaster, to give you a future and a hope." Jeremiah 29:11 (NLT)