EGUSI STEW
Published Oct 20, 2017
Updated Sep 26, 2018
Welcome to your new favorite stew! Egusi stew!! This stew is luscious, full of flavor and absolutely to die for. I love having it with boiled rice or boiled plantains. So tasty!
If you are not familiar with the word, Egusi is a seed which is basically the same thing as pumpkin seeds but its white variation. It is also known as melon seeds. Egusi is widely enjoyed in West Africa. It is mostly used to make a variety of soups or sauces.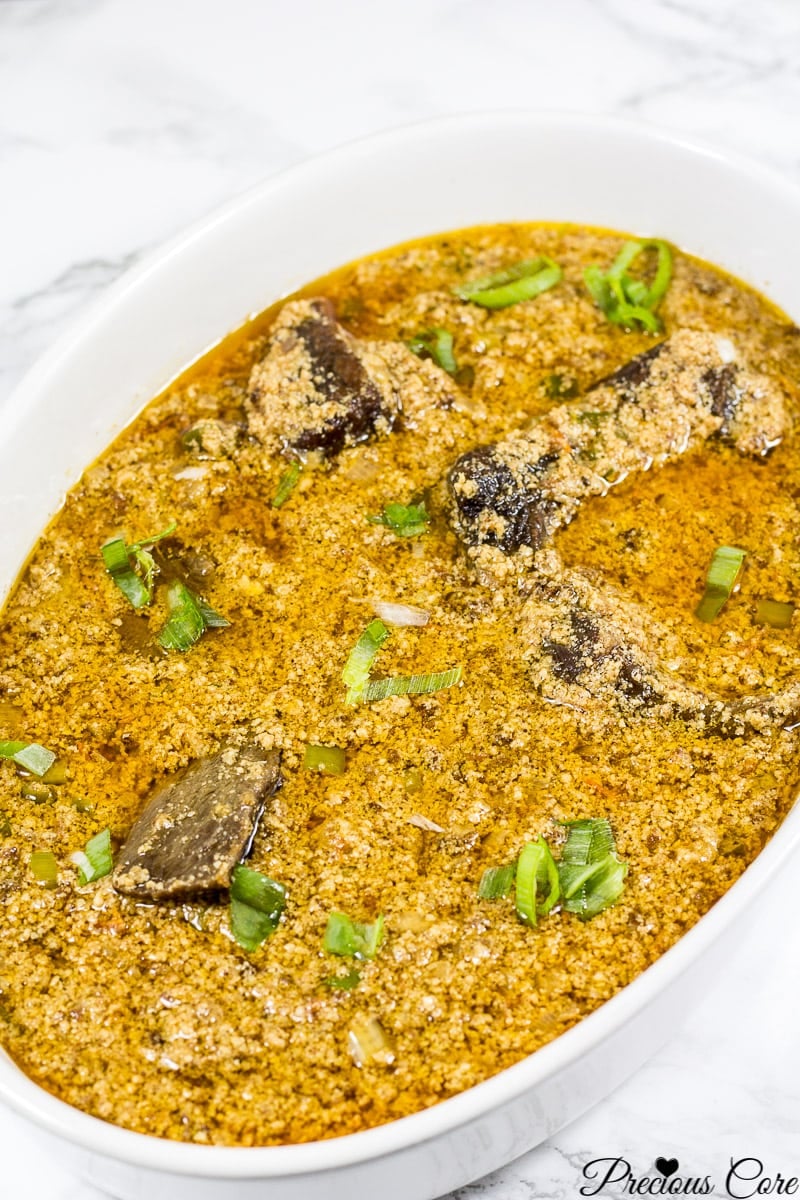 In Cameroon, one popular Egusi delicacy is this delight called Egusi Pudding. Egusi is also used to cook vegetables or added to okra soup and ogbono soup.
I always love having egusi at home. I mean, I just feel this sense of security when there is some egusi lying in my cupboard because of the varied ways I can use it. The dimension of taste it brings to food is unbeatable! Egusi for president!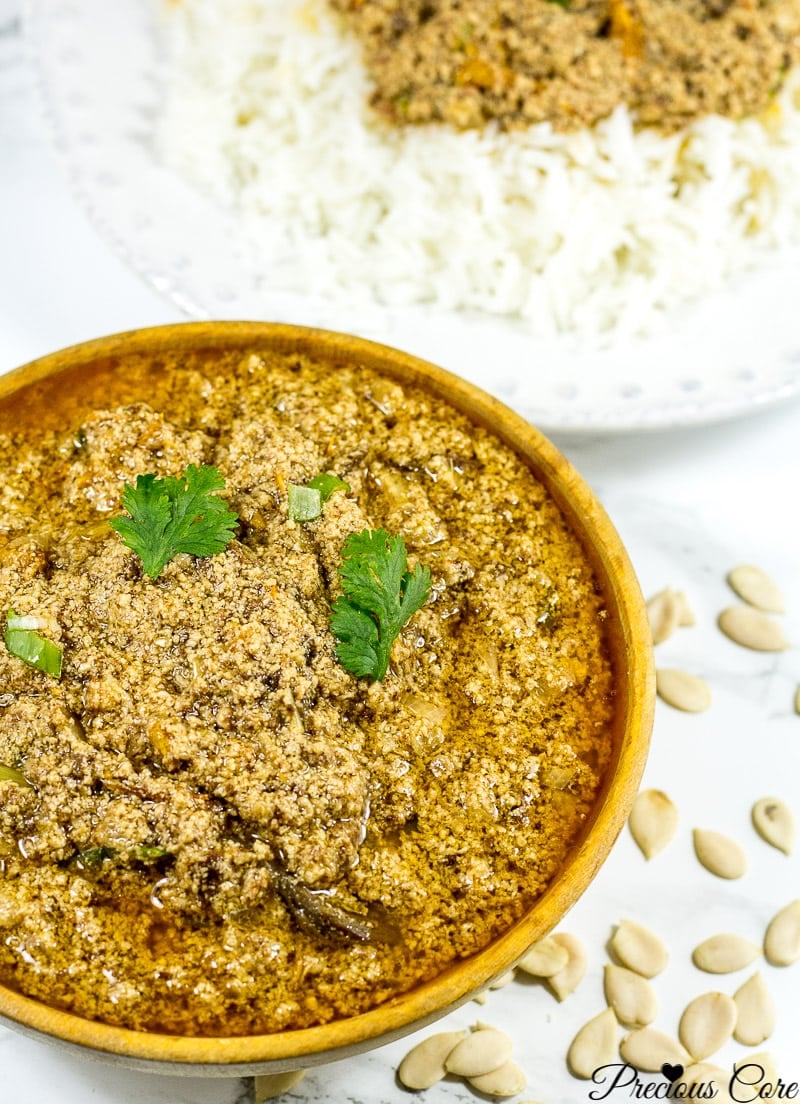 This is not your average egusi soup. Let's talk about this egusi stew for a moment. It is:
Luscious
Garlicky
High in nutrients (egusi is high in protein!)
Easy to make
Savory
Luscious (did I say this already?)
Serve your egusi sauce over boiled rice for a delightful meal. Actually, this goes well with plantains too: boiled or fried. And it is great with boiled yams too! It is just an all-round really good stew!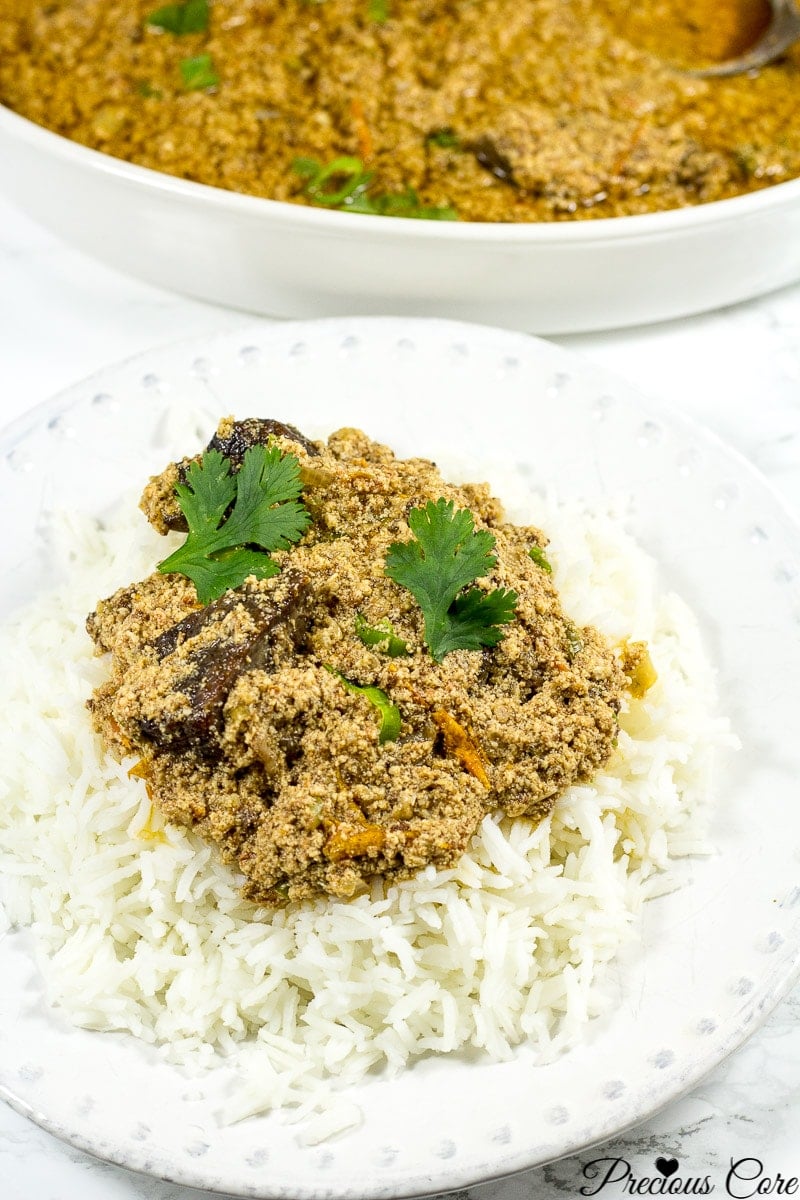 I used beef in this egusi stew recipe but you could make egusi stew with chicken, egusi stew with fish or even egusi stew with turkey. The world is your oyster, baby!
I made a video to show you how to make Egusi Stew on my YouTube channel: YouTube.com/preciouskitchen. Be sure to subscribe to my channel so you never miss any of my videos.
Watch How to Make Egusi Stew: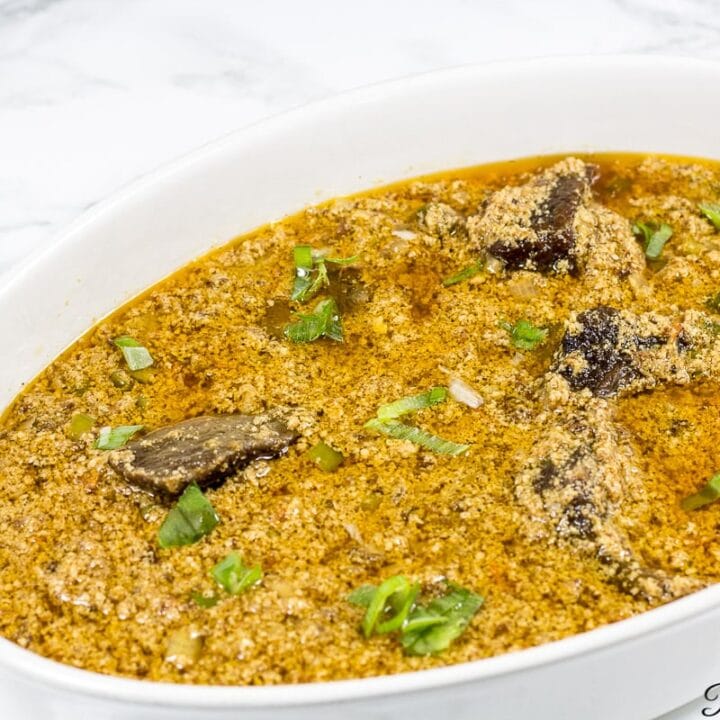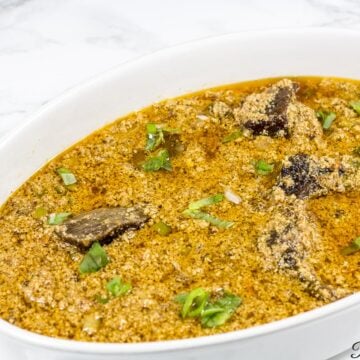 Egusi Stew
Stew made with Egusi (melon seeds). It is so full of flavor, meaty and absolutely delicious! I love having it with some boiled rice, plantains or African white yam. Enjoy this enjoy Egusi Stew recipe.
Ingredients
1 1/2

cups

ground egusi

6

large tomatoes - chopped

1

medium onion - chopped

1-2

stems

green onions - chopped

5

cloves

garlic - peeled

1

inch

ginger - peeled

1

habanero pepper (optional)

2

cubes Maggi (4g per cube)

1

cup

oil

1/2

pound

beef - cut into pieces and boiled with salt

also reserve the beef stock for use in this recipe

1

teaspoon

salt - adjust as needed
Instructions
Blend together garlic, ginger and half of the green onions then set aside.

Pour oil into a pot and heat on high for about 4 minutes.

Add in chopped onions and let it saute for 3 minutes until translucent. Be sure to stir from time to time.

Add in chopped tomatoes and let it cook until the tomato shrinks and starts sticking to the bottom of the pot.

Add in ground spices (garlic, ginger and onions) then stir for about 2 minutes. This brings out the flavor of the spices.

Add in ground egusi (with no added water) and mix well. Keep mixing for about 5 minutes (some egusi will stick to the bottom of the pot - that's okay!)

Add in beef with stock. Then add in more water (I added about 1 cup) to get the desired consistency. I always make my stew a little lighter than I would want it at this point because as it simmers, a little of the water dries up. Add salt, seasoning cubes and habanero pepper (gorund or whole according to preference - I normally add it whole with stem on so the heat doesn't get to every part of the food.)

Mix well, cover pot and let it simmer for 5 minutes.

Add in green onions, stir well and turn off the heat.

Enjoy with boiled rice, plantains or any starchy side of choice.
Notes
1. You could substitute the beef in this recipe with chicken or fish.
2. To make this recipe vegan, use mushrooms instead of beef.
Nutrition
Calories:
394
kcal
|
Carbohydrates:
7
g
|
Protein:
10
g
|
Fat:
38
g
|
Saturated Fat:
5
g
|
Polyunsaturated Fat:
11
g
|
Monounsaturated Fat:
21
g
|
Trans Fat:
0.3
g
|
Cholesterol:
20
mg
|
Sodium:
268
mg
|
Potassium:
449
mg
|
Fiber:
2
g
|
Sugar:
3
g
|
Vitamin A:
788
IU
|
Vitamin C:
16
mg
|
Calcium:
28
mg
|
Iron:
2
mg
Pin this recipe:

If you make this recipe, please share a photo on Instagram and tag me: @preciouscore, or share a photo on my Facebook page. I'll love to see!