GROUNDNUT SOUP
Published Mar 03, 2017
Updated Sep 26, 2018
If you do not like groundnuts (peanuts), this is not the post for you, my friend. But if you like groundnuts, you are in for a treat! When I made groundnut soup years ago in my student hostel in Nigerian. My roommate ate it and said, "the soup soup is tasting groundnut, groundnut, groundnut!" Yes, that's right, groundnut soup is very "groundnutty". But the groundnuts undergo a process of gradual roasting, fine grinding then simmering with exotic spices in a rich beef or chicken stock. The result? A creamy, groundnutty soup that is full of flavours and you may just want to drink. Gimme a spoon!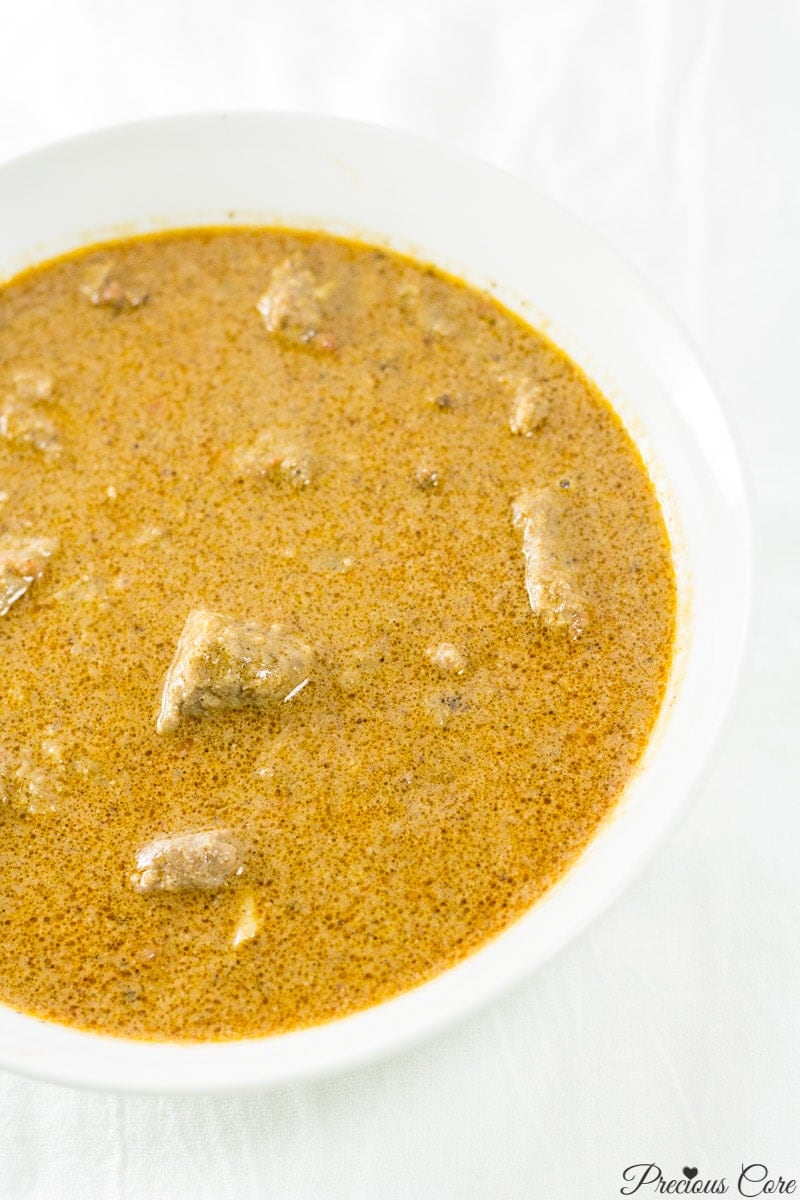 The selling point of this soup is that it comes together in no time. You only need a few simple ingredients: raw groundnuts, tomatoes, onions, ginger, garlic, seasoning, oil and beef.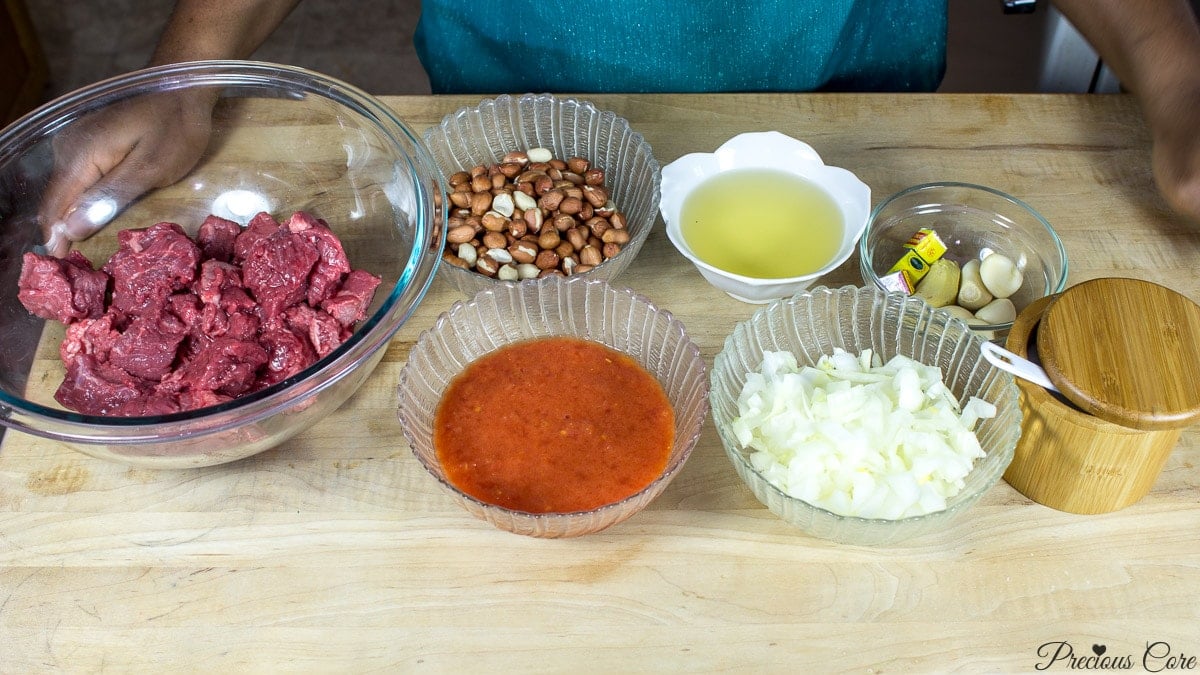 And if you do not want to roast your own groundnuts, then by all means, use plain peanut butter off the jar. It is basically the same thing as groundnut paste and using it will greatly reduce your cooking time. BUT I love roasting and grinding my own groundnuts because, to me the soup tastes more authentic that way.
Known in other parts of the world as peanuts, the nuts that make this soup are known in West Africa as groundnuts. I am sure you already realised that 🙂 What we call peanuts, are a snack made of groundnuts coated with flour. We call them Peanut Burger or peanuts for short.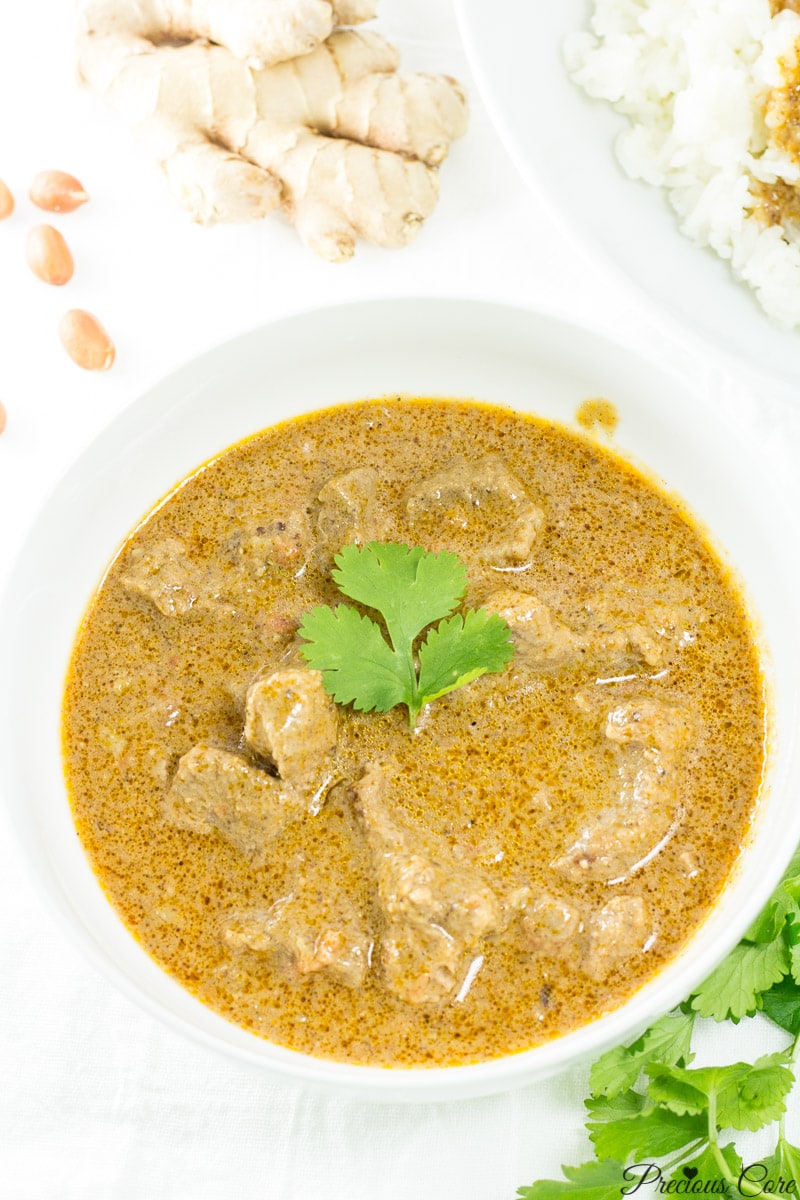 Different countries in Africa have different ways of preparing this soup. Sometimes, it is cooked with palm oil, sometimes, it is simmered with a variety of meats. Sometimes, potatoes and carrots are added into it.
And there are different names for it too. It is known as Nkatenkwan in Ghana, known as Maafe in other West African countries and sauce d'arachide in French. Some people call it peanut stew or groundnut soup. I heard my Ugandan neighbour calling it peanut butter soup. It really has a wide appeal especially among African folks.
I love eating my groundnut soup with rice because that combo is THE BOMB. It also goes well with some boiled plantains, pounded yam or cooked garri. This thing is delicious!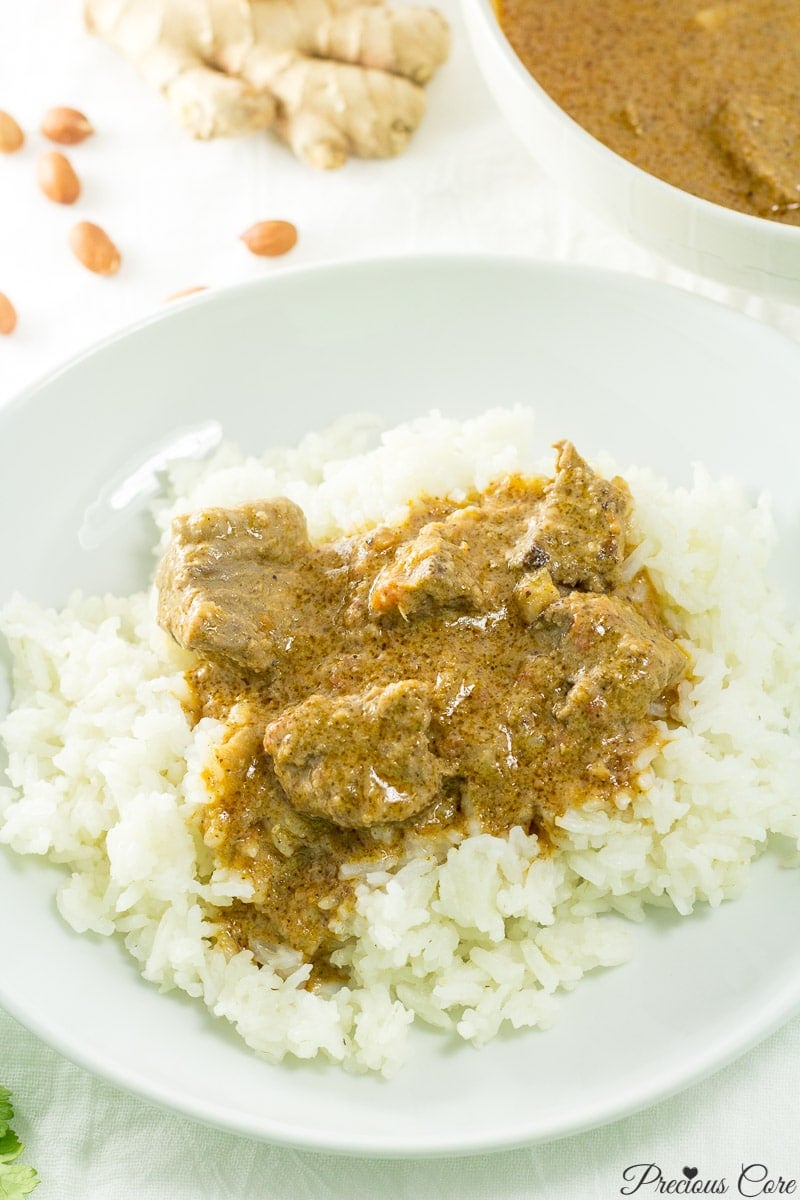 You guys, I made a video for you so you can see how the whole thing comes together.
Watch the video:
And here is the printable detailed recipe for ya: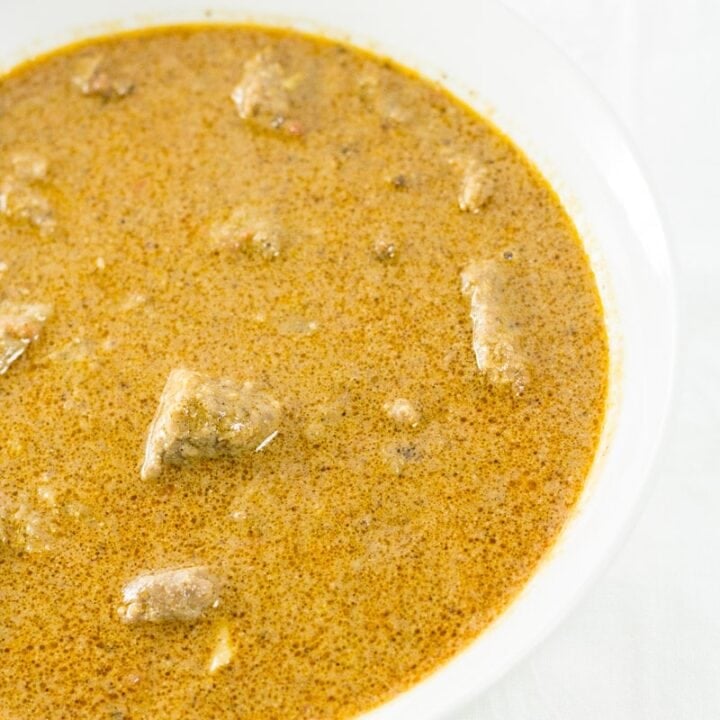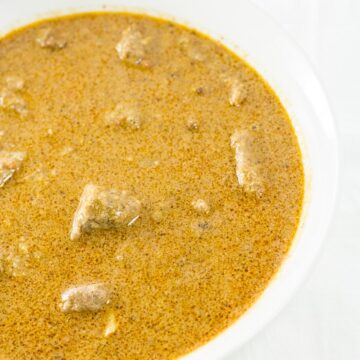 Groundnut Soup
This is a soup made with roasted peanuts (groundnuts) and other exotic ingredients. It is so creamy, excellent on rice and just so good with any starchy side.
Ingredients
1

cup

raw groundnuts (peanuts)

1

pound

beef (about 1/2 kg)- cut into small slices

5

garlic cloves - peeled

1/2-1

inch

ginger - peeled

1

onion - chopped

2

tomatoes - diced or blended

1/2

cup

oil - I used canola

3

small seasoning cubes (Maggi)

1

teaspoon

salt

1

hot (habanero) pepper - optional
Instructions
Place the peanuts in a skillet and on medium heat to roast for about 5-10 minutes. Keep stirring from time to time while roasting.

While the groundnuts roast, wash your beef thoroughly then place in a pot with 2 cups of water. Add in half a teaspoon of salt, one Maggi cube and a tablespoon of chopped onions. Let it cook for about 20 minutes on medium high, until the meat is tender. Check from time to time and add in water as needed.

When your peanuts are well roasted and have a beautiful brown colour with black spots on the outside, turn off the heat. Let it cool completely then blend it into a powder/paste. If you have a coffee grinder, use it for this. When peanuts are all blended, add a cup of water into the ground peanuts and mix into a smooth paste.

After blending the peanuts, blend together garlic, ginger and habanero pepper (if using.)

Now, your beef should be ready so pour it into a bowl with the stock. Place the pot back on the fire to heat up so the little stock in it gets dried. Add in oil to get hot. Then saute the onions until fragrant. Add in tomatoes and fry until the acidity is all gone - that means it no longer tastes sour.

Next, add in the blended ginger and garlic (and pepper), beef and stock, blended peanuts, seasoning cubes and half a teaspoon of salt. Mix thoroughly until well combined and let it all simmer together for about 5-10 minutes. Taste to ensure that the seasoning is perfect. Also, adjust the consistency of the soup at this point.

Serve warm over rice, with boiled plantains or with some fufu of choice. Enjoy, friends!
Notes
If you do not want to use roasted peanuts, use a cup of plain peanut butter, instead.
If you do not want to use beef, use chicken, fish, or even mushrooms. 
Nutrition
Calories:
465
kcal
|
Carbohydrates:
9
g
|
Protein:
22
g
|
Fat:
40
g
|
Saturated Fat:
7
g
|
Polyunsaturated Fat:
10
g
|
Monounsaturated Fat:
22
g
|
Trans Fat:
1
g
|
Cholesterol:
52
mg
|
Sodium:
935
mg
|
Potassium:
580
mg
|
Fiber:
3
g
|
Sugar:
2
g
|
Vitamin A:
368
IU
|
Vitamin C:
10
mg
|
Calcium:
56
mg
|
Iron:
3
mg

If you make this soup, please share a photo on Instagram and tag me: @preciouscore.