AFRICAN PEANUT STEW – MAFE
This African Peanut Stew recipe is one that needs to go right into your weekly dinner rotation! A few simple ingredients and you have a rich creamy nutty spicy stew that is so tasty with rice. Alternately, get some French bread and use to soak up your peanut stew or serve it with any low-carb side dish you like. It is so hearty!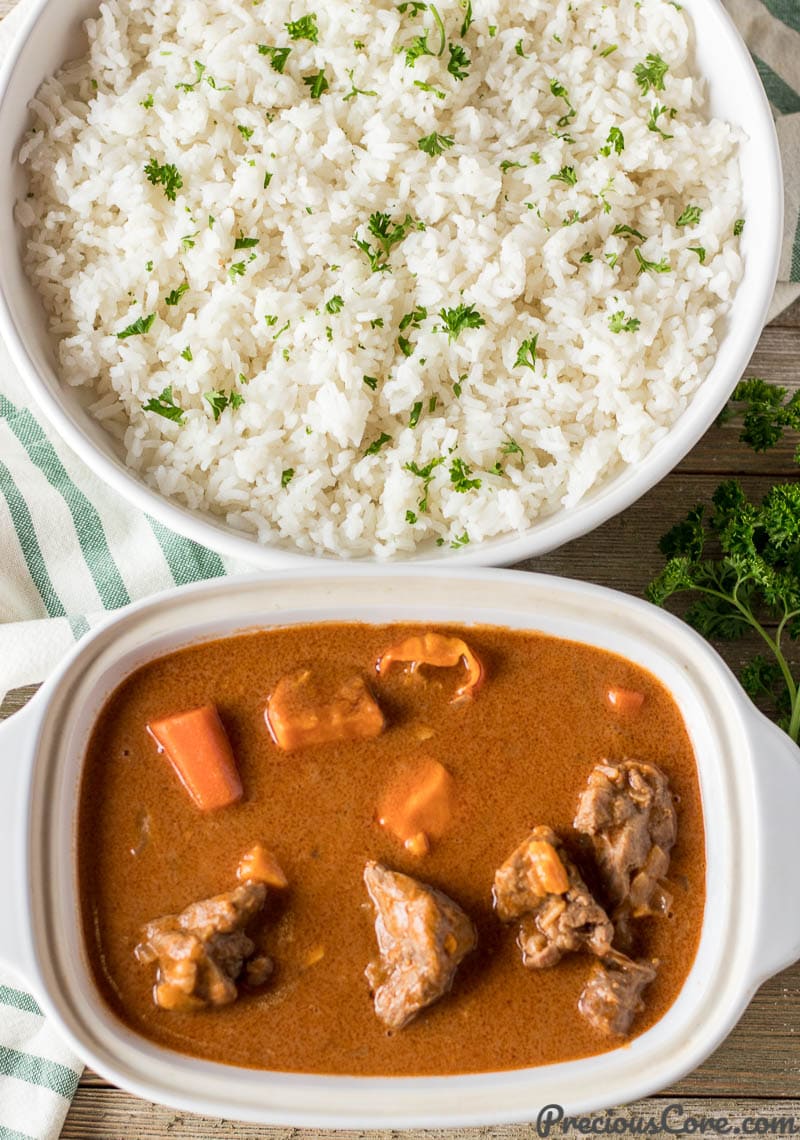 Listen to me: you have to make this African Peanut Stew! I am repeating this because it is so easy to make and not complicated at all. And you probably already have all the ingredients in your pantry.
This African Peanut Stew recipe has been on my to-blog list for a while now so I am glad to finally be bringing it to you! Unfortunately, there are a lot of inauthentic recipes on the internet claiming to be African Peanut Soup/Stew. Here is some authentic West African Peanut Stew or West African Peanut Soup depending on how you want to call it! I prefer stew because of its consistency.
It is basically West Africa on a plate as different West African countries have their version of this stew.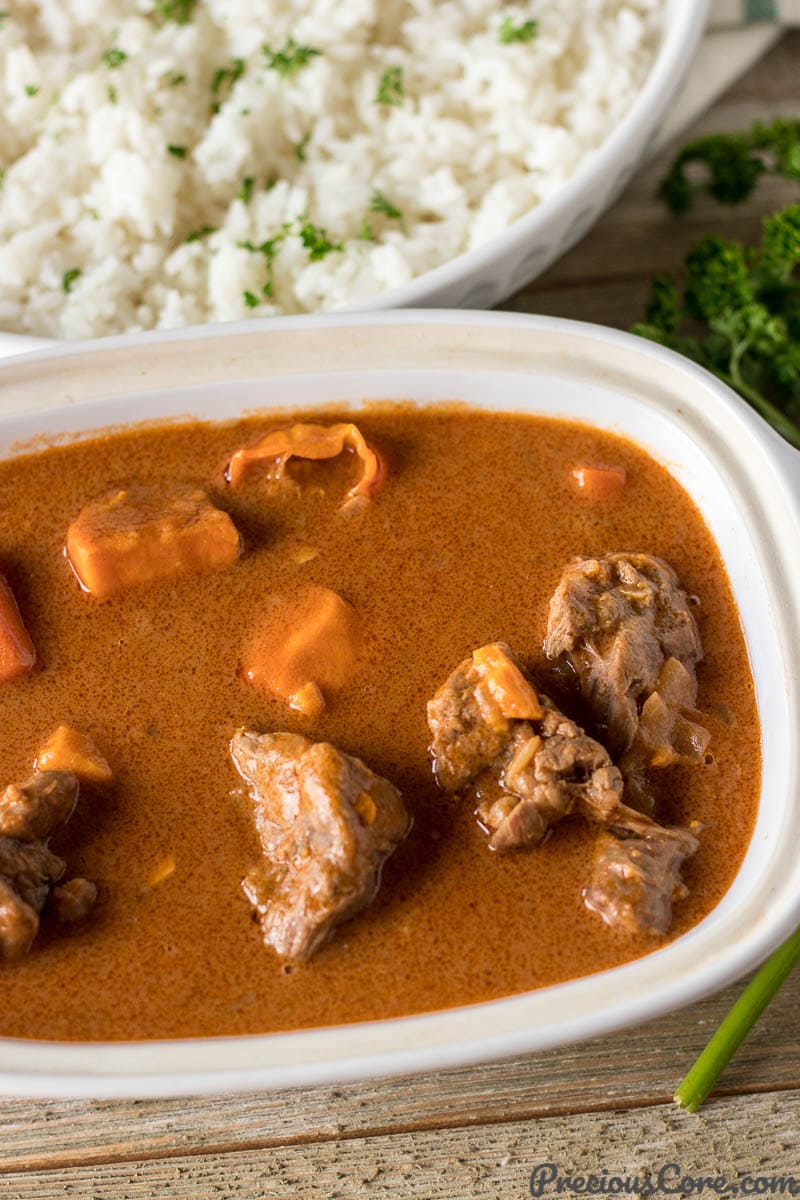 Peanut Butter Stew is enjoyed in Togo, Mali, Nigeria, Ghana, Cameroon. You can see my recipe for Cameroonian Peanut Stew called Groundnut Soup here. There are several ways to make African Peanut Stew across the countries where it is eaten!
One principle, however, remains the same. The recurring ingredient is the peanuts or in this case, peanut butter. The soup is often made with ground peanuts and some form of protein like beef, lamb, chicken or fish. African Peanut Stew can equally be made vegan by simply omitting the animal protein.
This version is the Senegalese Mafé. Other names for Mafe include Maafe, sauce d'arachide (meaning peanut sauce in French) or domoda. The stew includes vegetables. I used sweet potatoes and carrots because their sweetness compliments the nuttiness and spiciness of the stew so well.
What is in African Peanut Stew?
For African peanut stew, you only need a handful of simple ingredients. Here they are:
Natural Peanut Butter: Peanut butter is the main ingredient. Preferably get the natural one with only salt added.
Beef, Lamb or Chicken: I love beef because of the flavor it gives to the peanut stew. But chicken or lamb are equally good!
Tomato sauce or paste: The combination of tomatoes and peanuts may sound strange if you aren't used to West African cooking but this works together perfectly well! The tomato sauce really enhances the taste and the texture stew. It also combines with the peanuts to lend the stew a bright orange color. You could use tomato paste too but if using tomato paste, use about half the quantity of tomato sauce the recipe calls for.
Onion: One large onion is essential here. Saute it first to create a powerful base of flavor before proceeding with the rest of the cooking.
Garlic: This lends so much flavor to the dish so do not skip the garlic!
Chicken bouillon powder: Bouillon cubes are frequently used in West African cuisine. They just give meals that extra something-something. For an authentic West African taste use bouillon powder or bouillon cubes.
Vegetable oil: For sauteing the onion.
Habanero pepper: For a much needed spicy kick! The spiciness of the pepper balances the richness of the stew so well.
How To Make African Peanut Stew
Step 1: Heat up oil and saute chopped onions until fragrant.
Step 2: Add in beef, tomato sauce, water, salt, bouillon powder (or bouillon cubes) and bring to a simmer.
Step 3: Add garlic and peanut butter and let it simmer.
Step 4. Add chopped sweet potatoes and carrots, habanero or scotch bonnet and let it simmer until the potatoes are cooked through.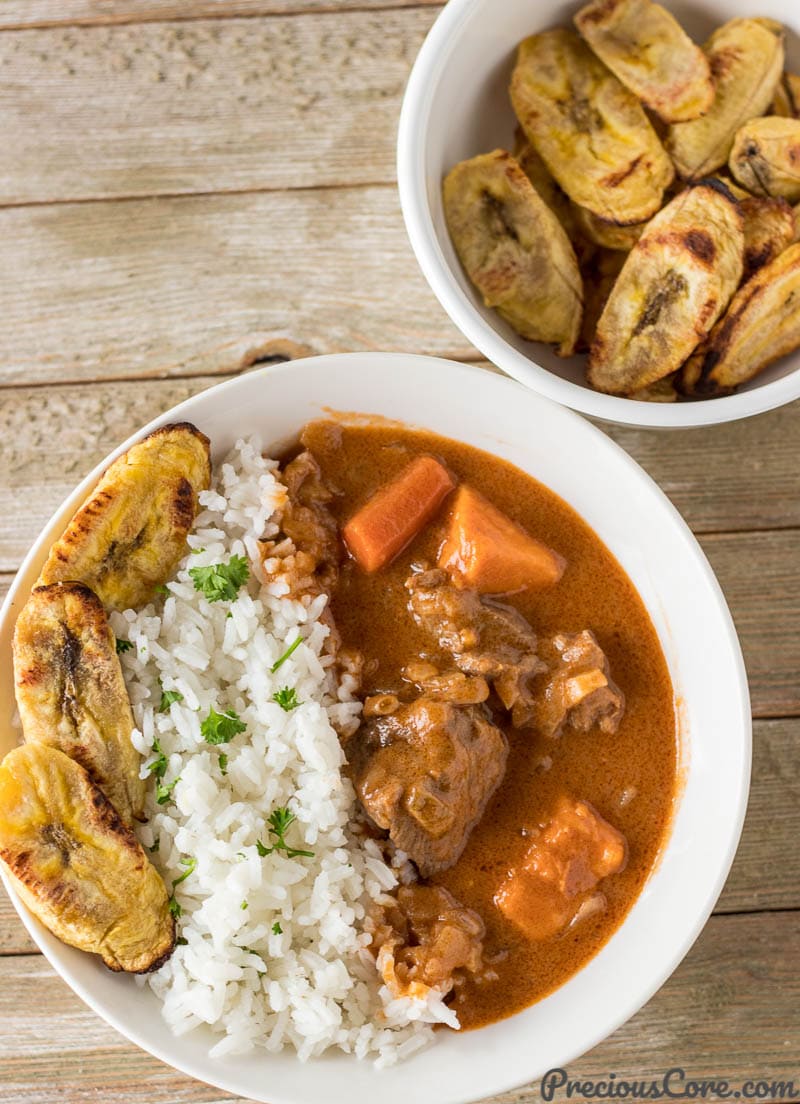 What to Serve With African Peanut Stew
This African Peanut Stew can be served with boiled rice. Also, serve with some fried plantains on the side if you can. It can also be served with couscous if you want an alternative to rice. Also, I love this stew with some French bread and I highly suggest you try it! It is a great stew that will basically compliment lots of side dishes either carb-filled or low carb.
Can You Freeze African Peanut Stew?
Yes, you can totally freeze your African Peanut Stew! It is also a great recipe to make ahead and keep in the fridge.
Hope you enjoy this West African Peanut Stew recipe. It is the best!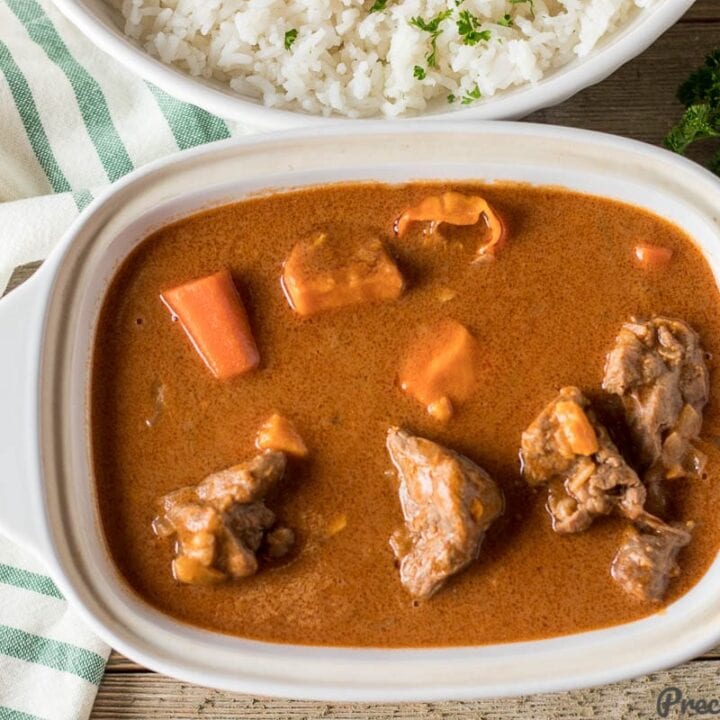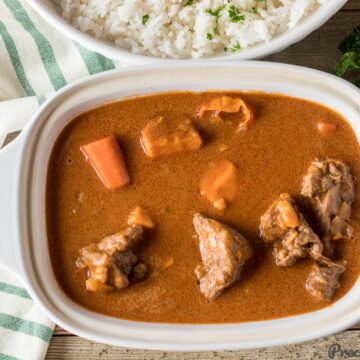 African Peanut Stew - Mafe
Luscious glistening African Peanut Stew! Travel to West Africa by making this hearty stew. It will give new meaning to your boiled rice. It will make you cry happy tears. It is one recipe you will want to make over and over again. Enjoy!
Ingredients
2

tablespoons

vegetable oil

1

large onion - chopped

1

pound

beef cut into 1-2 inch pieces

8

oz

tomato sauce

3/4 cup

1

teaspoon

salt

1/2

cup

natural peanut butter

2

teaspoons

chicken bouillon powder

4

cloves

garlic - minced

1

cup

sweet potatoes peeled and chopped into 1 inch pieces

1/2

cup

carrots chopped into 1-inch pieces

1

habanero pepper
Instructions
Place oil in a pot and heat up on high heat for about 3 minutes. Add the chopped onions and saute while stirring from time to time for about 5 minutes.

Add the beef, tomato sauce, four cups of water, salt and bouillon powder. Bring everything to a boil then reduce the heat and let them simmer.

Add the garlic and the peanut butter and stir well. Let it simmer for 5 minutes.

Add the sweet potatoes and carrots. Cut the habanero pepper into 2 and add to the pot (see note 1). Cover and let it simmer for 10-15 minutes until the sweet potato is tender when pierced with a fork. Remove the habanero pepper and discard.

Serve warm over boiled rice.
Notes
1. Habanero pepper is insanely hot so be sure to omit it if you fear the heat. BUT this dish still needs some heat so I suggest a pinch of cayenne pepper if you can't stand habanero.
2. Feel free to add other vegetables you like. Cabbage and okra will also work well.
Nutrition
Calories:
280
kcal
|
Carbohydrates:
17
g
|
Protein:
16
g
|
Fat:
17
g
|
Saturated Fat:
4
g
|
Polyunsaturated Fat:
4
g
|
Monounsaturated Fat:
8
g
|
Trans Fat:
1
g
|
Cholesterol:
18
mg
|
Sodium:
867
mg
|
Potassium:
644
mg
|
Fiber:
3
g
|
Sugar:
7
g
|
Vitamin A:
8368
IU
|
Vitamin C:
14
mg
|
Calcium:
51
mg
|
Iron:
2
mg