Chicken in White Sauce
Published Jun 05, 2020
Updated Sep 18, 2023
Chicken in White Sauce is lip-smacking good! This creamy sauce is savory, garlicky, comforting, and ready in 30 minutes. The serving possibilities are endless with this dish.
This recipe is made with pantry staples and you can make it easily on a weeknight or when you have company.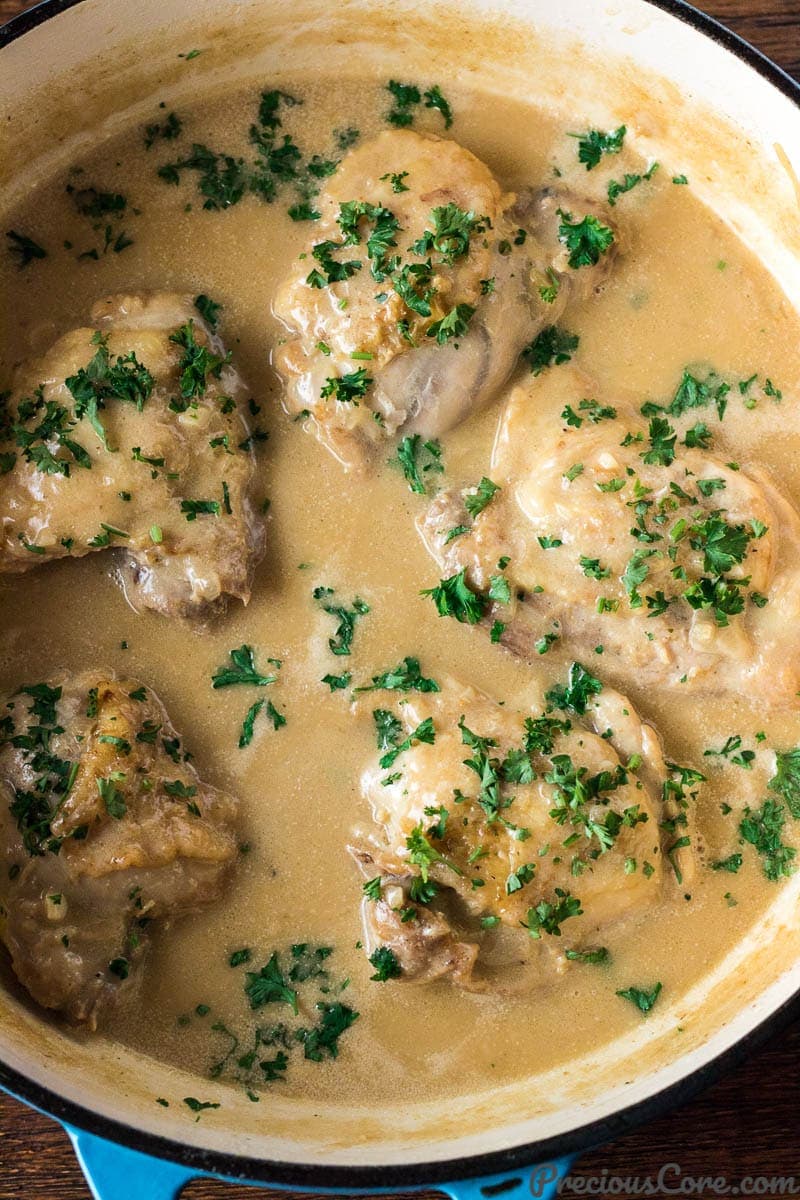 Have you ever made a meal that made you feel so proud of yourself? You will impress yourself when you make this easy chicken dinner. It is simple and elegant at the same time.
Garlic Herb Rice, Buttermilk Mashed Potatoes, and Easy Roasted Potatoes are some side dishes that pair well with this Chicken In White Sauce.
Or, you could boil your favorite pasta and serve it with the sauce. Just incredible!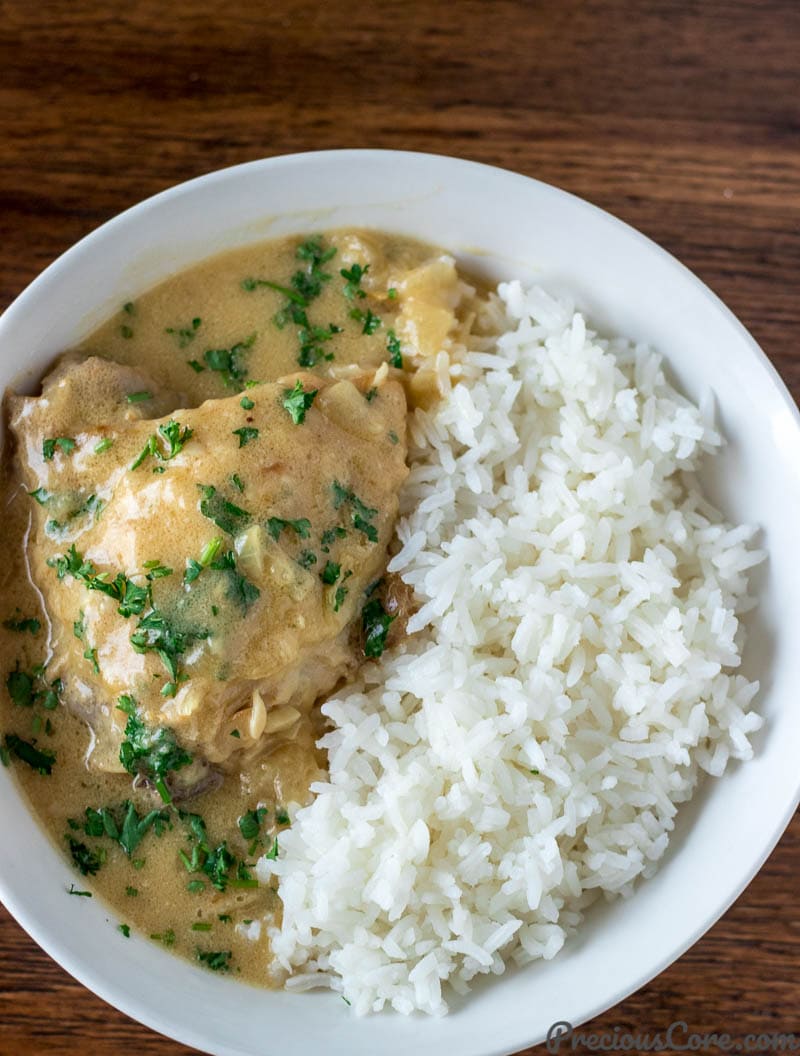 Why You'll Love This Recipe
Insanely Delicious: The sauce is creamy, garlicky and to die for! And the chicken is so tender and juicy! My goal was to make a meal you would expect to get at a 5-star restaurant at home and I did just that with this Chicken In White Sauce recipe. It is so good!
Easy-to-Follow: This recipe is quite easy to follow. Just brown some chicken then make the sauce. It is not complicated at all, qualifying it as a recipe even beginner cooks can make. It is the perfect recipe for busy moms!
Versatile: This recipe can be customized to suit your taste buds. Do you want to add vegetables? Feel free to throw some in.
Family-friendly: My whole family goes crazy for this meal! When I serve it, in no time, plates are cleared! The flavor profile is not complicated at all and even picky eaters would fall in love.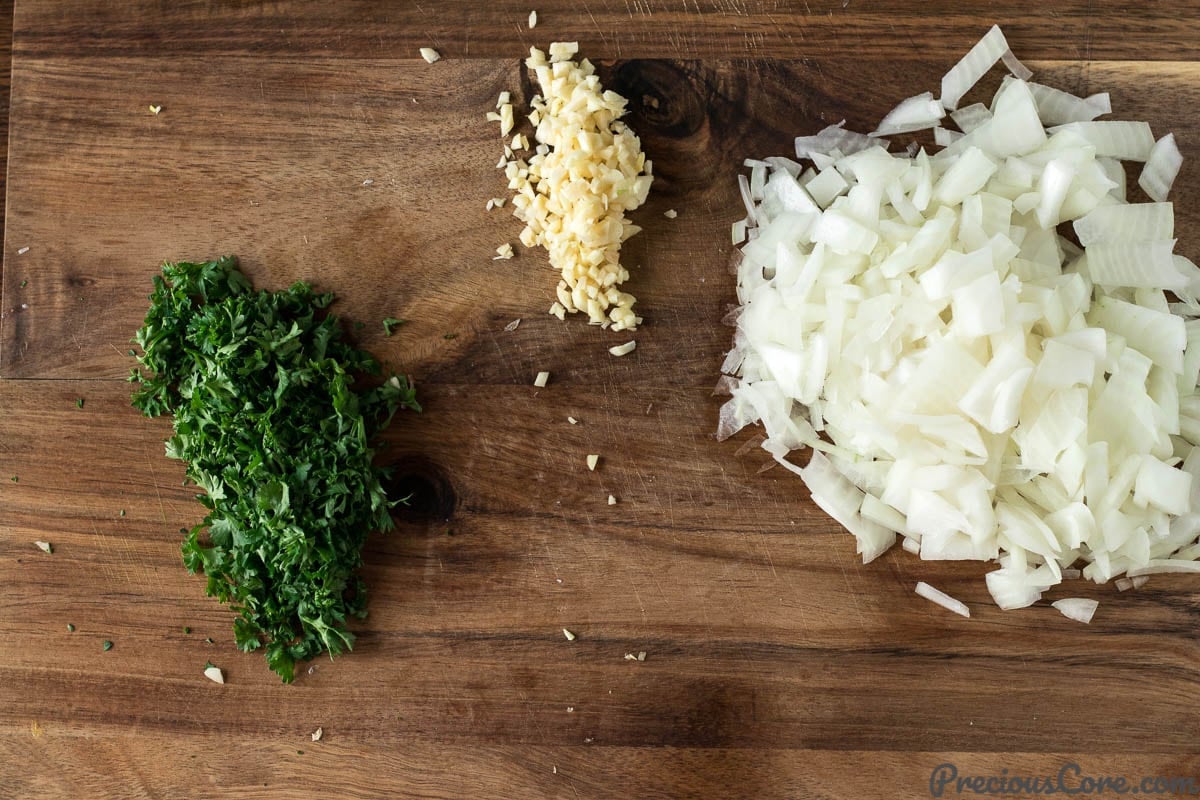 The simple combination of ingredients used brings awesome flavor to this dish. It is quite similar to the French Chicken Fricassee but it is so much easier, requiring fewer ingredients.
If you love easy creamy chicken dinners also try my Chicken Drumsticks in Creamy Sauce and Marry Me Chicken.
You will be going for seconds when you try this! The sauce is rich, and velvety, and compliments the chicken well.
With a baby on the way, I am leaning more towards making dinner recipes that don't take a ton of time. This Chicken in White Sauce fits right in. It is ready in no time and super tasty! Another winning chicken dinner just like Chicken Yassa!
The Ingredients
For this recipe, you need the following ingredients:
Chicken thighs: Preferable over chicken breasts because they easily turn out juicier and it's hard to overcook them. But you could use chicken breasts or tenders if you like.
Onions: Sautéed diced onions create a wonderful flavor base for the sauce.
Minced garlic: Easily mince the garlic using a garlic press or grate the garlic with a Microplane zester. You could use store-bought minced garlic if pressed for time.
Chicken bouillon powder: Adds a depth of flavor that is way better than chicken stock. A recommended kitchen staple.
Salt and pepper: Regular ground black pepper will work here but if you happen to have white pepper, use it for a more interesting flavor.
Flour: A little all-purpose flour helps to thicken the sauce.
Butter: For sauteeing the onion and garlic. Butter brings a richer depth of flavor compared to oil.
Heavy cream: this adds creaminess to the sauce. If you can't find heavy cream you could substitute it with (unsweetened) evaporated milk.
Minced parsley: Sprinkling minced parsley over the sauce gives it a professional finish. You replace parsley with other herbs like chives or basil.
See the recipe card below with a detailed list of ingredients and instructions.
How to Make Chicken in White Sauce
1. Sear the chicken. Place the chicken thighs in a pot on medium heat and let it cook in its own fat on one side then flip to the other side and let it cook until done.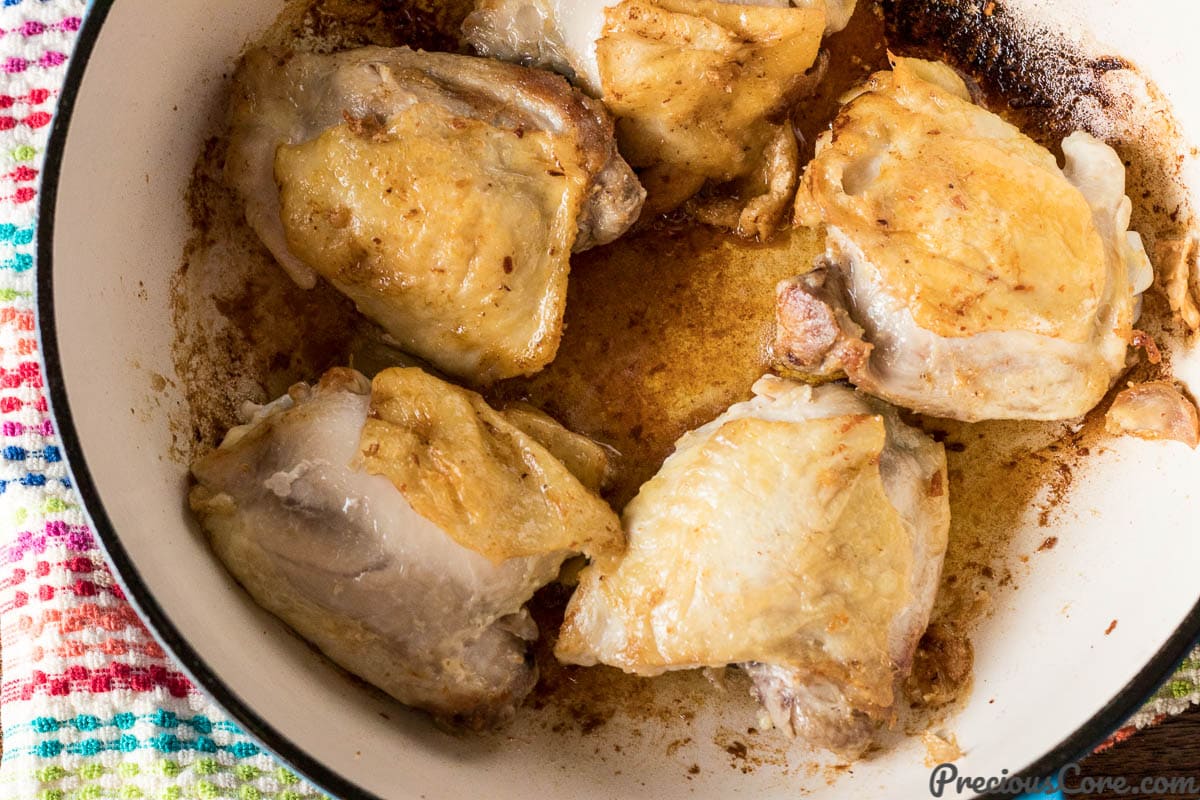 2. Sauté onion and garlic. Remove the chicken from the pot, then add butter to the pot then saute some onion and garlic.
3. Make the flour base. Add flour to the pot and stir then add water and salt and pepper. Add chicken back to the pot and let it simmer.
4. Add heavy cream to the pot. Adjust seasoning and let everything simmer together until the chicken is fully cooked.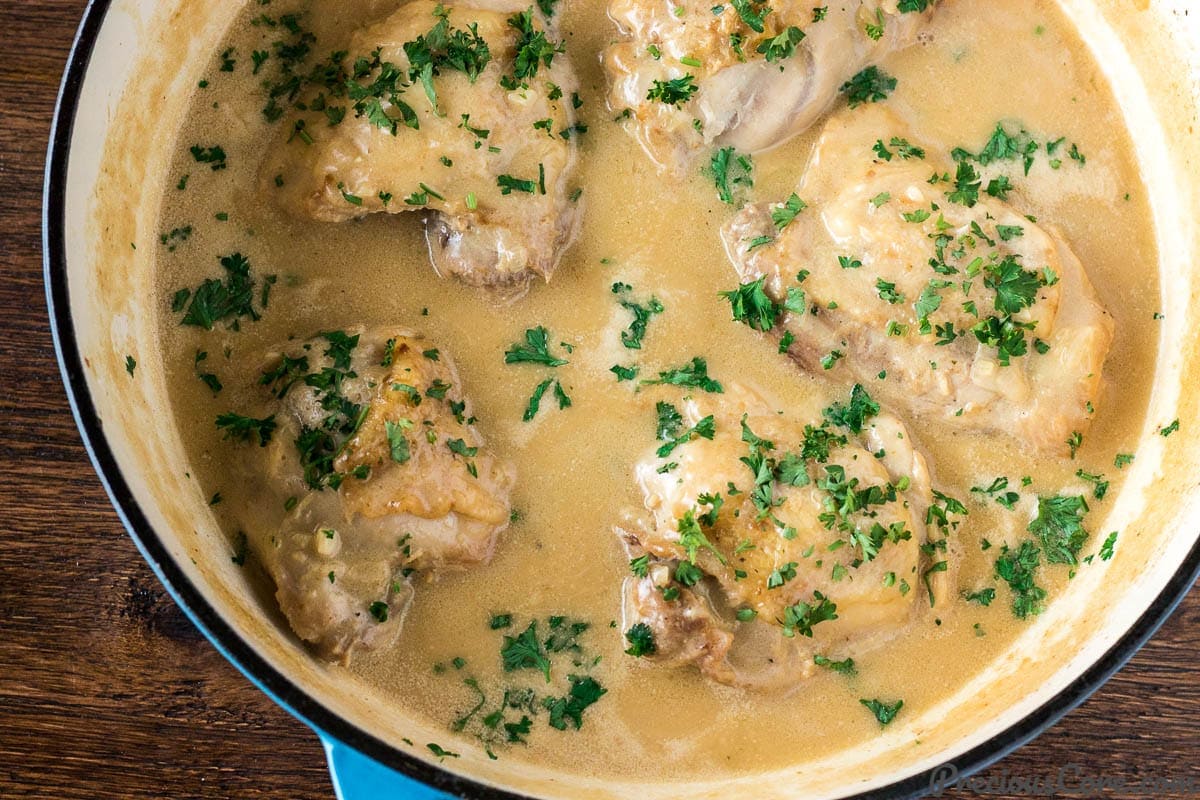 Variations For Chicken In White Sauce
Here are different touches you could add to this recipe:
Add mushrooms for texture, meatiness, and more nutrients.
Add parmesan cheese for more creaminess and a nutty flavor.
Add red pepper flakes for a spicy kick.
Serving
You can serve Chicken in White Sauce with the following side dishes:
Recipe FAQs
What is chicken in white sauce made of?
Chicken in white sauce is made with chicken, heavy cream, butter, and seasoning.
What is the best white wine for cooking chicken?
Chardonnay, Pinot Grigio, and Sauvignon Blanc are all great white wines for cooking chicken.
What is white sauce vs. Alfredo sauce?
White sauce is made with butter, flour, and milk or cream, while Alfredo sauce contains cream, butter, and parmesan cheese.
What does white sauce taste of?
White sauce is buttery, silky, and creamy. It also absorbs the flavors of any herbs and spices added to it.
Storing Leftovers and Reheating
You can store leftovers in an airtight container in the refrigerator for 3-4 days. You might need to add a little water when reheating as the sauce tends to thicken more when cold.
I recommend reheating on the stovetop.
Watch How To Make It
Watch me making Chicken in White Sauce in the video below. If you haven't subscribed to my YouTube channel yet, SUBSCRIBE so you do not miss any of my videos.
More Chicken Dinners To Try
Love chicken dinners? Try the following easy recipes:
If you make this recipe please leave a star rating below. Your rating helps others find the recipe plus I love hearing from you! Thank you!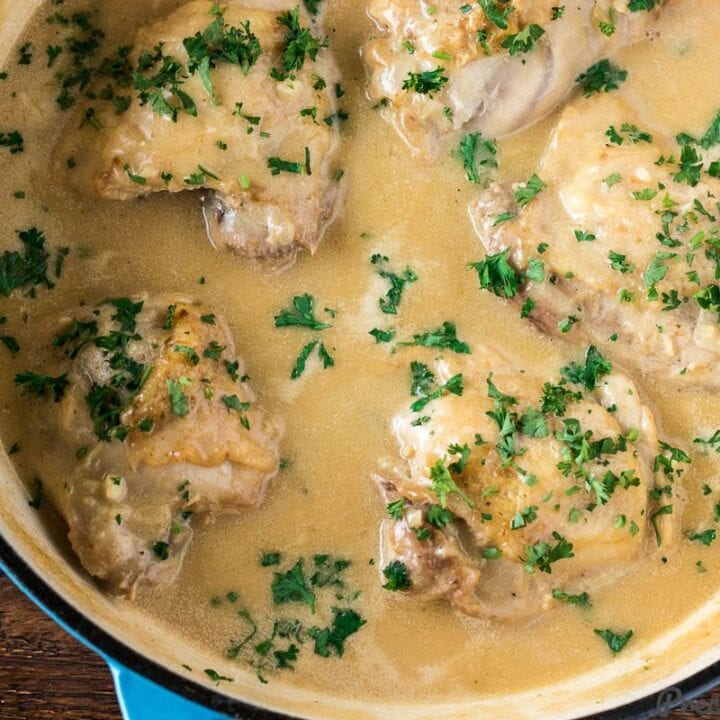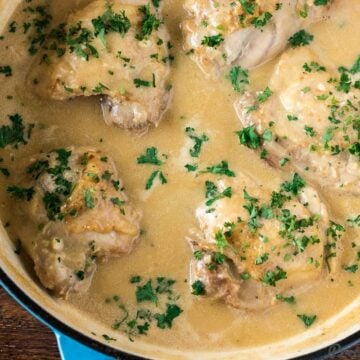 Chicken in White Sauce
Luscious Chicken in White Sauce. It is creamy, garlicky, buttery and so good! A meal fit for kings yet so easy to make It cooks in 30 minutes!
Ingredients
2-3

pounds

chicken thighs

5-6 chicken thighs

1

medium

onion, diced

5

cloves

garlic, minced

1

teaspoon

salt

2

teaspoons

chicken bouillon powder

½

teaspoon

white or black pepper

1

Tablespoon

flour

4

Tablespoons

unsalted butter

½

cup

heavy cream

4

sprigs

parsley, minced
Instructions
Season both sides of the chicken with half a teaspoon of salt and a quarter teaspoon of white or black pepper.

Place a wide-bottom pot on medium-high heat. Place chicken in the pot (no need to add any oil before placing the chicken – the fat from the chicken will be sufficient) and let it cook on one side for about 7 minutes. Flip to the other side and let it cook for another 5 minutes or until desired doneness. Remove chicken from pot. If the chicken splatters while cooking, reduce the heat and let it cook slowly.

To the same pot, add the butter and let it melt. Add the diced onion and minced garlic and saute until fragrant for about 2 minutes.

Add the flour and stir. Let the flour cook in the butter for 1 minute while stirring continuously.

Slowly add 2 cups of water into the pot and stir.

Add the chicken bouillon powder, remaining 1/4 teaspoon of white (or black) pepper and stir.

Add back the chicken to the pot. Make sure the chicken is completely immersed in the liquid or spoon some of the liquid on top to cover it. Cover and cook for about 5 minutes. After 5 minutes, open and stir.

Add the cream then let it simmer for another 3 minutes. Taste to ensure seasoning is perfect. I like a little more white pepper so I add some more at this point.

Add chopped parsley and stir then turn off the heat.

Serve with boiled rice or pasta. Garnish with more parsley if desired.
Notes
1. You could substitute the chicken bouillon powder with 2 4g stock cubes.
2. If you love your sauce with some heat, you could add 1 teaspoon of red pepper flakes.
3. For those living in Africa: note that I used soft chicken in this recipe. The chicken cooks easily by just placing it directly on the pot. If you are using hard chicken, I advise you boil it first together with the salt, black/white pepper and stock cubes (see Note 1). Then use the stock from boiling the chicken instead of water in the recipe. Hope this is clear. If not, you can leave a comment below with your question if you have doubts.
4. You could add mushrooms to this Chicken in White Sauce. If you choose to add mushrooms, season with salt and black or white pepper then saute them right after cooking the chicken. Remove from the pot and add back when adding back the chicken.
Nutrition
Calories:
263
kcal
|
Carbohydrates:
5
g
|
Protein:
19
g
|
Fat:
19
g
|
Saturated Fat:
10
g
|
Polyunsaturated Fat:
2
g
|
Monounsaturated Fat:
5
g
|
Trans Fat:
0.3
g
|
Cholesterol:
129
mg
|
Sodium:
654
mg
|
Potassium:
291
mg
|
Fiber:
1
g
|
Sugar:
2
g
|
Vitamin A:
604
IU
|
Vitamin C:
3
mg
|
Calcium:
39
mg
|
Iron:
1
mg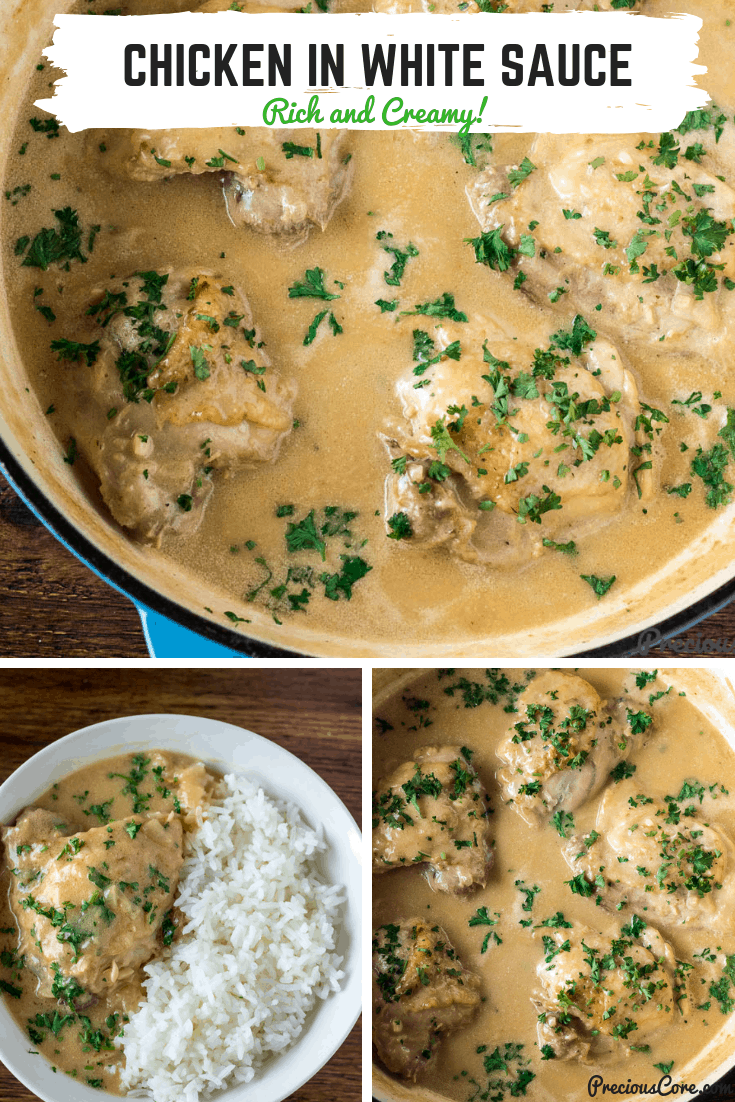 "When the Lord turned again the captivity of Zion, we were like them that dream." Psalm 126:1