STEWED PINTO BEANS
Published Sep 11, 2018
Updated Feb 01, 2020
This hearty stewed pinto beans is so tasty, garlicky with a delicious tomato base. Enjoy on boiled rice, with plantains or any side you like. So good!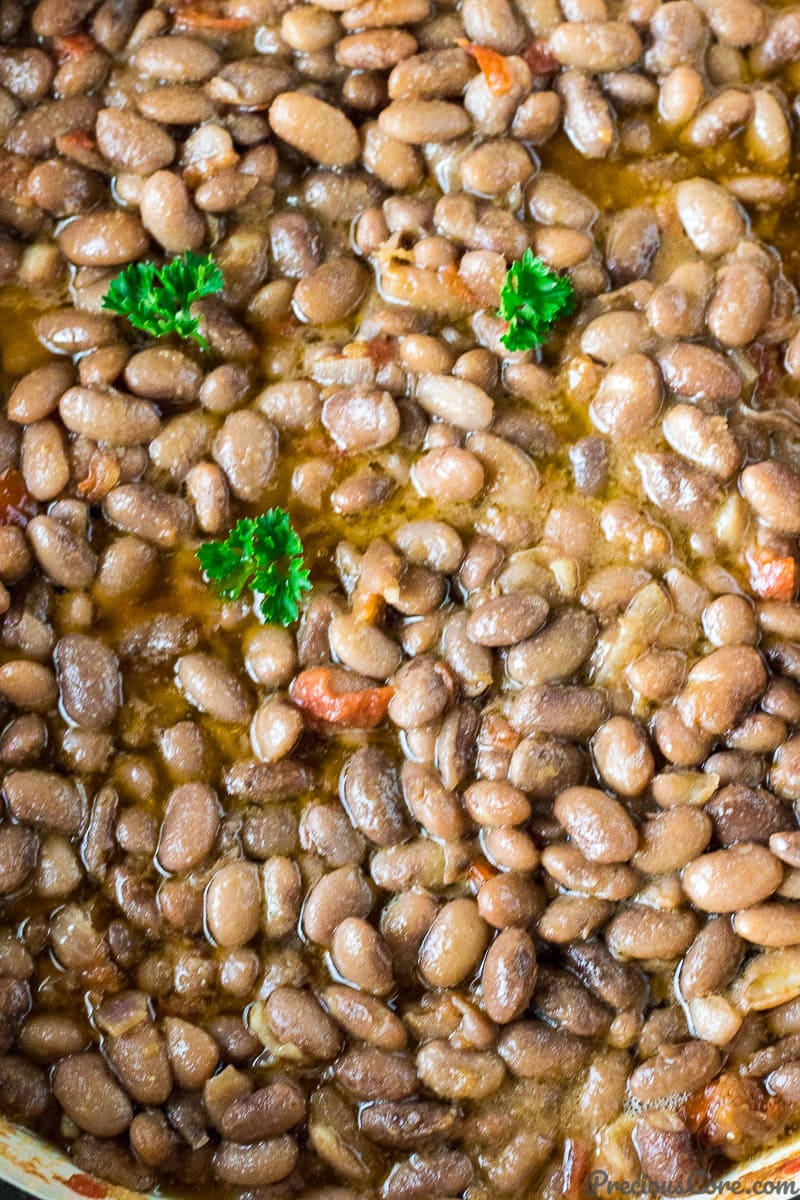 I'm so glad because one of my favorite recipes is making it to the blog today! It is this Stewed Pinto Beans. It is also a widely requested recipe so happy to be putting it up!
How we love beans around here! We eat beans almost every single week, with different things on the side. Like rice, or fried plantains, or boiled plantains or even Puff Puff!
I love making a big pot so I could have a big bowl of stewed beans in the fridge. Because with that I could quickly cook a simple side and we have a meal!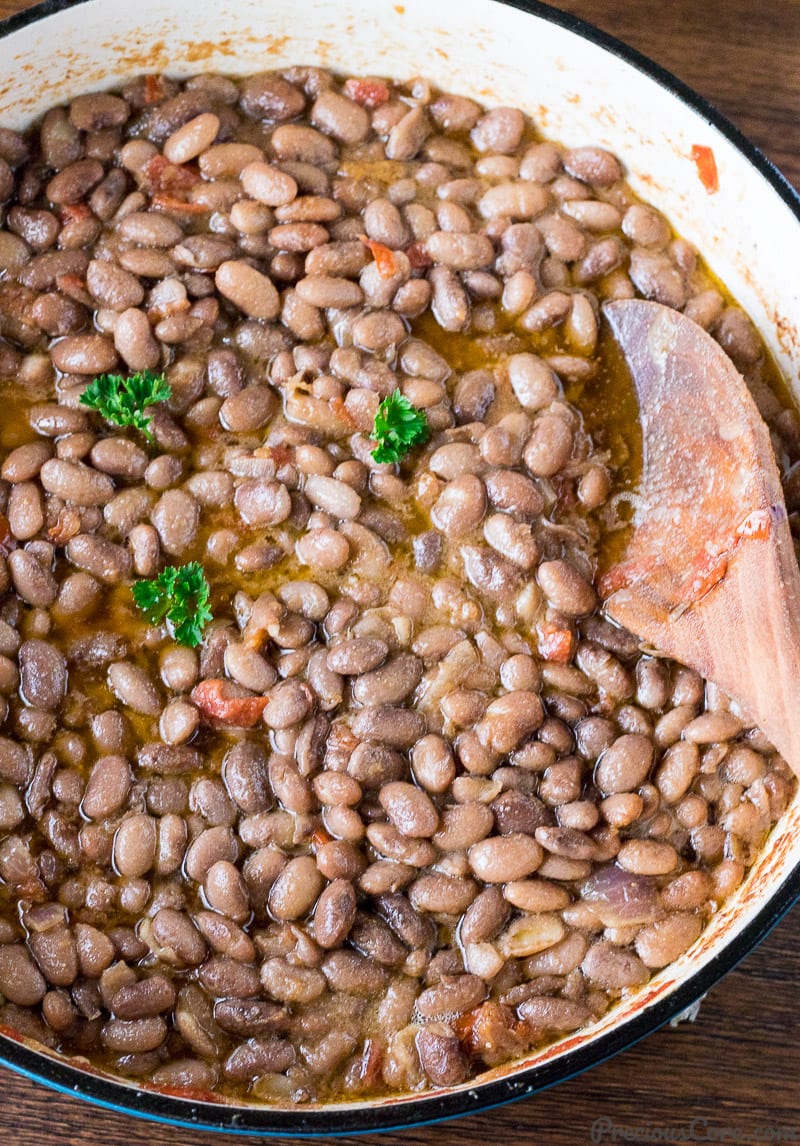 We have enjoyed black beans more times than I can count! And most recently, this stewed pinto beans is what we've been enjoying. I see it when I go to my favorite grocery store here and I always can't resist buying some!
I love buying my beans dry and boiling it from scratch. It is the way we cooked beans back in the day. Canned beans isn't just my thing. But if you want to use canned beans, by all means, do so. But note that canned beans contain a lot of sodium so you might want to add salt to your bean stew in very little bits and taste as you do so so that you do not oversalt it.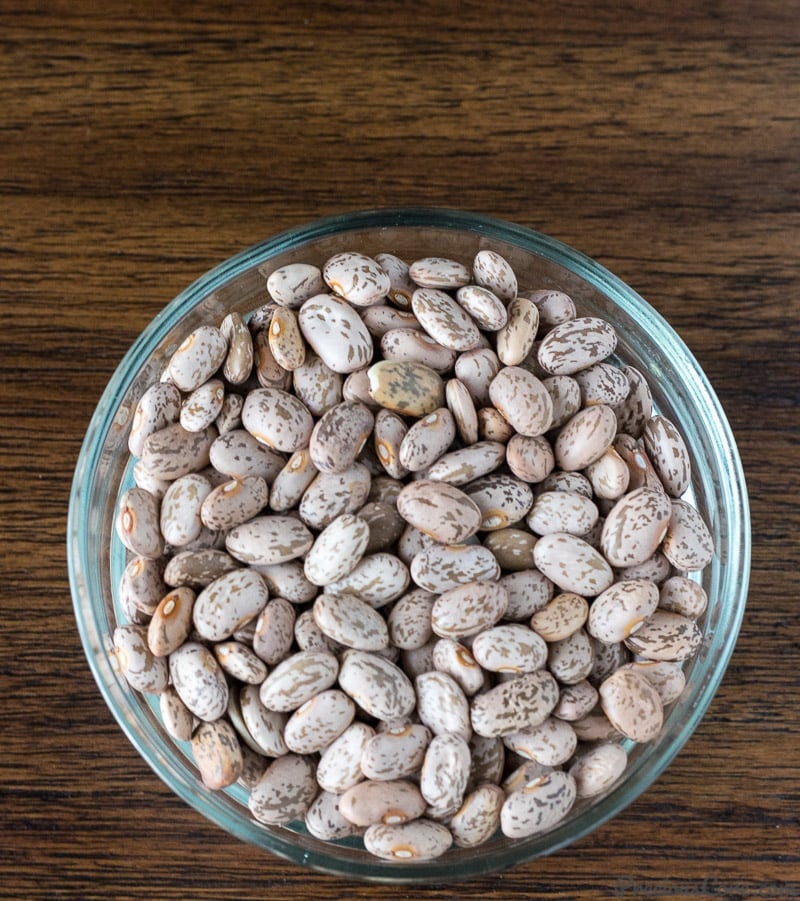 I boiled 4 cups of dried pinto beans. It always takes me about an hour and thirty minutes to cook the beans. It is one of those things I do while doing other things. (However, if you have a pressure cooker, use it to boil the beans.)
Then I check the pot from time to time to add water as needed. When the 4 cups of beans cook, they yield 8 and a half cups. So the beans more than double in size!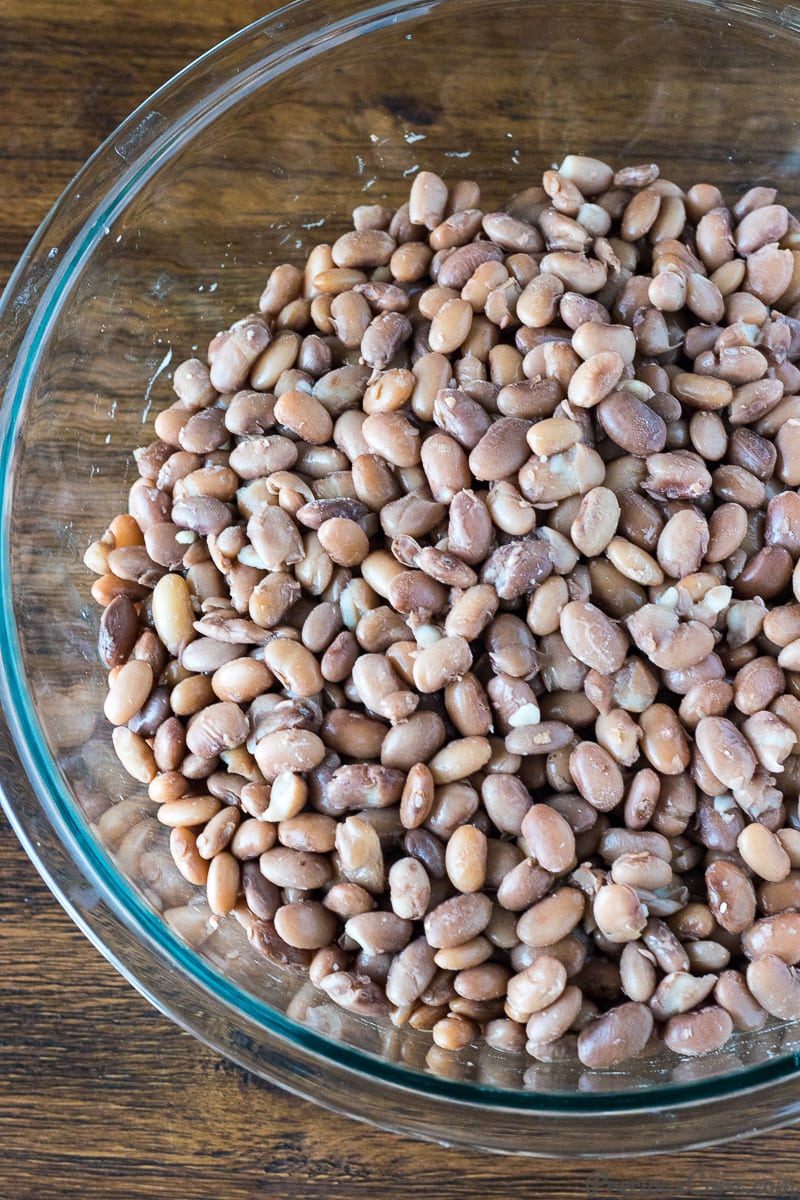 Then I proceed to stew the beans. I love keeping the ingredients simple: onion, tomatoes, garlic, ginger powder with some oil and seasoning. That's it! And the stewed pinto beans tastes amazing like this.
However, when I have more time on my hands, I make a blend of fresh garlic, ginger, green onions (or leeks), parsley and sometimes basil and I use the blend in the beans.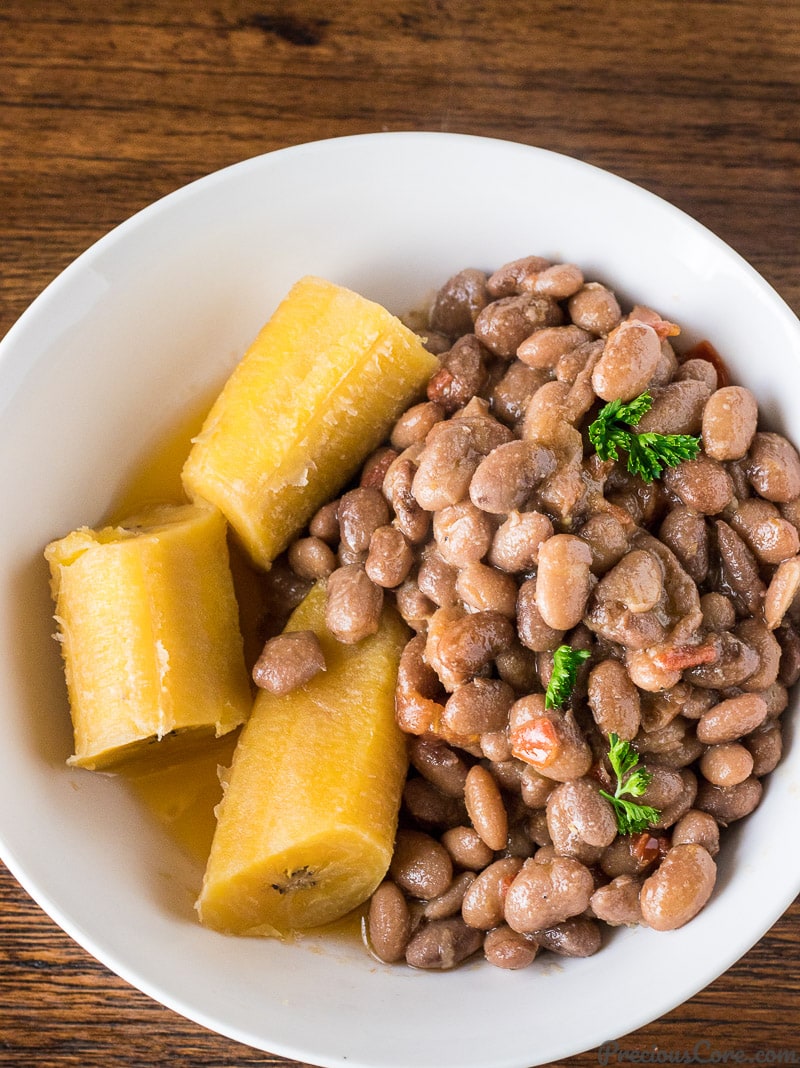 This stewed pinto beans will taste great whether cooked with dry or fresh spices. It is so good!
It is garlicky, slightly sweet (with sweetness from the tomatoes), the beans are soft and kind of melt into your mouth like butter. It is also vegan and gluten-free, which are great bonuses. It is so tasty!
Watch How To Make Stewed Pinto Beans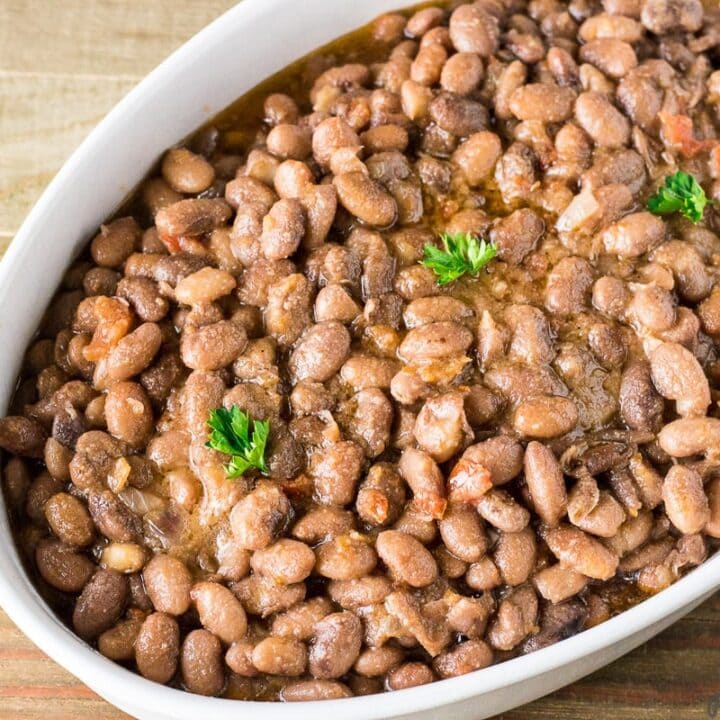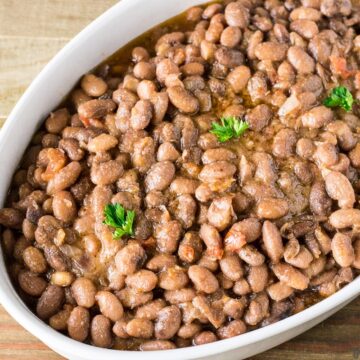 Stewed Pinto Beans
This hearty stewed pinto beans is so tasty, garlicky with a delicious tomato base. Enjoy on boiled rice, with plantains or any side you like. So good!
Ingredients
4

cups

dried pinto beans

See Note 1

4

large roma tomatoes - chopped

1 1/2

cup

oil

1/2

teaspoon

garlic powder

1/2

teaspoon

ginger powder

1

teaspoon

salt

2

stock cubes

4g per cube sub with 2 teaspoons of bouillon powder

1

medium onion - chopped

1 1/2

cups

oil
Instructions
Pick out the bad beans from the beans and discard. (These may be more or less depending on the beans you bought.) Thoroughly rinse beans then soak in water for 2 hours or overnight.

Add more water to the beans as needed until the water completely covers the beans. Boil beans on high heat until tender. This takes about 1 hour 30 minutes. Be sure to check the beans from time to time as it boils and add more water as needed. During the last 30 minutes of boiling the beans, add two teaspoons of salt and continue to cook it.

Let beans rest after being boiled for about 1-2 hours then strain, discard the water in which it was boiled and rinse the beans.

Place oil in a large pot and heat up on high heat for about 3 minutes. Add the chopped onion and saute until fragrant. About 2 minutes.

Add the chopped tomatoes and let it cook, stirring from time to time until the tomato shrinks, start sticking to the bottom of the pot and no longer tastes sour. About 10 to 15 minutes.

Add garlic and ginger powder to the tomatoes and stir then add 1 cup of water. Bring to a simmer.

To the simmering sauce, add the stock cubes or bouillon powder, salt and stir. Finally, add in the boiled beans and stir. Let it simmer together with the other ingredients for 5 to 10 minutes so the flavors meld.

Turn off the heat and serve. Serve this stewed pinto beans with boiled rice, boiled or fried plantains or just anything that makes your heart happy. Enjoy, friends!
Notes
1. If you do not want to boil your own beans, you could use pinto beans from a can. If you are using pinto beans from a can, you will need 8 1/2 cups of beans (after boiling 4 cups of dried pinto beans, you get 8 1/2 cups of cooked beans).
2. To make boiling the beans easier, use a pressure cooker to cook it if you have one.
3. I mostly keep my pinto beans simple with minimal ingredients because it tastes really great that way. However, if you want to add more ingredients, herbs like a few sprigs of parsley or basil will work well in here. Also, you could blend and use 3 cloves of garlic and half an inch of ginger instead of the powdered versions.
4. Admittedly, the oil content of this recipe is high and that's because I love it that way. You could reduce the oil to suit you.
Nutrition
Calories:
873
kcal
|
Carbohydrates:
51
g
|
Protein:
17
g
|
Fat:
68
g
|
Saturated Fat:
5
g
|
Polyunsaturated Fat:
19
g
|
Monounsaturated Fat:
43
g
|
Trans Fat:
0.3
g
|
Cholesterol:
0.03
mg
|
Sodium:
436
mg
|
Potassium:
1157
mg
|
Fiber:
12
g
|
Sugar:
3
g
|
Vitamin A:
207
IU
|
Vitamin C:
9
mg
|
Calcium:
93
mg
|
Iron:
4
mg
Pin this recipe: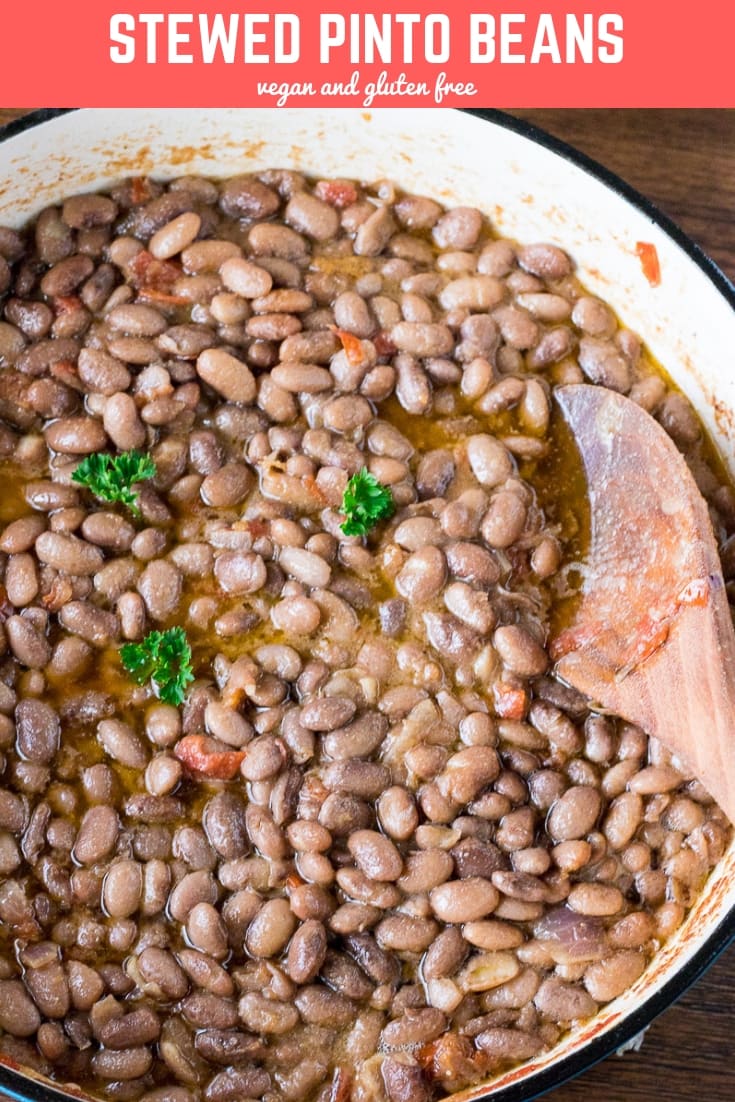 "So do not fear, for I am with you; do not be dismayed, for I am your God. I will strengthen you and help you; Iwill uphold you with my righteous right hand." Isaiah 41:10 (NIV)