PLANTAIN LASAGNA – PASTELON
This Plantain Lasagna also known as Pastelon is the ultimate plantain and meat combination. Layers of plantains, meat, and cheese combine to form a tasty dinner that is to die for! You can't go wrong with all the ooey gooey cheese, flavourful meat and the sweet plantains which tie everything together. This is such a hearty plantain meal!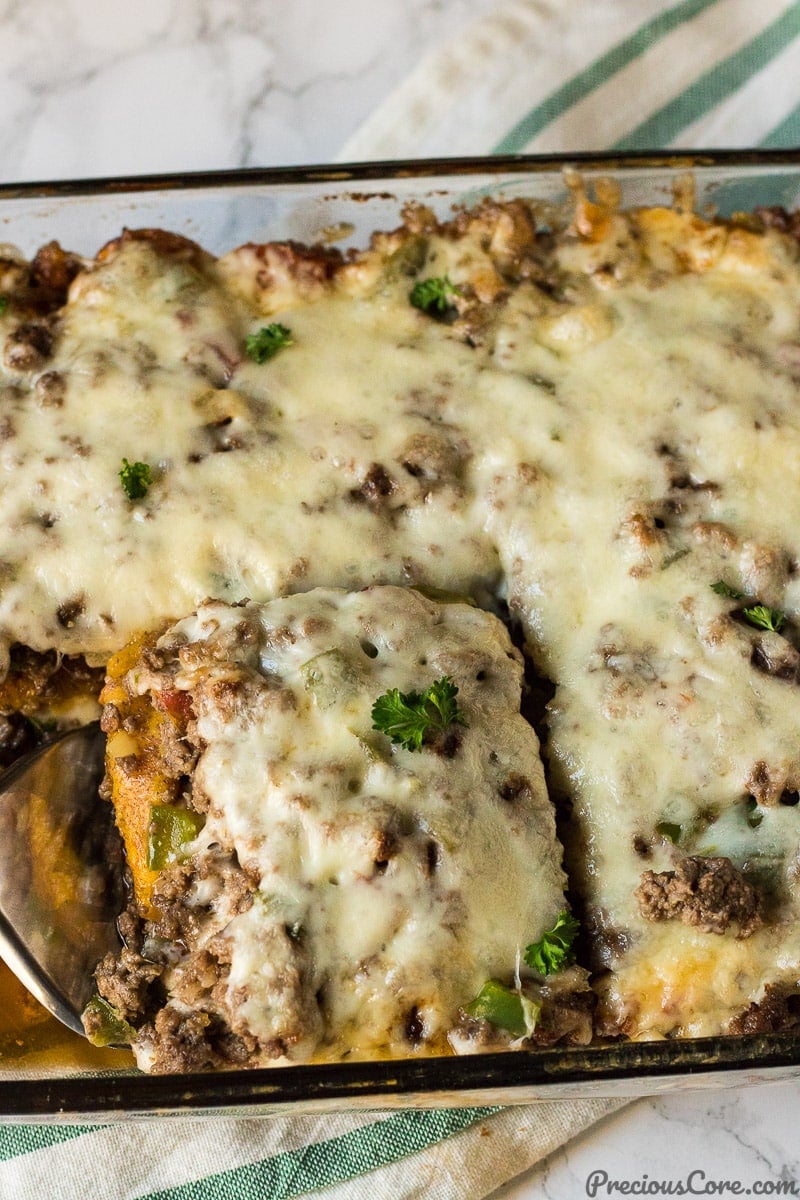 Everyone in my home goes crazy for this Plantain Lasagna. It takes a bit of time to make but when we eat and I hear lots of "hmmm" in approval, then I know that the time and effort is worth it!
Months and months ago, I told my oldest girl, as we drove home from our homeschool coop: "what if we make plantain lasagna for lunch?" She immediately said, "that will be like mixing Africa with America". "Because Africans eat plantains and Americans eat lasagna" she further explained in her cute little voice.
Well, not only Africans eat plantains. they are eaten a lot in the Carribean! Also, Lasagna is an Italian dish which is so popular in America. So this is fusion food at its best!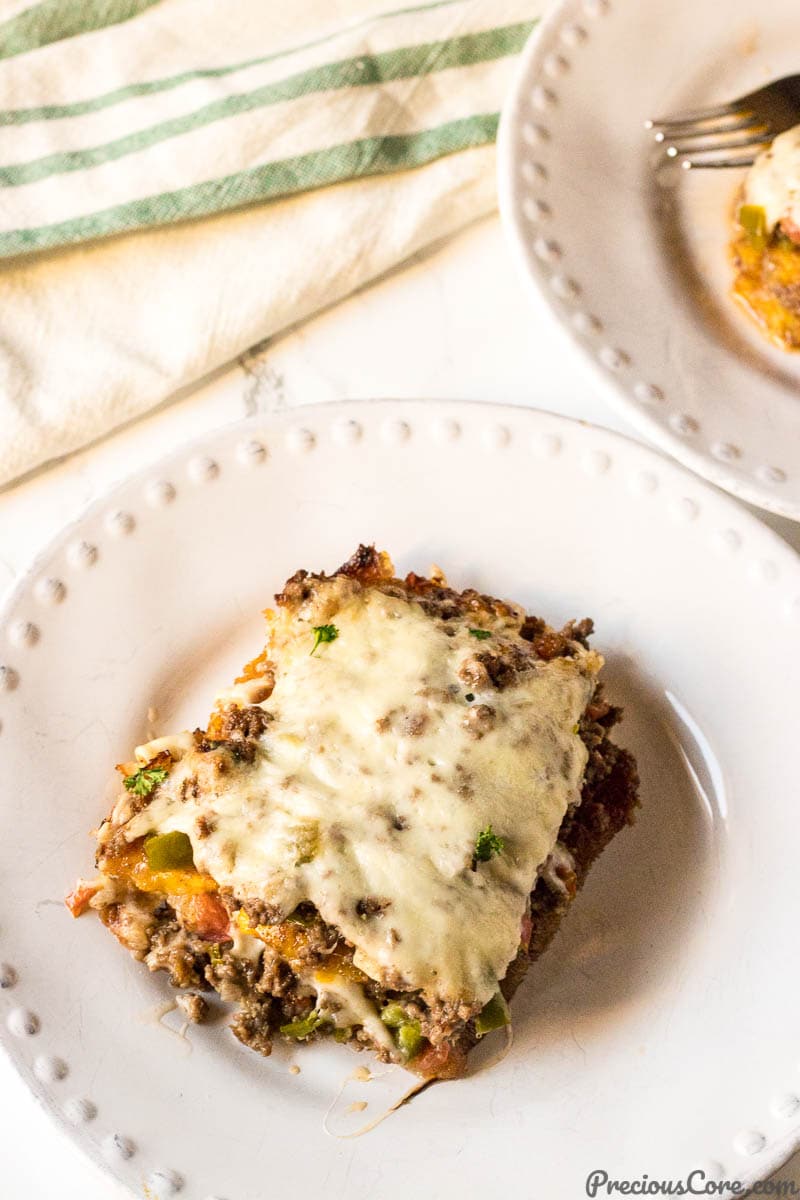 Regular Italian Lasagna uses lasagna noodles which are a form of pasta. But in this recipe, we will be skipping the noodles and using plantains instead! This means that is it gluten-free so those who can't enjoy regular lasagna can enjoy Plantain Lasagna!
Also, in this recipe, I show you how to make the meat sauce for the Lasagna from scratch! A lot of recipes lead you to another recipe for Picadillo – a kind of Latin America beef sauce used in empanadas (handheld meat pies) and in other recipes. But in this recipe, we will be making the meat sauce from scratch- it is so easy to make!
And that meat sauce: I feel like putting it on boiled rice to enjoy or even on some pasta. Why not?? I digress.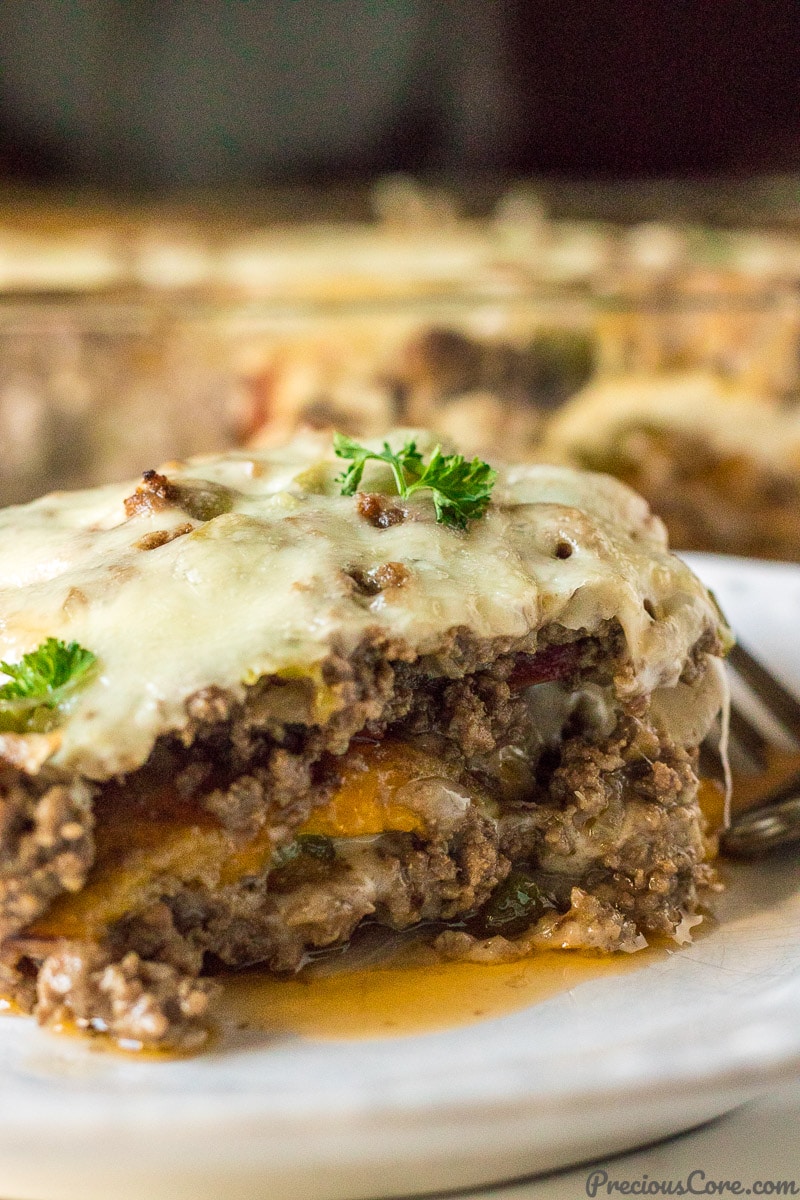 In Puerto Rico, Plantain Lasagna is called Pastelon de Platano Maduros. It literally means Sweet Plantain Lasagna. It is also called Pastelon for short.
So let's go ahead and mix Africa, the Carribean, and Italy by making some tasty Plantain Lasagna!
Ingredients for Plantain Lasagna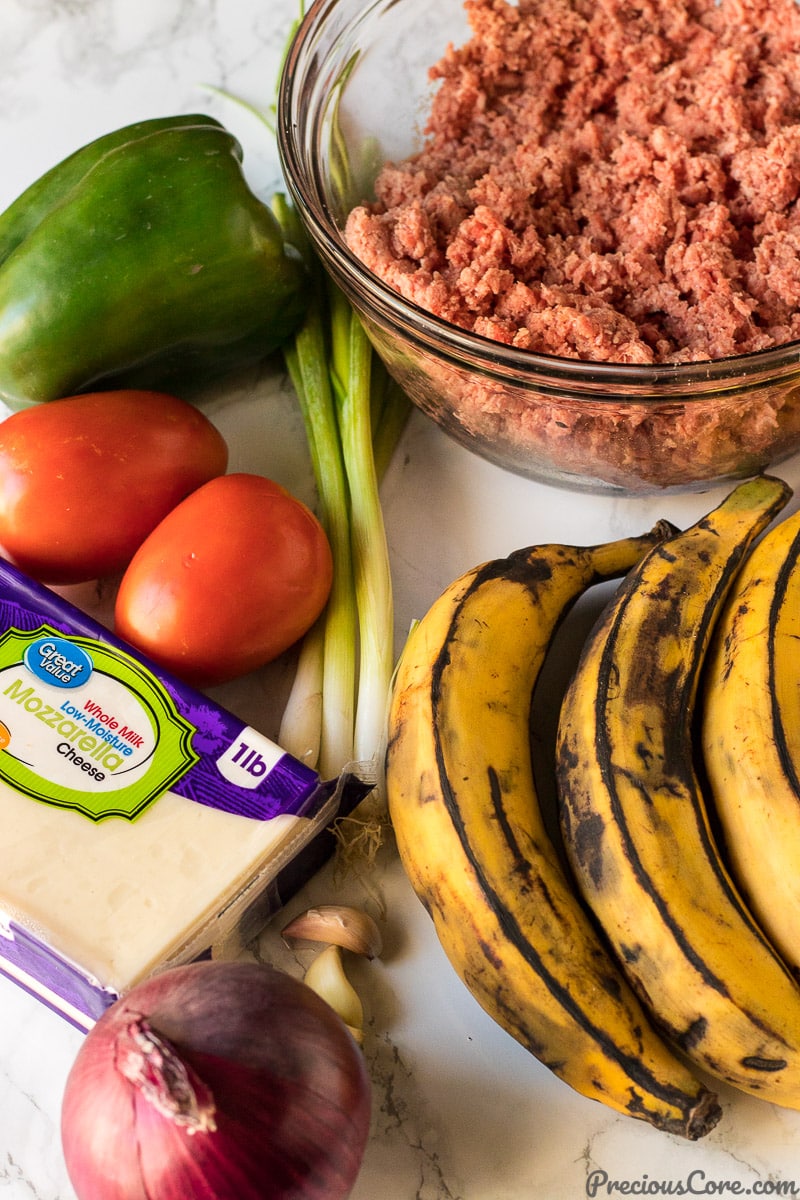 Here are the ingredients you need for Plantain Lasagna:
1. Ripe/yellow plantains. The plantains should be sufficiently ripe but not mushy. They should still be firm to the touch just like the plantains used for Poulet DG.
2. Ground beef. Preferable use lean ground beef so the Plantain Lasagna doesn't turn out too greasy.
3. Cheese. Mozzarella cheese works well here as the flavor blends perfectly with the plantains and meat. I prefer buying a block of cheese and grating myself as the flavor is much better than that of pre-grated cheese.
4. Vegetables. I use tomatoes, onion, and green bell pepper. You can throw in any other vegetables you like.
5. Spices. Garlic, green onions and white pepper make this Plantain Lasagna super tasty. You can substitute the white pepper with black pepper. But please make sure you include some freshly minced garlic. It takes the flavor profile off the roof!
6. Seasoning. I use a combination of salt and bouillon powder to season this Plantain Lasagna. You could replace the bouillon powder with an equivalent ratio of stock cubes.
How to Make Plantain Lasagna
1. Peel the plantains then cut them lengthwise. Cut each plantain into about 4 slices.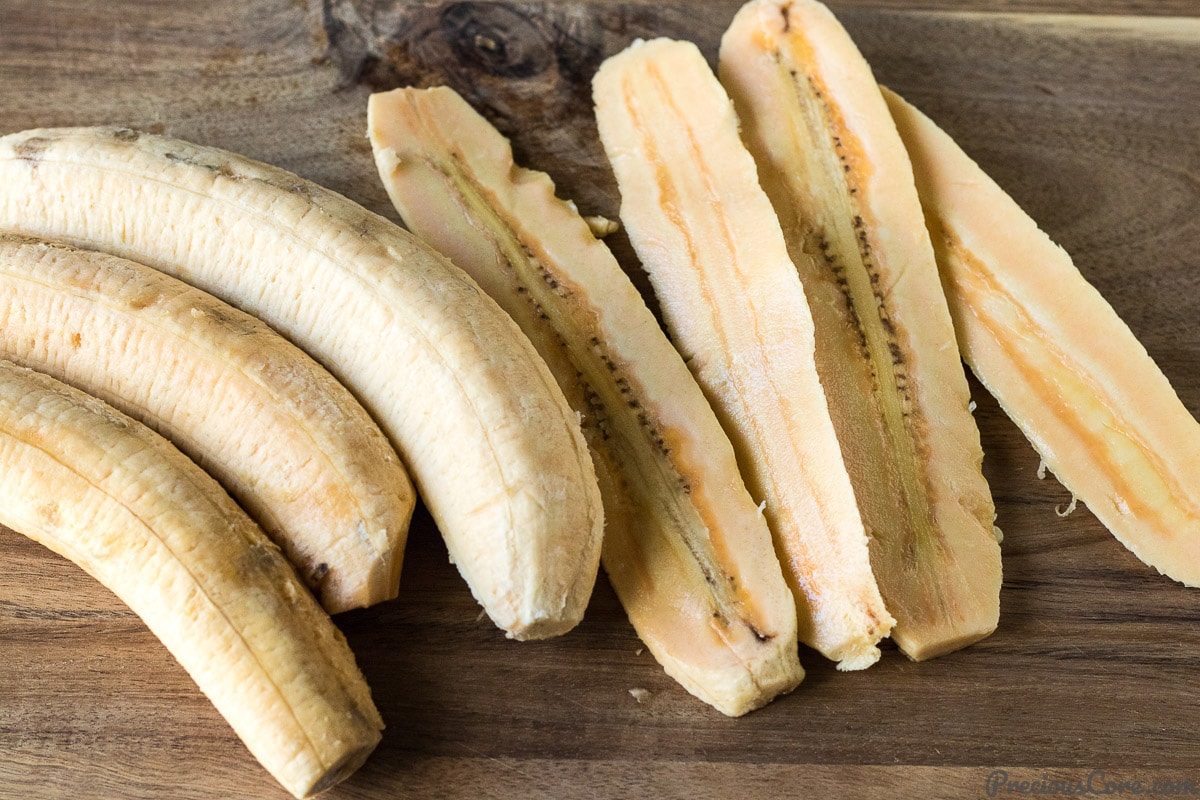 2. Deep fry the plantains in oil until golden brown.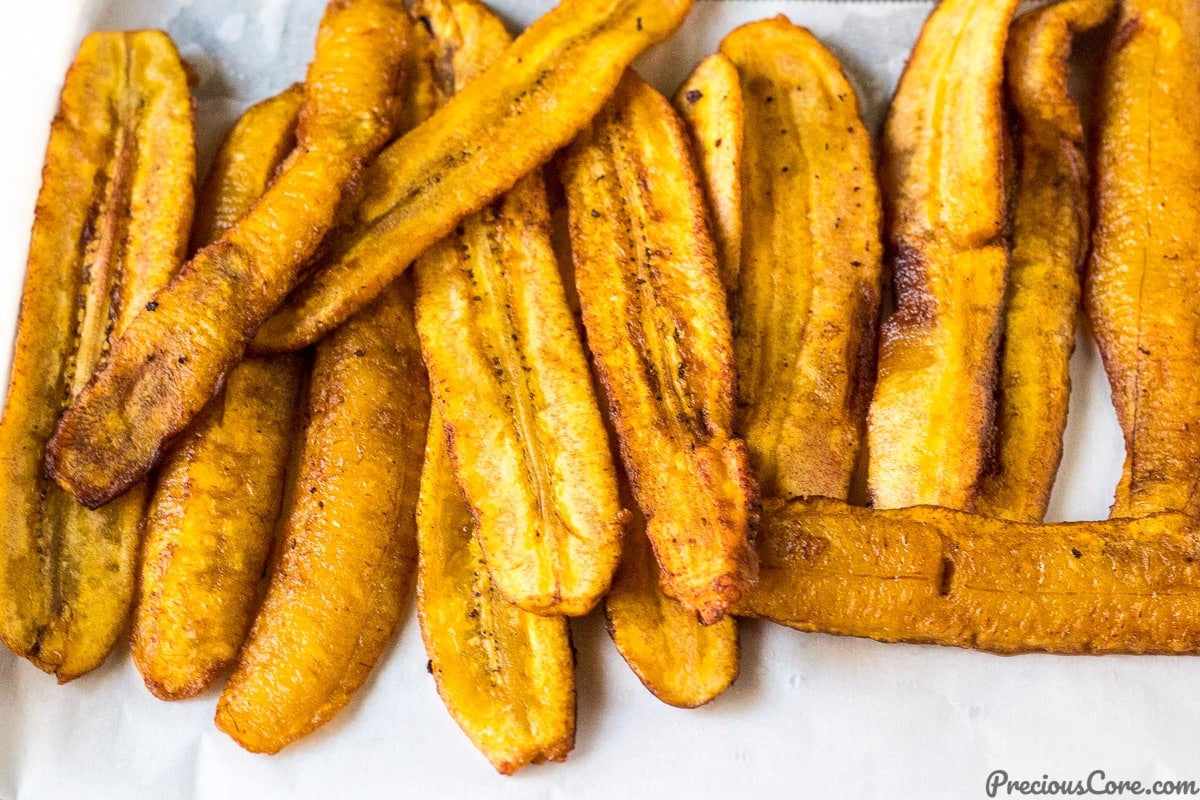 3. Make the meat sauce. Saute onion and garlic, add ground beef and cook until it turns from brown to pink then add tomatoes, seasoning and white/black pepper. Let everything sizzle together then add the green onions and bell pepper. Mix together and turn off the heat.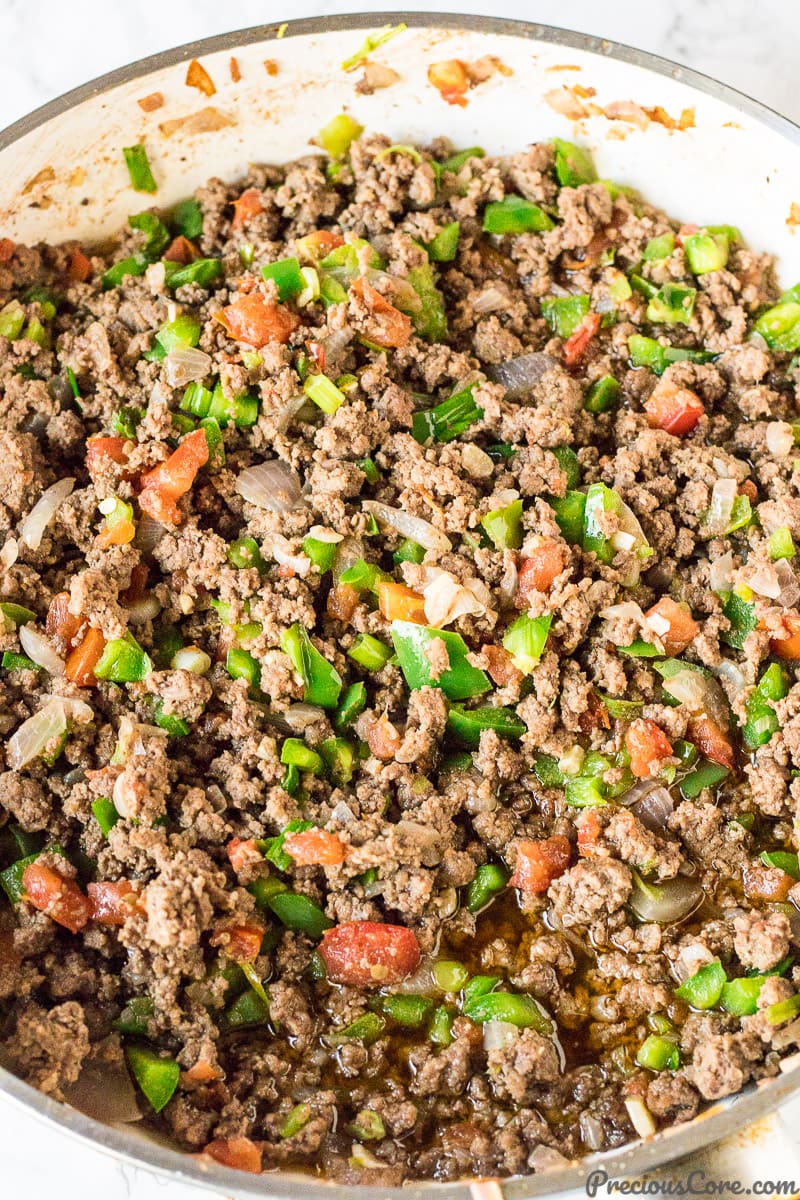 4. Layer the lasagna. First, lay half of the plantains in an oven-safe bowl, place half of the meat sauce on the plantains then sprinkle hald of the cheese on the meat sauce. Repeat the process with remaining half of the ingredients.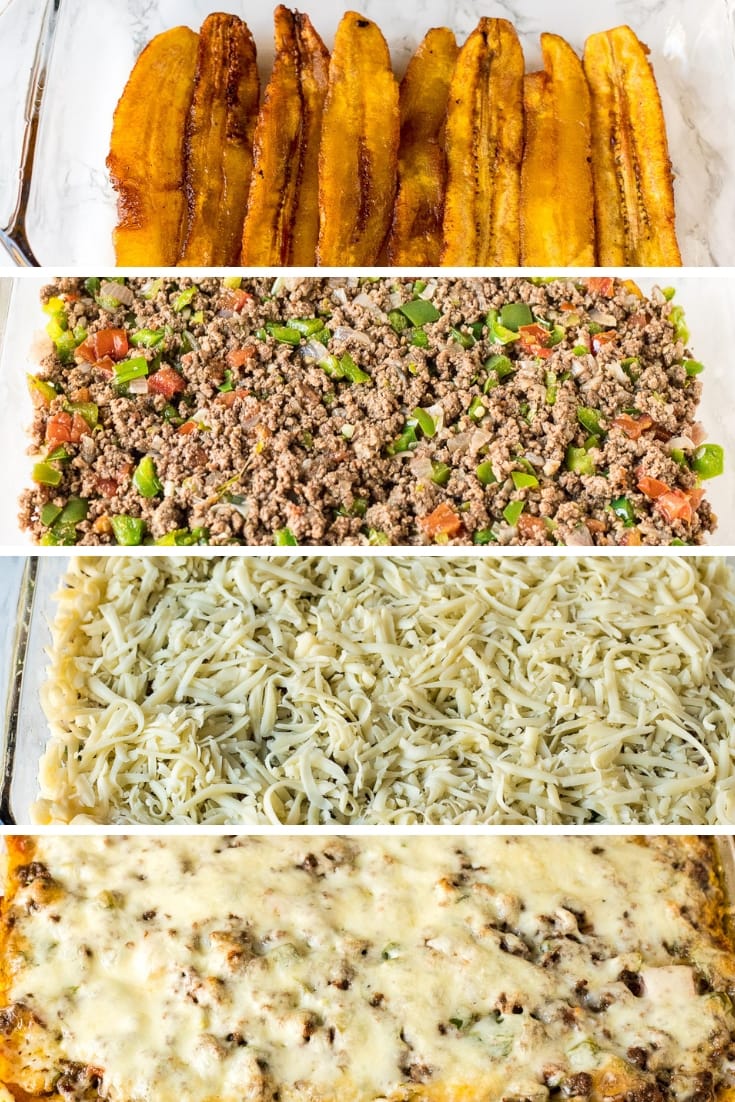 5. Bake the Plantain Lasagna. Bake the lasagna in a preheated oven until the cheese is melty and bubbly on top!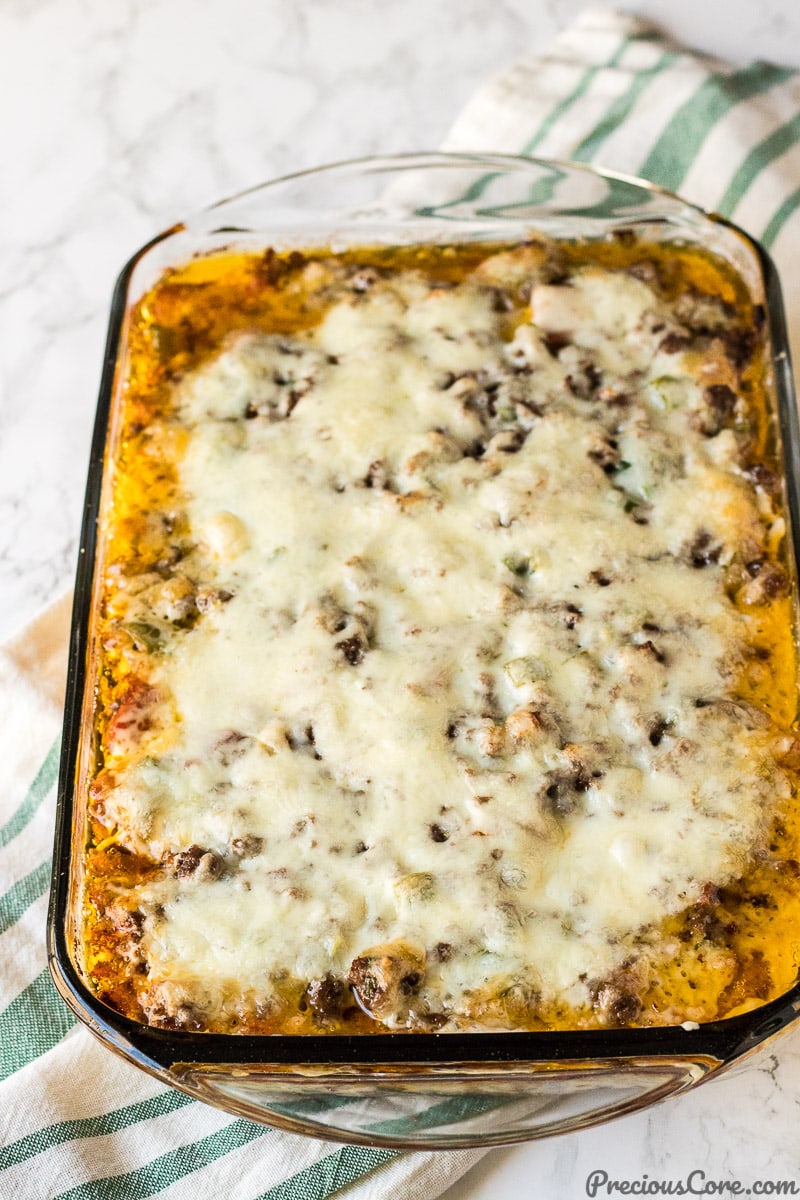 Make Ahead Tips for Plantain Lasagna
To make making Plantain Lasagna easier you could fry the plantains and make the meat sauce a day before and keep them in the fridge.
The next day, simply layer your Plantain Lasagna and bake for a quick dinner!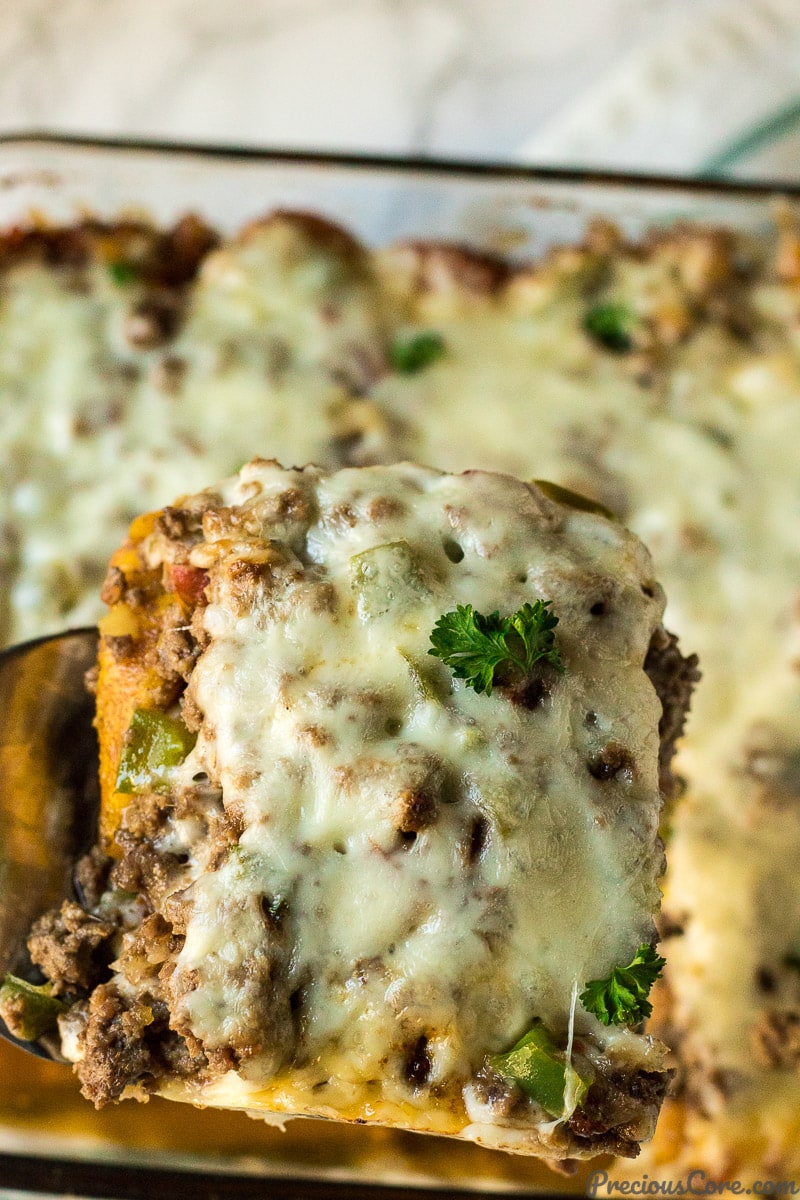 A slice of this Lasagna is like a slice of heaven. You get the meaty taste, you get the cheesy taste, you get the sweet taste, you get the garlicky taste… all in one bite! This is an awesome combination of flavors and textures that everyone will love!
Make this for your next dinner party, to impress your guests or just to enjoy because what is life without good food??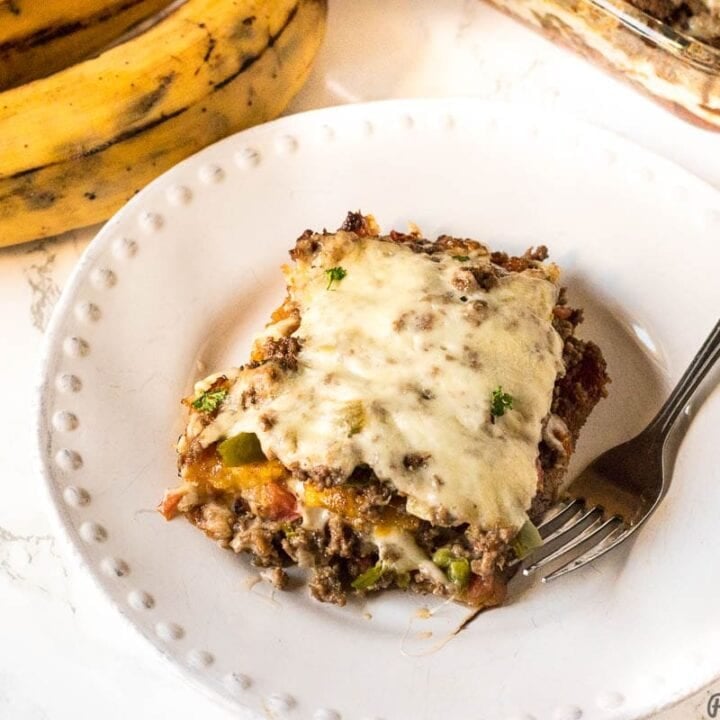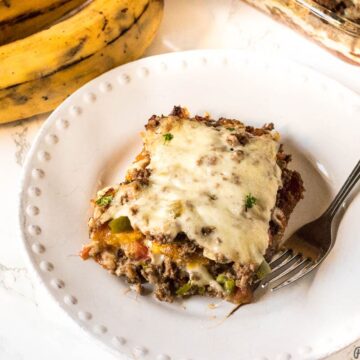 Plantain Lasagna
Layers of soft sweet plantains, tasty meat sauce, and gooey cheese. A combination that is totally to die for! You will want to make to make this Plantain Lasagna again and again.
Ingredients
4

large ripe plantains

2

pounds

ground beef

1

pound

mozzarella cheese - shredded

2

roma tomatoes - chopped

1

onion - chopped

3

cloves

garlic- minced

3

stems

green onions - chopped

1

green bell pepper - chopped

1

teaspoon

oil

1

teaspoon

salt

2

teapoons

bouillon powder

substitute with 2 4g stock cubes

1/4

teaspoon

white pepper
Instructions
Peel plantains then cut each one across into 4 slices.

Place oil in a large frying pan up to 1 inch and heat up for about 6 minutes. Place the plantain slices flat into the oil and fry on each side for about 2-3 minutes.

Note: I fried my plantains in 4 batches.

In another pan, place 1 teaspoon of oil and heat up. Add the onion and garlic and saute until fragrant. Add the ground beef and cook while breaking up with a wooden spoon. Once the beef is all broken up, and brown, add the tomatoes, salt, bouillon powder (or stock cubes) and white pepper. Cook until the tomato slightly wilts - about 5 minutes. Add the green onions and chopped bell pepper and mix. Turn off the heat.

Rub some oil all over an 8 by 11 baking pan. Cover the bottom of the pan with half of the plantains making sure to cover the entire bottom of the pan. Cover the plantains with half of the meat sauce making sure to spread the meat sauce evenly and press down. Then cover the meat sauce with half of the cheese. Press the cheese down well. Repeat the process - plantains, meat then cheese.

Bake in preheated oven at 400 degrees F (200 degrees C) until the cheese is melty and bubbly - about 15 minutes. Serve warm.
Notes
1. The plantains you use should be ripe/yellow but not too soft. It should still be slightly firm to the touch.
2. Preferably use lean ground beef (like 80% lean meat) so your Plantain Lasagna doesn't turn out so greasy. 
3. Make-ahead tips: To make making Plantain Lasagna easier, fry the plantains and make the meat sauce the day before and store in the fridge. Then the next day, you can simply layer the lasagna and bake.
4. To make this Plantain Lasagna healthier, grill the plantains instead of frying. You can check out how to grill plantains here.
Also, use ground turkey instead of ground beef.
Nutrition
Calories:
628
kcal
|
Carbohydrates:
44
g
|
Protein:
51
g
|
Fat:
28
g
|
Saturated Fat:
14
g
|
Polyunsaturated Fat:
1
g
|
Monounsaturated Fat:
10
g
|
Trans Fat:
1
g
|
Cholesterol:
147
mg
|
Sodium:
1049
mg
|
Potassium:
1249
mg
|
Fiber:
3
g
|
Sugar:
24
g
|
Vitamin A:
1960
IU
|
Vitamin C:
43
mg
|
Calcium:
625
mg
|
Iron:
4
mg
Pin this recipe: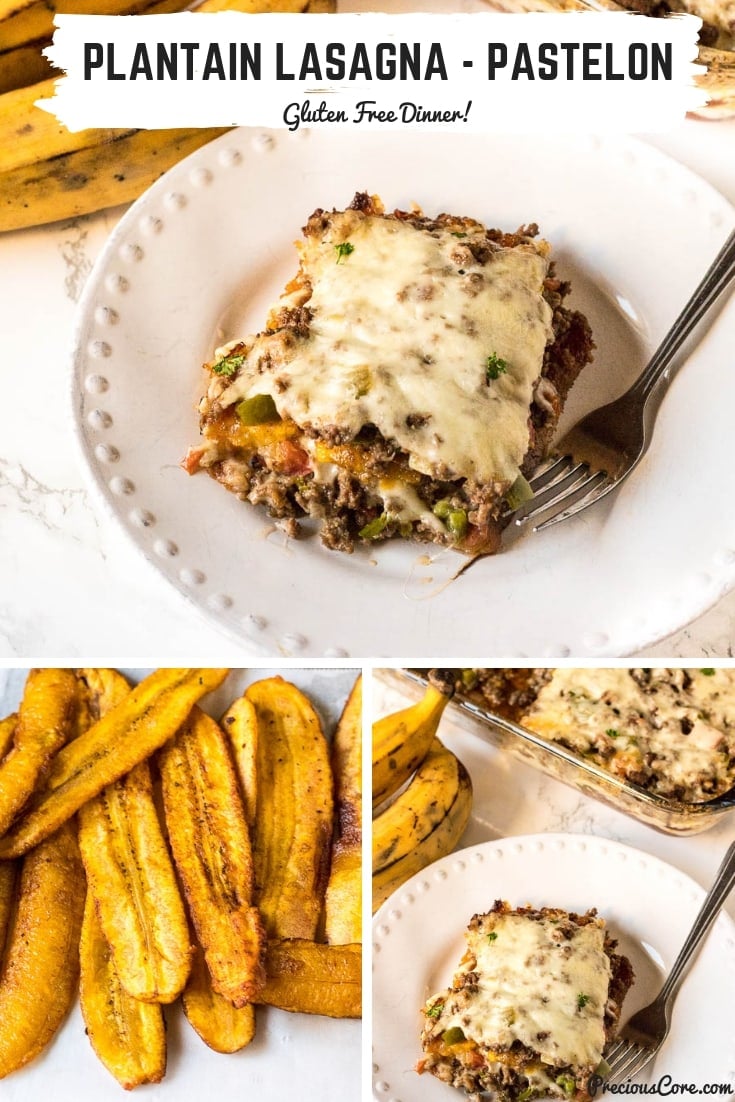 "I can do all things through Christ who strengthens me." Philippians 4:13 (NKJV)