COCONUT FRIED RICE
Published Dec 01, 2017
Updated Sep 26, 2018
This Coconut Fried Rice gained VIP status when I took it to a potluck a while back. At the potluck was various women from different countries. Guess what… they all ate and appreciated the food so much. In other words, I was the star of that evening.
Did I mention that the women were of diverse backgrounds? Caucasian, African American and African. We all ate and we were merry. And the recipe was demanded from all corners of the room. In other words, this coconut fried rice is a winner!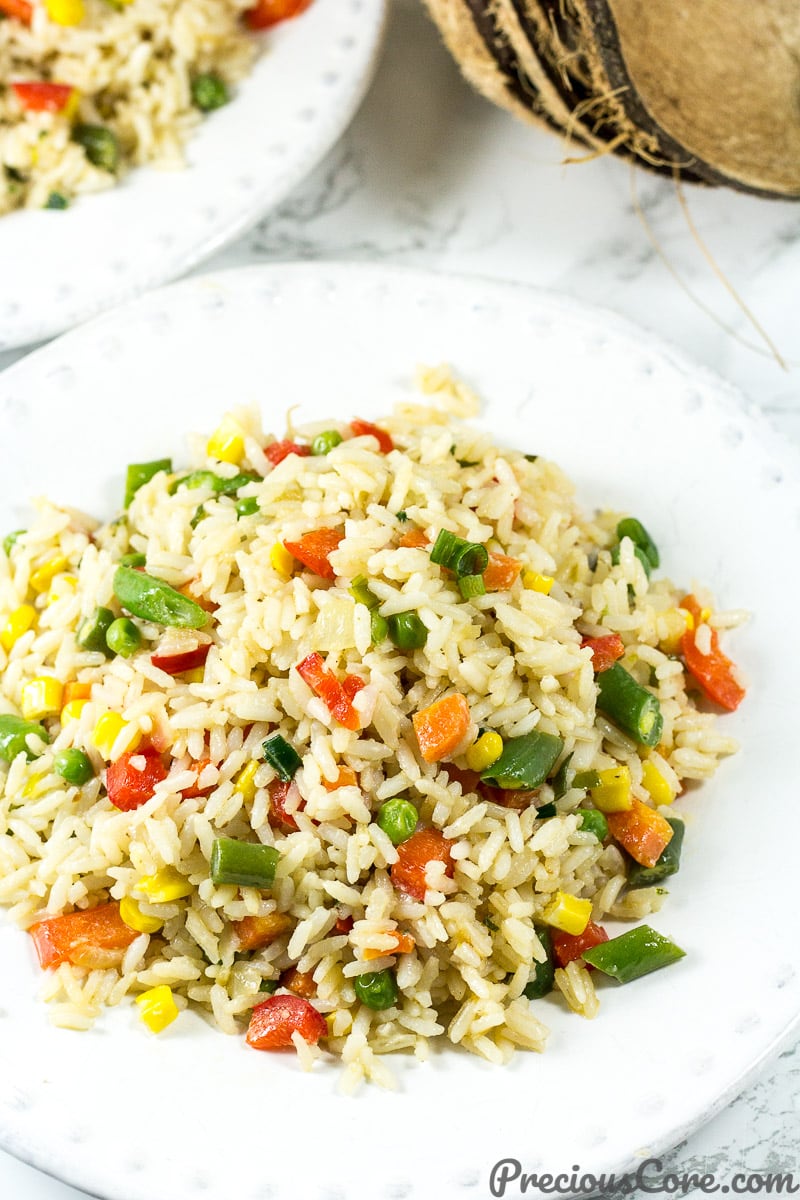 Winner oh oh oh, winner!
Winner oh oh oh, winner!
Coconut rice you don win oh, winner!
I say you go win forever, winner!
Excuse me, I had a moment.
Make this Coconut Fried Rice for everything from parties to potlucks to entertaining at home to quick dinner. It is vegan too which means no meat or chicken or animal protein. However, if you want to eat it with some animal protein, try this perfect grilled chicken or these chicken skewers.
This coconut fried rice is nothing like my easy coconut rice which is meant to be a side dish. This one is a one-pot coconut rice meal. The ultimate one-pot coconut fried rice.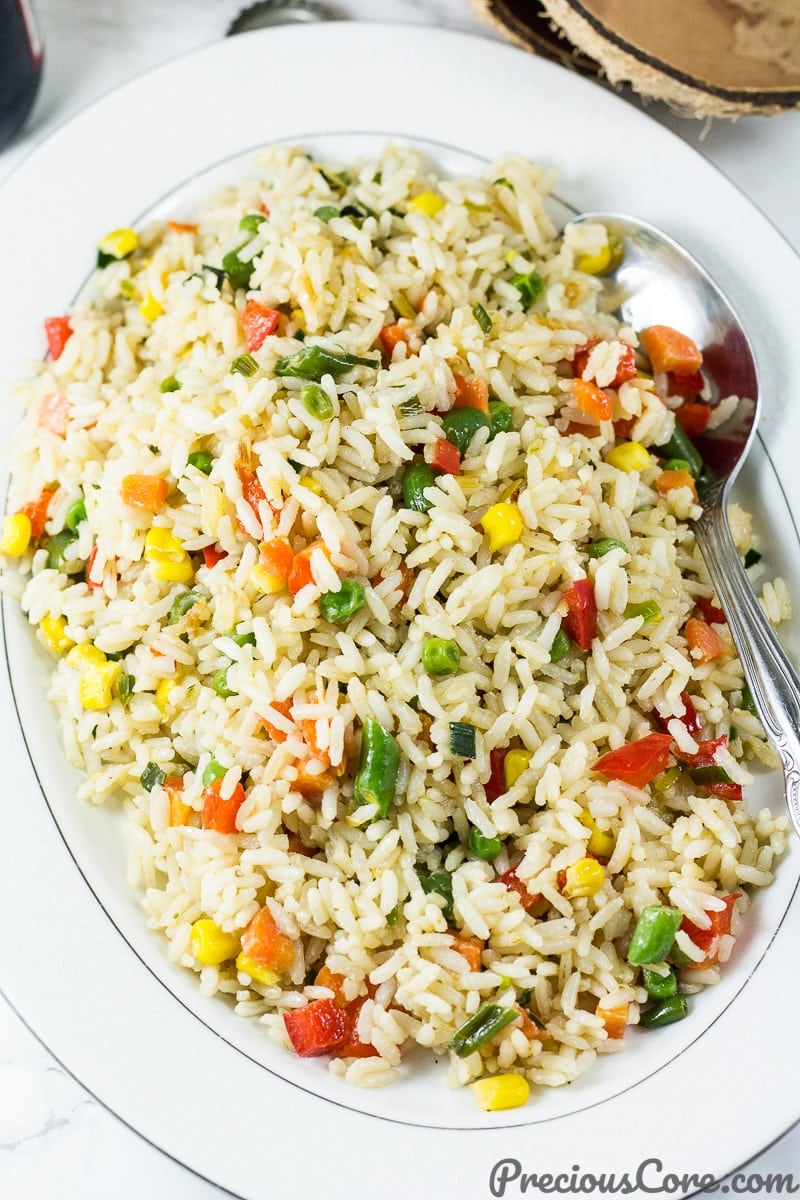 I start by cooking the rice in coconut milk, water and some light seasoning. Then I saute some onions and other rice-loving vegetables. Then I add in the rice, stir and weep at its epicness.
Then I put some for myself and eat… Then I am reminded of why I love coconut so much.
The coconutty taste is very present in this rice! I can't deal with coconut rice that doesn't taste like coconut. So here are some tips I follow to ensure that my rice is perfectly coconutty.
Tips for Making the Perfect Coconut Fried Rice
Do not over-season the rice. Never ever put alot of seasoning, spices and herbs in your coconut fried rice. They will take over the taste of the coconut. You want to use minimal spices so the taste of the coconut milk can really shine through.
The ratio of coconut milk to rice is important in ensuring your rice tastes coconutty. If you use little coconut milk, your rice will not have that rich coconut taste. I use 1 13.5 oz can of coconut milk (400 ml) to two cups of rice.
Thou must use coconut oil to saute the veggies. Any other oil won't cut it here. You want to use coconut oil to stir-fry the veggies and the rice to deepen the coconut flavor.
Click here to check out the step-by-step picture version of this recipe.
I used canned coconut milk in this Coconut Fried Rice recipe but if you do not have easy access to canned milk, you can easily make your own coconut milk at home. See recipe notes for instructions on how to make coconut milk at home.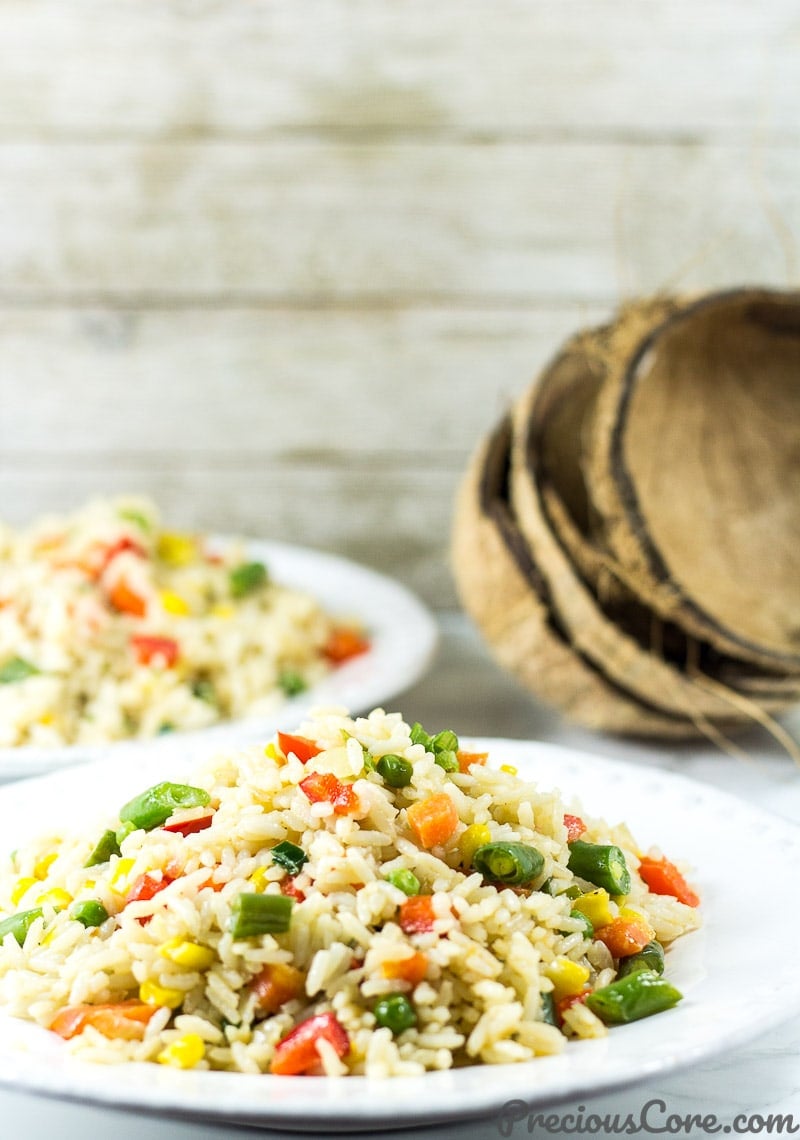 Because I love and I want you to nail this recipe, I made a video to show you how to cook coconut fried rice. You can see me doing everything from cooking to eating. I love that I get to eat each time I make a cooking video.
Anyways, here is the Coconut Fried Rice recipe video for your viewing pleasure. If you have not subscribed to my YouTube channel, be sure to click here and subscribe so you can stay updated with my videos.
Watch How To Make Coconut Fried Rice: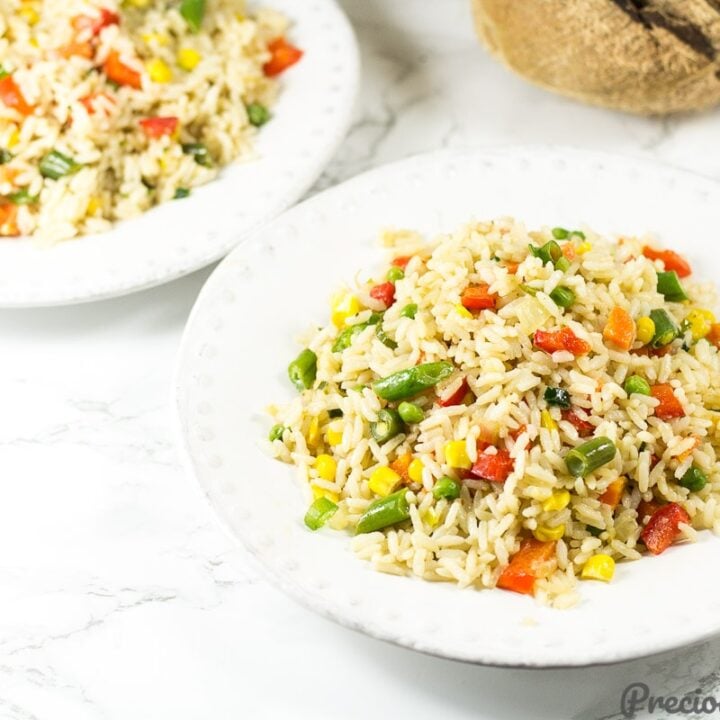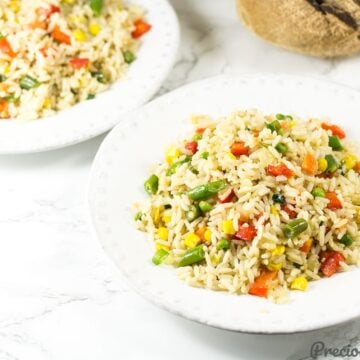 Coconut Fried Rice
Coconut Fried Rice is pure fried rice epicness. The rice is cooked in coconut milk then stir-fried in coconut oil. Perfectly coconutty and vegan!
Ingredients
2

cups

parboiled rice

1

can

coconut milk (13.5 oz)

a 14 oz can will work as well!

1

medium onion - chopped

1/4

stem

leeks - chopped

4

cloves

garlic - minced

1/2

red bell pepper - chopped

1

medium carrot - chopped

10

green beans

1/4

cup

frozen sweet corn - rinsed and thawed

1/4

cup

frozen sweet peas - rinsed and thawed

4

tablespoons

coconut oil

1/2

teaspoon

white pepper

2

seasoning cubes (Maggi)

about 4g per cube

1/4

teaspoon

salt
Instructions
In a large pot, put in the rice, coconut milk, water, salt and sprinkle in the seasoning cubes. Bring to a boil on high heat then reduce the heat to medium and let it cook for 10 minutes. Turn off the heat and let it rest for another 10 minutes. Fluff rice with a fork and leave uncovered.

In another pot, pour in the coconut oil and set to heat up for about 3 minutes. Add the onions and saute until fragrant. About 2 minutes. 

Add the garlic and saute until fragrant. About 2 minutes.

Add the leeks and stir for about 1 minute.

Add the carrots and stir. Add the green beans and stir. Add the bell pepper, sweet corn and peas then stir well. 

Sprinkle a pinch of salt over the vegetables. Add in white pepper and mix well.

Add rice to the sauteed vegetables a little at a time, mixing each time you add the rice. Turn off the heat and serve warm.
Notes
1. If canned coconut milk is not readily available to you, you could make your own coconut milk by blending fresh coconut with water then passing through a fine sieve to separate the milk from the chaff.
2. If you love heat then you could add some chili/habanero pepper to suit your heat tolerance. Add the pepper right before adding in the vegetables.
Nutrition
Calories:
464
kcal
|
Carbohydrates:
59
g
|
Protein:
7
g
|
Fat:
24
g
|
Saturated Fat:
20
g
|
Polyunsaturated Fat:
1
g
|
Monounsaturated Fat:
1
g
|
Cholesterol:
0.1
mg
|
Sodium:
457
mg
|
Potassium:
355
mg
|
Fiber:
2
g
|
Sugar:
3
g
|
Vitamin A:
2232
IU
|
Vitamin C:
18
mg
|
Calcium:
48
mg
|
Iron:
3
mg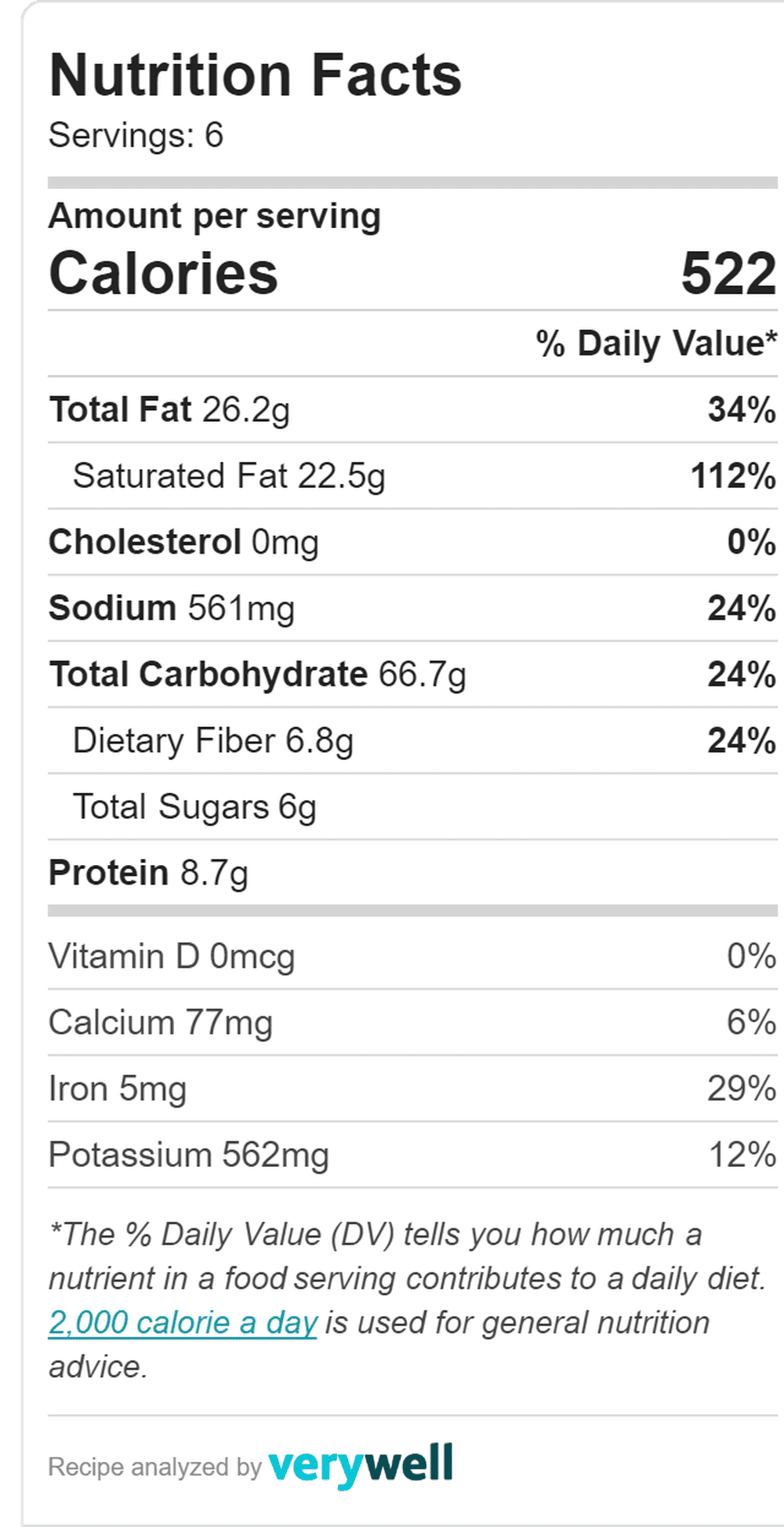 Pin this recipe:

If you make this recipe, please share a photo on Instagram and tag me: @preciouscore, or share a photo on my Facebook page. I'll love to see!