Lemon Butter Salmon
Published Jan 24, 2023
Updated Oct 05, 2023
This Lemon Butter Salmon is ready in 30 minutes or less! With 6 main ingredients, not counting salt and pepper, you get salmon that is incredibly flaky and tastes even better than what you can get from a restaurant.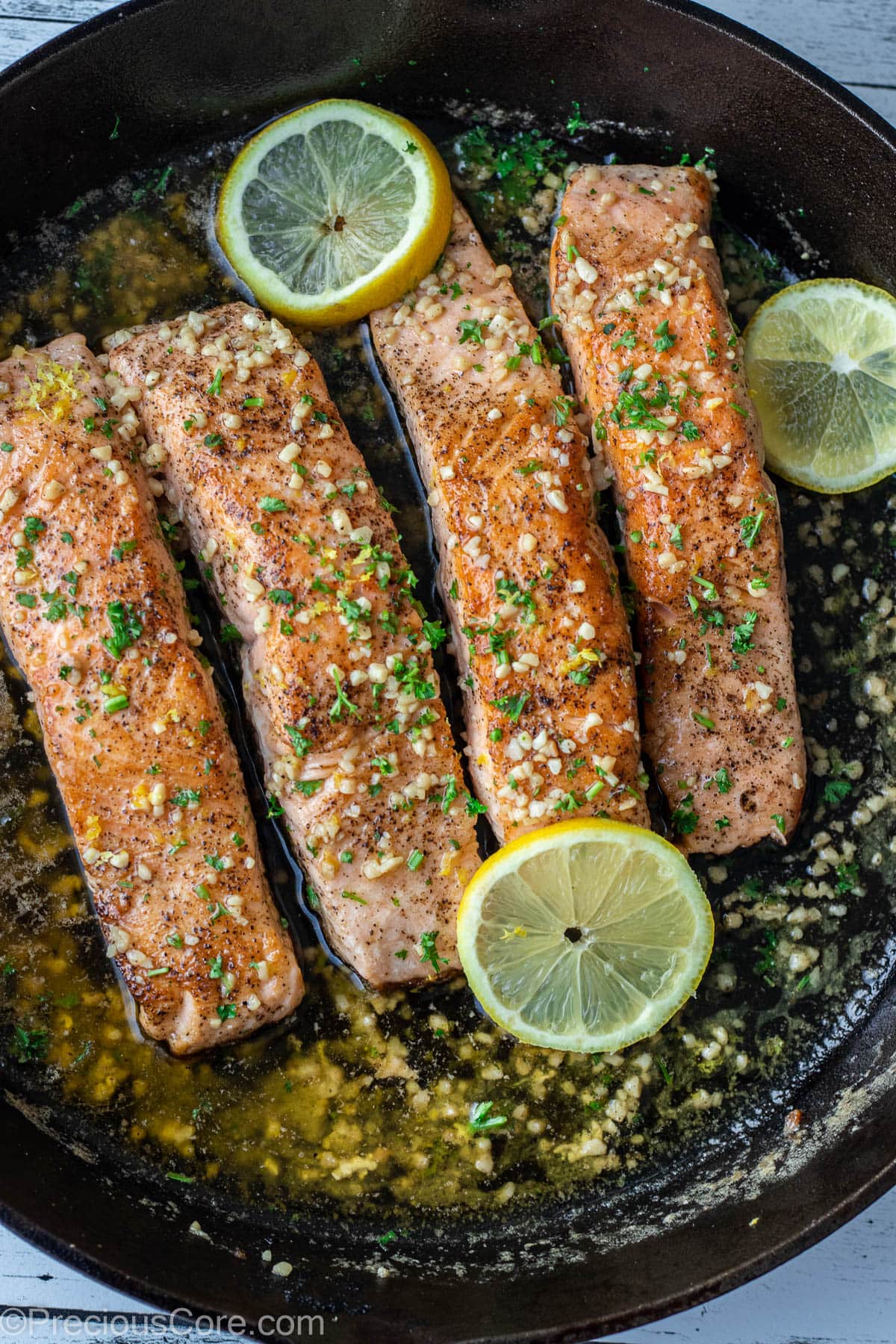 If lemony, buttery, garlicky, cooked-just-right salmon is something you would love, then you've been blessed today. THIS is the recipe you want to make.
Inspired by my Pan Grilled Salmon, this Lemon Butter Salmon takes salmon to the next level with an insanely good lemony buttery sauce. You'll love this recipe!
Also, check out my Salmon and Broccoli Sheet Pan recipe for a convenient one-pan dinner, my 17-minute Pan-Fried Teriyaki Salmon, and my Baked Cajun Salmon which is ridiculously easy!
Ingredients
Here are the main ingredients you need for this Lemon Butter Salmon, not including salt, pepper, and olive oil.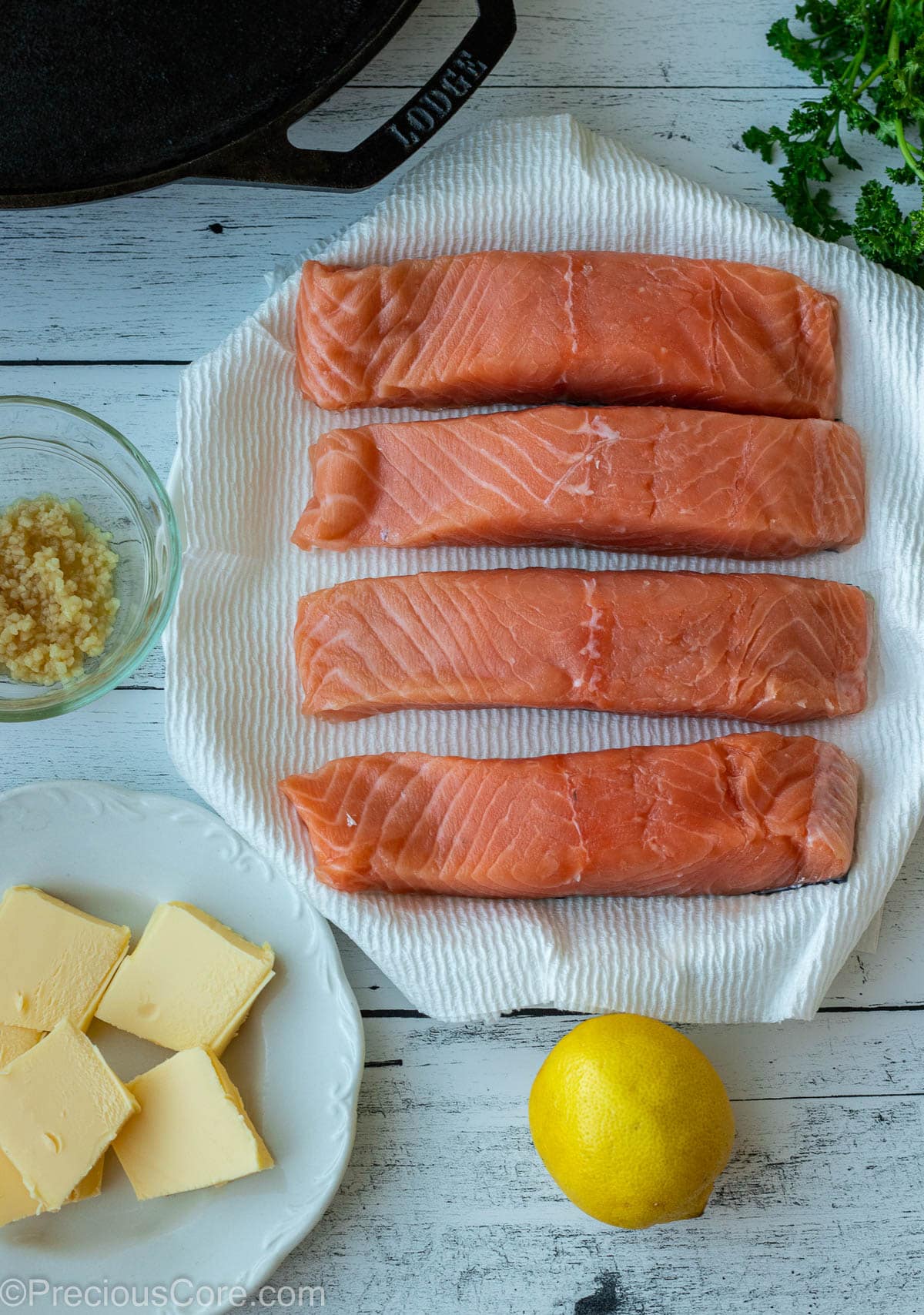 Salmon: Fresh or frozen salmon is fine. Frozen salmon is a better choice for salmon though because the salmon is frozen right after being caught. Let the salmon thaw overnight in the fridge. See more options for thawing salmon below.
Butter: Lots of it to create a delicious sauce for the fish.
Fresh Lemon: Use fresh lemon juice for the best flavor. Garnishing the dish with lemon zest before serving also imbues a lemony flavor without sourness.
Minced Garlic: Adds lots of flavor to the lemon butter sauce. Don't skip it!
See the recipe card at the bottom of this post for quantities.
Thawing Salmon
If you forget to thaw your salmon overnight in the fridge, you could still quickly thaw salmon. Thaw salmon quickly in cold water. Remove the vacuum-sealed packaging on the salmon and place the salmon in a dish with cold water, ensuring that the water completely covers the fish. Let it thaw for one hour. As it thaws, change the water every 15 minutes.
How To Make Lemon Butter Salmon
In four easy steps, you can make lemon butter salmon. Your whole family will love this easy fish dinner!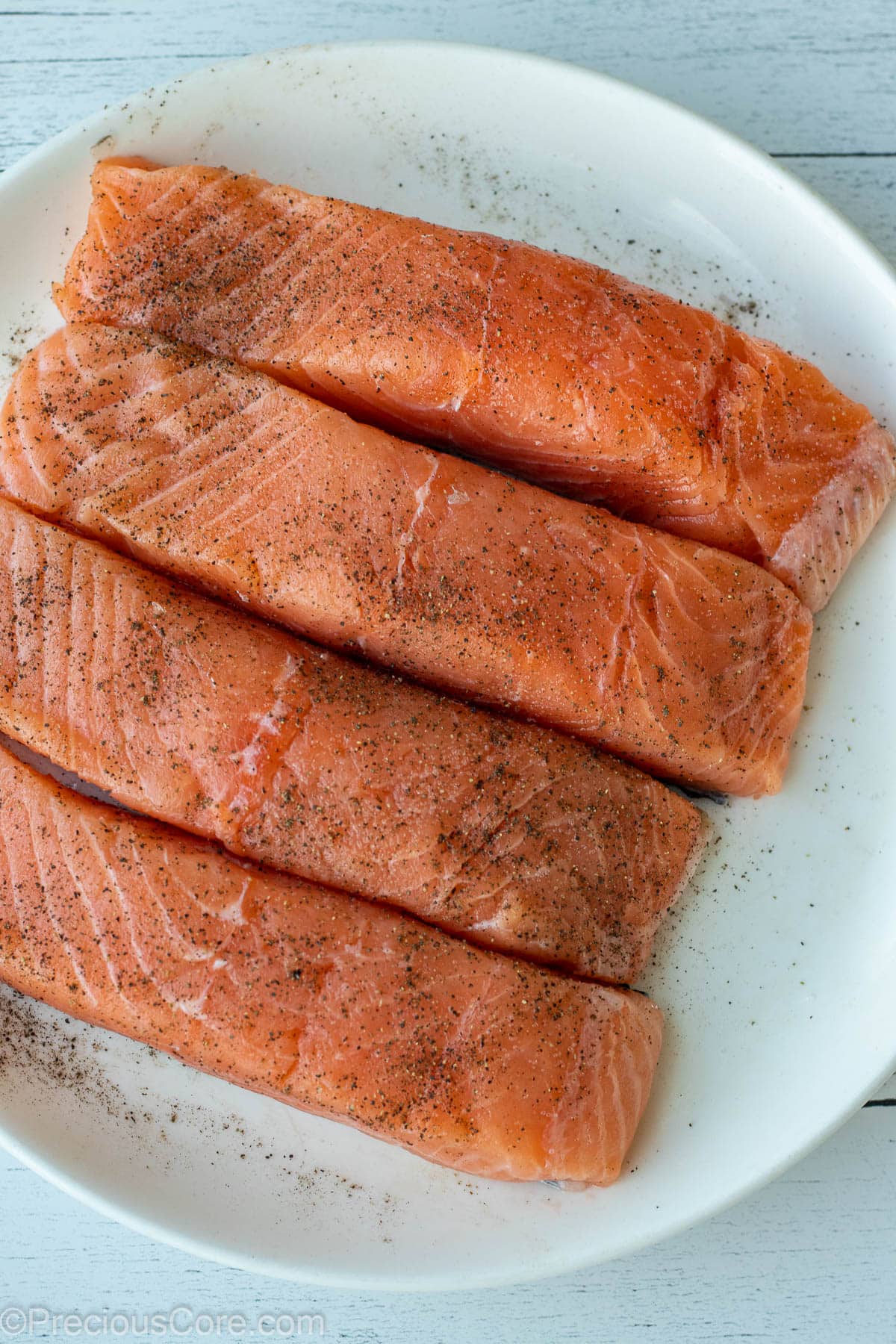 1. First, pat the salmon dry and season both sides with salt and pepper.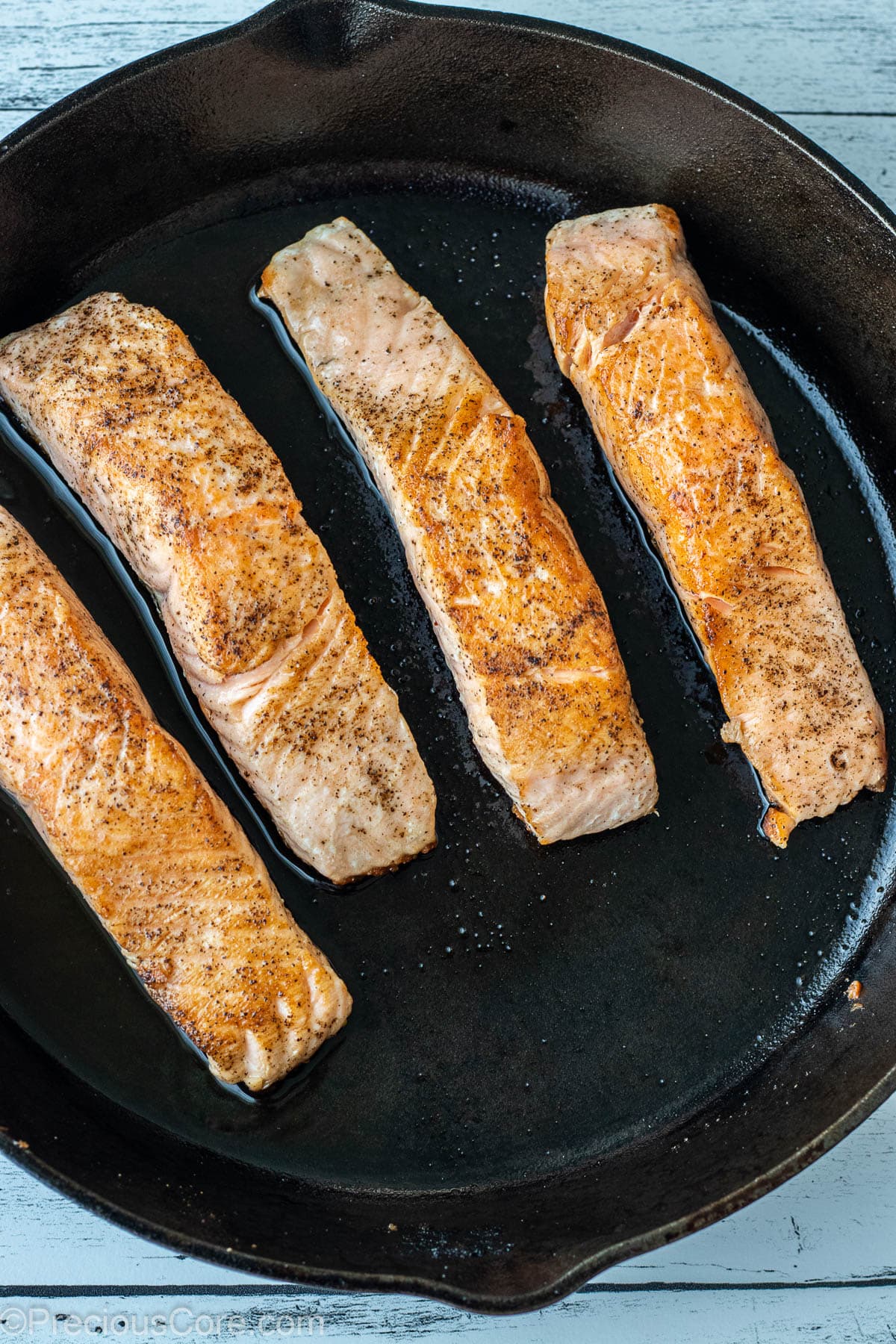 2. Next, pan-sear the salmon for about 3 minutes on the first side and 2 minutes on the second side.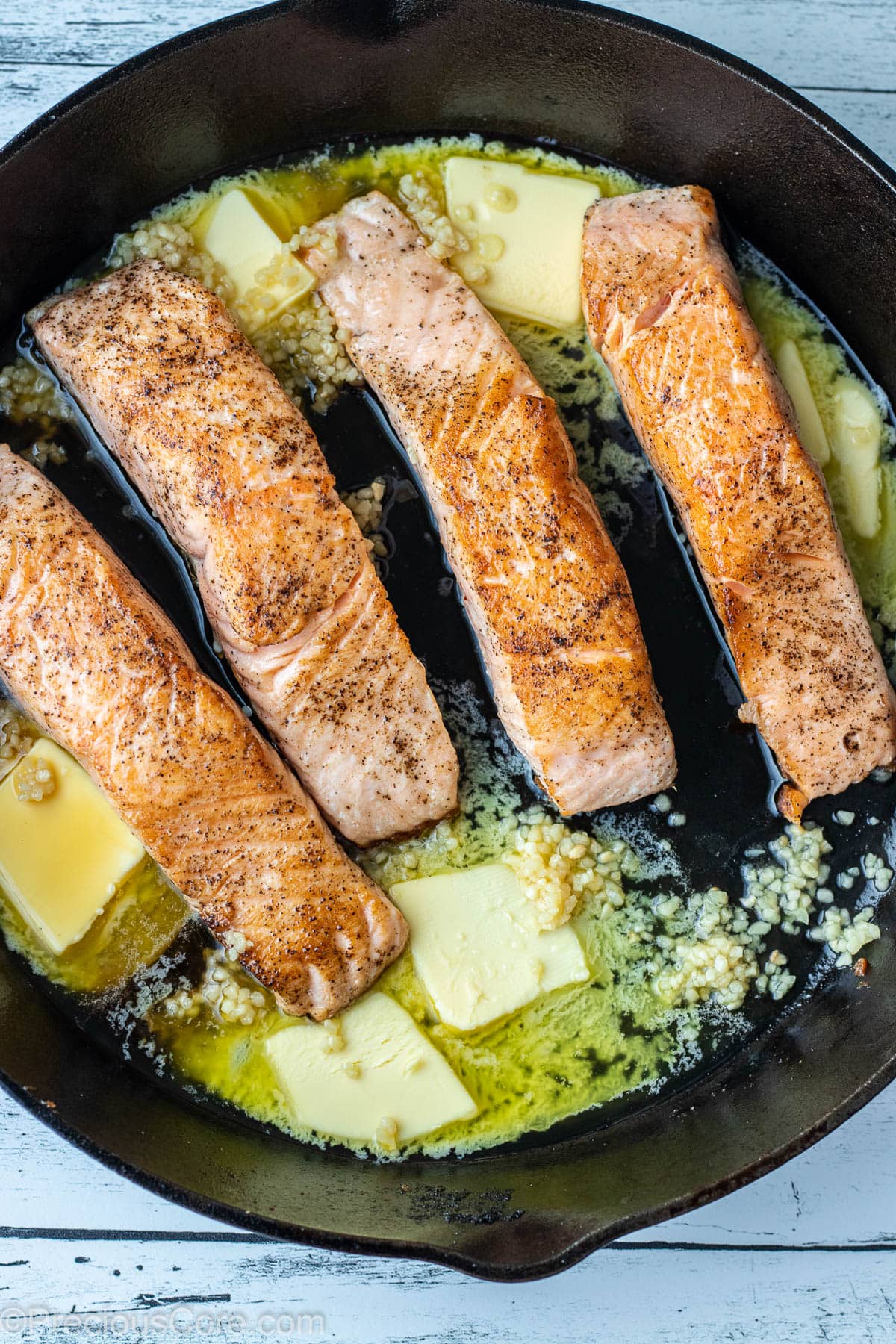 3. Then add butter and garlic to the pan. Let the butter melt then baste the salmon with the garlic butter.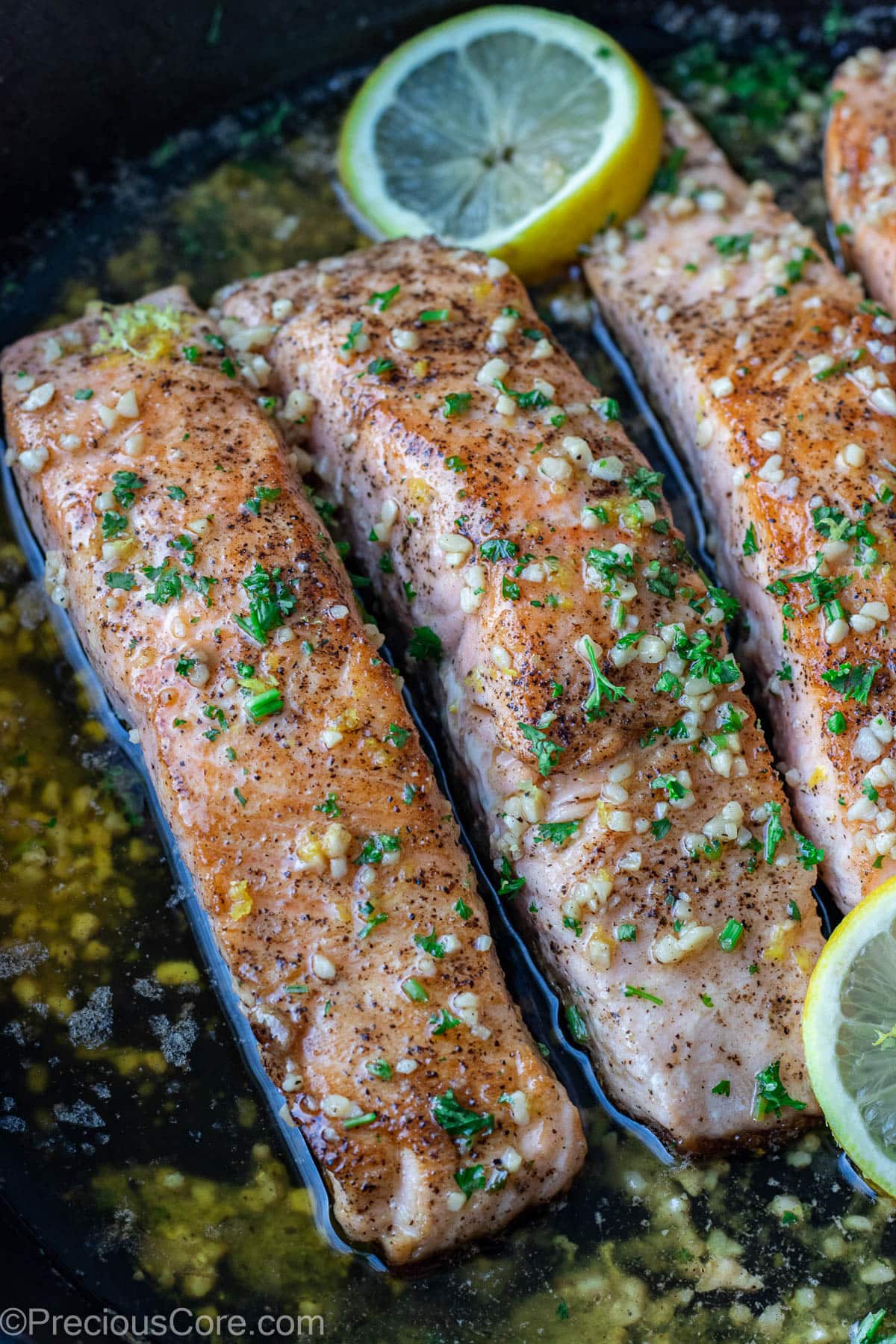 4. Sprinkle on lemon juice and garnish with minced parsley, lemon zest, and lemon slices. Serve warm.
Hint: Salmon cooks quickly so be careful not to overcook your fish. I find that about 3 minutes per side is a sweet spot. Only cook longer if the salmon fillets are significantly thicker.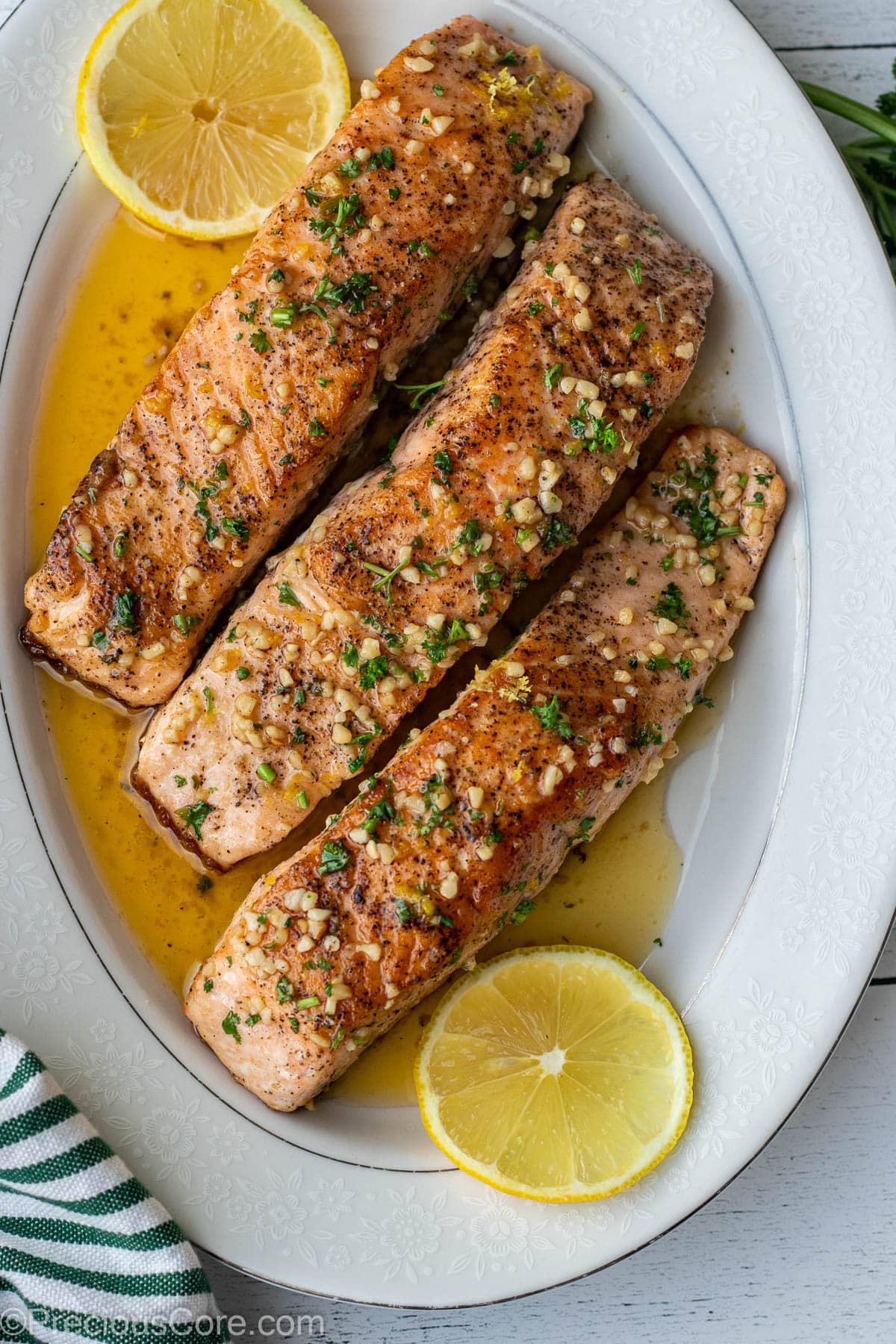 How To Make Lemon Butter Sauce For Salmon
First, melt some unsalted butter in a pan.
Add a little garlic then squeeze in lemon juice to taste.
Season with salt and pepper.
You could also add herbs like parsley or dill to your lemon butter sauce and some lemon zest to impart a more lemony flavor.
Salmon Cooking Guide
The FDA recommends salmon be cooked to a minimum of 145 degrees Fahrenheit internal temperature. However, the salmon might toughen up and be overcooked if cooked to this point.
Cook salmon to register an internal temperature of about 125 degrees Fahrenheit for juicy flaky salmon.
Remember, the fish continues to cook while it is away from the heat. So no need to overcook it.
To tell if salmon is done without a meat thermometer, flake the fish with a fork. If it flakes easily, then the fish is done.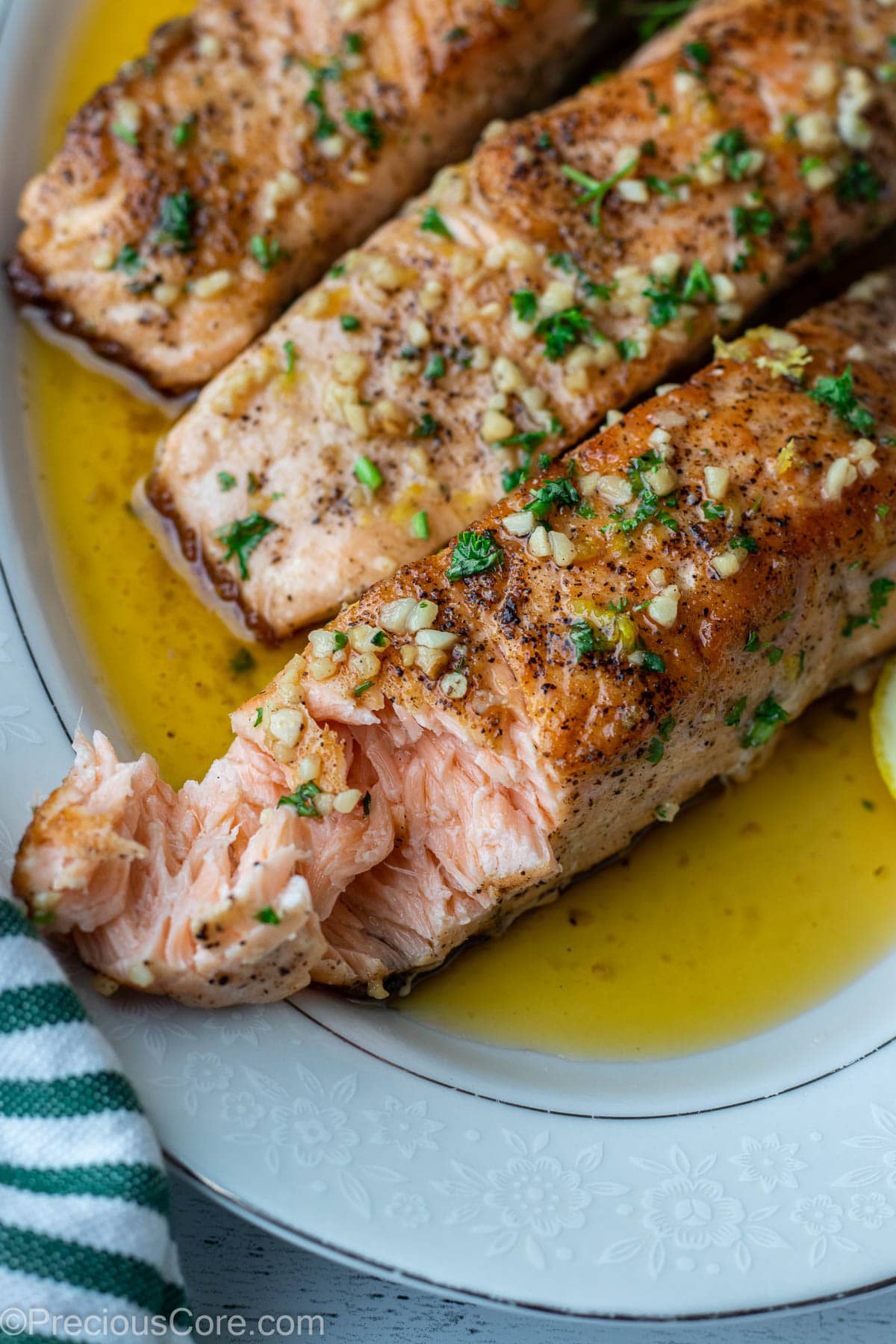 Salmon Buying Guide
Buy wild-caught salmon whenever possible. If buying farm-raised salmon, look for one that is responsibly raised. To be able to tell that salmon is responsibly raised, look for labels that include words like "responsibly farmed" or "certified sustainable".
Good quality salmon will have a bright hue of color and will not be sunken or cloudy. Old or bad salmon will often look dull.
Types of Salmon
Salmon is categorized into two main categories, Pacific Salmon, which is wild-caught, and Atlantic salmon, which is mostly farm-raised. There are very few Atlantic salmon in the wild today due to overfishing and habitat destruction which is why mostly farm-raised Atlantic Salmon are available.
They are six types of salmon. The first five species are from the Pacific Ocean while the sixth one is from the Atlantic Ocean. They include:
Sockeye or red salmon
Pink or humpback salmon
King or chinook salmon
Chum or dog salmon
Silver or coho salmon
Salmo salar or Atlantic salmon from the Atlantic Ocean.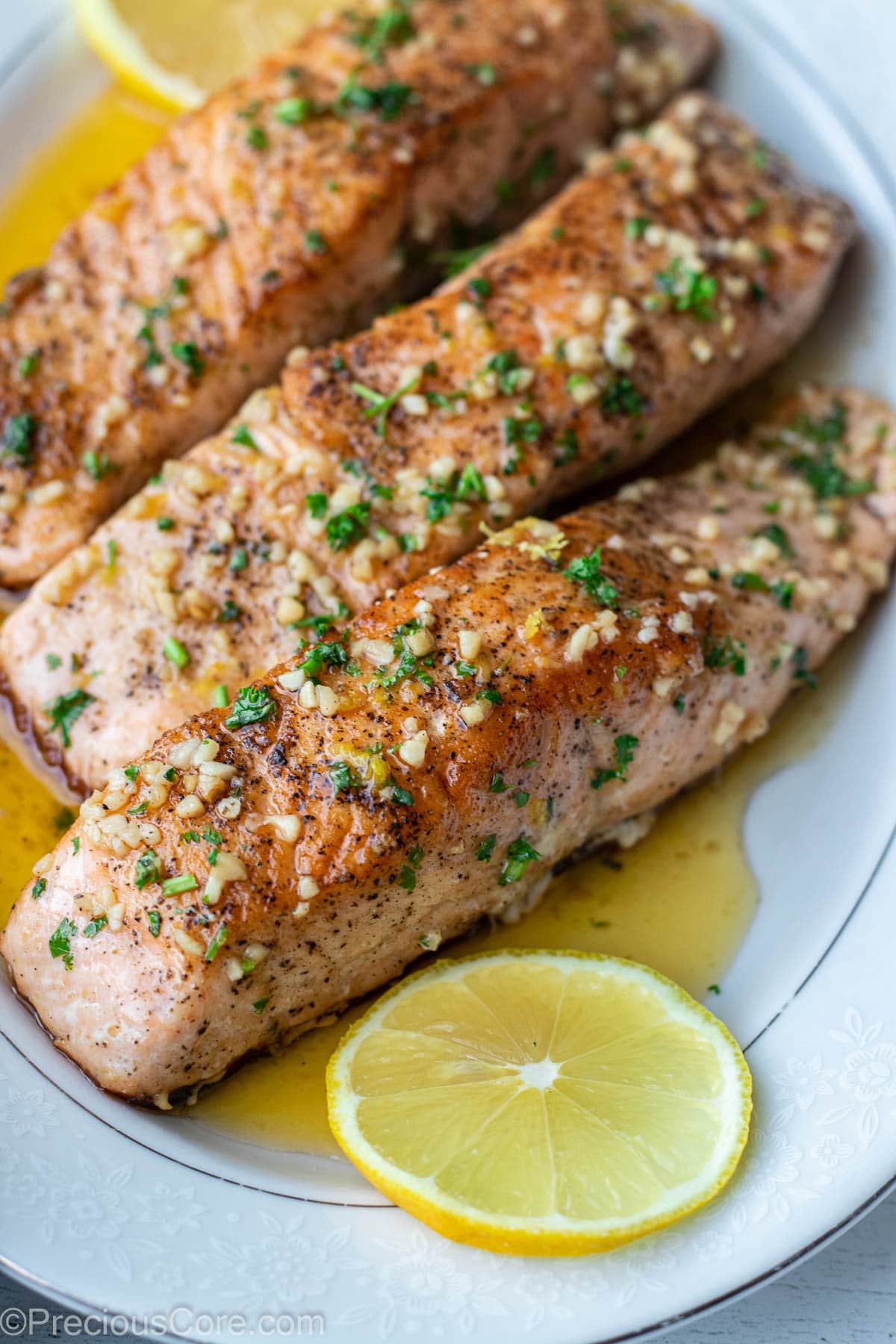 Check out this Grilled Sockeye Salmon recipe made with wild-caught sockeye salmon.
Substitutions for Salmon
No salmon, no problem! You could also try this recipe with the following kinds of fish.
Trout
Flounder fish
Red snapper
Tilapia
Halibut
Hake
Cod
Variations
Lime butter salmon – use lime instead of lemon for lime butter salmon.
Different seasonings on fish – season the salmon with other kinds of seasoning like old bay seasoning, lemon pepper seasoning, Italian seasoning, or Cajun seasoning. Don't season the fish with any more salt if you use a seasoning that already contains salt.
Spicy – add crushed pepper flakes or cayenne pepper to the fish to make it spicy.
Also, see this Lemon Butter Tilapia, Garlic Butter Tilapia, and Pan Seared Tilapia.
Equipment
I love using a large cast iron skillet to cook as many as 4 salmon fillets at once. This is the cast iron skillet I use. It is the same pan I use for my Pan Seared Lamb Chops and Pan Seared Boneless Pork Chops.
My large skillet is 12 inches wide. A large skillet allows me to cook several pieces of meat or fish at once.
I highly recommend a cast iron skillet as it is such a versatile kitchen tool but in the absence of a cast iron skillet, consider using a stainless steel skillet or non-stick skillet.
Whatever skillet you use, make sure it is large enough to accommodate 4 fillets at once.
Top tip
Always pat dry salmon before pan-searing it. Patting dry the fish with paper towels thoroughly before seasoning and cooking ensures that the fish gets a nice sear on the outside.
Frequently Asked Questions
What flavors go well with salmon?
A simple salt and pepper seasoning makes salmon taste great! Salmon also goes well with spices like garlic and herbs like parsley, thyme, basil, or dill.
What is lemon butter sauce made of?
Lemon butter sauce contains butter, lemon juice, salt, and pepper. Sometimes garlic and herbs like parsley or rosemary may be added to the lemon butter sauce.
Should I use butter or oil for salmon?
Both butter and oil would work well for salmon. If using butter, note that it might burn quickly unlike oil so beware of that. Searing the salmon first in oil then adding butter later is a great way to make salmon.
Related Recipes
Looking for other recipes like this Lemon Butter Salmon? Try these:
Serving
These are my favorite dishes to serve with this salmon with lemon butter:
If you make this recipe, please consider leaving a comment and a star rating below! You could also share it on Instagram and tag me @preciouscore. I love hearing from you!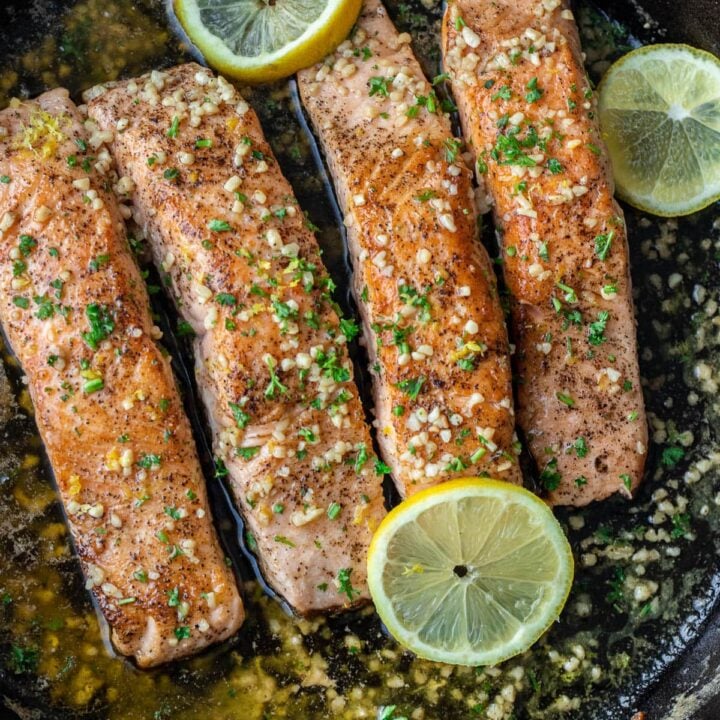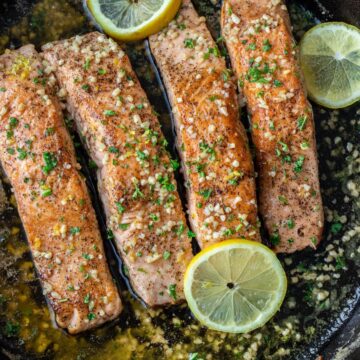 Lemon Butter Salmon
How to make soft juicy Lemon Butter Salmon. This Salmon recipe is ridiculously easy, ready in 30 minutes, and quite possibly the best salmon you will ever have!
Ingredients
4

salmon fillets, 6 oz each

¼

teaspoon

salt

¼

teaspoon

ground black pepper

3

Tablespoons

olive oil

6

Tablespoons

salted butter*

1

Tablespoon

minced garlic

1-2

Tablespoons

lemon juice

freshly squeezed

⅛

teaspoon

black pepper

1

Tablespoon

minced parsley

Lemon zest for garnish
Instructions
Bring salmon to room temperature for about 20 minutes. Pat it dry with paper towels.

Season both sides of the salmon with ¼ teaspoon of salt and ¼ of ground black pepper.

Place a cast iron, stainless steel, or non-stick skillet on medium-high heat. Heat the pan up to be smoking hot. Add the olive oil to the pan.

Add the seasoned salmon skin side down if using salmon with skin on. Cook on one side for 3-4 minutes then flip to the other side and cook for 2 minutes.

Dot the pan with the butter and minced garlic. As the butter melts, spoon the melted butter and minced garlic over the salmon. Baste for 2 minutes.

Sprinkle the lemon juice over the salmon and remove it from the heat. Garnish with minced parsley and lemon zest.
Notes
1. If using unsalted butter be sure to double the amount of salt used on the fish.
2. Zest the lemon first before juicing. It is much easier this way.
3. It is important that the salmon comes to room temperature before cooking because room temperature fish cooks more evenly.
Nutrition
Calories:
489
kcal
|
Carbohydrates:
1
g
|
Protein:
34
g
|
Fat:
38
g
|
Saturated Fat:
14
g
|
Polyunsaturated Fat:
6
g
|
Monounsaturated Fat:
16
g
|
Trans Fat:
1
g
|
Cholesterol:
139
mg
|
Sodium:
356
mg
|
Potassium:
858
mg
|
Fiber:
0.1
g
|
Sugar:
0.1
g
|
Vitamin A:
678
IU
|
Vitamin C:
3
mg
|
Calcium:
32
mg
|
Iron:
2
mg