Garlic Butter Tilapia
Published Jan 24, 2023
Updated May 31, 2023
Let's take humble tilapia and make it into a phenomenal dinner! This Garlic Butter Tilapia is incredibly tasty with a few minimal ingredients! Ready in 20 minutes from start to finish!
This is a buttery, garlicky, flaky, baked tilapia dinner that the whole family will love!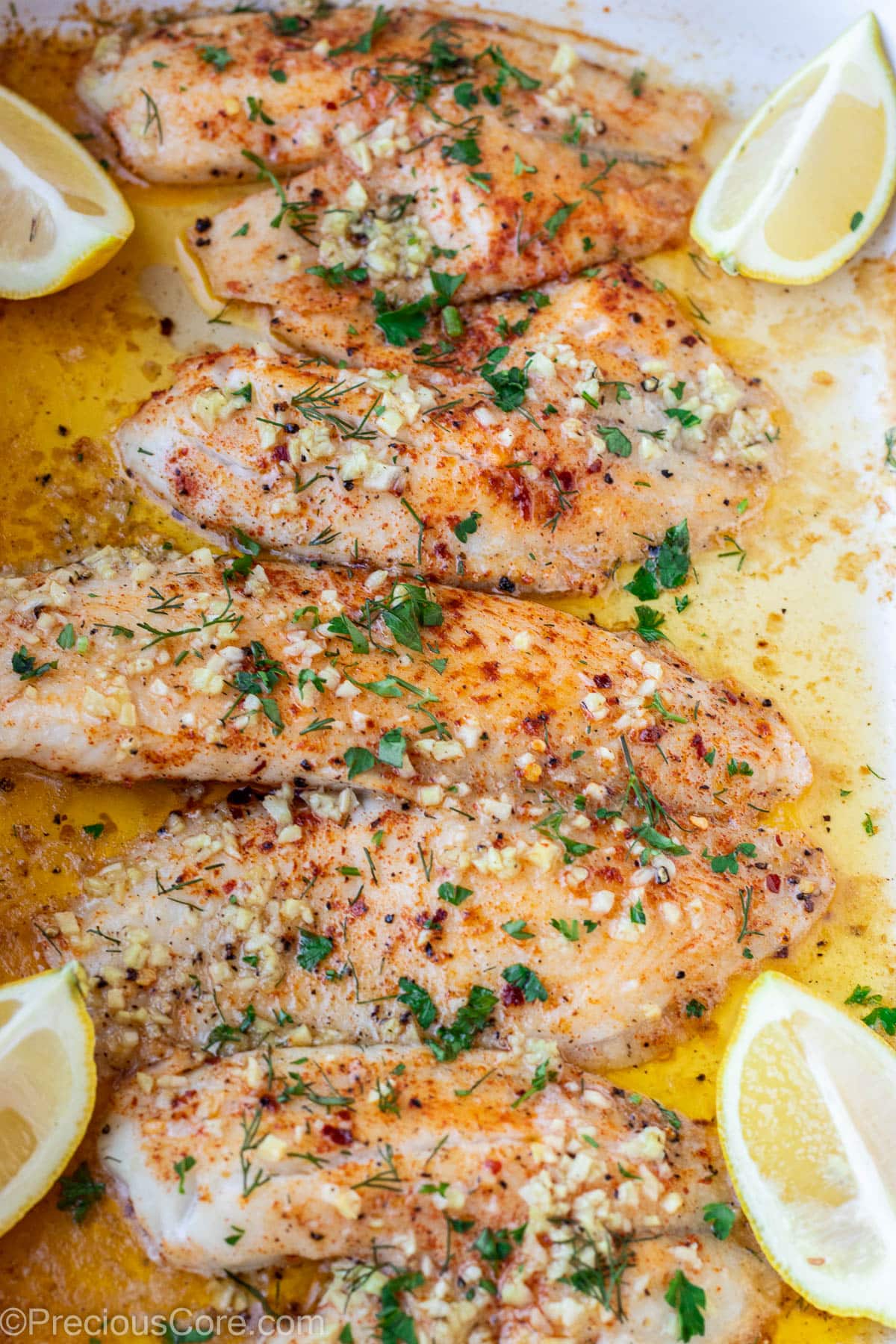 One of my goals in life is to teach you how to get dinner on the table fast! This baked garlic butter tilapia recipe helps you fulfill that goal.
With only 10 minutes of prep time, let the oven do the rest of the work. Garlic Butter Tilapia will be ready in less than 30 minutes.
While it bakes, make some Sauteed Vegetables or Sauteed Peppers to go with it. You could also make some Easy Roasted Potatoes or Easy Coconut Rice and Mango Avocado Salsa to go with it.
Ingredients
You need simple and minimal ingredients to make this Garlic Butter Tilapia. Guaranteed, you could add a few more herbs and spices but here are the ingredients you need for really tasty tilapia;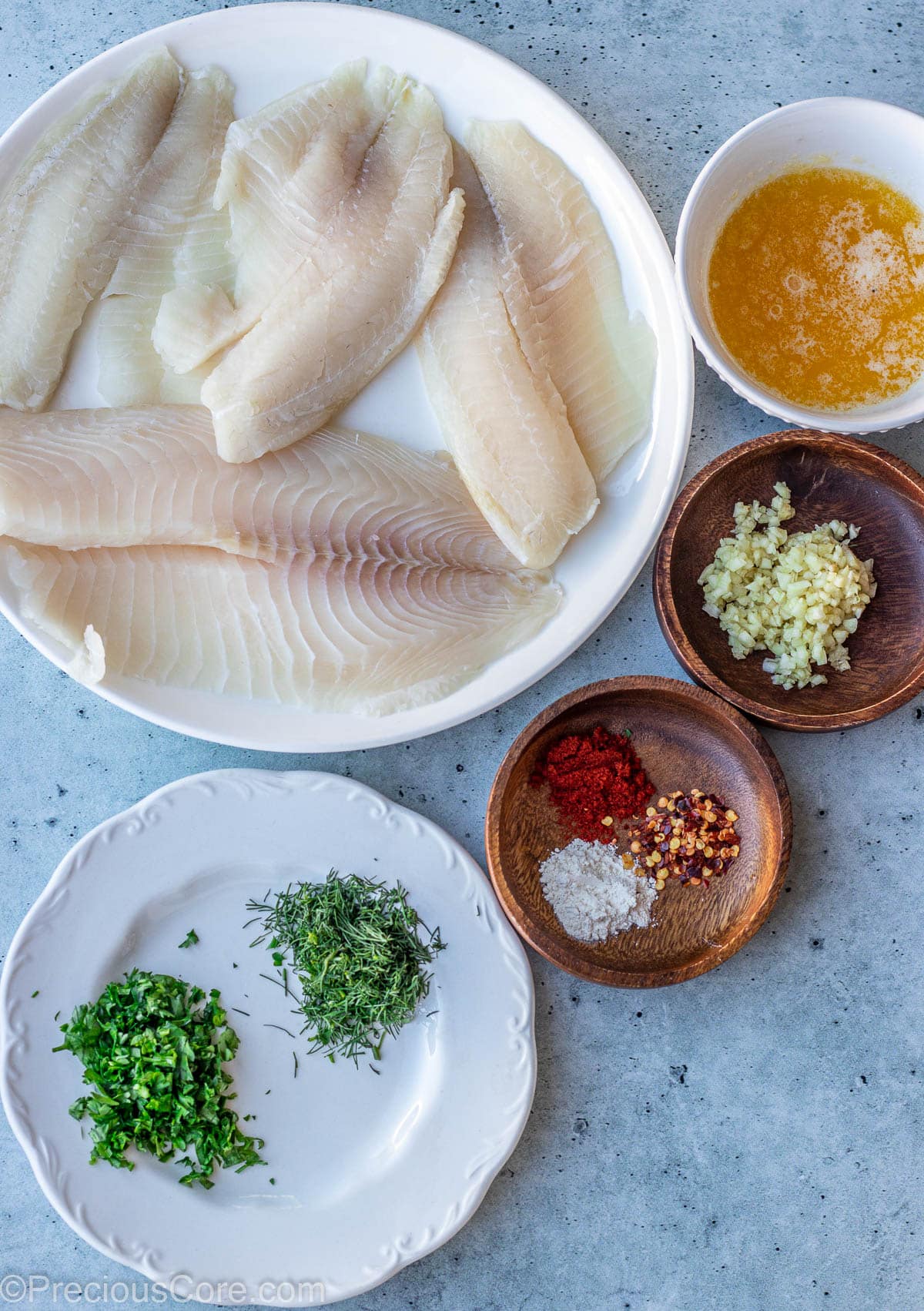 Tilapia fillets: I used thawed fillets at room temperature. If you forgot to thaw your tilapia and only have frozen tilapia, see instructions for baking frozen tilapia below.
Onion powder and paprika: Onion powder adds flavor to the fish while paprika adds color.
Crushed pepper flakes: For a hint of spice.
Butter: Use unsalted butter so you can control the amount of salt in the dish.
Minced garlic: Fresh minced garlic adds lots of flavor. If you have trouble mincing garlic, you could use a Microplane zester to grate the garlic.
Salt and pepper: For seasoning the fish.
Garnishes: Garnish with fresh minced parsley. That pop of green does a lot to brighten a dish. I happened to have fresh dill at home so I added some but please don't feel obliged to use dill.
Is Tilapia Healthy?
It is advisable to get wild-caught fish when you can but almost all tilapia you will find is farm-raised. Food experts say farmed fish could be very healthy. Make sure you buy responsibly farmed tilapia.
Responsibly-farmed tilapia is an excellent source of lean protein and omega-3 fatty acids.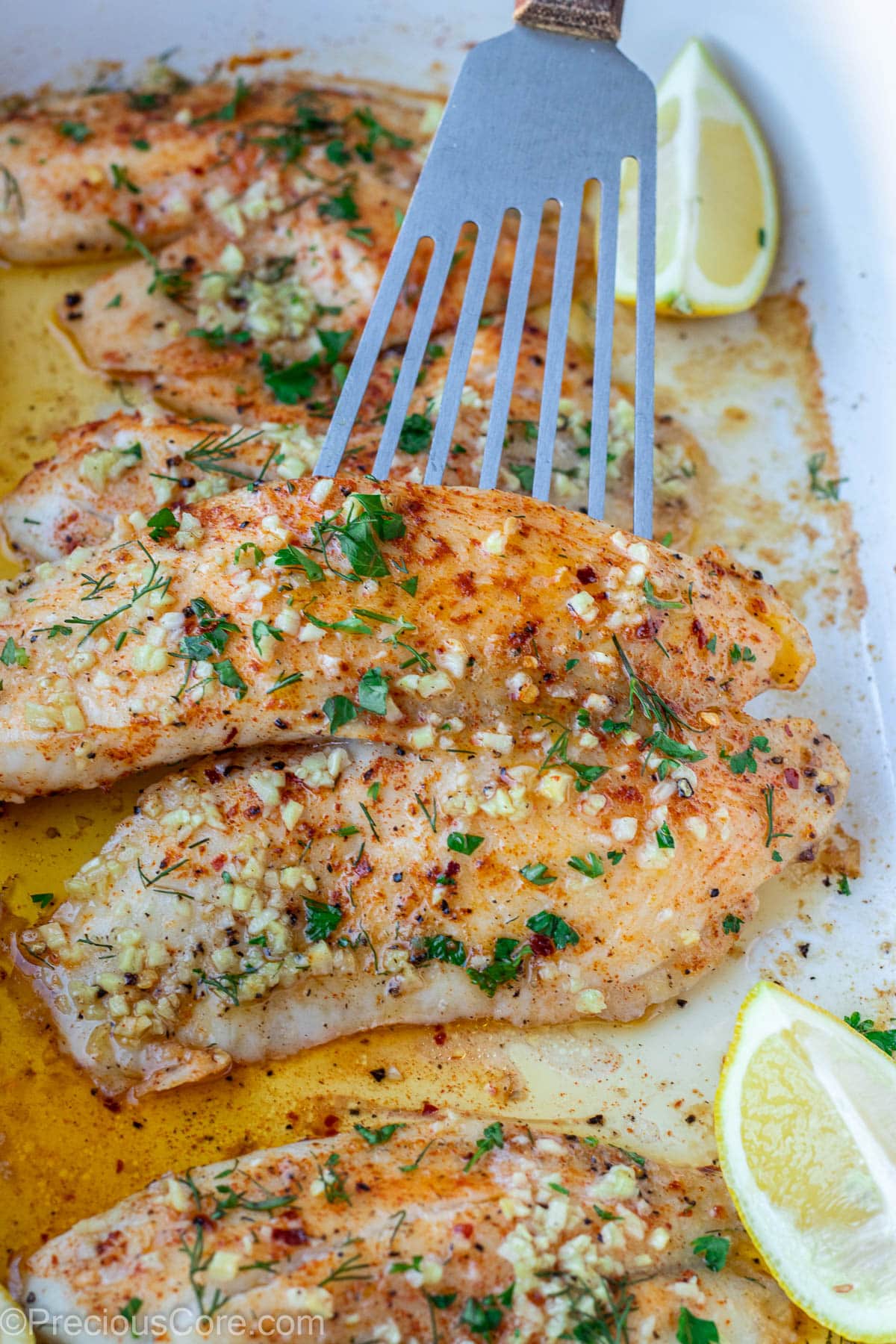 Substitutions and Variations
Try substituting or varying this recipe with the following ingredients:
Different kinds of fish: Try using cod, flounder, halibut, whiting fish, or red snapper.
Different seasonings: Try using different seasoning blends on the fish like all-purpose seasoning, cajun seasoning, Italian seasoning, and Old Bay Seasoning.
Olive oil: consider substituting half the butter for olive oil.
Vegetables: Bake the fish together with quick-cooking vegetables like asparagus, mushrooms, or bell peppers.
Lemon or lime juice: Squeeze in fresh lemon or lime juice for more flavor.
Also, check out this Pan Grilled Salmon, Lemon Butter Tilapia, and Pan Seared Tilapia which are all done on the stovetop.
How To Make Garlic Butter Tilapia
This garlic butter tilapia recipe is one of the easiest recipes ever. In 20 minutes you'll have a tasty fish meal to enjoy. Here are the easy steps involved:
1. Pat fish dry and season both sides with salt, pepper, onion powder, paprika, and red pepper flakes.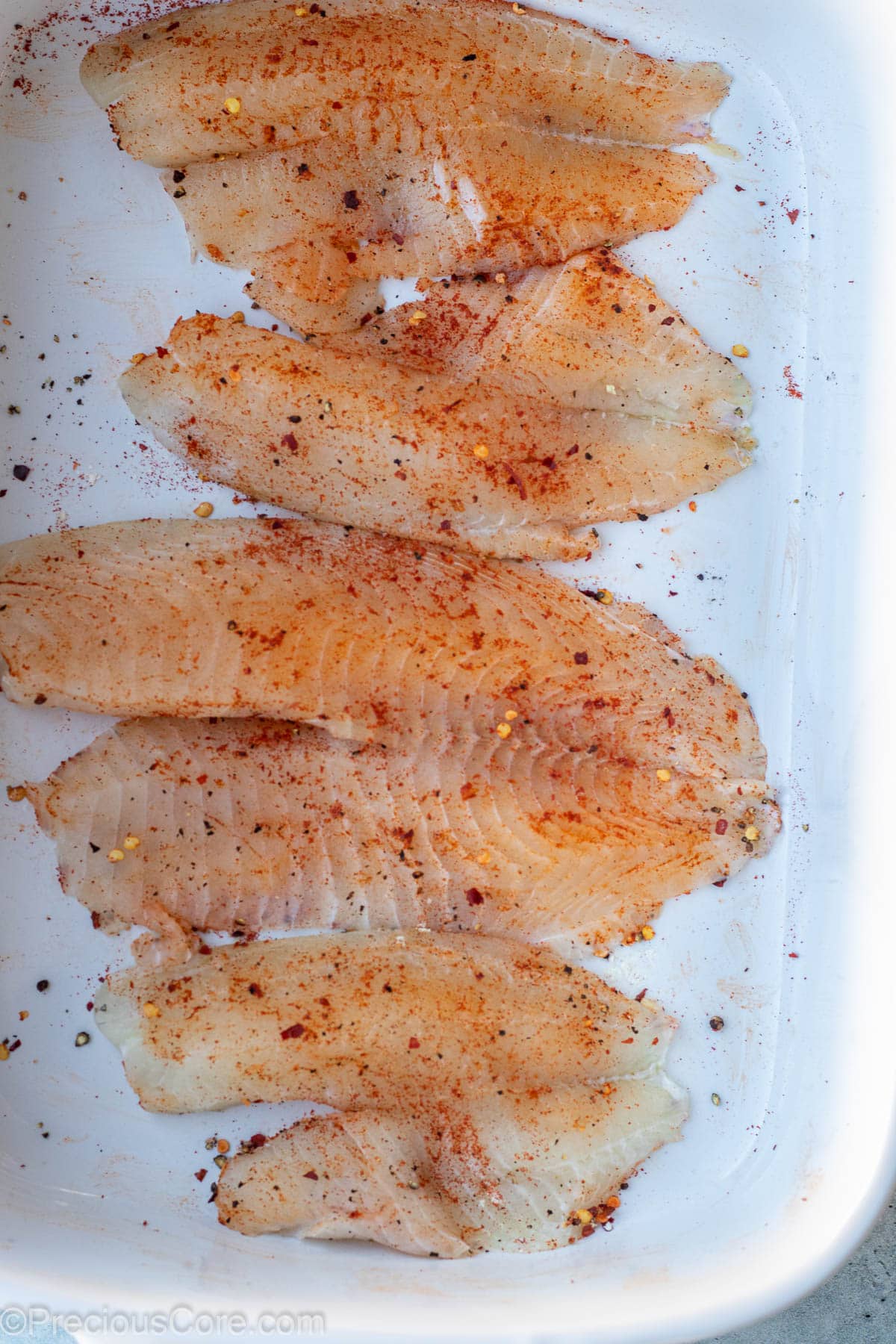 2. Mix together melted butter, minced garlic, salt and pepper, and pour over the fish.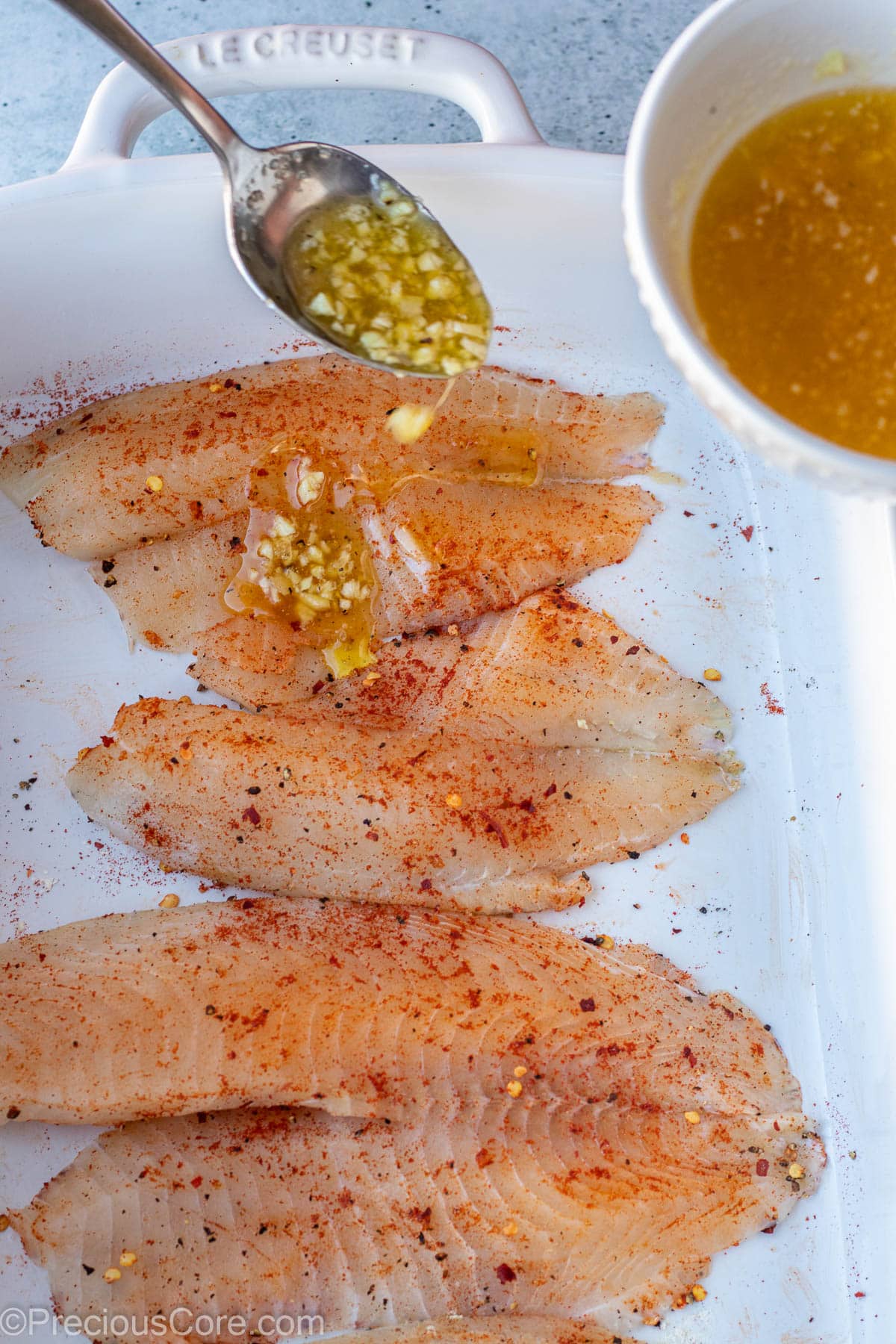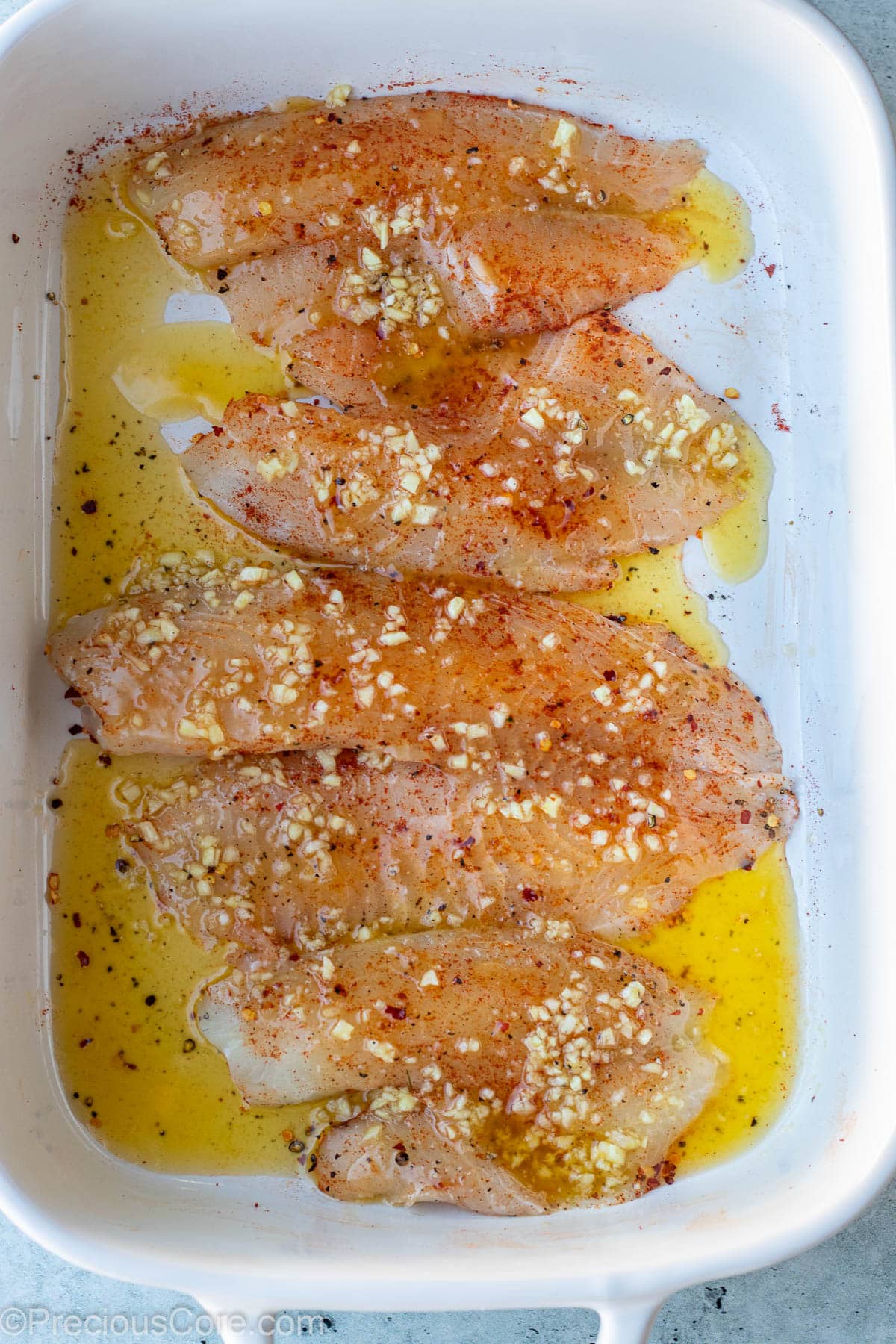 3. Bake until the fish is flaky. Garnish with fresh herbs and serve.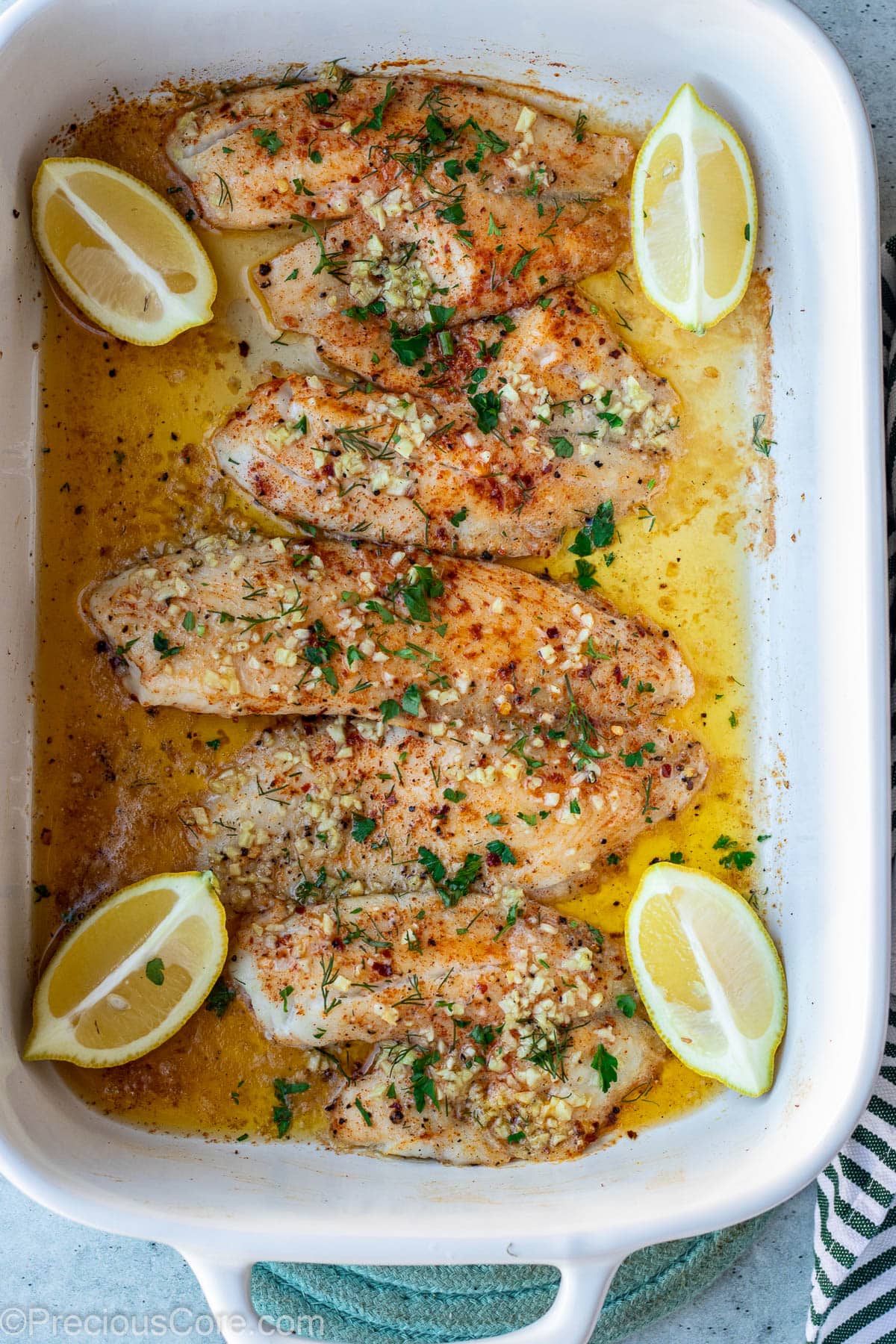 Hint: tilapia is done when it flakes easily with a fork. To check if the fish is done using an instant-read meat thermometer, slide the thermometer into the fish. It should register an internal temperature of 145 degrees Fahrenheit.
Also, check out these recipes for Pan Seared Shrimp and Pan Seared Chicken Tenders.
How To Bake Tilapia From Frozen
You can bake tilapia from frozen but you will have to cook it longer than thawed tilapia.
Season the tilapia, add, to a greased baking dish, and bake at 400 degrees Fahrenheit for about 20 minutes until it flakes easily with a fork.
Storage
Leftovers: Store leftover tilapia in an airtight container in the fridge for up to 3 days.
Freezer: Freeze cooked tilapia for up to 3 months in an airtight container.
Reheating: To reheat, bake the fish at 350 degrees Fahrenheit or 180 degrees Celsius until heated through. Note that it will not be as flaky after reheating. You could also reheat it in the microwave or in a skillet on the stovetop.
Expert Tip
Broil the tilapia for 1-2 minutes in the end to give it some color. While broiling, be sure to check the oven constantly. Don't move away so it doesn't burn! More color equals more flavor and a more appealing look.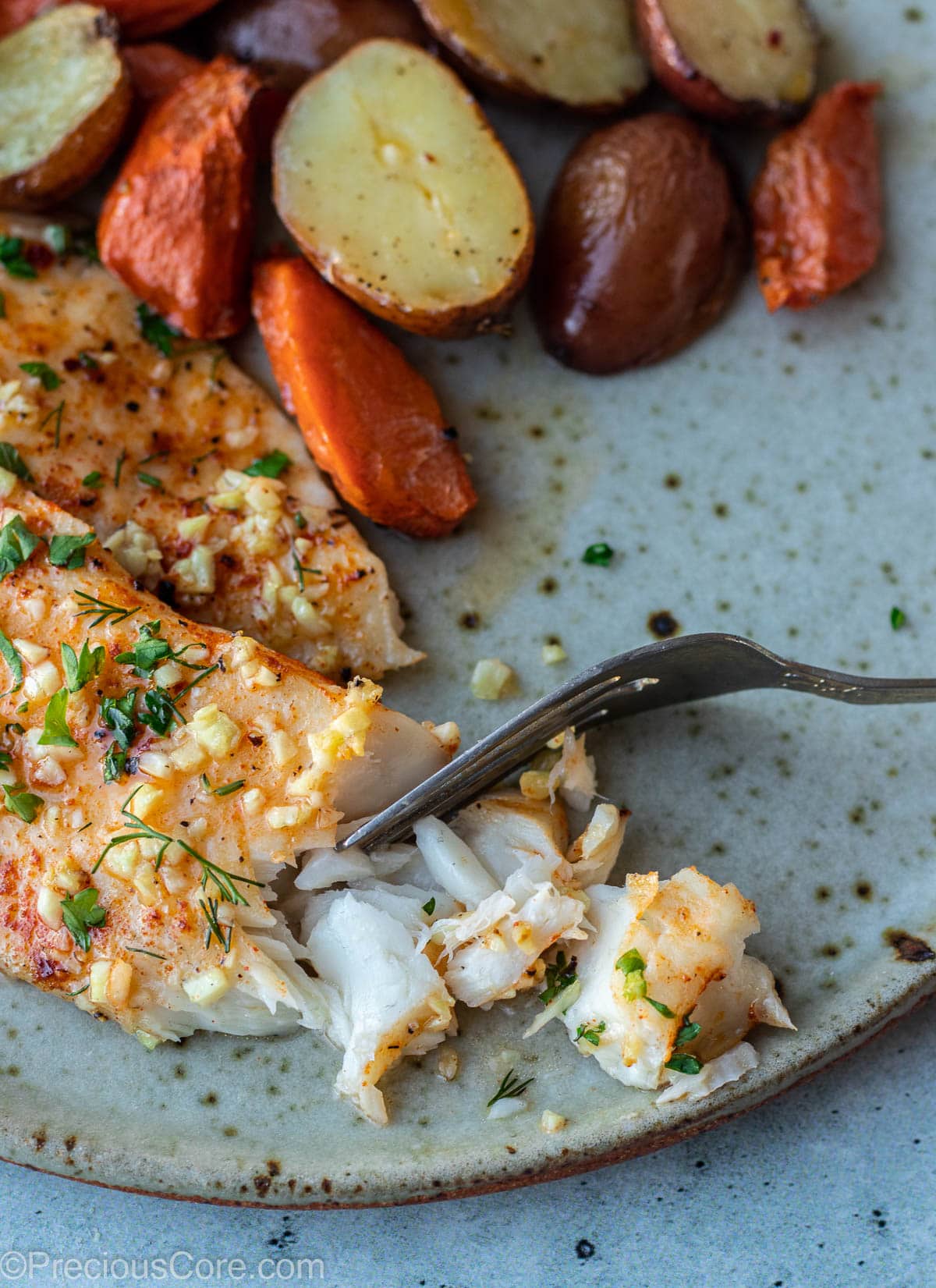 Recipe FAQs
What does tilapia go well with?
Tilapia goes well with vegetables, rice, mashed potatoes, other potato side dishes, salads, and more.
Should tilapia be marinated?
Tilapia is a mild fish which means the fish tends to soak up other flavors so it could be helpful to marinate tilapia. But there is no need to marinate tilapia before cooking. You could just season the fish and cook it immediately and it will turn out tasty!
Do you have to flip tilapia when baking?
There is no need to flip tilapia when baking.
How do I thaw tilapia fillets?
Thaw tilapia fillets in the fridge overnight. Or thaw quicker in cool water, changing the water every 30 minutes until the fish is completely thawed.
More Fish Recipes You'll Love
Looking for other fish recipes like this? Try these:
Serving Suggestions
These are some of my favorite side dishes to serve with garlic butter tilapia:
If you make this recipe, please consider leaving a star rating and comment below. I love hearing from you!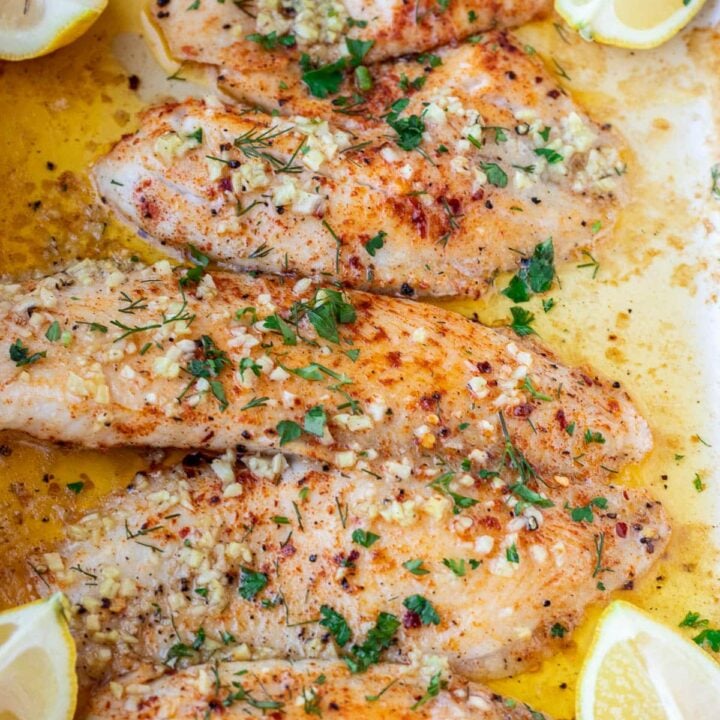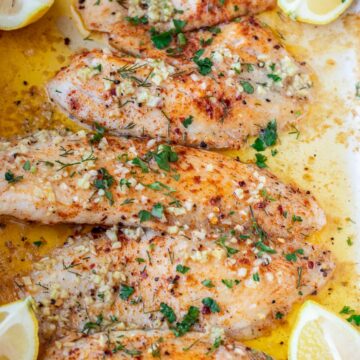 Garlic Butter Tilapia
This Garlic Butter Tilapia is incredibly tasty with a few minimal ingredients! Ready in 20 minutes from start to finish!
Ingredients
4

tilapia fillets

1 pound in total

½

teaspoon

salt

¼

teaspoon

pepper

½

teaspoon

onion powder

½

teaspoon

paprika

¼

teaspoon

crushed red pepper flakes

6

tablespoons

unsalted butter

1

tablespoon

minced garlic

about 3 cloves

Minced parsley and dill

for garnish

Lemon wedges for serving.
Instructions
Preheat oven to 400°F or 200°C.

Melt butter in a skillet on the stovetop or in the microwave.

Pat the tilapia fillets dry with paper towels and add them to a 9 by 13 baking dish.

Season both sides of the fillets with ¼ teaspoon of salt, ⅛ teaspoon of black pepper, the onion powder, paprika, and crushed pepper flakes.

In a small bowl, whisk together the melted butter, minced garlic, and remaining salt and pepper.

Pour the butter mixture over the seasoned tilapia ensuring that the garlic butter evenly coats the tilapia.

Place into the preheated oven and bake for 10-12 minutes until the fish flakes easily with a fork.

For a brown color on the fish, turn on the broiler and broil for 1-2 minutes.

Garnish with fresh minced parsley and/or dill and serve warm with lemon wedges.
Notes
Fish: Feel free to substitute tilapia here with other kinds of fish like flounder, red snapper, cod, halibut, or salmon. Seasoning: Use other seasonings like Italian Seasoning or Cajun seasoning on the fish. Storage: Store in an airtight container in the fridge for up to 3 days.
Nutrition
Calories:
319
kcal
|
Carbohydrates:
1
g
|
Protein:
35
g
|
Fat:
20
g
|
Saturated Fat:
12
g
|
Polyunsaturated Fat:
1
g
|
Monounsaturated Fat:
5
g
|
Trans Fat:
1
g
|
Cholesterol:
130
mg
|
Sodium:
384
mg
|
Potassium:
538
mg
|
Fiber:
0.2
g
|
Sugar:
0.1
g
|
Vitamin A:
686
IU
|
Vitamin C:
1
mg
|
Calcium:
28
mg
|
Iron:
1
mg