Pan Fried Teriyaki Salmon
Published Mar 22, 2023
Updated Aug 22, 2023
This Pan Fried Teriyaki Salmon is coated in a tasty sweet and salty sauce. Serve with hot fluffy rice and your favorite vegetable side dish for a satisfying dinner. Ready in 17 minutes!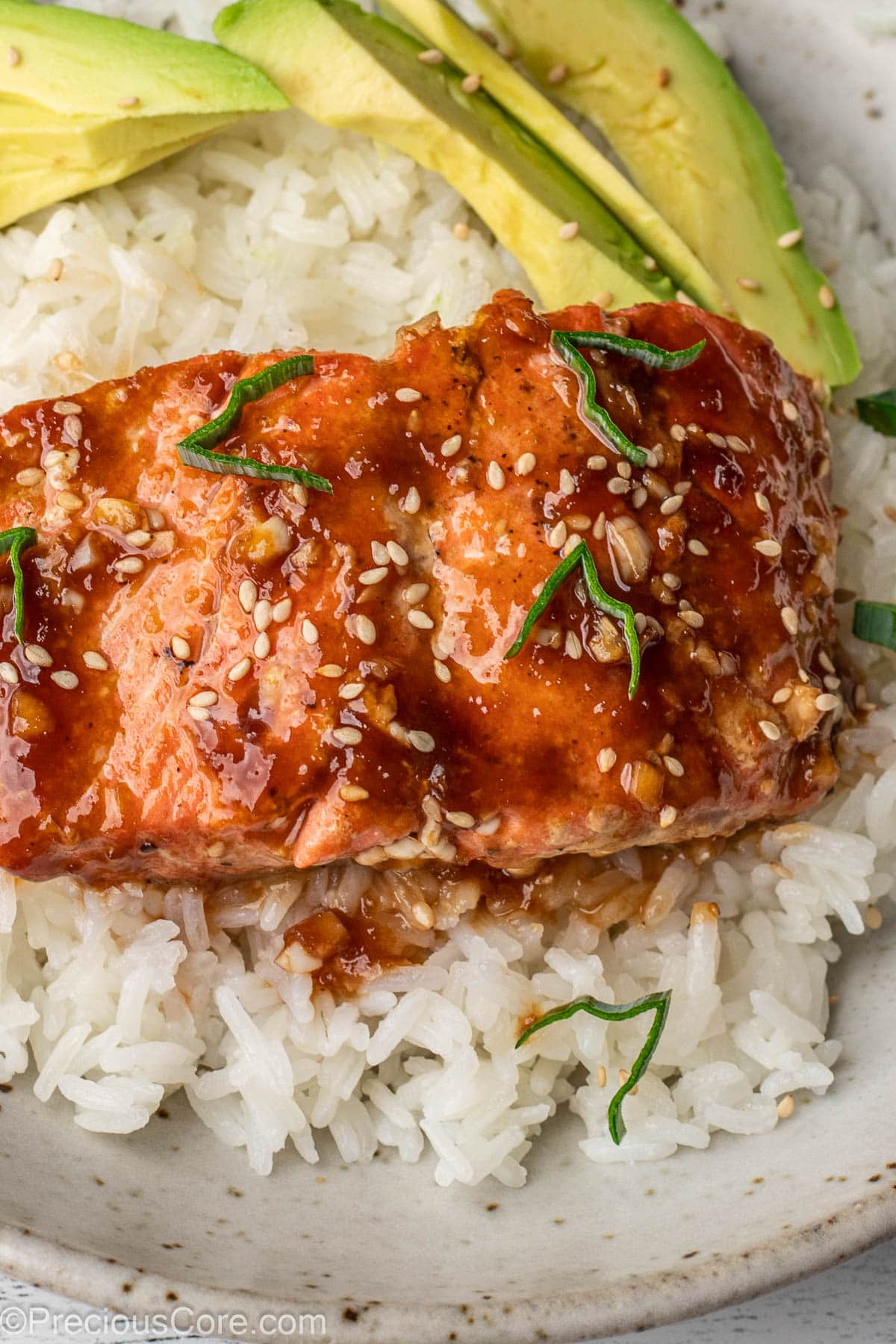 My girls and I love ordering salmon from one of our favorite restaurants, Waba Grill. This Pan Fried Teriyaki Salmon reminds me of Waba's salmon.
The glossy sweet and salty sauce that coats the fish just pairs so well with rice but you can enjoy it with other sides you like too! No time to make a side dish? Just steam some broccoli and carrots to go with the fish!
If you love tasty cooked-to-perfection salmon also check out my Pan Grilled Salmon, Salmon and Broccoli Sheet Pan, Grilled Sockeye Salmon and Lemon Butter Salmon.
What Is Teriyaki?
The word teriyaki comes from two Japanese root words: teri which means "shine" and yaki which means to "cook", "grill", or "fry".
Teriyaki is used to refer to a sweet and salty sauce used in Japanese cooking either as a glaze, a marinade, or a dipping sauce. The main ingredients in teriyaki sauce are soy sauce, sugar, and mirin (a type of rice wine used in Japanese cooking).
For this recipe, I used hoisin sauce and lemon juice instead of mirin. The lemon juice provides acidity just like mirin does. If you want to try this recipe with mirin, try getting it from Asian stores near you.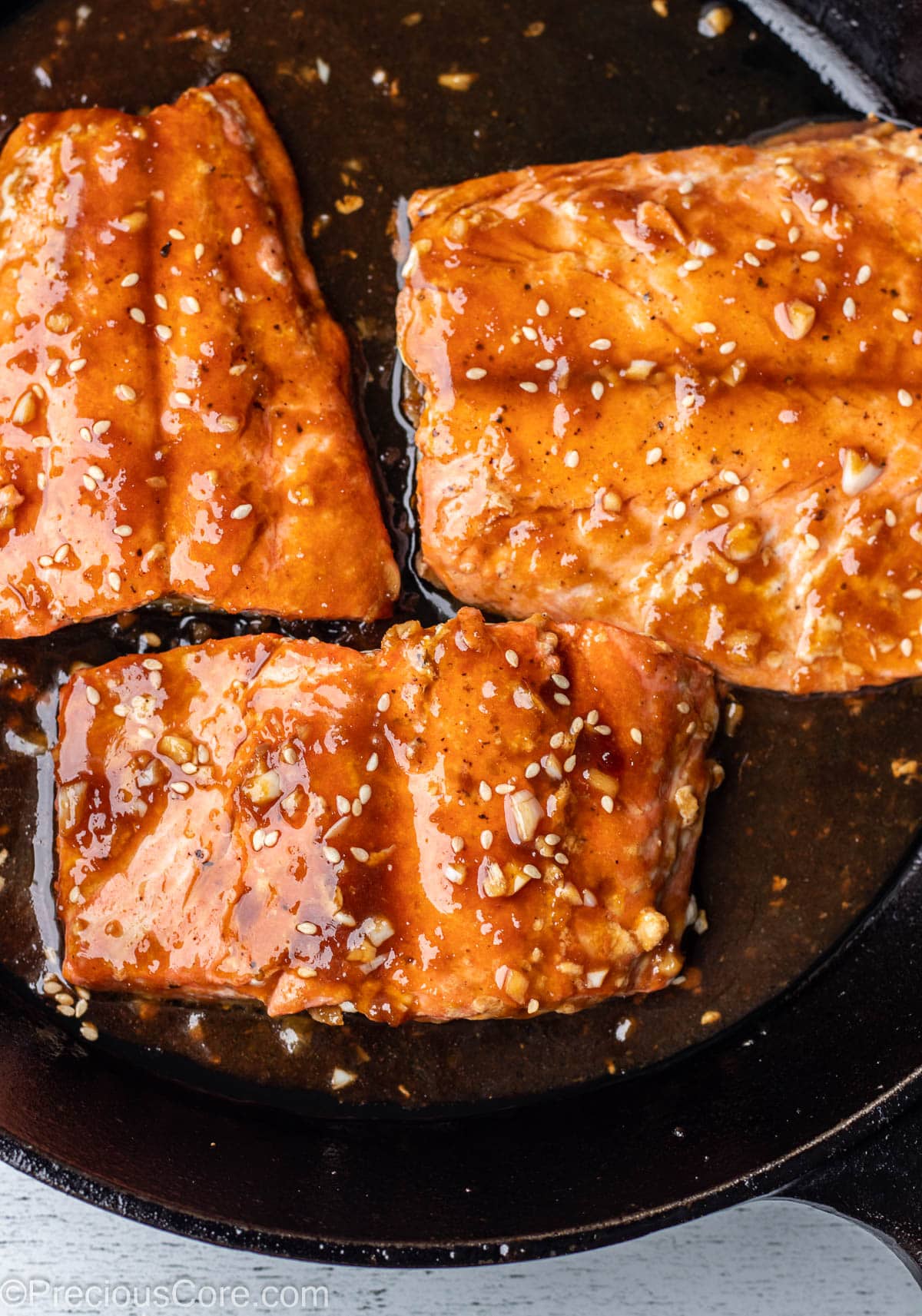 Why This Recipe Works
First, there is no burnt salmon here. While testing this recipe, I tried coating the salmon with the sauce first, then cooking the sauce-coated salmon in a pan. That resulted in burnt salmon. Ouch!
If you coat the fish in the sauce first, you create room for the sugar to caramelize and eventually burn probably before the fish even gets cooked.
To prevent that we pan fry the fish first then simmer the sauce and baste the fish with the sauce. That gives perfectly cooked fish and allows enough sauce to enjoy.
This recipe works because:
You get perfectly cooked fish: flaky and juicy.
There is a great balance of sweet and salty.
It is ridiculously easy to make. Just follow the guide for cooking the fish right!
It is quick. In less than 20 minutes you have a meal!
The sauce is so good with rice!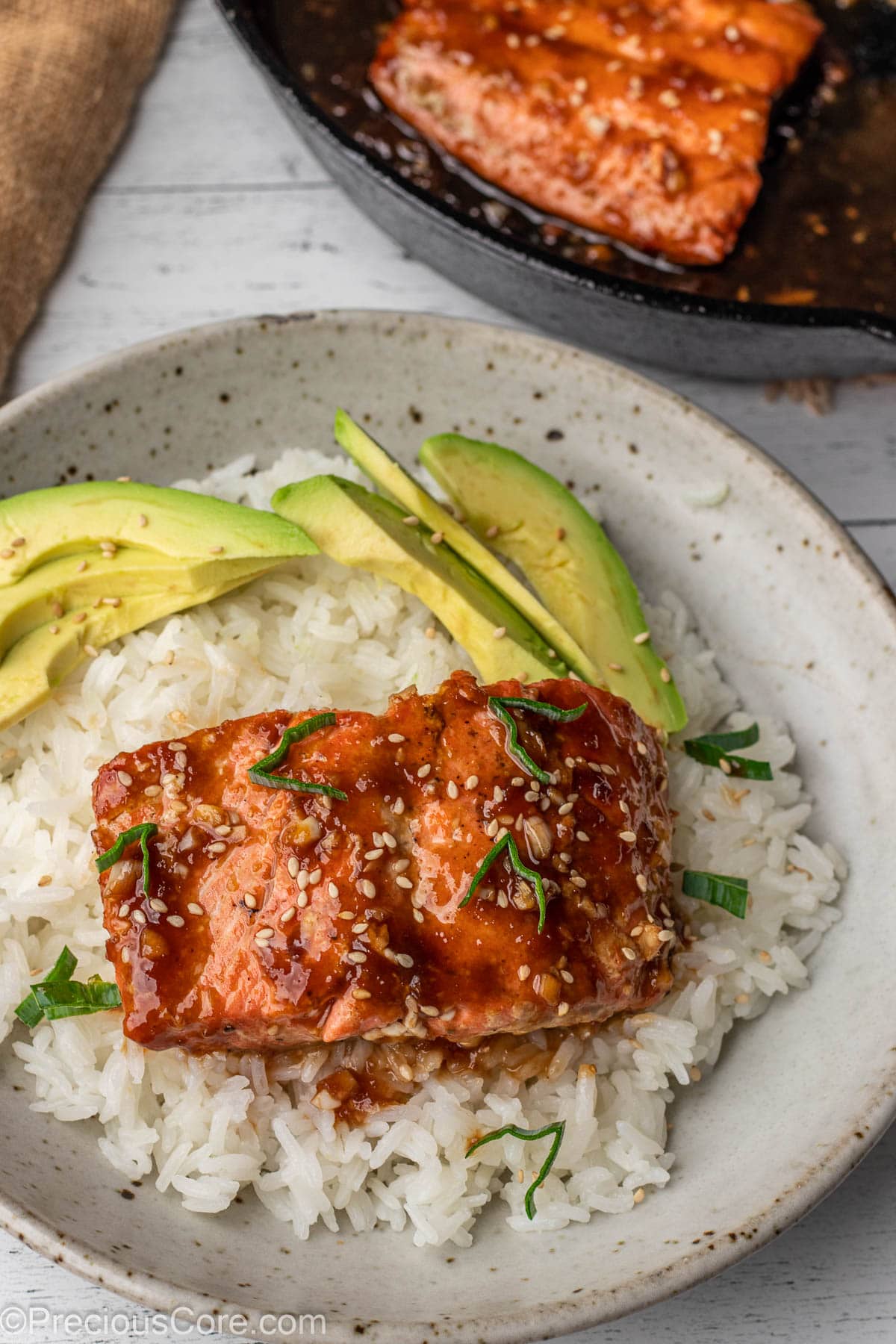 Set up some rice on one burner to cook and then make this Pan Fried Teriyaki Salmon on another. The rice will be ready at about the same time as the fish and you'll have a great dinner!
Ingredients Needed
With few ingredients, you get tasty teriyaki salmon all made in the pan and ready in less than 20 minutes. Here are the main ingredients used: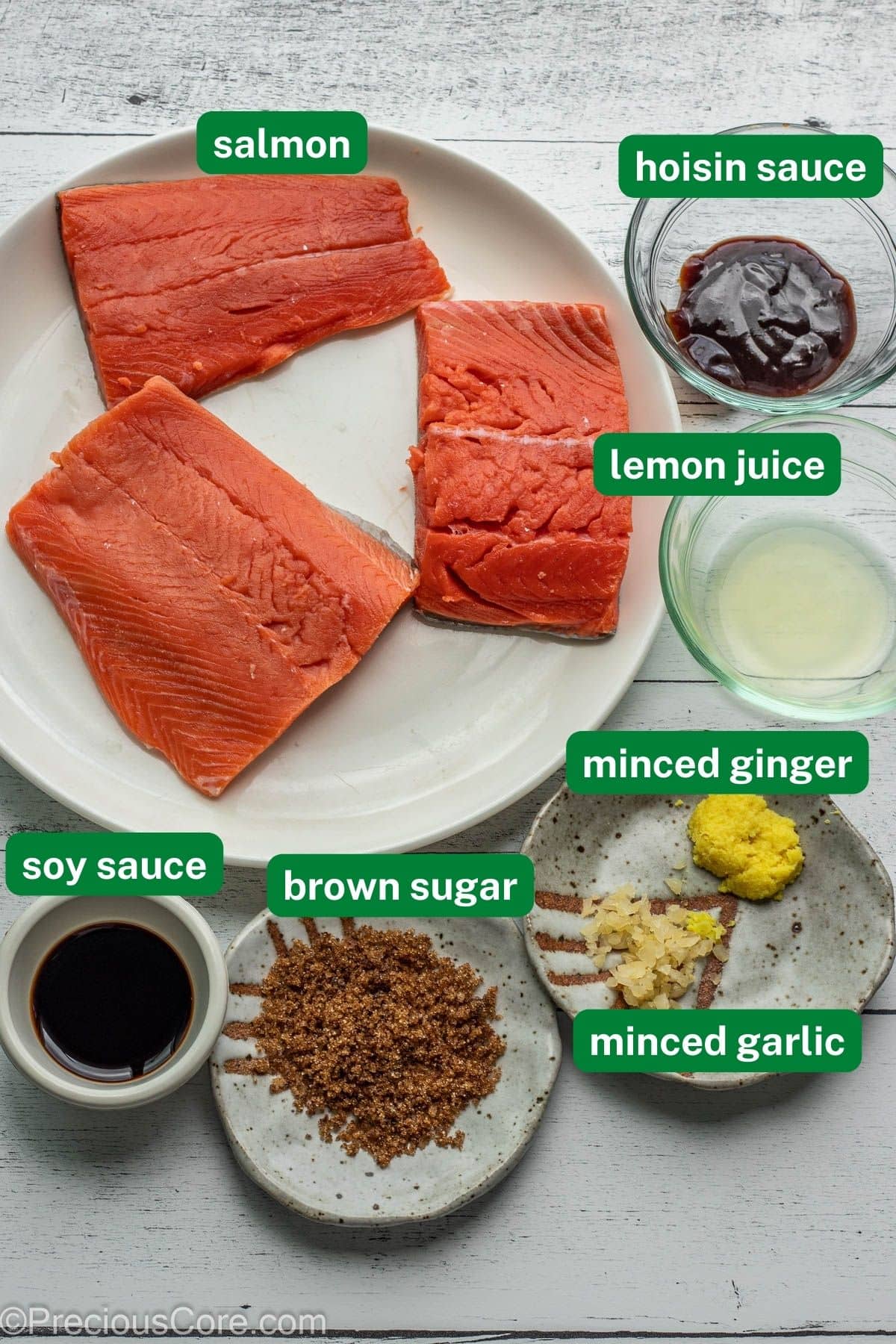 Salmon: Use wild-caught salmon for the best flavor if you can. If using farm-raised salmon, be sure to choose responsibly farmed fish.
Lemon juice: The acidity of the lemon juice balances the sweetness of the brown sugar.
Salt, pepper, and oil (not pictured): 3 classic ingredients used to pan-fry the salmon before simmering the teriyaki sauce.
Garlic and ginger: This duo really elevates the flavor of this dish. Mince them easily using a Microplane zester/grater.
See the recipe card below for quantities.
Substitutions and Variations
Fish: No salmon, no problem. Feel free to replace the salmon with other kinds of fish such as trout, halibut, or red snapper.
Soy sauce: Maggi seasoning sauce is a great replacement for soy sauce as they have a similar flavor profile.
Honey: Honey makes a great replacement for the brown sugar used in this recipe.
Spicy: Add red pepper flakes to the sauce for a spicy kick.
Also, check out this Steak Fried Rice and Beef and Vegetable Stir Fry.
How To Pan Fry Salmon Teriyaki
In 4 easy steps, you could pan-fry salmon and coat it in an insanely delicious sauce. These are the flavors I want when I order salmon from an Asian restaurant!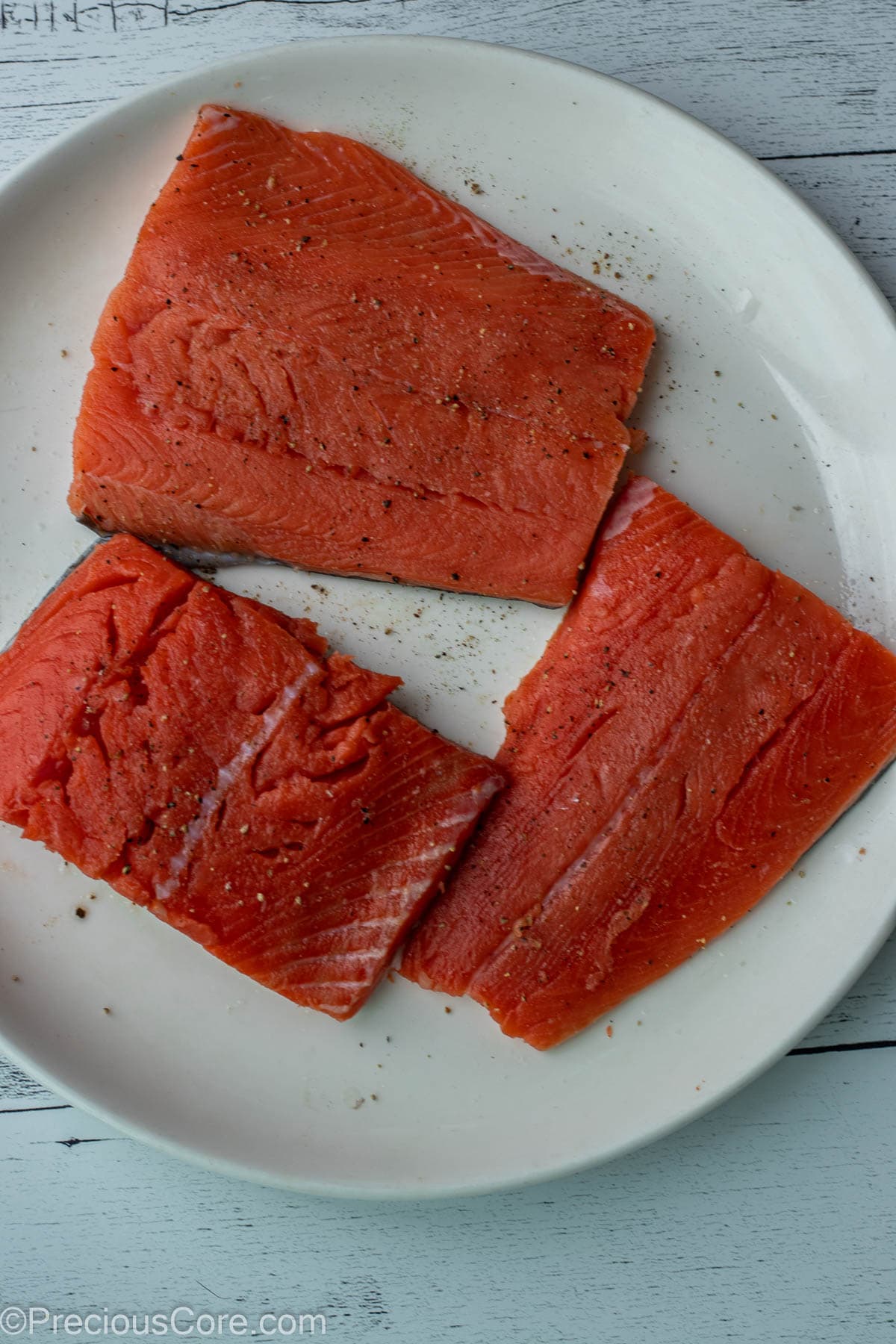 Step 1: First, season both sides of the salmon with salt and pepper.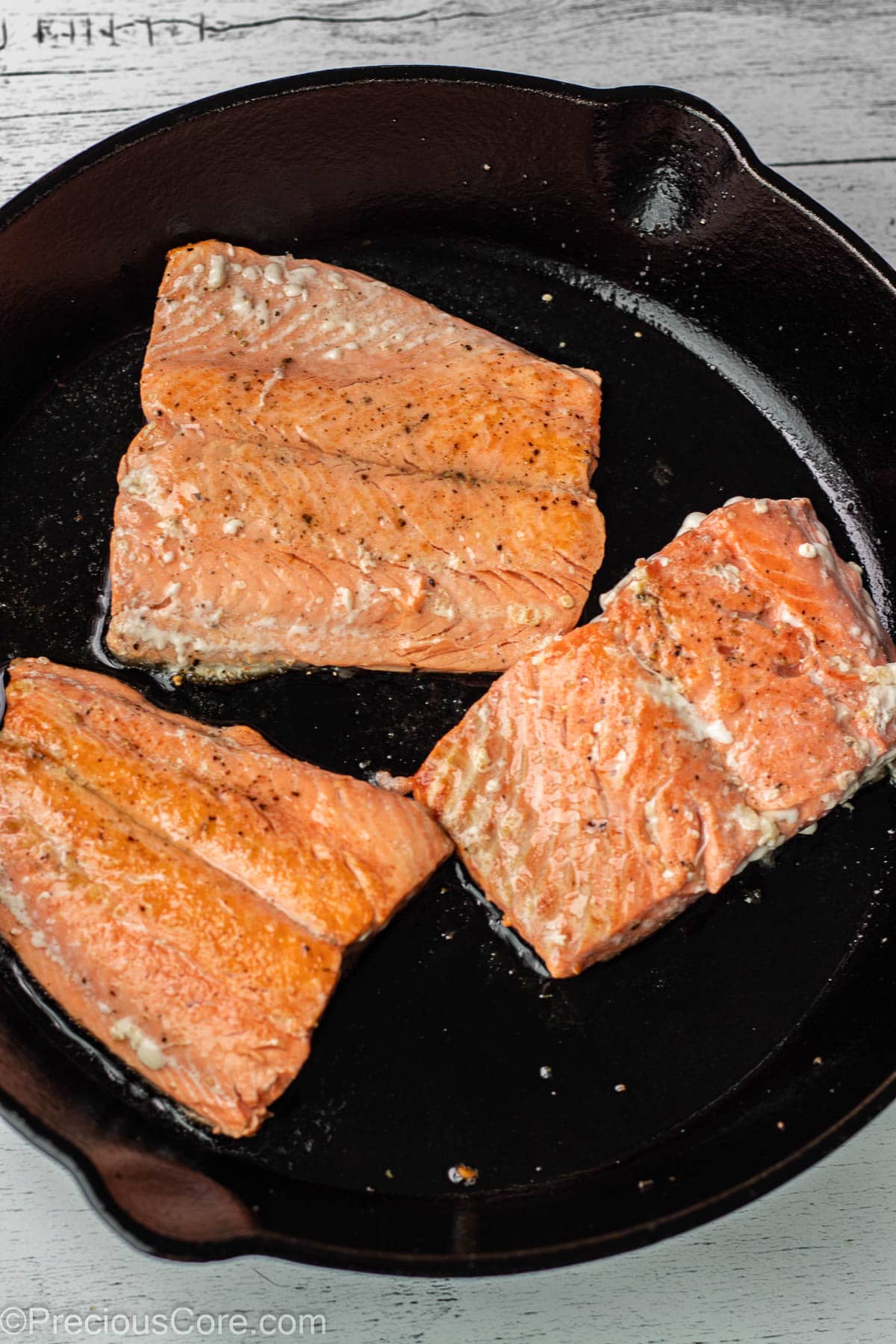 Step 2: Heat up oil and pan fry the salmon for 2-4 minutes on each side depending on its thickness.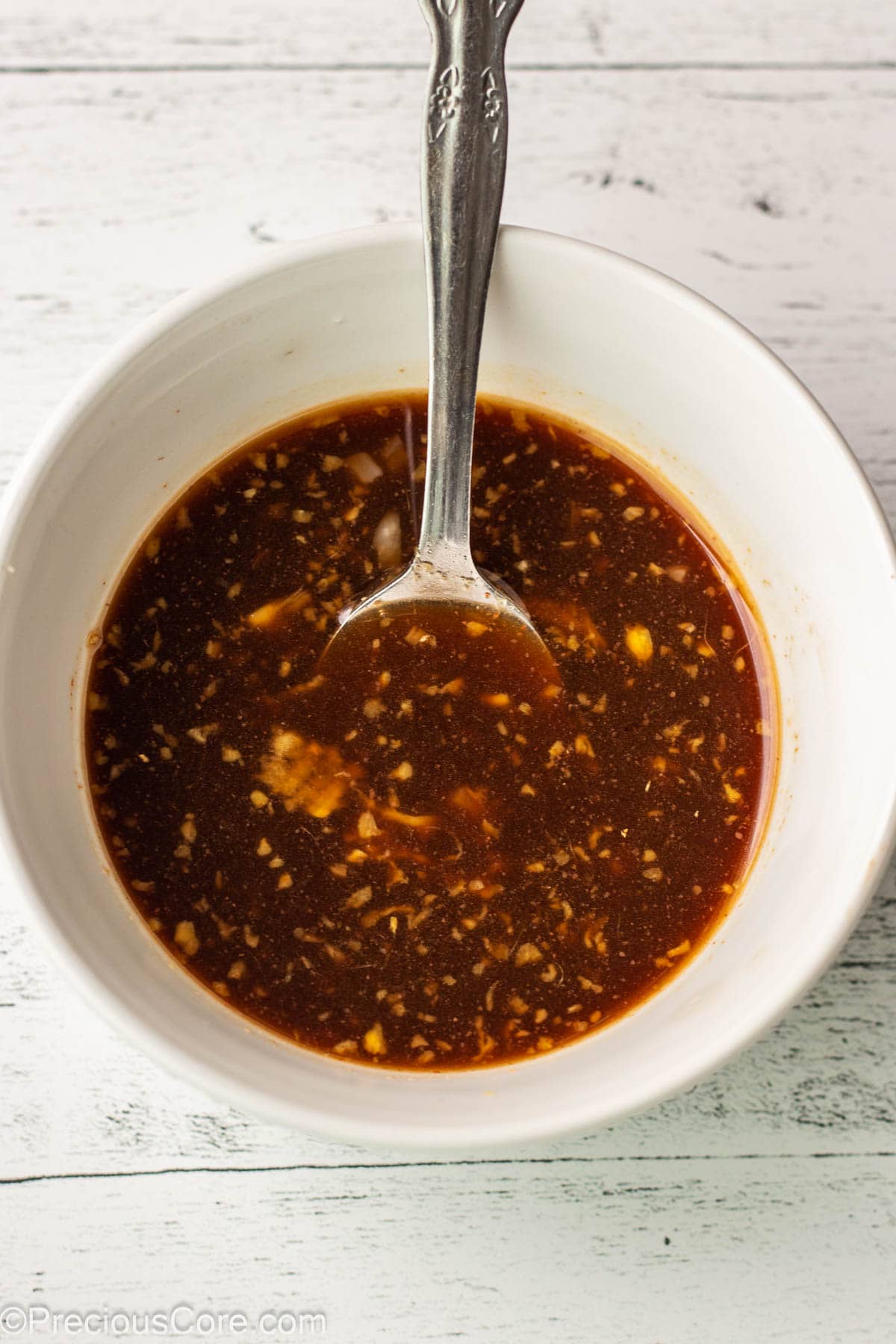 Step 3: Whisk together hoisin sauce, soy sauce, minced garlic and ginger, lemon juice, and water.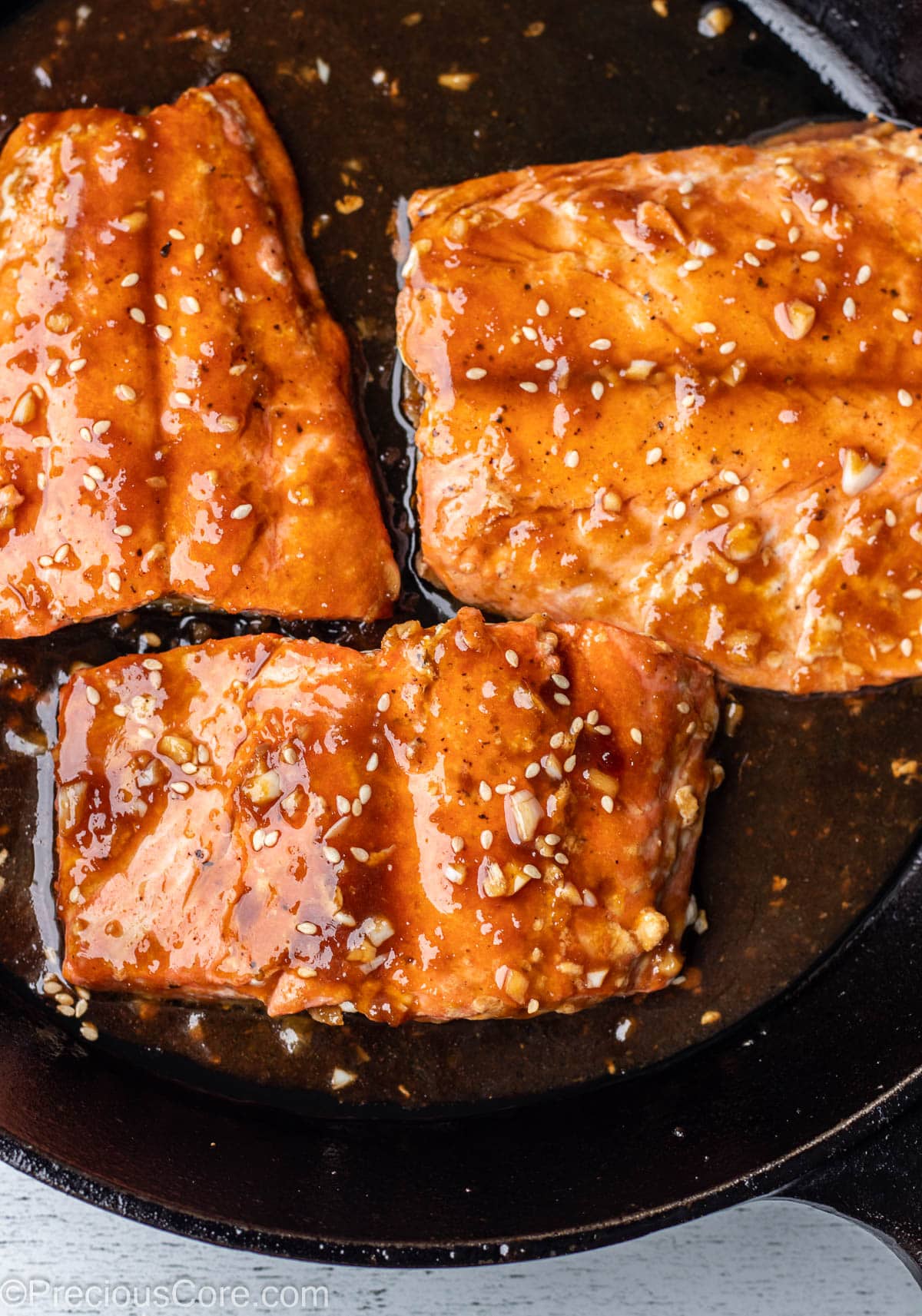 Step 4: Remove the salmon from the pan. Add the hoisin sauce mixture to the pan and let it simmer. Then add back salmon and baste with the sauce.
Hint: My salmon fillets were about half to three-quarter inches thick so I cooked them for about 2 minutes per side. If your fillets are about 1 inch or thicker, cook them for about 3-4 minutes per side or until the desired doneness.
According to the FDA (Food and Drug Administration), salmon should be cooked until the thickest part reaches an internal temperature of 145 degrees Fahrenheit.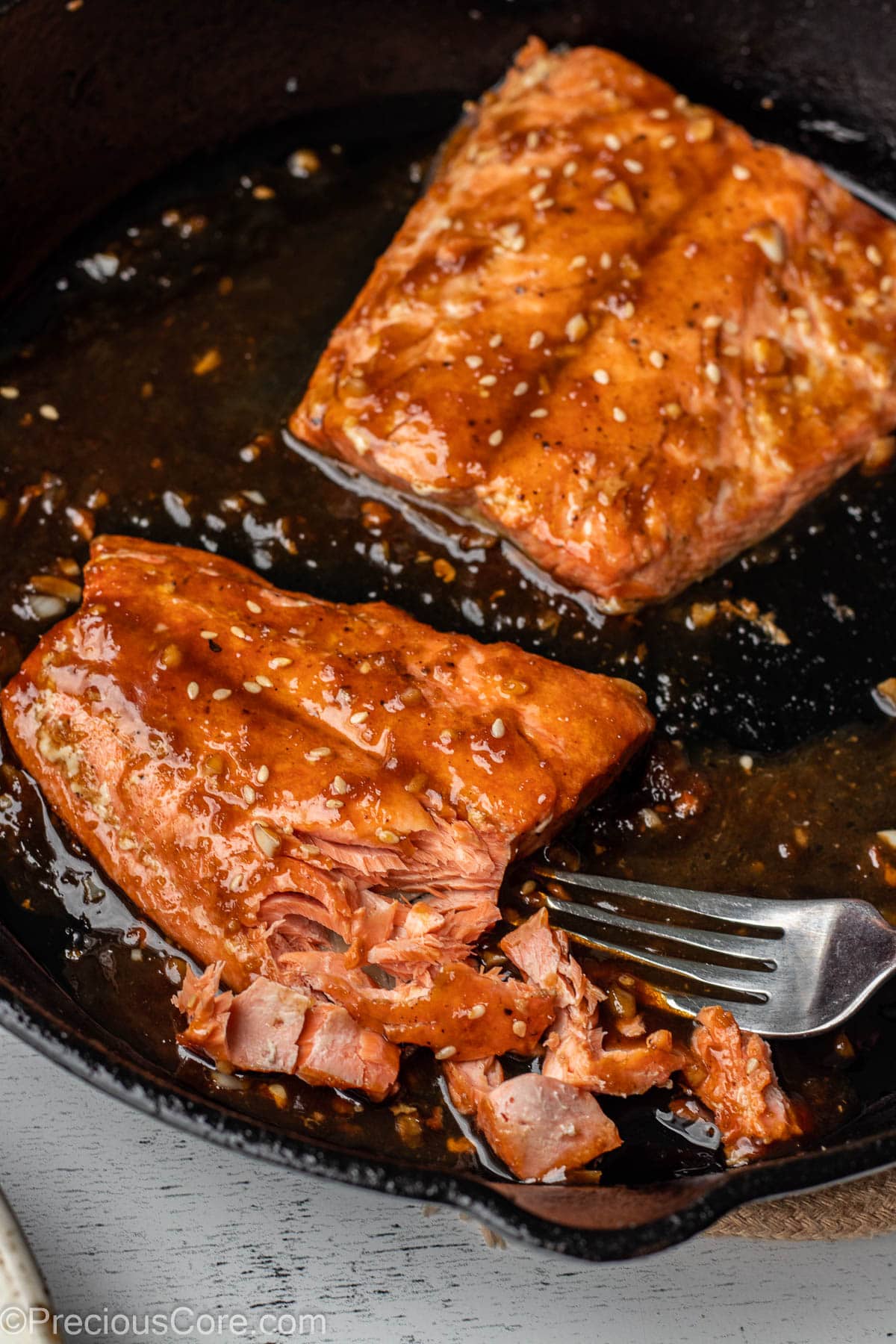 Recipe FAQs
Is it better to pan fry or to bake salmon?
Both pan-frying and baking salmon are great methods of cooking. Pan frying is faster though and if you have more time, you could bake the fish.
Do you need to flip salmon when pan-frying?
Yes, you need to flip salmon when pan-frying to ensure that the fish is cooked on both sides.
Which side of salmon to pan-fry first?
If cooking salmon with skin on, first pan fry the side with the skin so it can get crispy and is easier to flip. So cook the salmon skin side down then flip and cook the other side.
Serving Teriyaki Salmon
You could serve Pan Fried Teriyaki Salmon with simple steamed vegetables like carrots and broccoli or roasted veggies. Also, consider serving with these side dishes:
Similar Recipes
Looking for other recipes like this? Try these:
Love this Pan Fried Teriyaki Salmon recipe? Please leave a star rating and comment below!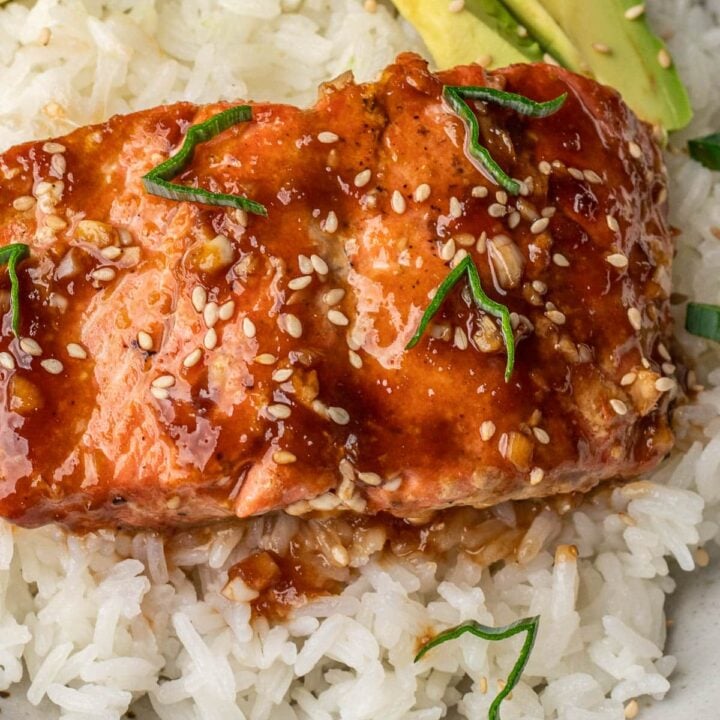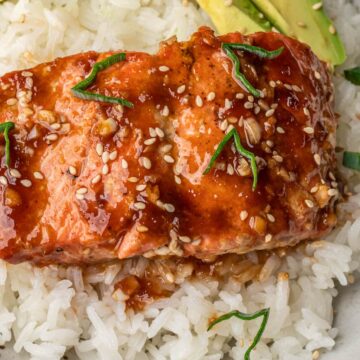 Pan Fried Teriyaki Salmon
This Pan Fried Teriyaki Salmon is coated in a tasty sweet and salty sauce. Serve with hot fluffy rice and your favorite vegetable side dish for a satisfying dinner. Ready in 17 minutes!
Ingredients
1

pound

salmon fillets

3 fillets

¼

teaspoon

salt

⅛

teaspoon

ground black pepper

2

Tablespoons

light olive oil

1

Tablespoon

soy sauce

1

Tablespoon

hoisin sauce

1

Tablespoon

lemon juice

1

teaspoon

minced garlic

1

teaspoon

minced ginger

2

Tablespoons

water
Instructions
Pat both sides of the salmon fillet dry with paper towels.

Sprinkle both sides of the salmon with the salt and pepper.

In a small mixing bowl, whisk together the soy sauce, hoisin sauce, lemon juice, minced garlic, minced ginger and water.

Place a 10-12 inch skillet on medium heat. Add the olive oil and let it heat up for 2 minutes.

Add the seasoned salmon to the skillet (skin side down if using salmon with skin on). Let it cook on one side for 2 minutes then flip to the other side and let it cook for another 2 minutes. Increase cooking time if the salmon fillets are 1 inch thick or thicker. (See the post for salmon cooking tips.)

Add the soy sauce mixture from step 3 to the pan and bring to a simmer. Let it simmer for about one to two minutes.

Add the salmon fillets back to the pan. Generously spoon the sauce over the fillets ensuring that the sauce completely coats the salmon.

Turn off the heat and serve warm with your favorite sides. Consider garnishing the fish with sesame seeds and chopped green onions or leeks.
Notes
Salmon: I prefer wild-caught salmon for this recipe because it has so much flavor. But any flavor you have on hand would work. You can use skin-on or skinless salmon. Serving: Serve this tasty salmon with rice and some steamed or sauteed vegetables for a really easy dinner. For a low carb option, omit the rice and just serve with vegetables. Storage: Store Pan Fried Teriyaki Salmon in the fridge for up to 3 days.
Nutrition
Calories:
237
kcal
|
Carbohydrates:
3
g
|
Protein:
23
g
|
Fat:
14
g
|
Saturated Fat:
2
g
|
Polyunsaturated Fat:
4
g
|
Monounsaturated Fat:
8
g
|
Cholesterol:
62
mg
|
Sodium:
512
mg
|
Potassium:
580
mg
|
Fiber:
0.2
g
|
Sugar:
1
g
|
Vitamin A:
46
IU
|
Vitamin C:
2
mg
|
Calcium:
18
mg
|
Iron:
1
mg