Carrot Cake
Published Oct 24, 2016
Updated Nov 26, 2022
Friends, I have been dying to show you this recipe! Carrot and coconut flakes in a cake? Yes! Yes!! Yes!!! Seriously, nothing could be better. My mint tea has found a new bestie in this carrot cake.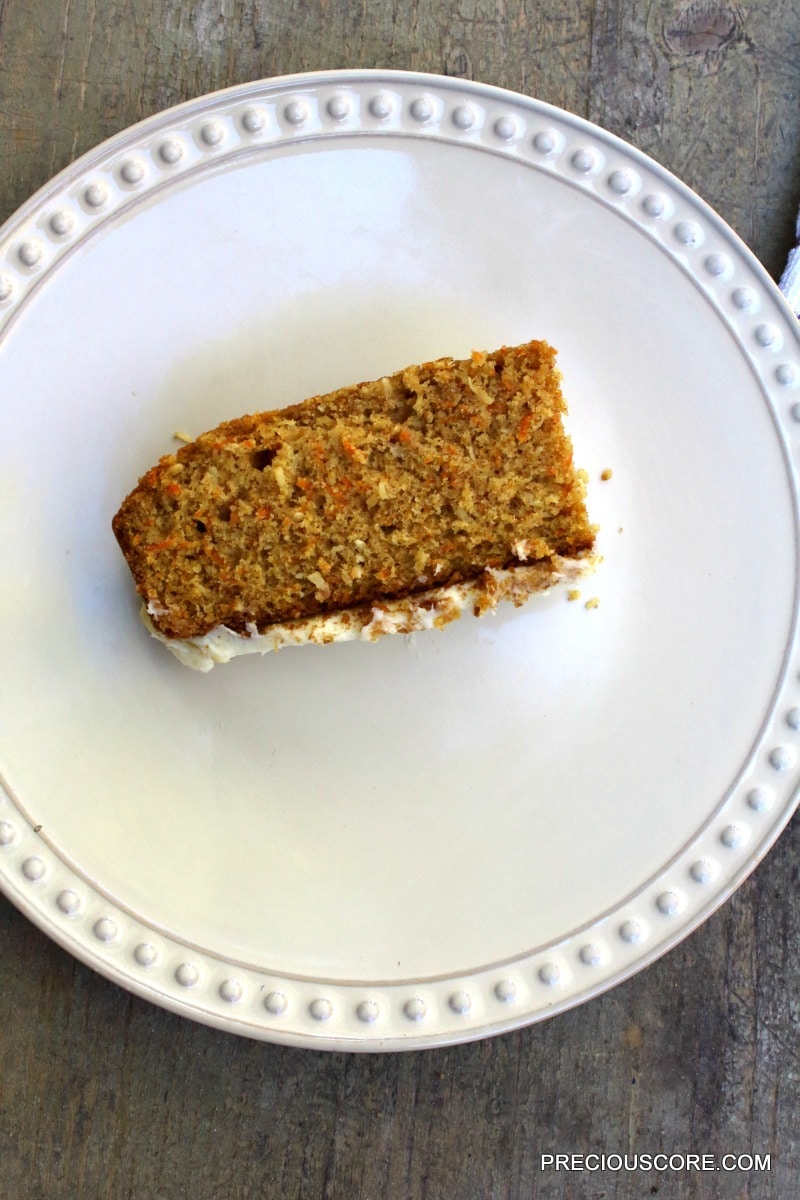 Apart from the fact that the orange colour makes it visually appealing (I mean, just look at that!), this cake has an awesome taste. It is sweet, moist, full of carrots, dense, divine, heavenly, phenomenal, fantastic!
AND the cream cheese frosting on the top is everything! See, I'm not a fan of frosting on my cake. This is how I like to have my cake: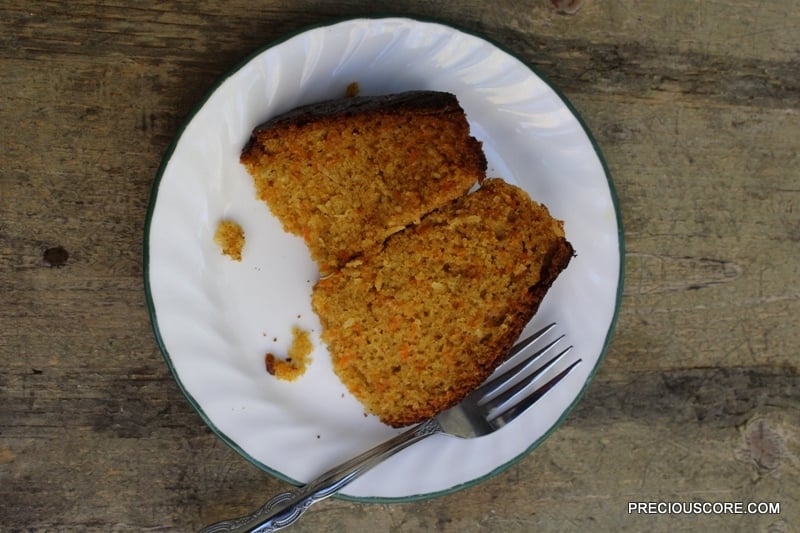 Without the 'sinful' frosting. BUT the cream cheese frosting used in this recipe is so cheesy, creamy and yummy that I couldn't resist adding it. Just a heads up though that I use less sugar in my cake and frosting compared to others because I don't like/want anything overly sweet. And I do not want my girls to like anything very sweet so my sugar is always low. Feel free to add more sugar if you wish.
Let's talk aout this cake for a minute. It is so easy to make. You need  flour, shredded carrots, shredded coconut, apple sauce, oil, sugar, eggs.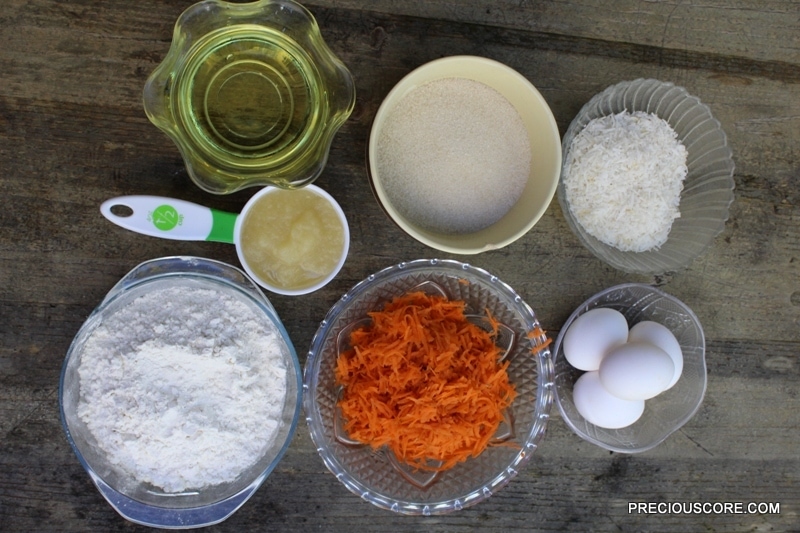 You also need baking powder, baking soda, salt and some ground cinnamon. If you do not have cinnamon, feel free to substitute with nutmeg.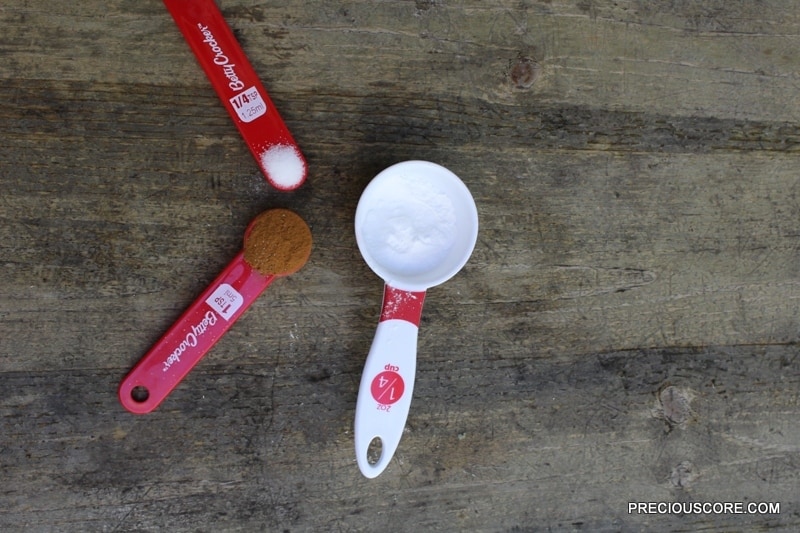 You make the cake by mixing all dried ingredients then adding the wet ingredients gradually to form this stunning orange-looking batter. It's a one-bowl mixing affair!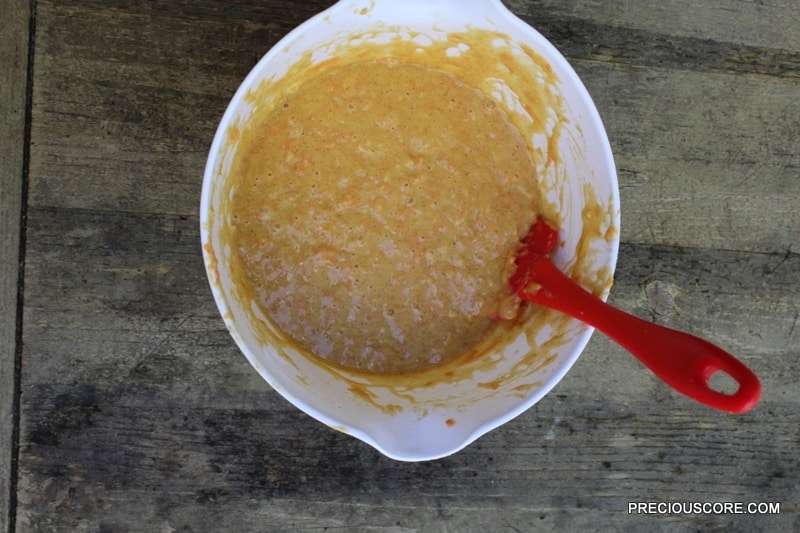 Then you put the batter into a cake pan and bake to perfection. You could alternately put the batter into cupcake pans and bake. This recipe will make about 24 cupcakes.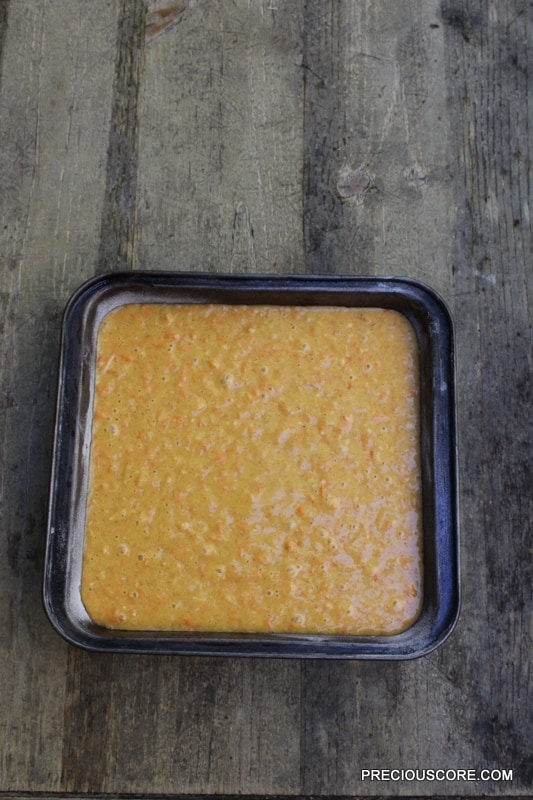 Aha!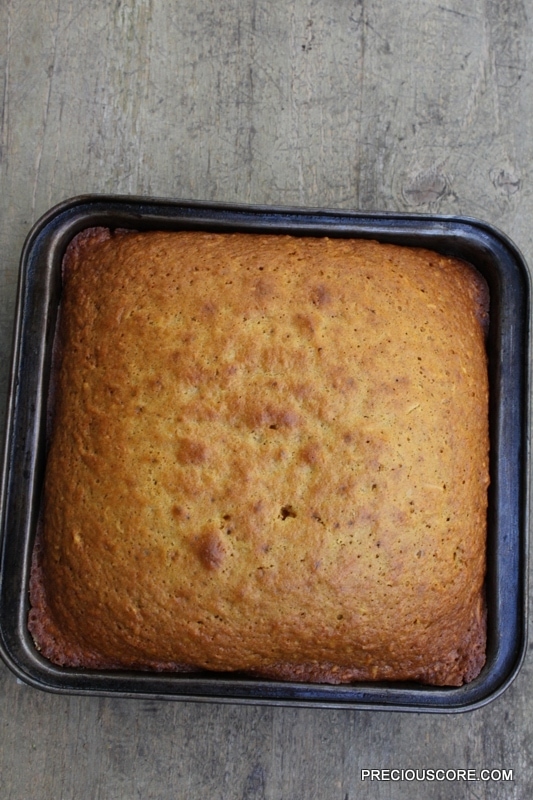 When your cake is ready, let it cool completely while you make your cream cheese frosting. You need some unsalted butter, cream cheese, confectioner's (icing) sugar and vanilla extract.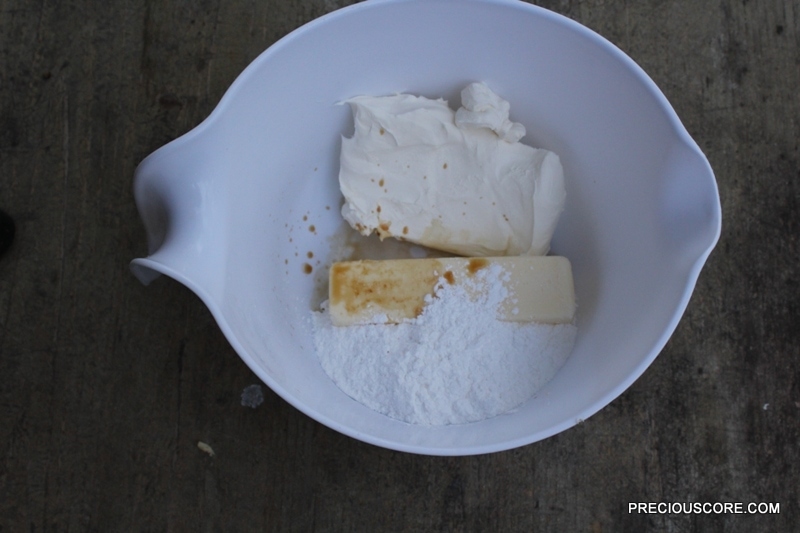 Mix them all together. Oh honey!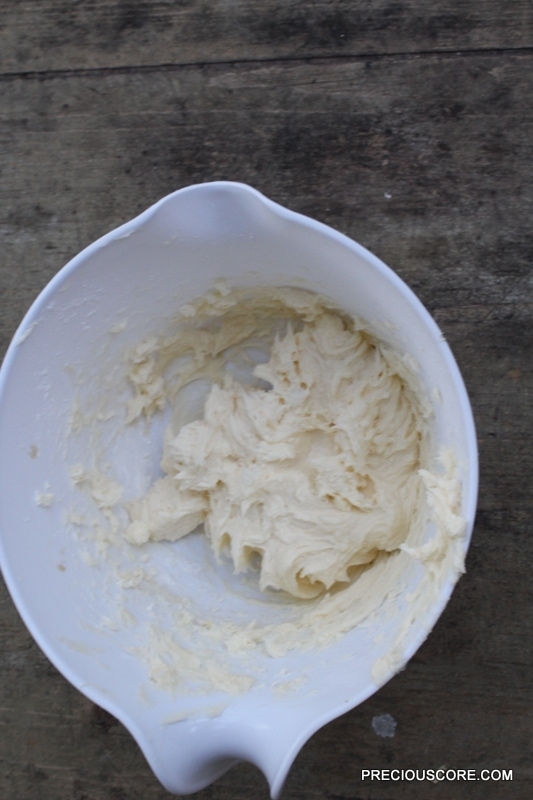 I flipped my cake so I could spread the frosting on the side which was flat.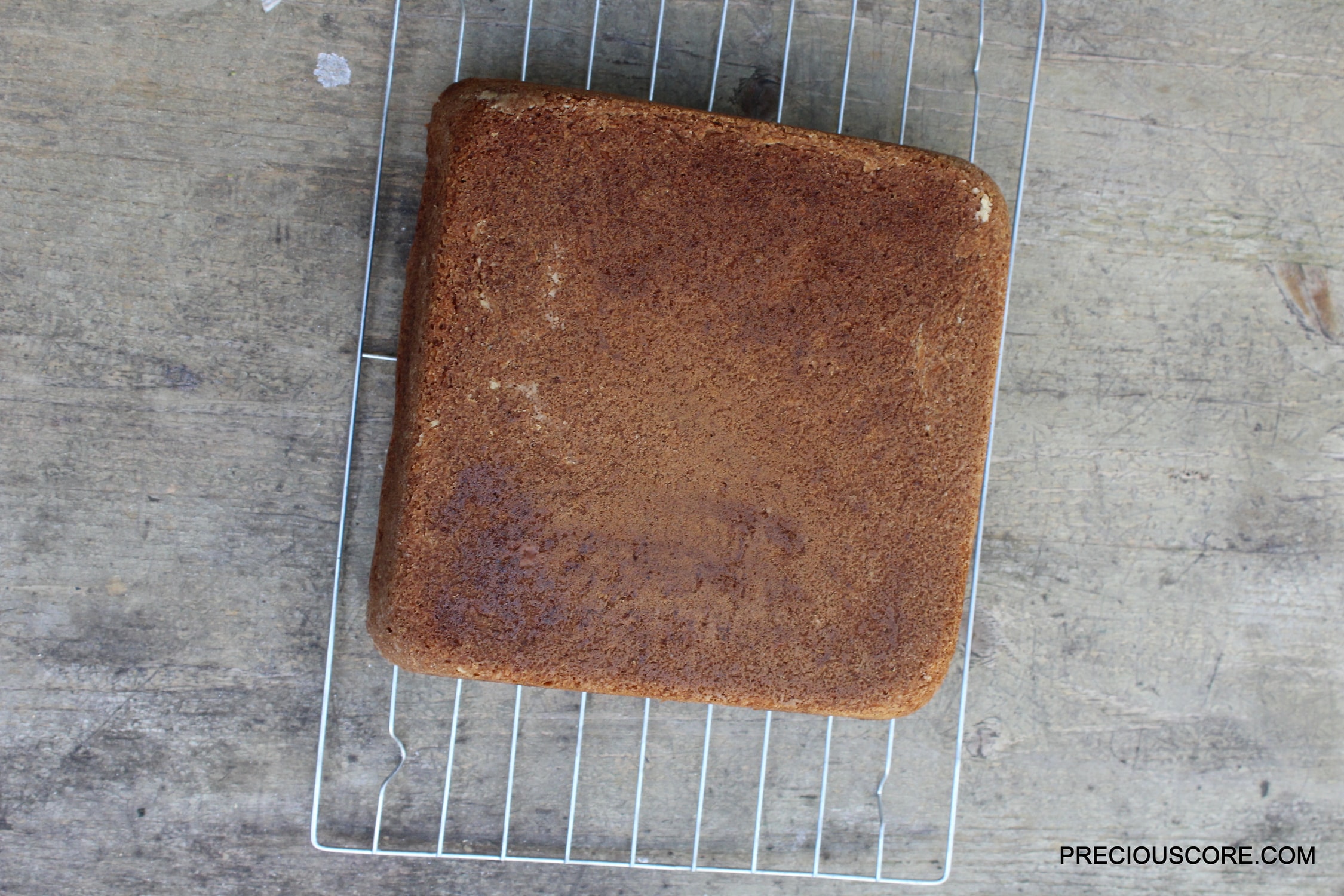 Spread all of that creaminess on top. Oh baby!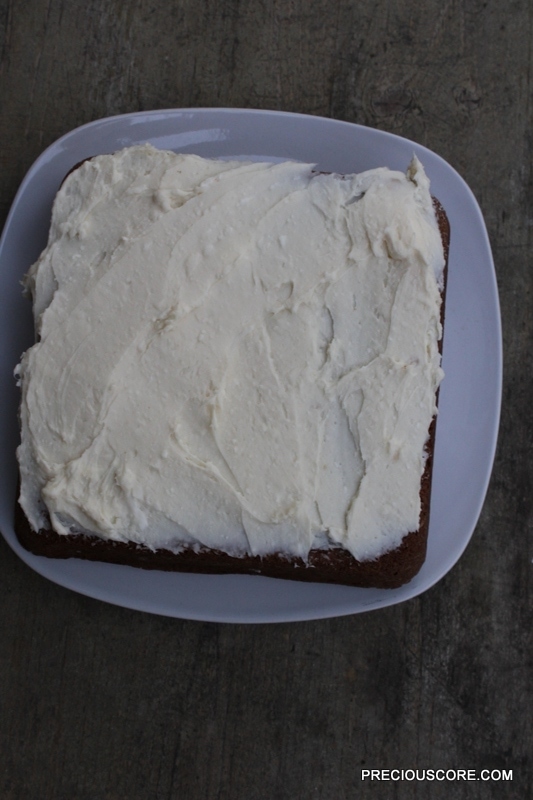 At this point, ladies and gentlemen…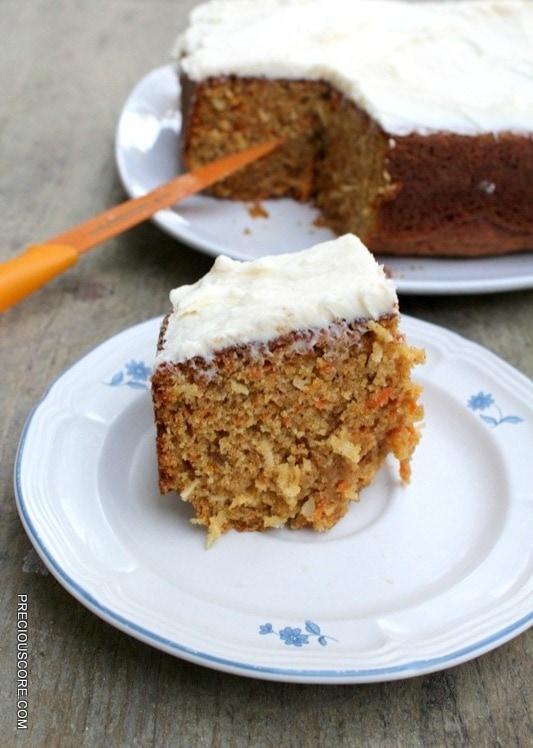 Eat. Eat some more. Collapse. Wake up. Eat again.
If you are like me, cut some and put in a bowl so you can tightly cover and place in the referigerator for further fuss-free enjoyment.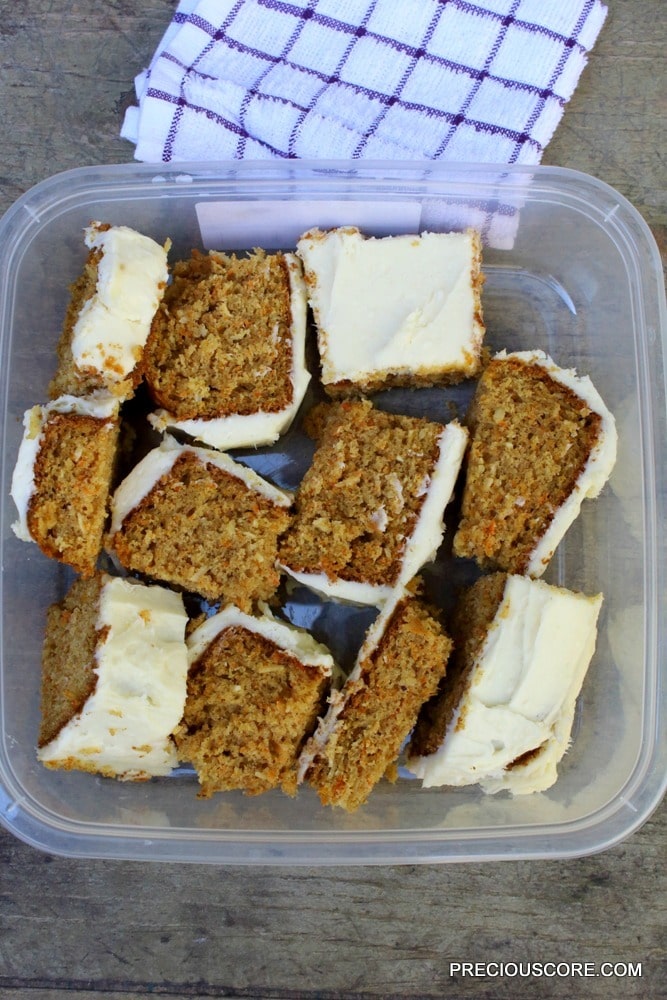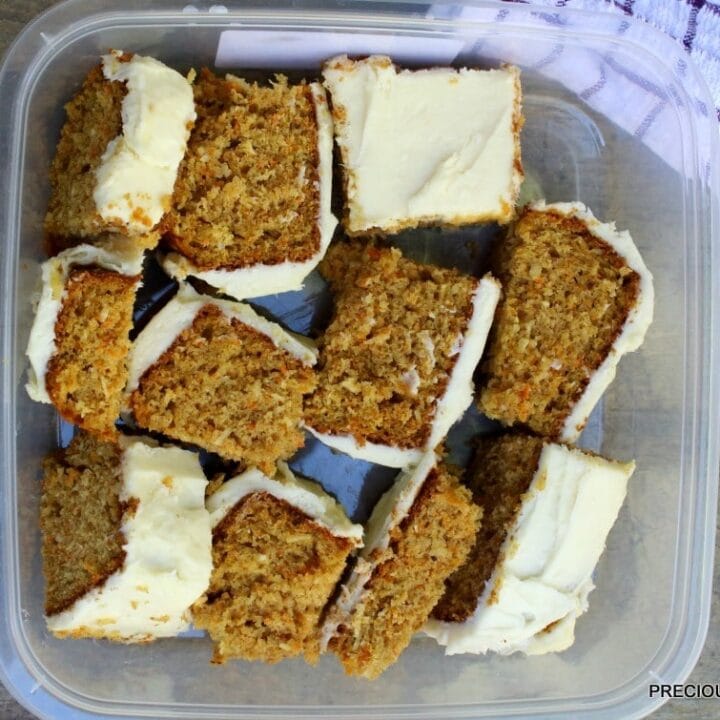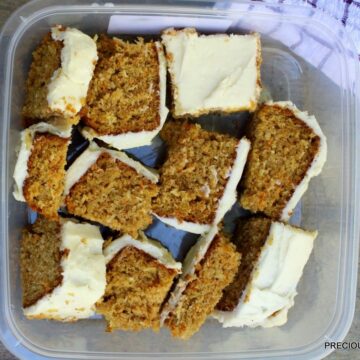 Carrot Cake
This is a classic carrot cake recipe with the added goodness of coconut flakes. Perfect for snacking and great with tea.
Ingredients
2

cups (250 g)

flour

all-purpose

1

cup

coconut flakes

1/2

cup

apple sauce

unsweetened

4

eggs

2

cups

shredded carrots

1

cup

vegetable oil

1

teaspoon

baking soda

1

teaspoon

baking powder

1

teaspoon

cinnamon powder

or nutmeg

1

cup (200 g)

sugar

1/2

teaspoon

salt
For the frosting
8

ounces

cream cheese

8

tablespoons

unsalted butter

1/2

cup

sugar

icing

1

teaspoon

vanilla extract
Instructions
Grease a 9 inch baking pan with vegetable oil or line 2 cupcake pans with 24 cupcake liners.

Pre-heat oven to 350 Degrees Fahrenheit or 176 Degrees Celsius.

Mix together flour, baking powder, baking soda, sugar, salt and cinnamon (or nutmeg) powder in a bowl.

Add in coconut flakes, shredded carrots, vegetable oil and apple sauce then mix until it forms a very thick paste.

Beat eggs and add in one at a time and beat with the mixture. The batter will get lighter and lighter as you do this.

Pour batter into greased baking pan or cupcake pans and place in oven to bake for about 30-45 minutes. 

It is ready when an inserted toothpick comes out clean. 

Allow to cool completely for about an hour then you can proceed with the frosting.
For the frosting
Place butter, cream cheese, icing sugar and vanilla extract into a bowl.

Beat with an electric mixer until it gets easily spreadable. Note that the more you beat it, the softer it becomes. If you do not have an electric mixer, place your butter and cream cheese out of the fridge for a while so they get to room temperature and become softer. Then use a spoon to mix everything together with the dry ingredients.

Spread frosting over cake then cut and serve.
Notes
In the place of apple sauce, you could use crushed pinneaples. To make apple sauce at home, simply peel and cut some apples, boil until soft then blend into a paste.
For those without access to coconut flakes, coconut sweet (a sweet snack made with shredded coconuts will be a good option). Otherwise, you could just use freshly shredded coconut.
You could add the sugar quantity for the cake batter and particularly for the frosting if you so wish. I do not have much of a sweet tooth so I tend to use less sugar while baking.
Nutrition
Calories:
313
kcal
|
Carbohydrates:
39
g
|
Protein:
3
g
|
Fat:
16
g
|
Saturated Fat:
5
g
|
Polyunsaturated Fat:
6
g
|
Monounsaturated Fat:
4
g
|
Trans Fat:
0.2
g
|
Cholesterol:
37
mg
|
Sodium:
159
mg
|
Potassium:
87
mg
|
Fiber:
1
g
|
Sugar:
22
g
|
Vitamin A:
1940
IU
|
Vitamin C:
1
mg
|
Calcium:
23
mg
|
Iron:
1
mg
WHY IT'S A SMART CHOICE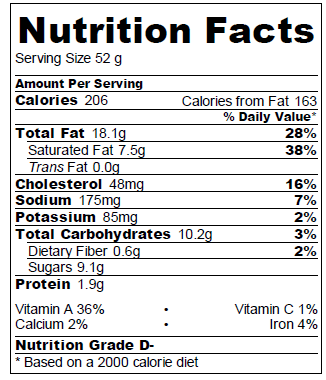 If you make this recipe, please post a picture on my Facebook page, Precious Core. I'll love to see!