Mango Cream
Published Jun 01, 2019
Updated Jun 02, 2023
This Mango Cream is the perfect mango recipe to make especially when you have lots of ripe mangoes. It is a fancy dessert that is ridiculously easy to make.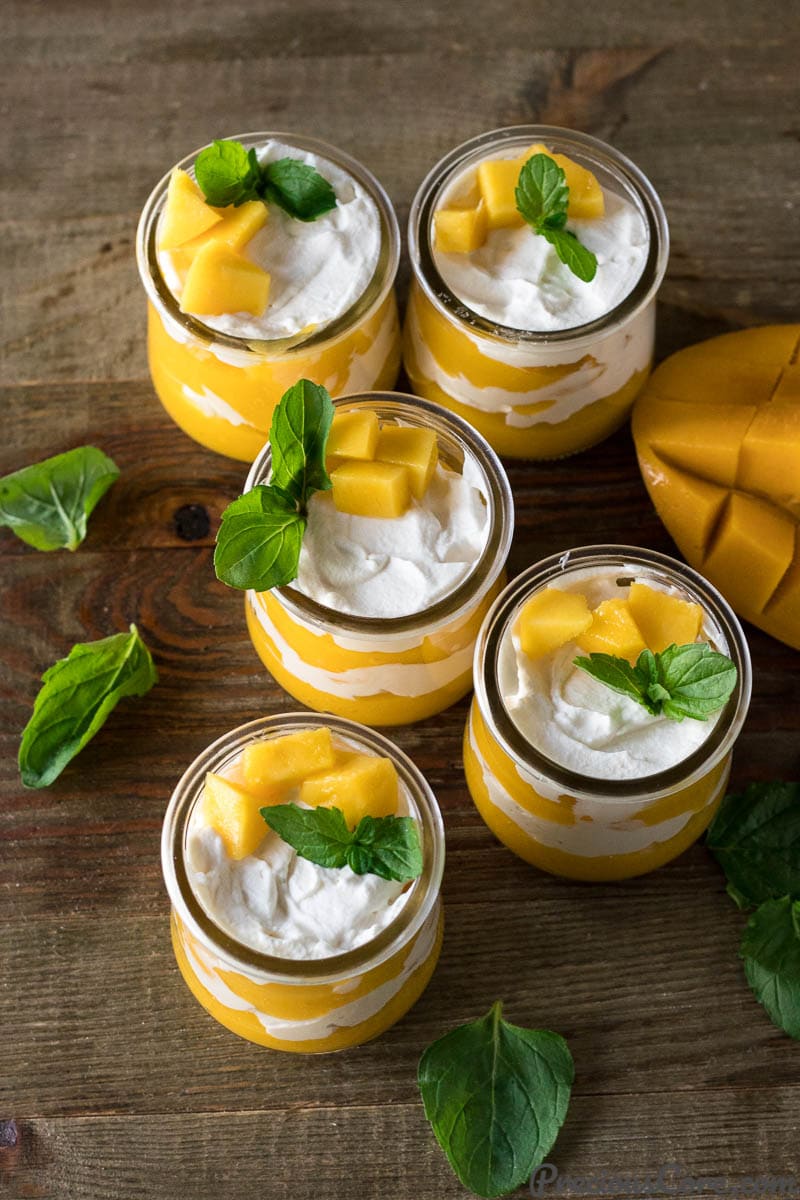 Welcome to luscious creamy fruity, delightful Mango Cream also known as Mango Fool. It should not be confused with Mango Ice Cream.
I could go on and on about how awesome this mango dessert this. Layers of creamy fruit and perfectly whipped cream with a touch of freshly sliced fruit on top. You will be licking your spoon like there's no tomorrow!
I have a thing I always do with my girls. We make a fancy meal or dessert at home. Then we sit down and eat, treating ourselves like the princesses that we truly are. This time, it was time for us to make a mango treat.
I feel like mango desserts are quite rare. When it's mango season, I totally enjoy eating all the mangoes I can just as they are. When I was growing up we mostly just ate our mangoes fresh.
But as someone who loves getting fancy in the kitchen and making good food, I have been experimenting more with mangoes. Hence there is a decent number of mango recipes on this blog and the list is growing!
My Mango Salsa is the appetizer I want to live on every day. My Mango Upside Down Cake is sticky, moist, so pretty, and crazy good. My Mango Juice is so refreshing – your summer needs this!
And my Mango Coconut Sorbet tastes like something you will enjoy while on a vacation. But today, it's all about Mango Cream. Who knows what mango recipe could be next? Perhaps Mango Ice Cream? Or a mango panna cotta? Or another Mango Cucumber Salad? Mango, how I love thee.
I discovered a recipe similar to this Mango Cream recipe while flipping through Jessica B. Harris' African Cookbook. She states that the recipe is Cameroonian. But as someone born and raised in Cameroon, I surprisingly never came across anything like this. However, like a true mango lover, the recipe spoke to my soul.
In Jessica's rendition, pureed mango is mixed together with cream and then served. You could definitely go that route if you want but I love layering the whipped cream and mango puree. It's just delightful to look at.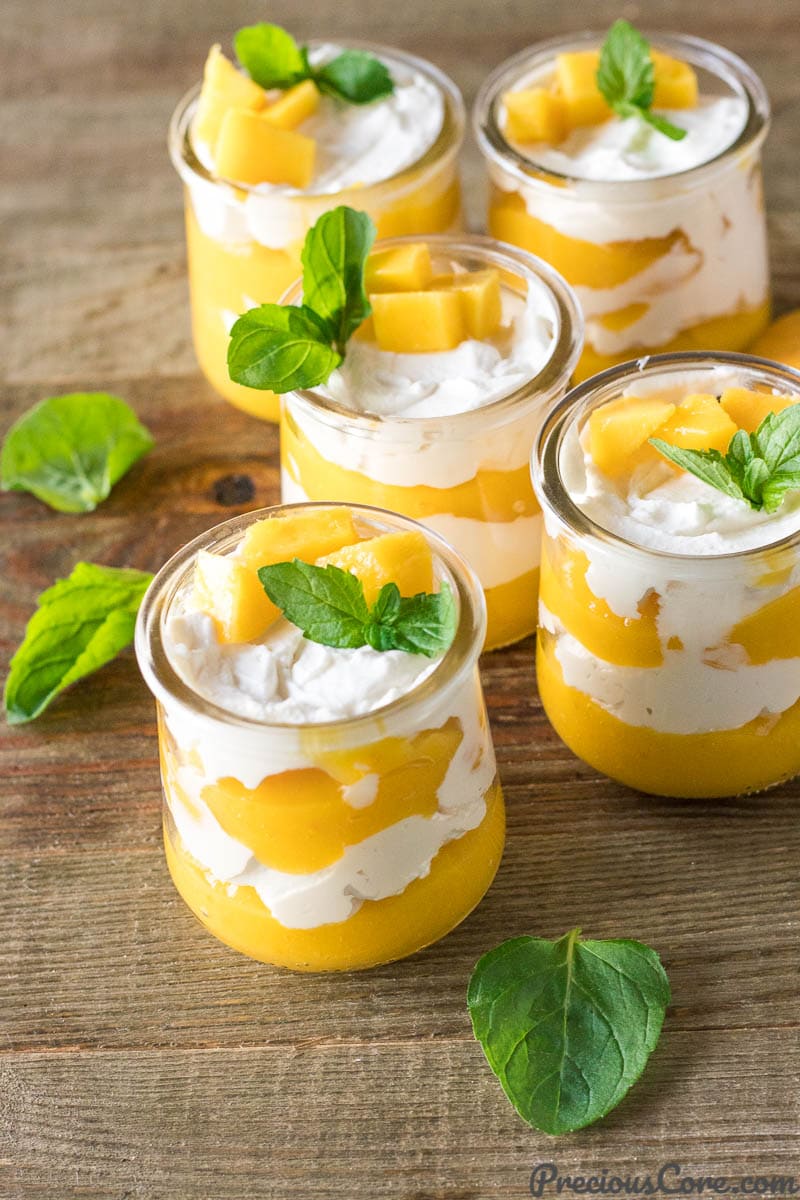 This is the perfect dessert to make with very ripe mangoes so if your mangoes are not very ripe, keep them to turn super ripe then use them in making Mango Cream. Or if you happen to get many mangoes and you are not sure what to do with them, Mango Cream it is! You're welcome.
I love how it looks pretty and let me tell you: it tastes even better than it looks!
So if you are like me and my girls and you want to enjoy something fancy at home, make this Mango Cream. If you have guests you want to impress, this is a light and fruity dessert to make. There are make-ahead instructions in the recipe notes so be sure to check those out!
What is Mango Cream?
Mango Cream is a mango dessert made with pureed mangoes and whipped cream. It can be served in two ways: either in layers of mango and whipped cream or the whipped cream is mixed with the mango and then served. Mango cream is best enjoyed chilled though it may be made and served immediately. It should be confused with Mango Ice Cream. Mango Cream is chilled, not frozen like mango ice cream.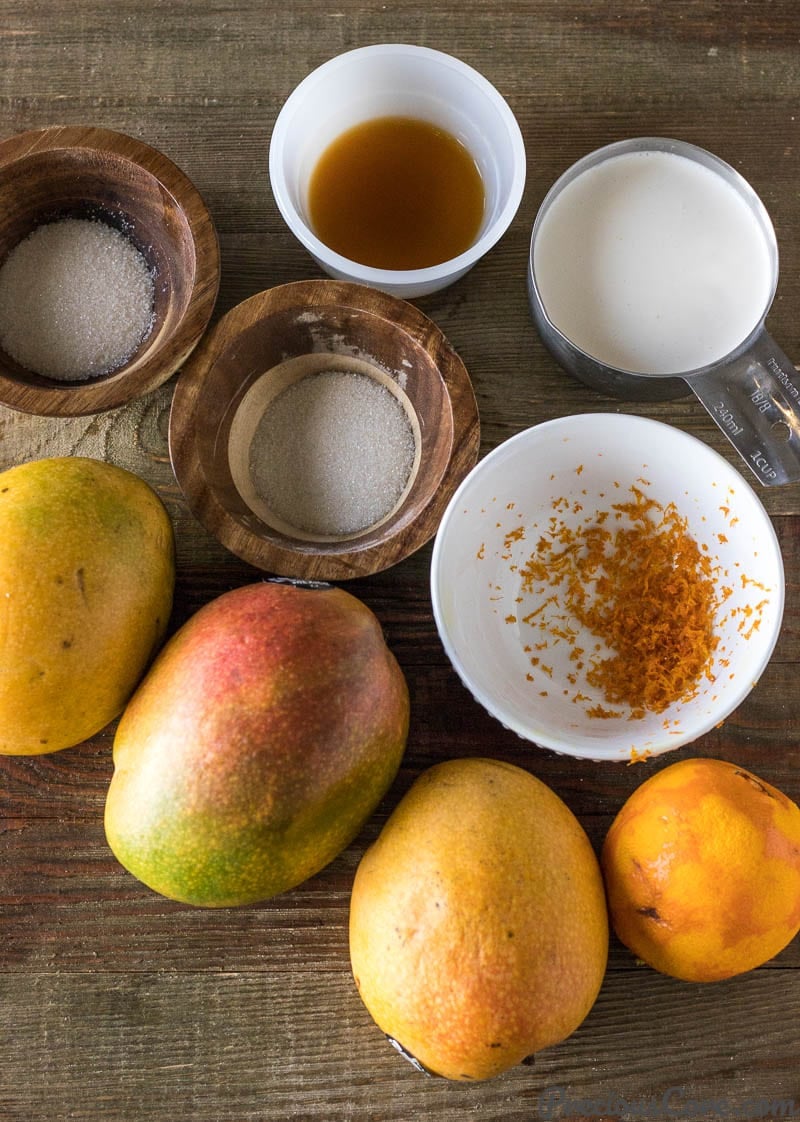 Ingredients for Mango Cream
1. Mangoes. Fresh fully ripe mangoes make for the best Mango Cream. The riper the mangoes, the tastier the treat.
2. Orange zest. Orange zest adds great flavor to the mango puree.
4. Heavy whipping cream. I prefer to buy heavy whipping cream then add sugar and vanilla extract and whip myself at home. It tastes so much better than store bought already whipped cream. Make sure the heavy whipping cream is chilled before you whip it so take it out of the fridge just when you are about to start whipping. I use an electric hand mixer to whip the cream. You could use a stand-up mixer or a good ole whisk if you don't mind a little workout.
5. Sugar. I add some cane sugar to the cream before whipping it. Not much, just a little to make the whipped cream slightly sweet. I also add some cane sugar to the mango before pureeing it. This enhances the taste of the mango. You could use regular granulated sugar in both. I have cane sugar on hand so I tend to use it a lot. I have added honey to the mango puree and it worked well.
6. Vanilla extract. This adds great flavor to the whipped cream. Be generous with the vanilla extract. While testing this recipe with my kids, my oldest daughter mistakenly added so much vanilla extract to the cream. I was not happy about this because vanilla extract is expensive but it turns out her mistake was one of the best things that could happen. It made the cream extra vanilla-y. I call for one and a half teaspoons of vanilla extract in the recipe but feel free to go up to 2 teaspoons or even more if you have a lot of vanilla extract to spare.
How to Make Mango Cream
1. Blend mangoes together with orange zest and sugar to form a paste.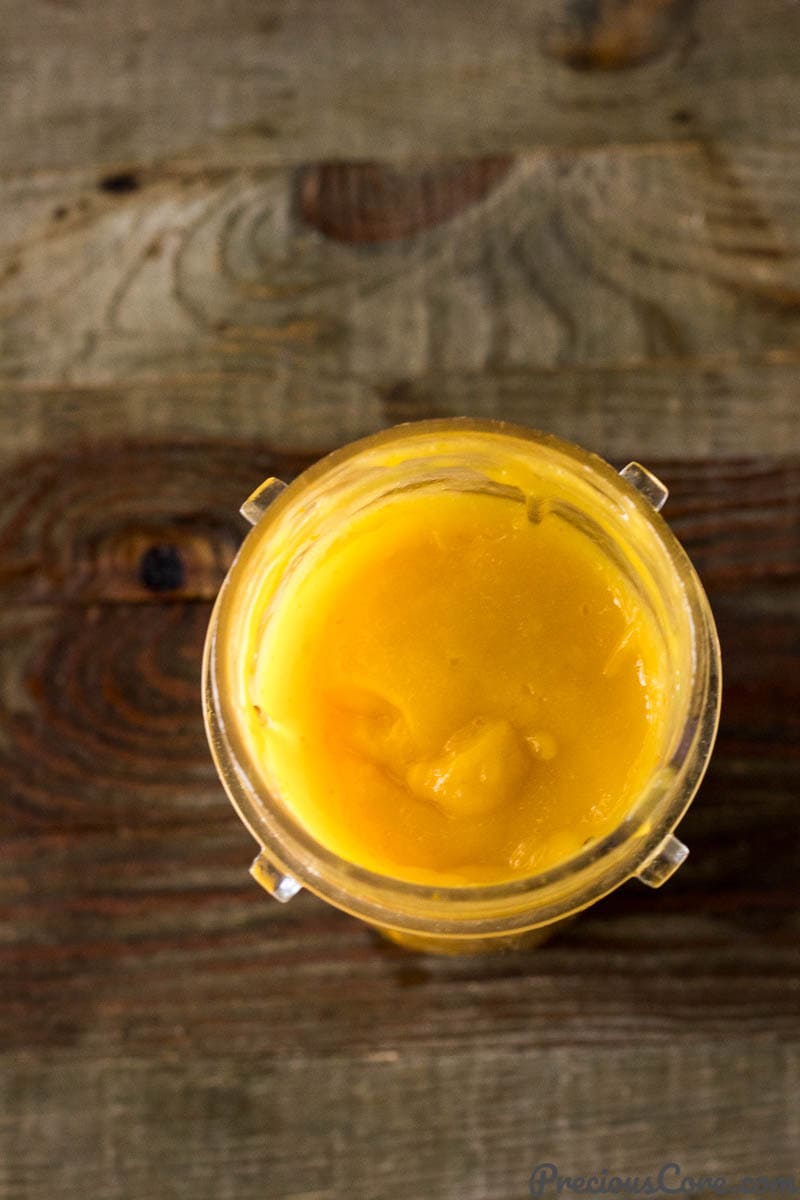 2. Place cream, vanilla extract, and sugar in a bowl. Beat until stiff peaks form.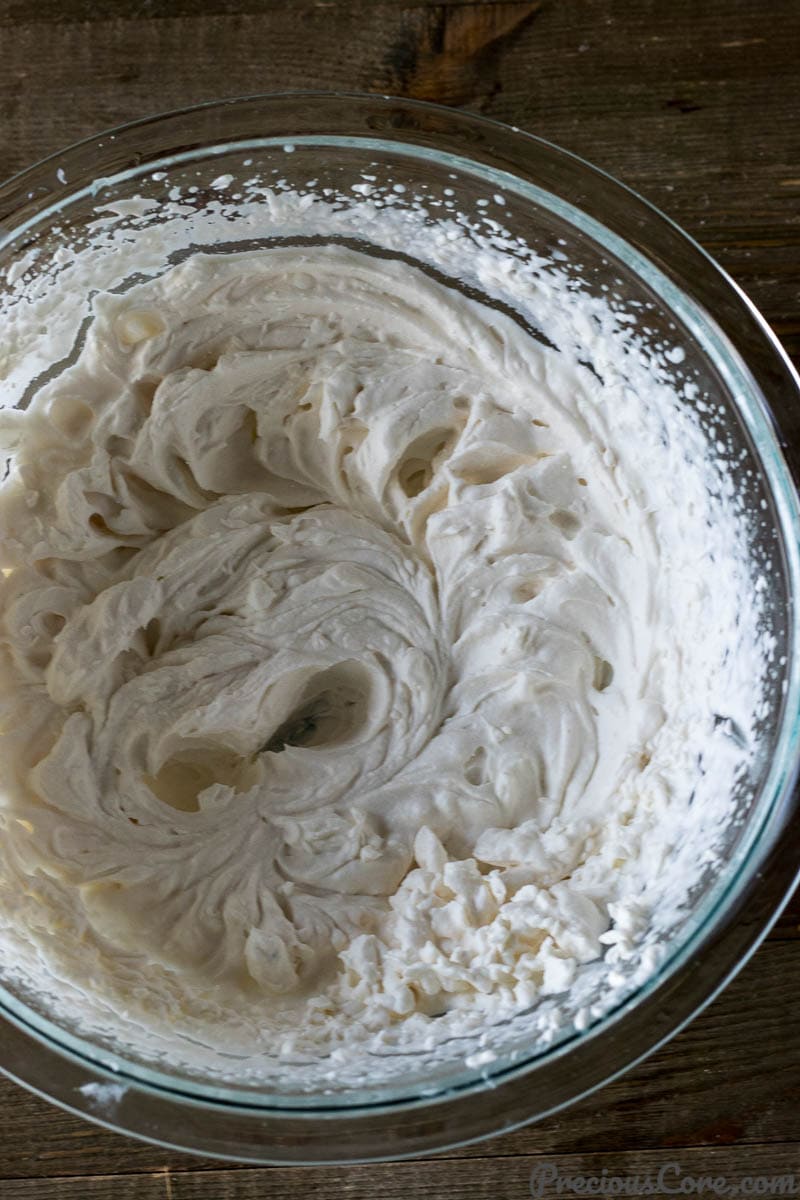 3. Layer cream, and mango puree in cups. These cute mason jars are great for serving. I used Yoplait yogurt Oui jars which I washed and repurposed. Top with diced mangoes and fresh mint leaves as a garnish then serve.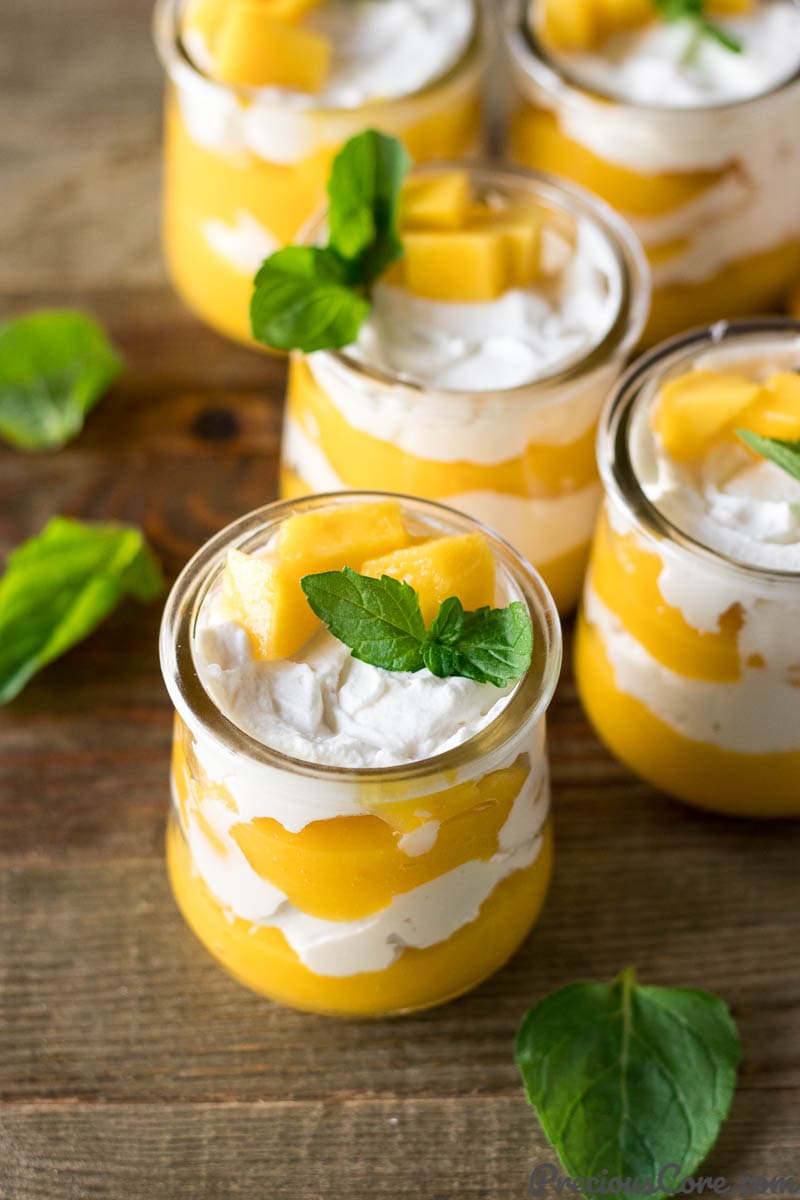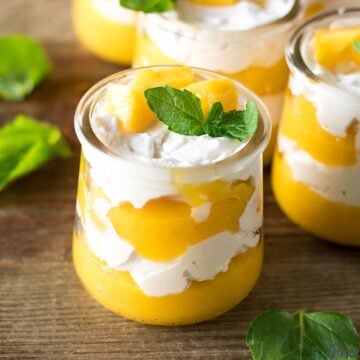 Mango Cream
Mango Cream is a dessert made with fresh ripe mangoes and whipped cream. It is light, fruity and refreshing. Perfect for when you have loads of mangoes.
Ingredients
3

large very ripe mangoes

1

teaspoon

orange zest

2

tablespoons

cane sugar (or granulated sugar)

divided

1

cup

heavy whipping cream (240ml)

1 1/2

teaspoons

vanilla extract

Mint leaves for garnishing

optional
Instructions
Peel mangoes then cut around the pit. Reserve half of one mango for garnishing later. Chop the remaining mango and place in a food processor. Add one tablespoon of sugar and orange zest. Blend into a smooth paste.

Place cream in a bowl. Add the vanilla extract and sugar. Whip using a hand mixer until stiff peaks form. About 3 minutes.

Place the mango puree and the whipped cream in cups in layers. Dice the mango you reserved from step 1 and place on the cups. Garnish with mint leaves if desired. Serve immediately or chill for at least 30 minutes before serving. Best enjoyed chilled.
Notes
Make ahead tips. You could make the mango puree, whip the cream then store them separately in the fridge in airtight containers. Also dice the mango for topping and store in the fridge in an airtight container. Layer them in cups just before serving.
Nutrition
Calories:
216
kcal
|
Carbohydrates:
21
g
|
Protein:
2
g
|
Fat:
15
g
|
Saturated Fat:
9
g
|
Polyunsaturated Fat:
1
g
|
Monounsaturated Fat:
4
g
|
Cholesterol:
45
mg
|
Sodium:
12
mg
|
Potassium:
214
mg
|
Fiber:
2
g
|
Sugar:
19
g
|
Vitamin A:
1704
IU
|
Vitamin C:
38
mg
|
Calcium:
38
mg
|
Iron:
0.2
mg
*This post contains affiliate links.