When you make something twice in two days and it disappears every single time you make it then you know the recipe is a keeper! This is my story with this Coconut Sweet aka homemade Toasted Coconut Flakes. These are Toasted Coconut Flakes made from fresh coconut and they are insanely delicious!
My hands forget discipline when this thing is in the house. I mean, I start eating it when I am still making it. I grab some of the hot one straight off the pan then I weep a little because of how good it is. Coconut sweet, how I love thee!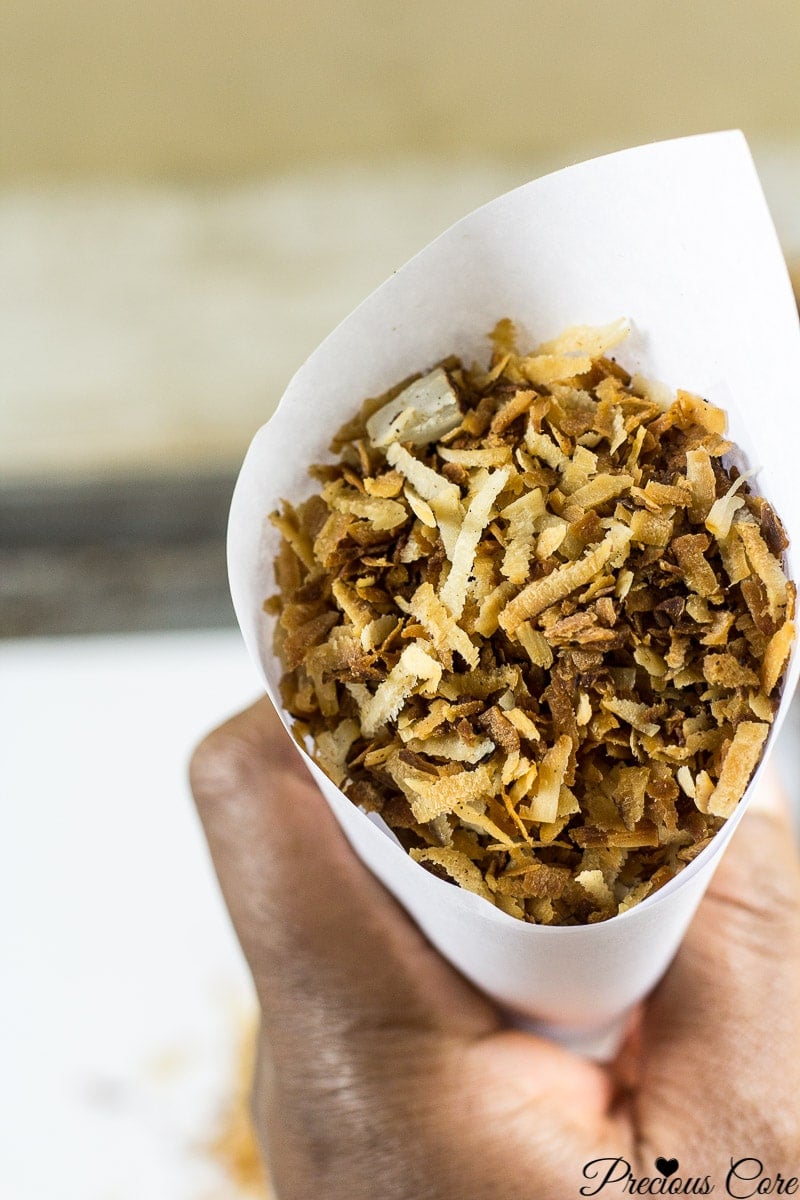 Coconut Sweet is a popular snack in Cameroon which is made by cutting coconut into shreds then gently toasting it until brown and crispy. It is homemade Toasted Coconut Flakes at it's finest - crispy perfectly coconutty and sweet.
In Cameroon, this is mostly eaten as a snack just as it is but it can equally easily be incorporated into desserts. Use it as a topping for ice cream or yogurt. Use it to coat frosted cakes. Use it in your crepe or pancake batter. Use it while baking cupcakes, cakes or muffins. OR enjoy as it is. Really, just enjoy it as it is.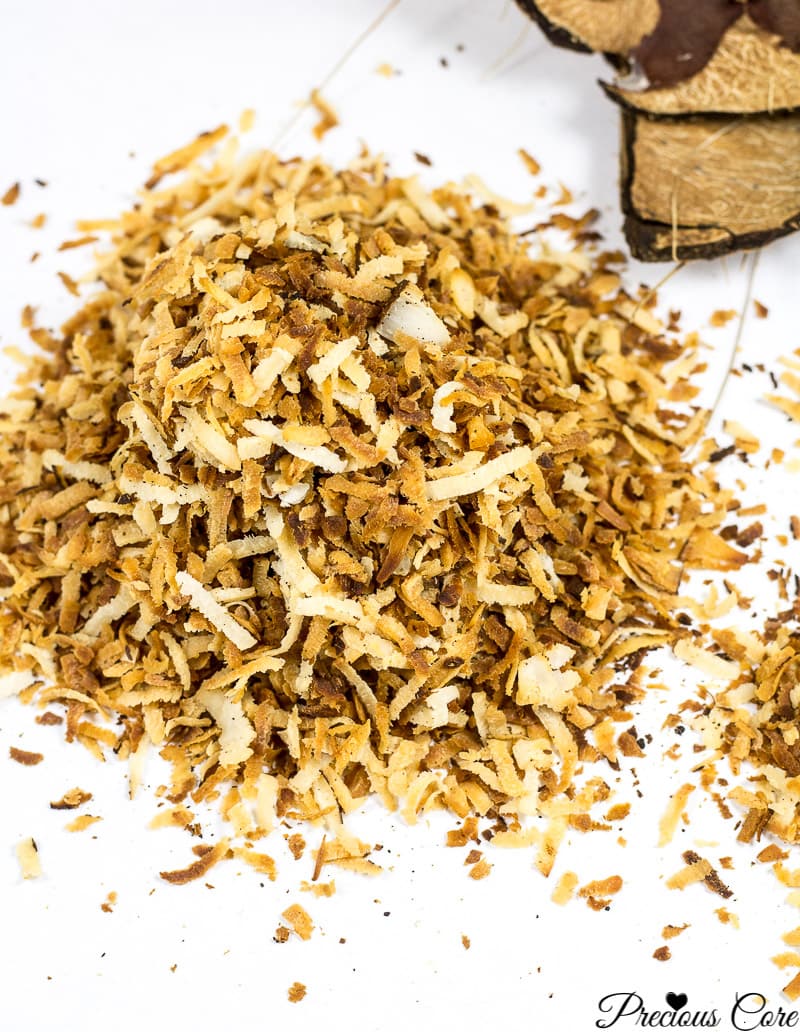 The struggle to make Cameroonian Coconut Sweet has been real. Back in the day, I would normally buy it from vendors in the market in Cameroon. But now, living miles away from those vendors, I had to figure out how to make mine.
July 2016. That's when I shared my first attempt at making this delight. It didn't quite look or taste like the one I had eaten throughout my childhood.
So I tried some more and my second attempt wasn't quite good either: it was sticky, too dark and the shapes were off. It was nothing like Cameroonian Coconut Sweet. However, my family ate everything QUICKLY each time I made these failed batches. It turns out that the combination of coconut and sugar cooked in a pan tastes good regardless.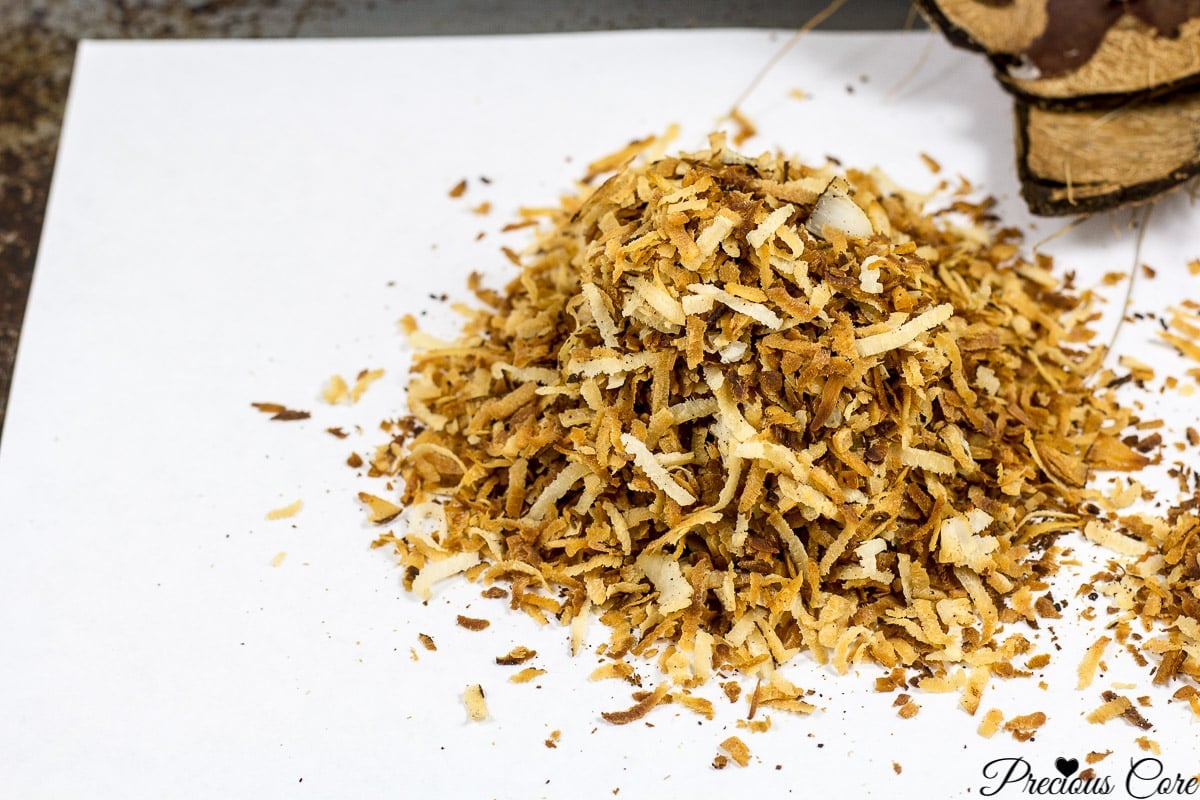 But I have been on a mission to make authentic Cameroonian Coconut Sweet and I think I just nailed it! The head of the tasting committee, Mr. N totally approved that this one tasted just like the one back home. I struggled with the shapes initially because I used the bigger shredding side of my box grater. Mr. N advised that I used the smaller side and I quite liked how they turned out.
Let's make some Coconut Sweet, shall we?
Watch how to make Cameroonian Coconut Sweet - Homemade Toasted Coconut Flakes
HOW TO TOAST FRESH COCONUT - TOASTED COCONUT FLAKES
You only need 3 ingredients: 1 medium coconut, 2 heaped tablespoons of granulated sugar and a quarter cup of water (59 ml).
Now that's pretty easy to remember right? Say it quickly: 1 medium coconut, 2 heaped tablespoons of sugar and a quarter cup of water!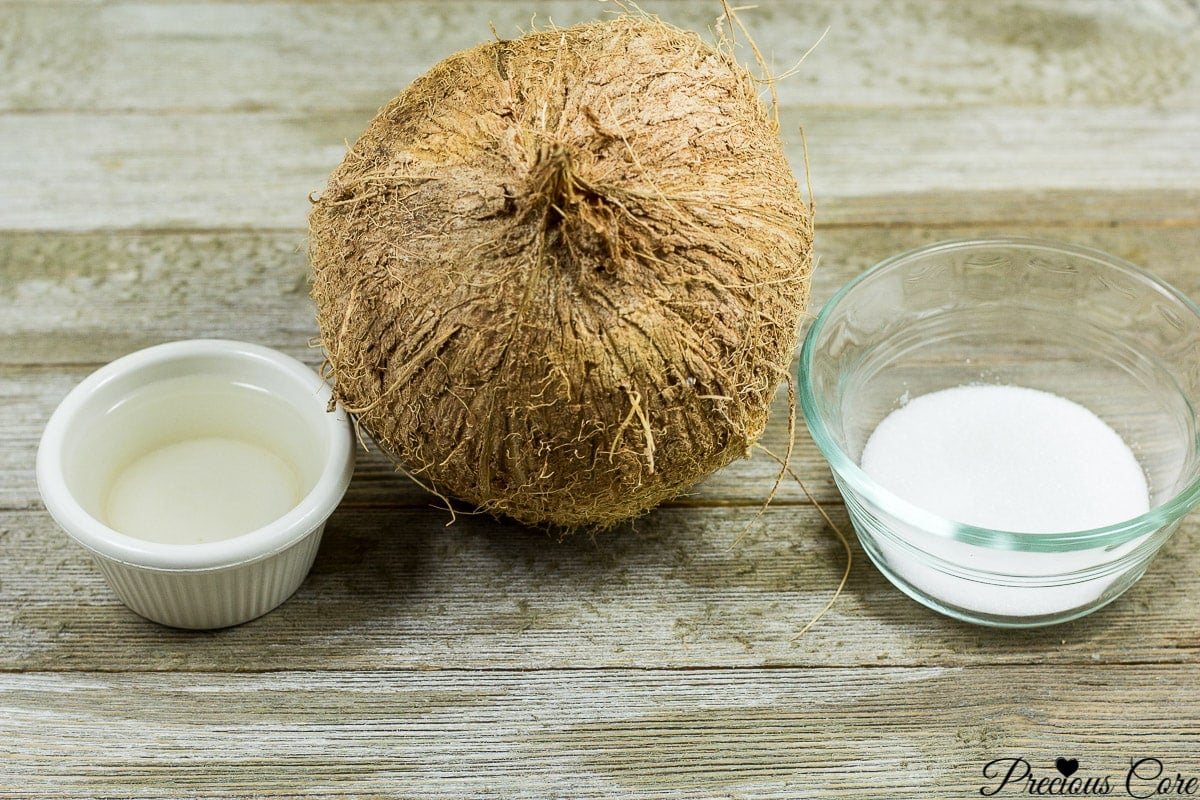 The first thing you have to do here is open up your coconut. And if breaking open coconuts is a struggle, don't worry I got you! Seriously, I would run outside and hit my coconut on a big stone each time I want to open it. No jokes. Haha. I have done this so many times that I think my neighbors have noticed me.
But I had to learn a more 'dignified' method of opening it so I could show you guys, Because my recipe can't include something like, "run outside and find a big stone. Then hit your coconut hard on it several times until it opens up and the coconut water starts oozing out." So I learned the method I'm about to show you from Mr. N. This is how he opens a coconut when I ask him to help with that.
HOW TO OPEN A COCONUT
To open a coconut, you need a butcher knife. Also, be sure to keep a bowl nearby so you can collect that awesome coconut water.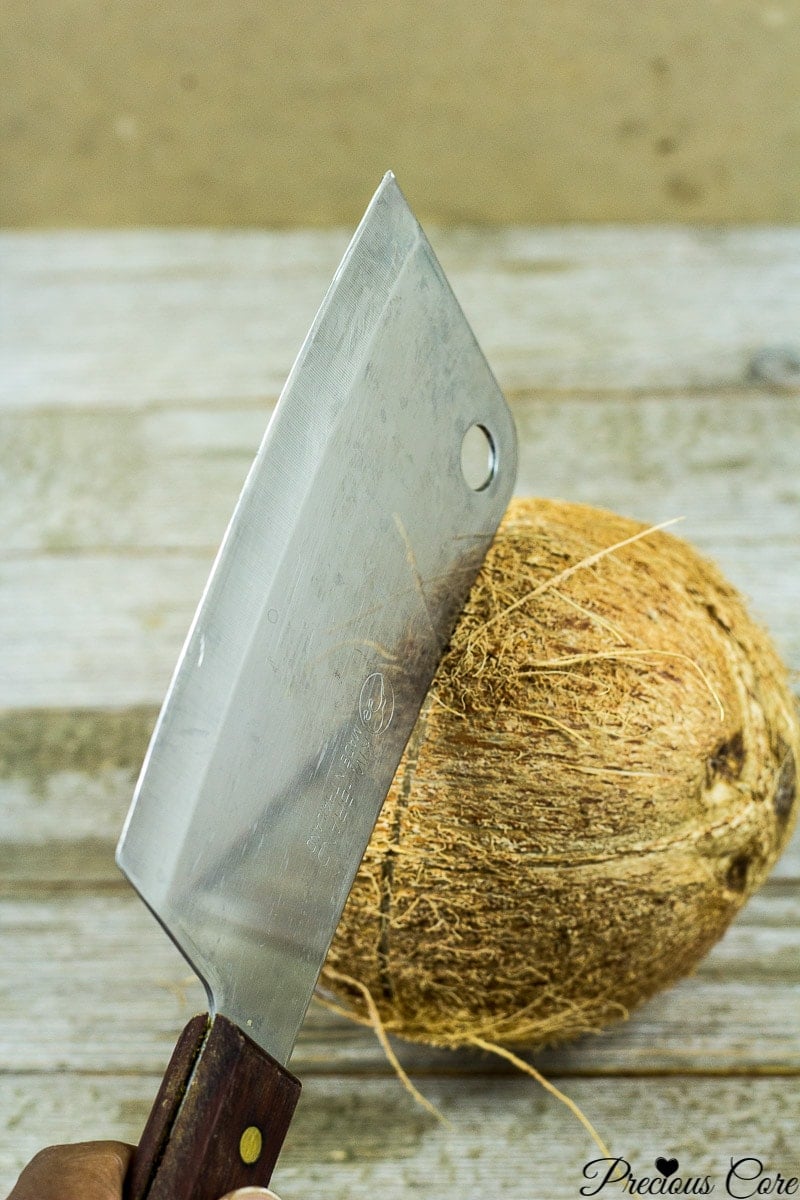 Hit the coconut around its perimeter about 4 times on each spot before you move to the next spot with the blunt side of the butcher knife. You could also use a hammer for this. If words like perimeter bother you like they bother me, that just means the middle portion on the body of the coconut (does this even make sense?)
As you hit the coconut over and over, it's going to open up and that awesome coconut water will ooze out. Collect it in a bowl and drink.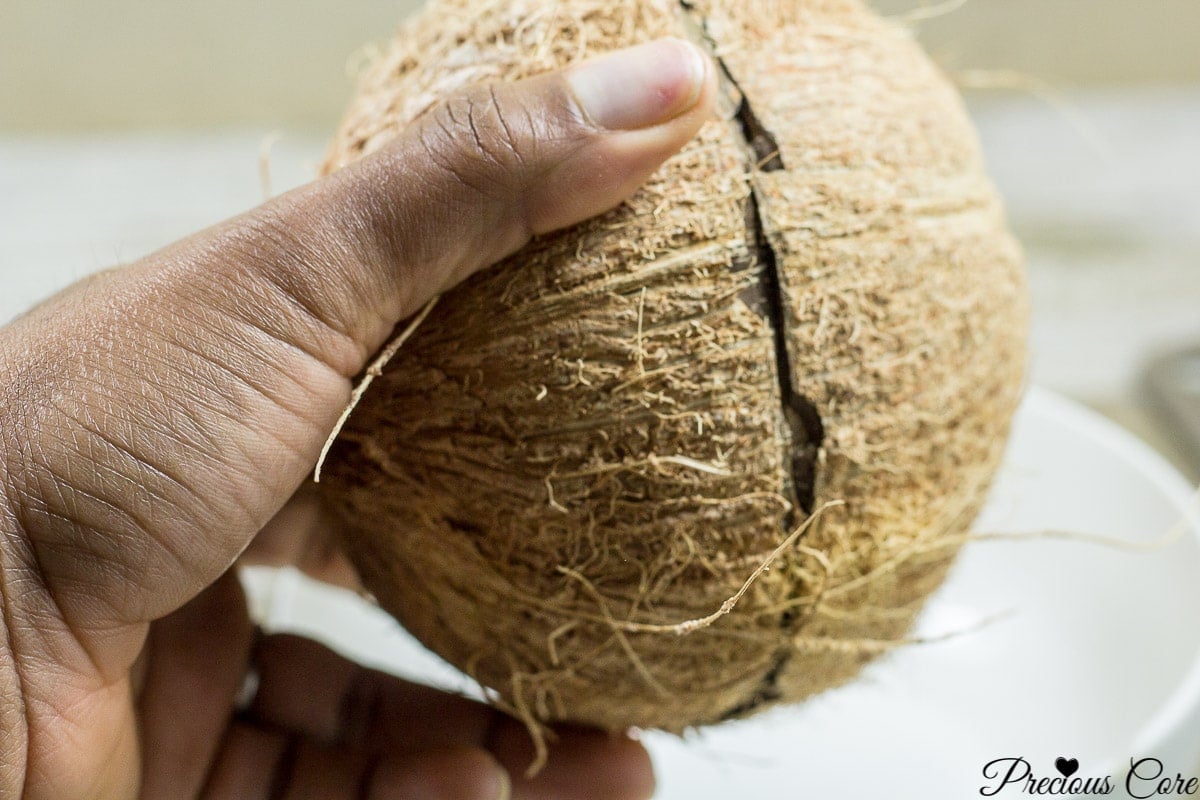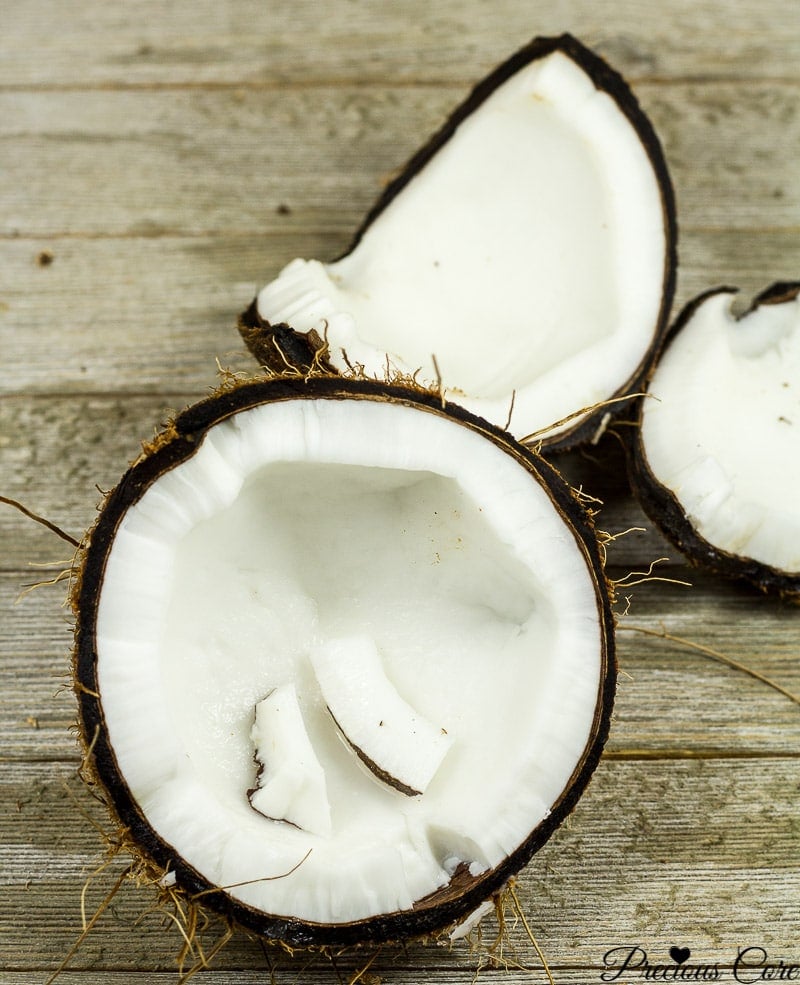 Then seperate the coconut meat/flesh from the shell. To do this, I normally use a pairing knife to slightly lift up the flesh and take it out. But I found an even easier way to do it. First pop the cracked coconut into a microwave and set on high for 2 minutes.
After that, take it out and seperate the meat from the shell with a pairing knife. It will come off easily. If you do not want to use a microwave, you could use your oven instead - bake for about 10-15 minutes at 350 degrees F (180 degrees C). Then you can seperate the flesh from the shell.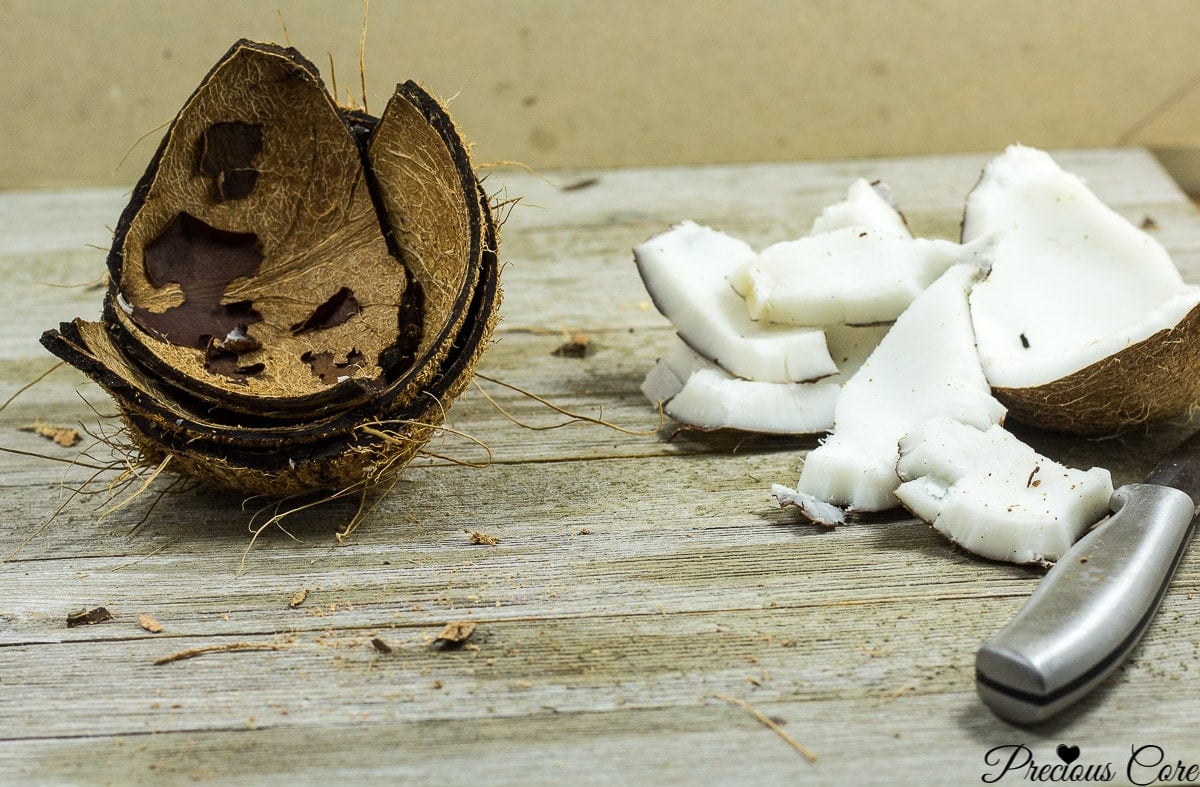 Now that we have all of our coconut shell, let's make some coconut sweet.
HOW TO TOAST FRESH COCONUT
Shred the coconut using the small shred side of a box grater. If your box grater only has one shredding side, it is okay to use that too.
(Alternately, you could just go ahead and use storebought unsweetened coconut flakes. But I love starting with fresh coconut because that's how I have always done it.)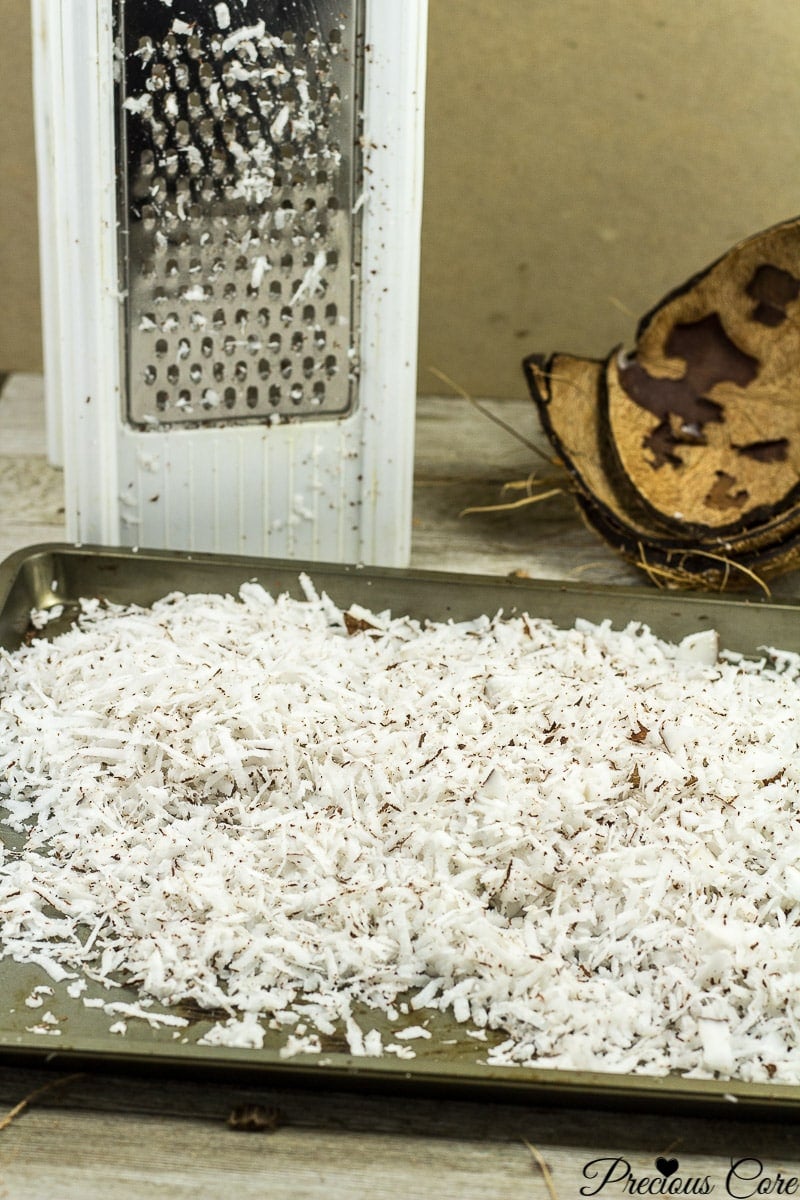 Place sugar and water into a non-stick pan on medium heat. Stir until the sugar dissolves then add in the coconut flakes and mix well.
(Alternately, you could use maple syrup or honey as a sweetener.)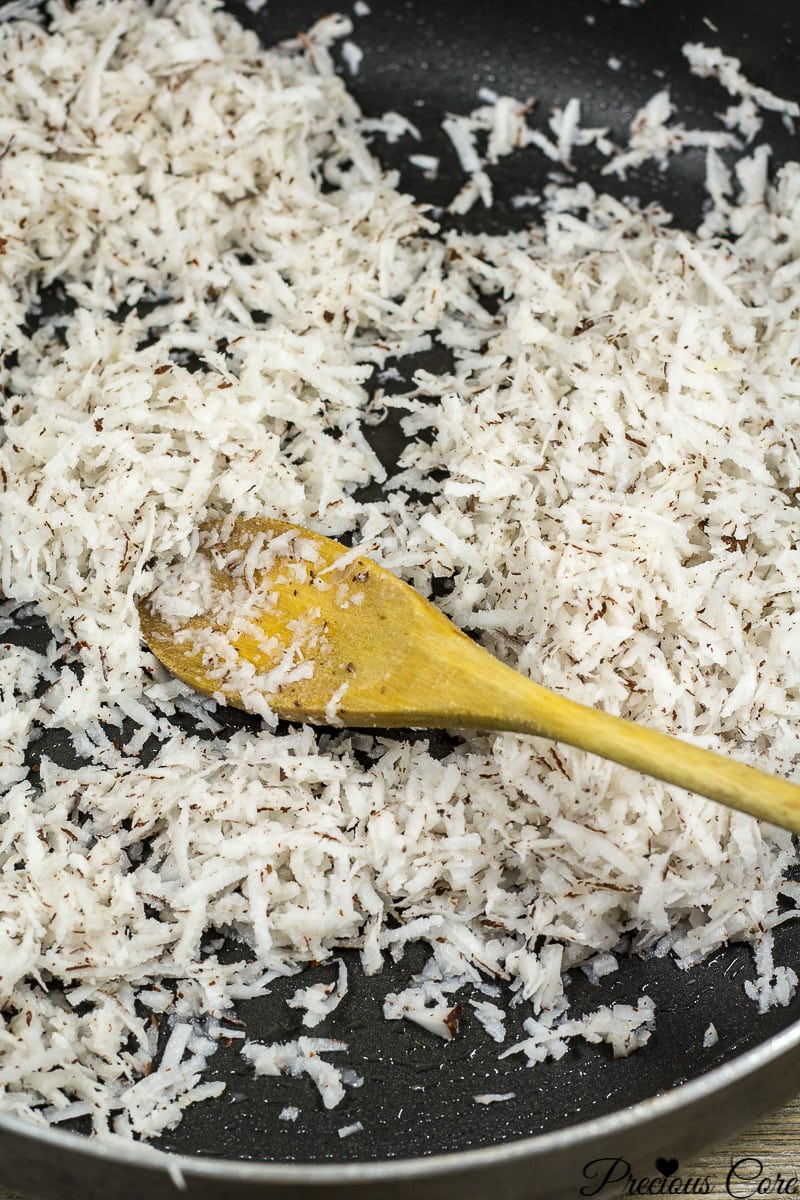 Now keep stirring on medium heat until the coconut assumes a beautiful golden brown color. This takes about 15 minutes but keep an eye on it, it could take less time if you choose to use storebought coconut flakes.
This will make your home smell like coconut heaven, I tell you!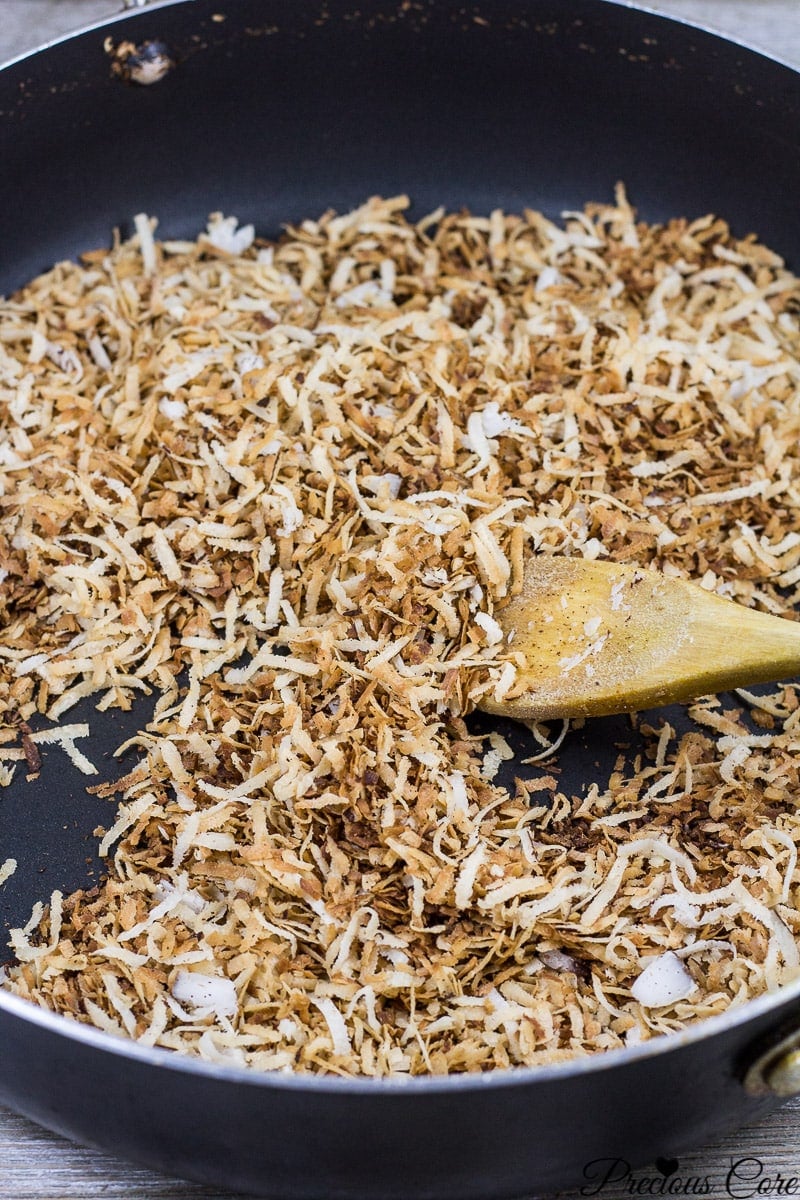 And just like that your very own homemade Toasted Coconut Flakes is ready! Dig in and eat like there's no tomorrow!
Hope you enjoy this Toasted Coconut Flakes recipe!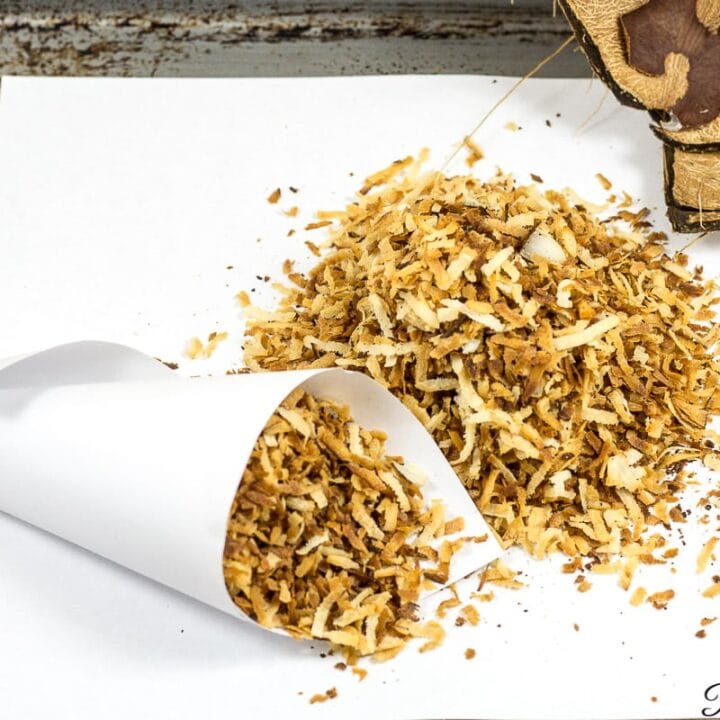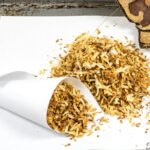 Coconut Sweet - Toasted Coconut Flakes
Toasting coconut flakes makes it nuttier and tastier. Enjoy toasted coconut flakes as is or add to your favorite cakes, cupcakes, cookies and more!
Ingredients
1

medium coconut

2

tablespoons

granulated sugar - heaped

¼

cup

water
Instructions
Break coconut open with the blunt side of a butcher knife (note: have a bowl nearby to collect the coconut water). Hold the knife in one hand then hold the coconut in another hand. Hit the coconut with the knife several times around its perimeter until it opens up. Pour coconut water into bowl and set aside.

Place the opened coconut in a microwave and heat on high for 2 minutes. Alternately, bake it in an oven at 350 degrees F or 180 degrees C for 15 minutes. This process makes separating the coconut flesh from the shell super easy.

Use a pairing (small) knife to lift the flesh from the shell.

Shred the coconut using the small shredding side of a box grater. Alternately, use the shredding function of your food processor.

Place water and sugar into a non-stick pan on medium heat and stir until sugar is dissolved. Add in shredded coconut and mix well to ensure that it absorbs all of the sugary water. Keep stirring until the coconut turns a beautiful golden brown color. This takes about 15 minutes.

Spread on a tray to cool then enjoy!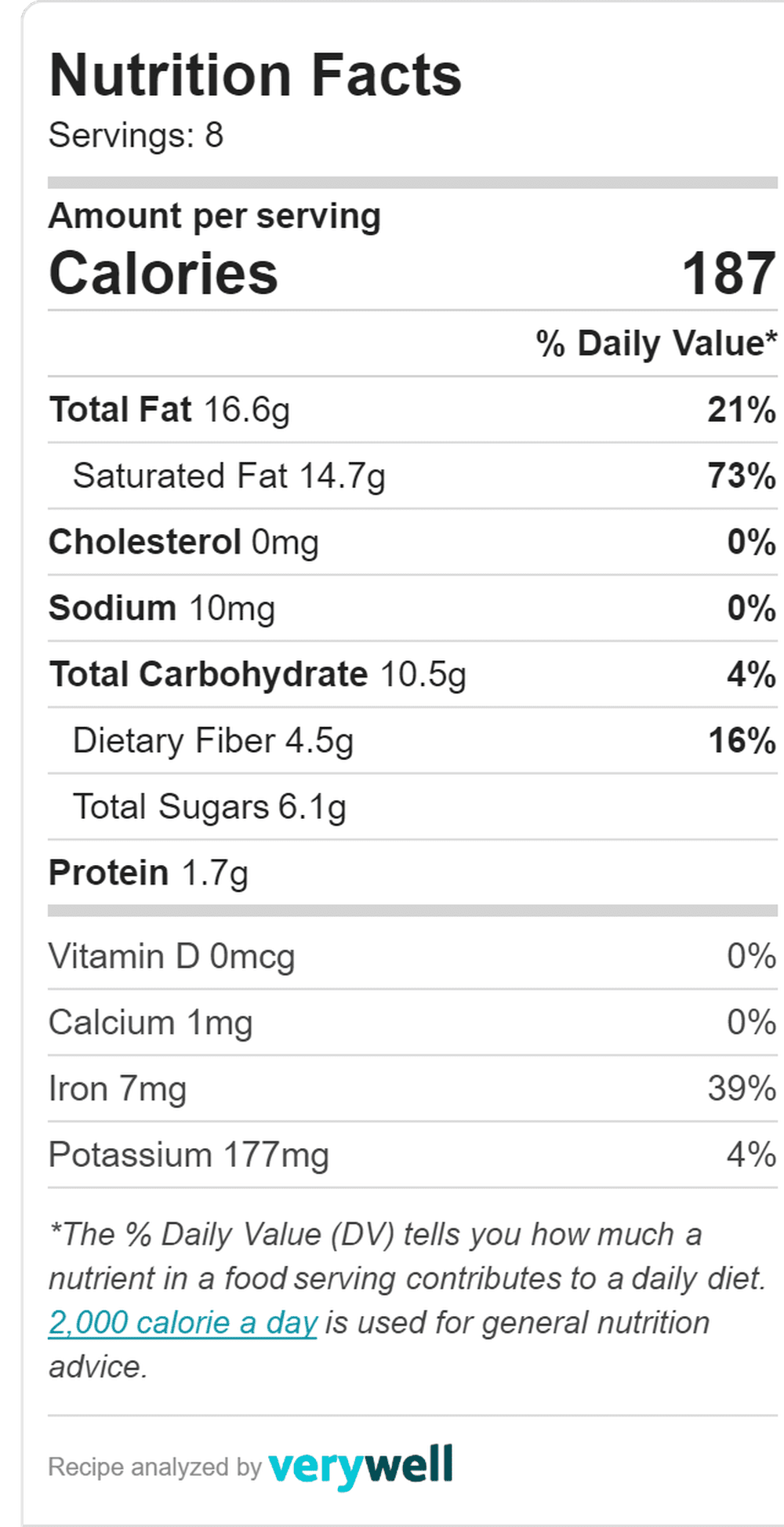 If you make this recipe, please share a photo on Instagram and tag me: @preciouscore, or share a photo on my Facebook page. I'll love to see!