Cameroon Style Pancakes with a Coconuty Twist
Published Jul 03, 2015
Updated Apr 27, 2017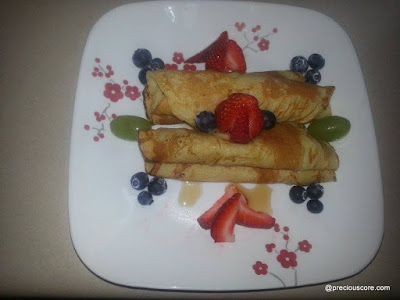 Cameroon pancakes garnished with fruits
Cameroon style pancakes are one of my all-time favourite breakfast dishes. They are perfect for serving first time guests as almost everyone falls in love right from the first bite.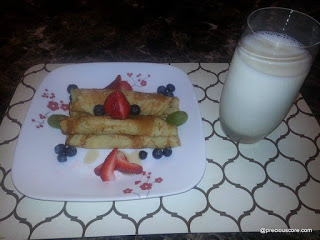 I have made these 'flatties' for an uncountable number of times over the years. Sometimes with lots of ingredients, sometimes with the minimal ingredients which are just flour, sugar and water.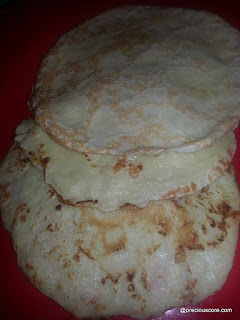 They are so easy to make and the taste will leave you wanting more.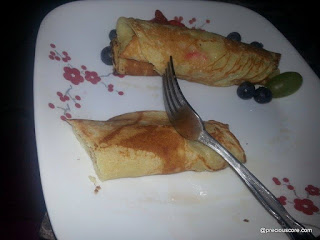 In Cameroon, Nigeria and some other African countries, they are known as pancakes. However, I learned from an article by Chef Fregz on Bella Naija that what we call pancakes are actually called crepes in the culinary world. Pancakes are fluffier and thicker. Who cares? Abeg, I love my Cameroon "pancakes" they way they are.
The twist in this version is the addition of coconut flakes and coconut milk to the mixture. Insanely delicious! Remember, I told you I love all things "coconuty" hence my Coconut Jollof Rice and Coconut Fried Rice recipes. By the way, my Coconut Fried Rice recipe has been trending on this blog for about a month now. Looks like the coconut bug caught others too. Today, I will be dealing with Coconut Pancakes.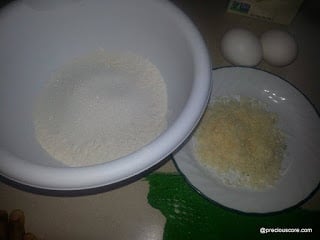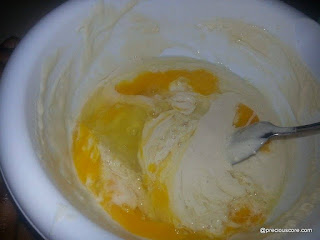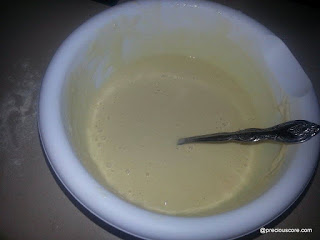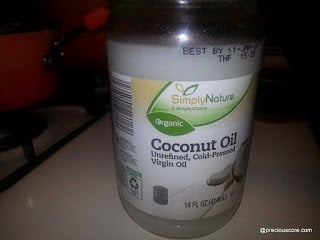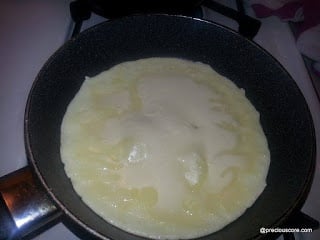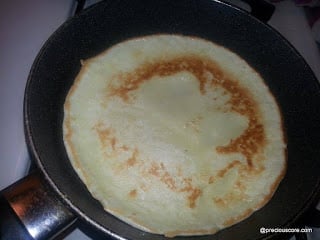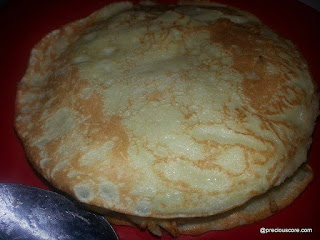 Prep time: 15 mins
Cook time: 30 mins
Total time: 45 mins
Serves: 4

Ingredients

2 cups of all-purpose flour
3/4 cup sugar
1 cup coconut milk
1/2 cup coconut flakes
2 eggs
1/4 teaspoon vanilla /ground nutmeg (optional)
A pinch of salt
Coconut oil/vegetable oil for frying
Method

Mix together flour, sugar, pinch of salt, vanilla/nutmeg and coconut milk until mixture is smooth. At this point your mixture should neither be too light nor too thick, If it is too thick, add water to give it the right consistency shown in the picture above. If it is too light add flour.
Add in eggs and beat well.
Lastly put in the coconut flakes and mix.
Heat a skillet on medium heat. Oil it with half a teaspoon of coconut/vegetable oil and let it warm up a little. Put two scoops of the mixture into the pan. Hold the handle of the pan and bend skillet to allow the mixture to spread to all ends of the pan. Small bubbles will form on the pancake when it's cooked underneath. Flip the side and allow to cook for about 2 minutes or less.
Repeat process until mixture is finished.
Serve warm with a glass of milk or a drink of choice. Sit at table and eat while discussing "business issues". Lol
Notes

For the traditional Cameroon pancake recipe, replace coconut milk with water or normal milk. Also omit the coconut flakes and use regular vegetable/groundnut oil instead of coconut oil.
However, if you are in Cameroon and you really really want to make some "coconutey" pancakes, you could make your own coconut milk as I did in this recipe. Then, in the place of coconut flakes, use "coconut sweet". You could buy that from our local markets. A sachet costs about 100 Francs.
I used extra virgin coconut oil in this recipe to enhance the coconut flavour. Nevertheless, if you can't get good coconut oil, vegetable oil will do just fine and won't steal your coconut taste.
Please let me know how it goes. I'll prefer you post your comment here than on Facebook as you guys usually do. If you have a picture, you can share that on Facebook but please make sure you comment here ooo.
Love you lots!