Classic Chocolate Cake
Published Mar 01, 2017
Updated Nov 26, 2022
You guys, cakes are back on the blog! Not like they went anywhere but since I already have 10 cake recipes around here, I was on a Sabbatical from cake-making/cake recipe posting. My friend changed that for me. When I called her on Sunday, she was gushing about some delicious cakes she had just baked with lemon and orange rind as flavours. I told her to stop tempting me because I promised myself I wasn't going to cook that Sunday. I am sure I have said it before but let me say it again: It is hard for me not to cook. Especially when I'm at home. My brain and body keep conniving to make me cook, cook and cook. When I do not yield to that strong desire to cook, I feel like a drug addict who is trying to stay clean. Totally. However, I survived Sunday. I cooked nada! But the next day, being Monday, I made up for what I didn't do on Sunday. I baked banana cake, fish pies and this ah-mazing classic chocolate cake.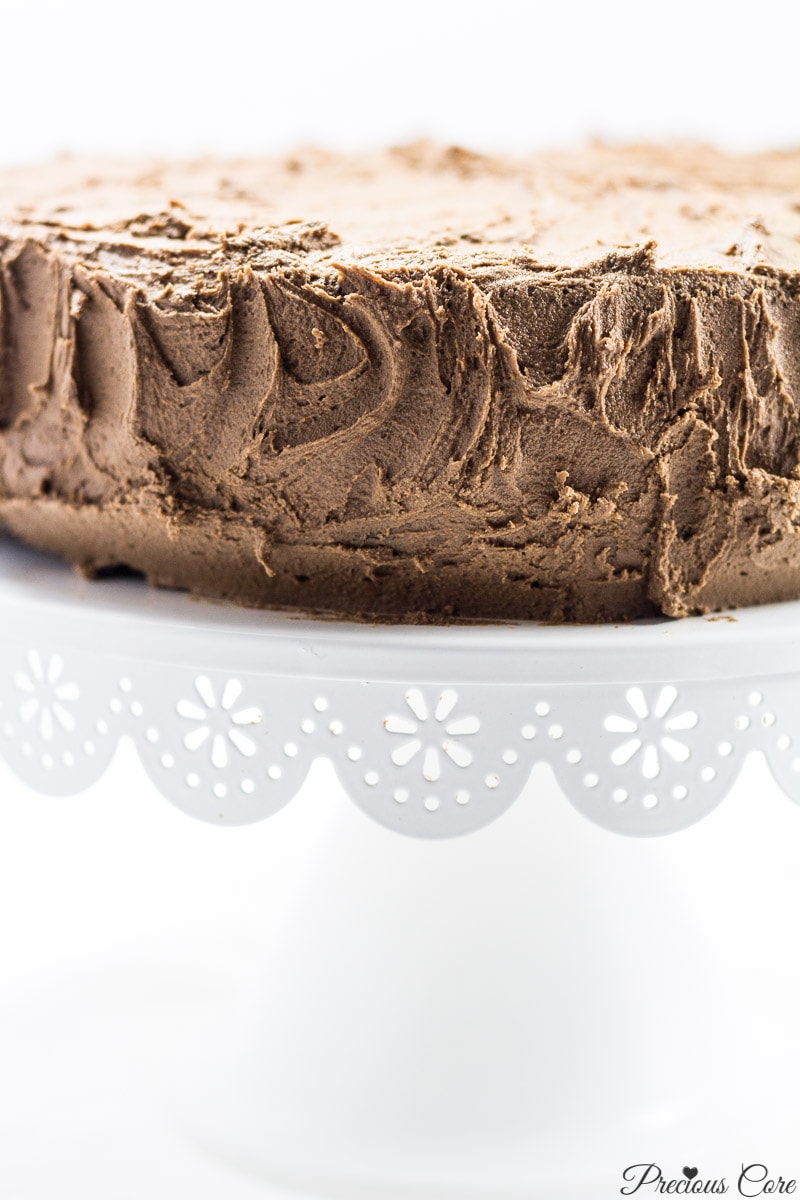 You see, one of the things I love about homeschooling is how vesartile it is. Like how you can involve the kids in whatever you do. So my baking spree totally involved the girls. I told them we were having "homeschool cooking practicals". They put on their aprons and we set out to make some cake. They were excited but didn't like when I had to constantly stop and take pictures so I could share on the blog. But I had to because a number of you have asked me for a good chocolate cake recipe and I promised ya I was going to share one.
Here is the the cast of characters for our chocolate cake.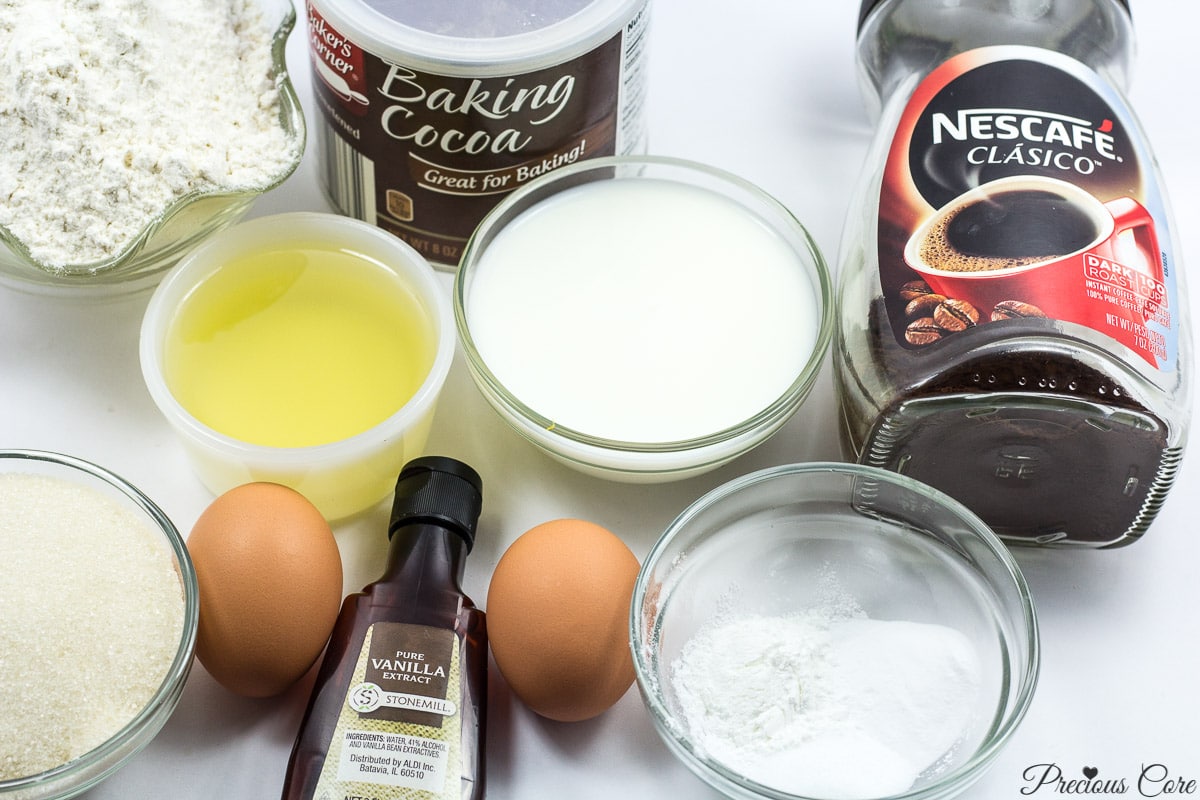 Flour, sugar, cocoa powder, vanilla extract, eggs, milk, baking powder, baking soda, salt, vegetable oil, instant coffee and boiling water (not pictured). Check the printable recipe below for the exact proportions of the ingredients.
Now the coffee is really awesome because it deepens that chocolatey flavour in the cake. You can leave it out if you want but that little "push" the coffee gives is good.
To make the chocolate cake, all you need is one bowl, the ingredients listed above, and the will to make chocolate cake. Start by pre-heating your oven then greasing two round 9-inch baking tins. Dust with cocoa powder after greasing.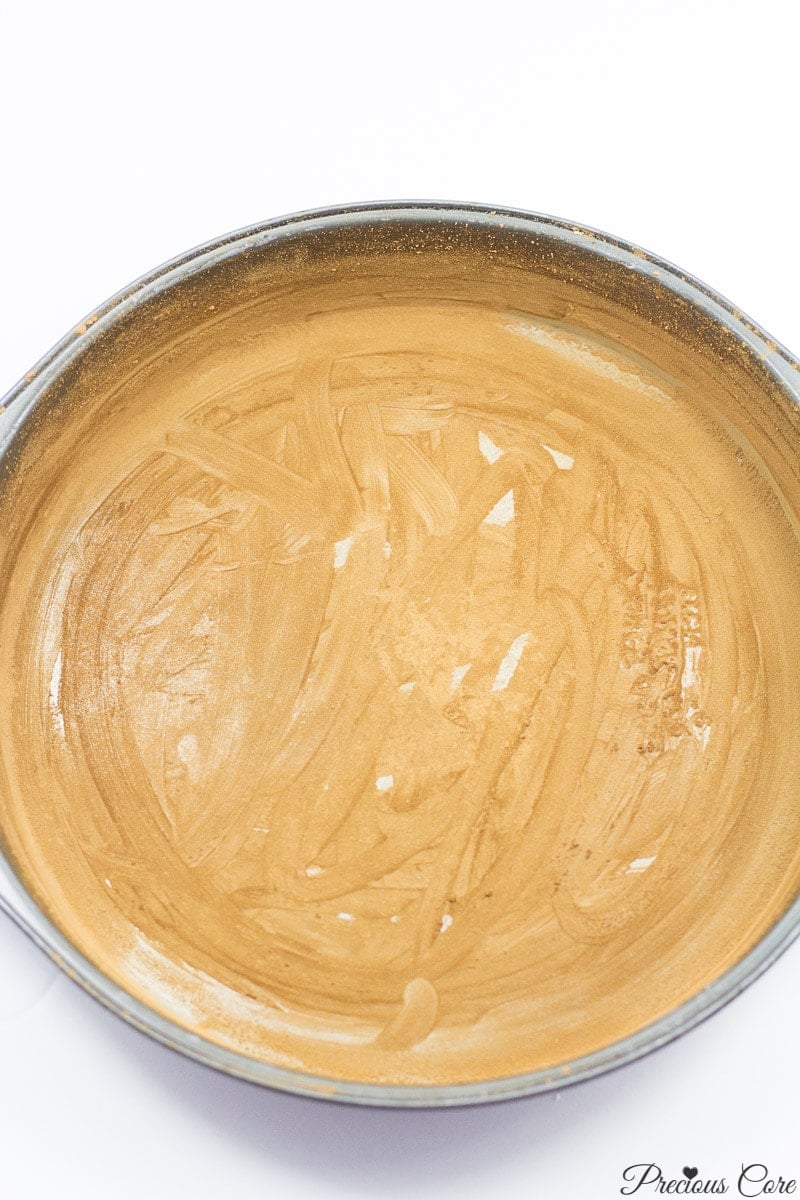 Dump all your dry ingredients into the bowl. That means your flour, baking powder, baking soda, cocoa powder, sugar, salt and coffee.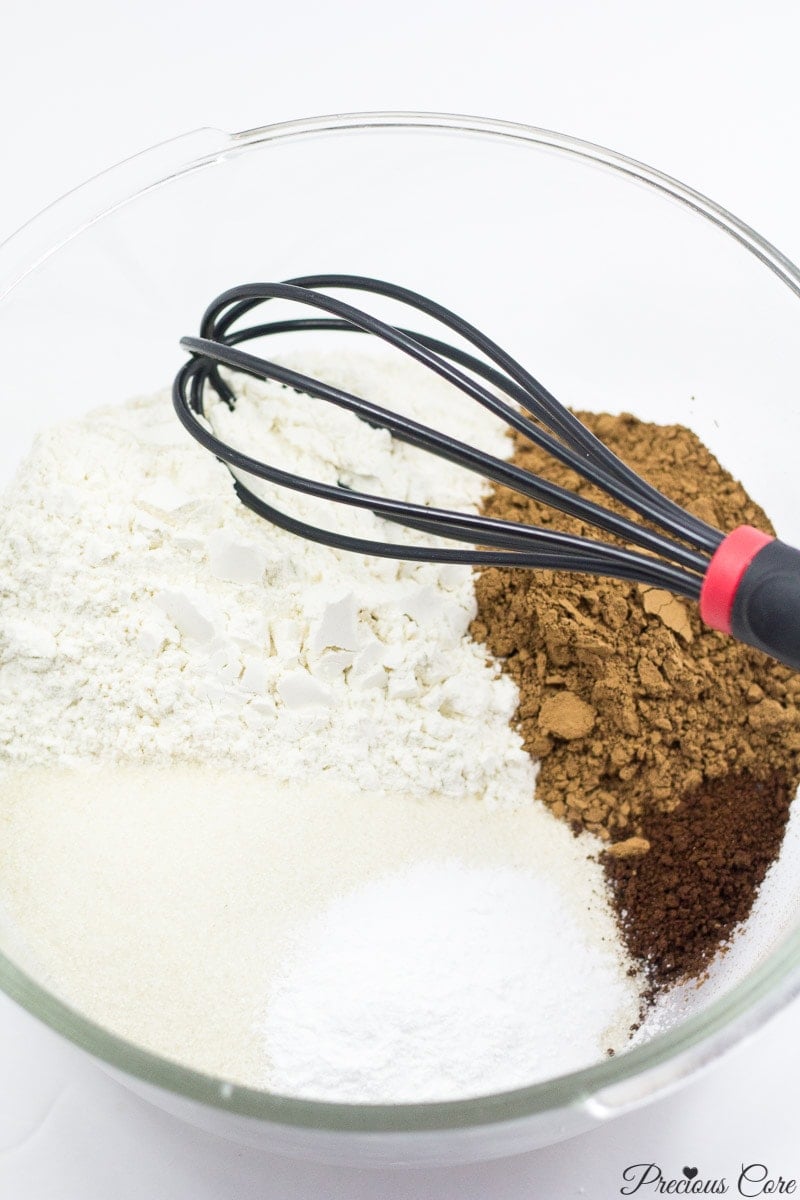 Now give that a good whisk until well combined then you add in the eggs, milk, vegetable oil and vanilla.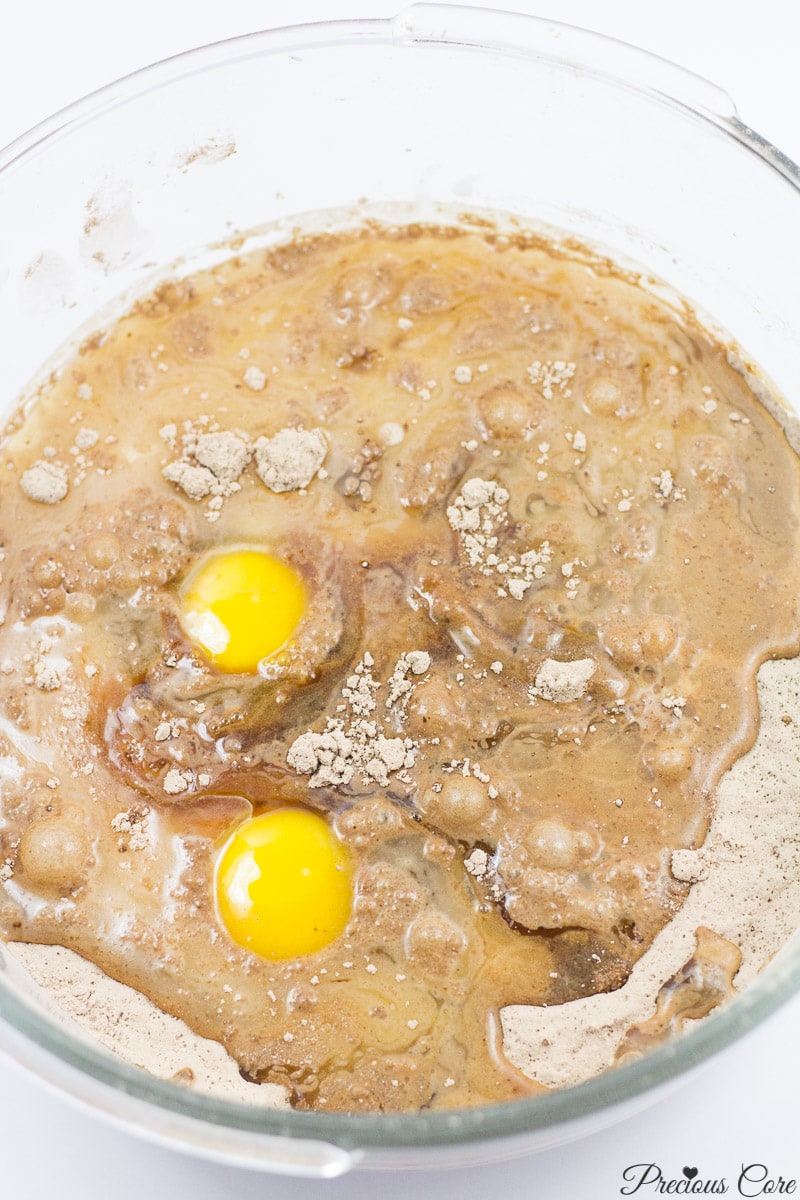 Now give all of that a good mix. I love using my kitchen spatula to do this. It does the job pwetty well.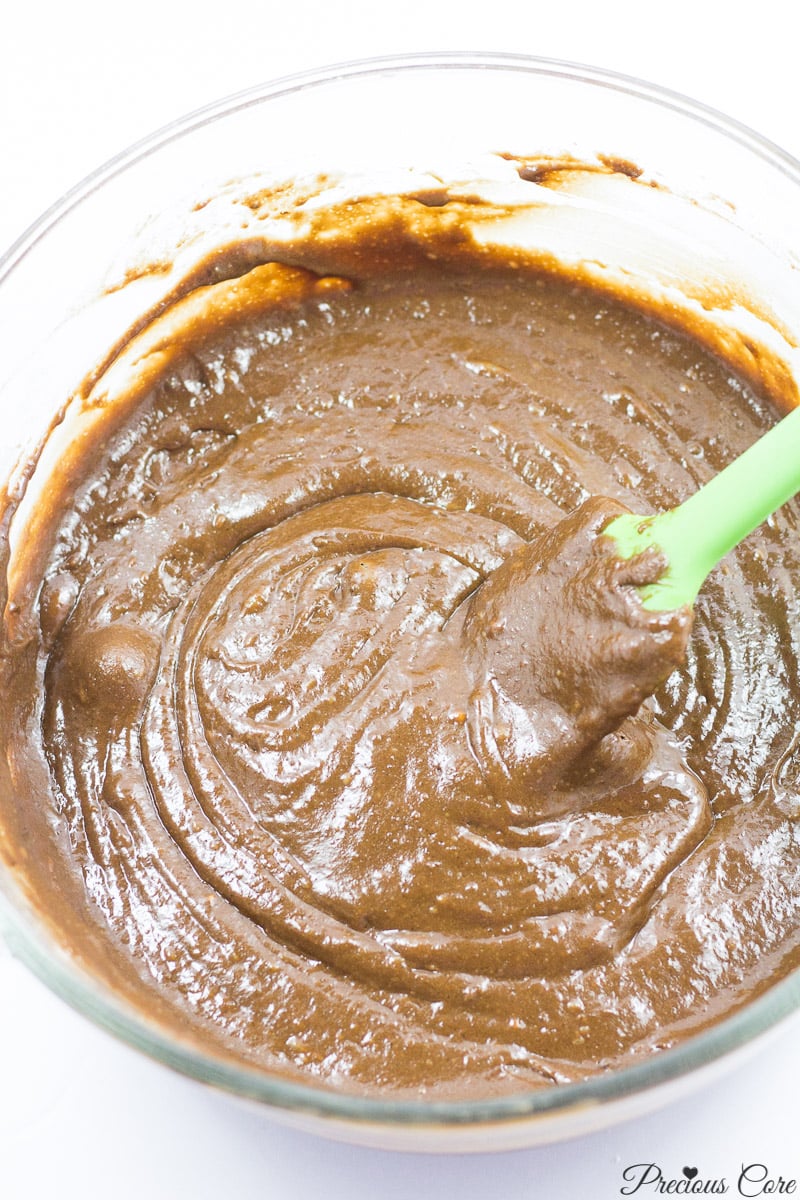 Next, add in some boiling water. Yes, boiling water. The boiling water helps to dissolve the cocoa powder and it brings out the cocoa powder flavour. Note that the boiling water will make the batter very thin. Do not freak out. It is still cake, not soup.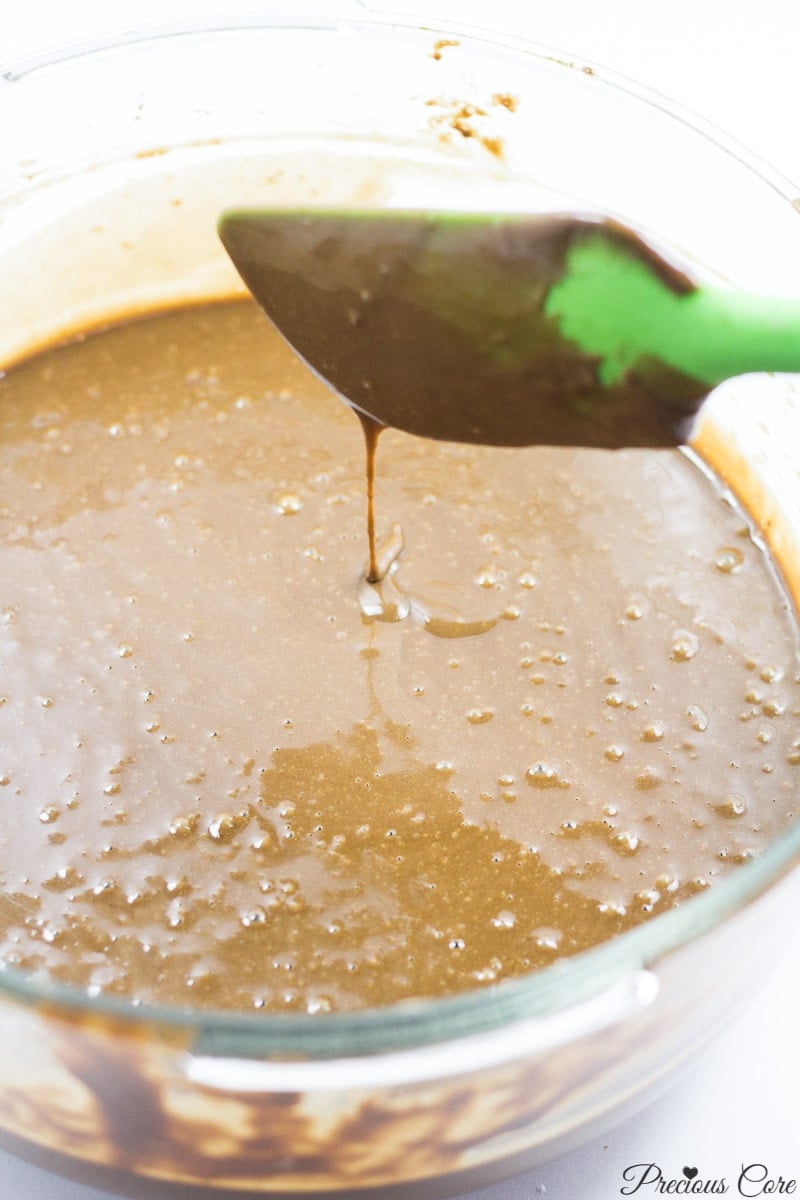 Now pour your batter into prepared cake pans.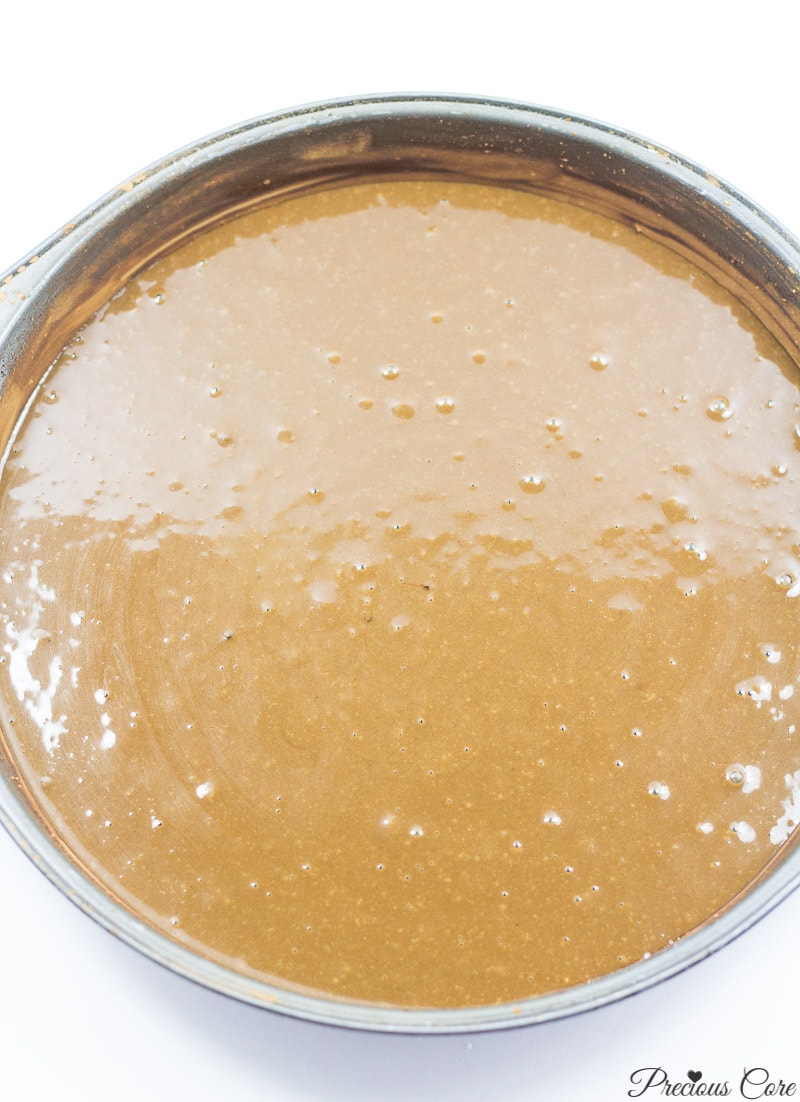 Bake until a toothpick inserted in the middle comes out clean.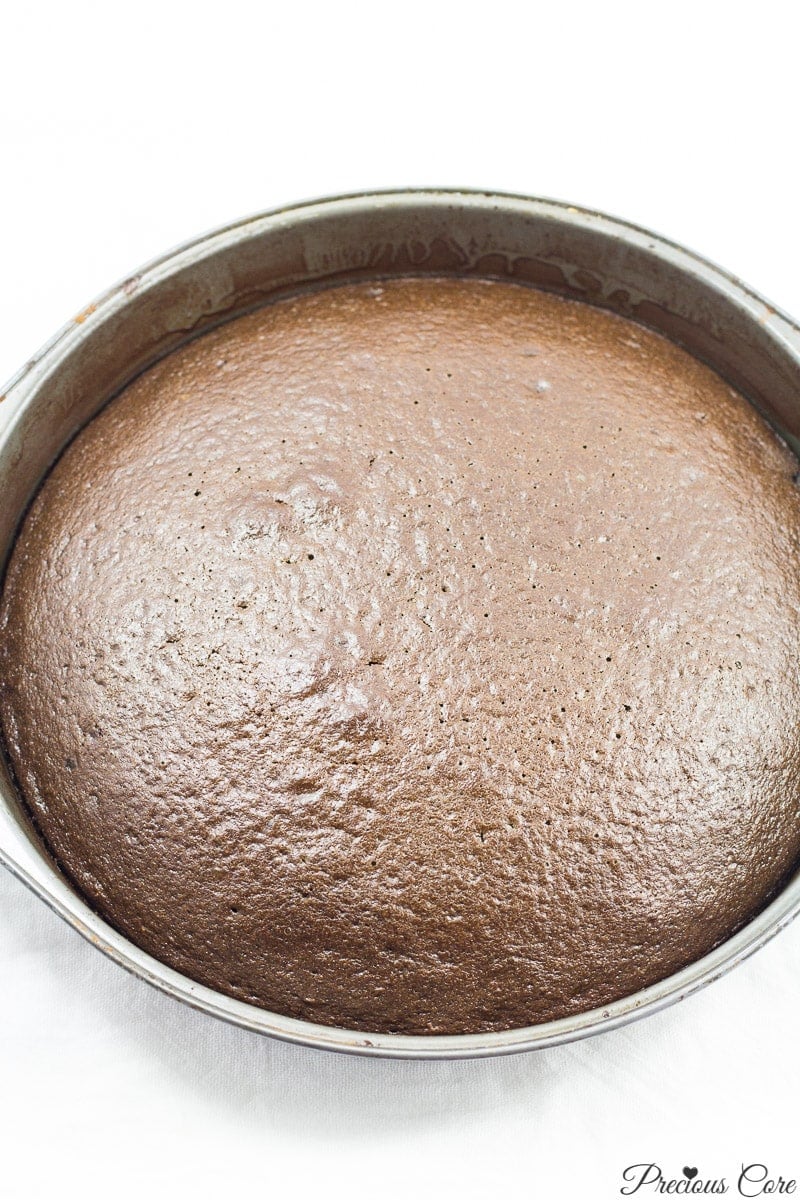 Now this cake is great on its own and I just wanted to dig all the way in and start eating. But I wanted to show you guys the complete picture so I made some chocolate buttercream frosting.
Here are the ingredients needed for the frosting: icing sugar, cocoa powder, milk (I only used two tablespoons) and softened butter. You also need vanilla extract but I was out of vanilla extract so it is omitted here.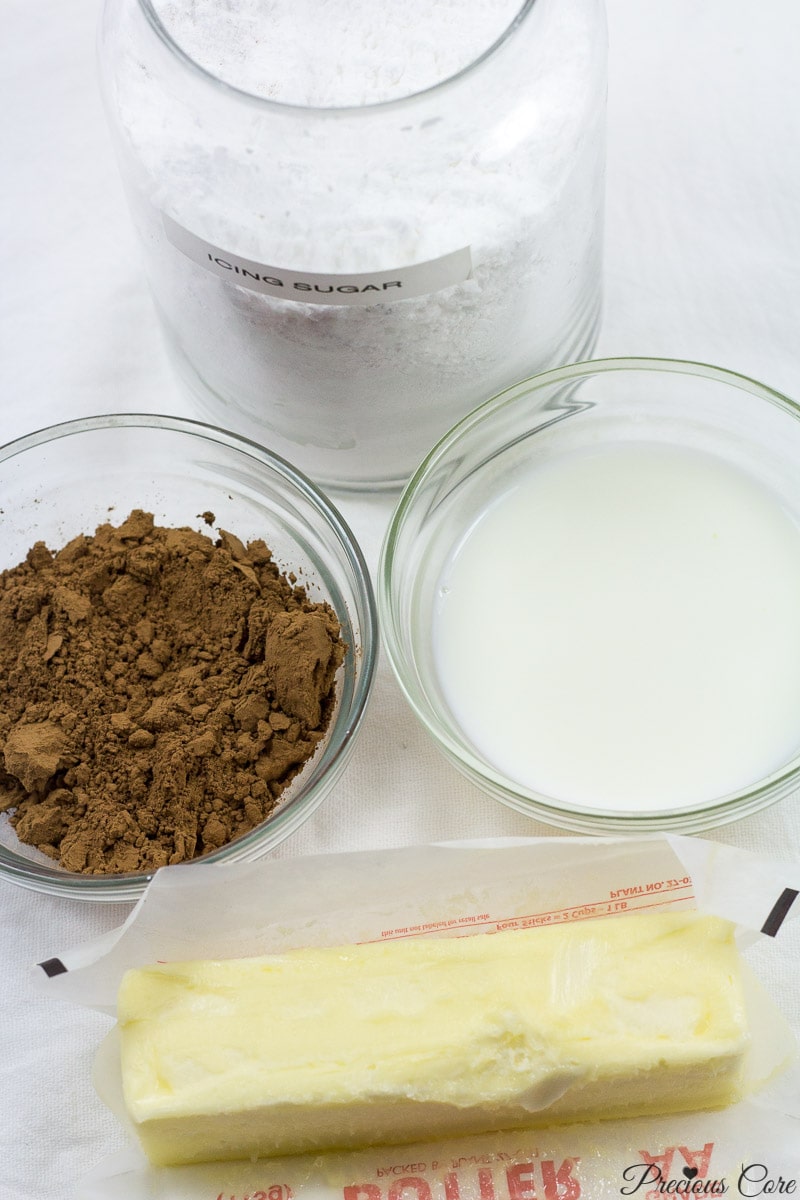 You make the frosting by creaming the butter then gradually adding the other ingredients. I used my stand mixer for this.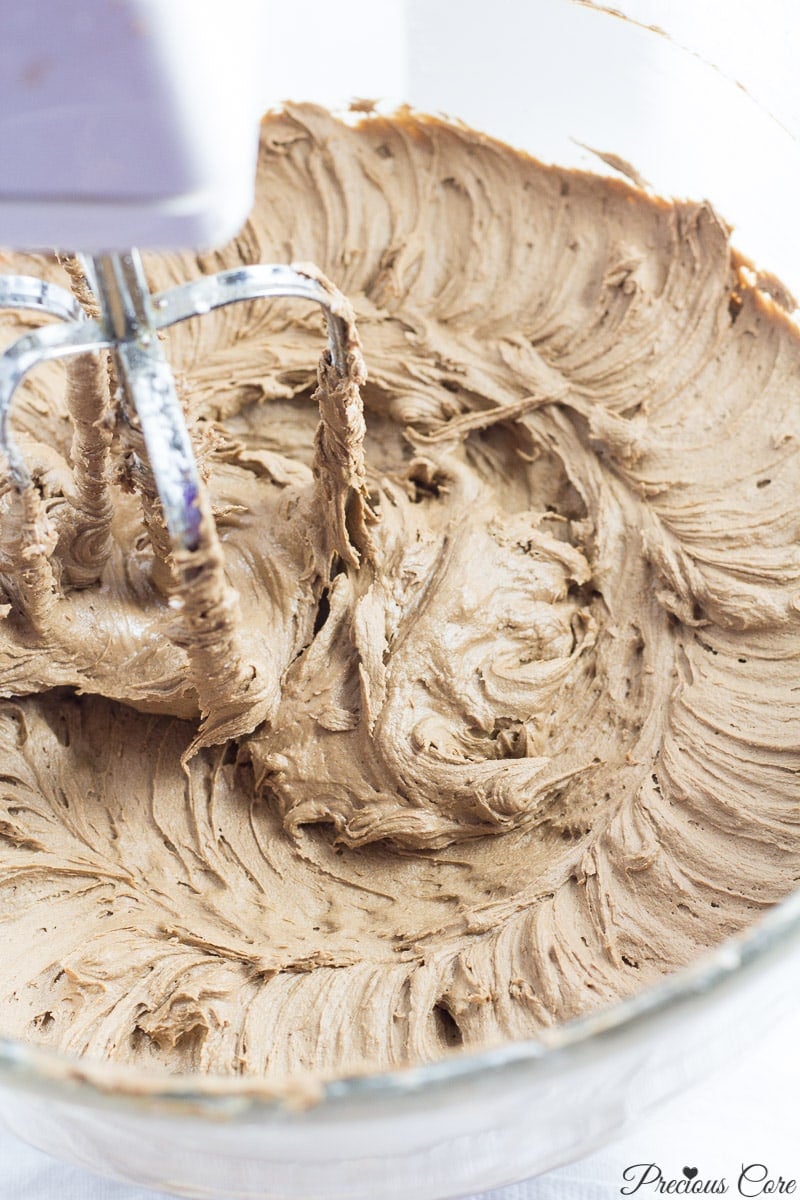 This frosting is pure perfection. You could also use it on a white cake if you wish.
When your cakes cool completely, trim the top so they are level with no mounds on top, then turn the first cake upside down and begin applying the frosting.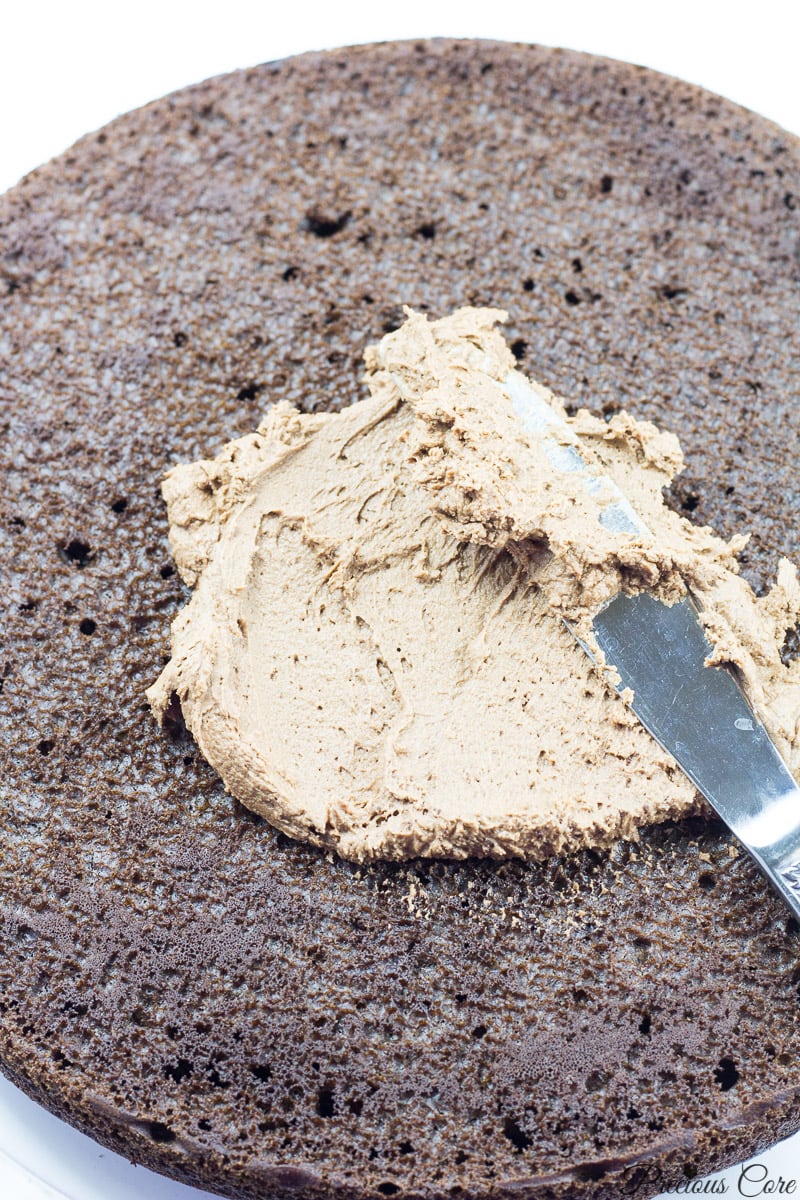 I frosted the first cake, pressed the second cake on top then frosted all around both cakes so they looked like one. I used a butter knife to create some sort of pattern on the cake. Here is the finished product: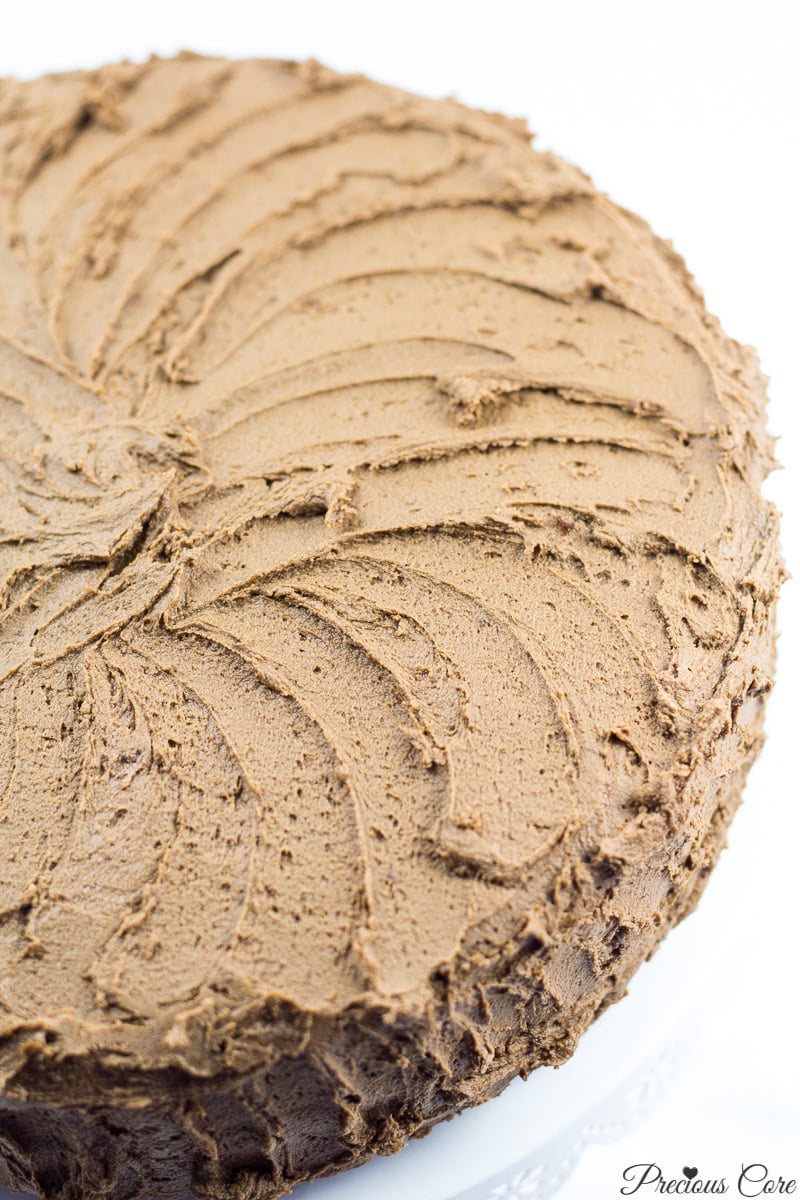 Who wants to eat cake?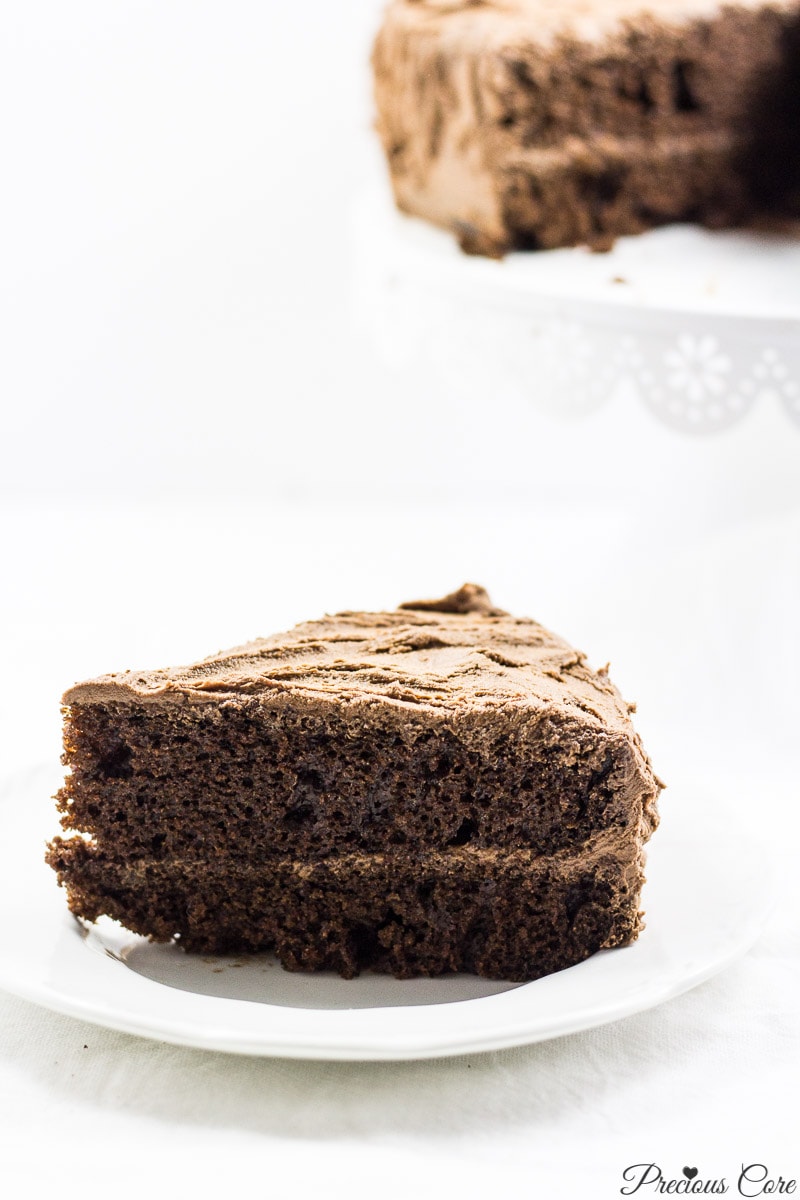 This cake is perfectly chocolatey, luscious, rich and umm… fattening. Enjoy, friends!
P.S. If you want to learn how to make chocolate cupcakes, check out this recipe: easy chocolate cupcakes.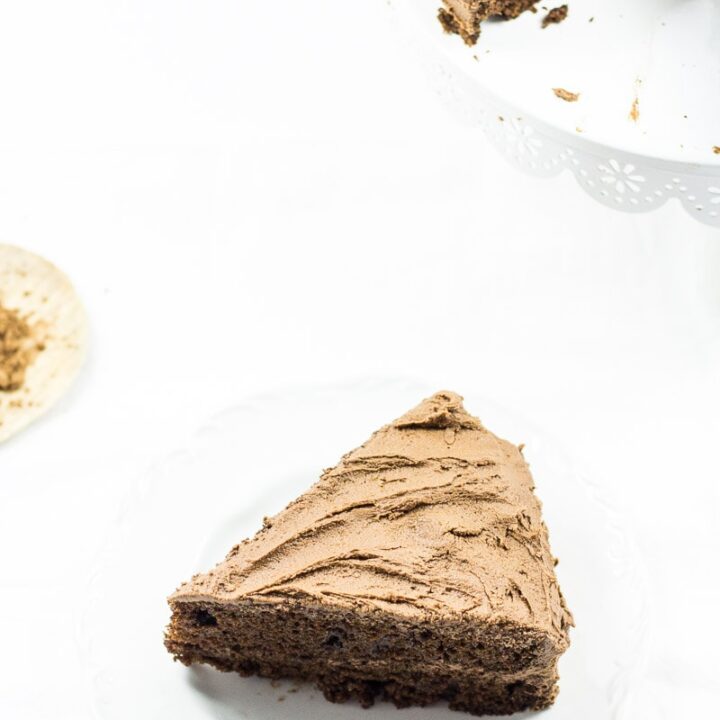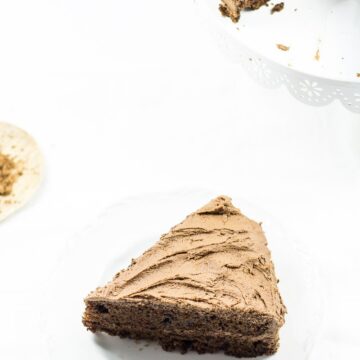 Classic Chocolate Cake
This is a classic chocolate cake that is so easy to put together. You only need one bowl! It pairs up with the most amazing chocolate buttercream frosting.
Ingredients
Chocolate Cake
2

cups

flour (240 g)

1/2

cup

vegetable oil or oil of choice - I used canola (118 ml)

1

teaspoon

baking powder - heaped

1

teaspoon

baking soda - heaped

1

teaspoon

salt

1-2

cups

sugar I used 1 cup (200-400 g)

2

large eggs

1/2

cup

cocoa powder (50 g)

1

cup

boiling water (236 ml)

2

teaspoons

vanilla extract

1

teaspoon

instant coffee powder

1

cup

liquid milk (240 ml)
Chocolate Buttercream Frosting
1/2

cup

butter (113 g) - softened

3

cups

icing sugar (375 g)

2

tablespoons

liquid milk (or more as needed)

1

tablespoon

vanilla extract

1/2

cup

cocoa powder (50 g)
Instructions
Chocolate Cake
Heat oven to 350 degrees F (180 degrees C). Grease and dust with cocoa powder, two 9-inch round baking pans.

In a large bowl, whisk together the flour, baking powder, baking soda, instant coffee powder, salt and sugar.

Add eggs, milk, oil and vanilla extract to the whisked powder. Mix well until everything is well incorporated.

Add boiling water to the water and mix well. It is going to become very thin. This is normal.

Pour the batter into prepared cake pans and bake at 350 degrees F (180 degrees C) for about 35 minutes until a toothpick inserted in the middle of both cakes comes out clean.

Let the cake cool completely then spread frosting on top if you so wish.
Chocolate Buttercream Frosting
Put butter into a stand mixer and cream on low for about one minute. Add in icing sugar, one cup at a time, beating the butter and sugar after each addition. Add in milk and vanilla extract and beat. Add the cocoa powder and beat to a spreading consistency. If the frosting is too light, add more sugar. If it is too thick, add a little milk.
Nutrition
Calories:
451
kcal
|
Carbohydrates:
68
g
|
Protein:
5
g
|
Fat:
19
g
|
Saturated Fat:
8
g
|
Polyunsaturated Fat:
6
g
|
Monounsaturated Fat:
5
g
|
Trans Fat:
0.4
g
|
Cholesterol:
50
mg
|
Sodium:
404
mg
|
Potassium:
184
mg
|
Fiber:
3
g
|
Sugar:
48
g
|
Vitamin A:
313
IU
|
Calcium:
68
mg
|
Iron:
2
mg

If you make this recipe please tag me in a photo on Instagram: @preciouscore. I'll love to see!