Homemade Vanilla Extract
Published Oct 16, 2020
Updated Aug 10, 2023
Homemade Vanilla Extract is a thousand times better than storebought! Use this vanilla extract to take your cakes, cookies, frostings, and more to the next level! Only 2 ingredients!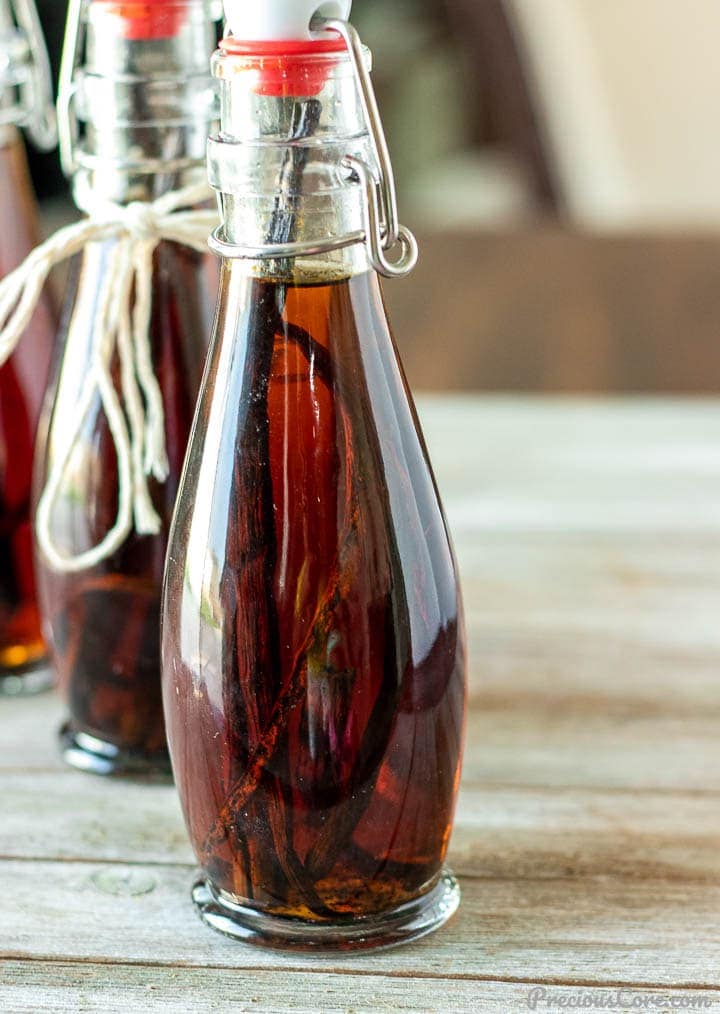 I recently shared videos of my homemade vanilla extract on my Instagram and Facebook stories and so many of you wanted the recipe. So here we are!
Homemade vanilla is a thing of joy! And there are some great reasons why you should make your own vanilla extract at home!
Reasons To Make Your Own Vanilla Extract
1. Homemade vanilla extract has a more intense flavor. The flavor of homemade vanilla is out of this world! It makes baked goods taste a thousand times better!
2. Homemade vanilla extract is cheaper in the long run. After the initial investment, homemade vanilla extract is cheaper than storebought. You can always refill the bottle with more vodka to make more vanilla using the same beans. I can't tell you how much I have spent on storebought vanilla extract. So expensive!
3. Homemade Vanilla Extract makes great gifts. Tie a ribbon on the bottle, add a sticker and you have a special homemade gift!
4. It's fun! Making homemade vanilla extract is fun. Period.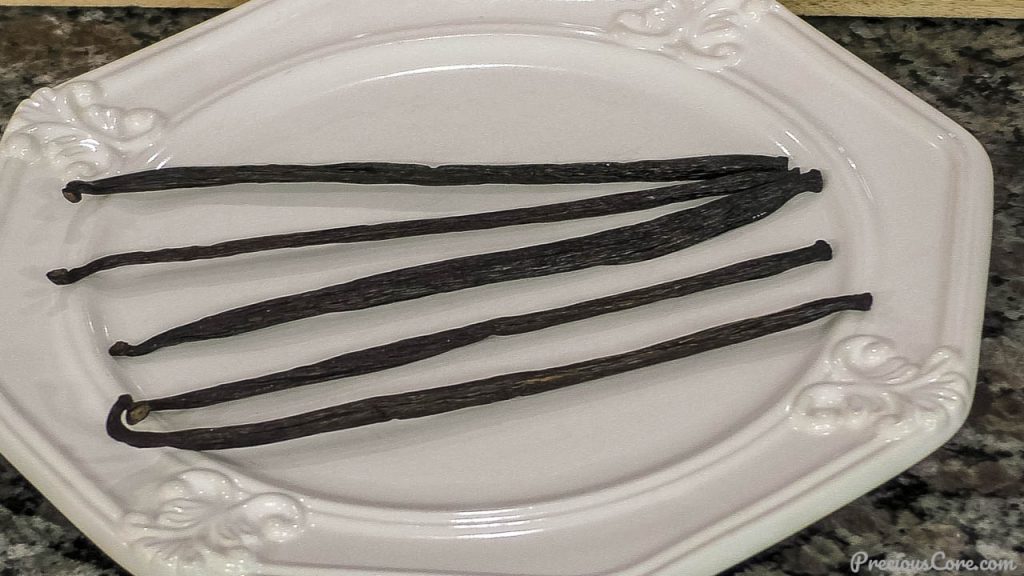 Ingredients for Making Vanilla Extract
You only need 2 ingredients for making vanilla extract:
1. Vanilla Beans. Use grade B vanilla beans as Grade B beans are dried beans hence they have more intense flavor. Madagascar grade B vanilla beans or Tahitian grade B vanilla beans are great choices. Both beans can be purchased on Amazon.com.
2. Vodka. Use 80 % proof vodka for homemade vanilla extract. It is important that you use unflavored vodka so the flavor of the drink doesn't interfere the flavor of the vanilla. You could also make vanilla extract with other kinds of alcohol like rum, brandy or bourbon. Just note that these have more complex flavors which may influence the taste of the vanilla extract.
Can I make vanilla extract without alcohol?
Yes, you can make vanilla extract without alcohol. Vanilla extract can be made using glycerin which is a plant-based oil.
The ratio of ingredients for homemade vanilla extract. To make vanilla extract, you need 5-6 beans per 8 ounces (240 ml) of vodka or 3 beans per 4 ounces (120 ml) of vodka.
Best beans for homemade vanilla extract: I have used both Madagascar and Tahitian beans and Madagascar beans seem to yield a more intense color and flavor.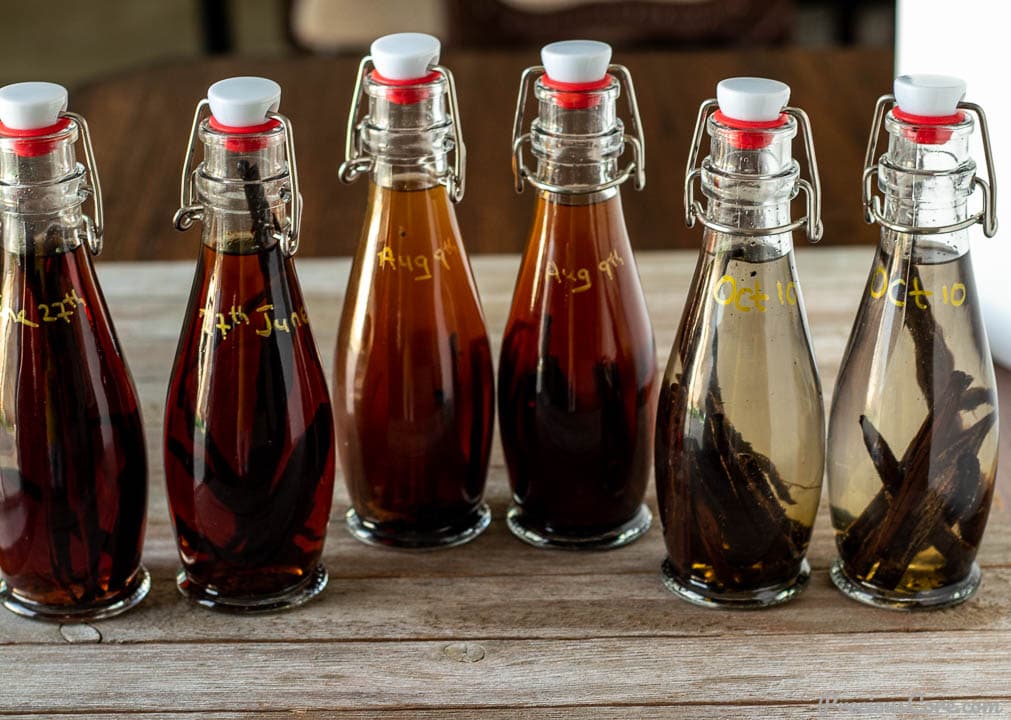 How To Make Homemade Vanilla Extract
1. Split open vanilla beans and put them in a jar or bottle.
2. Pour vodka over the vanilla beans then cover tightly and shake well.
3. Keep away from direct sunlight at room temperature and shake bottle about once per week. Use after 1 month. For more intense flavor, use after 6 months.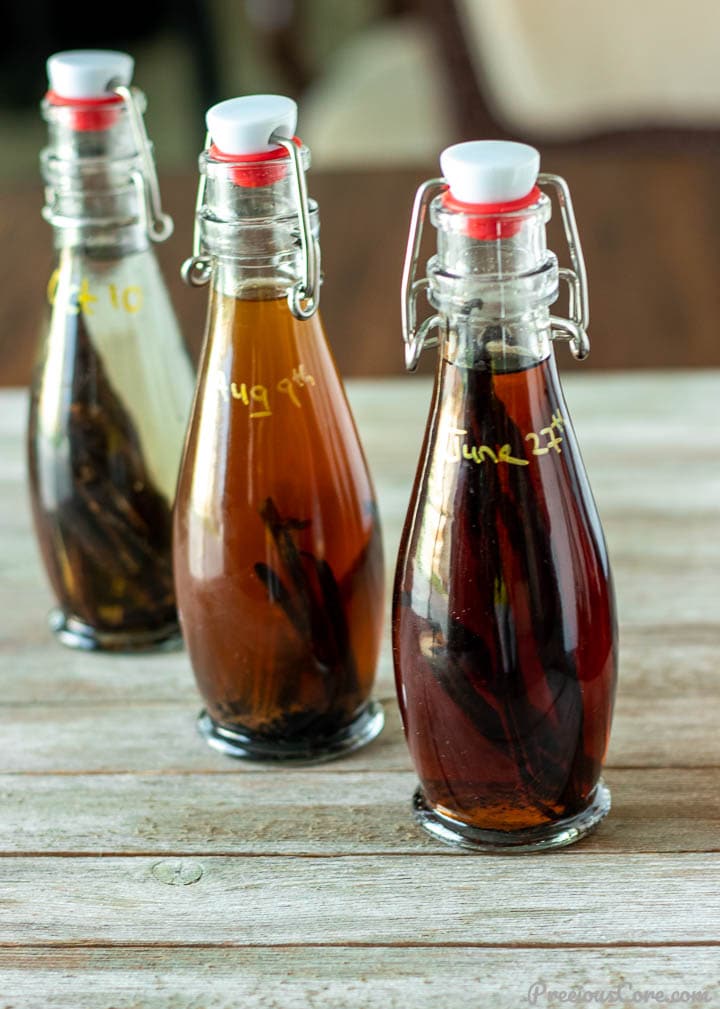 Important Tools and Ingredients for Vanilla Extract (affiliate)
What To Cook With Homemade Vanilla Extract
Use homemade vanilla extract to make the following treats:
Watch How To Make Vanilla Extract
Watch me making Homemade Vanilla Extract in the video below. Also, please SUBSCRIBE to my YouTube Channel so you do not miss any of my videos!
More Homemade Recipes To Try
If you make this recipe please leave a star rating below. Your rating helps others find the recipe plus I love hearing from you! Thank you!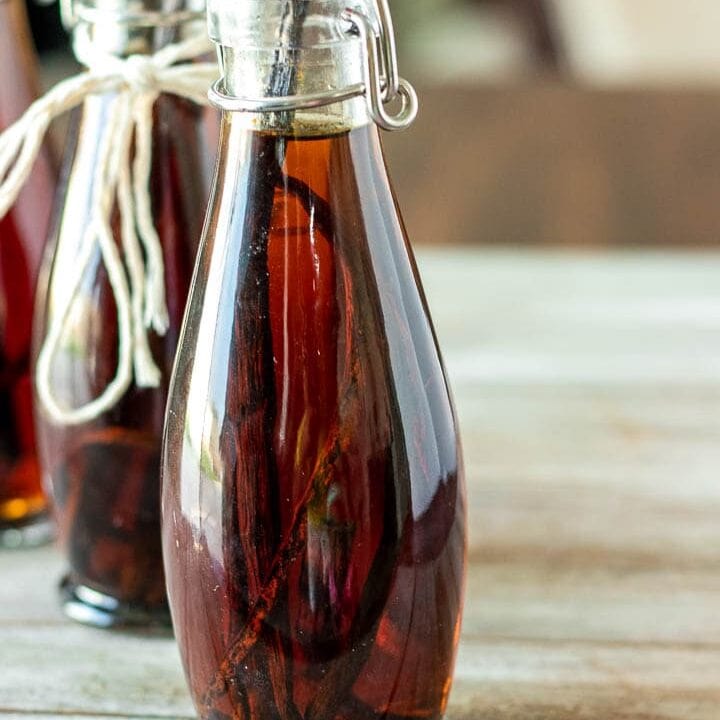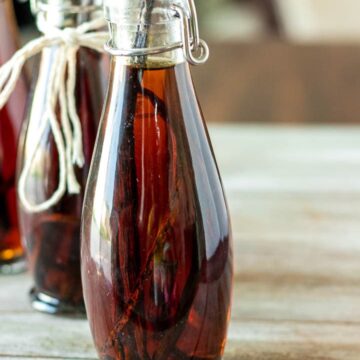 Homemade Vanilla Extract
Homemade Vanilla Extract is far better than store-bought. Here is how to make vanilla extract with only 2 ingredients!
Equipment
Bottles with tight fitting lids.

Small funnel
Ingredients
5-6

vanilla beans

Grade B Madagascar Vanilla Beans or Grade B Tahitian Beans

8

oz

80% proof vodka (240 ml)
Instructions
Use a sharp knife to make a slit for one end of a bean to the other end. Use the same knife to scrape the seeds from the bean. Cut the vanilla bean in half. Place the seeds into a bottle with a tight-fitting lid.

Pour vodka into the bottle. Use a funnel so it is easier to pour the vodka into the bottle.

Cover the bottle and shake well to combine.

Store vanilla extract at room temperature away from direct sunlight. Shake the bottle about once per week.

Vanilla extract is ready to use after about 1 month. For more intense flavor, let it steep for about 6 months before using.

You can use homemade vanilla extract with the beans still in the jar or you can strain it before use. Add more vodka to the beans as you use the vanilla extract to make more vanilla extract. Also add more vanilla beans if the vanilla flavor isn't as intense.
Notes
Can I make vanilla extract without alcohol?
Yes, you can make vanilla extract without alcohol. Vanilla extract can be made using glycerin which is a plant-based oil.
Nutrition
Serving:
1
tablespoon
|
Calories:
36
kcal
|
Carbohydrates:
0.4
g
|
Fat:
0.2
g
|
Sodium:
0.1
mg
|
Potassium:
0.1
mg
|
Iron:
0.001
mg