Fresh Apple Cake Recipe
Published Sep 29, 2017
Updated Nov 26, 2022
The best apple cake recipe made with fresh apples. The cake is moist with delicious chunks of apple, fruity and full of flavor and spice. This fresh apple cake recipe is perfect for fall, Thanksgiving or really any time of the year. I love having it with some ice cream on the side or some tea. So comforting!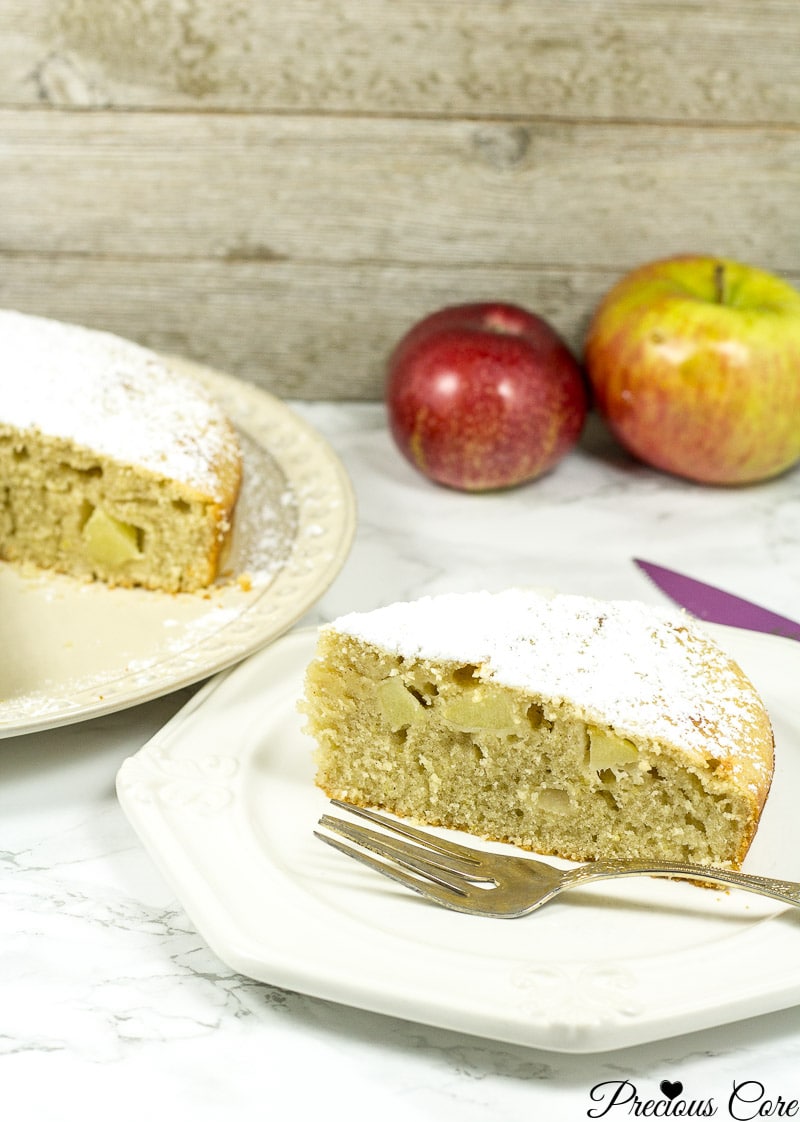 Apple desserts like Homemade Apple Pie and Tarte Tatin have my heart. There's something about apple and baking that works!
Add this fresh apple cake recipe to your repertoire of Thanksgiving recipes. So good whether for fall, Thanksgiving, Christmas, breakfast or for when you just want to snack on some delicious cake.
Let me tell you something. I went shopping and I bought just apples for about $20. And I only shopped for about $30 so it was a 'buy buy apple' kind of day.
You guys, I bought 6 honeycrisp apples for over $10. Whaaaa? After checking my receipt and doing the math while I got back home, I almost said aloud, "why are people so wicked?"
As in why would you sell one apple for almost $2?! Next time I am going to the apple orchard for a better bargain (and some apple picking!).
Am I the only one who scrutinises grocery receipts after buying? I mean I get home, take out my receipt and start to check one item after the other and the prices.
Maybe it's the African blood in me but I always feel like the cashier is trying to/going to cheat me. Trust issues. Ha.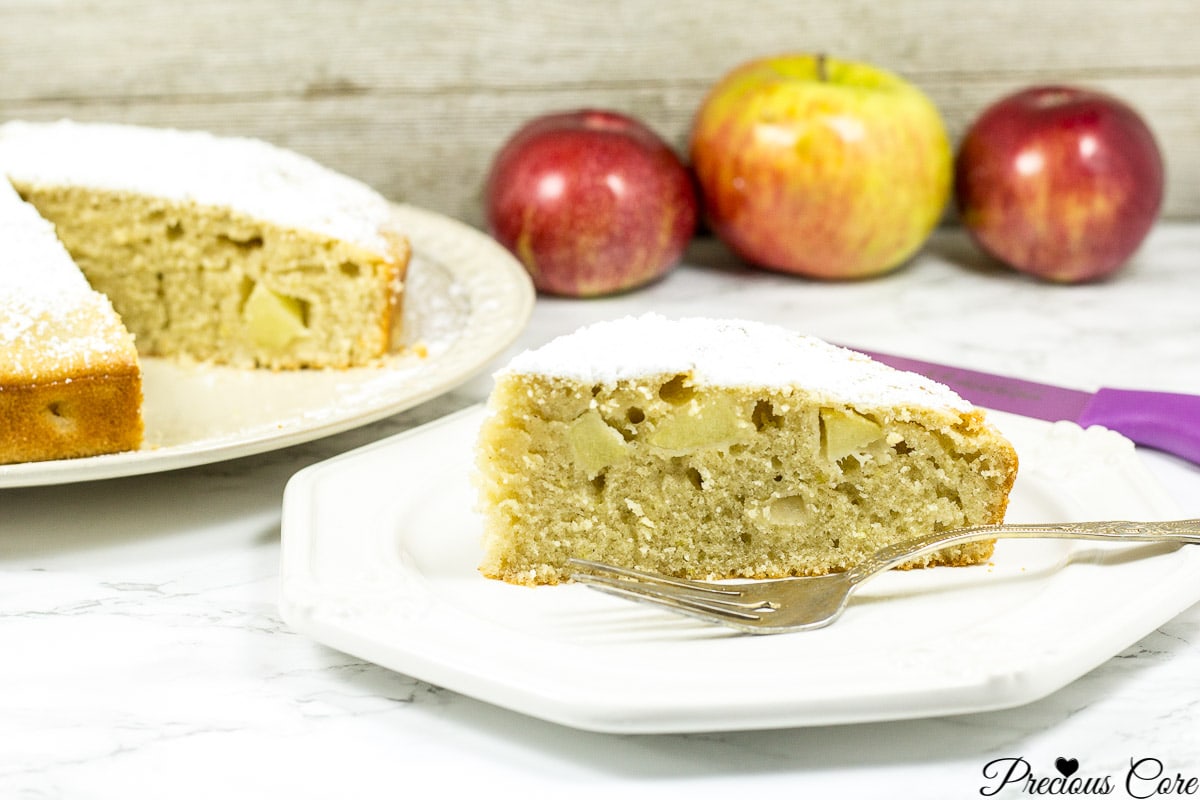 Best Apples For Apple Cake
Honeycrisp apples are ideal for a fresh apple cake recipe with chunks of apple because they hold their shape nicely when baked.
My second choice is granny smith apples which are also so good in apple desserts like homemade apple pie or tarte tatin.
Watch How To Make Fresh Apple Cake
This Fresh Apple Cake Recipe is so easy! And you can see how easy that is when you watch me putting it together in the video. 
To ensure you never miss any of my cooking videos, be sure to subscribe to my YouTube channel.
Ingredients For Apple Cake
The ingredients for apple cake are pretty simple:
Apples
Flour
Butter
Granulated sugar
Cinnamon powder
Vanilla Extract (check out my homemade vanilla extract recipe)
Lemon zest
Milk
Egg
Salt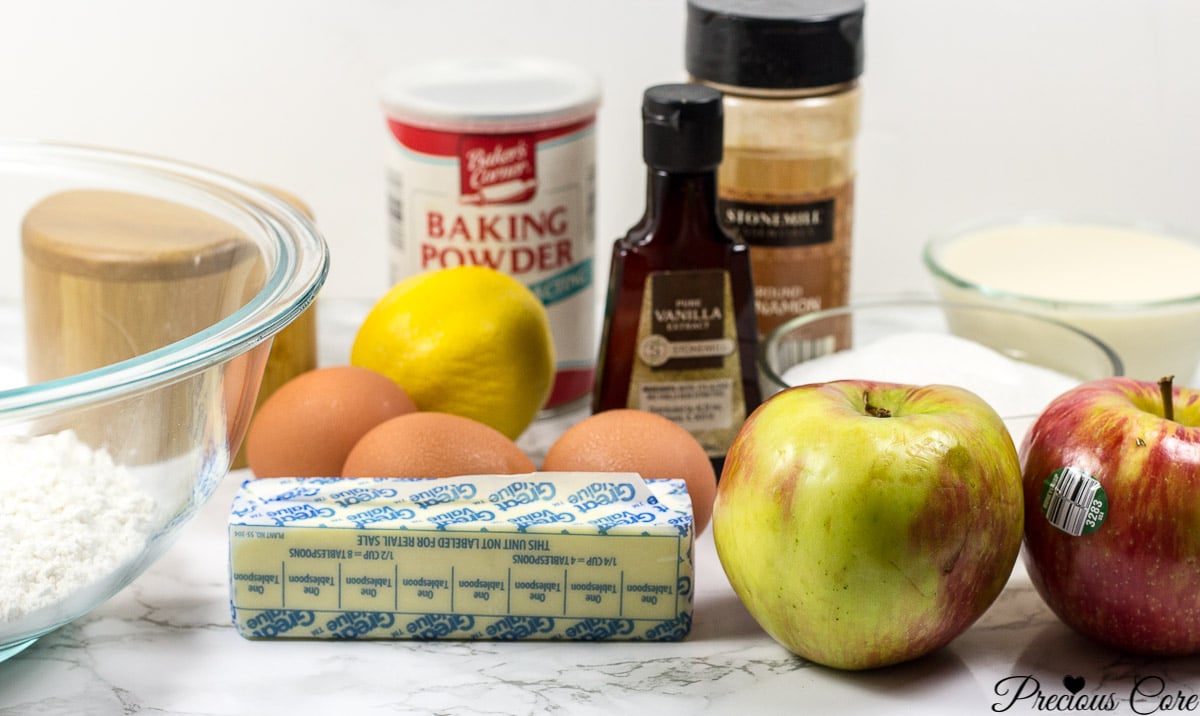 How To Make Apple Cake With Fresh Apples
Here are the simple steps involved in making apple cake from scratch!
1. The first thing I normally do is core, peel and chop the apples. Then I sprinkle two tablespoons of flour on top to coat them.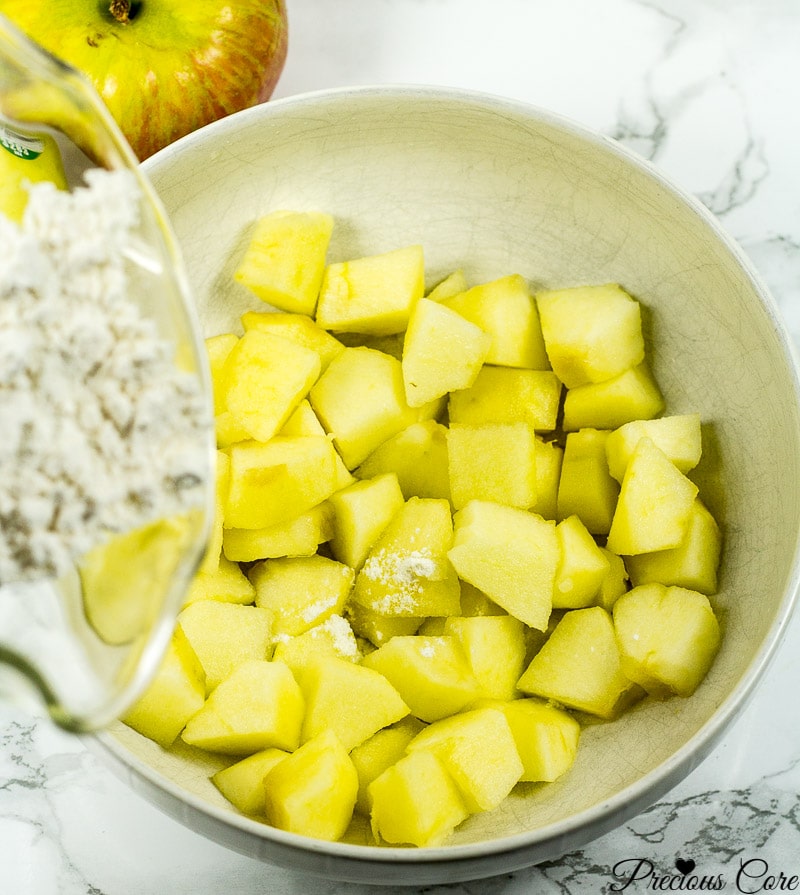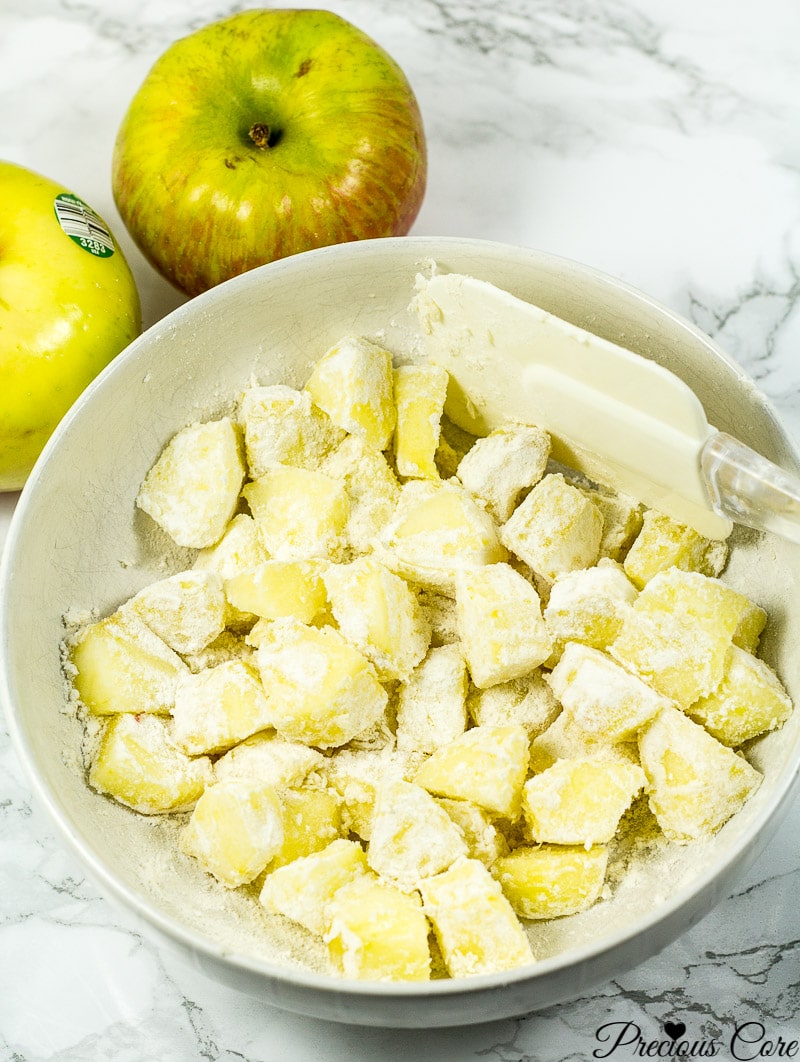 2. I then cream together the butter and sugar until fluffy.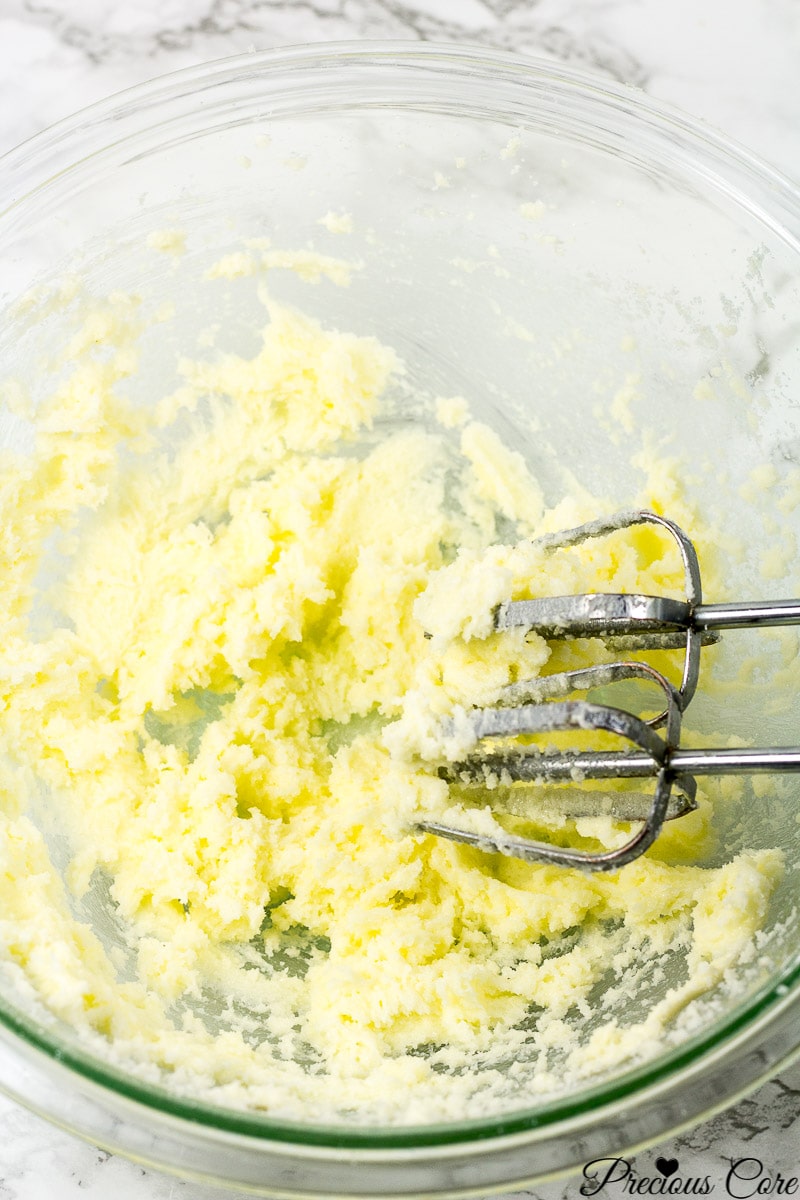 3. Then I add in the eggs one at a time and beat lightly.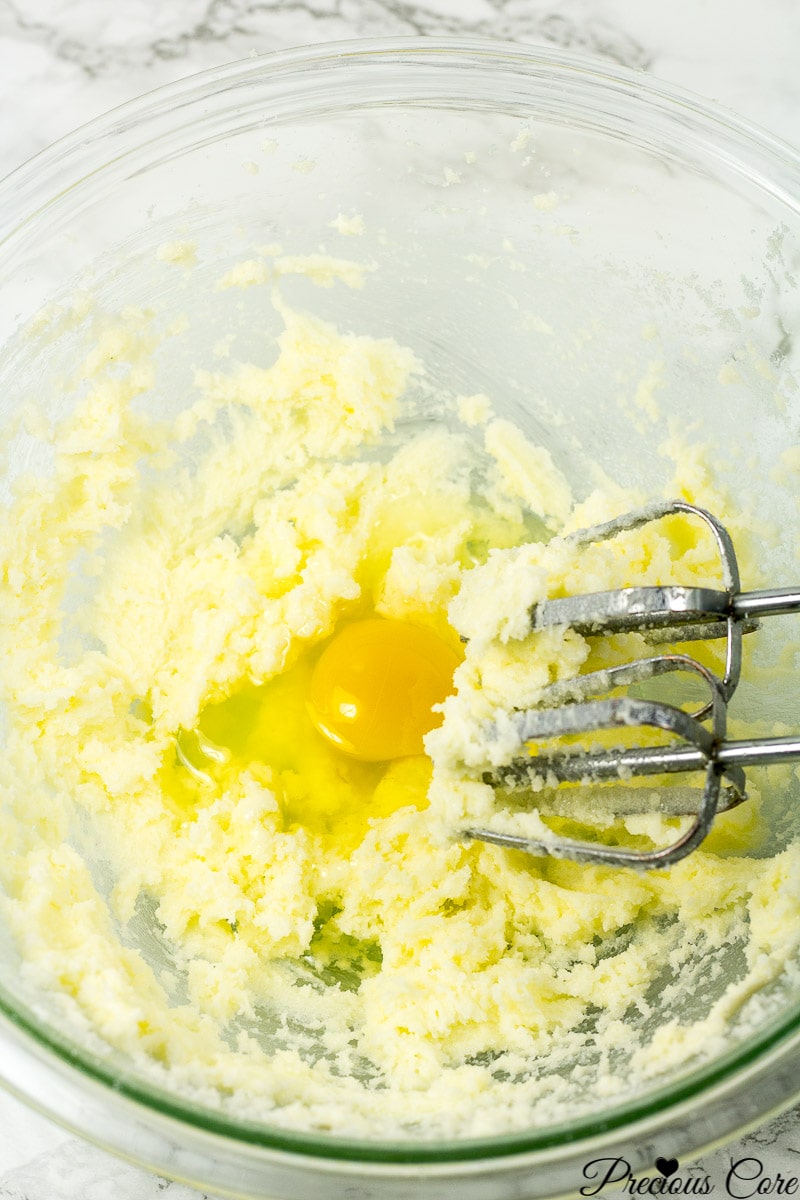 4. Then I add in the right quantity of liquid milk (check the full recipe below for quantity). I mix and add in my spices. Now I have to talk about the combo of vanilla extract, lemon zest and cinnamon in this recipe. It is bombzilla – it gives the cake such a fresh fruity spicy taste.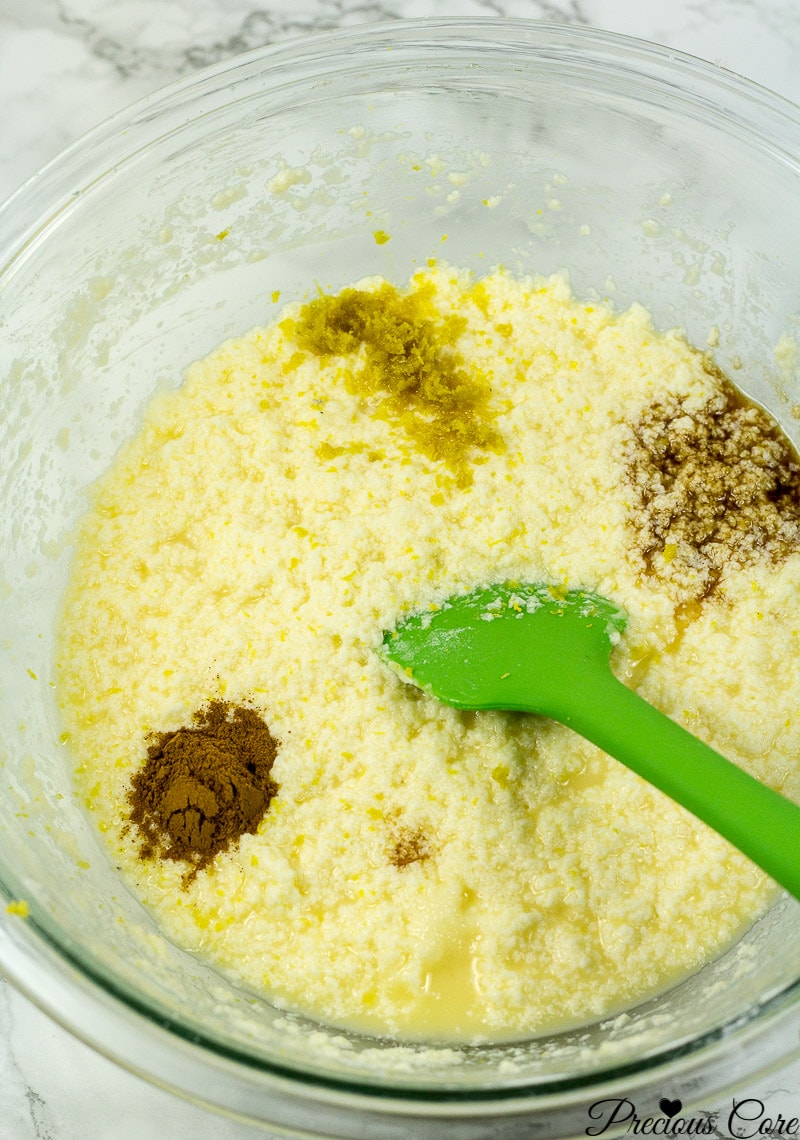 5. Add some flour, salt and baking powder to the dry ingredients and mix to form a batter.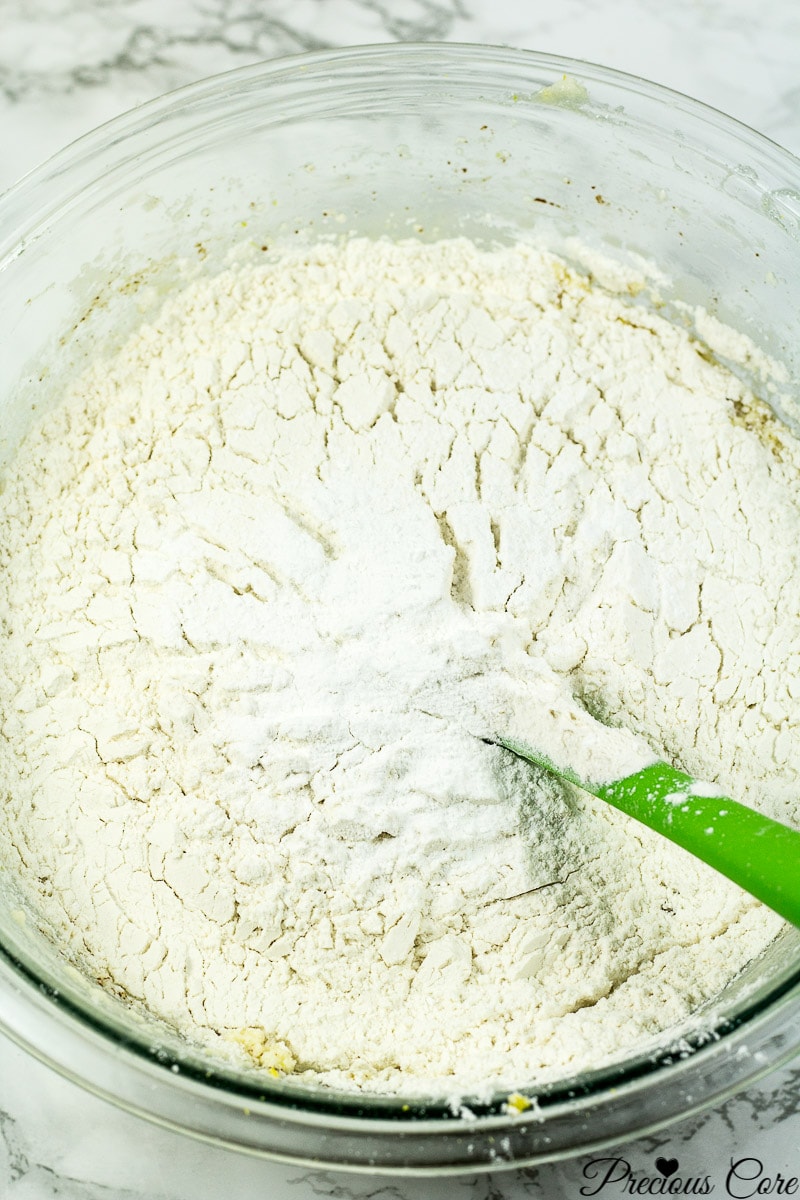 6. Once the batter is mixed, add in the chopped apples and gently fold in.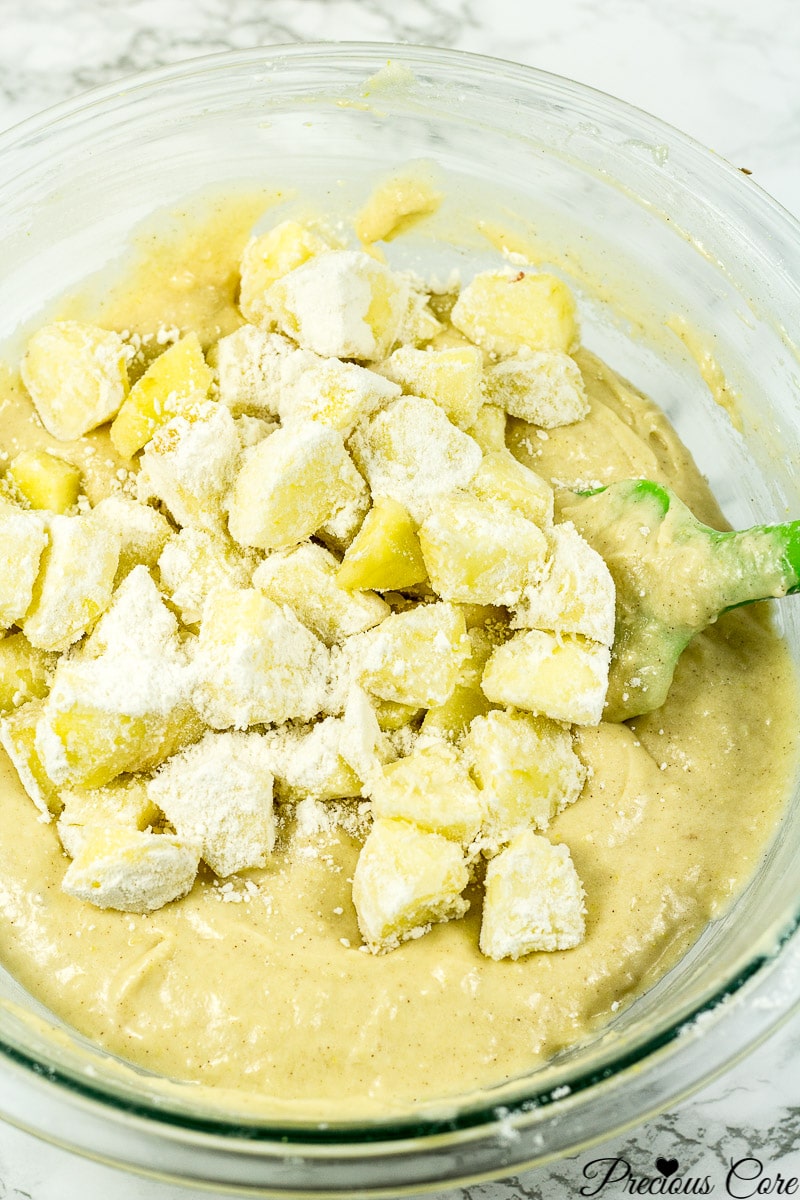 7. Now pour that batter into a greased cake pan, being sure to level the batter at the top.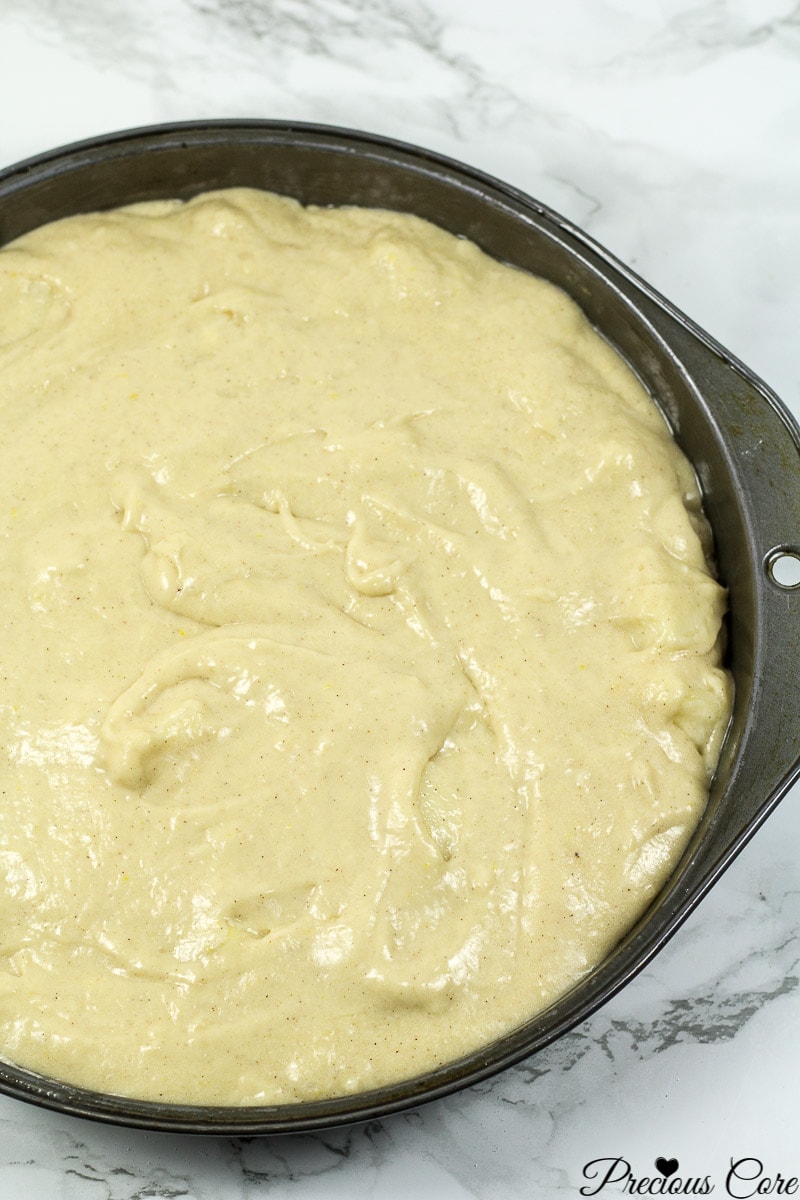 8. Bake until a toothpick inserted in the middle comes out clean.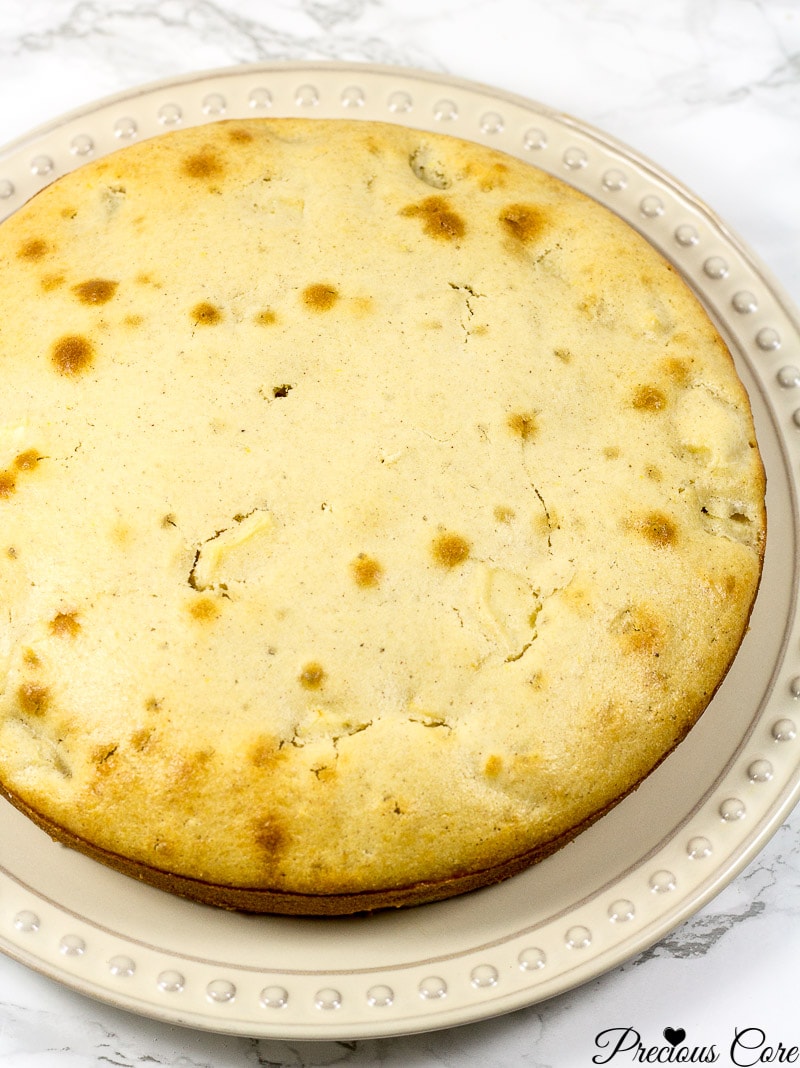 Hint: My apple cake is usually a light brown color when it comes out of the oven. I love it this way because it remains nice and moist. If it stays too long in the oven, it becomes dry – not good.
9. Now sieve some icing sugar over the top of the cake to take it over the top and for a beautiful presentation.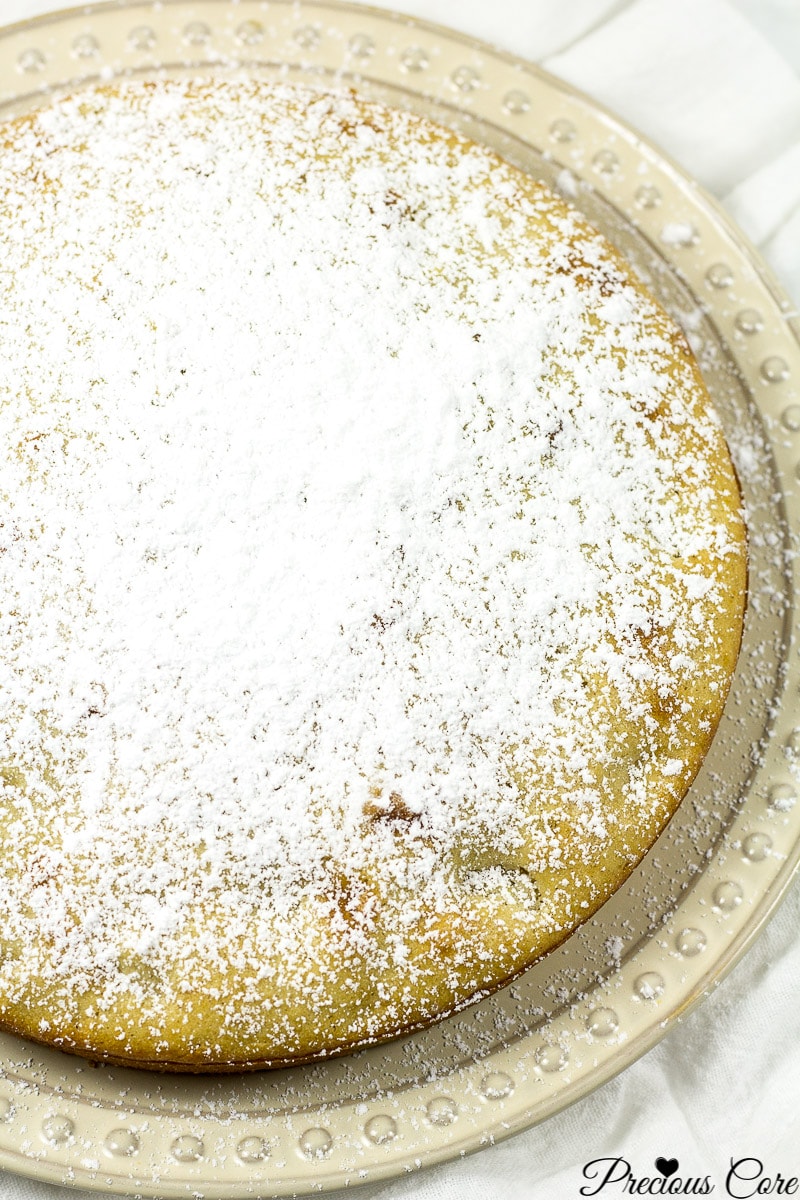 10. Cut yourself a slice…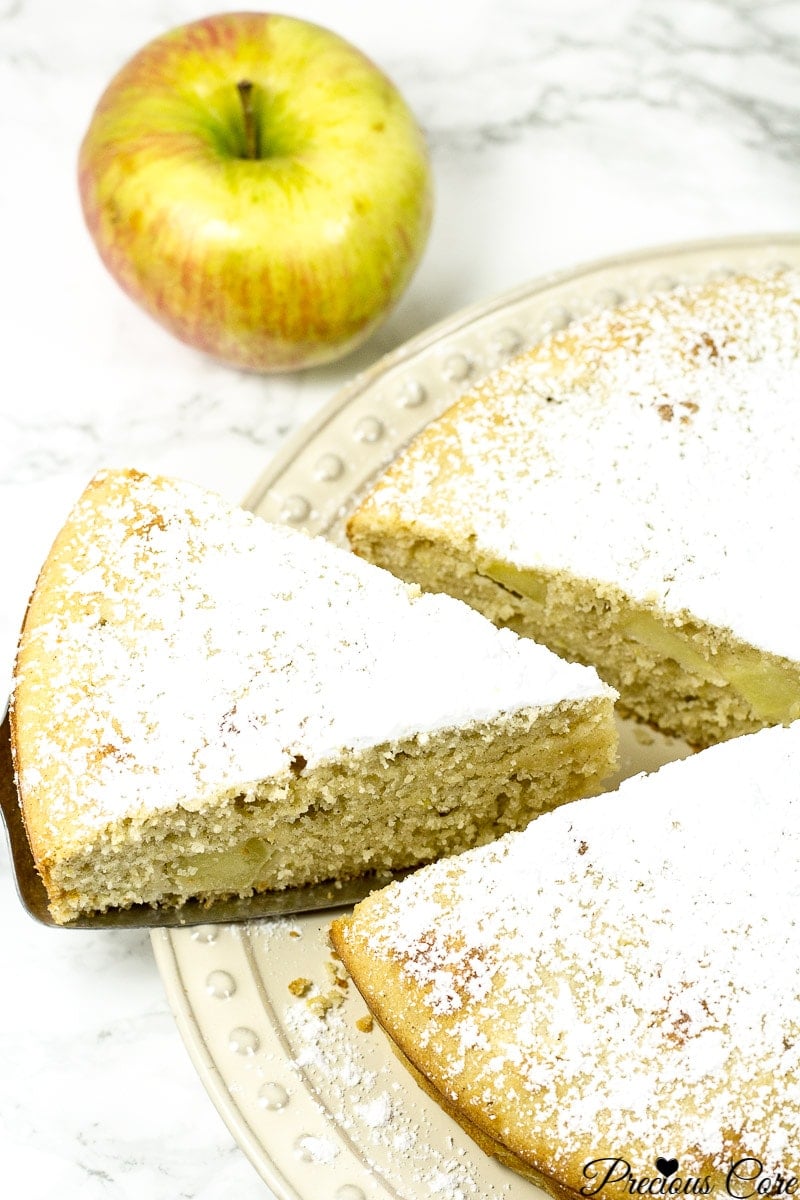 And enjoy the wonders of lovely chunks of apple in a cake. This right here is a trip to cake heaven.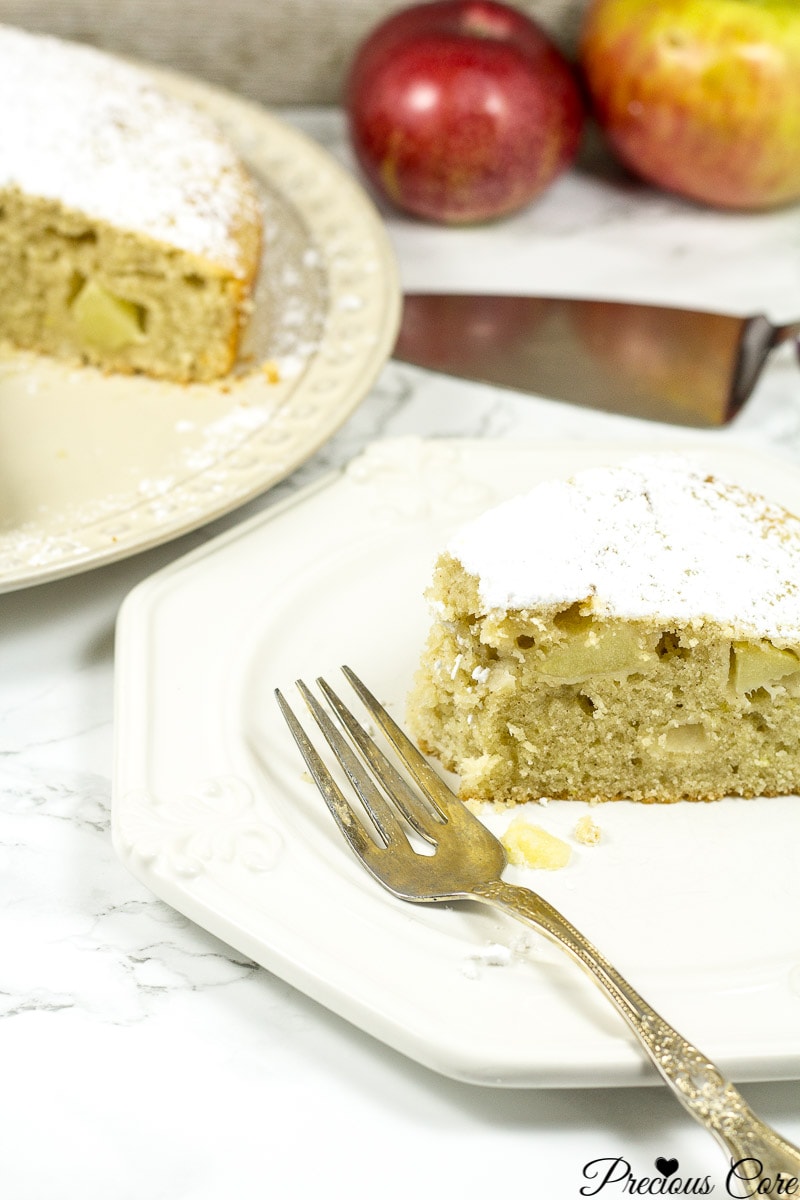 My girls, Mr. N and I are all in love with this cake. The girls had some for breakfast this morning with some hot cocoa on the side. They totally love this apple cake made with fresh apples.
Success Tips For The Best Apple Cake!
If you dislike chunks of apples in your cake, shred the apples instead.
Once the cake is done, take it out of the oven. Any extra time in the oven will make the cake turn from moist to dry.
Do not over-beat the eggs.
Also, do not over-mix the batter. Once the ingredients are incorporated, you are good to go!
If you have any doubts, watch the apple cake video for clarification.
That's it, folks. A delicious fresh apple cake waiting to be baked by you. Let me know how you like it!
Also, do you ever cook with apples in your life? What are your favorite apple recipes?
More Delicious Treats For Thanksgiving
Other spectacular cake recipes here on the blog:
*This recipe has been updated.
If you make this recipe, please share a photo on Instagram and tag me: @preciouscore, or share a photo on my Facebook page. I'll love to see!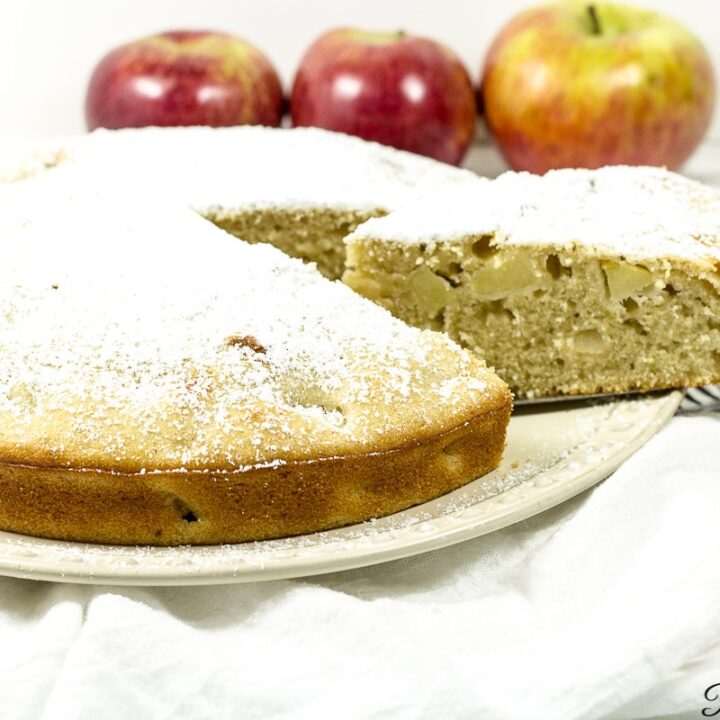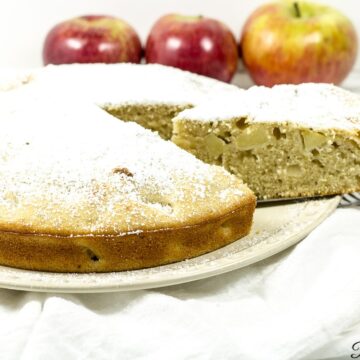 Fresh Apple Cake
The best apple cake recipe made with fresh apples. The cake is moist with delicious chunks of apple, fruity, sweet and so good! This fresh apple cake recipe is perfect for fall or really any time of the year. I love having it with some tea on the side or just as it is. SO GOOD!
Ingredients
2

cups

all-purpose flour

250g or 1/4 kg

2-3

apples

cored, peeled and chopped into 1-inch pieces

1

teaspoon

baking powder

1

teaspoon

vanilla extract

1

teaspoon

lemon zest

from one lemon

1/2

teaspoon

cinnamon powder

1/4

teaspoon

salt

3/4

cup

sugar

150g

1/2

cup

butter – softened

113g

2

tablespoons

flour

1

cup

whole milk

240ml

3

eggs

2

teaspoons

icing sugar for dusting the top
Instructions
Oil a 9-inch baking pan and set aside. Then preheat oven to 350°F (180°C).

Sprinkle 2 tablespoons of flour to coat chopped apples and set aside.

In a large bowl, cream together butter and sugar until fluffy. Add in eggs one at a time, beating each time you add an egg.

Add in milk, vanilla, lemon zest, cinnamon powder and stir to incorporate.

Add the flour, baking powder and salt. Mix well to form a batter. Don't overmix – stop mixing when all the flour is incorporated.

Add the chopped apples and gently fold in.

Pour batter into oiled pan and level the top.

Bake in preheated oven for about 30 minutes until a toothpick inserted in the middle of the cake comes out clean.
Notes
1. I used honeycrisp apples here but you could use another kind such as golden delicious apples.
2. Use evaporated milk instead of regular milk for a richer flavor.
Nutrition
Calories:
364
kcal
|
Carbohydrates:
53
g
|
Protein:
7
g
|
Fat:
15
g
|
Saturated Fat:
8
g
|
Polyunsaturated Fat:
1
g
|
Monounsaturated Fat:
4
g
|
Trans Fat:
0.5
g
|
Cholesterol:
96
mg
|
Sodium:
253
mg
|
Potassium:
158
mg
|
Fiber:
2
g
|
Sugar:
26
g
|
Vitamin A:
518
IU
|
Vitamin C:
2
mg
|
Calcium:
89
mg
|
Iron:
2
mg