Let me introduce you to a drink my mama used to make for me and my siblings when we were little. Ginger drink! Drum roll and hand clapping, please. Forget the "ginger" in this drink. It is so good that you will forget that it was made with a pungent spice – ginger. This is thanks to the abundance of sweetness that covers the multitude of heat in the ginger! All you are left to revel in is a sweet, slightly hot flavourful drink…
… which my kids love! They finished my cuppa while I was doing this photo shoot. And they asked for more. AND they even asked if I could make a special batch for them. My girls are tea drinkers (hello mint and lemon grass tea!) and salad eaters (hello coleslaw!) Ha.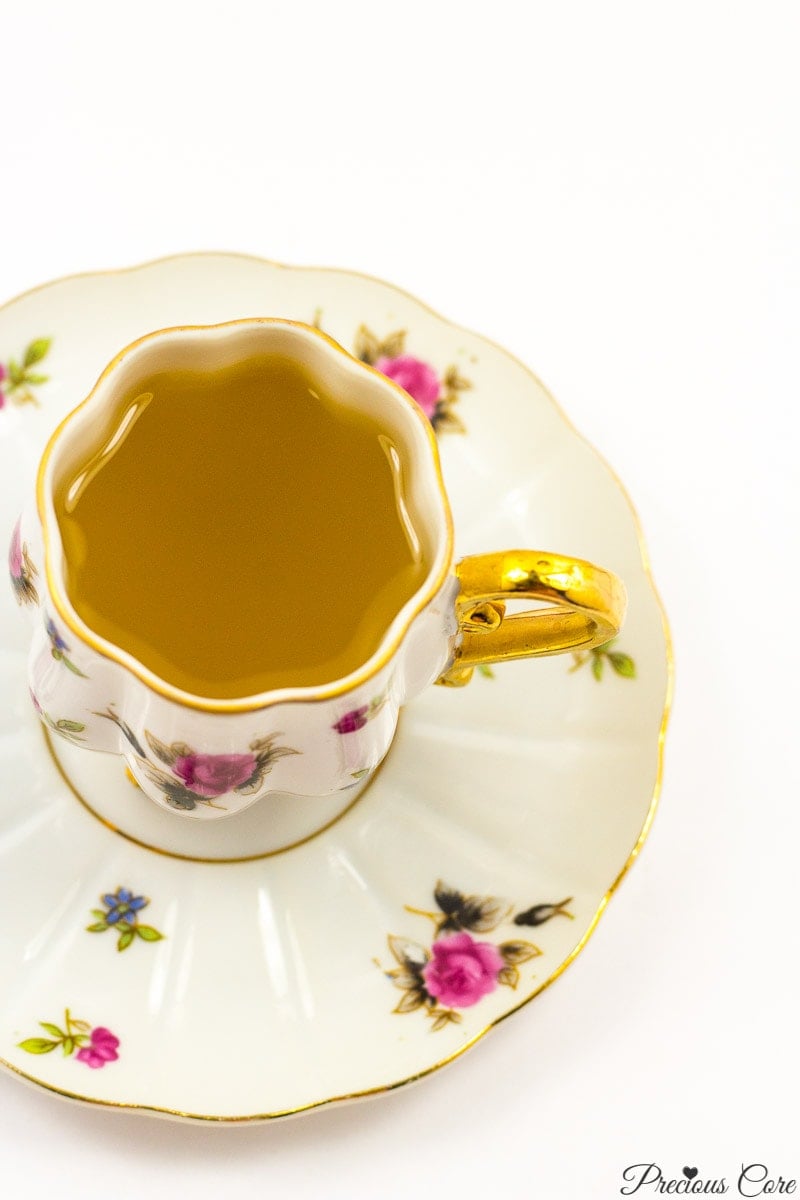 Back in the day, I drank this because it was highly pleasant to the taste. Today, I drink it because, it is tasty and healthy!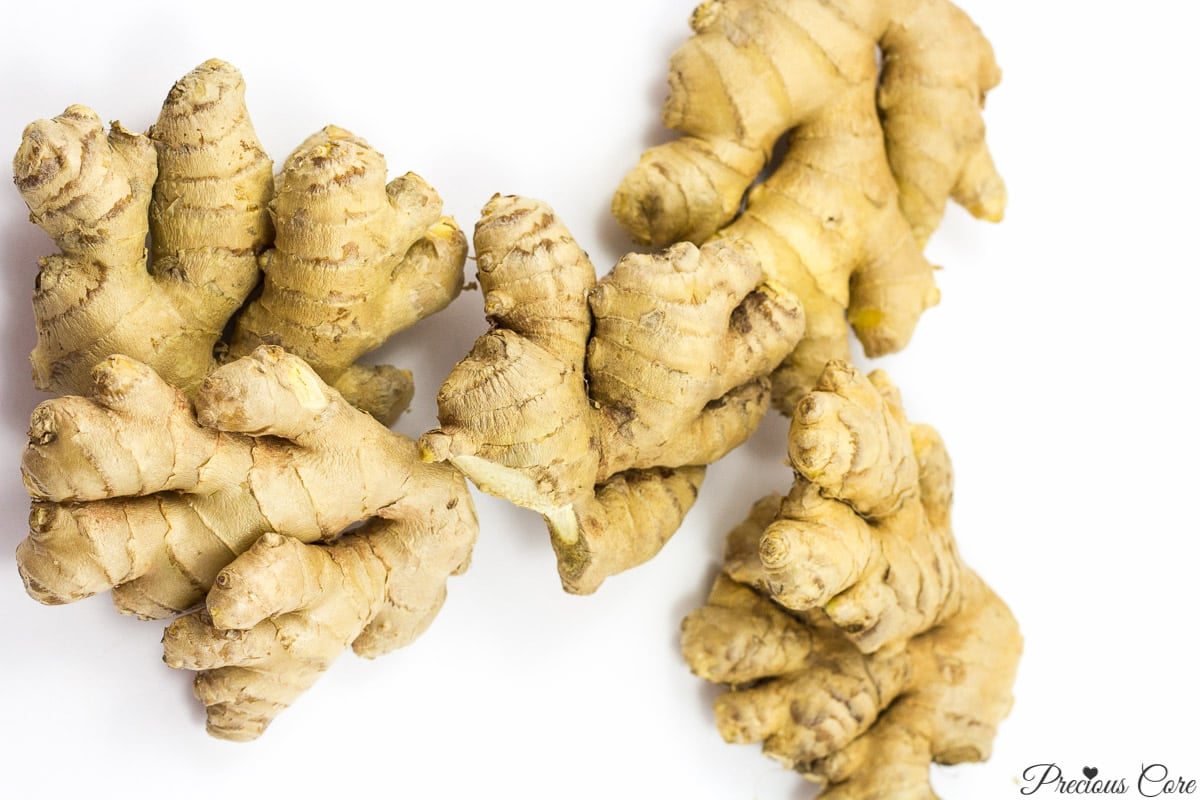 The ginger root is extremely beneficial for health. It contains anti-inflammatory properties, vitamins, minerals and amino acids. I could dedicate a whole post talking about ginger. This root-ish thing loves your body and brain! It should be a regular in your home. Your body needs it.
To make the tea, all you need is some fresh ginger and sugar or honey. I went with honey because Mr N bought half a dozen of honey which I am bent on finishing.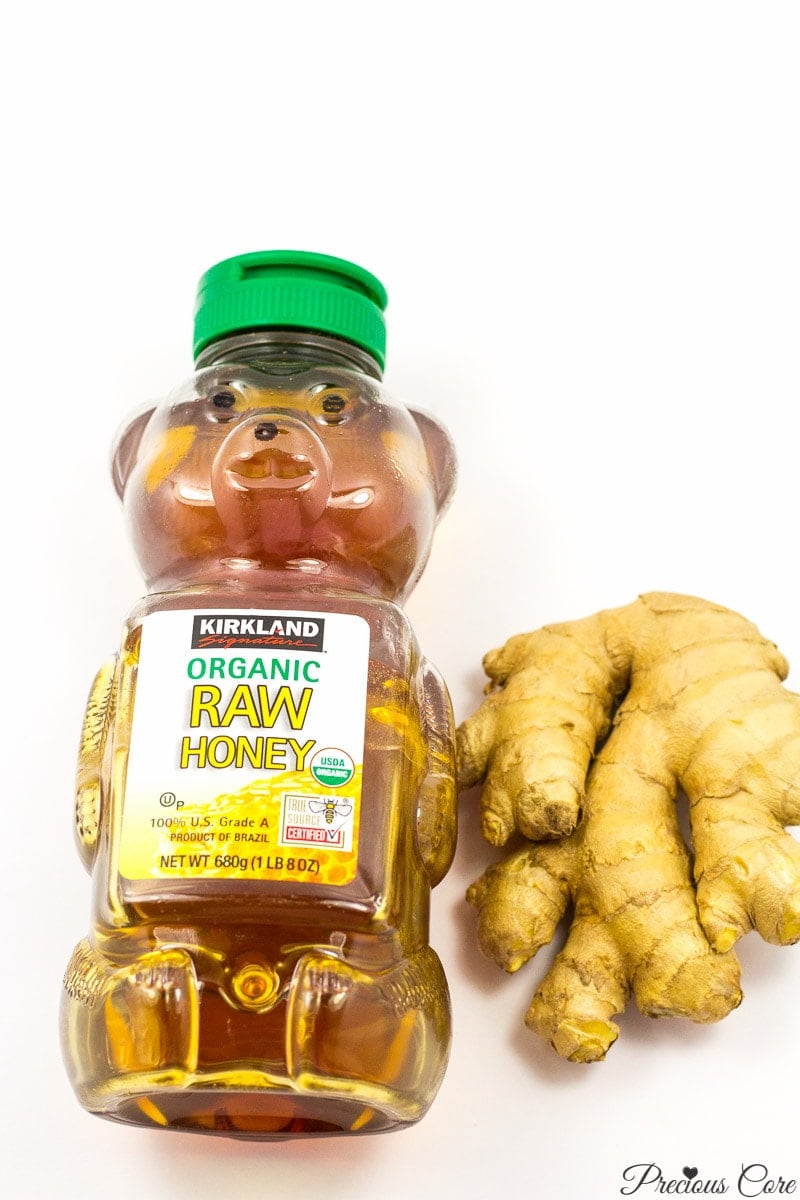 Go ahead and clean the skin off the ginger.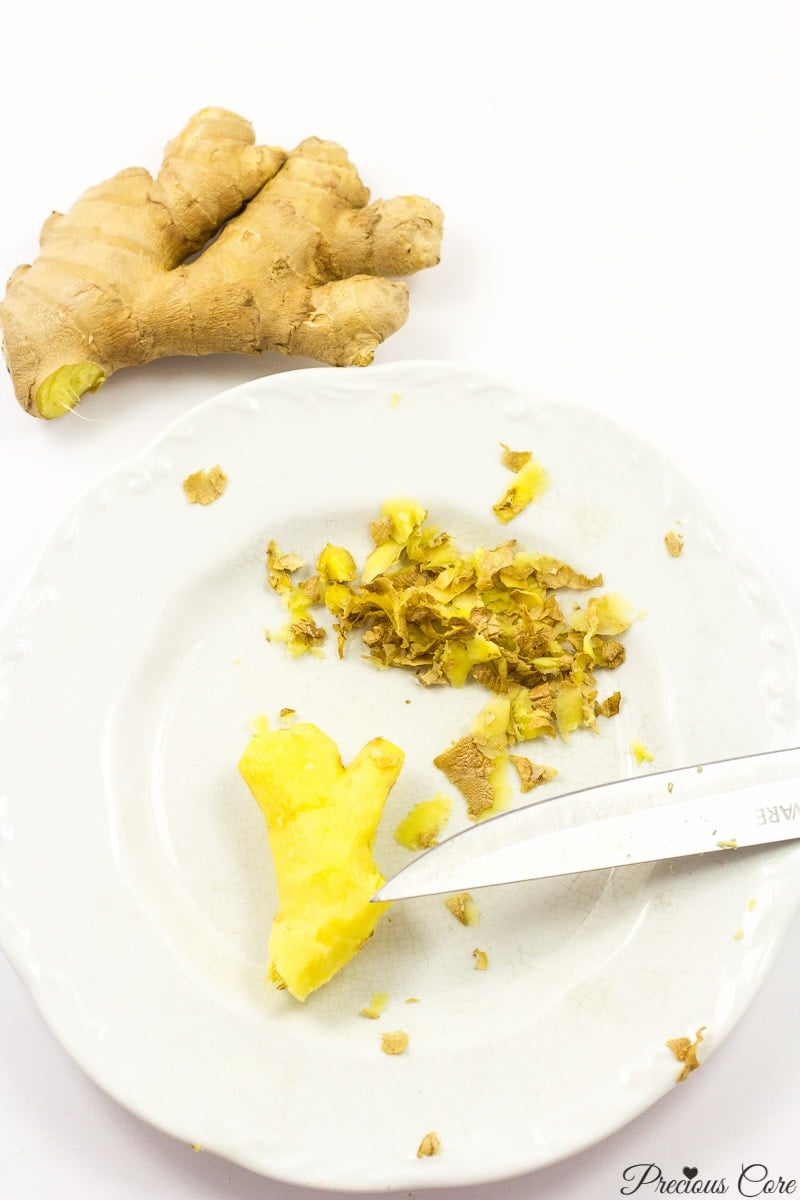 Then you cut it into thin slices and put into a pot with two cups of water.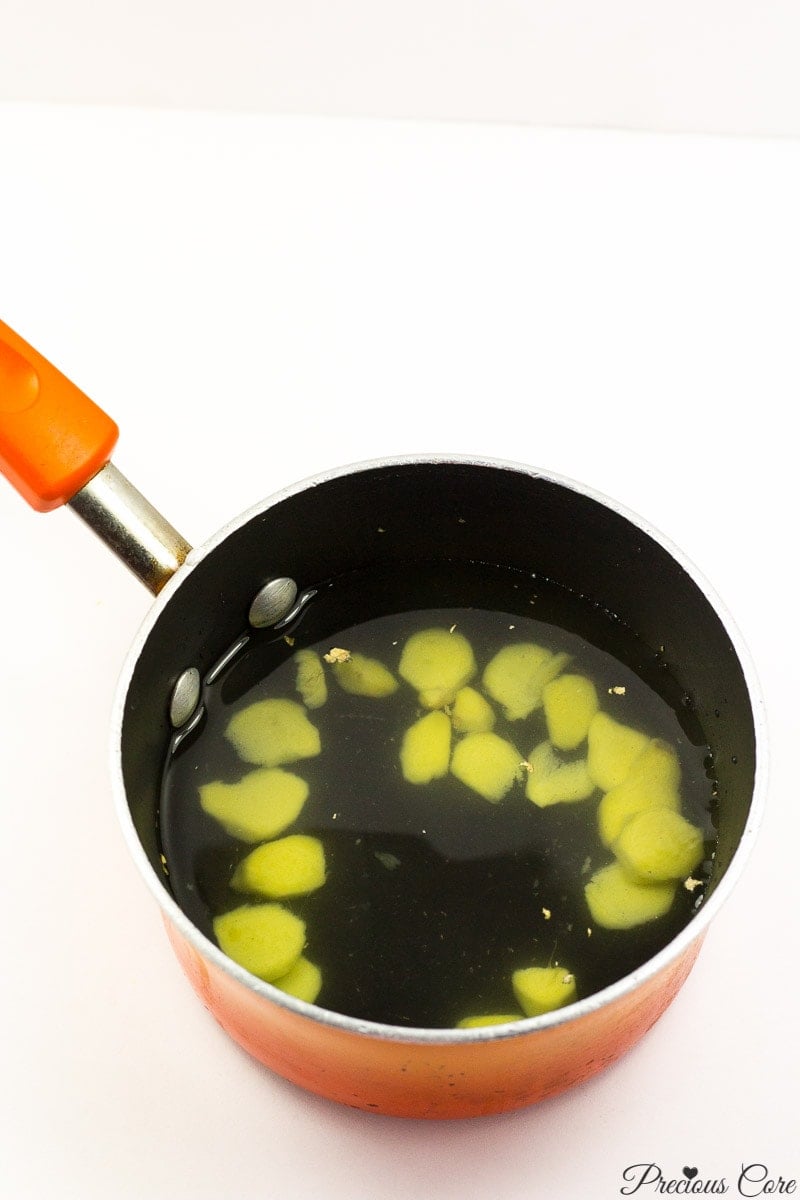 Let it boil for 5 minutes. Then you strain, sweeten and serve.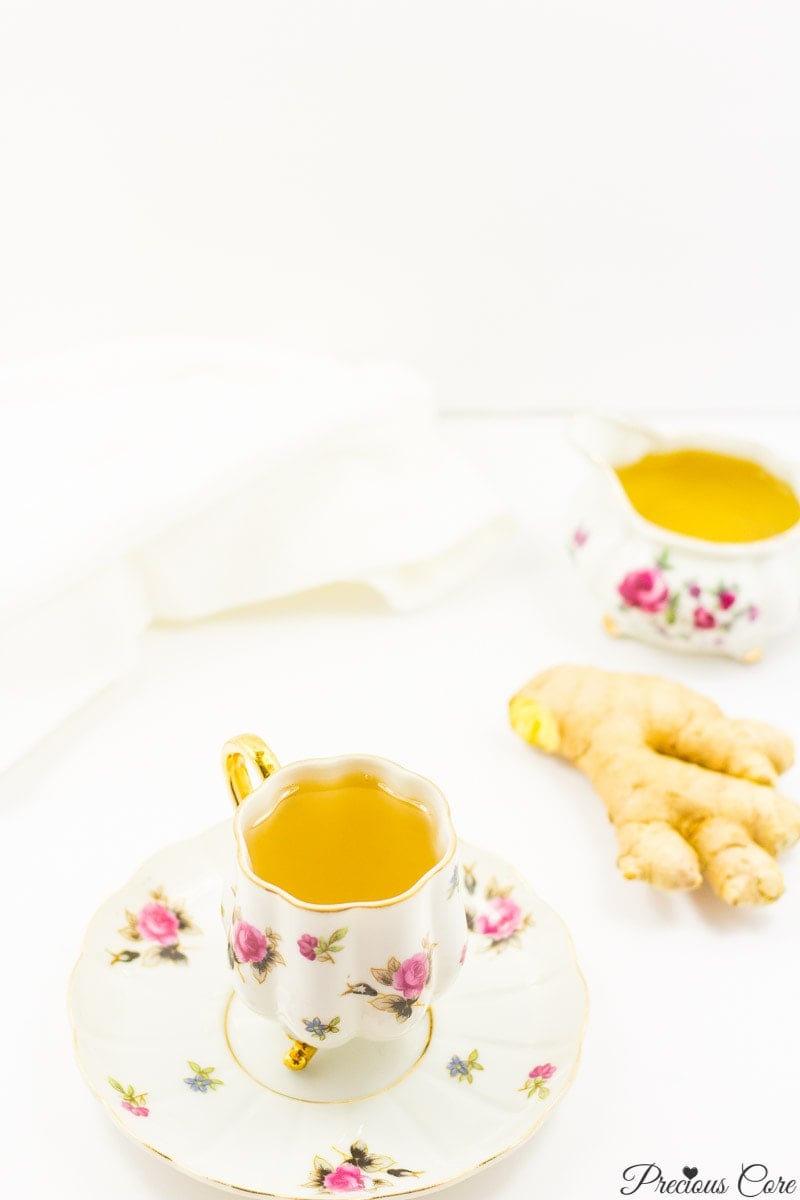 And that my friends, is all you need to do to have some ginger tea for your drinking pleasure. Double, triple or quadrupule the recipe as needed. You could enjoy this hot, warm or cold. For variation in flavor, boil it with some fresh lemon grass, mint leaves, or squeeze some lemon juice into it before drinking. Enjoy!
Ginger Drink
This ginger drink is sweet, slightly hot and so delicious. And oh, it is good for your brain and body.
Ingredients
1/2-1

inch

ginger root (peeled and cut into thin slices)

2

tablespoons

sugar or honey
Instructions
Place ginger and water in a pot. Bring to a boil and let it boil for 5 minutes. Strain and sweeten with sugar or honey then serve.
Recipe Notes
If you want your ginger drink cold, let it cool completely then place in the fridge to chill before drinking.
Use more or less ginger depending on how strong you want your tea to taste.
For added flavour, boil together with lemon grass or mint leaves. You could also squeeze in some fresh lemon juice right before drinking.