Here is how to make one of the easiest teas ever: Honey Lemon Tea. This hot beverage is soothing when you have a cold or a sore throat.
It tastes great too with the sweetness of the honey and the tang from the lemon!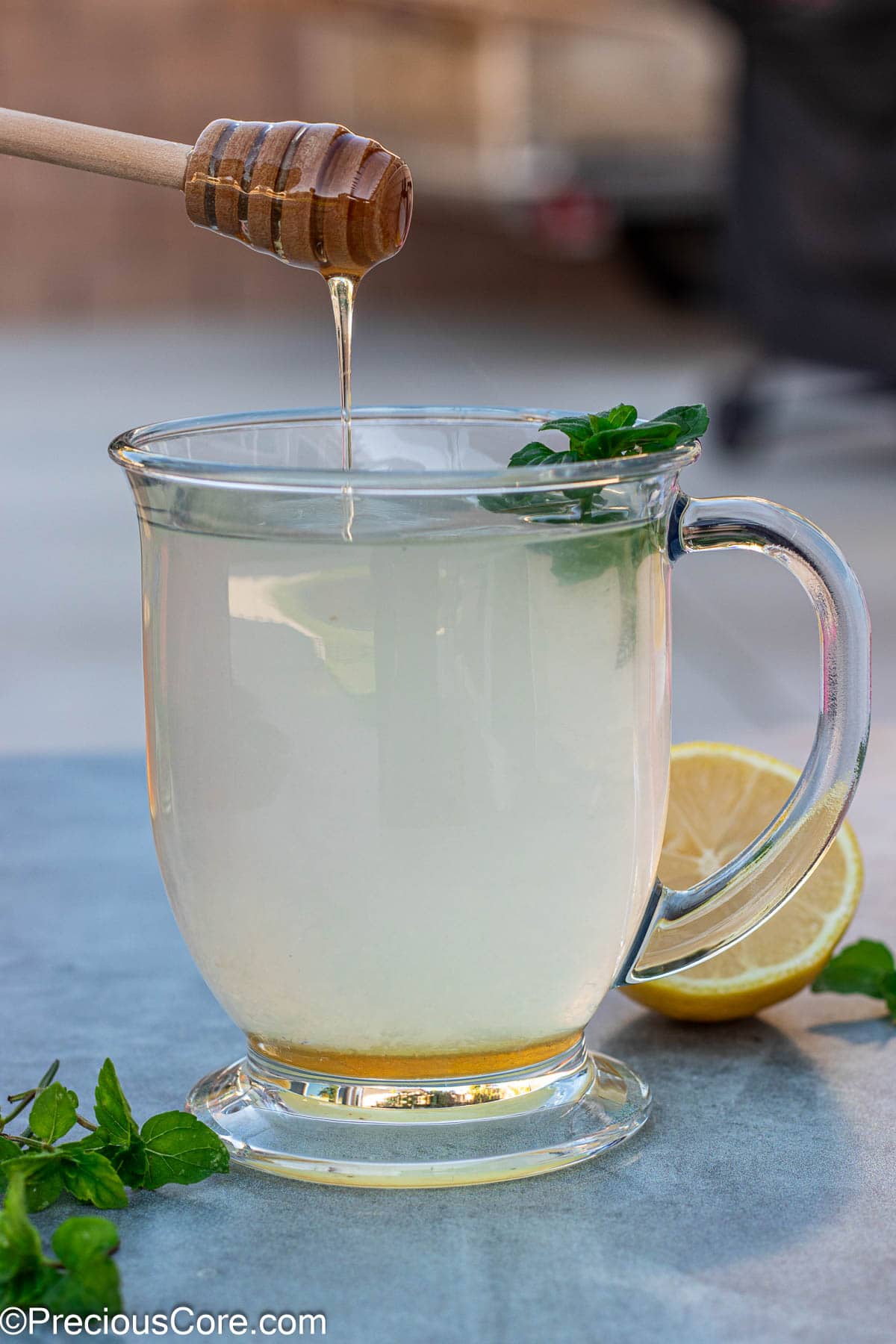 My girls and I are all feeling sick so I made some Honey Lemon Tea to soothe us. I love how this drink is greatly beneficial to the body and tastes great at the same time.
I am an avid tea drinker and this simple homemade tea has become one of my favorites lately. It is so easy to put together!
At this time of the year, you should be cozying up with hot drinks. Homemade hot beverages like Ginger Drink, Lemon Grass Tea, or Coconut Hot Chocolate are so easy to put together.
Drinking a hot drink is one of the best ways to make the best out of a cold season.
The Ingredients
With just hot water, lemon juice, and honey, you will get a soothing beverage to enjoy.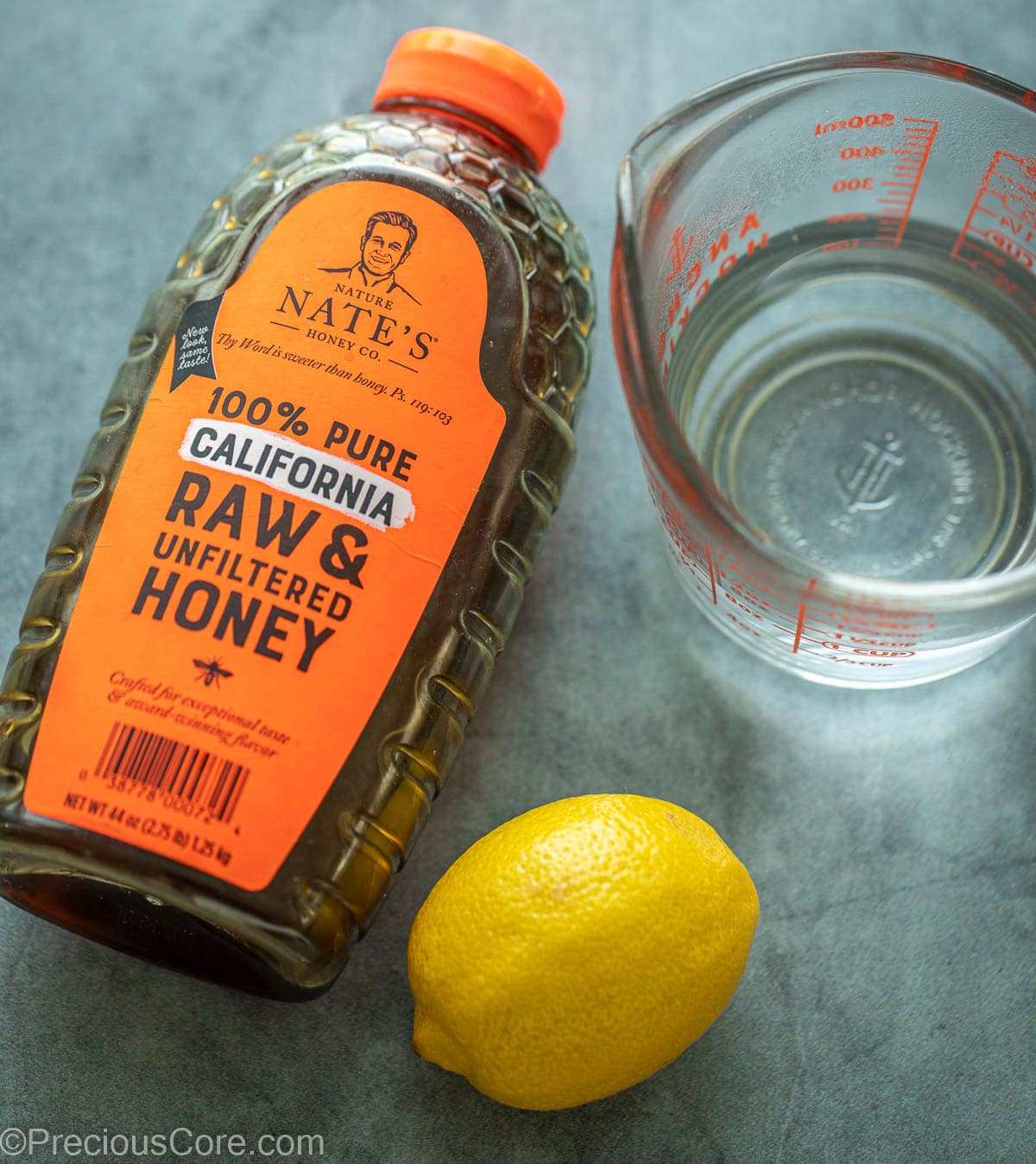 Hot or boiling water: Hot or boiling water helps the honey dissolve faster. I use my electric kettle to quickly boil the water.
Lemon juice: Freshly squeezed lemon juice is better for you. But you could use bottled lemon juice too. A lemon squeezer cup makes squeezing and measuring the lemon juice at the same time a breeze!
Honey: Honey adds sweetness, plus it has anti-bacterial properties. Always choose raw honey if you can. If you can find local raw honey, it's excellent for the benefits it has.
See the recipe card below with a detailed list of ingredients and instructions.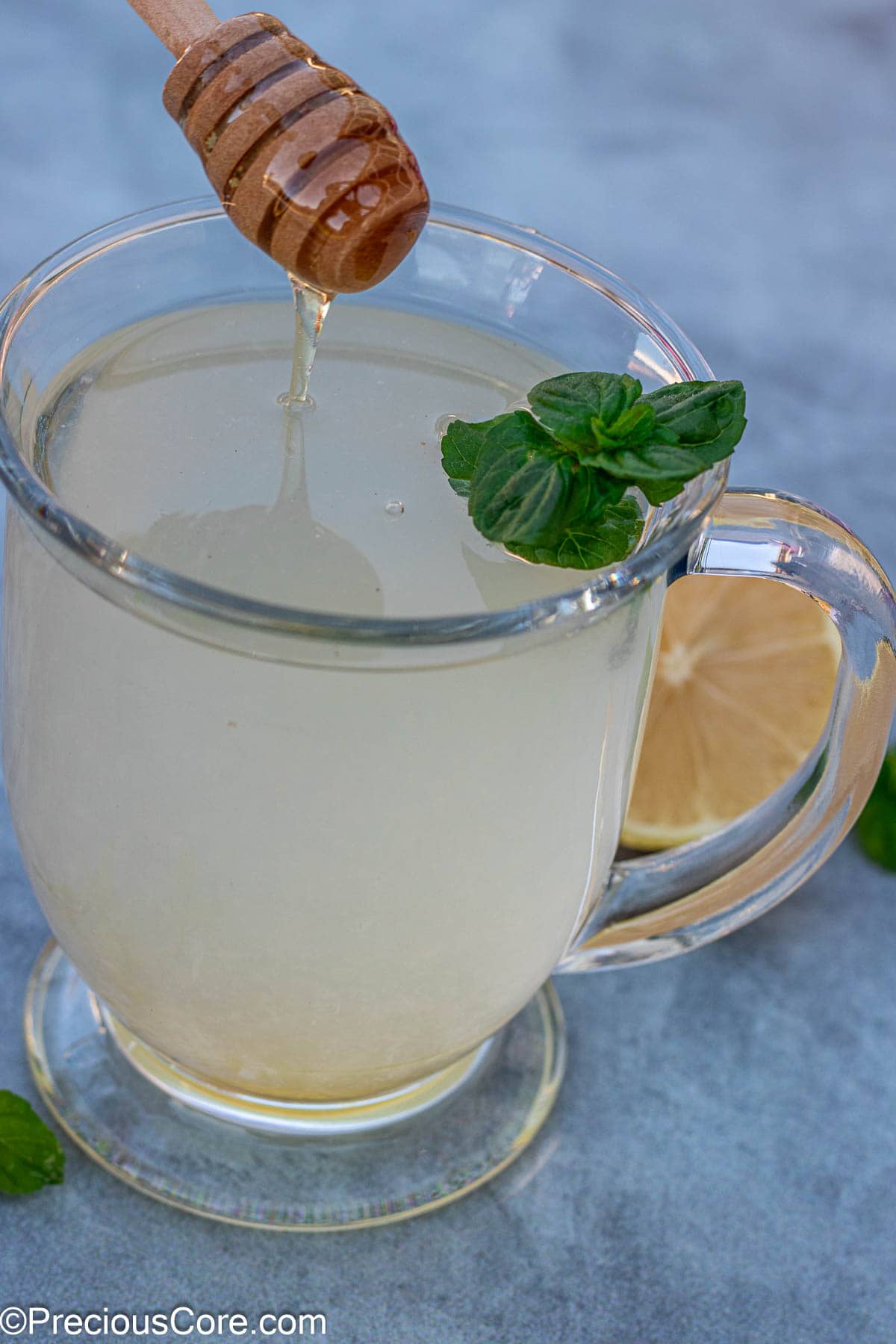 Optional Add-Ins For Honey Lemon Tea
Fresh Ginger – Peel and thinly slice some fresh ginger and add in.
Tea – First brew some green tea, chamomile tea, or any tea of choice then add the honey and lemon juice.
Mint – Add some mint leaves for flavor and as a garnish.
Also, check out my Ginger Tea recipe and my Pineapple Ginger Juice.
How To Make Honey Lemon Tea
This is one of the easiest recipes I have ever shared.
Squeeze and measure lemon juice.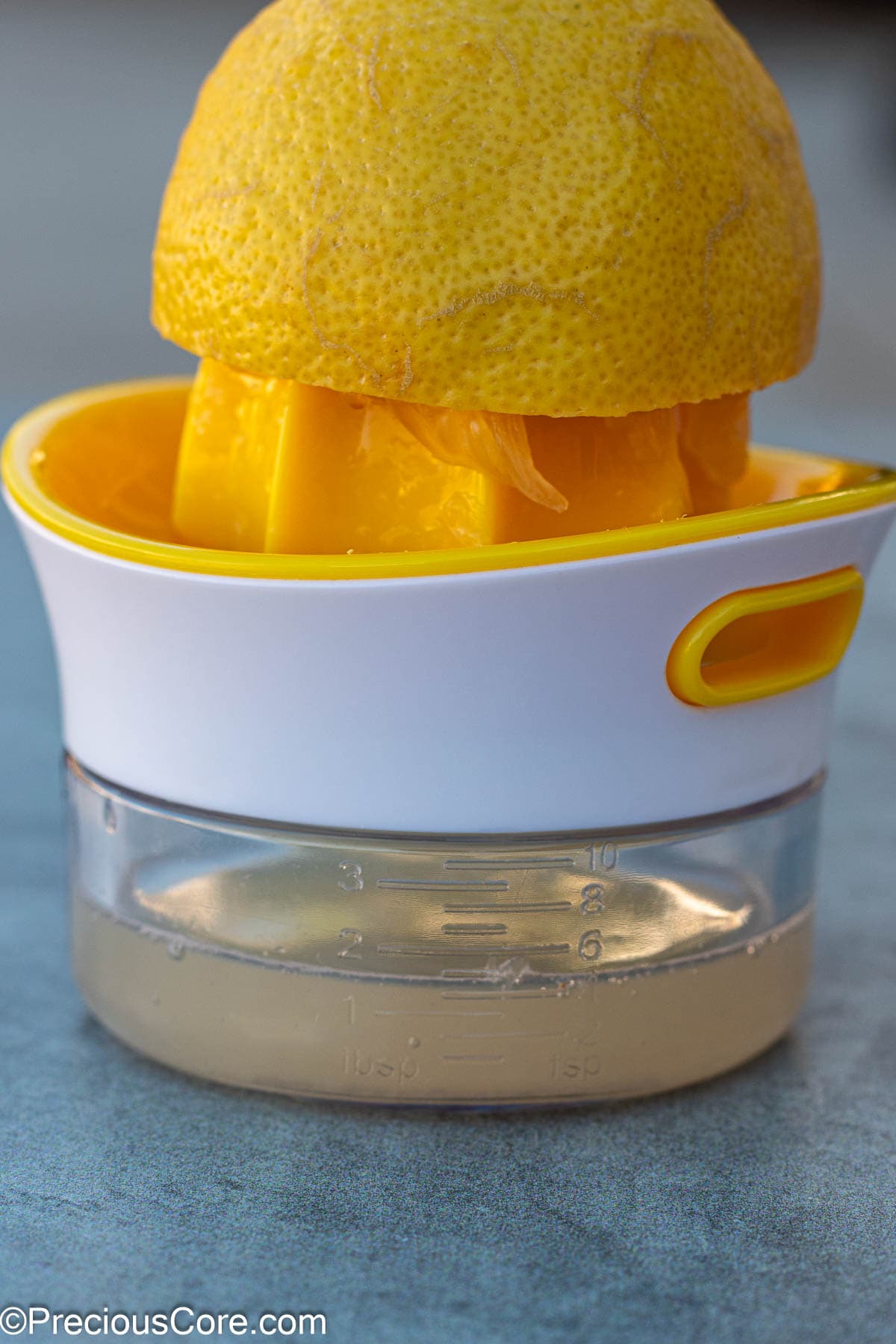 Heat up some water and add to a mug. Add the lemon juice to the hot water.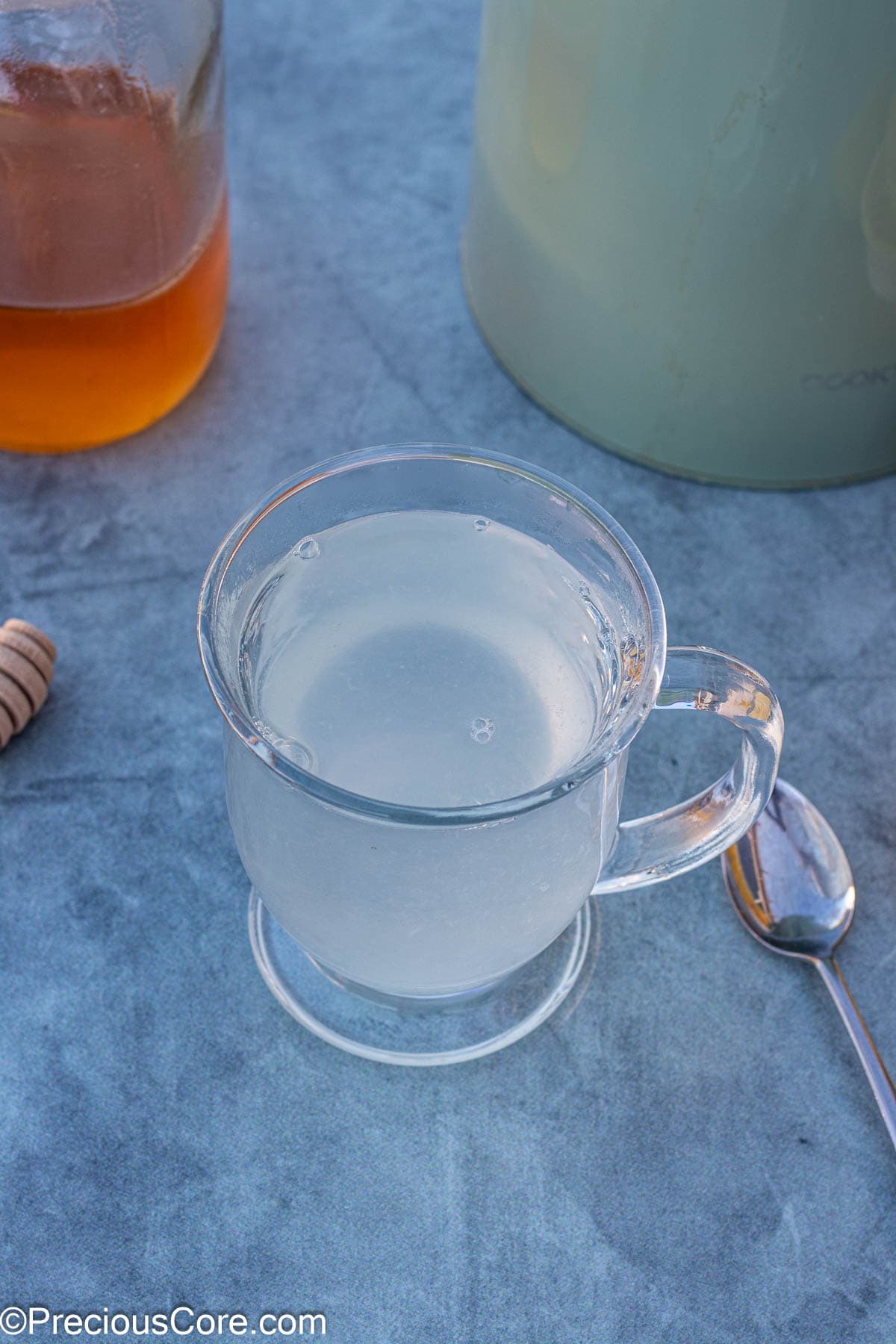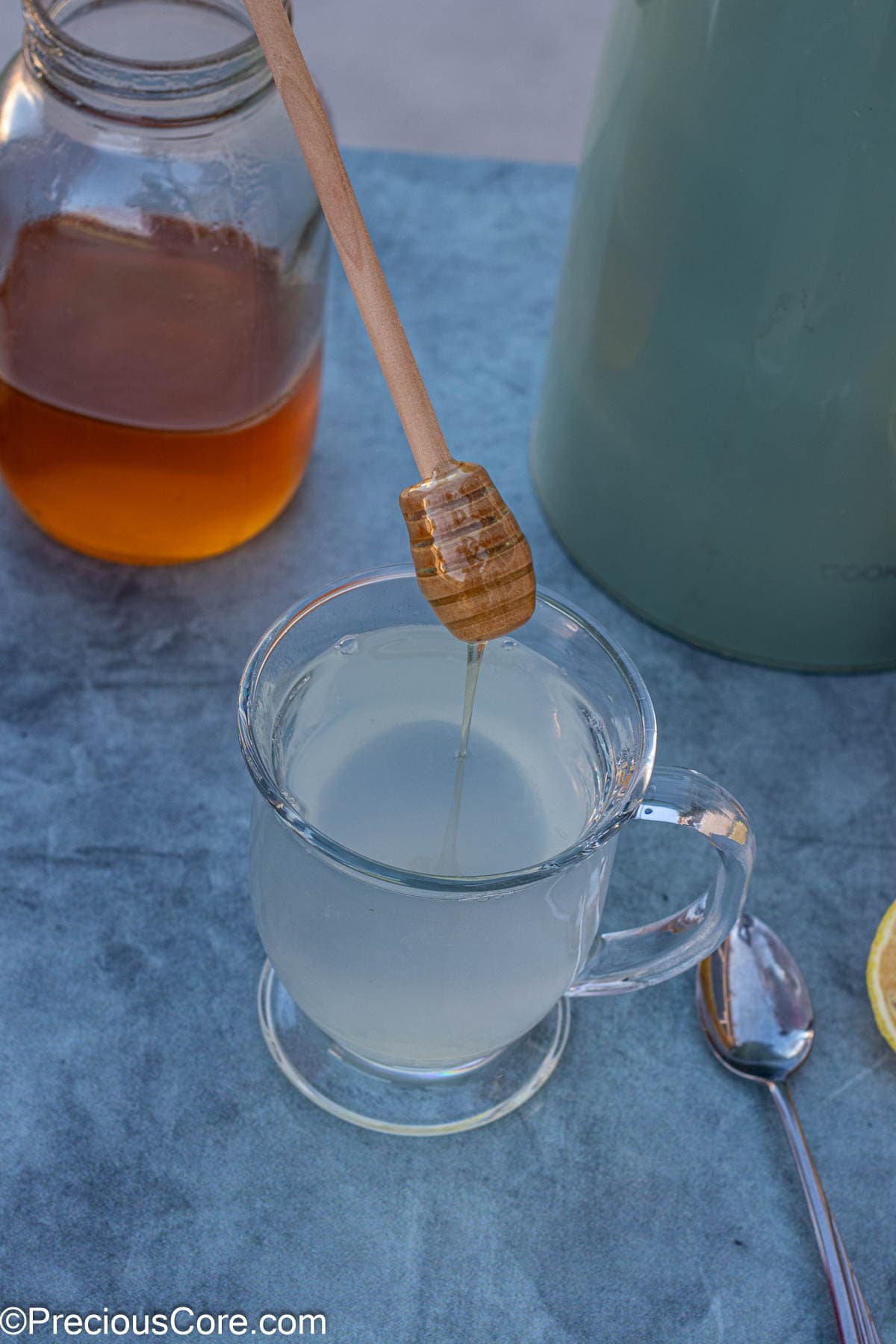 Stir and adjust the taste of the lemon tea. Enjoy it warm.
One important thing about this honey lemon tea is the recipe is just a guide. Adjust the tea to suit your taste buds.
Do you want more sweetness? Add more honey. Do you want more tang? Add more lemon juice.
Also, scale the recipe to suit your needs. I often have my oldest daughter make a big batch to serve all my girls.
Serving
Serve this lemon tea in the morning for breakfast, in the afternoon for afternoon tea, or as a nighttime tea for winding down. This tea pairs well with the following recipes:
Recipe FAQs
What is lemon tea with honey good for?
Lemon tea with honey is good for fighting the common cold and sore throats. It is also a delicious drink to enjoy in the colder months.
Is honey lemon tea good for your throat?
Yes, honey lemon tea is soothing to the throat.
What are the side effects of honey and lemon?
First, babies under one year old should not consume honey. Apart from that, lemon water should not be consumed over a long period of time as it contains high levels of citric acid that could be potentially damaging to the tooth's enamel. After consuming lemon tea, it is advisable to rinse your mouth with water to reduce its effect on your teeth.
Similar Recipes
If you love this honey lemon tea you're likely to love these other homemade teas and drinks: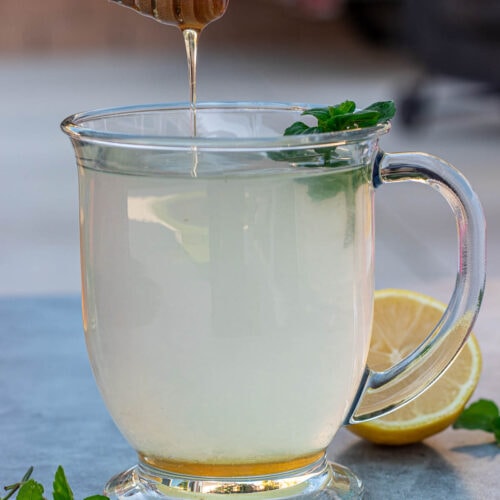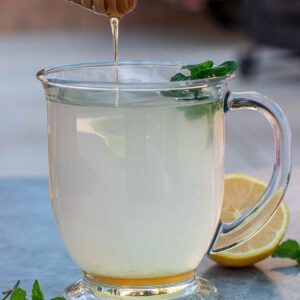 Honey Lemon Tea
Here is how to make one of the easiest teas ever: Honey Lemon Tea. This beverage is soothing when you have a cold or a sore throat. It tastes great too! Feel free to scale the recipe to make more tea if desired.
Ingredients
8

oz

water

1

Tablespoon

lemon juice

freshly squeezed preferably

1

Tablespoon

honey
Instructions
In a small pan, a kettle, or an electric kettle, bring 8- 12 ounces ( 1 – 1½ cups) of water to a boil.

Pour the water into a mug. Add the lemon juice and honey. Stir and taste. Adjust sweetness according to taste. If you need more sweetness, add more honey. If you need more tang, add more lemon juice. It's your tea. Make it taste the way you like.

Serve warm as it or paired with cookies, cake, etc.
Notes
Optional add-ins: You could also slice some ginger and add to the tea. The sliced ginger will add ginger flavor without being overwhelming. You could steep some bags of green tea in the boiling water before adding the lemon juice and honey. Caution: Do not serve honey to babies under 1 year old.
Nutrition
Calories:
67
kcal
|
Carbohydrates:
18
g
|
Protein:
0.1
g
|
Fat:
0.04
g
|
Saturated Fat:
0.01
g
|
Sodium:
12
mg
|
Potassium:
26
mg
|
Fiber:
0.1
g
|
Sugar:
18
g
|
Vitamin A:
1
IU
|
Vitamin C:
6
mg
|
Calcium:
9
mg
|
Iron:
0.1
mg