PINEAPPLE GINGER JUICE
Published May 30, 2018
Updated Mar 10, 2019
This Pineapple Ginger Juice is so refreshing! The fruity taste of the pineapple plus the spicy flavor of the ginger are such a wonderful combo. Also, there is some freshly squeezed lemon juice added which makes it a very nutrient-dense drink. In fact, I feel like drinking the whole batch myself each time I make this Pineapple Ginger Juice. So good!
You guys, summer is here! The hot temperature outside these days is not my friend at all! So, one of my solutions is to make all the fruit juices, smoothies, ice creams and popsicles I can make. At least, that makes the heat enjoyable because we can always cool off with some homemade refreshing treats!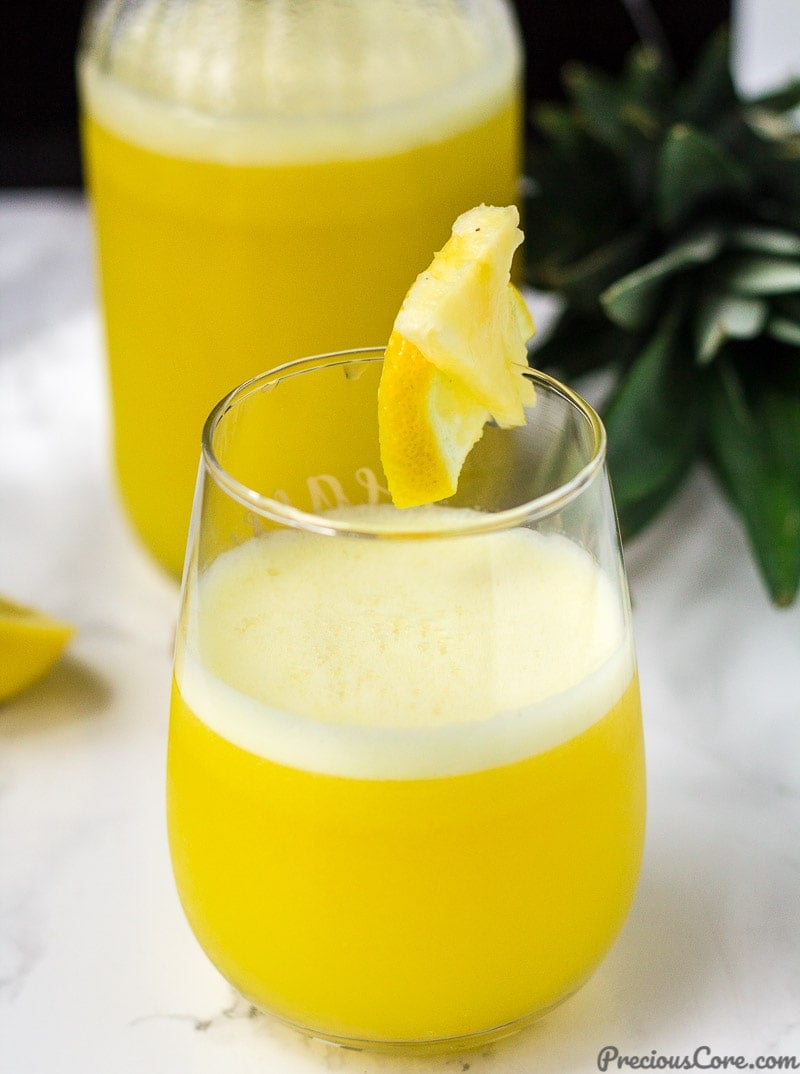 One of such treats is this Pineapple Ginger Juice. When I saw pineapples for the cheap at the grocery store the other day, I knew I had to buy many. So I grabbed some and stuffed into my cart. Oh, how I like el cheapo!
Especially at this time of the year, lots of fruits in this part of the world are so cheap! It's my favorite time to go grocery shopping because I buy allllll the fruits I can.
So back to this Pineapple Ginger Juice. The main ingredients here are pineapple and ginger as the name of the juice stipulates. But I also add a lemon for a nice citrusy kick and more nutrition!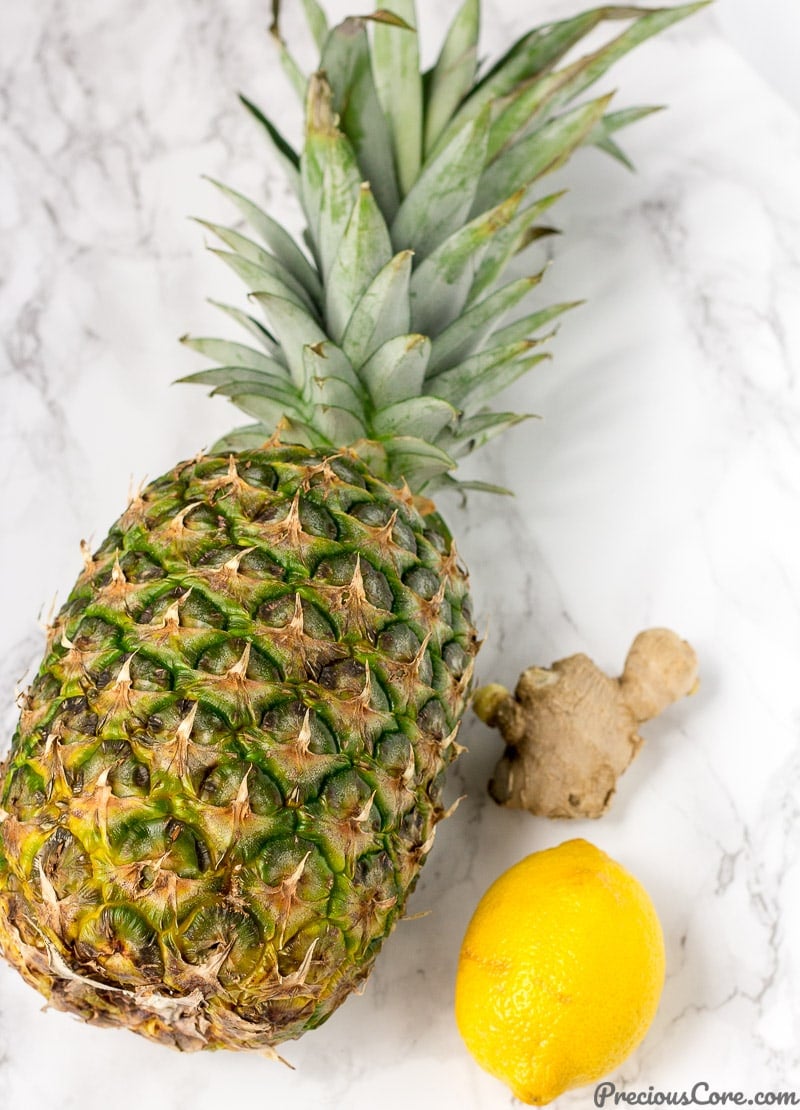 Talking about nutrition, it is loaded with vitamins C, B1, B6, and lots of other nutrients! It is also contains lots of weight-loss properties if you are into that sort of thing.
So to make your Pineapple Ginger Juice or Pineapple Ginger-Lemon Juice, all you need to do is place your pineapple in a blender (after peeling and chopping, of course). Then you add the ginger, squeeze in lemon juice and you blend away.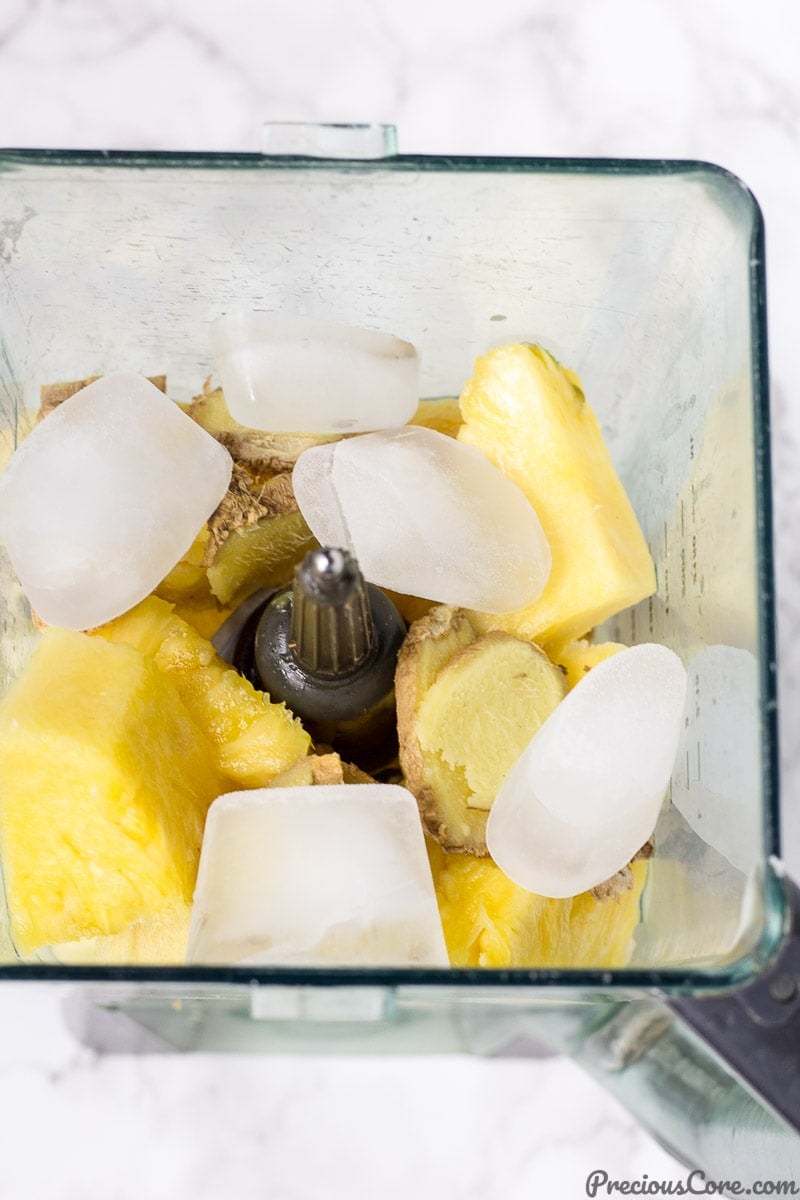 Once you blend, pass it through a fine sieve to remove the extra pulp. I really like this sieve which I got from Amazon. You can also pass it through a cheesecloth to remove the pulp. Also, if you have a juicer, you can use it to juice the pineapple and ginger then squeeze in the lemon juice. I have a juicer but I often skip using it because that stuff is a lot of work to clean. I will only use it when I have TONS of juice to make.
Once you make your Pineapple Ginger Juice it's time for you to enjoy! I love having a cup or two right away! This juice is so tasty. Fruity and sweet and there's no added sugar! It is also good for serving with meals like breakfast.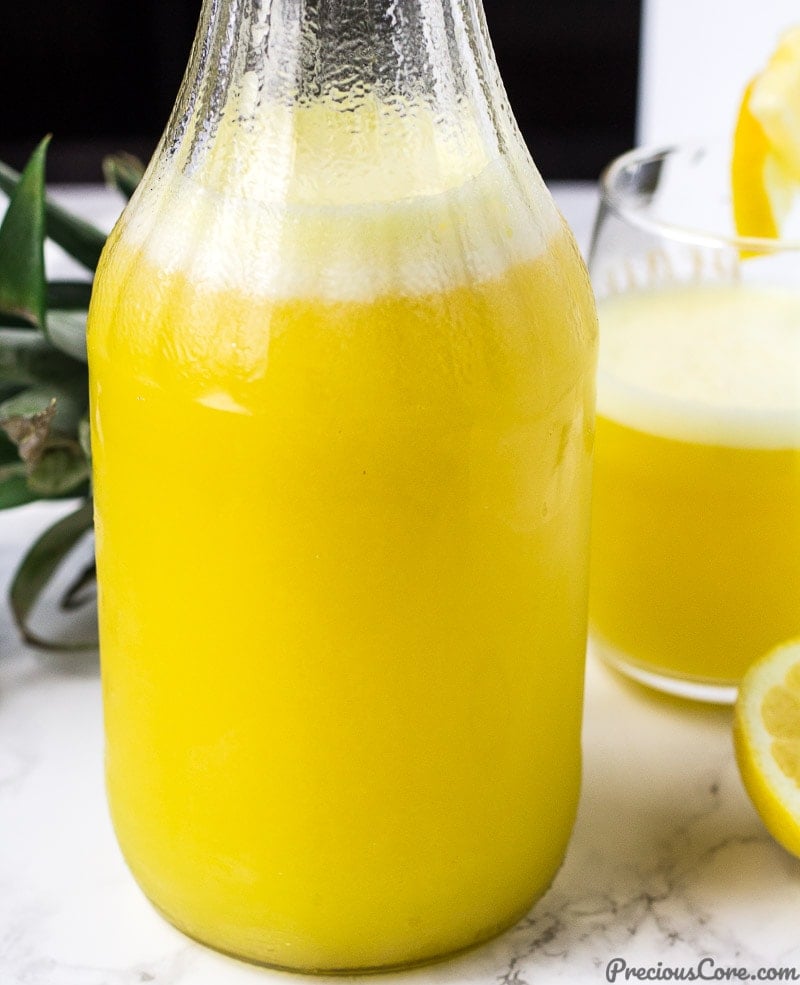 This Pineapple Ginger Juice is enjoyed in a number of West African countries like Cameroon, Nigeria. Jamaicans enjoy it too as well. But no matter where you are from, you should try it. It is a real treat!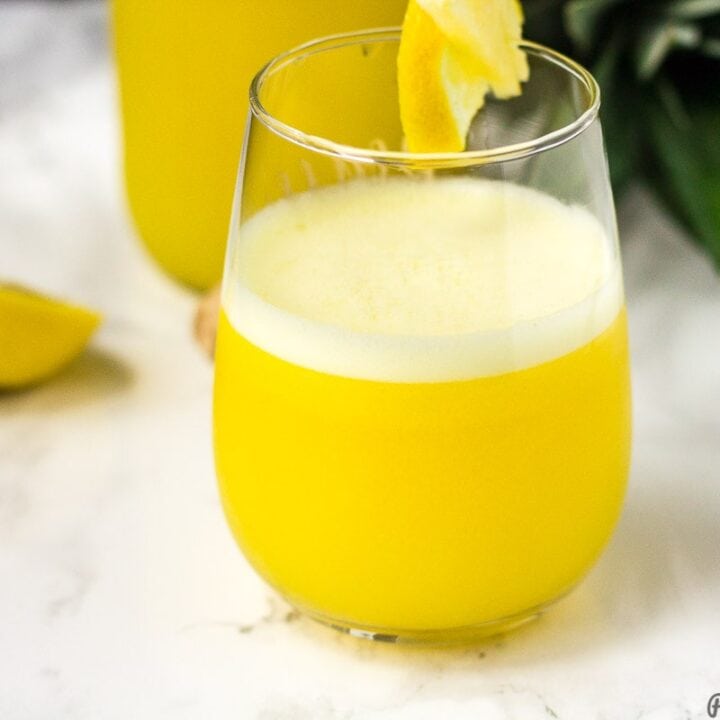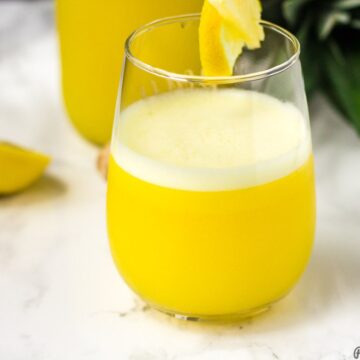 Pineapple Ginger Juice
This Pineapple Ginger Juice is such a refreshing drink, especially during hot summer months. The fruitiness of the pineapple and the spicy gingery taste are such a winning combo. To make things even better, there's some lemon juice inside. AND the juice is ready in no time. Quench your thirst with this one.
Ingredients
4

cups

pineapple chunks

from one medium pineapple

2

inches

ginger root

washed and roughly chopped

1

lemon

1

cup

ice

2

cups

water
Instructions
Place the pineapple chunks and ginger into a blender. Squeeze in the lemon juice over a sieve or use a lemon squeezer to catch the seeds.

Add two cups of water and 1 cup of ice. Blend into a smooth paste. Pass through a fine sieve or cheesecloth to remove the pulp. Serve immediately.
Notes
1. This juice will keep in the fridge for 1-2 days but it is best to enjoy is as soon as you make it.
2. Adjust the quantity of water added according to your taste. If it is too thick, add more water. If you like it less light and very thick, add less water.
3. I made this Pineapple Ginger Juice sugar-free but if you want some more sweetness, feel free to add sugar, honey or any sweetener you like.
Nutrition
Calories:
145
kcal
|
Carbohydrates:
37
g
|
Protein:
1
g
|
Fat:
0.3
g
|
Saturated Fat:
0.03
g
|
Polyunsaturated Fat:
0.1
g
|
Monounsaturated Fat:
0.04
g
|
Sodium:
12
mg
|
Potassium:
308
mg
|
Fiber:
3
g
|
Sugar:
34
g
|
Vitamin A:
118
IU
|
Vitamin C:
22
mg
|
Calcium:
44
mg
|
Iron:
1
mg
Pin this recipe:

"… all things are possible to him that believeth." Mark 9:23, KJV