3 KILLER SMOOTHIE RECIPES
Published Jan 27, 2017
Updated Feb 07, 2017
Welcome to smoothie day! I am so excited because although I have made a fair share of smoothies in my life, I have never shared a smoothie recipe on the blog. So I decided to share three killer smoothie recipes in one day because I am awesome like that. Making a smoothie is one of the finest ways to get nutrition into your body. You dump ingredients into a blender, pulse and you have nourishment waiting to be drunk. Now let me show you three of such nourishing combos so you can dump, drink and blend forever and ever. Amen.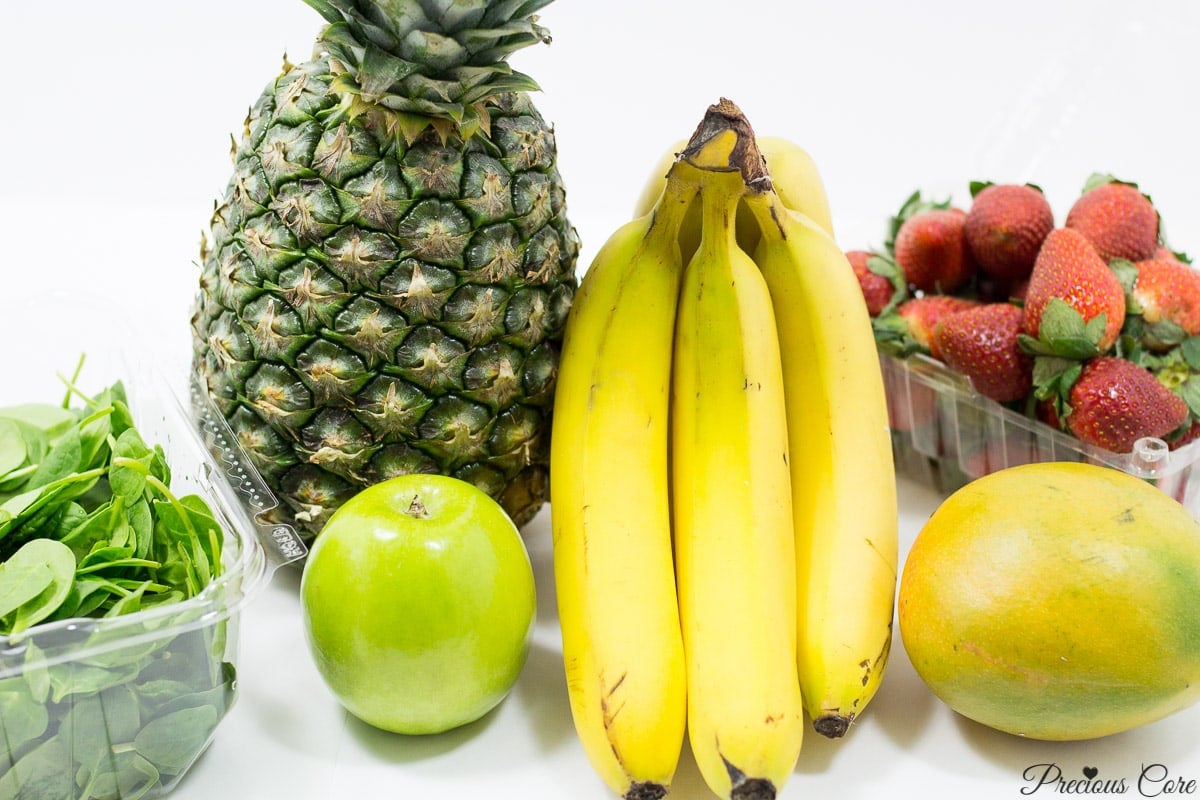 From fresh pineapples to fresh leafy greens, each of these smoothies has its own uniqueness. But all three recipes have certain characteristics in common. They are:
Fun and easy to make
Fruity
Fresh
Packed with nutrition
Pleasing to the eyes (colourful)
Kind to the waistline (yess!)
And they are 'must-makes!'
Now before we get to the recipes, let's do a little smoothie 101.
Point one: You need a good blender. As I recently decluttered my kitchen, one kitchen appliance I realised I can never do away with is my blender. Never ever! I use a Ninja
. I have used this blender for about 3 years and its performance is top-notch. It blends everything from seeds to fruits beautifully. I have also heard good things about the Blendtec
 or Vitamix
. However, they are quite pricey compared to the Ninja
.
Point two: It is great to have at least one frozen fruit in the smoothie. It thickens it up and that makes for a great texture. However, sometimes I just go with fresh fruit. BUT when made with only frozen fruit, it is so smooth and creamy.
Point three: You could prepackage your smoothie in Ziploc bags and freeze for easy grabbing to blend.
Point four: You could add crushed ice to make your smoothie frothy.
Point five: If you are using a leafy vegetable in a smoothie, blend it with the liquid (milk, water or juice), before adding the other ingredients. This helps to ensure that your smoothie blends properly and there are no leafy chunks.
Point six: You always need a form of liquid to add to your fruits/vegetables before blending your smoothie. It could be milk, water or juice. AND if you choose to use milk, it could be coconut milk, almond milk, regular cow milk or any other milk that rocks your boat. Suit yourself, baby!
Now on to our 3 awesome smoothies.
Pineapple-Mango Smoothie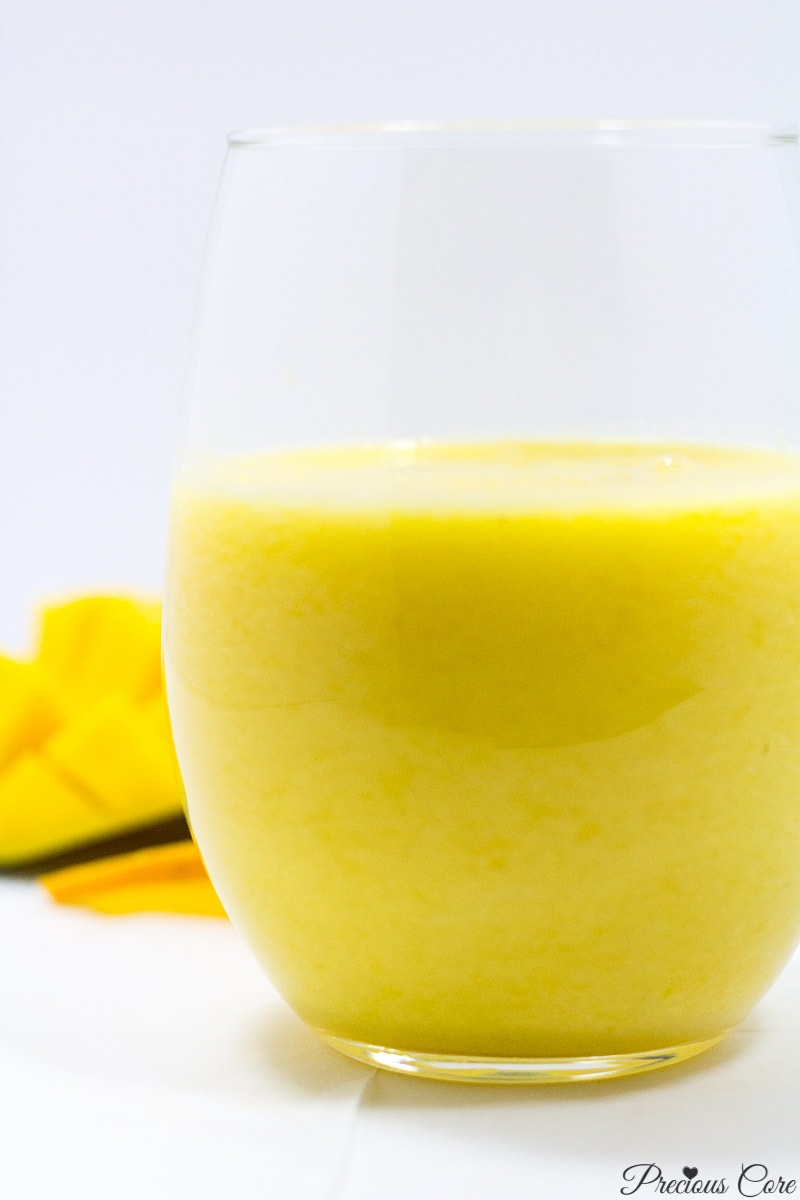 I call this yellow goodness because I can't get over the rich yellow colour.
This combo totally tastes like the tropics. You need three ingredients: Mango, pineapple and 100% orange juice.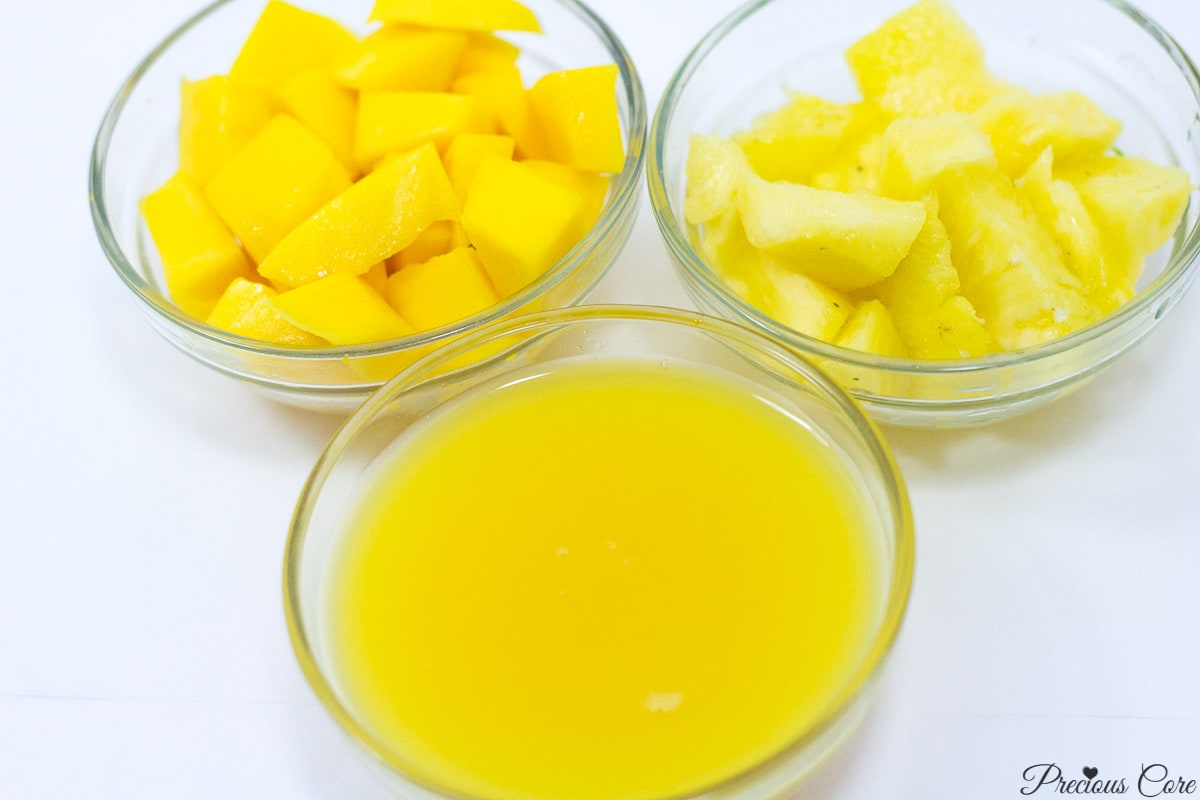 Green Smoothie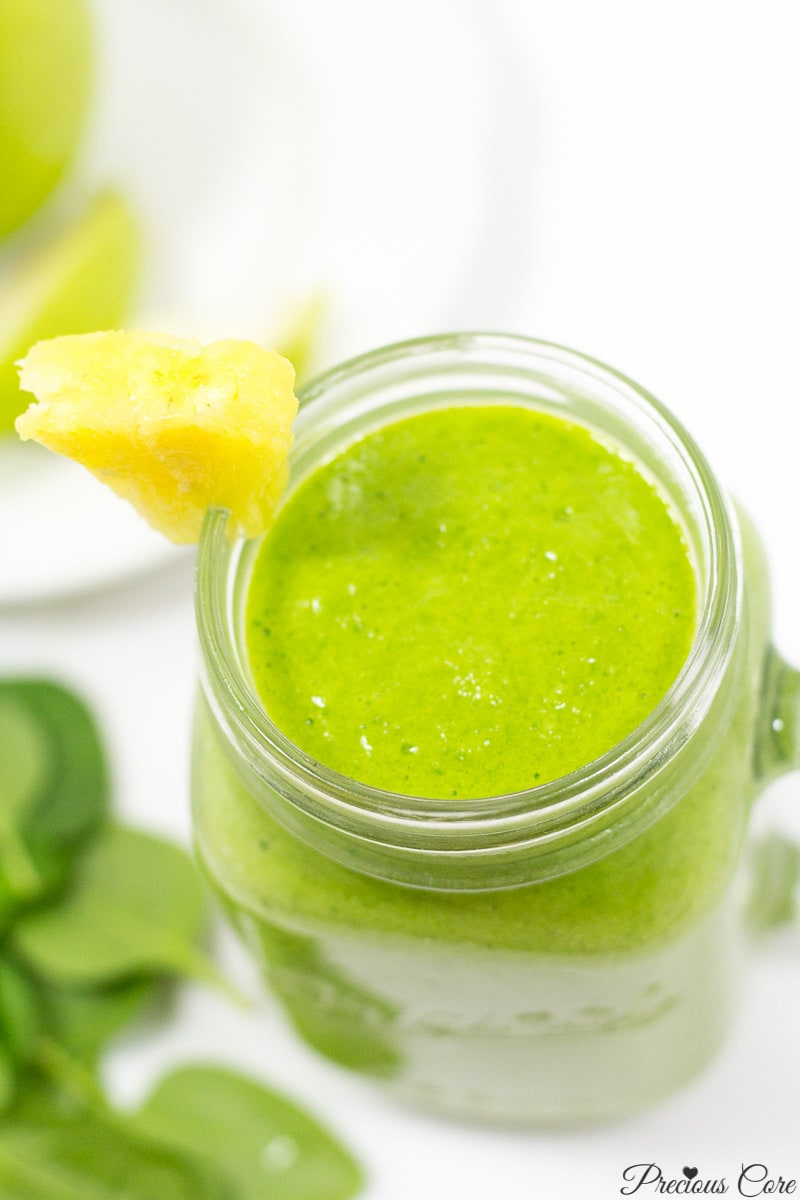 What says natural and healthy more than green?? This is green goodness at its finest. It is SWEET, thanks to the addition of fruits. It contains a generous amount of spinach, some green apples and pineapple.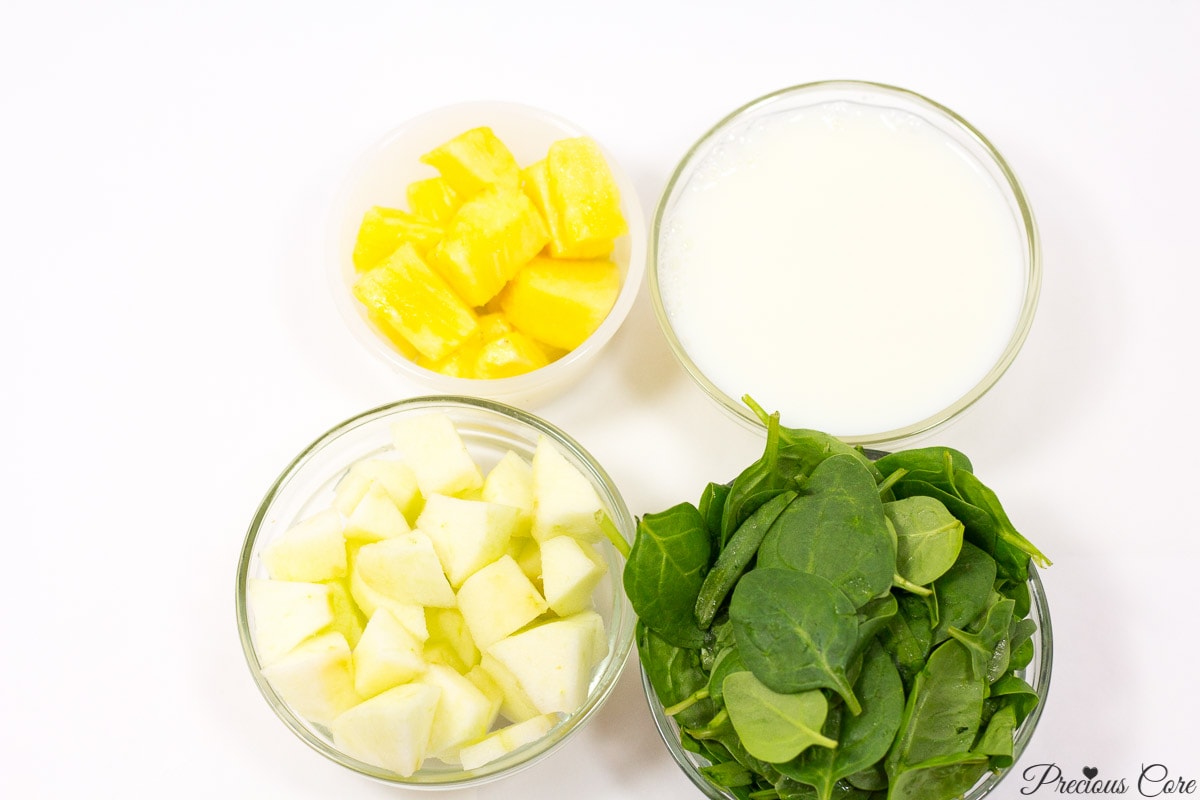 With this one, you could totally use any green leafy vegetable of your choice.
Strawberry-Banana Smoothie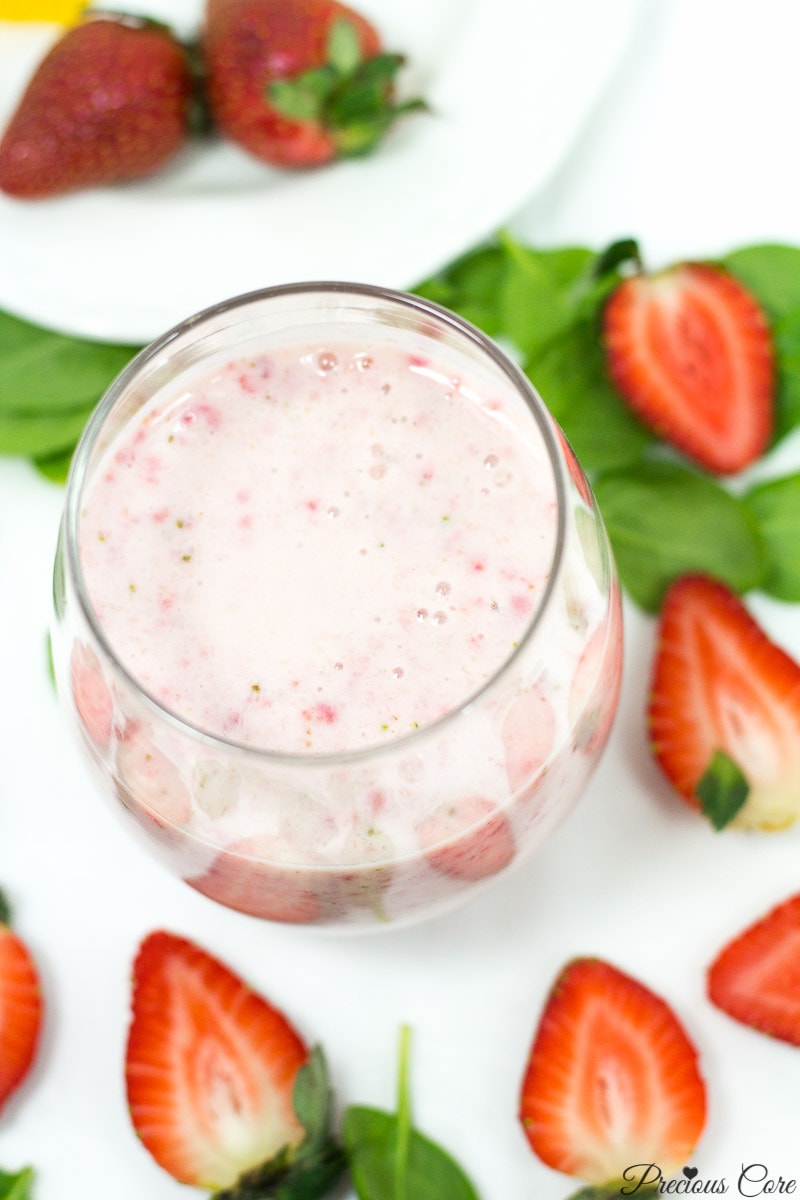 You could have this strawberry banana smoothie recipe for breakfast. It is so filling! My kids love it and I consider that a parenting victory.
These are the actors involved: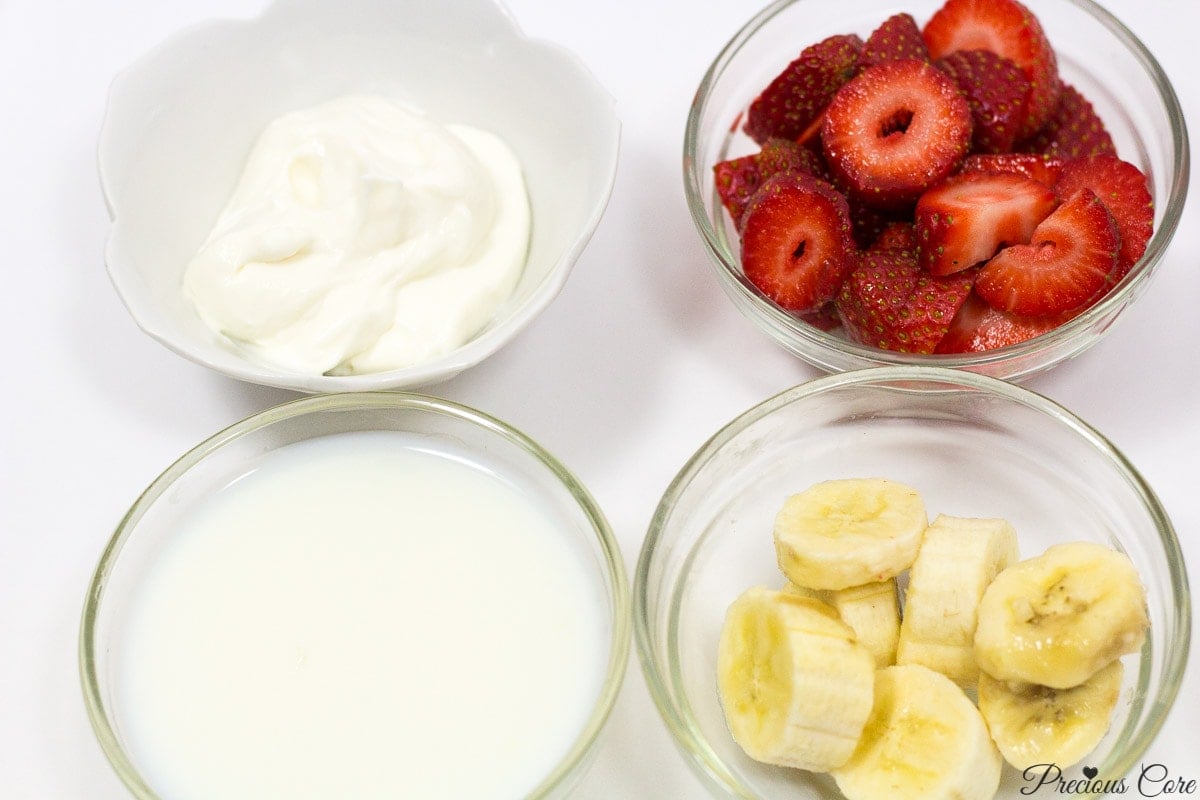 Not pictured is vanilla extract. I always add a little to boost the flavour of this smoothie.
And here are our three friends in all their glory!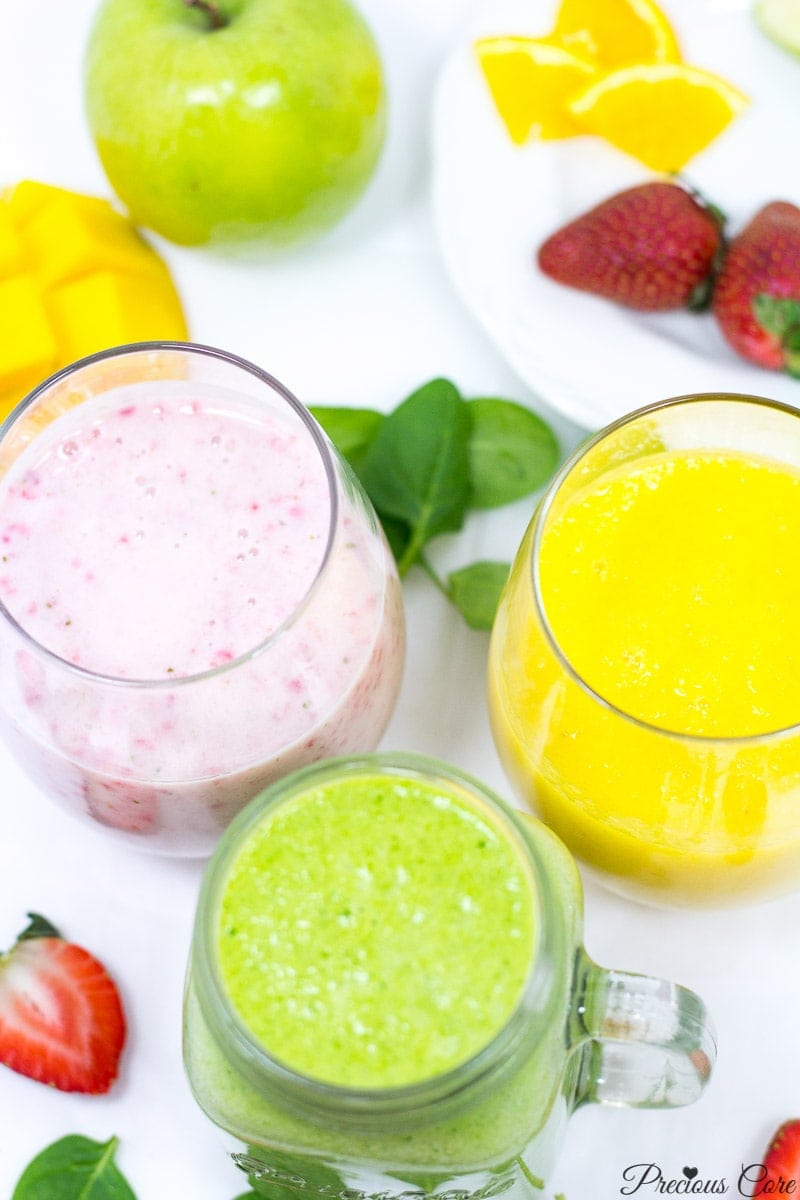 Imagine a cup of this every morning!
Of course, there is the printable below with all needed details! Go ye forth and make smoothies!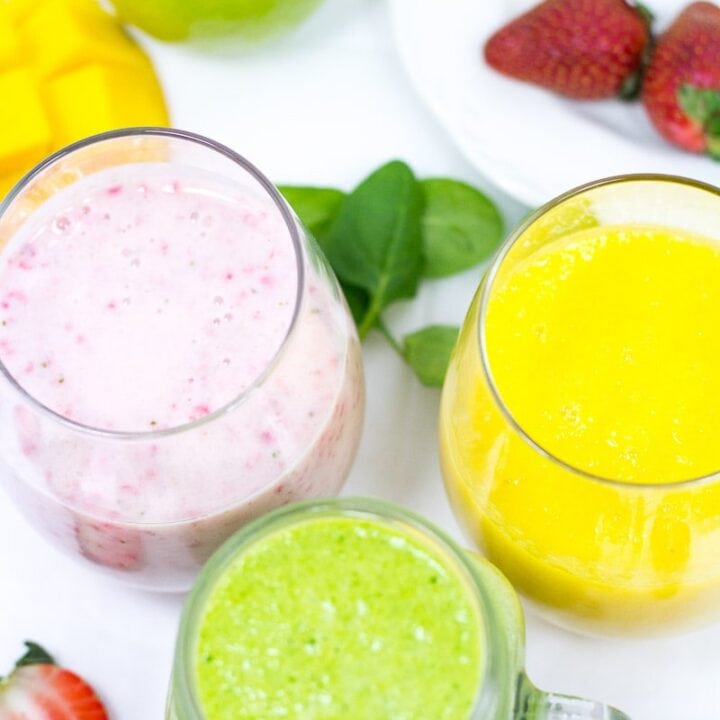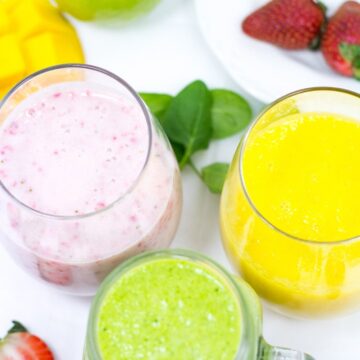 3 Smoothie Options
3 killer smoothie recipes that I absolutely love.
Ingredients
For Mango-Pineapple Smoothie
1

cup

fresh or frozen chopped pineapple (175g)

1

cup

fresh or frozen chopped mango (175g)

1

cup

100% orange juice (250ml)
For Strawberry-Banana Smoothie
1

cup

fresh chopped strawberries (about 8 strawberries)

1/2

peeled and sliced banana (fresh or frozen)

1

cup

milk of choice (I use fat-free milk)

1/2

cup

yogurt of choice (I use Greek vanilla yogurt)

1

teaspoon

vanilla extract

6

cubes

crushed ice (optional)
For Green Smoothie
1

cup

milk of choice (coconut or almond milk are great choices)

1

cup

tightly packed fresh spinach (or any leafy green of choice)

1

cup

green apple (cored, peeled and chopped)

1/2

cup

chopped pineapple (fresh or frozen)
Instructions
For Strawberry-Banana and Pineapple-Mango Smoothie
Put all ingredients into a blender and blend until smooth.

Serve immediately, garnished with more fruit if desired.
For Green Smoothie
Put leaves and milk in blender and blend until smooth.

Add in the other ingredients and blend until smooth.
Notes
If smoothie is too thick, add more liquid (milk, juice or water). If it is too thin, add more fruit or ice.
Smoothies can keep for up to 24 hours in the refrigerator. However, note that some might separate or the texture might change after being kept. 
Green smoothies are best consumed immediately after blending.
Nutrition is for pineapple smoothie.
Nutrition
Calories:
293
kcal
|
Carbohydrates:
72
g
|
Protein:
4
g
|
Fat:
1
g
|
Saturated Fat:
0.2
g
|
Polyunsaturated Fat:
0.3
g
|
Monounsaturated Fat:
0.3
g
|
Sodium:
6
mg
|
Potassium:
953
mg
|
Fiber:
5
g
|
Sugar:
60
g
|
Vitamin A:
2377
IU
|
Vitamin C:
263
mg
|
Calcium:
67
mg
|
Iron:
1
mg
*This post contains affiliate links.
If you make a recipe, please tag me in a photo on Instagram @preciouscore. I'll love to see!