COCONUT HOT CHOCOLATE (HEALTHY!)
Baby it's cold outside! It's freezing here and one of my favourite things to do is drink hot chocolate and cuddle up on the couch like the ajebutter that I am. Raise your hands if you are a hot chocolate lover. That chocolatey liquid is one of my guilty pleasures. But it has given me a situation with my blouses. As in I look pregnant when I'm not. So I had to find a way to enjoy hot chocolate without all the sugar and calories. That led to the birth of this coconut hot chocolate recipe, which is healthy and absolutely creamy and delicious. So creamy that you will think it is decadent but it isn't!
For this recipe, I am collaborating with one of my newest friends, Hadiza of hadizafrench.com. That means there's another hot chocolate recipe on her blog which you should totally check out.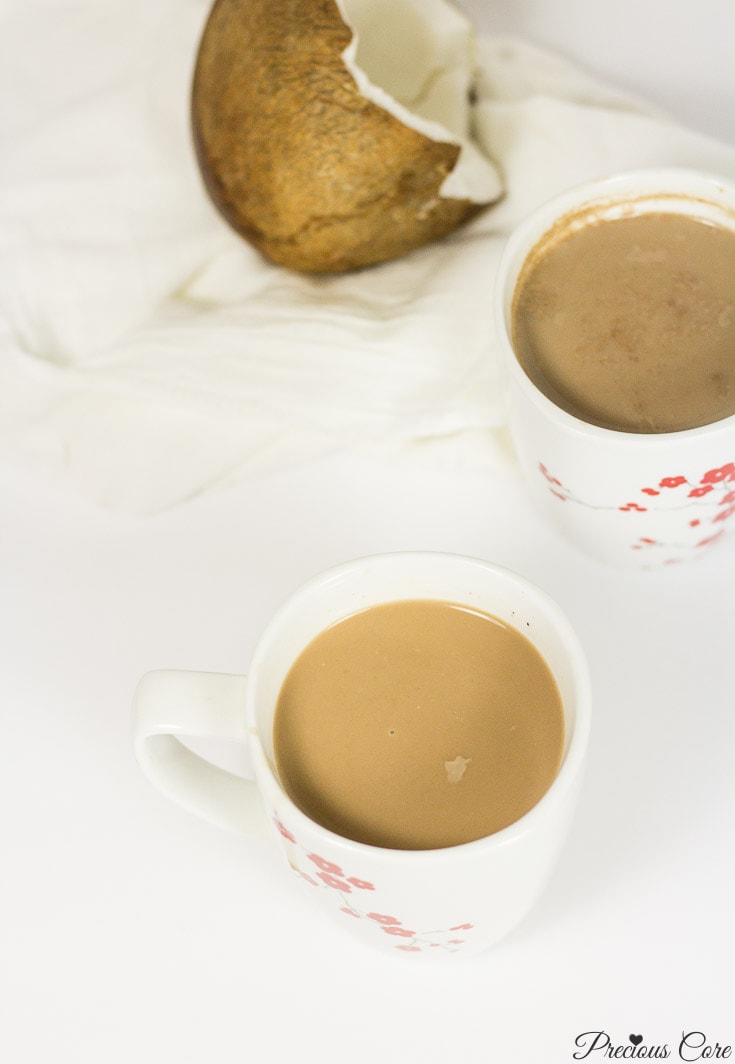 When I say coconut is epic, it's because of things like this. This drink is so rich in taste – think about that coconut-chocolate melange. If you have never had coconut and chocolate in one bite, I kind of feel sorry for you. That combo is the truth!
In this hot chocolate, the coconut milk is very thick and creamy that you actually feel like you are drinking hot chocolate with heavy cream, full fat milk, and condensed milk. But in fact, you are treating yourself to a good healthy cup of minimal ingredients and many nutrients. What's not to love?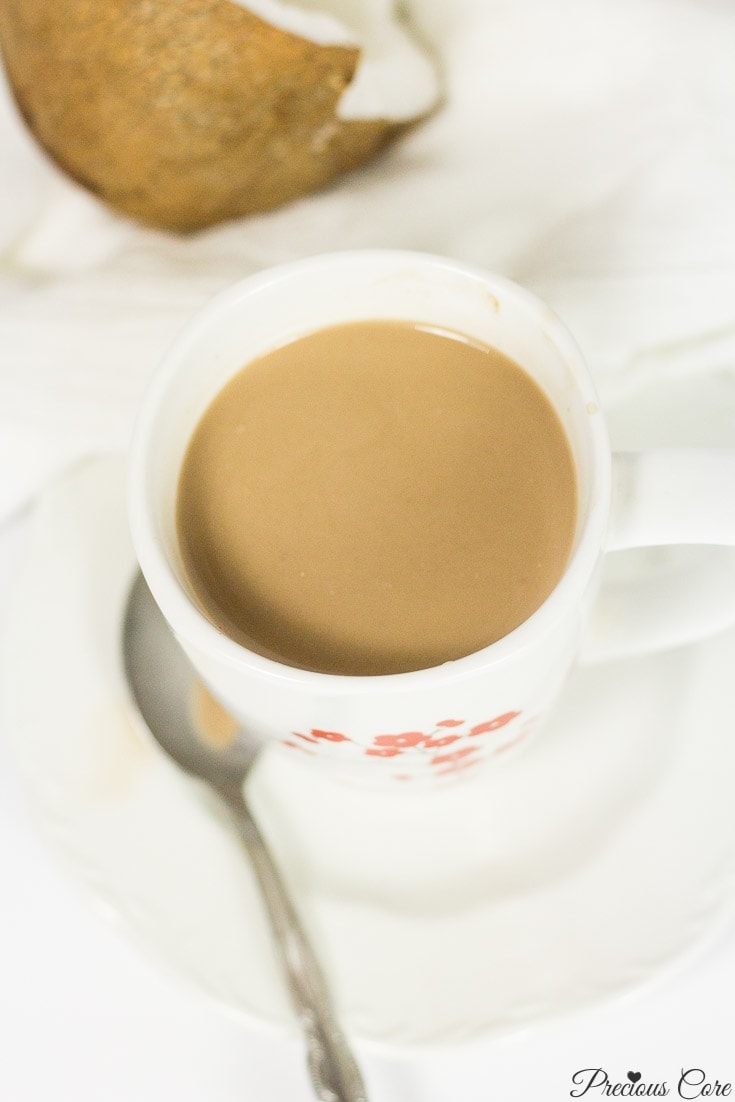 It begins with four awesome ingredients. Coconut milk, unsweetened cocoa powder, honey and vanilla extract.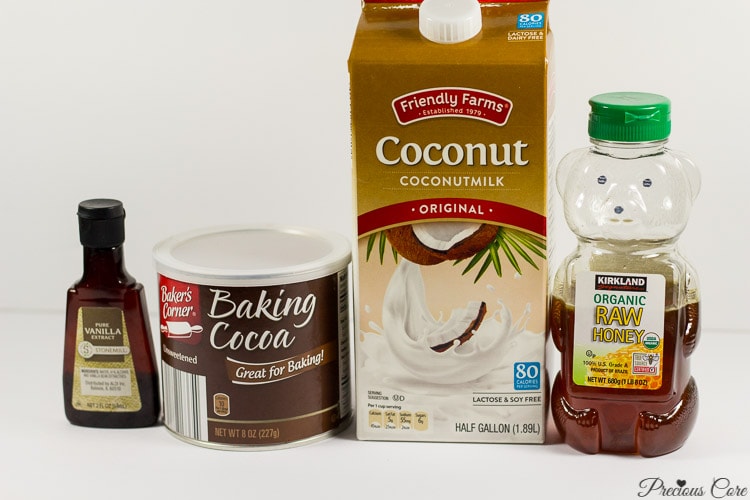 Apart from honey, you could also sweeten with raw sugar, coconut sugar or real maple syrup.
Making the hot chocolate is quite easy. First, put a teaspoon of cocoa powder into your mug.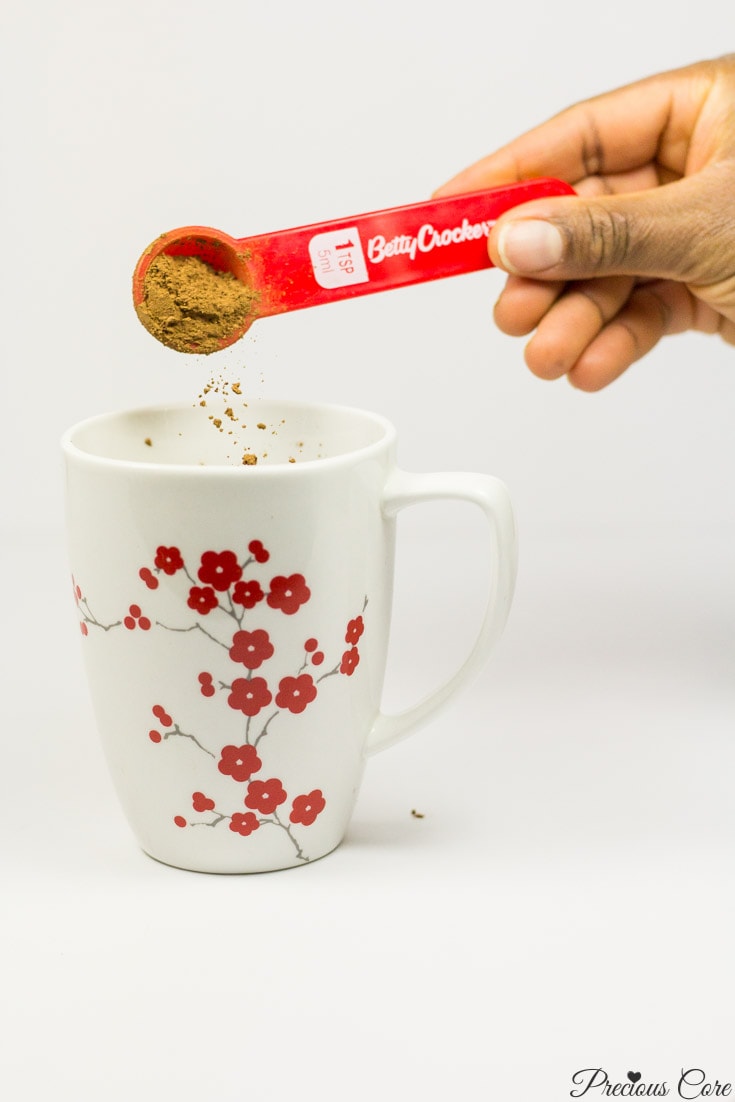 Can we talk about that shot for a minute? I love the action of the cocoa powder. I love photography!
Add in some honey. Oh honey!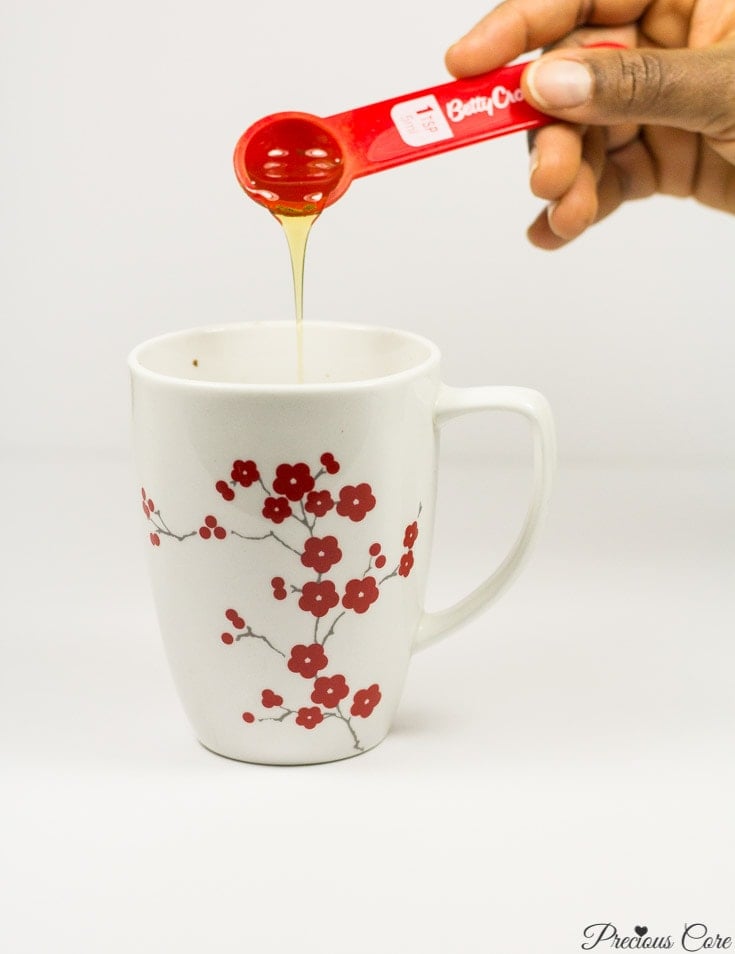 Next, add two tablespoons of water and heat for thirty seconds in a microwave. Then mix together the cocoa powder, honey, and water until smooth. (A little note: If you don't have a microwave, check the printable recipe below for directions on how to make the drink on your stove top).
Now add in the coconut milk. I love this thing called coconut milk.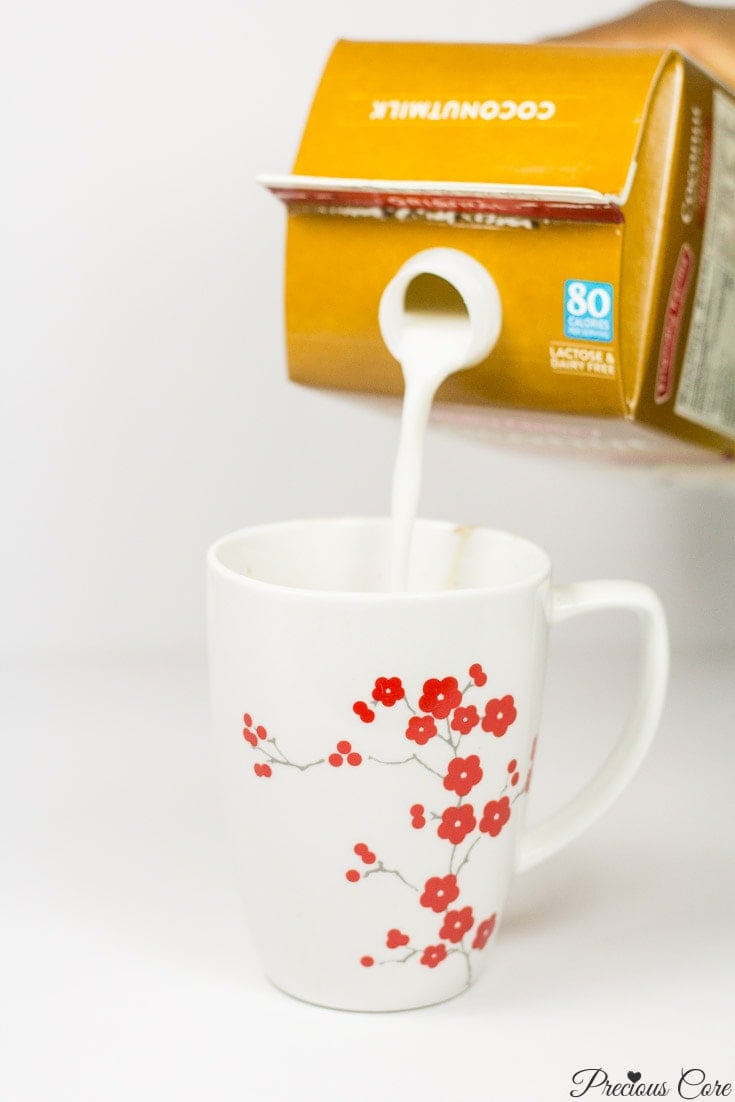 And some drops of vanilla extract.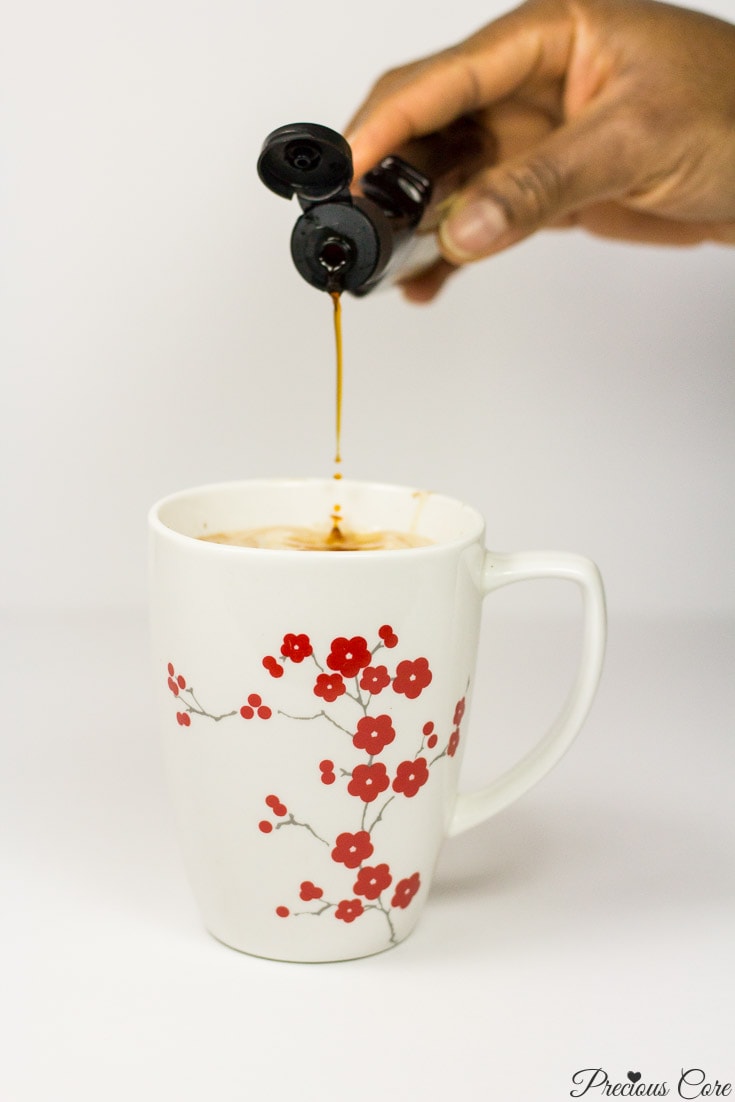 Heat that up for 1-2 minutes then stir and enjoy ya life.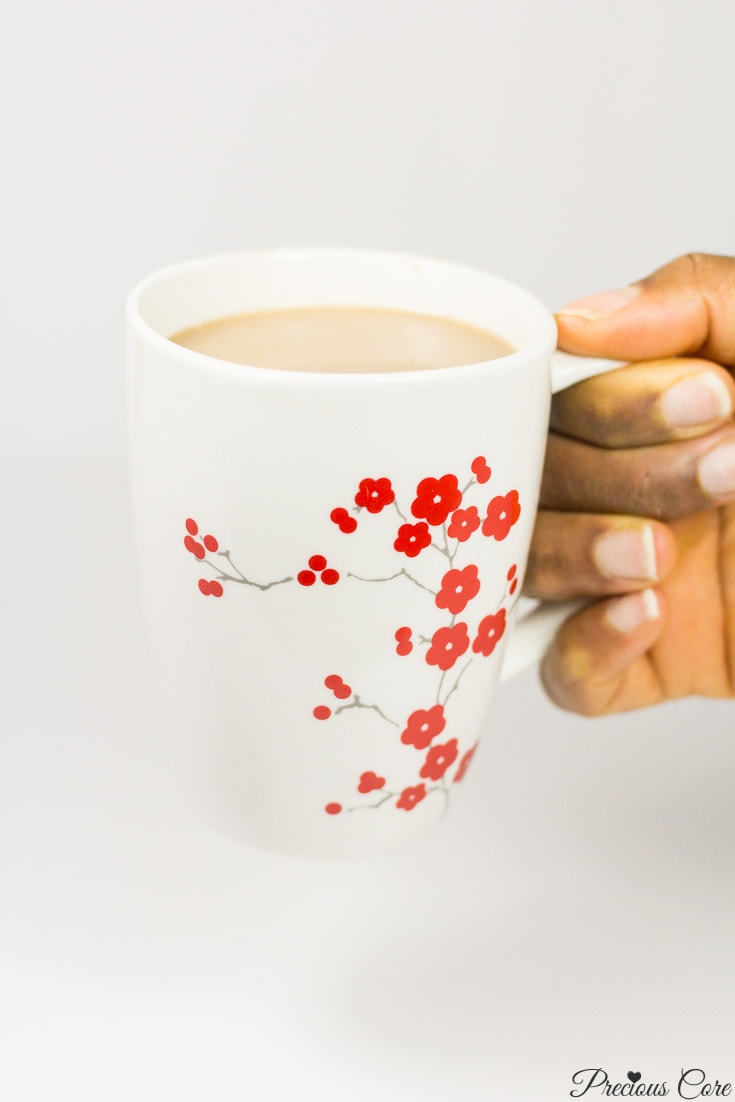 According to my oldest daughter; "this is the best hot chocolate I ever had." She enjoyed it more than she enjoys the hot chocolate made with the pre-packaged mix. Win!
Don't forget to check out Hadiza's hot chocolate recipe. Click here to read it.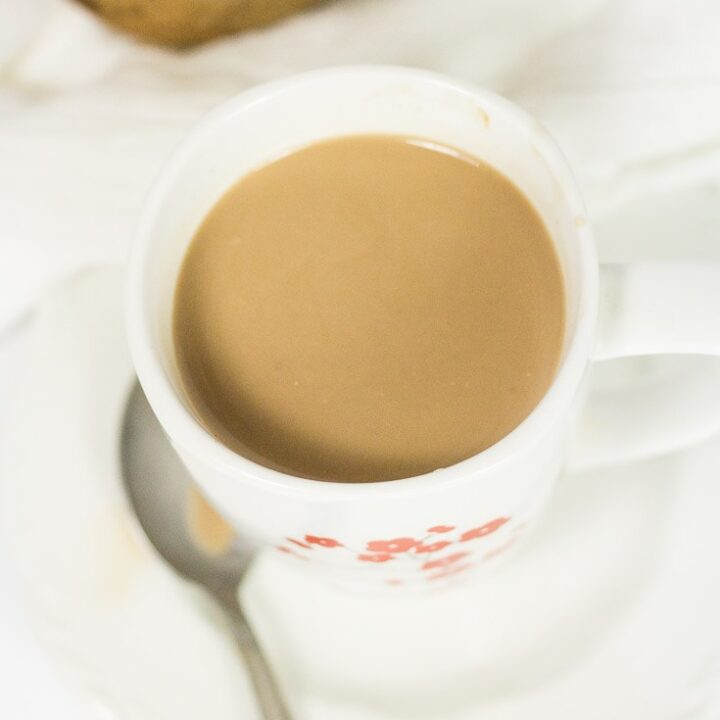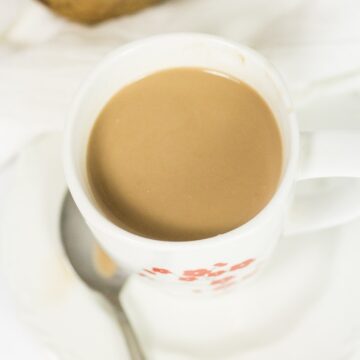 Coconut Hot Chocolate
Hot chocolate made with coconut milk. Creamy and feels decadent but it isn't!
Ingredients
1

teaspoon

unsweetened cocoa powder

2

cups

coconut milk

1

teaspoon

raw honey - increase as needed

1/4

teaspoon

vanilla extract
Instructions
To make in microwave
Put cocoa powder and honey in a mug. Add in two tablespoons of water and microwave on high for 30 seconds. Mix to ensure that all ingredients are incorporated.

Add in coconut milk and vanilla and microwave for 1-2 minutes. Stir well and enjoy.
To make in pot
Combine 2 tablespoons of water and hot cocoa in a pot and whisk together until smooth. Add in the honey, vanilla and coconut milk then mix together until well-incorporated. Bring to a simmer then pour into a mug and enjoy.
Notes
Instead of honey, you could sweeten this hot chocolate with raw sugar, coconut sugar or real maple syrup.
Nutrition
Calories:
917
kcal
|
Carbohydrates:
19
g
|
Protein:
9
g
|
Fat:
97
g
|
Saturated Fat:
86
g
|
Polyunsaturated Fat:
1
g
|
Monounsaturated Fat:
4
g
|
Sodium:
59
mg
|
Potassium:
1015
mg
|
Fiber:
0.4
g
|
Sugar:
6
g
|
Vitamin C:
5
mg
|
Calcium:
83
mg
|
Iron:
15
mg
I love to see your creations so if you make this recipe, please tag me on Instagram @preciouscore or you could just share a photo on my Facebook page.