BEIGNETS SOUFFLES
Published Feb 23, 2018
Updated Nov 26, 2022
Do you have 30 minutes? Use them to make these beignets souffles that taste like plain cake but are so much better!
You only need a few ingredients to make these beignets and they can literally solve your entertaining problems.
Guests in your living room but don't know what to give them? Make beignets souffles!
Do you want to do something nice for your neighbor/friend? Make beignets souffles!
Do you need a quick breakfast, make beignets souffles!
These beignets taste like the came right from a bakery in Cameroon. The interior is cakey as it should be. It is literally like plain cake.
They are slightly crunchy on the outside. They look, smell and taste like the real beignets souffles. The ones I always purchased from the bakeries in my country, Cameroon.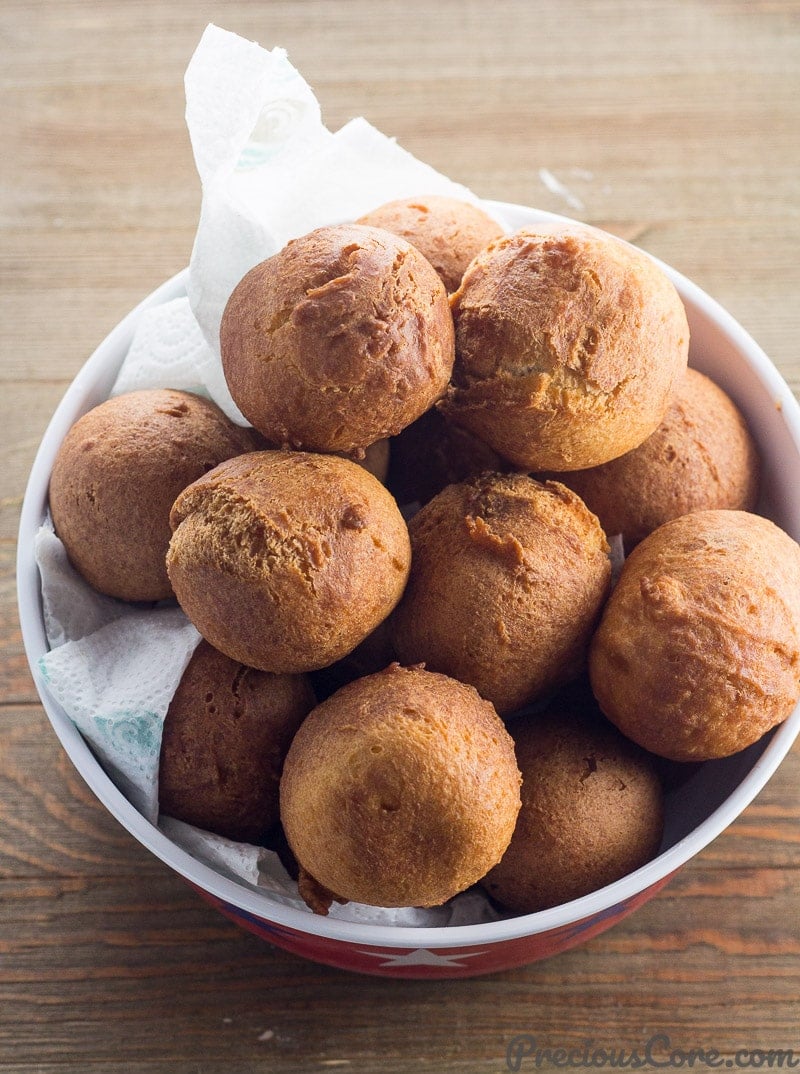 The struggle to make this has been real. I made some that turned out like drop doughnuts, some that were too soft, some that were too eggy, and the list goes.
I have honestly lost count of how much I tested this recipe.
When I finally nailed it, I wrote down the recipe wrong. So on shoot day, I put together my ingredients and got the wrong result.
That video shoot could not be used and I went back to the drawing board. So glad I got it right this time! In fact, I did a happy dance when it came out just right!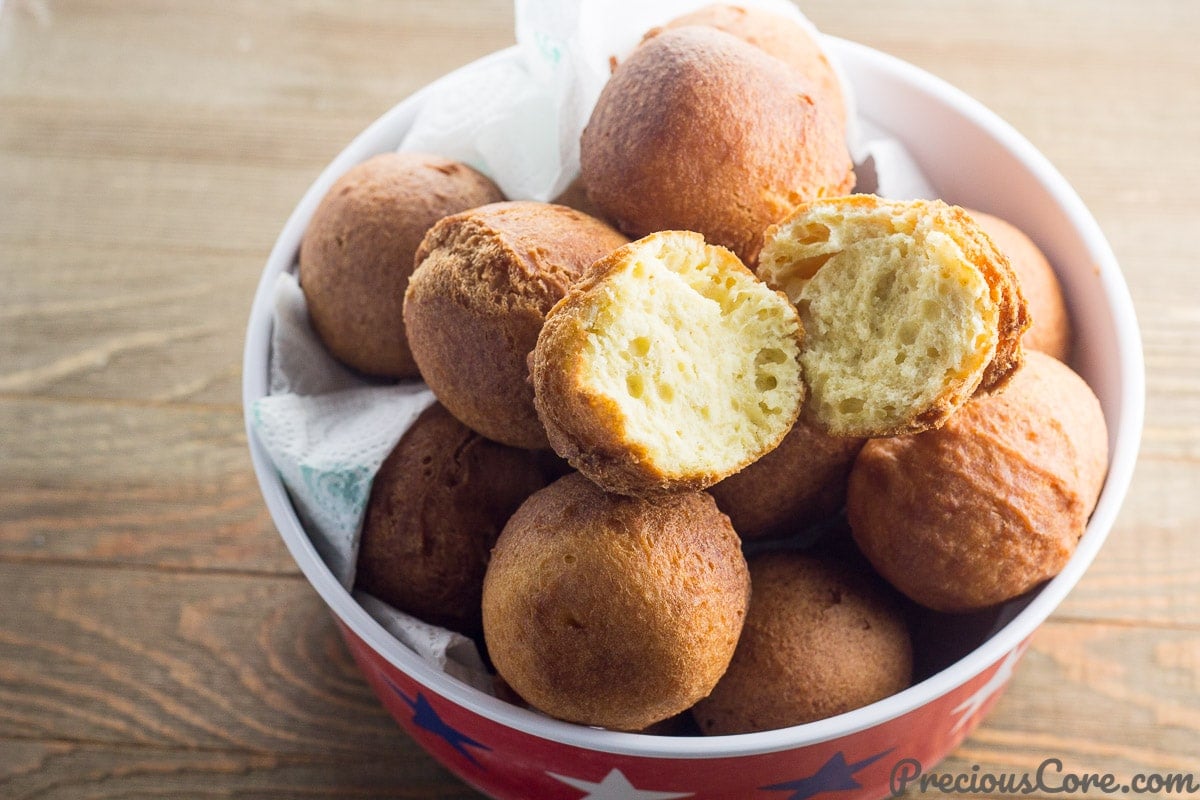 Back then I would always purchase beignets souffles from the bakeries. Right now, I'm so glad I can enjoy it anytime at home. Just like I can make my own pain au lait! Cooking at home is the best!
Hope you enjoy these bakery-style beignets. Watch the video, print the recipe then go make some!
Watch how to make Beignets Souffles:
Click here to subscribe to my YouTube channel.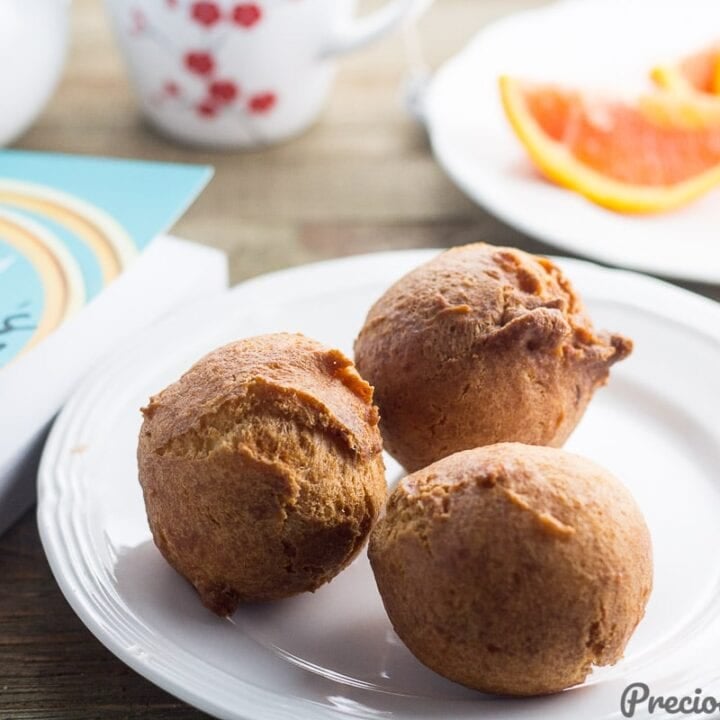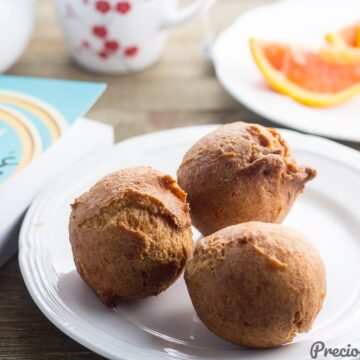 Beignets Souffles
I loved buying beignets souffles from bakeries back home in Cameroon. It has a crunchy exterior, the inside tastes like cake. It is good with coffee or tea. Enjoy, friends!
Ingredients
4

cups

flour (1/2 kg or 500g)

4

eggs

1/4

cup

oil (60ml)

1

teaspoon

baking powder

1

cup

liquid milk (240 ml)

use evaporated milk for best flavor

1/2

cup

granulated sugar (100g)

Pinch of salt

1

teaspoon

vanilla extract

1/2

teaspoon

ground nutmeg

Oil for frying

About 1-2 liters of oil
Instructions
In a large bowl, mix together sugar and oil. Add in eggs, milk and vanilla extract then whisk together. Add the flour, baking powder, salt and nutmeg. Mix to form a thick batter.

Pour oil up to about 2/3 of a deep frying pan. Heat oil on high heat for about 10 minutes (up to 375 degrees F/190 degrees C). Turn down the heat to medium heat them gently drop tablespoons full of the batter into the oil. Drop about ten tablespoons full for the first batch then drop in the rest of the batter for the second batch.

Note: I used my hand to place drops of the batter into the oil. However, if you can't do this, use a tablespoon (the round types used in measuring as the recipe says). Be sure to dip the tablespoon into oil in between dropping the batter to ensure the batter doesn't stick to the tablespoon. Alternately, you could use a quick release ice cream scoop to drop the batter into the oil.

Let the balls cook for about 7-10 minutes until they are a deep brown color. Be sure to turn them from time to time. Remove and place on paper towel to absorb excess oil.
Notes
1. The temperature of the oil is key in this recipe. If your oil is too hot, the beignets souffles will burn quickly on the outside without getting cooked on the inside. So be sure to follow my exact directions for heating the oil - heat it on high for about 10 minutes then turn down the heat to medium before putting in the balls. The heat should remain at medium throughout the cooking process.
2. You could add other flavors like orange/lemon zest to your batter.
Nutrition
Calories:
173
kcal
|
Carbohydrates:
28
g
|
Protein:
5
g
|
Fat:
5
g
|
Saturated Fat:
1
g
|
Polyunsaturated Fat:
1
g
|
Monounsaturated Fat:
2
g
|
Trans Fat:
0.02
g
|
Cholesterol:
38
mg
|
Sodium:
43
mg
|
Potassium:
64
mg
|
Fiber:
1
g
|
Sugar:
6
g
|
Vitamin A:
75
IU
|
Vitamin C:
0.002
mg
|
Calcium:
40
mg
|
Iron:
1
mg
Pin this recipe: