Chicken Coconut Curry in a Hurry is the quick and easy dinner recipe of your dreams! It is hearty, creamy, and the perfect sauce for soaking up white rice! Or for enjoying with bread, pasta or your favorite sides! I am in love with this curry in a hurry!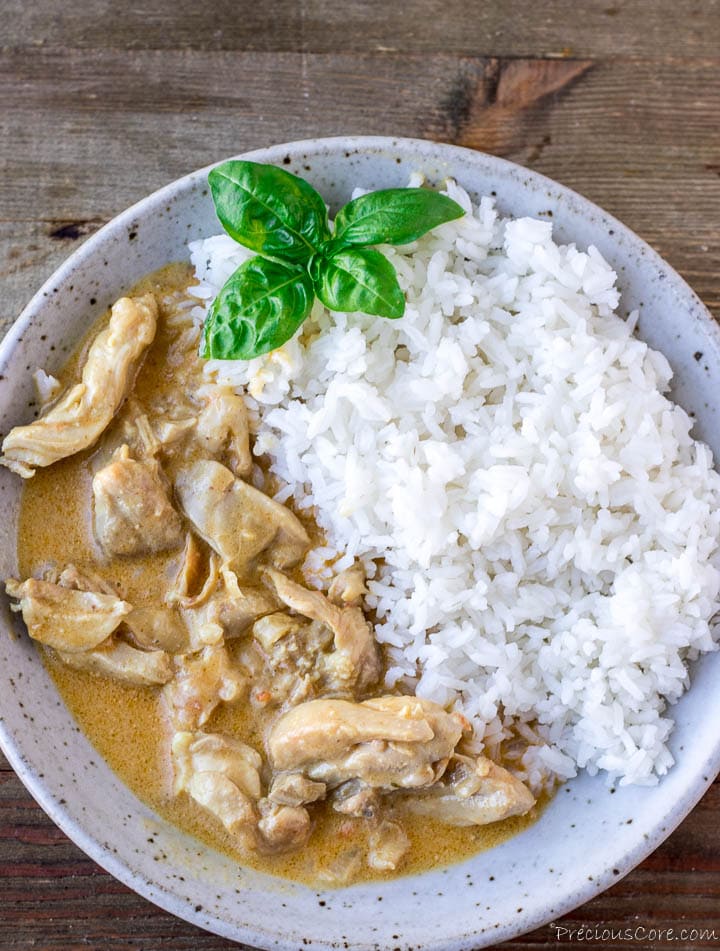 My daughter Salma, said, "Mum, that sauce gets 5 stars!" in reference to this Chicken Curry. Her older sister Neriah said it is so good!
We had this curry for dinner with some family friends and they all said it was really good! So I said, "it is going on the blog!"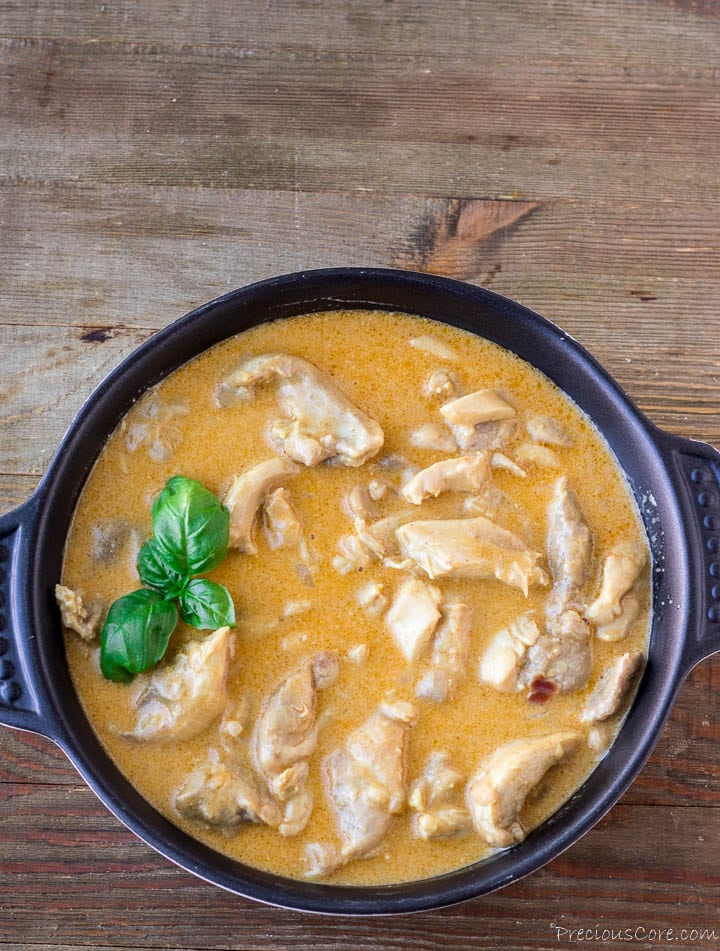 Ingredients For Chicken Coconut Curry
Chicken Thighs. I use boneless skinless chicken thighs. I love chicken thighs because they contain a good ratio of fat and more fat means more flavor. However, chicken breasts could work as well.
Coconut Milk. A good quality unsweetened coconut milk is essential here. My favorite brand is the Thai Kitchen brand coconut milk. Use full-fat coconut milk because that ensures the curry is sufficiently creamy.
Onion. I use one cup of chopped onion. The onion is cooked together with the chicken in the beginning to build the flavor profile of the curry.
Minced Garlic. Just like the onion, the garlic is cooked with the chicken to create an insanely good flavor base for the curry.
Ginger. I used ginger powder because that's what I had on hand but freshly grated ginger will work as well.
Tomato. I used one roma tomato. I love the taste and color the tomato adds to the curry.
Curry. Use good quality curry powder here.
Chicken bouillon powder. This gives the curry that extra something something.
White pepper. I prefer the flavor of white pepper over black pepper in this curry. White pepper is so good! Also, using white pepper ensures that I do not see specks of black pepper in my curry.
How to Make Chicken Curry in a Hurry
1. Heat up a little oil in a pot. Add chicken, garlic, ginger, onion, salt, chicken bouillon powder, curry powder, and white pepper. Let everything cook together until chicken is cooked through.
2. While chicken is cooking, place tomato and water in a small pot then bring to a boil. Boil the tomato for 3 minutes. Remove tomato, rinse immediately under cool water. Peel the tomato and blend into a paste. Add the blended tomato to the chicken and let them simmer together.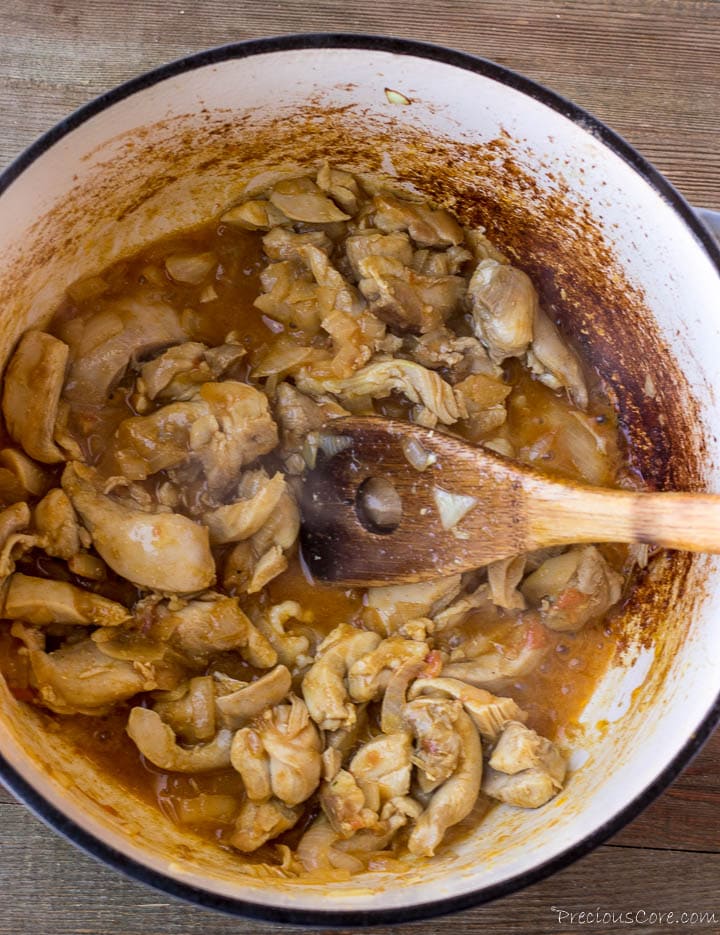 3. Add water and coconut milk to chicken and let it simmer together. Taste the curry and adjust seasonings as needed.
What to Serve With Chicken Coconut Curry
White rice. White rice is great for soaking up the delicious sauce.
Pasta. You could equally serve this Chicken Coconut Curry with your pasta of choice.
Bread. Good crusty bread is great for dipping into your bowl of curry.
More Family-Friendly Chicken Recipes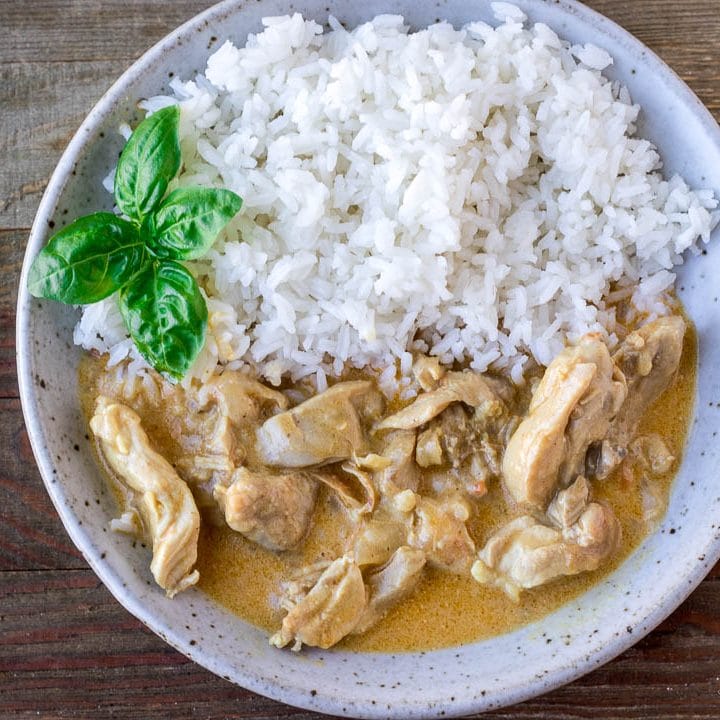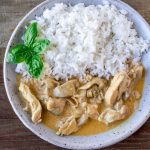 Chicken Coconut Curry in a Hurry
Chicken Coconut Curry in a Hurry is the quick and easy dinner recipe to make when you need to put dinner on the table but you are in a hurry.
Keyword:
Chicken Coconut Curry
Ingredients
1-1/2

pounds

boneless skinless chicken thighs

1

tablespoon

oil

1

cup

chopped onion

5

cloves

garlic

minced

1

teaspoon

ginger powder

1

teaspoon

curry powder

1

roma tomato

1/2

teaspoon

white pepper

1

teaspoon

salt

1

teaspoon

chicken bouillon powder

1

cup

coconut milk
Instructions
Cut the chicken into 1 inch strips. Heat oil in a pot for 3 minutes.

Add the chicken to the pot. Add the garlic, ginger, onion, salt, bouillon powder, curry powder and white pepper. Mix to combine and let the chicken cook while stirring from time to time. About 10 minutes.

Place the tomato in a small pot and add a cup of water. Bring to a boil and let it boil for about 3 minutes until the tomato is tender. Remove the tomato and rinse under cold water to cool down. Peel the tomato, place in a blender and blend into a paste. Add to the pot with the chicken. Stir to combine and let it cook together for about three minutes.

Add one cup of water to the pot and bring to a simmer. Add the coconut milk and stir. Let it simmer together for 5 minutes. Your chicken coconut curry in a hurry is ready!

Serve with rice, pasta, bread or your side of choice.
Recipe Notes
1. My coconut milk of preference is the Thai coconut milk. It has a rich coconutty flavor and is super creamy.
2. The white pepper really helps cut the sweetness of the coconut milk. (I use unsweetened coconut milk but natural coconut milk still has a little sweetness to it.) If you do not have white pepper, use black pepper instead.
3. Once all ingredients are in the pot, taste and adjust seasoning as needed. Add a little water or coconut milk if it is too salty. Add a little sprinkle of salt if it isn't salty enough.