Easy Quiche Recipe
Published Oct 09, 2020
Updated Aug 11, 2023
Easy Quiche Recipe is perfect for breakfast, lunch, or dinner time. Also great for entertaining! You'll love this quiche recipe!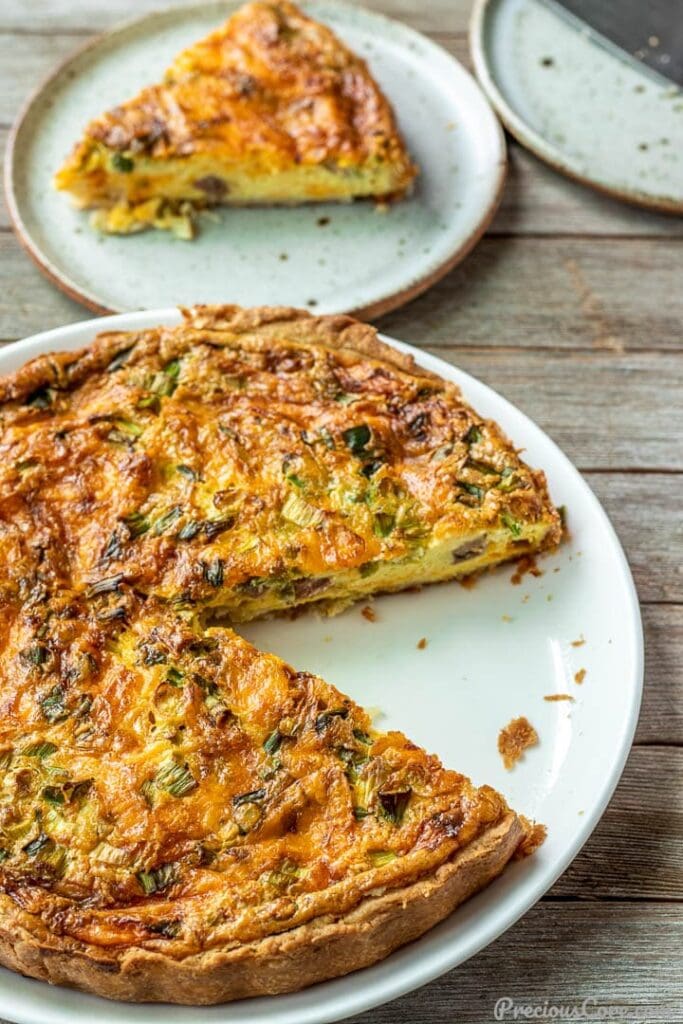 I recently shared videos on my Instagram and Facebook stories of my homemade quiche and a lot of you messaged me to ask for the recipe.
So I had to suspend other planned recipes and work on this one. I think it is the perfect time of the year for some quiche. It is a perfect hearty comforting meal whether you are having it for breakfast, lunch or dinner.
This Easy Quiche Recipe is to die for! It doesn't include so many vegetables to overwhelm the kids. It includes a good amount of cheese and some meaty chicken sausage. Yum!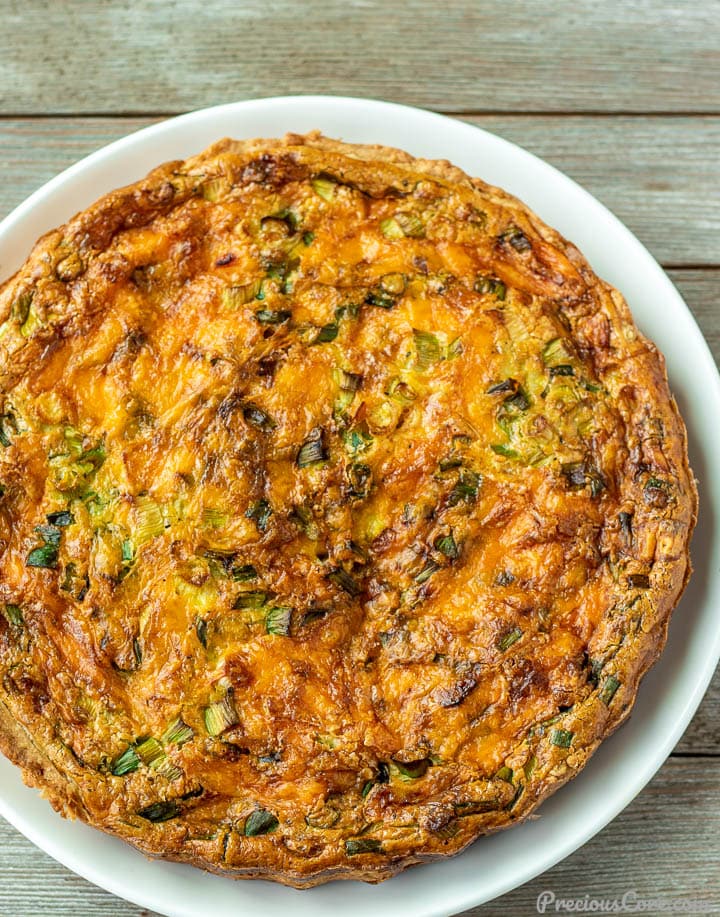 But perhaps my favorite part is the crust. It is savory, flaky and hugs the egg filling well. I think I'm in love… with a quiche.
Just for the record, when I asked my older girl for feedback on this quiche, she said there was one problem: I didn't make enough!
And Mr. N, the CTO (Chief of the Tasting Committee) says I should make 4 when next I am making some. It is THAT good.
If you don't know what quiche is all about, no worries I explain more in the post. Also watch the video below to see me making some quiche!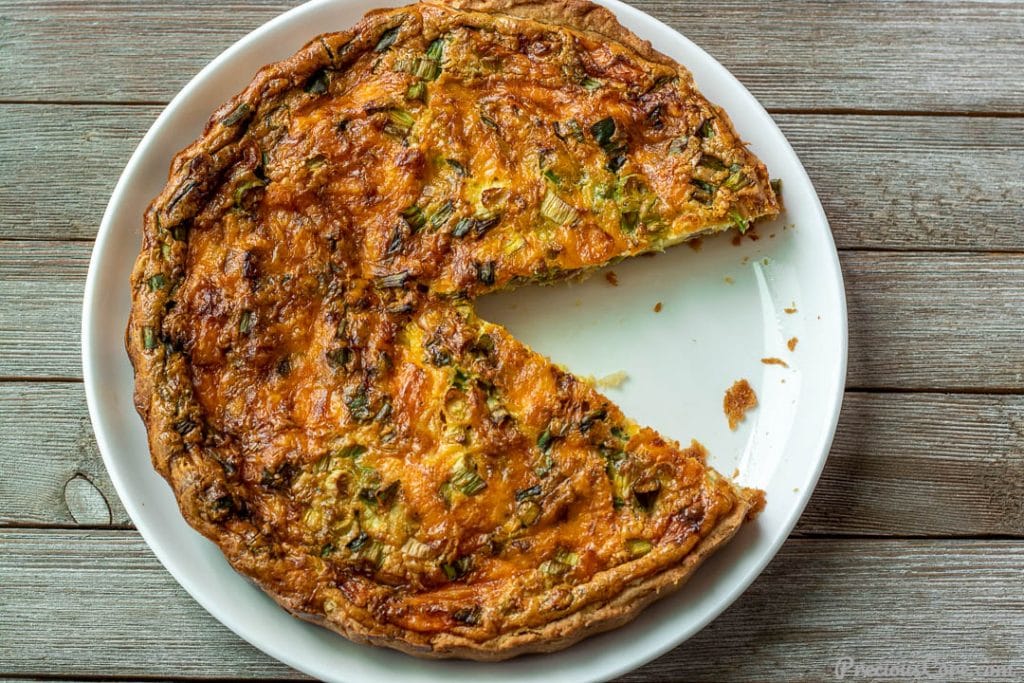 What is Quiche?
A quiche is basically an egg pie. It is made up of a pie crust and a savory egg filling or custard.
Quiche originated in France although there are many versions of quiche now that aren't quite the same as the ones in France.
What Goes in Quiche?
The ingredients in quiche are as follows:
1. Pie dough. You need butter, flour, baking powder, salt and buttermilk (or milk) for the pie dough. You could also use storebought pie dough or a store-bought pie crust.
2. Eggs. Large eggs at room temperature. Eggs are the heart of quiche.
3. Milk or Cream. This mixes with quiche to form a custard.
4. Seasonings. Salt, pepper seasoning the quiche making it a savory delight.
5. Vegetables. Add any vegetables you like to a quiche. It is a great way to clean out the fridge!
However, be sure to saute vegetables like onions, bell peppers, spinach mushrooms, zuchinni, etc before adding them to quiche. If they are not sauteed they will release their juices into quiche as it cooks making it soggy. Not good.
I kept it simple and used green onions for this recipe. They didn't need to be sauteed first. You could use leeks as well.
5. Breakfast Meats. Breakfast meats like sausage or bacon add meatiness and texture to quiche.
6. Cheese. Cheese adds great flavor to quiche. Use cheddar cheese for a nice kick of flavor.
How To Make Quiche
1. Make pie dough and let it chill.
2. Whisk together eggs and milk (or cream) to make a savory custard.
3. Roll out dough and place in a pie plate.
4. Fill the pie plate with chopped sausage, shredded cheese and chopped green onions.
5. Add the egg mixture into the pie plate.
6. Bake until the center sets.
What Makes This An Easy Quiche Recipe
1. No need to blind bake the pie crust first. I find that the quiche still turns out great without having to first bake the pie crust as most recipes call for.
2. No need to saute vegetables first. I use a good amount of green onions in this recipe and they don't need to be cooked first like other vegetables.
What To Serve With Quiche
1. Serve quiche with some sliced avocados for breakfast.
2. Serve quiche with a simple vegetable salad for lunch or dinner.
More Easy Versatile Breakfast Recipes
The following recipes are great for breakfast but they will alo make great lunches or dinner recipes:
Watch How To Make Easy Quiche
Watch me making Easy Quiche in the video below. Also, please SUBSCRIBE to my YouTube Channel so you do not miss any of my videos!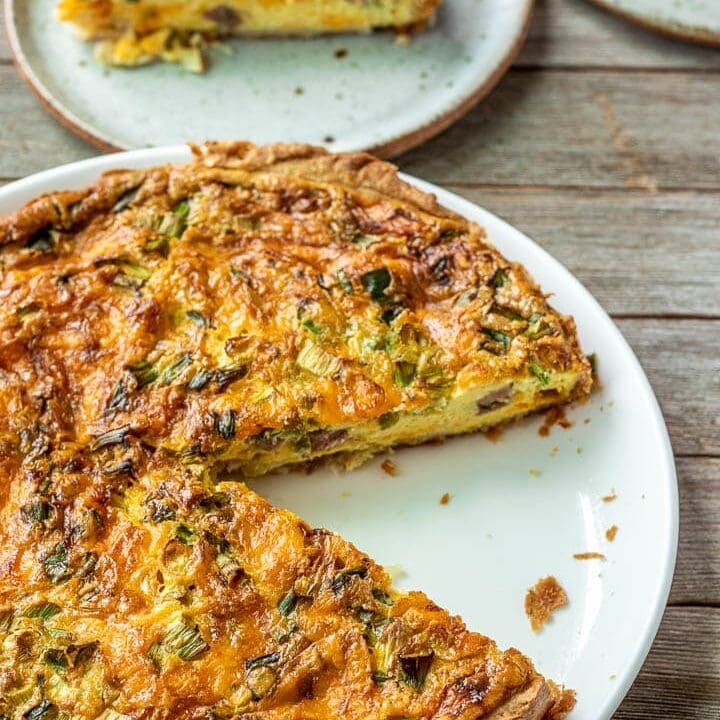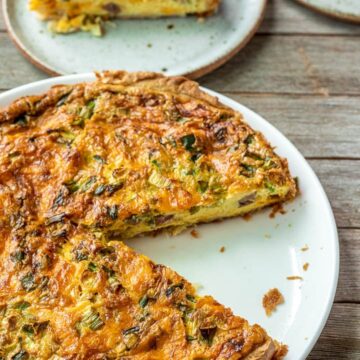 Easy Quiche Recipe
This easy quiche recipe is made from scratch and perfect for breakfast lunch or dinner.
Ingredients
Pie Dough
1

cup

unsalted butter, cold

2

cups

all-purpose flour (250 grams)

1/2

teaspoon

baking powder

1

teaspoon

salt

1/2

cup

buttermilk, cold

see Note 1
Quiche Filling
4

green onions, chopped

substitute with leeks

3

oz

chicken sausage, diced

1 link

1

cup

shredded cheddar cheese, divided

sharp cheddar or medium/mild cheddar would work

6

eggs, at room temperature

3/4

cup

whole milk

use cream for more richness

1/4-1/2

teaspoon

salt

1/4

teaspoon

chicken bouillon powder

could omit and use more salt

1/4

teaspoon

ground black pepper
Instructions
Make Dough. Use the shred side of a box grater to shred the cold butter into a large bowl. Add in flour, baking powder and salt. Mix everything to combine with fingertips. Add in cold buttermilk and mix to form a dough. Do not knead the dough. Divide dough into 2 equal portions. Shape each portion into a circle. Wrap the dough in plastic wraps and place in the fridge to chill for 30 minutes.

Prepare Filling. In a large bowl whisk together eggs, milk (or cream), salt, pepper and chicken bouillon powder (if using).

Preheat Oven. Preheat oven to 375 degrees Fahrenheit (190 degrees Celsius).

Roll Out Dough. Remove one half of dough from the fridge and place on a generously floured surface. Roll it out into a large circle about 13 inches in diameter.

Place Dough Into Pie Pan. Place the dough over a 9-inch pie pan. Arrange the dough to ensure it completely covers the pie pan then trim off the excess around the rim of the pan. Press the dough around the sides so it kind of takes the shape of the pie pan.

Assemble Quiche. Add the chopped sausage, 3/4 cup of cheese and the green onions to the pie pan. Spread all the ingredients around to ensure that they are well distributed. Pour in the egg mixture then sprinkle the remaining cheese over the egg mixture.

Bake Quiche. Carefully place the pan in preheated oven and let it bake for about 35-40 minutes until set in the middle.

Serve. Let it cool for about 5 minutes before slicing and serving.
Notes
1. To make buttermilk at home: Add 1 and a half teaspoons of vinegar or lemon juice to a half-cup measuring cup or liquid measuring cup. Add in enough milk to make half cup. Let it rest for 5 minutes. It's going to thicken up. Then you can can use the milk-vinegar mixture in place of buttermilk. No worries you won't taste the vinegar!
Another substitute for buttermilk for this pie dough is to just use plain regular milk.
Note: You only need half of the dough for this recipe. Use the other half to make another quiche!
Nutrition
Calories:
625
kcal
|
Carbohydrates:
36
g
|
Protein:
19
g
|
Fat:
45
g
|
Saturated Fat:
26
g
|
Polyunsaturated Fat:
2
g
|
Monounsaturated Fat:
11
g
|
Trans Fat:
1
g
|
Cholesterol:
280
mg
|
Sodium:
909
mg
|
Potassium:
225
mg
|
Fiber:
1
g
|
Sugar:
3
g
|
Vitamin A:
1585
IU
|
Vitamin C:
2
mg
|
Calcium:
260
mg
|
Iron:
3
mg