BREAKFAST FRITTATA RECIPE
Published Aug 16, 2016
Updated Apr 26, 2017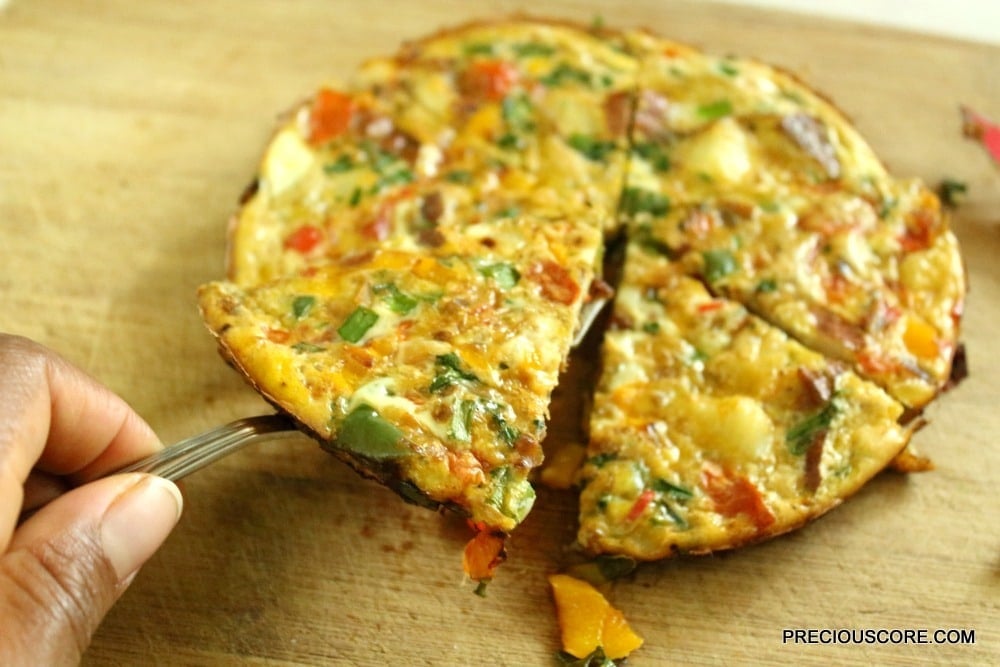 I had this Frittata for breakfast yesterday. Mr. N and I literally fought over it because we both wanted the bigger share. This is a really simple dish that any person can make. It consists of eggs, onions, tomato and any other veggies you have on hand. It is a great way to use up left overs. I planned on making it with predominantly spinach but the spinach I had in my fridge was checking out. So I went for the other vegetables I had: coloured bell peppers, cilantro and green onions.
It makes for a simple elegant breakfast dish but it can also be eaten as lunch or brunch. Serve with a side of fruits or more vegetables for it to be more filling. I had mine with some pitted olives because I could really eat a jar of olives every day. Those oval things taste so good!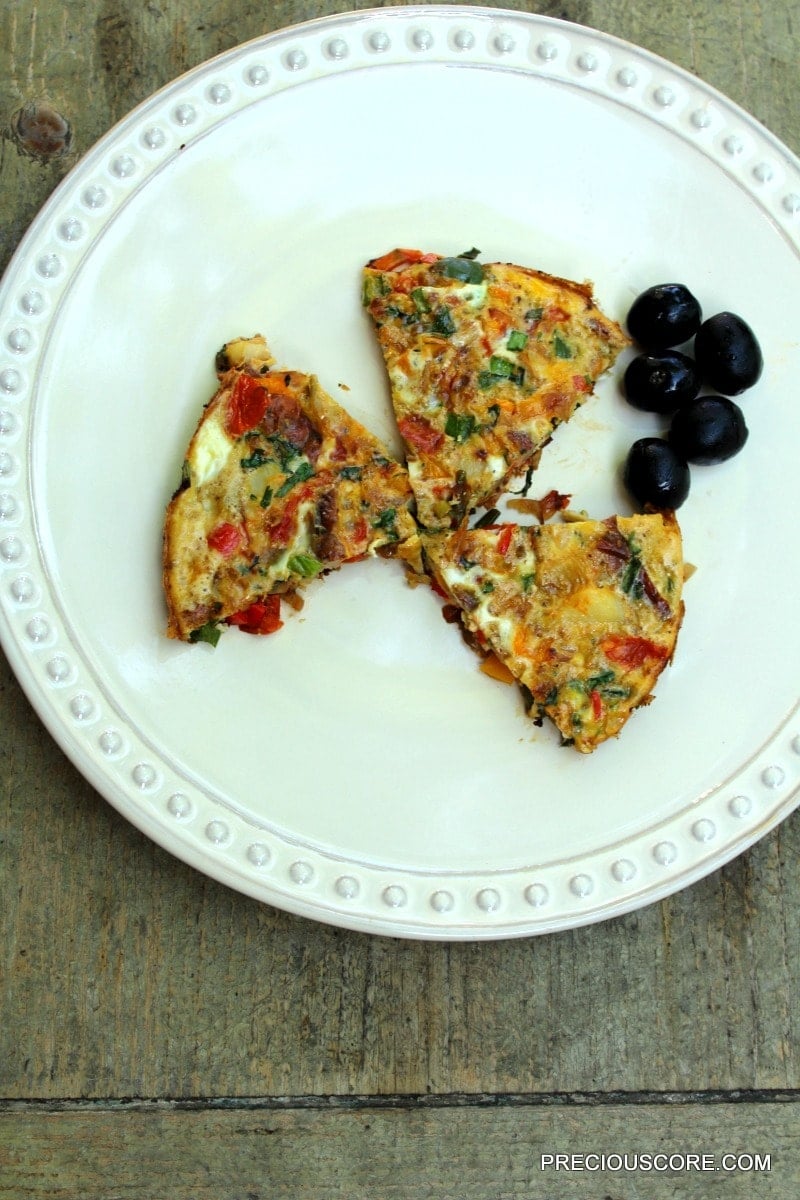 Here is how I made it: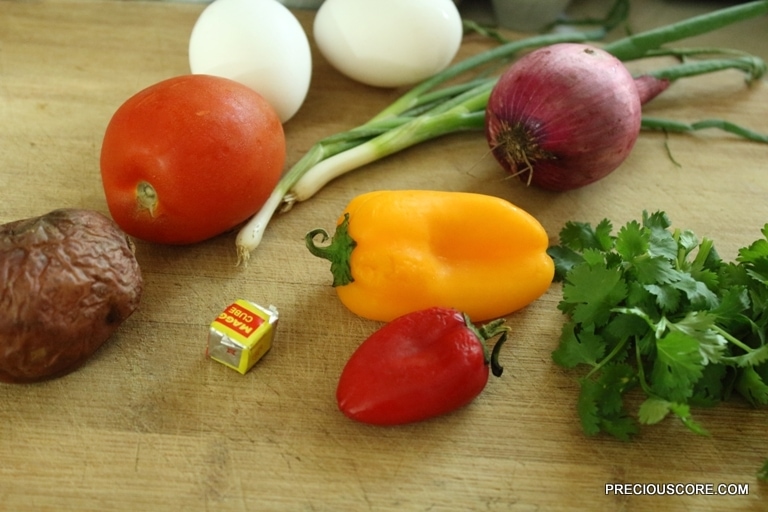 I oven-baked some Irish potatoes very early in the morning for about 45 minutes. So that's my miserable baked Irish potato to the left. You could just use boiled potato instead. Then there's some coloured bell peppers (you could just use green pepper), onions, eggs, tomato, Maggi cube and cilantro.
I chopped all the choppable. You'll notice I didn't peel the potato. The skin is actually good for the body!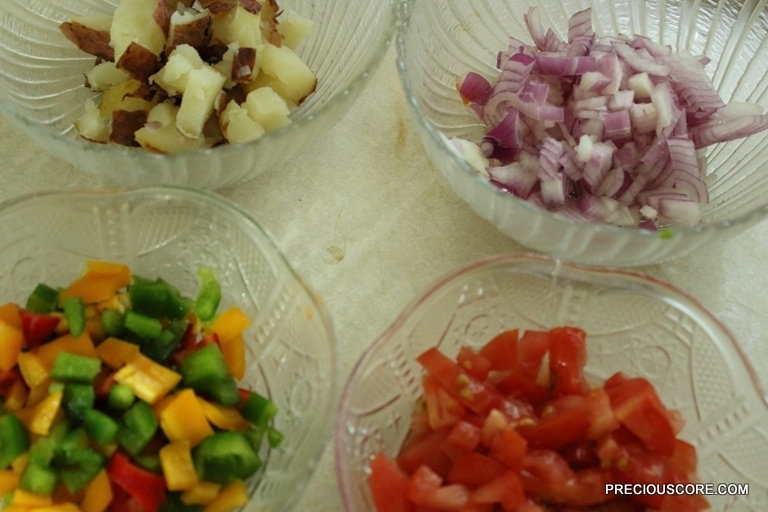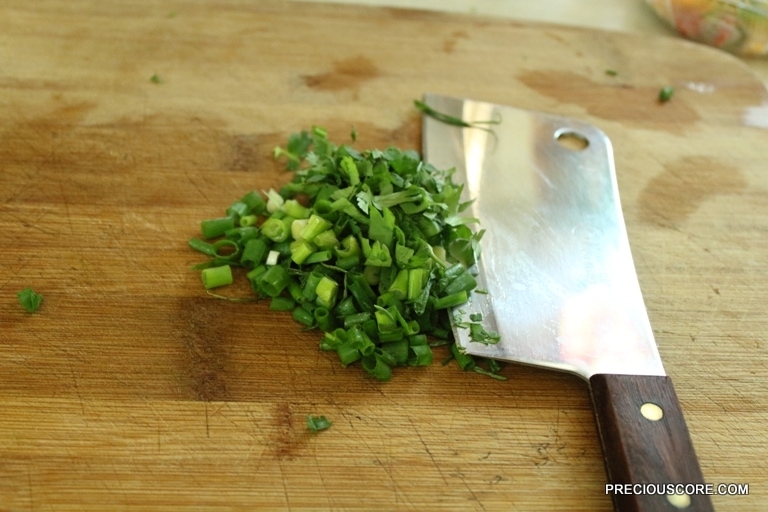 I heated a tablespoon of olive oil in an oven-proof skillet then sauteed the onion.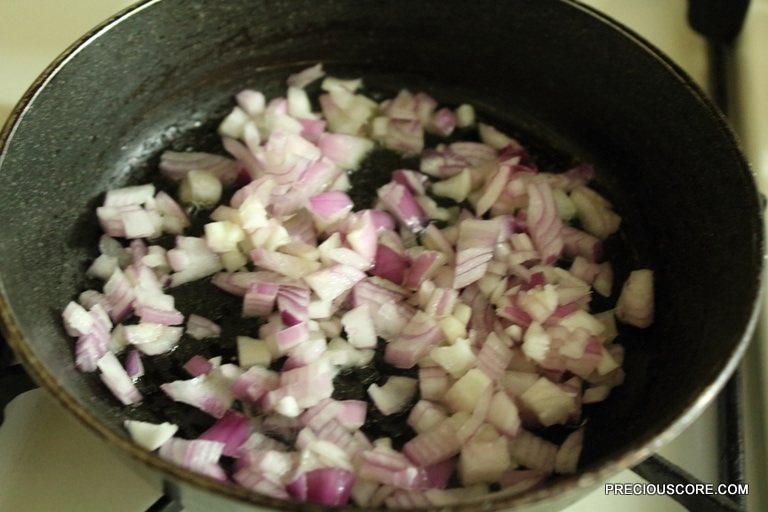 The tomato went right on top.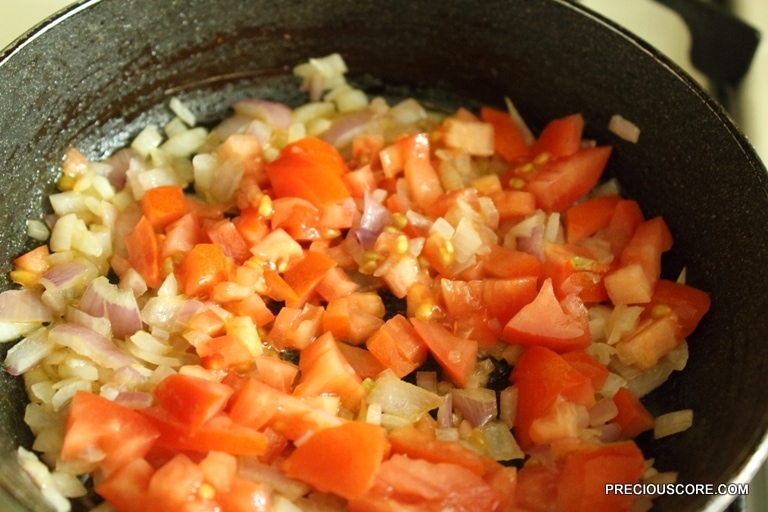 Then all that chopped veggie goodness plus the miserable potato.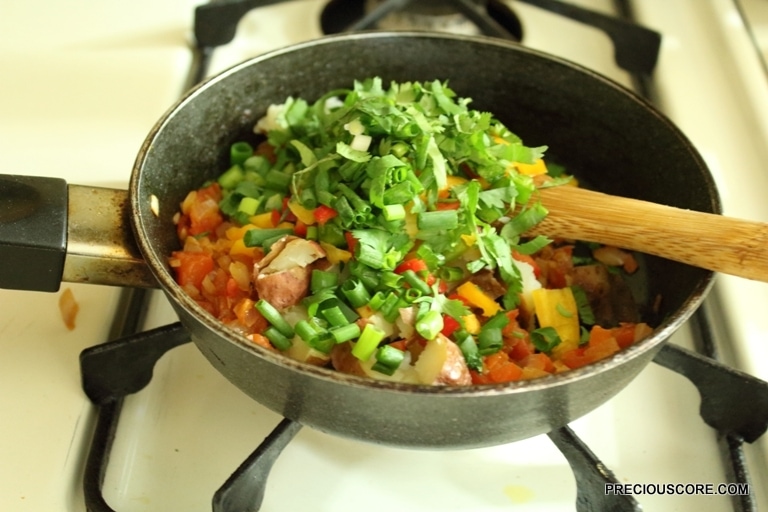 At this point, ladies and gentlemen, I was dancing for joy. My taste buds were eager and I just couldn't wait for my frittatatatata…
So I mixed all the veggies together and they looked like a beautiful garden in a pan. I beat the eggs together with the Maggi , a pinch of salt and a pinch of ground white pepper. White pepper just makes almost everything better for me. You could leave it out if you want. You could add a little finely chopped regular hot pepper (habanero or chili) if you like.
I poured my egg mixture over the beautiful vegetables, making sure it coated them all round.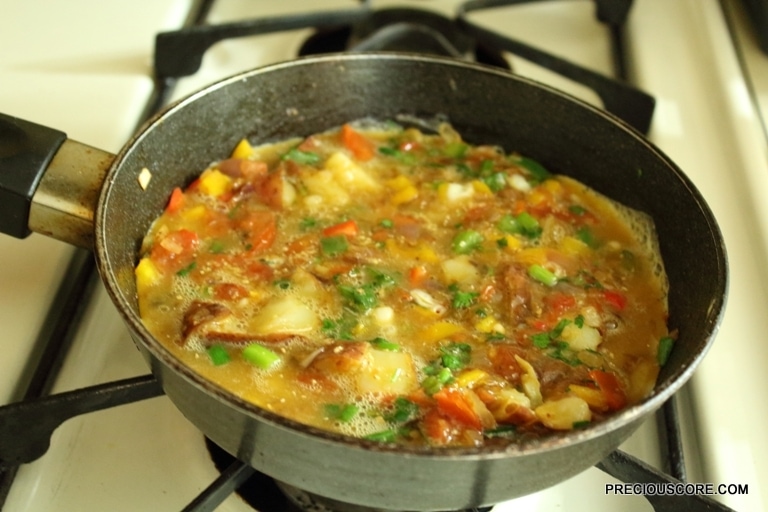 I let the edges set then I transferred the skillet to my preheated oven at 350 Degrees Fahrenheit (about 176 Degrees Celsius).
I let all that goodness bake for about 10 minutes being careful not to let it brown then I brought it out. Oh Lawwwwd!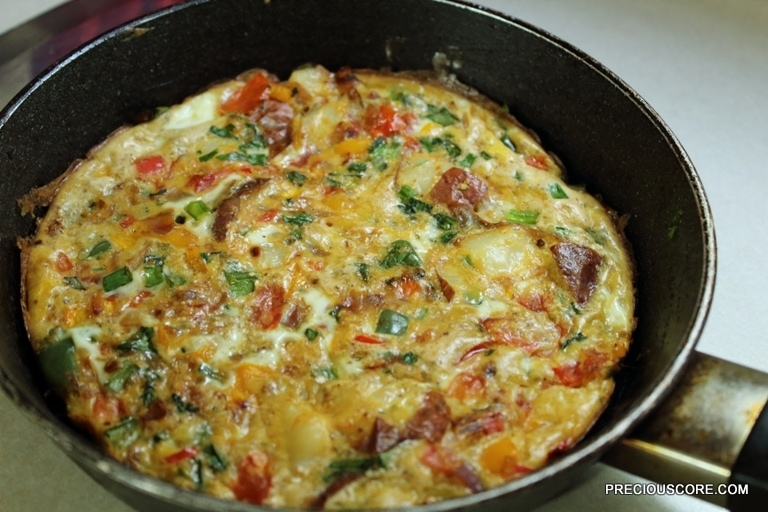 This just makes my heart sing. Frittatatatatata!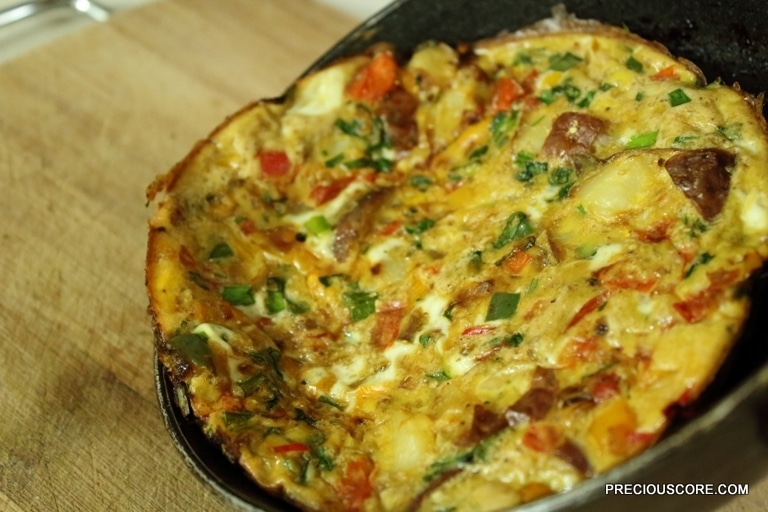 I carefully removed it from the pan then I admired it for a while…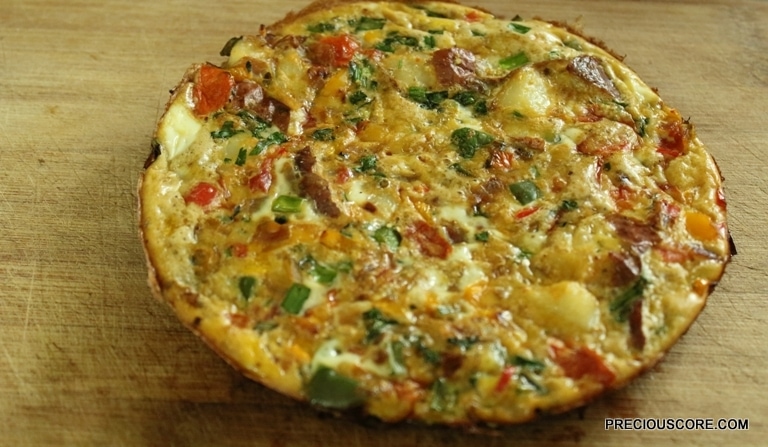 Then I cut into wedges.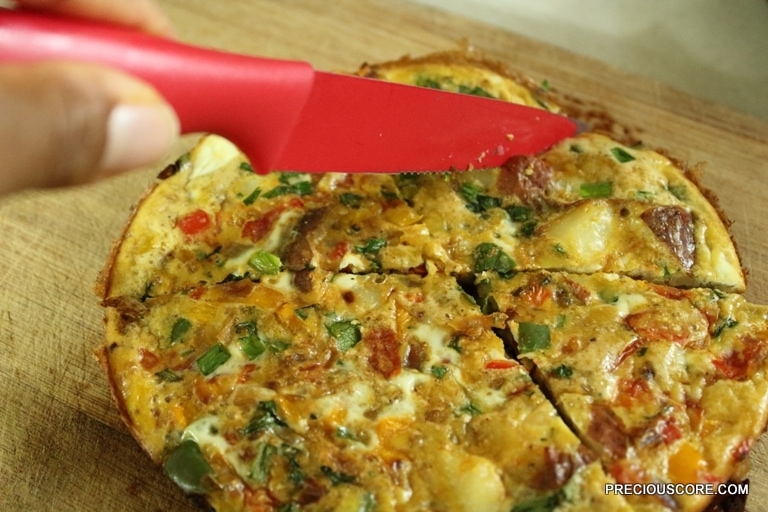 Then I fought with the Mr N to eat more.
This recipe is awesome! Be sure to throw in whatever you want into the eggs: shredded carrots, shredded cheese, shredded chicken, whatever! There are ingredients in your kitchen to make this happen. Don't forget to add a miserable potato like I did.
I'm not done yet. There's the printable recipe below!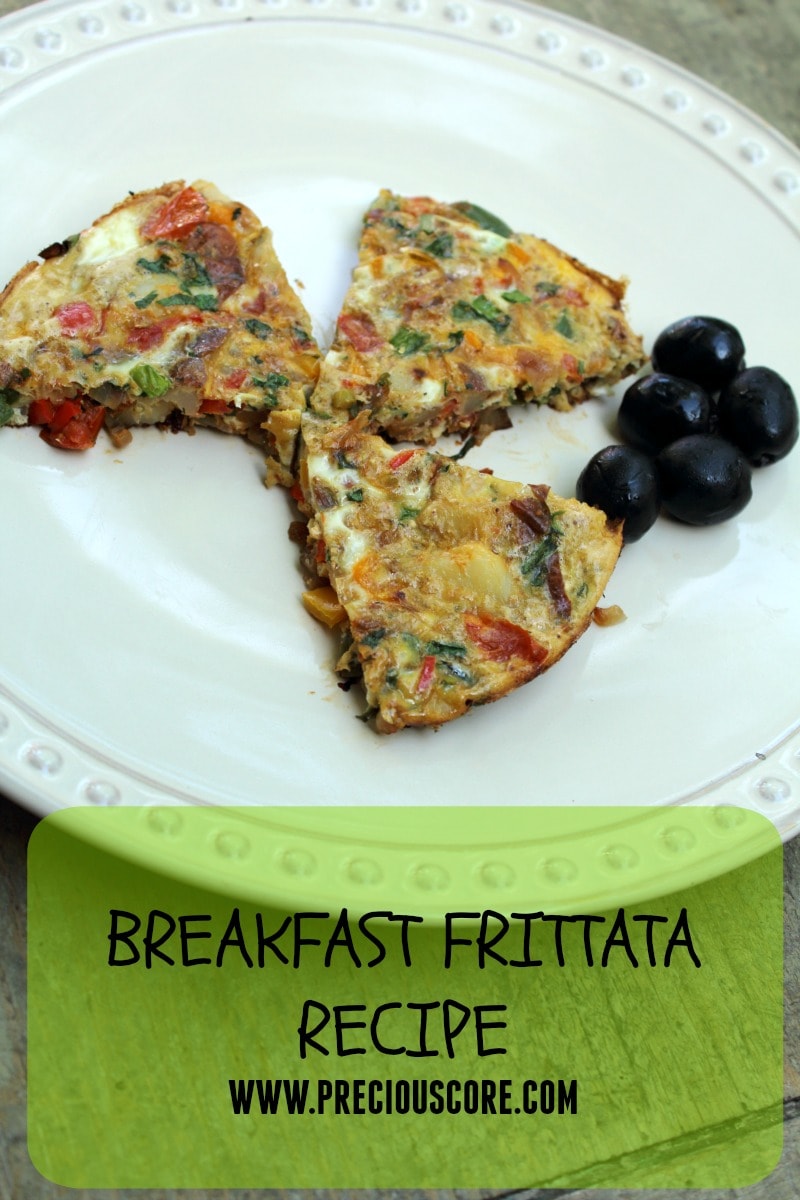 print recipe
Breakfast Frittata
by
Precious Nkeih (www.preciouscore.com)
August-16-2016
This is a glorified omelette which makes a glorious breakfast.
Ingredients
2

eggs

1 tablespoon

olive oil

1

tomato

1

small onion

1 large or 2 small

bell pepper

1

seasoning cube

2 stems

green onions

1 handful

cilantro

1 medium

baked or boiled Irish potato
Instructions
1. Dice baked potato, onion and tomato. Keep in separate bowls. Chop cilantro and green onions too.
2. Put an oven-proof skillet on medium heat and pour in olive oil. Let it heat up then put in diced onion and saute until translucent.
3. Add chopped tomato and saute for about two minutes.
4. Now add in the potatoes and all other veggies and mix well.
5. In a bowl, beat together eggs and seasoning cube.
6. Pour egg mixture over the veggies in the skillet. Be sure to coat every corner.
7. Let the egg set for about a minute. Transfer to an oven and bake at 350 degrees Fahrenheit (176 Degrees Celsius) for about 10 minutes. Watch frittata carefully so it doesn't get brown.
8. Remove from oven, let it sit for 2 minutes. Cut into wedges and enjoy.
Details
Prep time: Cook time: Total time: Yield: 2 servings