Okongobong(Ugu) and Egusi Goodness
Published Aug 04, 2015
Updated Apr 10, 2019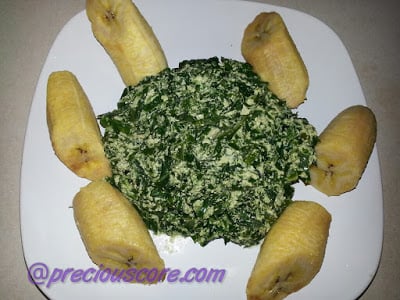 Okongobong and Egusi Stew served with boiled ripe plantains
It is typical African tradition to combine a vegetable and some form of plant protein to create a delicious meal. In Cameroon, such meals include Ndole (bitterleaves cooked in groundnut paste) and Okongobong (Ugu in Nigeria) and Egusi stewed together. Okongobong is some form of pumpkin leaves while Egusi is some form of pumpkin seeds.
The combination of Okongobong(Ugu) and Egusi in a pot is a match made in heaven! Anybody can love this at the first try! I once made this and my Nigerian roommate 'nicodemuslly' asked for the recipe in the bathroom! Of all places, the bathroom!
The Egusi is stewed with onions, garlic and a little ginger then the blanched pumpkin leaves are added to it. Since I couldn't get the kind of pumpkin leaves I normally use (okongobong), I substituted it with Collard Greens. Guess what, it still tastes great and the difference is without notice! Collard Greens look like this: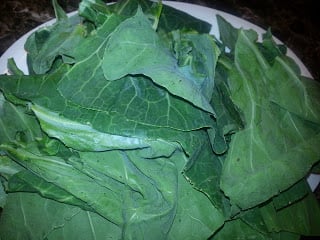 Collard Greens
 If you are in the United States, you can find them at the produce section in grocery stores. Do I need to remind you of the nutritional significance of green leafy vegetables? They are good for you!
Let's start cooking. Shall we?
Stewed Okongobong and Egusi
Prep time: 45 mins
Cook time: 30 mins
Total time: 1 hour 15 mins
Serves: 6
Ingredients:
2 bundles of fresh Collard Greens
2 cups of Egusi
1 teaspoon fresh ground garlic
1/2 teaspoon fresh ground ginger
I medium sized onions- chopped
1 habanero pepper (optional)
3 seasoning cubes (maggi/knorr/bouillon powder)
1 1/2 cup vegetable oil
1 pound of boiled beef and its stock
Salt to taste
Potash/Akangwa for blanching the vegetables
Method
Wash and cut fresh Collard Greens on a chopping board into little bits. It should look like this: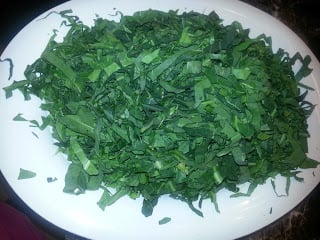 Add salt and some lime stone (potash/akangwa) to water and bring to a boil. Make sure your akangwa dissolves completely before you plunge in the vegetables. You do not want it to make your greens sandy. The potash will help the vegetables maintain a green colour throughout preparation. When water is boiled, put sliced veggies in and turn off the heat. Cover pot and let it seat for 5-10 minutes. DO NOT  leave veggies in the water for too long. The potash will make them unbelievably soft. Strain and rinse with cold water. Use your hands to kill the greens. Squeeze and keep aside: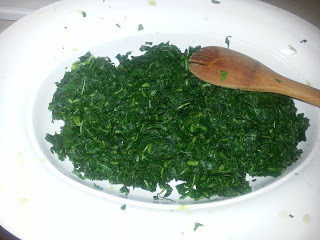 Heat up oil in a pot and saute the onions.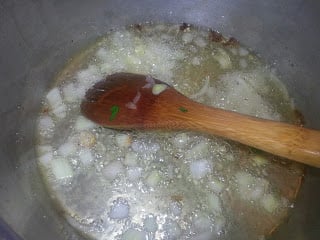 Add in ground Egusi. Note that I do not mix them in water before now. Stir continuously to prevent burns. This method of stirring the Egusi in the oil gives it an unbeatable flavour. After five minutes, add ground ginger and garlic and keep stirring. Fresh garlic and ginger stirred in hot oil smells goooooood!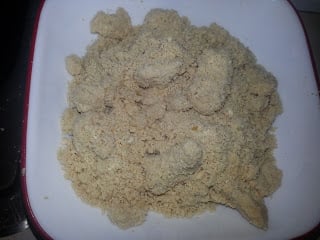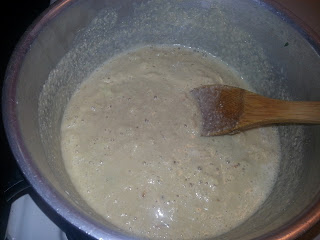 Then add in your beef with it's stock and seasoning. You could use goat meat or any other meat of choice or fish. Here, I used Smoked Turkey. #teamhealthy Let the egusi simmer together with the beef and its stock for about 15 minutes while stirring continually.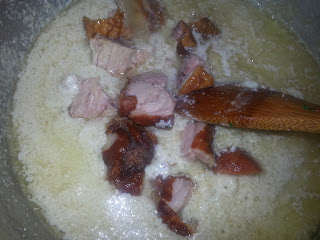 Lastly add in your blanched veggies: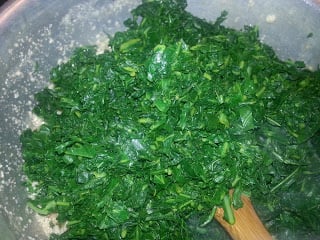 Stir well so the greens and the Egusi marry properly. Let them simmer together for about 5 minutes.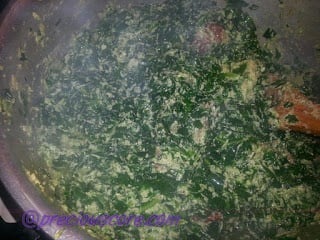 Now start dancing… food is ready. LOL. Serve with boiled plantains or boiled yams.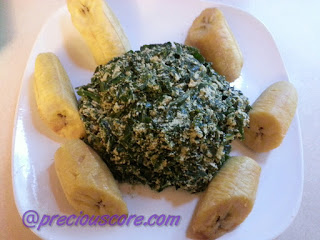 I'm done! Enjoy!
Oh, if you are too 'lazy' to chop your veggies yourself, check for prepared frozen ones in the frozen section of your grocery store. Most African stores have them. If you use the frozen ones, then begin from step 3 (sauteing the onions).