Oven Grilled Fish
Published May 29, 2015
Updated Apr 27, 2017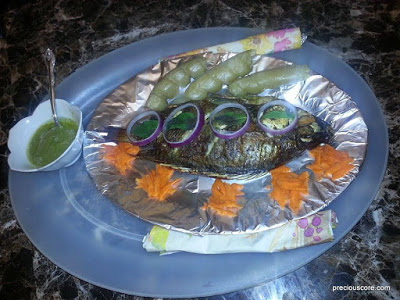 Grilled tilapia and bobolo
Yay! It's another blogging day for me. While busy with other things I was missing my computer. I couldn't wait to come here to connect with YOU.
When I was heavily pregnant with my last baby, I did bulk buying so we'll have enough food at home after delivery. One of the things I bought was a box of tilapia fish. That was a lifesaver. When I had no time for complicated meals, I will spice up some fish and throw into the oven and viola… there will be something on the table.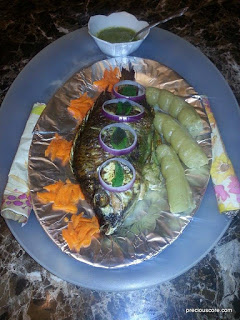 I love grilled fish because it is so quick and easy to make yet so yummy. You can pair it up with roasted/fried plantains, french fries or one of the all time favourites to Cameroonians, bobolo. Bobolo is cassava fermented, wrapped in leaves and steamed. It is a popular street food in Cameroon and an undeniable great accompaniment to grilled fish.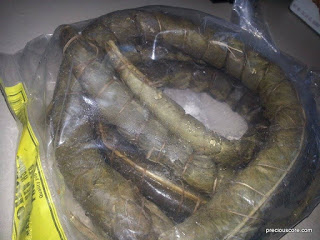 Bobolo
The fish is marinated with garlic, ginger and other spices then grilled or baked in an oven. Yum!
Prep time: 20 mins
Cook time: 30 mins
Total time: 50 mins
Serves: 4
You'll need:
2 Large tilapia fishes
6 cloves of garlic
Half an inch of ginger
A medium sized onion
4 stems of celery
4 stems of parsley
1 teaspoon ground white pepper
Salt to taste
2 cubes of maggi/seasoning cubes
-Remove gills from fishes and wash thoroughly.
-Make four diagonal cuts on the front and back of the fishes
-Blend garlic, ginger, onions and green spices together
-Add white pepper and maggi to the blend
-Pour green mixture over fishes and spread well. Make sure you feed the cuts on each fish and the belly well with the spices. This will ensure that the fish is tasty to the bone.
– Grease a tray and put fishes on. Bake at about 400 degrees Farenheit for about 20-30 minutes
-Allow to cool for five minutes and serve warm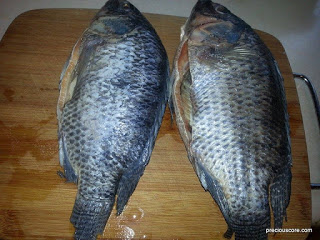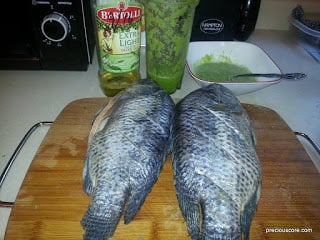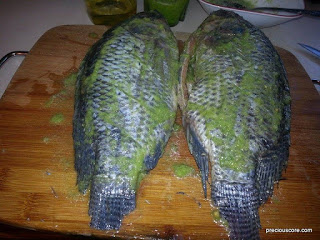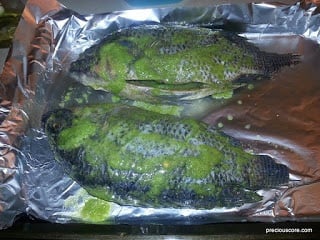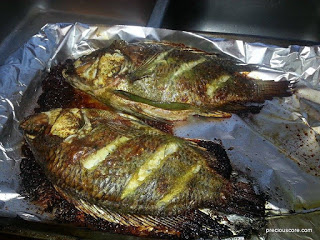 Notes:
You could use mackerel or any other white fish in this recipe.
If you wish, add vegetable oil to your spices before rubbing on fish. Omit it if you are avoiding too much oil.
You could add habanero (hot) pepper to the left over green spice blend and simmer to make a hot sauce to accompany the fish.
If you have enough time, you could let the fish marinate for up to 24 hours in a refrigerator before grilling.
Let me know how it turns out for you. Love!