YOU CAN'T GO WRONG WITH THIS CHOCOLATE BREAD RECIPE
Published Dec 07, 2015
Updated Apr 27, 2017
Yesterday, we had a social gathering with some families with whom we've been doing a group Bible study for the past couple of months. Each of us had to bring either an appetizer or a dessert to share. I opted to bring a dessert. While thinking of what to make to take along, I thought of this Nutella (Chocolate Cream) Bread. It's not quite a dessert but you just can't go wrong with this bread.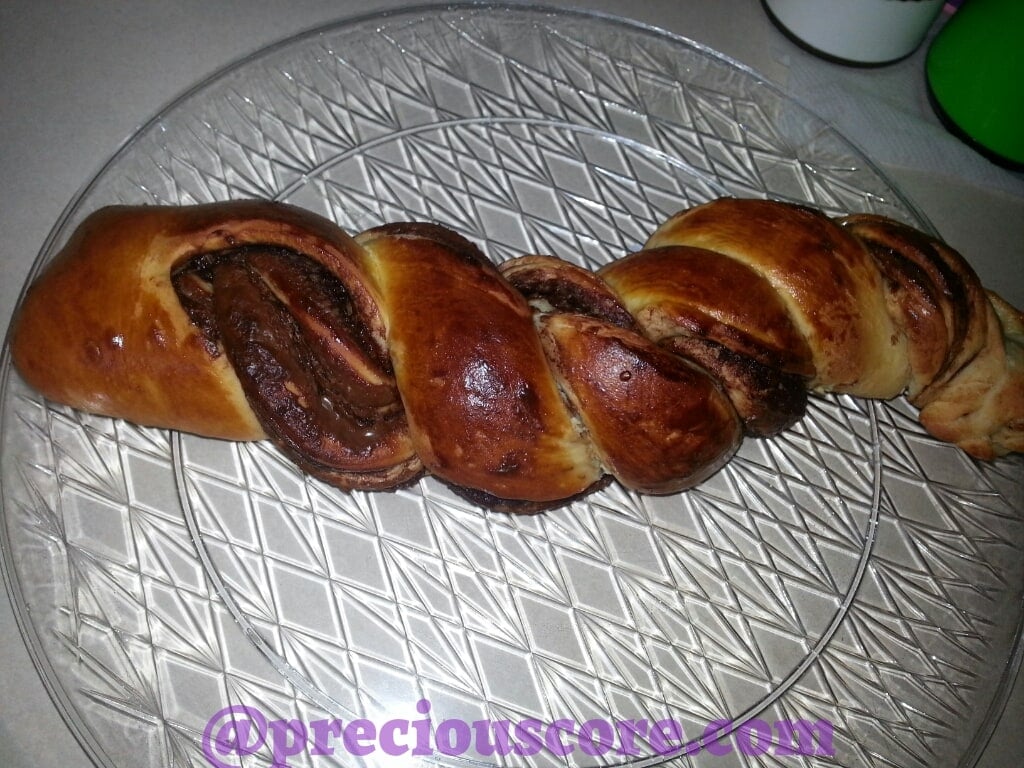 The dough is slathered with Nutella and braided beautifully into a two-strand braid. Nutella is a bread spread made of cocoa, hazelnut and other ingredients. Look for it in the spreads isle in your grocery store. In Cameroon, a similar spread called Tartina is sold in many stores. If you don't find Nutella or Tartina, use any other chocolate and nut-based spread. You just can't go wrong!
One thing I love about the bread is it is not insanely sweet as most desserts yet it is so delicious. Mr N. who is not a fan of sweets kept munching away slices as I struggled to take pictures for you.
This is a great bread to make for special occasions, for guests or for you… if you just want to spoil yourself a little. It also makes a great breakfast. Serve it with a cuppa…
…or chew it just on its own
Really, this bread is self-sufficient.
BRAIDED CHOCOLATE BREAD RECIPE
Prep time: 1 hour 15 mins
Cook time: 20 mins
To make this deliciousness, here is what you will need:
3- 3 1/2 cups of flour
1 sachet of active dry yeast
1/4 cup butter, melted
1/4 cup granulated sugar
1/2 cup of milk
1 teaspoon of salt
1/2 cup of warm water
1 cup of Nutella or any other chocolate spread
1 egg yolk for egg wash
Here is what you need to do:
First dissolve yeast in warm water and let it sit for five minutes so the yeast can be activated. Note that the water should neither be too hot nor too cold. It should feel slightly warm to the touch.
Add in melted butter and milk and stir together.
Next, put in part of the flour, all the sugar and salt and start beating together.
As you mix, it should look like this-
Then, add in the remaining flour and use your hands to mix well.
Everything should form a nice stretchy dough.
Remove dough and oil the bowl or spray with cooking spray. Then cover the dough with a plastic wrap and let it rise in a warm place for about 45 minutes. After it rises, the size must have increased.
Place though on a floured chopping board and cut into two equal portions.
Use the palm of your hand to flatten one portion.
Then use a rolling pin to flatten it into something like a rectangle.
Use a spoon to start spreading your chocolate spread on the dough.
Spread well over the dough, avoiding the edges.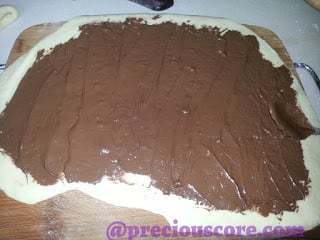 Take one end of the dough and start rolling-
Roll until it forms a log like this-
Now use a knife to trim off the edge of one end of the log then you tuck it in neatly. Then give some space and start cutting from the middle of the log like this.
When you are done cutting, it should look like this:
Next, start braiding the dough into a two-strand twist.
When done braiding, Fold in the edge neatly.
Place on a baking tray lined with parchment paper. Repeat the process with the other part of the dough-
Cover with a damp cloth and let it sit for about 10 minutes. Brush the top of the loaves with beaten egg yolk and bake in a preheated oven at 350 Degrees Fahrenheit for about 20 minutes or until the top is golden brown.
If you can't find a warm place to keep your dough to rise, warm your oven for 2 minutes at 200 Degrees Farenheit, turn it off and place the dough inside. It should rise nicely.
Instead of doing the egg wash, you could slather some of the chocolate spread on the loaves.
Enjoy!