AFRICAN FISH IN BATTER
Published Jun 28, 2017
Updated Sep 26, 2018
Welcome to fish in batter African style! It is super crunchy on the outside, so tasty on the inside, savoury and just so good! This is a great snack, party food or picnic food.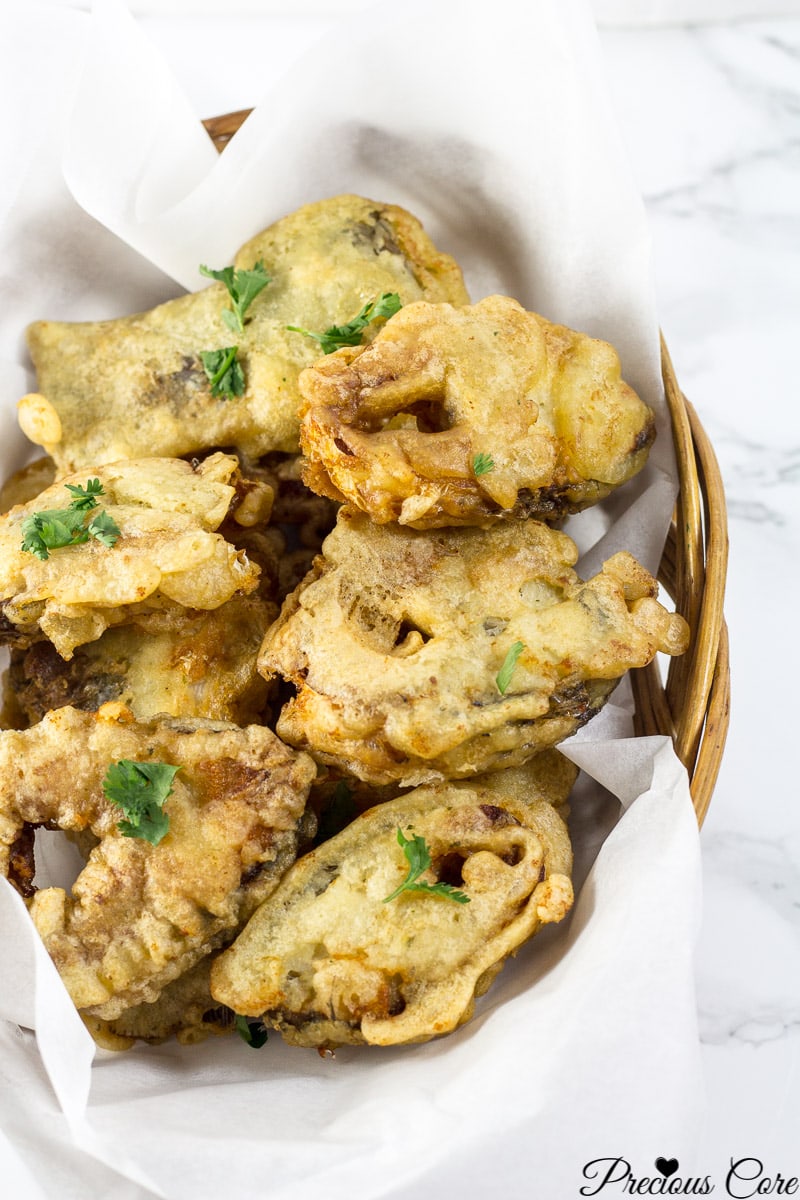 I went all the way back to my Food and Nutrition class in secondary school in Cameroon, with this recipe. Fish in batter is equally popular in Nigeria. It is a true classic. This right here takes fried fish to a whole new level.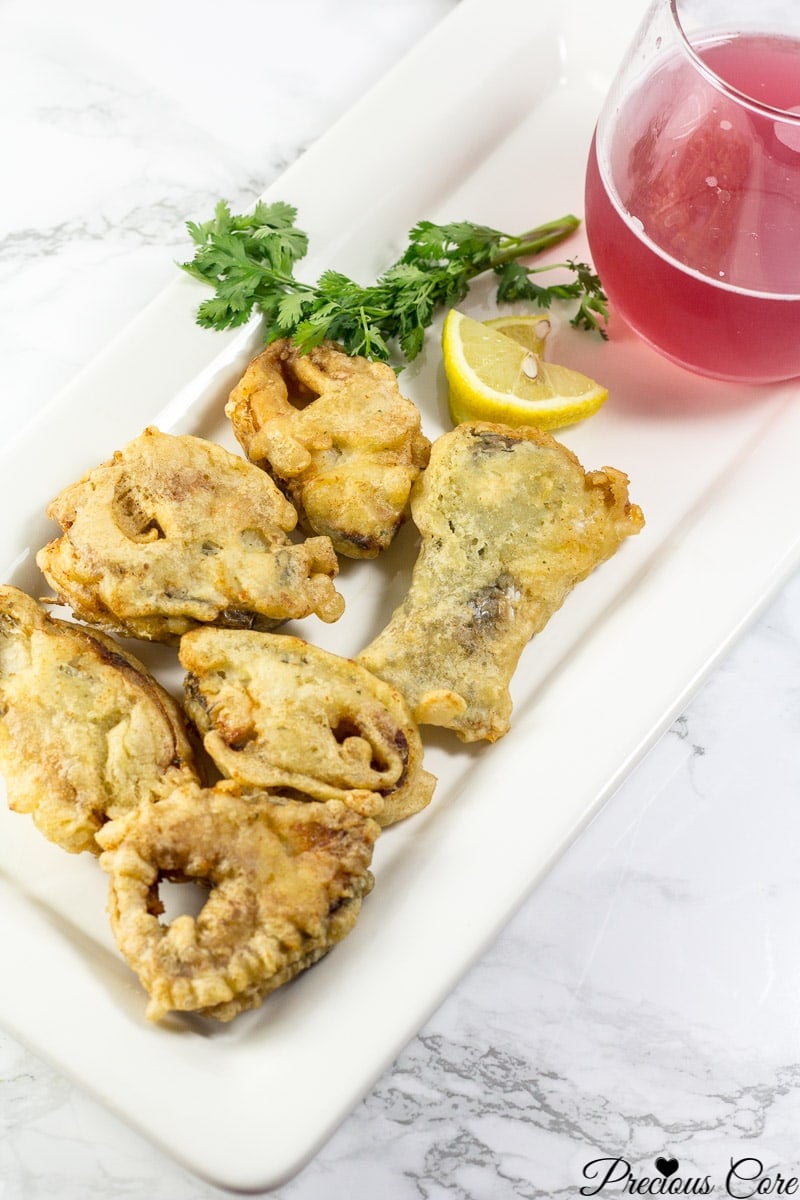 I was minding my business the other day when my brother-in-law popped in to see me with some really lovely fish and goat meat. Don't you just love in-laws who visit you with raw food? Immediately I saw the fish, I purposed in my heart that I was going to make some fish in batter. And I did.
I shared a picture of it on Instagram and Facebook. Almost immediately, I got tons of requests that I share the recipe, which I planned to do anyway.
So here we are with your new favourite fish recipe! The fish is dipped in perfectly seasoned batter then deep fried to wicked deliciousness. Some people add beer to their batter to make beer-battered fish. I don't. I make the batter with simple good old water.
I love having my battered fish with some semi-ripe plantain chips or Irish potato chips. There is nothing like it.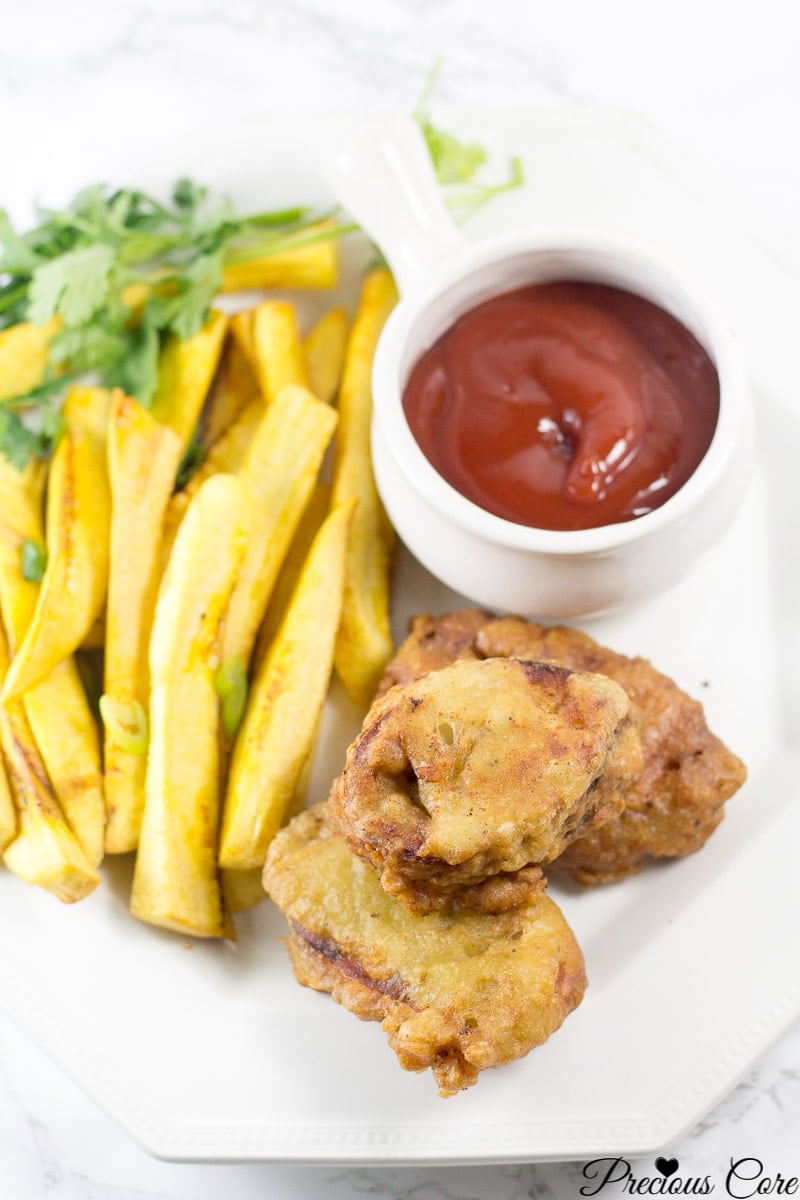 Watch my step-by-step video to see how I make it. I have a YouTube channel where I upload cooking videos every week. If you are not subscribed to it, subscribe here so you do not miss any of my videos.
Watch how to make battered fish: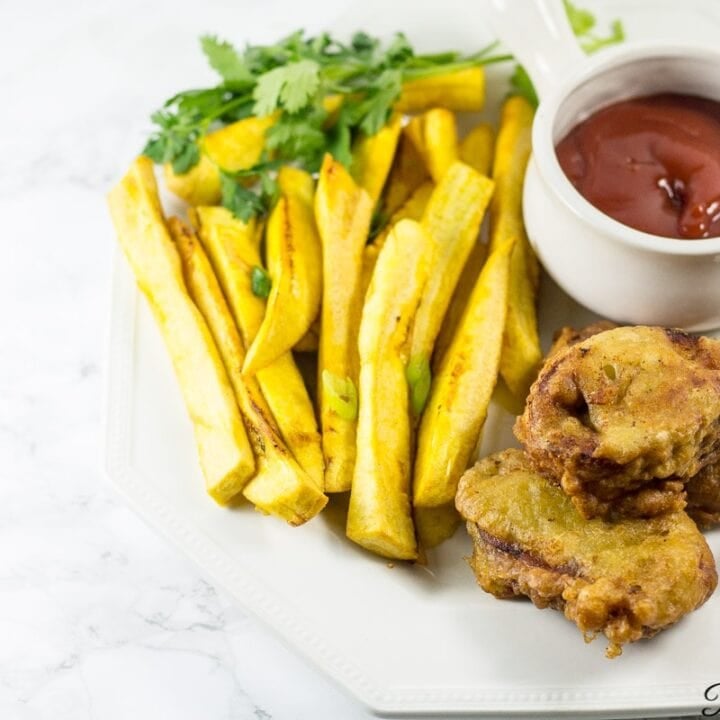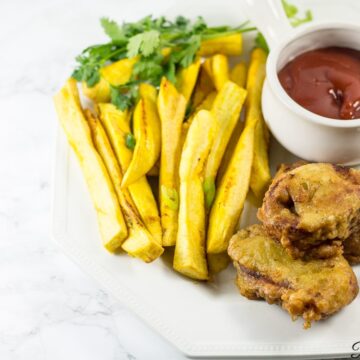 African Fish in Batter
This snack is made by coating fish in batter then deep-frying to perfection. The fish is incredibly tasty! The batter is so crunchy. It is the perfect snack, picnic food or homemade fast food. Pair it with some chips of choice if you wish.
Ingredients
2

medium fish of choice - mackerel, tilapia, etc (1-2 pounds or 1/2-1 kg)

substitute with fish fillet of choice

1

cup

flour (125 grams)

1/2

teaspoon

baking powder

1/4

medium onion - roughly chopped

1/2

stem

celery

2

sprigs

parsley/cilantro

4

cloves

garlic - peeled

1/2

inch

ginger - peeled

1

stem

green onion - chopped

1

small Maggi cube

substitute with a teaspoon of bouillon powder

1/2

teaspoon

salt

1

cup

water

Oil for frying - I used corn oil
Instructions
Cut fish into really thin slices- about 7-8 slices per fish. Rinse thoroughly then pat dry with a paper towel to absorb excess water.
Make the marinade. 
Put ginger, garlic, onion, green onion, celery, parsley and Maggi/bouillon powder in a blender. Add two tablespoons of water and blend into a paste.

Add 1/4 teaspoon of salt and a heaping tablespoon of the marinade on the fish. Mix well with your hand so the marinade gets to all angles of the fish. Set aside.
Make the batter. 
From the one cup of flour, remove about a quarter cup and place on a plate. Add a tablespoon of the marinade, baking powder, 1/4 teaspoon of salt and half of the water to the remaining flour. Mix until smooth then add the remaining water and mix to form the batter. The consistency of the batter should be like that of a thick crepe batter.
To make the fish in batter. 
Heat oil on high heat for about 5 minutes then turn the heat down to medium, Coat a fish slice in the flour on a plate then dip into the batter to coat properly. Place it in the oil. Repeat process with all of the fish. Let them fry on medium heat on each side for about 5 minutes. In all, the fish should spend 10-15 minutes in the oil.

When the fish is a beautiful golden brown colour, remove and place on paper towel to absorb excess oil.

Enjoy as it is or serve with chips of choice.
Notes
1. If you like heat, add in a little cayenne, chili or habanero pepper to your batter.
2. You could add an egg to the leftover batter and make a savoury crepe/pancake.
Nutrition
Calories:
138
kcal
|
Carbohydrates:
17
g
|
Protein:
14
g
|
Fat:
1
g
|
Saturated Fat:
0.4
g
|
Polyunsaturated Fat:
0.3
g
|
Monounsaturated Fat:
0.4
g
|
Cholesterol:
28
mg
|
Sodium:
421
mg
|
Potassium:
216
mg
|
Fiber:
1
g
|
Sugar:
0.4
g
|
Vitamin A:
30
IU
|
Vitamin C:
1
mg
|
Calcium:
38
mg
|
Iron:
1
mg

I'm so glad that you are interested in making one of my recipes! If you make this, please share a picture with me on my Facebook page, Facebook.com/preciouscore or share on Instagram and tag me @preciouscore.