Baked Scotch Eggs!
Published May 19, 2015
Updated Apr 27, 2017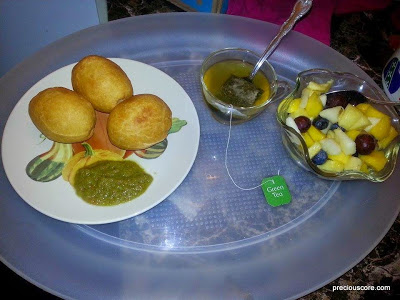 Cameroon style scotch egg
I'm not a fan of boiled eggs but when it comes to eggs rolled in dough and served with 'sweet' pepper sauce then I'm a huge fan! There's just something about scotch eggs. They put the 'e' in the eggs. Lol
So recently I had a huge amount of eggs sitting in my fridge. While thinking of what I could do with them, I remembered scotch eggs. Oh scotchy!
When I made and served them to hubby, he was so in love. So few days after, he requested that I make another batch. I transitioned from deep frying them to baking them. They are healthier and still taste great! Let's start cooking. Shall we?

Prep time: 30 mins
Cook time: 20 mins
Total time: 50 mins
Makes: 4 scotch eggs
Ingredients needed:
4 eggs
1 cup of flour
One quarter teaspoon of baking powder
1 tablespoon unsalted butter/margarine
One quarter teaspoon garlic powder
One quarter teaspoon white pepper
Salt to taste
*Could add other seasonings as needed
Method
–Boil eggs for about 20 mins. Remove from heat and plunge in cold water shell and wipe with paper towel and set aside.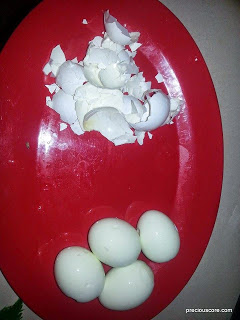 –Rub in flour, butter and all seasonings until the mixture looks like fine bread crumbs or garri.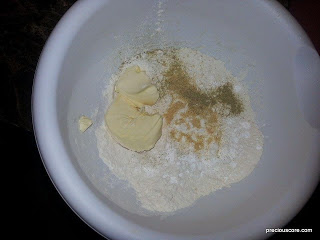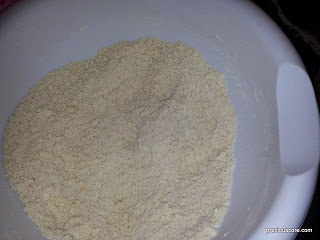 -Add a little water and mix dough until it forms a non-sticky ball.
-Roll out dough on a floured board. Then use something round to create circles on it.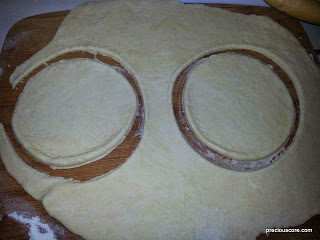 -Place an egg on a circle and wrap it well. Be sure to close the edges well so they don't open up while baking/frying.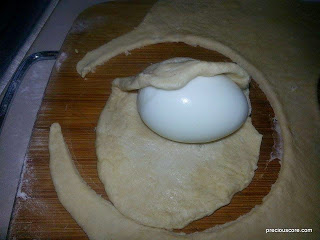 -Place eggs on a greased tray and bake (on a greased tray) at 350 Degrees Fahrenheit for about 20 minutes or till golden brown.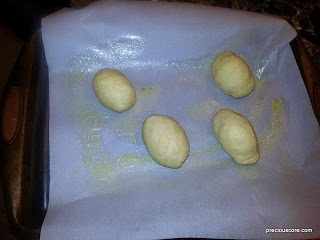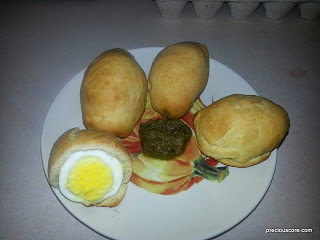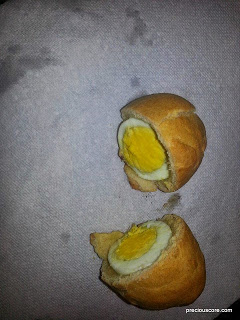 *I had a little dough left and I baked it too so it gave me this: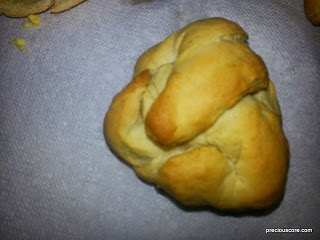 NOTES

If you would love your egg to have a glossy look, brush with some beaten egg before baking.
What is originally called scotch egg is egg rolled in ground sausage/meat/fish, flour, egg and deep fried. I haven't tried that version yet. I will bring you the recipe when I do.
Enjoy!