CAMEROONIAN FISH STEW
Published Nov 04, 2016
Updated Sep 26, 2018
Oh man, this Cameroonian fish stew is so bomb.com that I had to change the planned recipe for the day and share it first. Because somebody somewhere reading this needs to get into their kitchen and make this tomato stew which will live happily ever with their boiled rice. Or boiled plantains. Or boiled yams. Or even bread!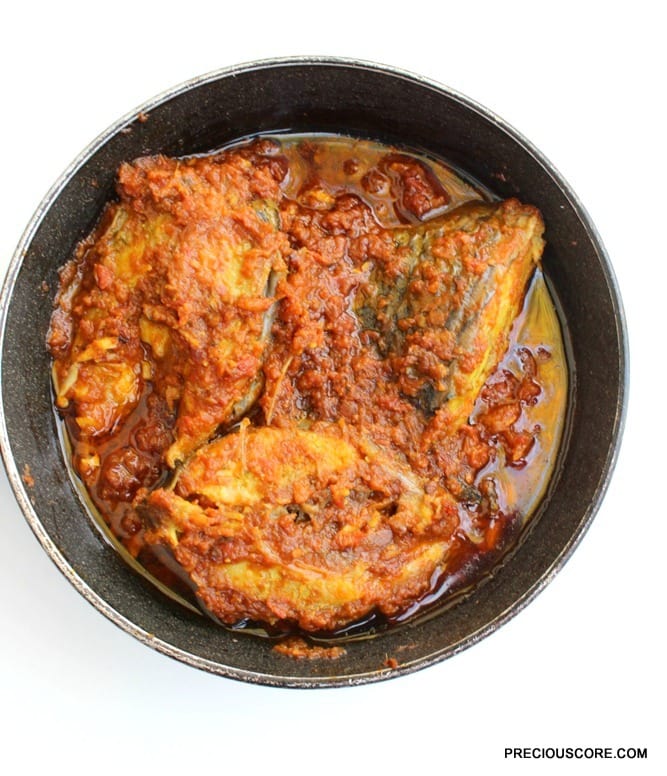 This is how the fish stew happens chez moi. Picture this: well-marinated fish slices grilled in the oven.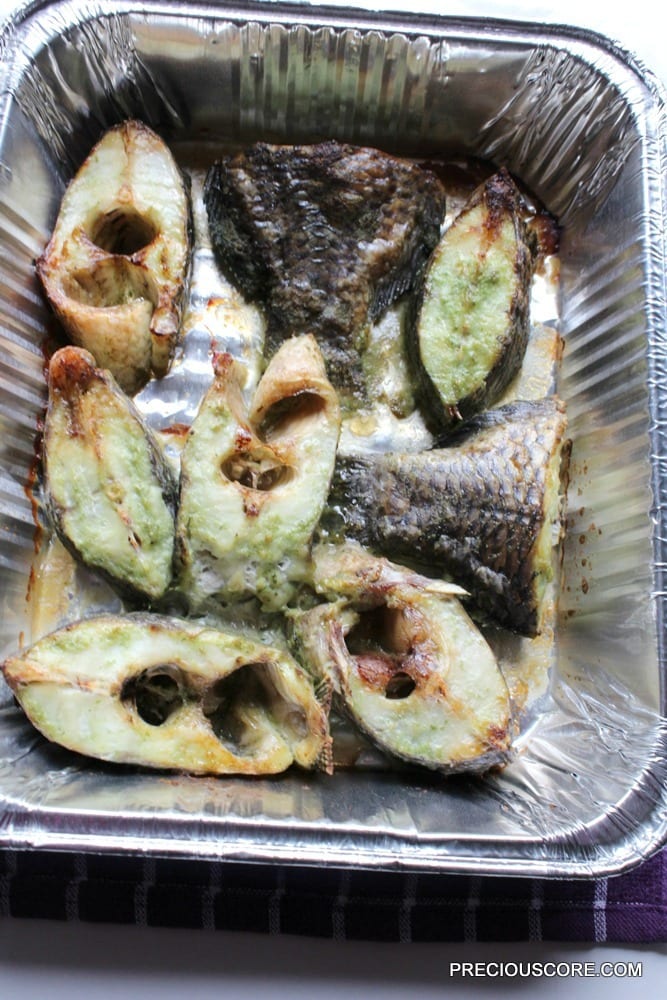 Ahh! This is that point of the cooking where I pick one and feed myself. You can fry it instead if you like but I think grilling in the oven is better because it keeps all the extra oil away and I don't also have to deal with horrifying splashes from the oil that result when the fish is frying (hello blistered hand!). Alternately, you can just put your marinated fish slices into the pot sans frying or grilling. But I love grilling in the oven or frying because it makes the fish much firmer so it doesn't break easily in the pot of stew.
We are still on our picturing journey, amiright? Now picture this: a rich tomato sauce "aromalised" with onions, garlic, white pepper and um, love.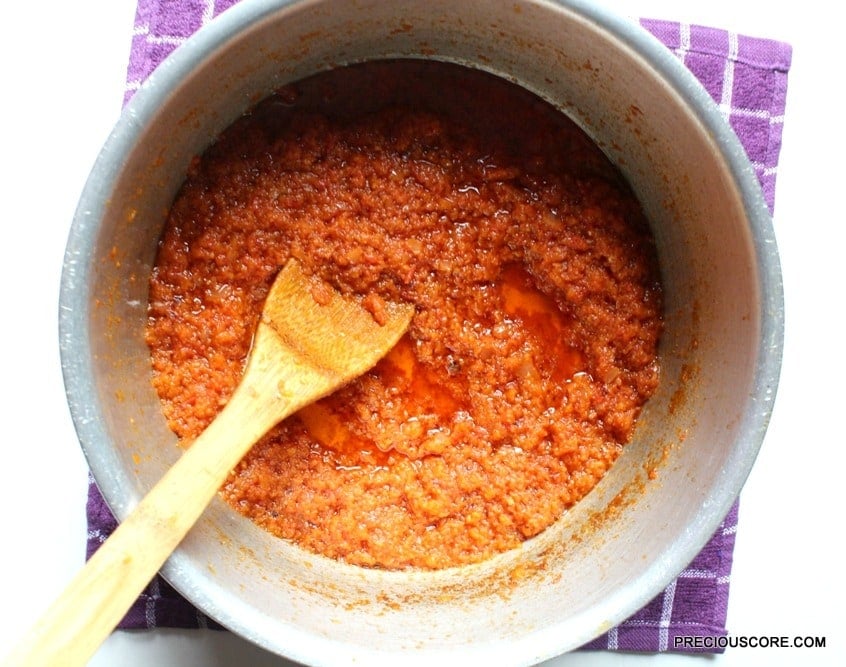 I know, I know. The word, " aromalised" doesn't exist. Google just told me that now. But sometimes I find that the only way I can say what I want to say is by creating a new word. I'll pray about it.
Now picture this: The tomato sauce and the fish come together in a perfect culinary marriage and sizzle together. Hmmm. Gimme some boiled rice!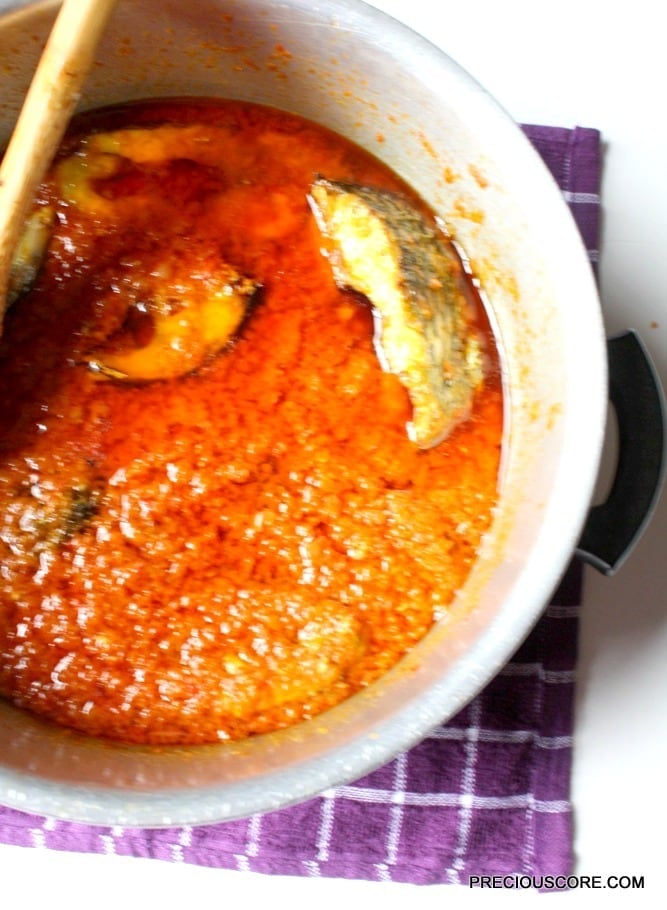 This fish, swimming in a rich tomato sauce aka fish stew is slightly sweet because all those fried tomatoes lend some sweetness to it. Yet it is savoury and spicy. Ladies and gentlemen, if you have never made a tomato-based fish stew or it's been long since you made some, now is the time to go make a gigantic pot of fish stew.
P.S I'm not gonna lie. On some days when I don't feel like going through all the fish grilling and tomato frying thing I just dump all blended ingredients together with the raw fish, seasoning and oil into the pot. I cook them together and it tastes amazing!
P.P.S I resume shooting for my YouTube channel today and I'm so EXCITED. I just discovered that YouTube made my channel URL easily memorable. It is www.youtube.com/preciouskitchen. Thank you, YouTube! Please subscribe if you haven't done so yet. So many foodie goodies coming your way!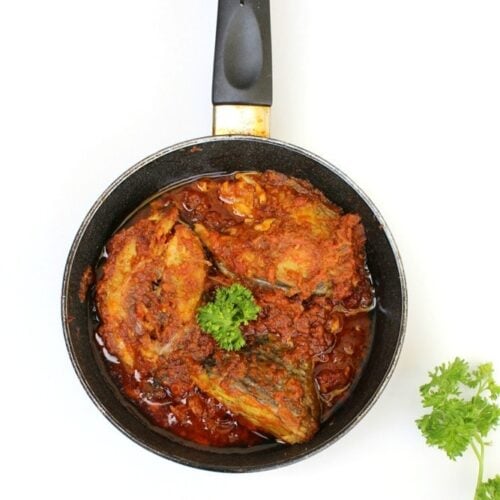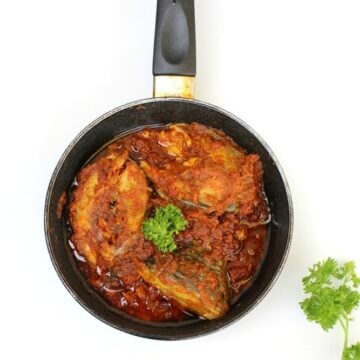 Cameroonian Fish Stew
This fish, swimming in a rich tomato sauce aka fish stew is slightly sweet because all those fried tomatoes lend some sweetness to it. Yet it is savoury and spicy. 
Ingredients
2

white fish of choice

I used tilapia

8

medium tomatoes

1

14 oz can

tomato sauce or paste

1

large onion

1

cup

vegetable oil

4

garlic cloves

1/2

inch

ginger

2

stems

basil (optional)

1/2

teapoon

white pepper

1

teaspoon

curry powder (optional)

3

cubes

Maggi

Salt

to taste

2

hot peppers (habaneros- optional)
Instructions
Peel garlic and ginger then blend together with white pepper, half of the onion and half of the basil (if using).

Clean fish and cut into slices. Then sprinkle a little salt and rub a tablespoon of the spice blend in stage 1 all over the fish slices. 

Allow to marinate for 30 minutes if possible or just grill(or fry) right away. To grill, grease a baking tray place fish slices on top and grill in a 350 degrees F OVEN (176 degrees C). To fry, heat half a litre of oil in a slightly deep pan on medium high. Then fry fish slices in.

Alternately, you could skip grilling or frying and place your uncooked fish slices in the tomato sauce to cook.

To make the tomato sauce: blend fresh tomatoes. Slice the other half of onion. Then heat one cup of oil in a pot over medium high heat and sauté the onions until tender. Next add in the blended tomatoes and fry until acidity is almost all lost. Add in tomato sauce or paste and fry for and additional five minutes, stirring all the time. Then add in the spice blend, curry powder and hot pepper (if using) and let them cook together for about two minutes.

Add a cup of water to the tomato sauce, salt to taste (about a teaspoon will do) and the seasoning cubes (Maggi). You could add more water here if you want your stew to be lighter.

Now put in all the fish slices and let that cook together with the stew for about 5 minutes. Let it cook for 5 more minutes if you put the fish in raw.

If you choose to use basil, which is absolutely to die for, this is the time to chop some and sprinkle over your stew.

Turn off the heat and enjoy with some boiled rice, plantains or white yam. This stew will taste even better the next day after the fish must have absorbed the flavours of the tomato sauce.
Notes
I made this fish stew with tilapia but you could use other kinds of fish like mackerel or croaker.
Nutrition
Calories:
654
kcal
|
Carbohydrates:
20
g
|
Protein:
21
g
|
Fat:
57
g
|
Saturated Fat:
9
g
|
Polyunsaturated Fat:
32
g
|
Monounsaturated Fat:
13
g
|
Trans Fat:
0.4
g
|
Cholesterol:
43
mg
|
Sodium:
708
mg
|
Potassium:
1218
mg
|
Fiber:
5
g
|
Sugar:
12
g
|
Vitamin A:
2559
IU
|
Vitamin C:
51
mg
|
Calcium:
65
mg
|
Iron:
2
mg
If you make this recipe, please tag me in a photo on Instagram @preciouscore. I'll love to see!