Cinnamon Sugar Pretzel Bites
Can I confess something? I must buy a cup of cinnamon sugar pretzel bites whenever I visit the Mall of America of any mall. Like I even do a happy dance when I spot Auntie Anne's (the popular pretzel bites vendor) around me.
These little bites are soft, pillowy on the inside and covered gloriously with a delightful cinnamon sugar. What's not to love?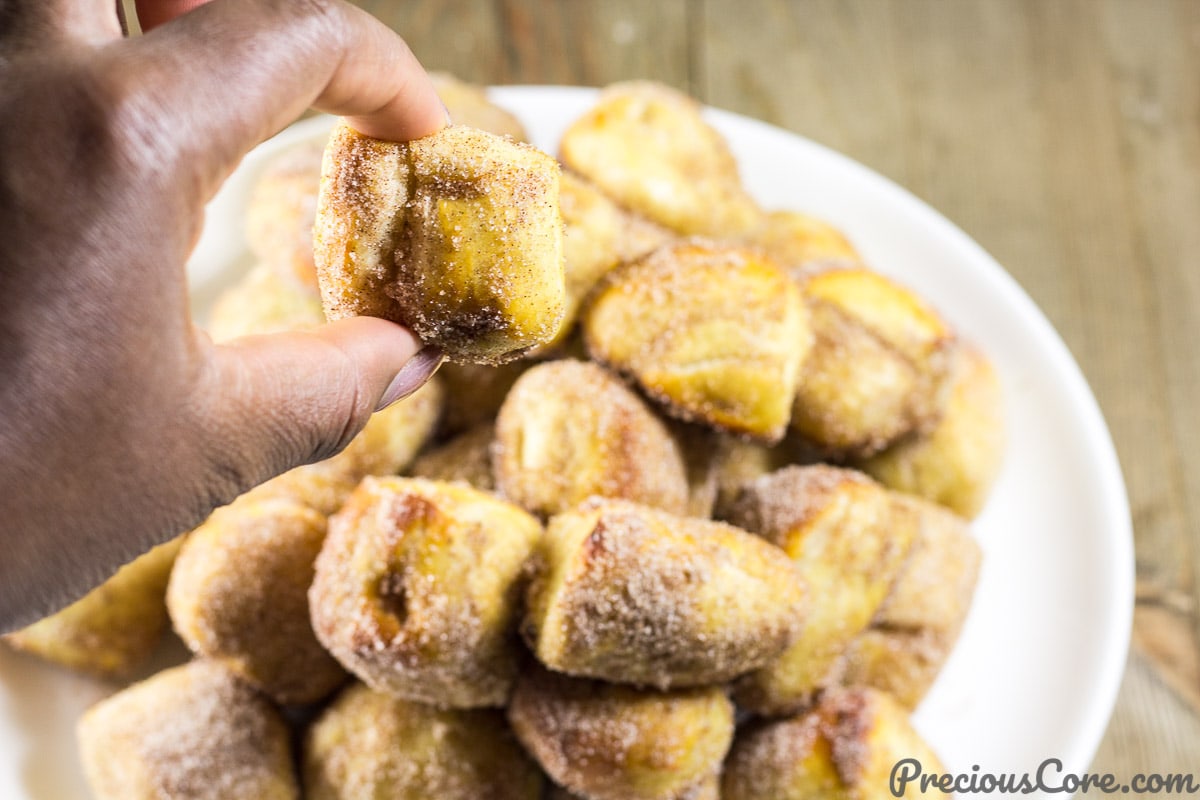 Prior to tasting these bites I had never been a fan of anything coated with sugar granules. I would always question if the sugar in the dough isn't enough. But I love the sugar on these bites. There just something special about the combination of salt pretzels with a sugary coating. Plus you can really reduce the sugar you use when you make yours at home. In fact, I used only half of the stated sugar quantity in the recipe I adapted this from.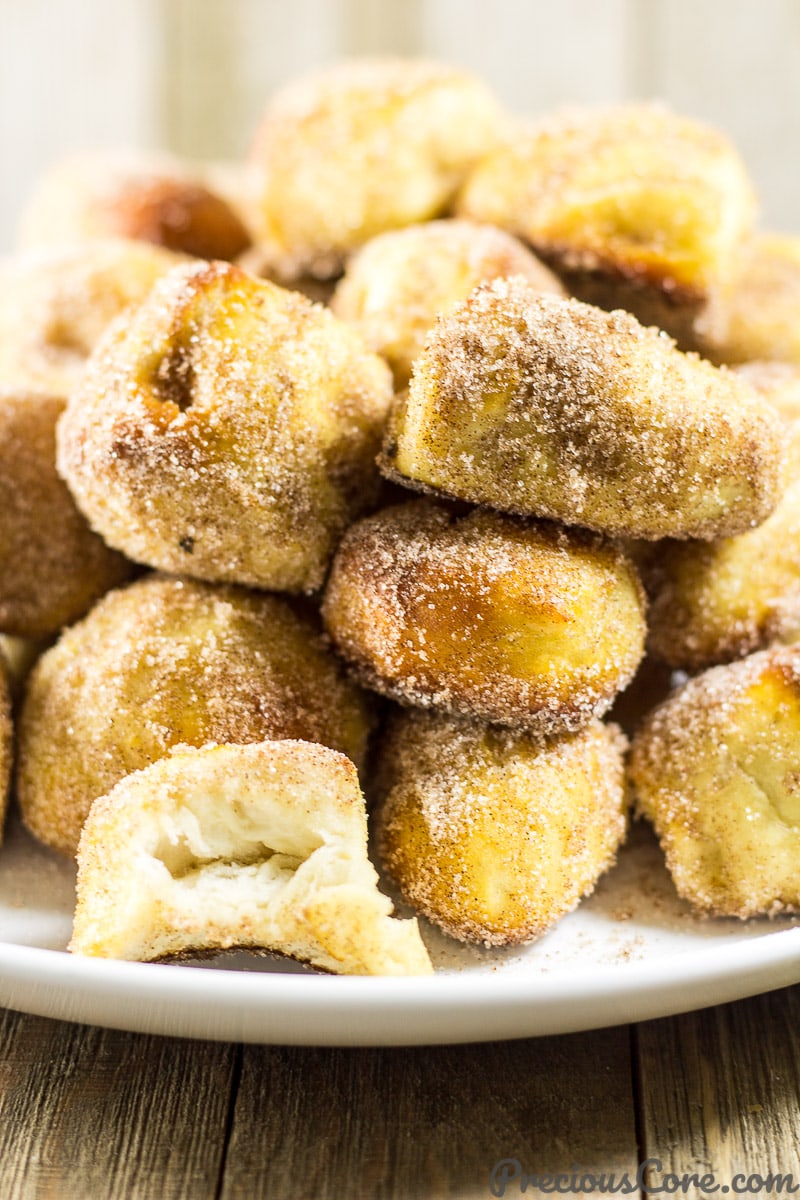 After being tied to Auntie Anne's cinnamon sugar pretzel bites for a long time, I figured it was time to make mine. As an unrepentant homemade pastry lover, I went on a hunt for the recipe on the internet and saw this recipe by Cooking Classy which was so easy to follow. So my recipe is heavily adapted from hers.
You begin by mixing some dough then you let it rise and then you form logs out of the dough and cut into about 1-inch slices. Also, you dip the pieces into a water and baking soda solution then you bake them to perfection. I really wanted to eat the whole thing after baking. But then the sugar must go on top.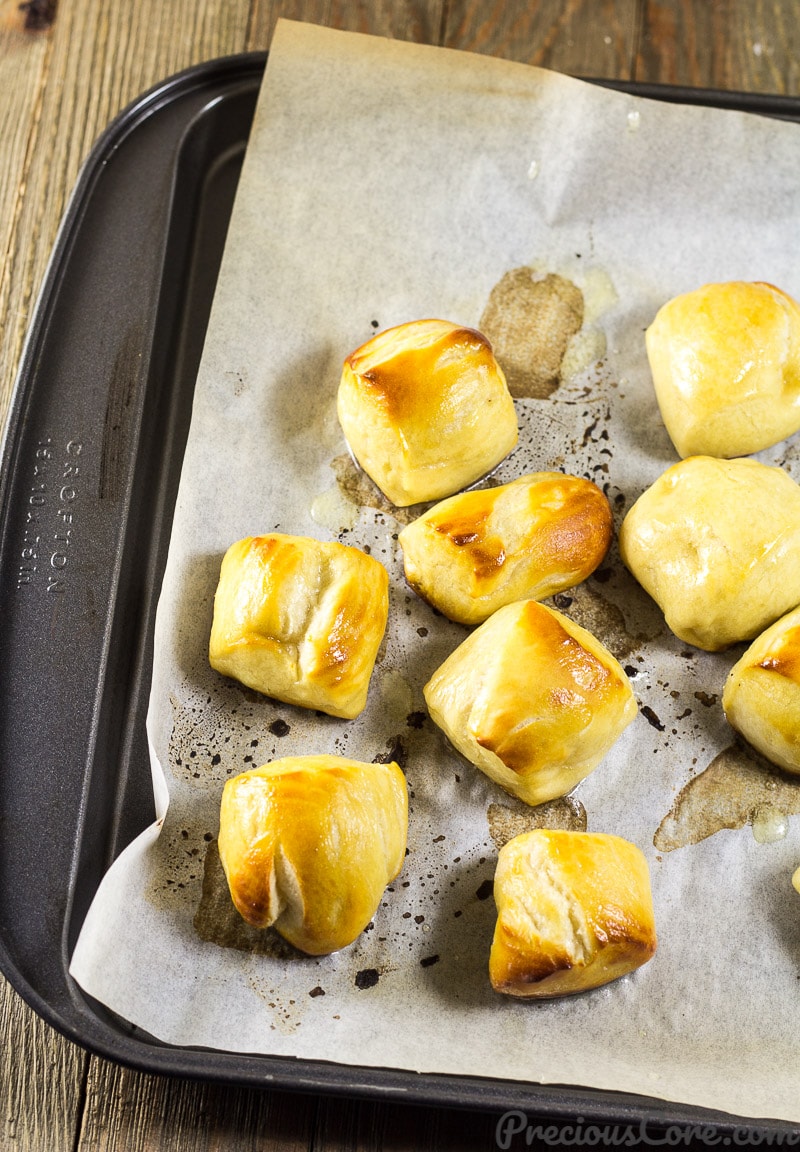 So mix cinnamon together with some sugar and combine with the pretzels. Et voila, you have your own homemade cinnamon sugar pretzel bites!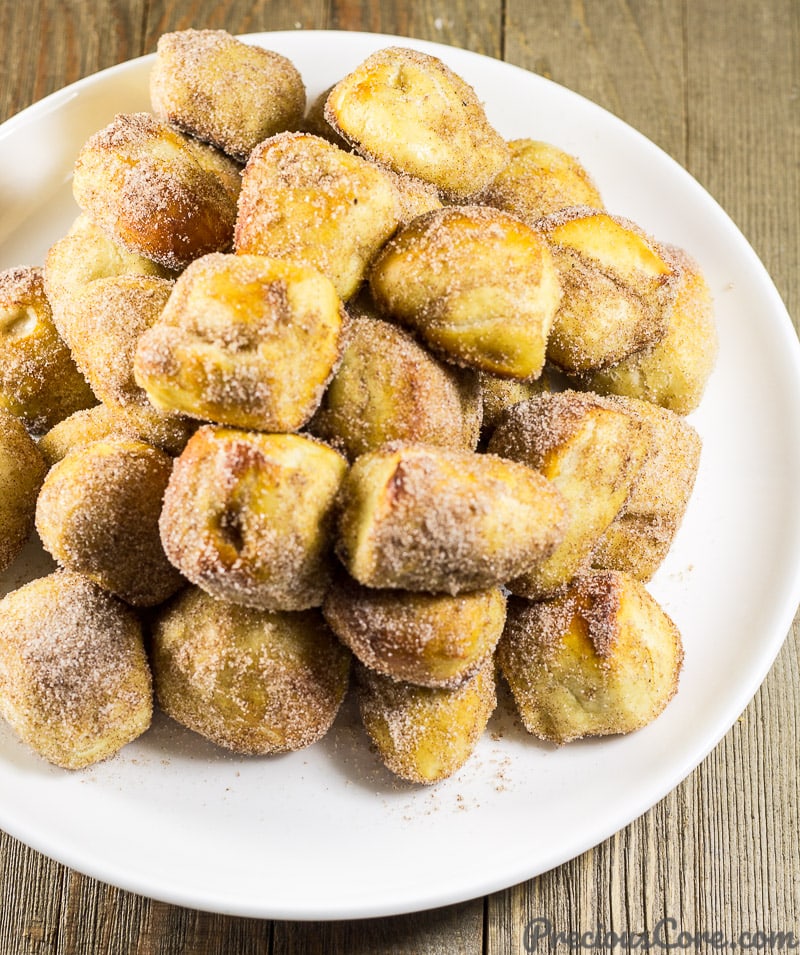 After making these and enjoying them, I was curious to know if they tasted quite the same as those in the Mall. Fortunately, my family and I visited the mall some days after I made them. And as fate will have it, we landed right on a floor where there was an Auntie Annes. I did my infamous happy dance then went there and purchased a cup of Auntie Anne's cinnamon sugar pretzel bites.
Guess what? It tasted just like the homemade version. This means I do not have to go to the mall each time I want some pretzel bites. There's no limit to what can be achieved in the kitchen.
Hope you enjoy this recipe for cinnamon sugar pretzel bites. If you need a little sugar in your life every now and then, this is the recipe to follow.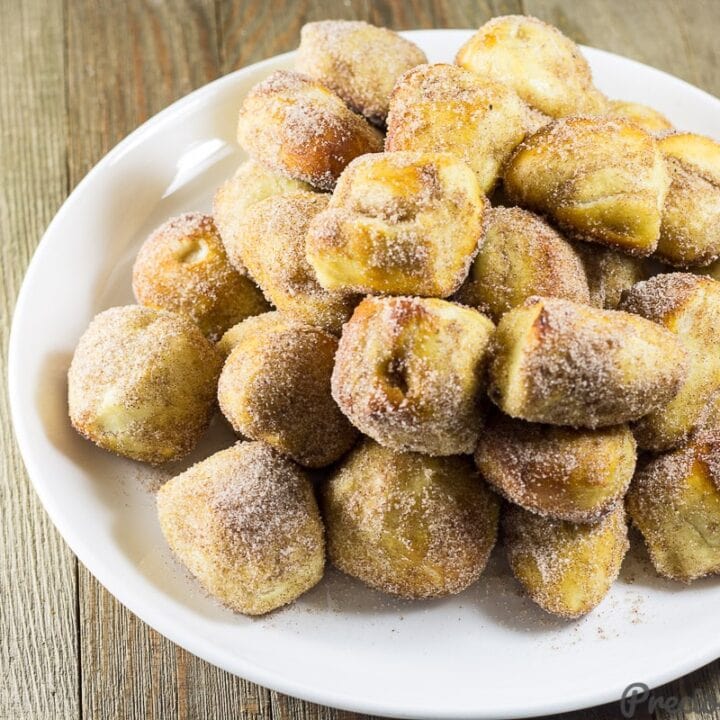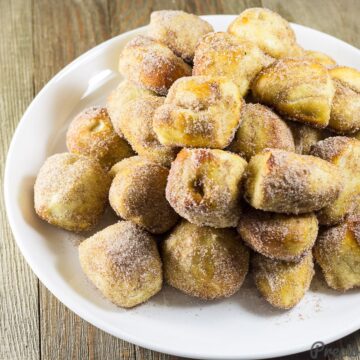 Cinnamon Sugar Pretzel Bites
These cinnamon sugar pretzel bites taste just like the ones at the mall. Soft and pillowy on the outside and coated with a heavenly cinnamon sugar mixture. Homemade is the best!
Ingredients
3

cups

flour (375g) plus more for kneading

2 1/4

teaspoons

yeast

1

tablespoon

granulated sugar

1

tablespoon

brown sugar

1 1/4

cup

warm water

1

tablespoon

vegetable oil

1

teaspoon

salt
For baking soda bath
1/4

cup

baking soda

3

cups

hot water
For coating
1/4

cup

butter

1/4

cup

granulated sugar

1

teaspoon

cinnamon
Instructions
In a bowl, mix together the warm water, yeast and granulated sugar. Let it rest for 5 minutes.

Add in the brown sugar, vegetable oil and salt and stir well to combine. Add in half of the flour and mix well. Then add in the other half of the flour and mix to form a dough. Transfer to a floured board and knead, sprinkling on more flour as needed. The dough should be slightly sticky. Rub a bowl with oil (I always use the same bowl in which I mixed the dough). Then place the dough in the bowl and cover with a plastic wrap and kitchen towel. Let it rise in a warm place for 1-2 hours until about doubled in size. To ensure it rises, turn on your oven for 2 minutes then turn it off and place the dough in it to rise.

Preheat oven to 400 degrees F (200 degrees C). Punch down risen dough to remove excess air then cut dough into 6 equal pieces. Take one piece and with your hands, roll into a long rope - about 28 inches long. Cut the rope into two. Then cut each piece into 4-6 pieces. Mix together hot water and baking soda then quickly dip the pieces into the water and remove. Place immediately on tray lined with parchment paper (you will need to prepare 2-3 trays for this recipe). Repeat the process of rolling, cutting dough and dipping in baking soda solution with the rest of the dough.

Bake the bites in preheated oven for 8-10 minutes until golden brown on the outside. Once they are out of the oven, dip each bite into melted butter. Combine the cinnamon and sugar in a large bowl then place in the bites in and toss lightly to coat.
Notes
1.The sugar in this recipe is greatly reduced because I do not like very sweet stuff. Feel free to adjust the sugar according to taste.
2. This recipe was adapted from cookingclassy.com
Nutrition
Calories:
276
kcal
|
Carbohydrates:
46
g
|
Protein:
5
g
|
Fat:
8
g
|
Saturated Fat:
4
g
|
Polyunsaturated Fat:
1
g
|
Monounsaturated Fat:
2
g
|
Trans Fat:
0.4
g
|
Cholesterol:
15
mg
|
Sodium:
1377
mg
|
Potassium:
57
mg
|
Fiber:
1
g
|
Sugar:
9
g
|
Vitamin A:
178
IU
|
Vitamin C:
0.01
mg
|
Calcium:
19
mg
|
Iron:
2
mg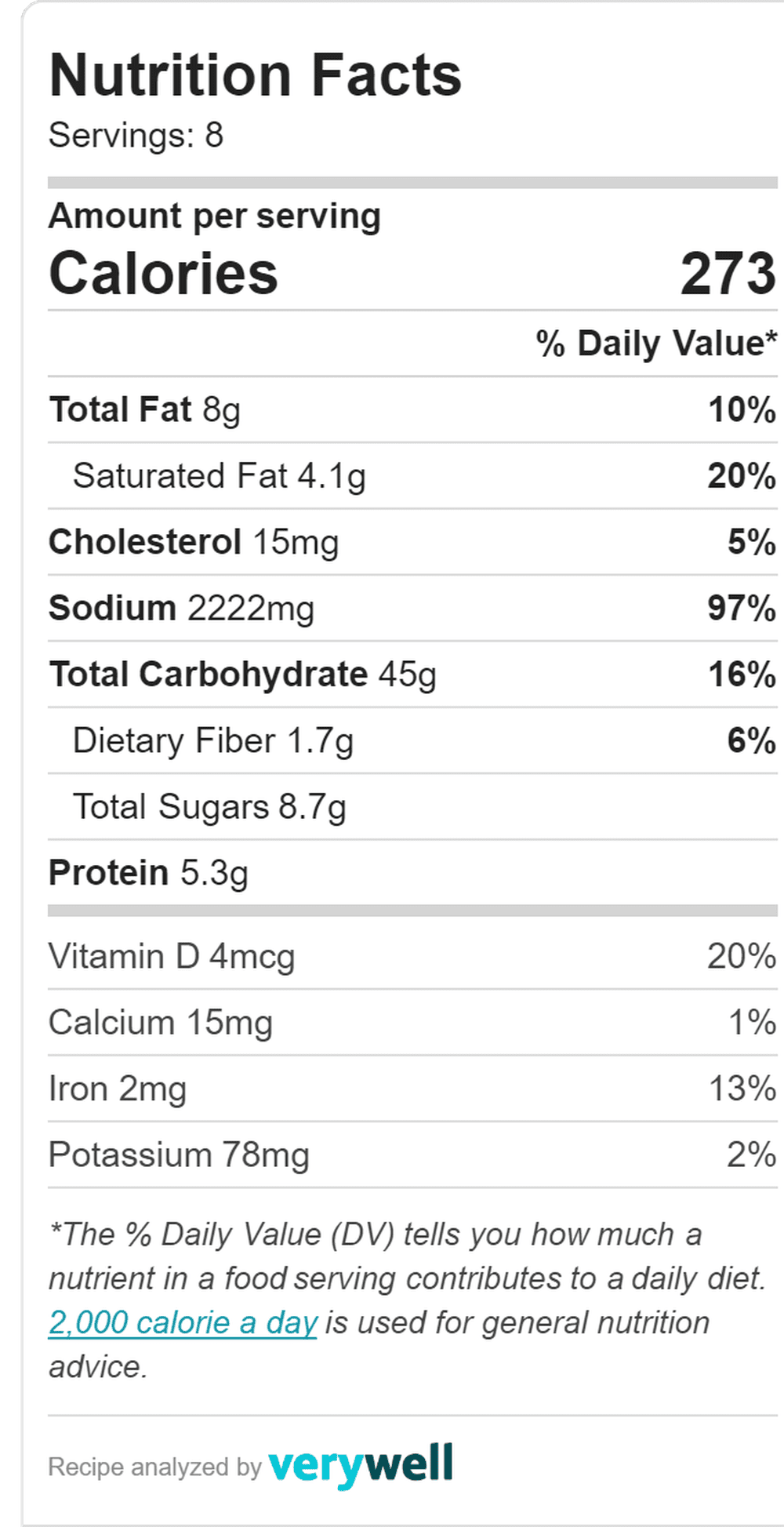 Pin this recipe: