DELICIOUS IRISH POTATO HOTPOT WITH LIVER
Published Jul 14, 2016
Updated Nov 27, 2022
I have been waiting all my life for this time of the year. The time when the farmer's market opens and I get to shop as though I am back home. I even get to bargain and turn my back to leave if the trader doesn't accept my proposal. Ha! I love to bargain in the market, it is one of the 
things I miss about home.
 I mean, something could be prized at 500 CFA Frs and you end up buying it for 50 CFA Frs. How cool is that? The not-so-cool part is that sometimes instead of buying "cheap", you get insulted by an irritated market woman.
So the farmer's market is in full swing here in Minnesota. It is therapeutic for me to walk through that market and check out the numerous goodies from the farms. I also get to discover great things there like fresh groundnuts! Waterleaf!
Okongobong
(that's Ugu in Nigeria!) Cocoyam leaves! Fresh Corn! "Banso potatoes!" Forgive me for all the "!". That's exactly how I feel each time I see these things. Then I come home and bore Mr. N with statements like, "Can you imagine I found rice at the farmer's market?!"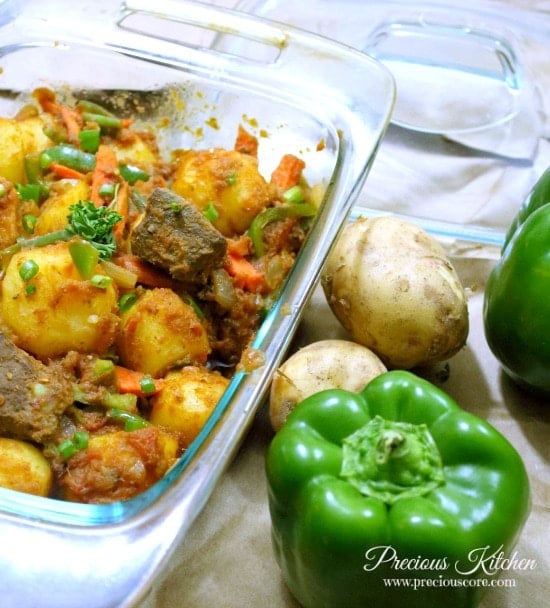 I call these potatoes, "Banso potatoes" because they are firm and dry just like the type of Irish potatoes called, Banso potatoes back home (referring to the village, "Banso" where they typically come from. When I first came here, I tried to enjoy potato meals but I just couldn't. The potatoes always turned out soggy and sometimes made the sound "grish grish" when eaten. They were not giving me life at all so I lost faith in boiling them and only resorted to frying them. The first time I tried the smaller potatoes from the farmer's market, my faith and hope in potatoes were restored. The potatoes are so tasty on their own then when made into a dish like this hotpot with liver, they are phenomenal.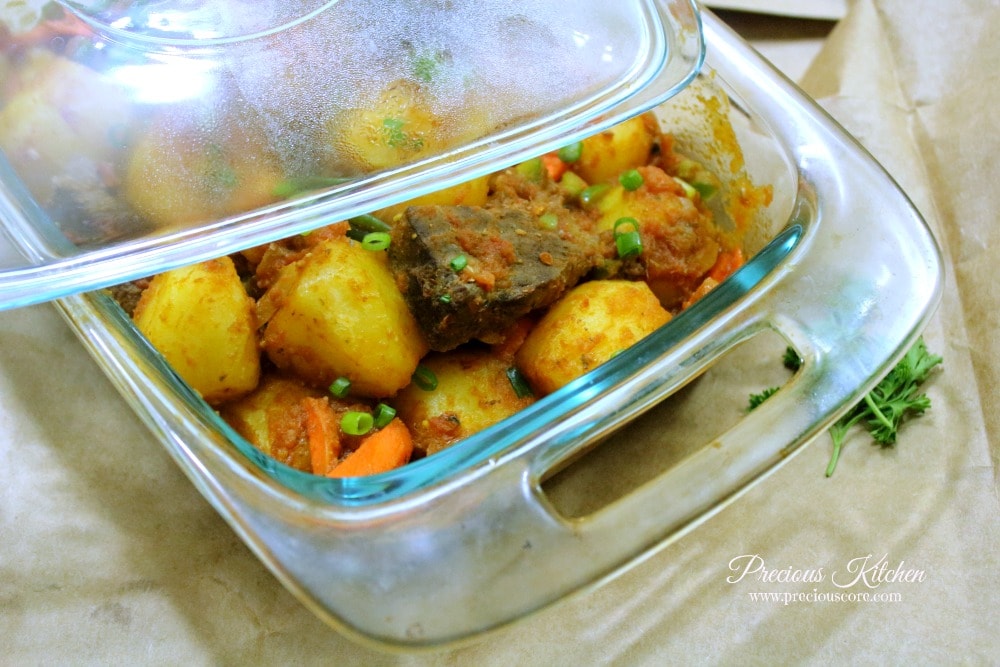 This one-pot dish is savoury, graced with the sweetness from the tomatoes, crisp with the freshness from the vegetables, and has an undeniably exotic texture from the liver. Using liver here instead of regular beef makes the dish… well let's just say a little more nutritious. Liver is loaded with vitamin A, iron, and other goodies that are good for the body. I have shared a similar
Potato Hotpot with Chicken recipe
 and you can check it out 
here
. You have to make this version!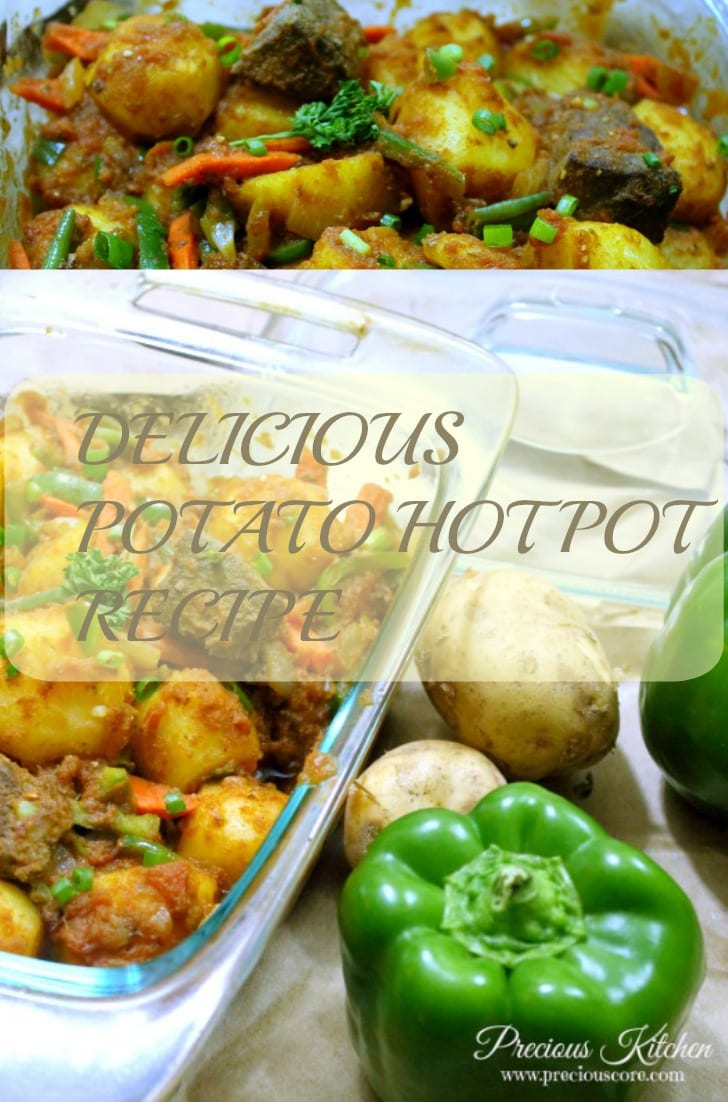 Here is the printable recipe for ya!
Print Recipe
Potato Hot Pot
by Precious Meshi Nkeih (www.preciouscore.com)  July-14-2016
This is a savoury one-pot potato dish typically cooked in Cameroon.
Ingredients
20 small boiled potatoes
1 medium size onion
4 fresh tomatoes
1 tablespoon ground garlic and ginger
half pound boiled beef liver (and its stock)
1-2 cups chopped carrots, green beans, bell pepper, and green onions
1 cup vegetable oil
2 (Maggi or Knorr) small seasoning cubes
a quarter teaspoon of salt
1 habanero (hot) pepper (optional)
Instructions
1. Put oil in a pot and set on high heat. When it is hot, lightly fry your boiled potatoes and set aside. You can totally skip this stage if you are not a fan of fried food or you are trying to keep fit. Alternatively, you could drizzle the potatoes with some (olive) oil and bake them in an oven at 400 Degrees Fahrenheit for 10 minutes. Boiling/baking the potatoes improves taste and texture and prevents them from breaking when added to other ingredients.
2. Chop tomatoes and onions and fry in oil until tomato is no longer sour
3. Add in your blended garlic and ginger and stir well. Let that fry for about 2 minutes.
4. Add in the chopped mixed vegetables and stir well.
5. Season with salt and seasoning cubes.
6. Add in the liver with about a quarter cup of its stock.
7. Finally, add in your potatoes and give that a good stir, being careful not to break the potatoes. Turn off the heat and serve hot!
Details
Prep time: Cook time: Total time: Yield: 4 servings