You've probably heard me say this a million times already but I don't care – I'm going to say it again. I LOVE this time of the year. And it is because of all the fresh food I get from the Farmer's Market. Like the potatoes used in this potato hot pot recipe.
I actually wait all year for this season to make potato hot pot. You see, the potatoes I have bought the stores here don't respond well when boiled. They are sort of watery and not creamy like I want them to be. So I resort to
frying them and enjoying with egg
for breakfast.
But when I want good potatoes for an awesome potato meal, I use the potatoes from the Asian farmer's market. They are creamy and so similar to the potatoes called, "Banso potatoes" in Cameroon.
But this doesn't mean you must get special potatoes for your hot pot. Any Irish potatoes you have on hand will work.
By the way, say hello to my bowl of potato hot pot: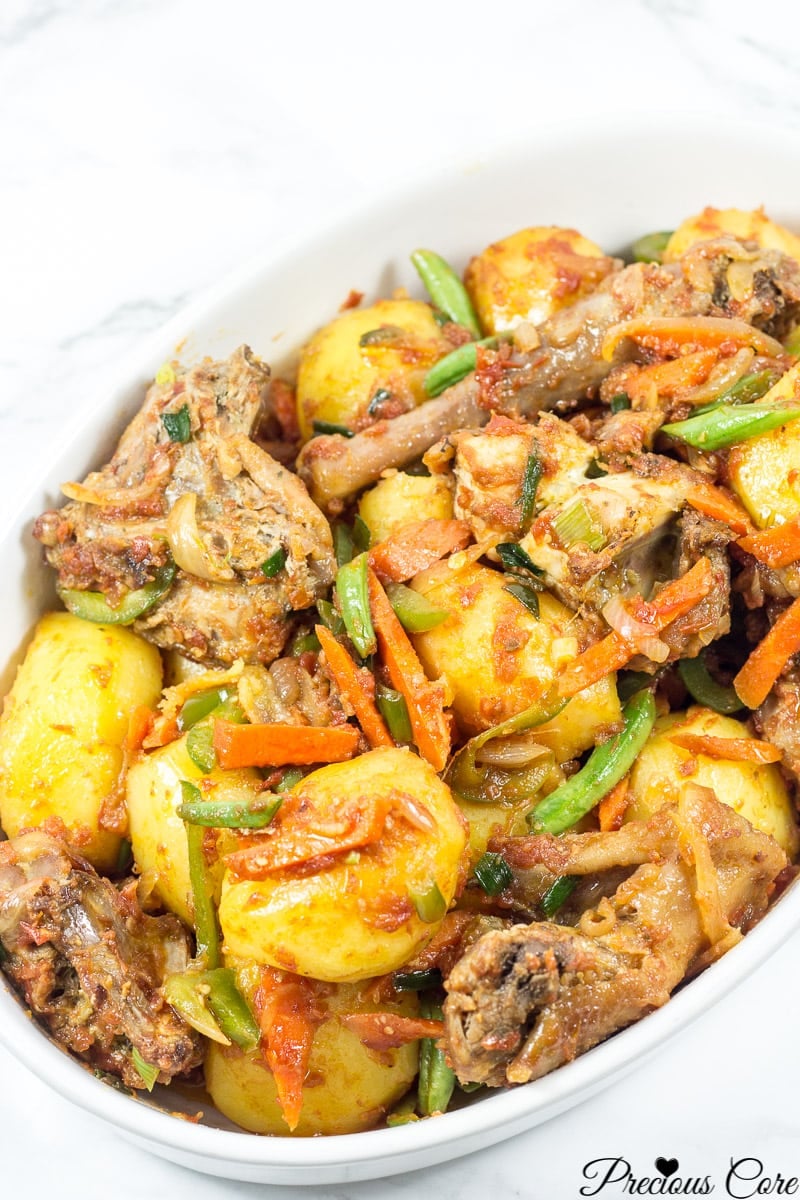 This one-pot dish is made with Irish potatoes, chicken and veggies. You could alternately make it with beef, with pork, fish, shrimp or even
beef liver
. By the way, check out the version with beef liver
here
. It is so scrumptious!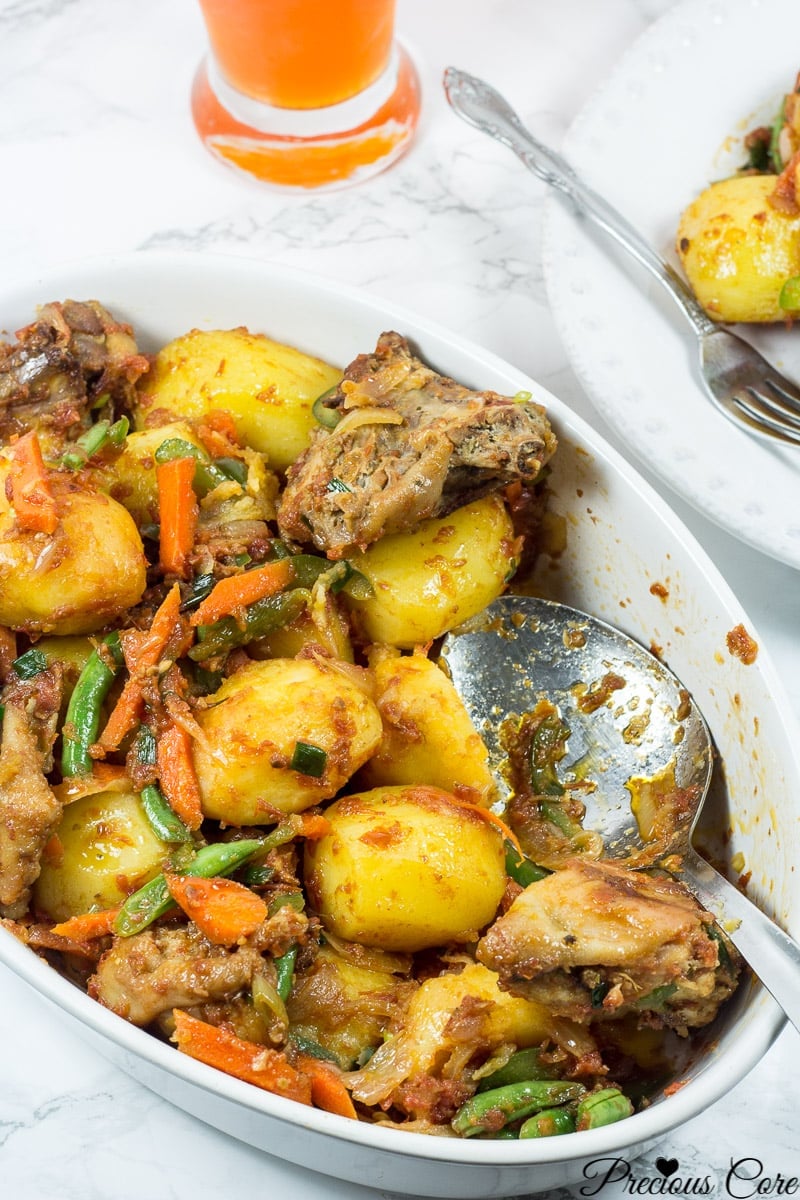 Potato hot pot is common in Cameroon and other countries as well. This recipe is a lot similar to 
Poulet DG
. The main difference is you use potatoes in this one while you use plantains in 
Poulet DG
.
I love enjoying my plate of potato hot pot with a glass of something juicy. It is soooooo good!!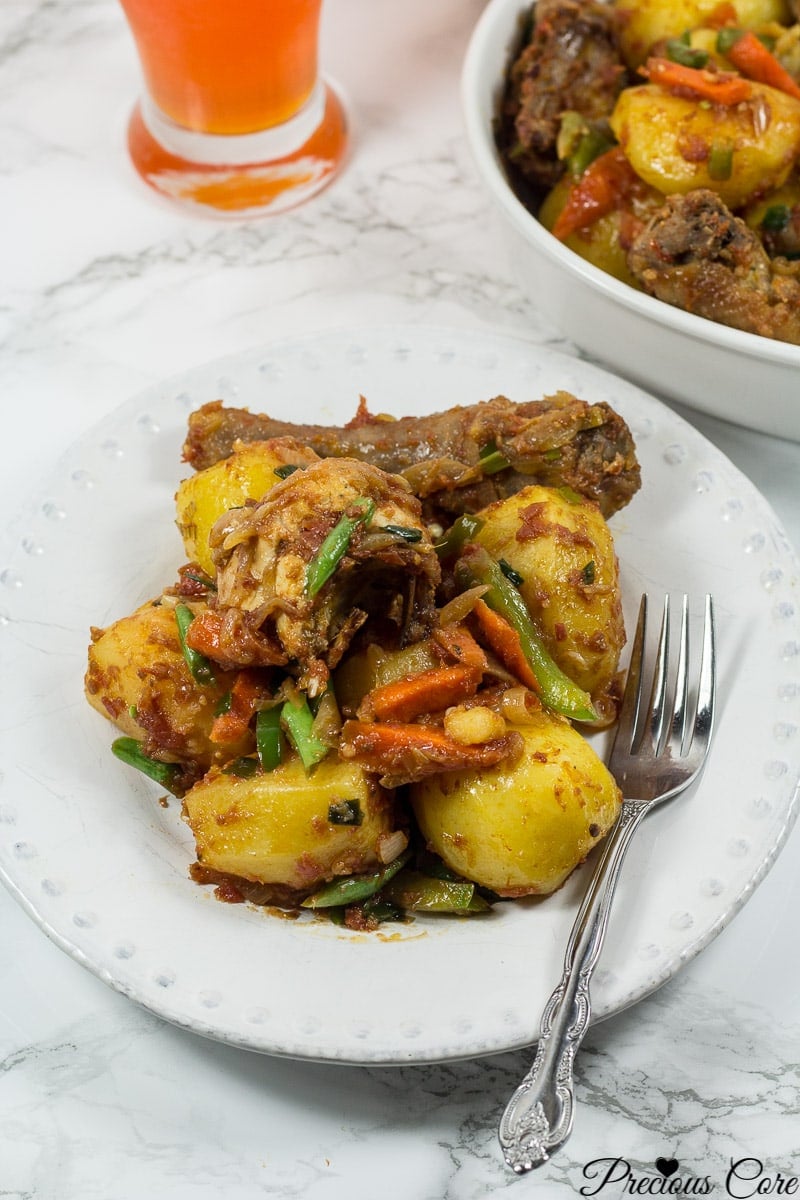 Guess what? Because I love you I made
a video
to walk you through the entire process of making your own delicious pot of hot pot potatoes. If you have not subscribed to my YouTube channel,
click here to subscribe
so you do not miss any of my videos.
Watch how to make potato hot pot: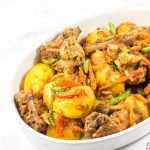 POTATO HOT POT RECIPE
A one-pot meal made with potatoes, chicken and veggies. Insanely yummy!
Ingredients
20-25

medium size Irish potatoes (or Idaho)

6

tomatoes

1

onion

3

tablespoons

ground garlic and ginger, 1 sprig of basil and 1 prig parsley

6 cloves garlic, 1 inch ginger

1

large carrot - chopped

15

green beans - chopped

1/3

green pepper - chopped

4

pounds

chicken (whole or part of choice)

about 2 kg

1

cup

of canola oil

2

stems of green onions - chopped

3

small stock cubes

3.5g per cube

Salt

1

teaspoon

white pepper
Instructions
Cut chicken, rinse thoroughly then place in pot. Add half a cup of water, 2 teaspoons of the ginger, garlic and herb blend, salt and 1.4 teaspoon white pepper. Let it cook on medium heat for 20 minutes. Be sure to check it so the water doesn't dry out. Replenish water as needed. When it is done, remove chicken from stock and place on a greased oven tray. Let it broil/grill in the oven for 10 minutes.

Peel potatoes, rinse thoroughly then place in a pot with water half way the potatoes. Boil until done - abut 20 minutes. When done, place potatoes on greased oven tray and let them grill/broil in a preheated oven for 10 minutes.

Chop tomatoes and blend, chop onion and set aside.

Heat oil in a pot and put in onions to saute for about 3 minutes. Add in tomatoes and fry stirring all the time until the tomato starts sticking to the bottom of the pan.

Add in your spices and stir well. Add in the stock from boiled chicken to make a stew. Add in some water as needed - if you want it very soupy, add more water. Now season with salt, stock cubes (Maggi), the rest of the white pepper and mix stew well.

Add in your chopped vegetables starting with the green onions then the carrots, green beans and bell peppers. Stir well.

Add the grilled chicken and mix well.

Add potatoes and mix being careful not to break the potatoes. When everything is well mixed together, turn off the heat!

C'est pret! Enjoy with a chilled glass of orange juice!
Recipe Notes
1. If you wish, fry our chicken and potatoes after boiling instead of grilling.
2. An alternate way of cooking this would be to boil your potatoes with tomatoes, onions, spices and seasoning. When tomatoes are almost done, throw in oil and vegetables. Avoid stirring and rather hold the pot with a pot holder and shake in order to incorporate all the ingredients.
3. You could substitute the chicken in this recipe with beef, turkey, pork or fish if you wish.
4. Add in some scotch bonnet, habanero or chili pepper for some heat if desired. If adding pepper, add to the the tomatoes when adding the other spices.

If you make this recipe, please share on Instagram and tag me: @preciouscore. I'll love to see!
*This recipe has been updated.