Easy Breezy Fruit Cake
Published Jul 17, 2015
Updated Apr 27, 2017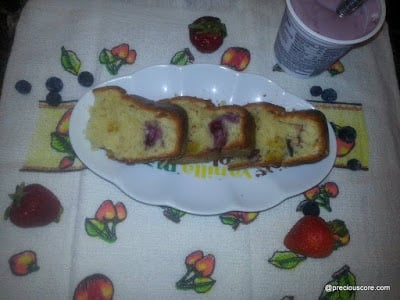 African style cake with fruits!
If you are like me, then you get worried about all the carbs that get into your system when you munch a slice of cake. Your days of worrying are over! I am here to show you how to eat cake and not feel guilty.

Add fruits to your batter! Mr N. is so nutrition conscious so he wasn't a big fan of my constant baking. I decided to make cakes more appealing by reducing the quantity of sugar and jazzing them up with fruits. Since then, he has been a huge fan!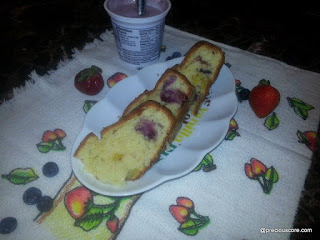 Don't you just want a slice?
You can use just any fruit you have in your kitchen. In this cake, I used apple, pineapple, strawberries and blueberries and oh, coconut flakes! Yum! Yum!! Yum!!!
Fruit Cake Recipe

Prep time: 20 mins
Cook time: 25 mins
Total time: 45 mins
Makes: 1 6-inch round pan

Ingredients

1 and a half cups of flour
Half teaspoon baking powder
A pinch of salt
Half cup of vegetable oil
Half cup of sugar
4 eggs (or less)
I cup of mixed fruit (pineapple, apple, strawberries, blueberries, and/or other fruits of choice)
Method
Oil and flour baking pan. Preheat your oven to 350 Degrees Fahrenheit.
1. Dice fruits and set aside.
2. Mix all dry ingredients in a bowl.
3. Whisk sugar and eggs together then add oil and mix well.
4. Pour into dry ingredients and mix thoroughly.
5. Gently fold in the fruits into the batter.
6. Pour into pan and bake for about 25 minutes. It is done when a toothpick dipped into the middle comes out clean.
That's really just it. Six easy steps and your mouth will get busy.
Look at what happened when I made this cake-
Few minutes later, when it was not properly cooled:

Then shortly:
Before I opened my eyes:
Don't ask me. Ask Mr. N!
Some other day I used a loaf pan and I got this:
HAVE A FRUITILICIOUS CAKE EXPERIENCE!