FIVE THINGS TO LOOK FOR IN A POTENTIAL HUSBAND
Published Sep 22, 2015
Updated Apr 27, 2017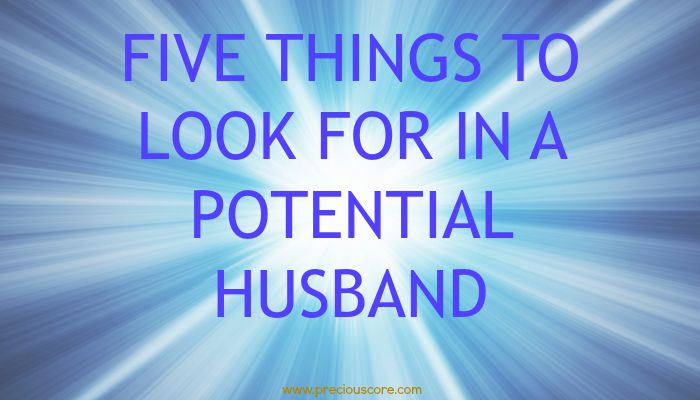 You read the five types of men single ladies should avoid HERE. Today, let's talk about five qualities single ladies should look for in a potential husband.

1.) He loves the Lord. Take it from a sister who married an unbeliever who eventually became born-again. She says she knows the difference between a born-again man and an untransformed man. She emphatically advises, "If a man doesn't have the nature of God, stay away from him." This is the most important quality and it should top your list.
2.) He has a dream that he is working towards. He is driven, passionate and focused. A man without a vision is going no where. You are meant to be his helpmate. If he has no garden (vision) what will you be helping him achieve? It is very important to marry someone who knows where he is going.
3.) He appreciates your talents. A friend who has the gift of singing and wanted to become an artist told me about her suitor's views. He kept telling her she will need to drop the music dream when they get married. That could be a red light. If he doesn't appreciate your dreams, you're probably not meant to be together. It's up to you to decide which is more important: dropping the man and following your dreams or marrying the man and forgetting your dreams. Can two walk together unless they agree? -Amos 3:3. A potential spouse should help you explore your potentials and grow.
4.) He is of service to the kingdom. We already saw that he should love the Lord. He should equally be doing something for the kingdom of God (Mathew 6:33). It could be using his time, his talent or even his finances.
5.) He loves people and interacts well with them. He should not be a "I too know" kind of person. He should seek mentorship and counsel. Also. he should show love to his family and puts others before himself.
Note that rich, tall, dark and handsome are not part of that. You could desire those but don't make them your priority. A man that loves God should be your ideal man. REAL MEN LOVE JESUS.
What kind of husband will you like to marry? How can one spot a good potential husband? Don't forget to gist me down there! Love ya!
P.S: If you loved this post, you might also want to check out the following:
IMPORTANT LESSONS FOR SINGLES FROM RUTH AND BOAZ