Healthy Banana Oat Muffins
Published Mar 03, 2018
Updated Sep 18, 2023
You guys, Healthy Banana Oat Muffins are here!! They are so tasty like my banana cakes but these ones are guilt-free. They are made with no added sugar and no regular flour (yep, you read that right). Besides, they only require one bowl, 7 ingredients, and 30 minutes to make!
Winner oh oh oh, winner! Winner oh oh oh, winner! Clean eating you don win oh, winner! I say you go win forever, winner! Excuse me, I had a moment.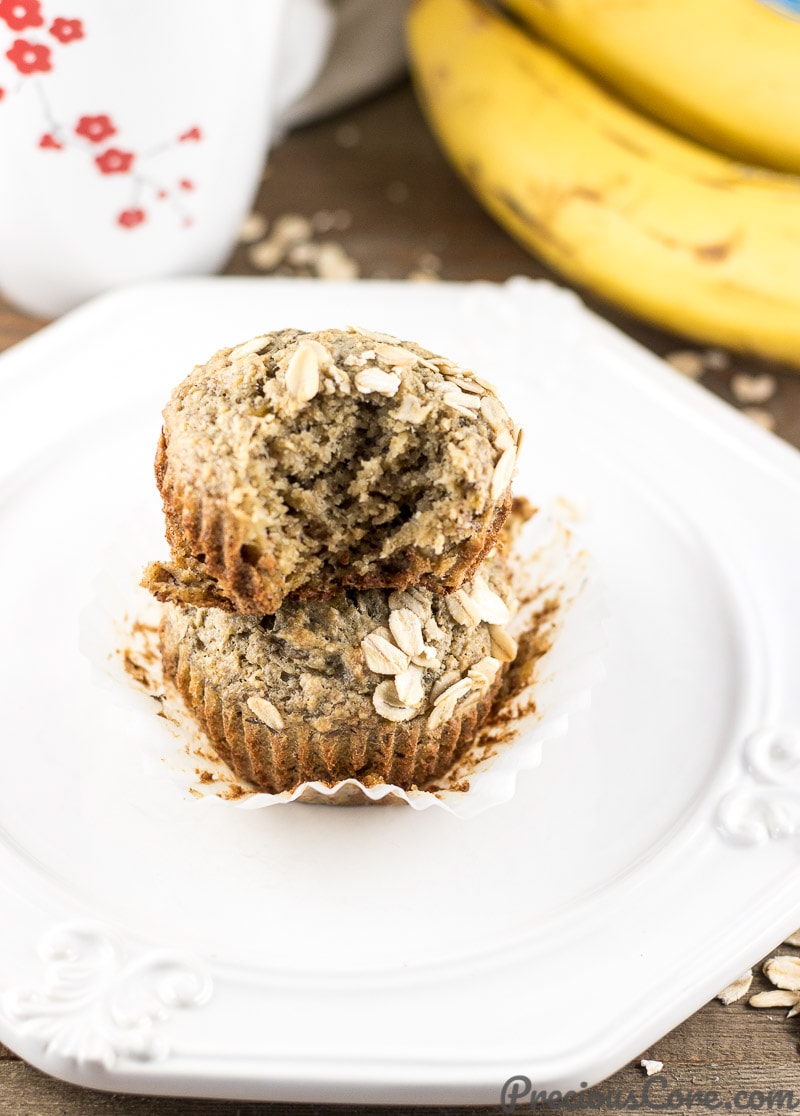 If you love muffins, also check out these recipes for Zucchini Muffins With Applesauce and BREAKFAST EGG MUFFINS.
In these 14 days of clean eating, one of my goals is to show you how to make healthy baked goods at home. And these healthy banana oat muffins are right up in my alley! I made them yesterday morning for breakfast and my girls and I ate almost the whole batch in no time! Only one muffin was left which I sneaked away and ate during my little mummy getaway moment. Ha.
Then we made another batch again this morning. And same story, we were all over it! These muffins are the bomb.com! They don't taste healthy at all. You know, some things just taste "healthy" (I'm looking at you asparagus and sesame seeds. Yuck!). But these muffins… you don't get the impression that you are eating something healthy when you eat them. They are sweet, moist and just a delight like my banana cake.
So how did I make them? First off I ground some rolled oats in my blender to make my own flor. Oats are a heart-healthy food that is so rich in fibre. If oats are not a regular part of your diet, I strongly suggest you start eating them. They are so versatile!
After grinding the oats, I asked my little sweet girl who is always in the kitchen with me to mash some bananas. She did that diligently. To the bananas, I added some eggs (fresh organic eggs I bought from a local farmer). Then I added some coconut oil and mixed them all together. Then I added the ground oats, baking soda, a huge pinch of salt and nutmeg and mixed everything together to form the batter.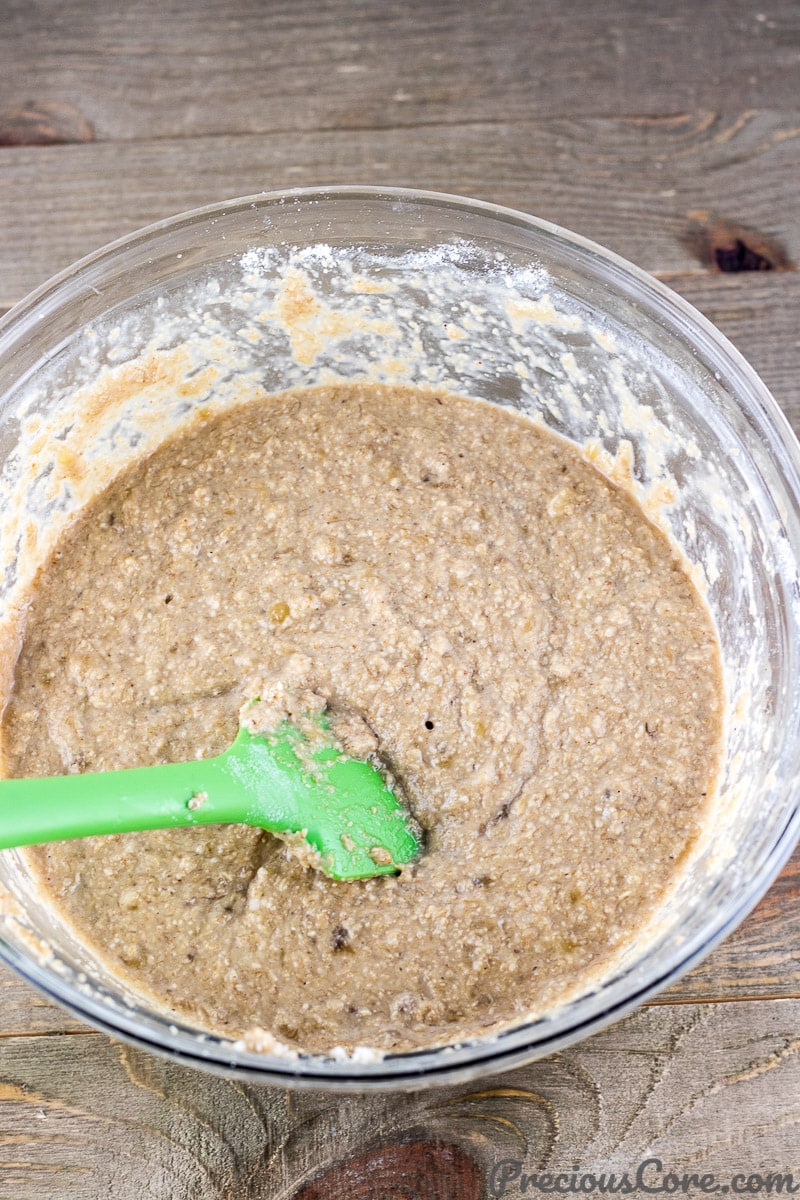 I placed the batter in my muffin pan lined with cupcake liners. This recipe makes exactly 12 muffins. No more, no less!
I topped the muffins with some more oats just because…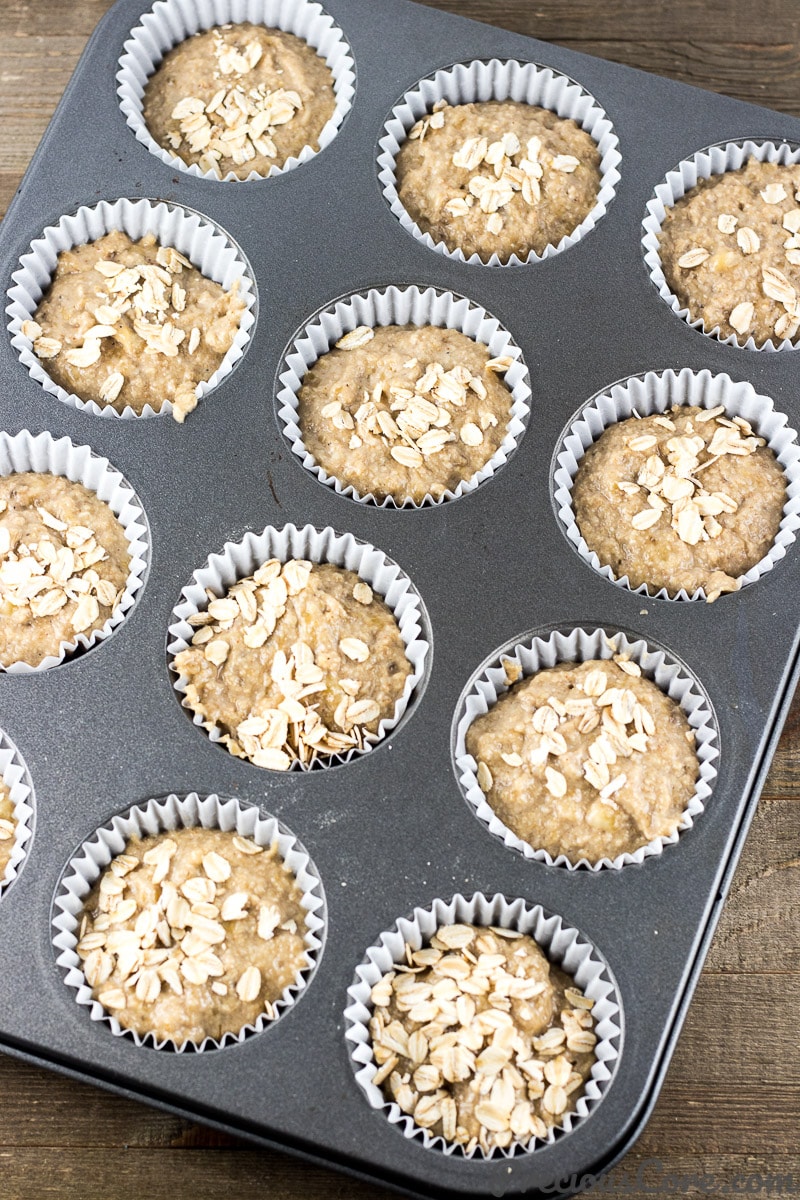 I baked them for 15 minutes and once they were out, I struggled to persuade myself and the girls to wait for them to cool before digging in!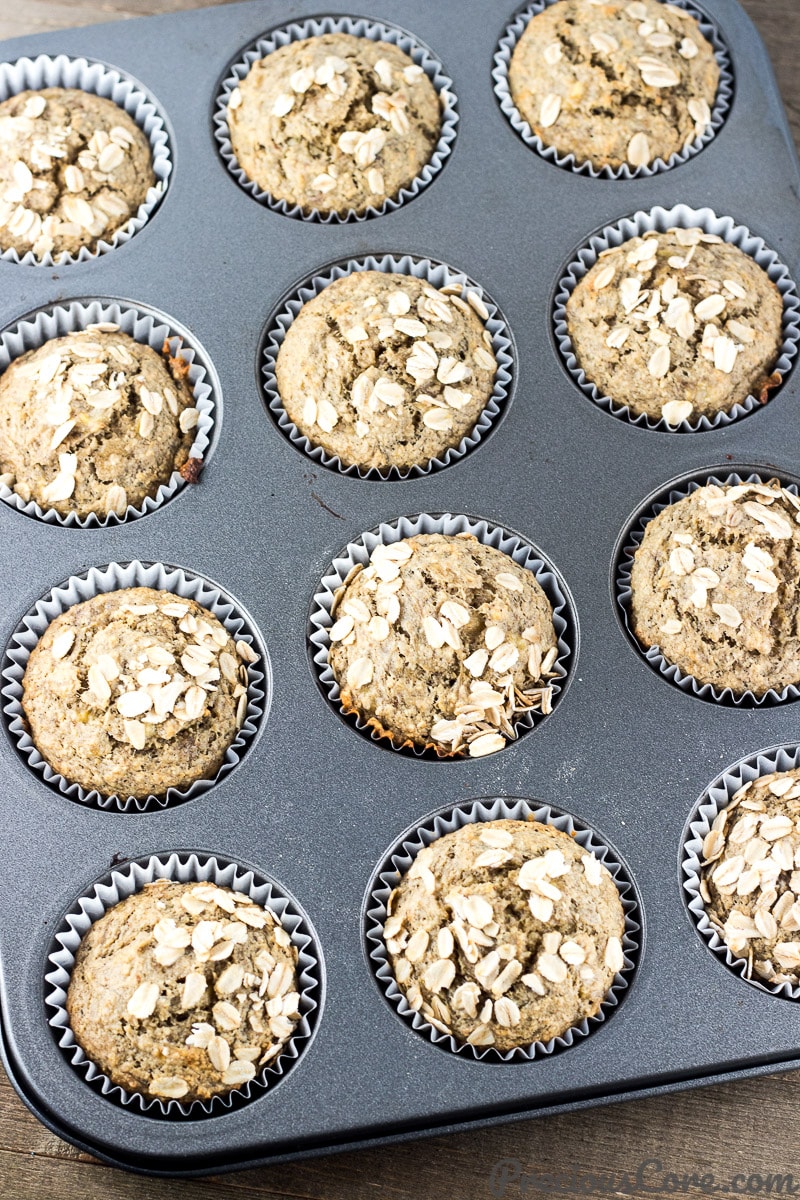 Then we dug in and ate to our heart's content! Healthy banana oat muffins take the price for the best breakfast ever! Hope you enjoy the recipe as we do!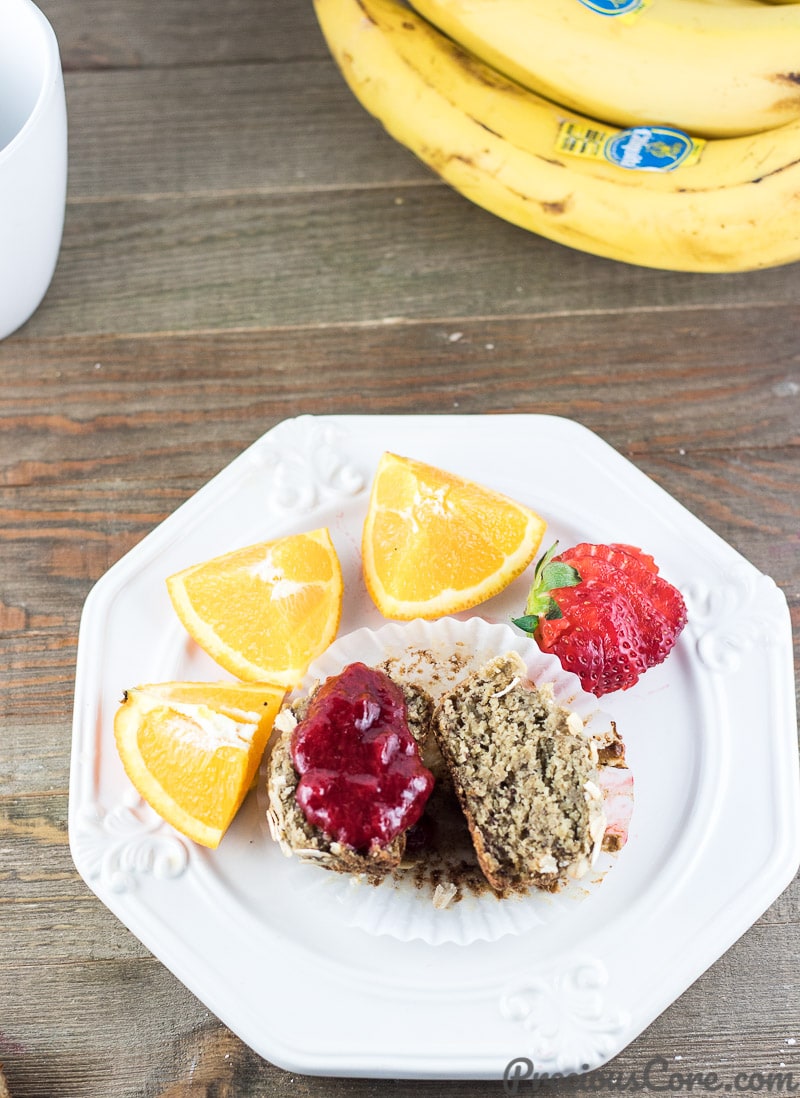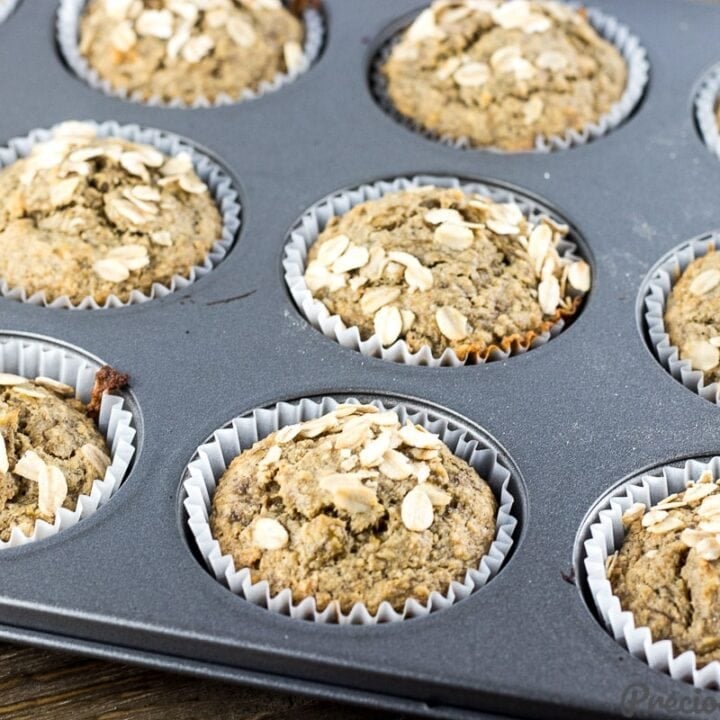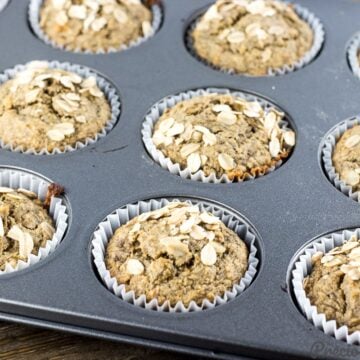 Healthy Banana Oat Muffins
These Healthy Banana Oat Muffins require one bowl and 7 ingredients AND they don't taste healthy at all! So moist and full of flavor like a regular banana muffin. Enjoy these guilt-free muffins!
Ingredients
2

cups

rolled oats

4

small bananas

or 3 large ones

1/3

cup

coconut oil (melted)

2

large eggs

1

teaspoon

baking soda

1/2

teaspoon

nutmeg

Pinch of salt
Instructions
Preheat oven to 350 degrees F (180 degrees C). Line a 12 cup baking pan with cupcake/muffin liners or grease with oil.

Place the oats in a blender and blend into a powder. You could also use a food processor to grind the oats.

Place the bananas in a bowl and mash with a fork or potato masher until it forms a paste. Add the coconut oil, eggs and whisk together. Add the oat flour, baking soda, nutmeg and a large pinch of salt. Fold in with a spatula to combine.

Place equal quantities of the batter into the muffin cups. I like using my ice cream scoop to do this so it is evenly distributed.

Place in preheated oven and bake for 15 minutes until a toothpick inserted in the middle of a cupcake comes out clean.

Enjoy for breakfast or for snack time.
Notes
1. These muffins are great for making ahead and storing in the fridge. You could make them and store for a quick breakfast during the week.
2. For the best flavor, use overripe bananas.
Nutrition
Calories:
148
kcal
|
Carbohydrates:
18
g
|
Protein:
3
g
|
Fat:
8
g
|
Saturated Fat:
5
g
|
Polyunsaturated Fat:
1
g
|
Monounsaturated Fat:
1
g
|
Trans Fat:
0.003
g
|
Cholesterol:
27
mg
|
Sodium:
103
mg
|
Potassium:
200
mg
|
Fiber:
2
g
|
Sugar:
5
g
|
Vitamin A:
65
IU
|
Vitamin C:
3
mg
|
Calcium:
13
mg
|
Iron:
1
mg
Pin this recipe:

You can do anything if you work towards it!