The point of this healthy strawberry jam is to show you that you can totally make jam without sugar. So even if you don't have strawberries around you, grab any other fruit around you and let's make some healthy jam. Mango or pineapple will work well here.
This strawberry jam is sweetened with honey and to tell you the truth, I can't tell the difference between this jam and jam made with sugar. It is sweet, fruity with a gel-like consistency, just like a jam should be. And oh, it is also made without pectin. So sugar-free healthy jam for the win!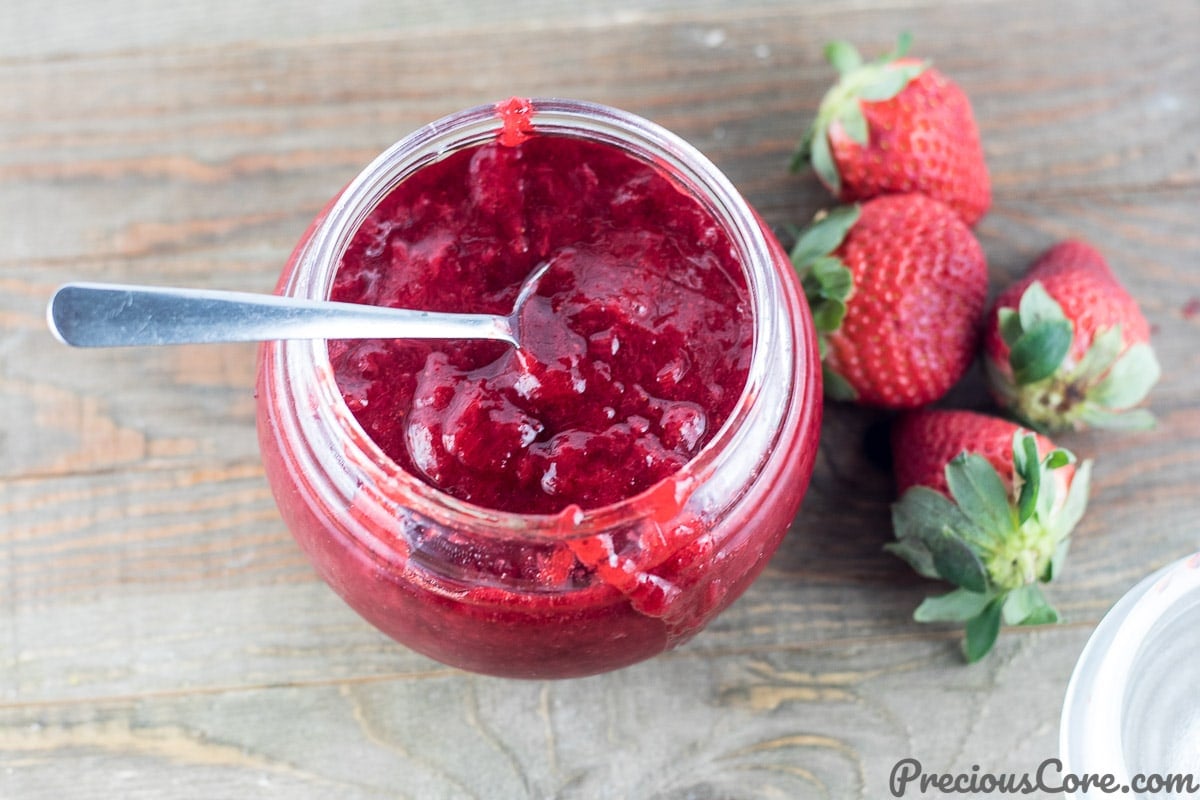 You guys, 14 days! That's how long a carbaholic like me has stayed without baking/eating bread or anything with regular white flour. Neither have I tasted white rice or eaten any sugar. Has it been easy? No! But let me tell you this: I feel great! I enjoy detoxing my body like this every now and then.
I have experimented with all sorts of healthier alternatives to my traditional diet. I have baked with oats, made waffles out of plantains and eaten vegetable salads more times than I can count. These 14 days have taught me a lot. One is that a life without refined sugar is totally possible. Another is that you can totally get kids to enjoy healthy food that is non-traditional, My girls have totally loved the unconventional meals. And one of their favorite things has been this healthy strawberry jam which has been a good friend on the breakfast table.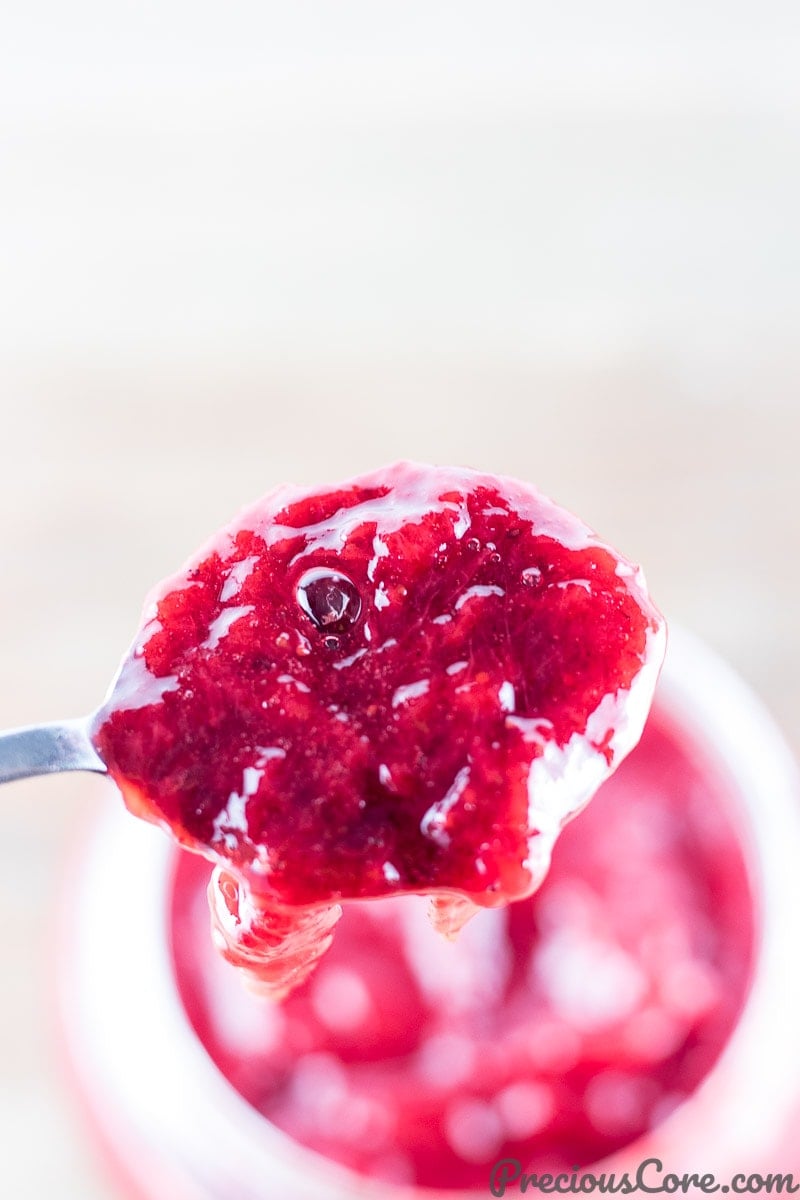 At first, I was skeptical about trying to make jam without sugar. Will the consistency be right? Will it taste good? Will the taste of honey not overpower it? Ha. But when I made this jam, I found myself eating the warm jam right out of the pot with a spoon. It is sufficiently sweet. The honey taste is not overpowering at all. In fact, you will think it is regular jam made with sugar. Winner!
Besides, I just had to make something with strawberries because my local grocery store had strawberries for only $1 per pound. So I grabbed a good quantity to take home with me.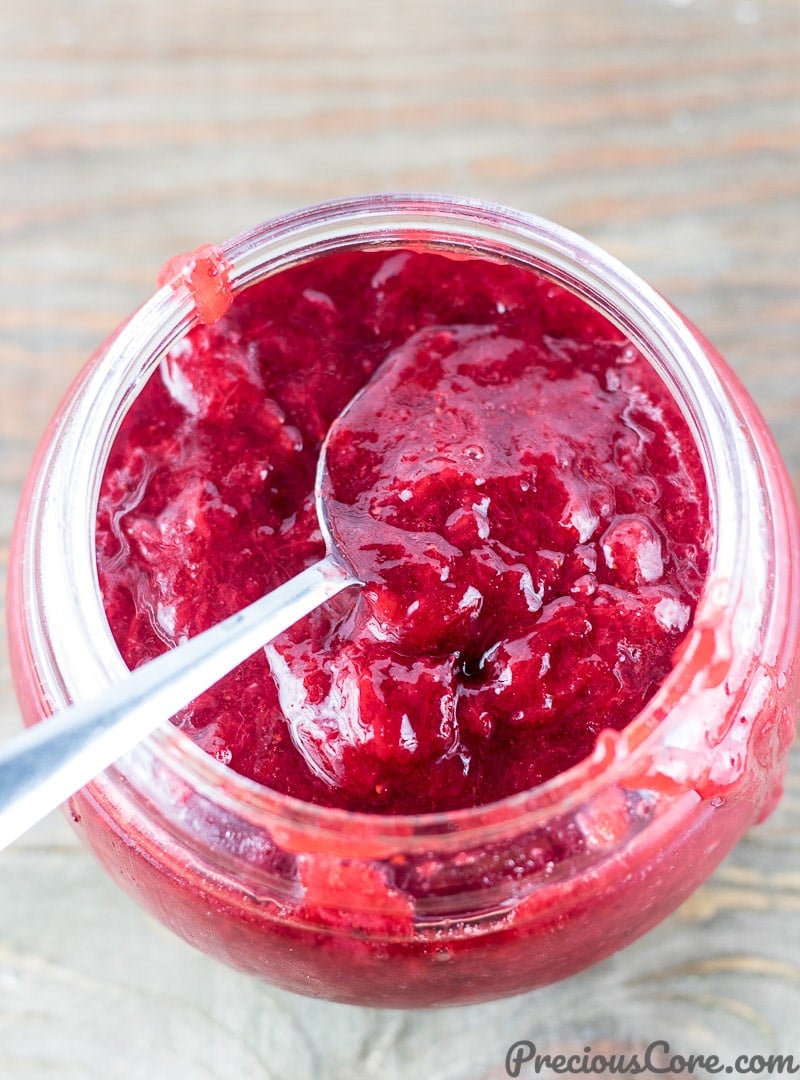 To make the jam, you need strawberries, honey and 1 lemon. 3 simple ingredients and jam will be yours!
If you are looking for a regular jam recipe with sugar, click here.
If you make this recipe, please take a moment to rate it below. Also, share a picture with me on Facebook or tag me on Instagram. I'll love to see!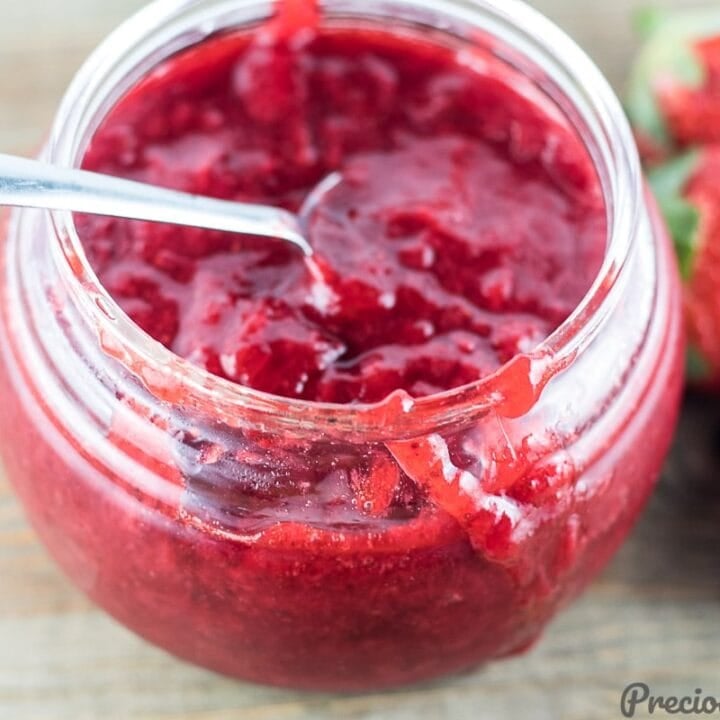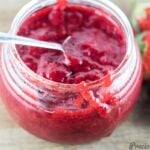 HEALTHY STRAWBERRY JAM
This healthy strawberry jam doesn't taste healthy at all. It is sweet, fruity with a gel-like consistency like a jam should be. It is made without pectin or sugar. Enjoy at your breakfast table with bread, pancakes and more. This recipe yields slightly above 2 cups of jam.
Ingredients
2

pounds

fresh strawberries (about 1 kg)

½

cup

raw honey

1

teaspoon

lemon zest

from one lemon

2-3

tablespoons

lemon juice

squeeze this out of the same lemon you use for lemon zest
Instructions
Rinse the strawberries well then chop off the top part with the leaves. Cut the strawberries into halves or quarters. Place them in a pot. Add in the honey, lemon zest and lemon juice. Toss to combine.

Place the pot on medium heat and cook covered for 10 minutes. Open the pot and using the back of a wooden spoon or a potato masher, mash the strawberries to break them down a little. Let them cook for another 10 minutes while you stir from time to time. Place in a glass jar to cool then store in the fridge.

Enjoy on pancakes, muffins, crepes, bread and more!
Pin this recipe:

Breathe and enjoy life.