HERE'S WHAT'S UP: I MET A STRANGE WOMAN
Published Mar 09, 2016
Updated Apr 27, 2017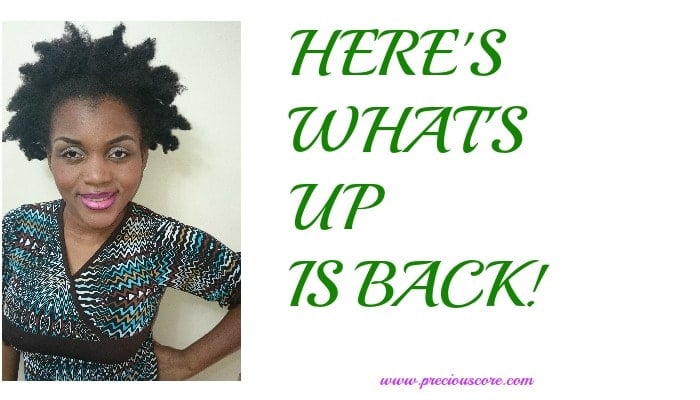 Hey lovelies. "Here's What's Up" is so late this week. I have been feeling under the weather so I couldn't come to my computer for a while. I was overtaken by some weakness and sleepiness that I can't explain. On top of it all, I sprained my neck. I have been lying down all day like a pregnant pregnant woman (repetition is intentional). Now that I'm a little better, make ah nack wena small tori. Make sure you leave a comment oh. Na wah for some of you. You just cam read, fiam disappear. This is the month of marching forward so march forward by commenting. Ehen, let me tell you about this strange woman I met.
There is this place I go to from time to time to collect free food. It is called a food shelf. So the other day when I went there, I met a woman with a medium-sized black traveling bag. My people, a traveling bag oh! She was loading it with food. Normally, when you go there. you take a plastic bag or two and take bread, fruits, vegetables, anything available that you want for you and your family.
I was trying to trying to get some oranges from a box when this weird woman overshadowed me and was digging in, getting as many oranges as possible. She had her head wrapped in something that looked like a scarf. As she continued in her 'foodventure', a worker at the food shelf told her to leave that she'd had enough. The woman no wan hear.
The worker, trying to be all so polite kept saying, "That's enough, please leave. You have to share, you have to leave some for others."
Finally, the woman succumbed and pulled her airport bag along plus two plastic bags. As she left, the food shelf worker came to me to narrate how the woman always stalks the place:
"This woman comes here every single day with that suit case and loads it with food. We really don't know what she does with it because she lives alone but she takes so much food from here everyday."
As the food shelf worker was still talking to me, the woman returned ooo… to get more food. Chai! She was hurrying to grab some stuff as though the solution to Boko Haram Crisis lay in those boxes. Of course, she was sent out again.
Minutes later when I went outside with my own bag of food, my eyes met with hers and she gave me a BIG smile. I didn't know if I should smile back or run. Many are mad but few are roaming!
Have you checked out my latest video on how to make delicious Fried Rice? Check it out
HERE
. And please,
SUBSCRIBE
to my
YouTube Channel
, It is free!
In church, we learned that it is important to trust God with our finances. The week is almost half-gone but I'm looking forward to an amazing rest of the week.
Happy belated women's day to all the amazing women who check out this blog. Never underestimate the power of your strength.
Remain sweet and I'll see you in the next post.