How Lady Gaga and Madame Amougui 'Celebrated' Easter
Published Apr 22, 2014
Updated Sep 29, 2016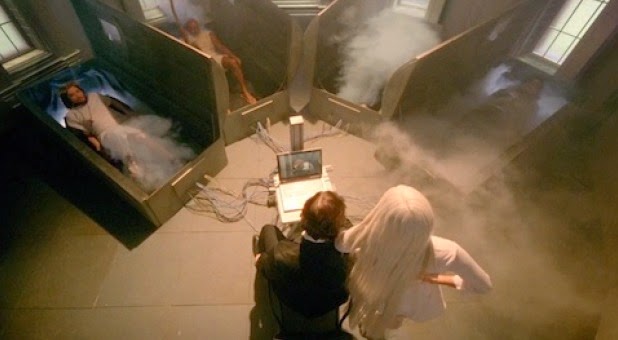 Pic of Lady Gaga Resurrecting 'Jesus'
From Hollywood to Yaounde, happenings this Easter season have been filled with the unusual. It will be unfair if I fail to share them with you my loyal blog readers. Read o…
While Christians were preparing to celebrate the resurrection their Lord and Savior Jesus Christ, Lady Gaga was busy premiering a blasphemous
video
titled G.U.Y. meaning Girl Under You. In the semi-ponographic video, she presented herself as a fallen angel and paid tribute to a god, Venus.
At some point she even resurrected 'Jesus'! And she calls it 'ARTPOP'. This is not ARTPOP, it is DEVILPOP, a video gloryfying evil, encouraging people to be sexually immoral and perverse.
I do not need an illuminati documentary to tell me that Lady Gaga is a conscious servant of the devil. Sadly enough, people are loving this extremely tasteless video but they that know their God can read the signs. The Bible says iniquity shall abound and it is indeed abounding. Read more on
Charisma News
and on
Western Journalism
.
Now to my very own capital city, Yaounde. A woman called Madame Amougui in the neighbourhood of Odza had a very unique experience. She saw Jesus! Her residence has turned into a center for pilgrimage as people go there to see for themselves. Watch the video below and let me know what you think.
Here is my answer to this drama:


And except those days should be shortened, there should no flesh be saved:but for the elect's sake those days shall be shortened. Then if any man shall say unto you, Lo, here is Christ, or there; believe it not. For there shall arise false Christs, and false prophets, and shall shew great signs and wonders; insomuch that, if it were possible, they shall deceive the very elect. Behold, I have told you before. Wherefore if they shall say unto you, Behold, he is in the desert; go not forth:behold, he is in the secret chambers; believe it not.
Hope you had a great Easter. If the grave could not keep Jesus then no depression, discouragement, disappointment or disease can keep you down!
Rise over your troubles and shine.