HOW TO ORGANISE A "BETTER" CAMEROONIAN WEDDING WITH 100 THOUSAND FRANCS
Published Jan 14, 2016
Updated Apr 27, 2017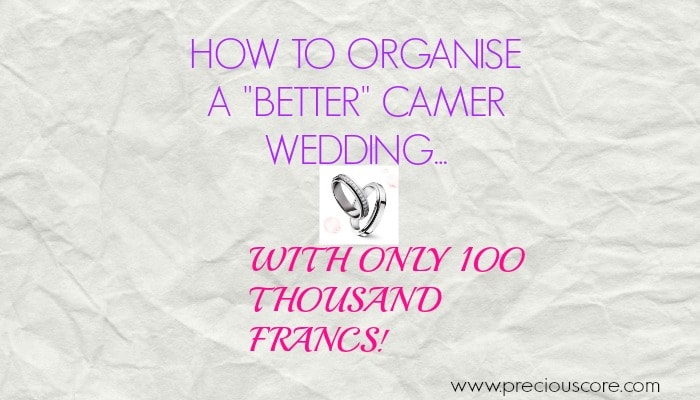 Yes, you read that right! With only 100 thousand francs (about $200!), you can organise a super duper Cameroonian wedding. Wedding season has come and gone and some of you really wanted to get married but you just couldn't keep up with the costs associated with the wedding ceremony. Don't worry, I'm here to help you. 2016 is your year! All you need is cent kolo (one hundred thousand) and you are good.
I'm here to help that brother that has turned a blind eye to all the fine girls around him. He keeps saying he doesn't want to get married now. Bro, we know you are lying. You like the fine gehs but you know say betta soup na money cook am. You are still trying to gather money to cook your marital soup. Don't worry, I got your back!
I'm here to help that sister that has been involuntarily crowned Lord of the Rings. You've been wearing that ring for 5 years and it doesn't look like the wedding is happening anytime soon. Your "fiangceh" (as my mother calls it) keeps telling you to be patient. Sisi, you are beginning to doubt if he really loves you. He loves you, ooo. He just doesn't want to break the bank in order to wife you. Just show him this post and you will be fine.
Here is how you will achieve this:
Bride and Groom Outfits
-Okrika wedding dress from Marche Nkululou- 5000frs OR ask a friend or family member who had a wedding before to lend you their dress. Why spend a fortune on an outfit you will only wear for a few hours?
-Super cent coat sewed by Pa Joe in the quartier. Material and workmanship- 20,000frs
-Pointini shoes from hawkers in Commercial Avenue- 5,000frs
-Glittering wedding sandals from Marche Nkululou- 3000frs
-Gold coloured wedding rings from jewelry hawkers in the market- 2000 frs. The rings will fade fast but don't worry, your love for each other will not fade along with the rings.
-X-pression brand mesh for bridal hair: 2500 frs
-Workmanship for hairstyle in saloon: 2000 frs
-Groom's shirt from "back market"- 500frs
-Bride's makeup: Don't hire a Make-Up Artist. Get your "sharp" aunty to paint your face and nails for you.
-Bride's bouquet: Get someone to harvest fresh sunflower, hibiscus flower, etc and make a nice bouquet on the wedding morning. Fresh is better than artificial.
Food and Drinks
Forget hiring a caterer! Tell your family members to make the meals for you. Let Mami Elsie cook a big pot of
Jollof Rice
with Bonga fish. No meat please. Bonga fish is even healthier and tastier. Give her 5000frs
Beg Aunty Doro to cook her "baddest" Ndole and Planti. Give her 10,000frs to make a huge quantity as this will be the star dish of the day.
Order Koki for 5000frs from Mami Koki in the quatier. This will give you 50 bundles of 100 frs Koki wraps or 25 bundles of the 200 frs version. This also comes with boiled plantains, bananas, cocoyams or "fambu" (sweet potatoes) That's a lot! Tell her to put plenty dash, or else you won't be her customer anymore. In fact threaten her about the dash and you will get a lot of Koki to feed your wedding guests.
For drinks, make 50 litres of Folere AKA Baron de Jesus. Folere, flavouring and sugar will cost 2000 frs
One crate of mimbo for the high table: 6000frs
Non-achoholic champagne to pop at the wedding: 3000frs
Boiled contri groundnuts as chewables; 3000 frs (Your grandfather will love you for this.)
Beautiful one layer cake: 5000frs
Disposable plates, cups and spoons for guests to eat in: 5000frs
Hall Rentals, Decoration etc
If your church can accommodate that, have your reception in the church hall immediately after the church wedding ceremony. If this is not possible, use a family compound for the reception. Do not rent a hall.
For decor, buy bolobolo (ballons) and beg teenagers to help you blow them. Group them together and tie all over the place. Packets of bolobolo: 1000frs
Buy tooth brushes as gifts (souvenirs) for wedding guests. Buy those that cost 100 frs each. Don't try to customise them with your names and pictures or anything like that. You'll get a discount for buying in bulk. Get 50 of those. Cost: 5000 frs
Meanwhile, ask a talkative uncle to act as the MC. Just make sure he doesn't get drunk on that day or he might unleash all the family secrets!
Photography and Videography
Beg 3 people with smart phones to consistently take pictures and videos during the occasion. Thereafter, transfer the images and footage to a memory card. No need to hire a flashy camera man.
Invitations
Use word of mouth, Facebook, text messages, etc to tell your friends and family about the wedding. Don't print invitation cards. You can successfully get the word out without them.
Miscellanous AKA Mr. Linus
10,000frs
Here is your 'printable' list:
Wedding gown: 5000 frs
Super cent Coat; 20,000 frs
Pointinini shoes: 5000 frs
Wedding sandals: 3000 frs
Wedding rings: 2000 frs
Bridal Mesh: 2,500 frs
Workmanship for hair:2000 frs
Groom's shirt: 500 frs
Ndole and Plantains: 10,000 frs
Koki; 5000 frs
Folere aka Baron de Jesus: 2000frs
One crate mimbo: 6000 frs
Non-alcoholic champagne: 3000 frs
Contri granut: 3000 frs
Wedding cake: 5000 frs
Disposable plates, cups and cutlery: 5000 frs
Bolobolo: 1000 frs
Gifts for guests: 5000 frs
Miscellanous/ Mr. Linus: 10, 000frs
Grand total: 100, 000 CFA Francs
In conclusion, don't try to keep up with the recent wedding trends. Don't try to make it the wedding of the year. Don't try to impress anybody. Let it be moderate, decent and filled with love. Besides, planning this kind of wedding doesn't consume much time. You won't be running helter-skelter like a mad cow trying to get things done. You will get some beauty sleep for the day and have some money to live on after the wedding. Oh and you will have enough strength for the night action. At the end of the day, you'll still be as married as Kate Middleton and Prince William.
Happy married life in advance!