KOKI CORN
Published Jun 23, 2017
Updated Sep 26, 2018
Koki Corn aka Cameroonian fresh corn tamales for the win!
One of the reasons why I'm totally in love with this season is the abundance of fresh corn in the grocery stores. And the fact that my favourite farmer's market is opening soon! I can't wait to enjoy all the goodies aka fresh vegetables from the farmer's market. I love to shop there. It kind of reminds me of what shopping is like in Cameroon. Sometimes you bargain, sometimes you argue with the trader, sometimes the trader becomes your new friend. It is fun.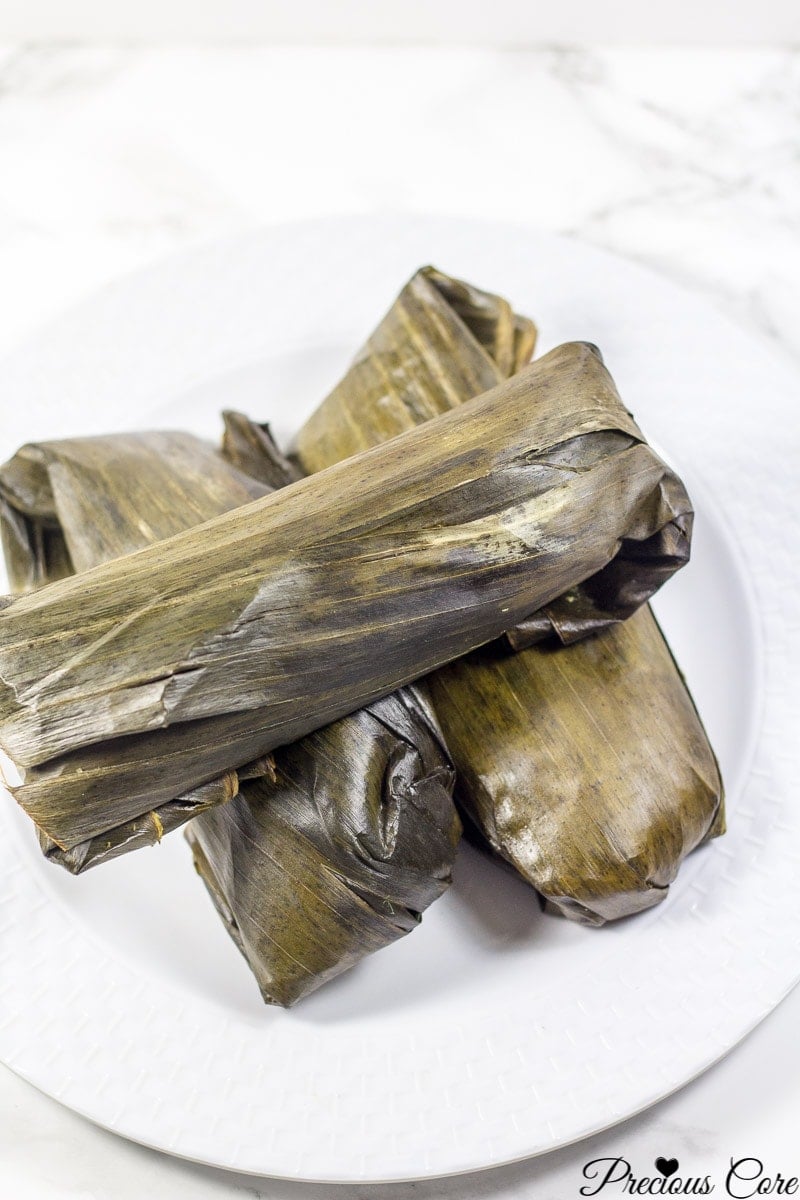 Even more fun is the fact that with all the fresh corn around I get to make lots and lots of Koki Corn or "the yellow food" as my girls call it. You guys, I've been in some sort of Koki Corn frenzy these days. I'm not ashamed to say that I have made this 3 times the past few days.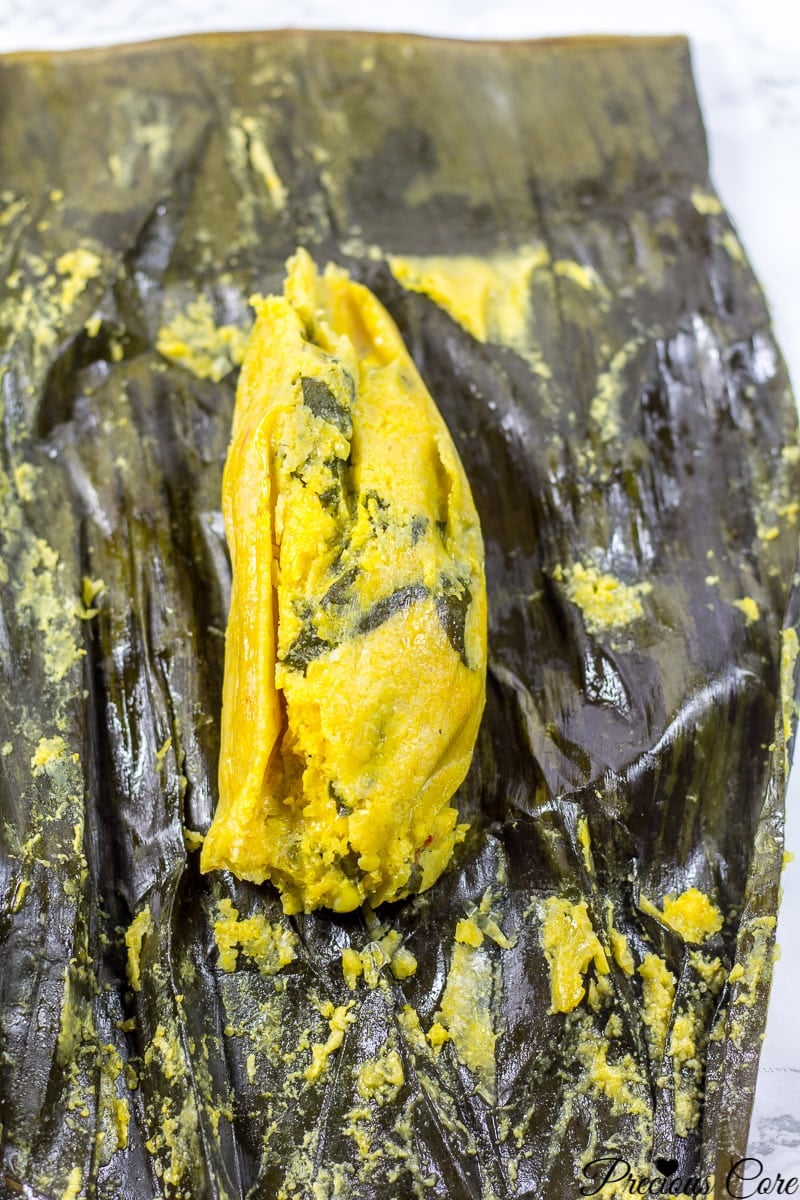 It is the ultimate corn dish – sweet and savoury, corny, so tasty AND vegan. What's not to love?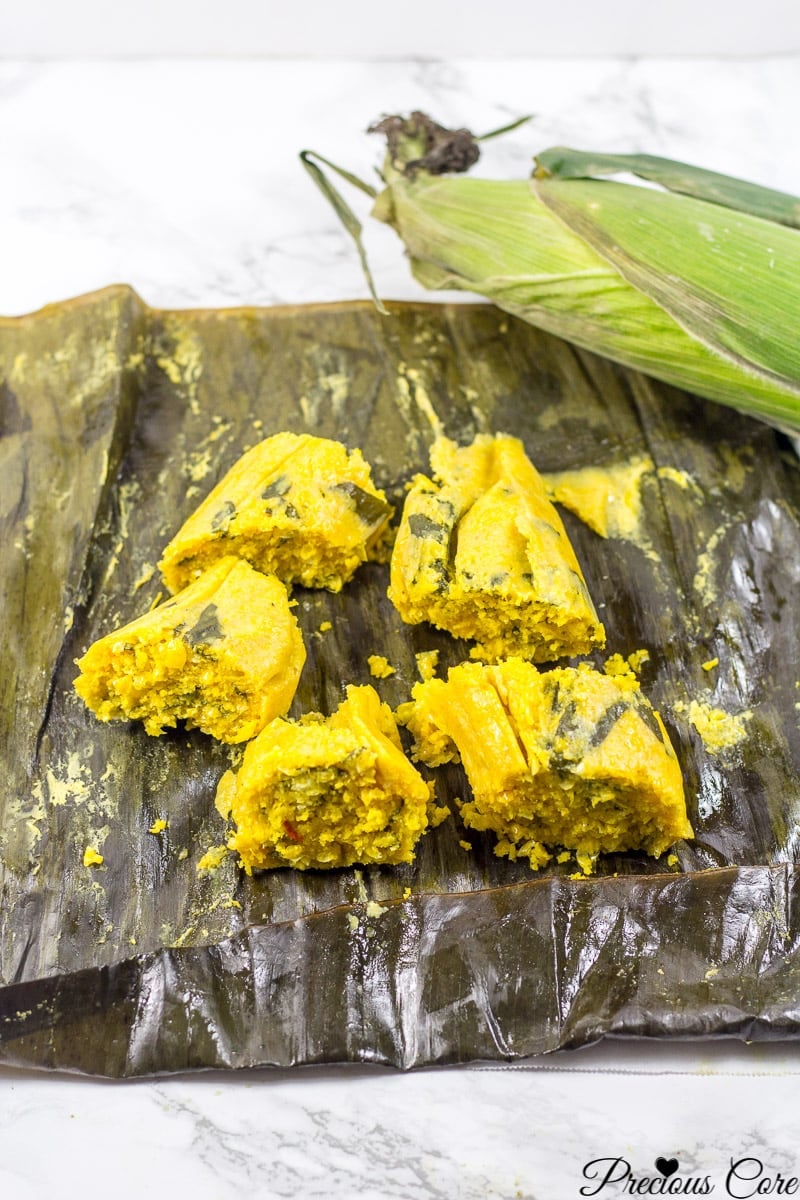 Koki Corn is the African version of Mexican fresh corn tamales. Corn is ground, mixed with ingredients then wrapped in banana leaves (or aluminium foil) and cooked. I love to call it Cameroonian fresh corn tamales.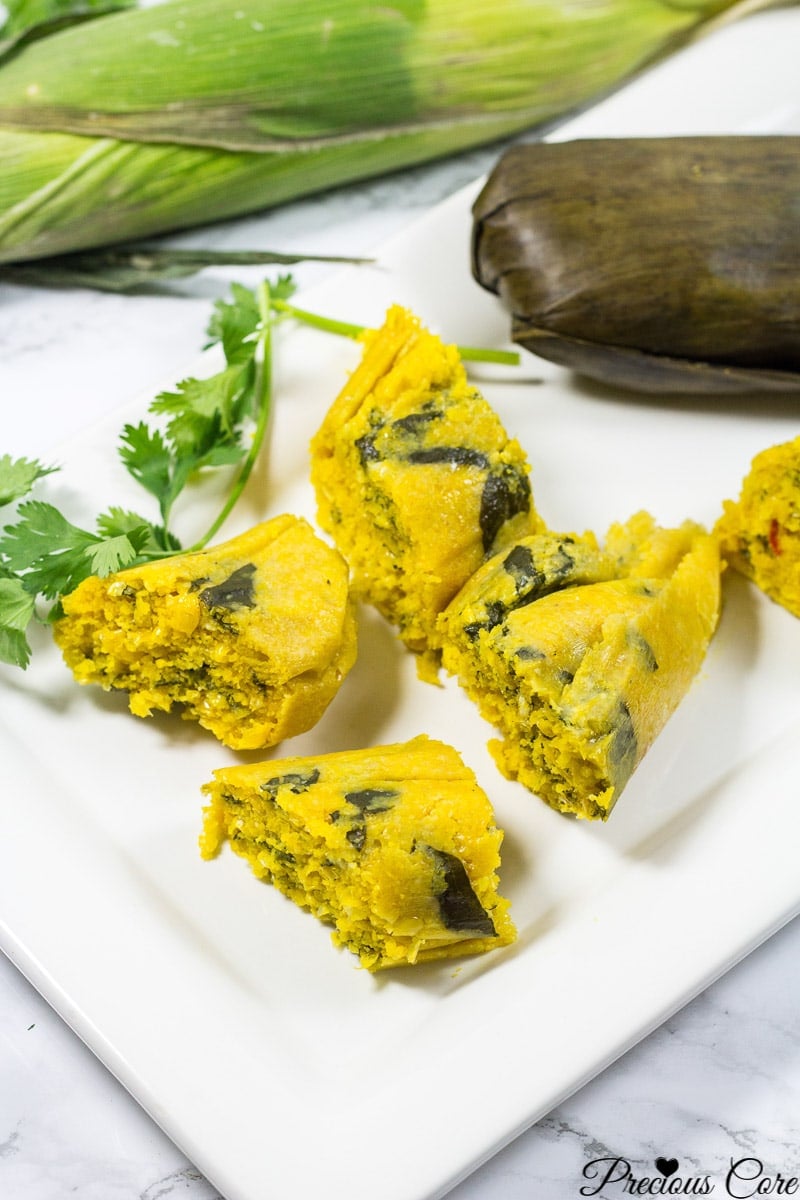 My Nigerian friends would probably call this "corn moin moin" because it is like moin moin, a savoury pudding made with blackeyed peas. The difference is this one is made with corn then some leaves are added to it just like with Cameroonian Koki Beans. I just love meals that are made this way – the wrapping and steaming way.
I used banana leaves to make my bundles but if you do not have banana leaves, go with aluminium foil, my friend. The recipe is quite easy though it might be a little labour of love. All you need to do is cut some corn off the cob (or use frozen sweet corn or canned corn). Then you coarsley grind the corn mix with some ingredients, wrap, steam and enjoy your life! Who wants to eat some Koki Corn?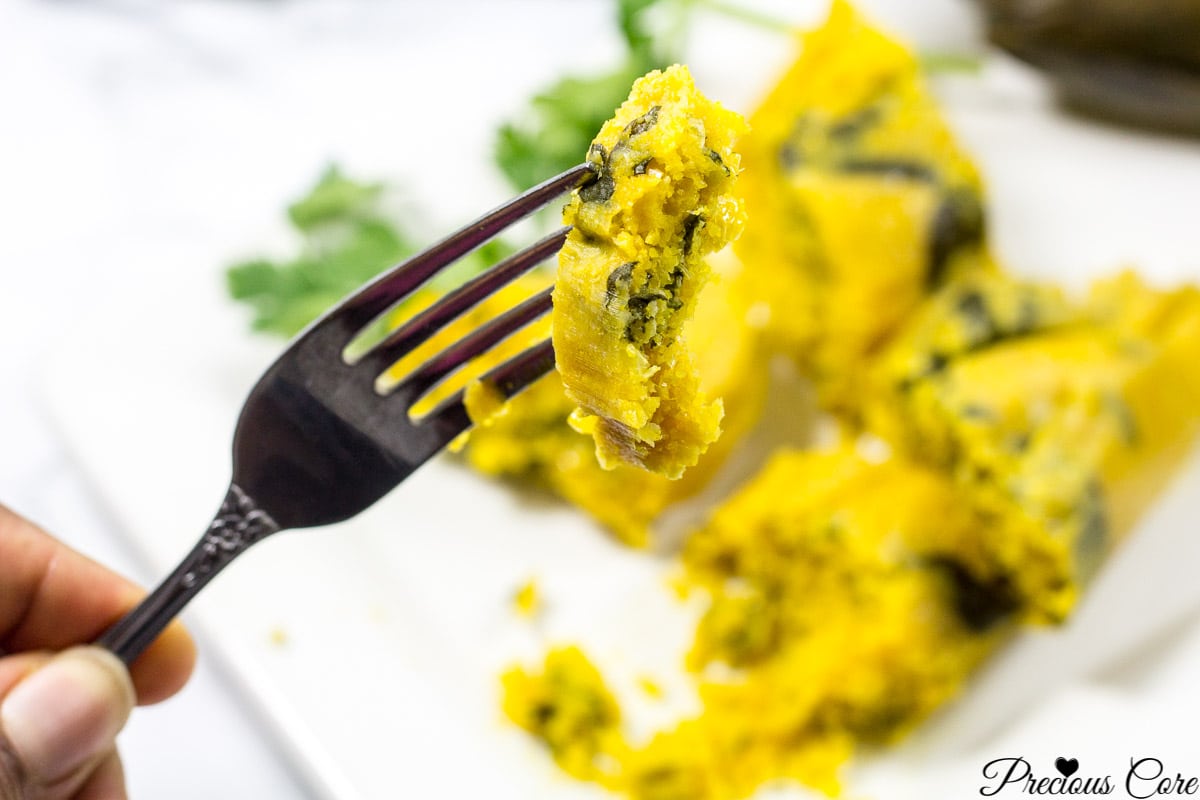 I made a video to walk you guys through the process of making these beauties. To make sure you do not miss any of my videos, please subscribe to my YouTube channel. Thanks to everyone who has already subscribed!
Watch how to make Koki Corn: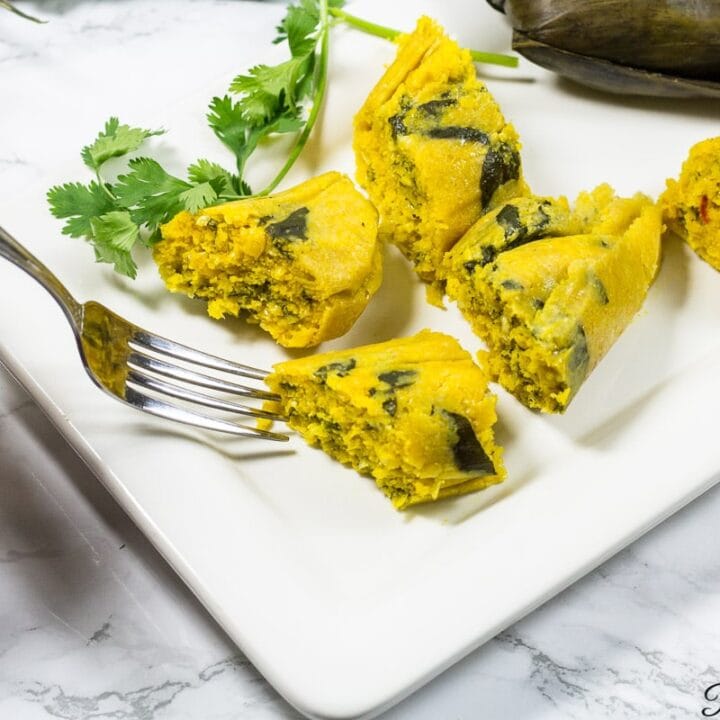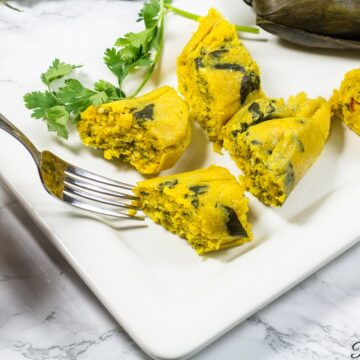 Koki Corn
This is the recipe for Cameroonian fresh corn tamales which are made by wrapping ground corn in banana leaves then steaming until done. It is vegan, requires minimal ingredients and so delicious! Though it is vegan, I love serving it with some sort of protein on the side like my perfect grilled chicken to make for a balanced meal. You could serve with any protein you prefer.
Ingredients
4

cups

fresh corn (cut off about 8 ears of corn), 660 grams

subsitute with frozen sweet corn or canned sweet corn

1

cup

yellow corn meal or corn flour, 120 grams

3/4

cup

palm oil, 150 grams

1

cup

freshly chopped spinach or cocoyam (taro) leaves

3/4

teaspoon

salt

1

small seasoning cubes (Maggi)

substitute with half a teaspoon of bouillon powder

1/2

onion - chopped

optional

1/2-1

hot (habanero) pepper

optional

4-6

banana leaves - warmed over a flame or immersed in hot water to wilt and thoroughly rinsed (substitute with aluminium foil)

cut into long rectangles
Instructions
Pour palm oil into a skillet to warm for a few minutes (about 2-3 minutes). Do NOT bleach it.

Pour the corn, onion and hot pepper into a blender or food processor. Add 1/4 cup of water and blend or process into a coarsely ground paste. Note that you do not want to blend this into a fine paste. You should still be able to see bits and pieces of corn when done.

Pour the ground corn into a bowl, add corn meal, the heated oil and mix well. Add salt, Maggi then mix.

Add in the chopped leaves and mix until well incorporated.

To prepare pot. Line the bottom of a pot with empty cobs of corn. This creates a base that helps prevent water from getting into the Koki Corn. Now pour about half a cup of water into the pot and bring to a gentle boil while you proceed to wrap the Koki Corn.

When done with wrapping and all the bundles are in the pot, cover them with some more banana leaves (mostly the ones that got torn and were unusable) or aluminium foil. This helps to prevent the steam from escaping during cooking. Place lid on the pot and cook for about 30 minutes. Every 5-10 minutes, open pot and add in about half cup of water so it doesn't dry out.

Let it rest for about 10 minutes when cooked. Then unravel and serve warm.
Notes
If using hard African corn, you will not need to add corn meal to your mixture. The corn is starchy enough and will hold well. Howver, if you are using soft sweet corn, adding corn meal is a must. Without this, your Koki Corn won't hold as a cake. It will turn out mushy.
I have found that corn flour is a great replacement for corn meal in this recipe. 
I once added crayfish (small dried shrimp) to my Koki Corn mixture and it tasted so good! You could try this too.
Nutrition
Calories:
436
kcal
|
Carbohydrates:
40
g
|
Protein:
6
g
|
Fat:
30
g
|
Saturated Fat:
14
g
|
Polyunsaturated Fat:
4
g
|
Monounsaturated Fat:
11
g
|
Trans Fat:
0.01
g
|
Cholesterol:
0.1
mg
|
Sodium:
471
mg
|
Potassium:
409
mg
|
Fiber:
5
g
|
Sugar:
7
g
|
Vitamin A:
669
IU
|
Vitamin C:
10
mg
|
Calcium:
12
mg
|
Iron:
1
mg