KOKI BEANS RECIPE
Published Feb 24, 2017
Updated Sep 26, 2018
 Hmmmm Koki Beans… It is one of the 
things I miss about Cameroon
. Ahh! It is a
popular street food
– a pudding made with black-eyed peas (koki beans). The taste is out of this world! It never lasts in my house. Because as soon as Koki Beans is cooked, I do not rest till it is all resting happily ever after in my belly. Ha.
Imagine my joy when I discovered the universality of Koki Beans. It is called black-eyed peas in the United States. It is called moin moin beans in Nigeria. I'm sure other countries have a name for it but I just do not know it.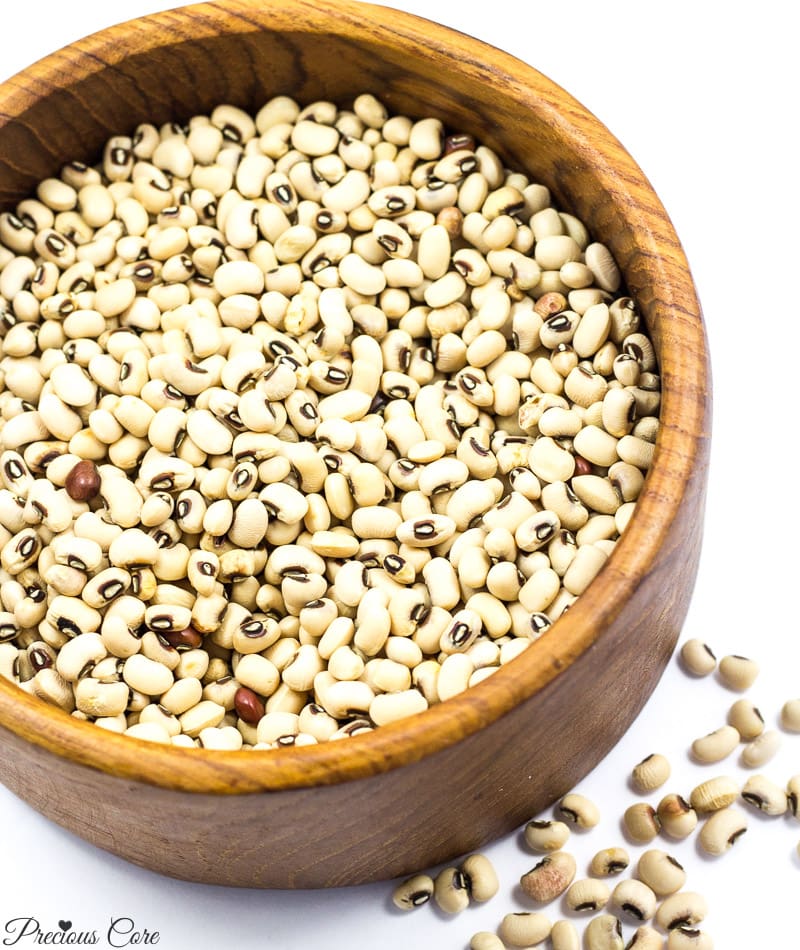 In Cameroon, blackeyed peas are either used to make koki beans or
accra beans
. They are hardly used for bean stew. We like grinding then and "hiding" themin fritters and puddings. When made into this amazing pudding called Koki Beans, I could give an arm for it. Nigerians make something similar and they call it, Moin Moin
.
Moin Moin and Koki Beans are both delicious. I call them, African cakes.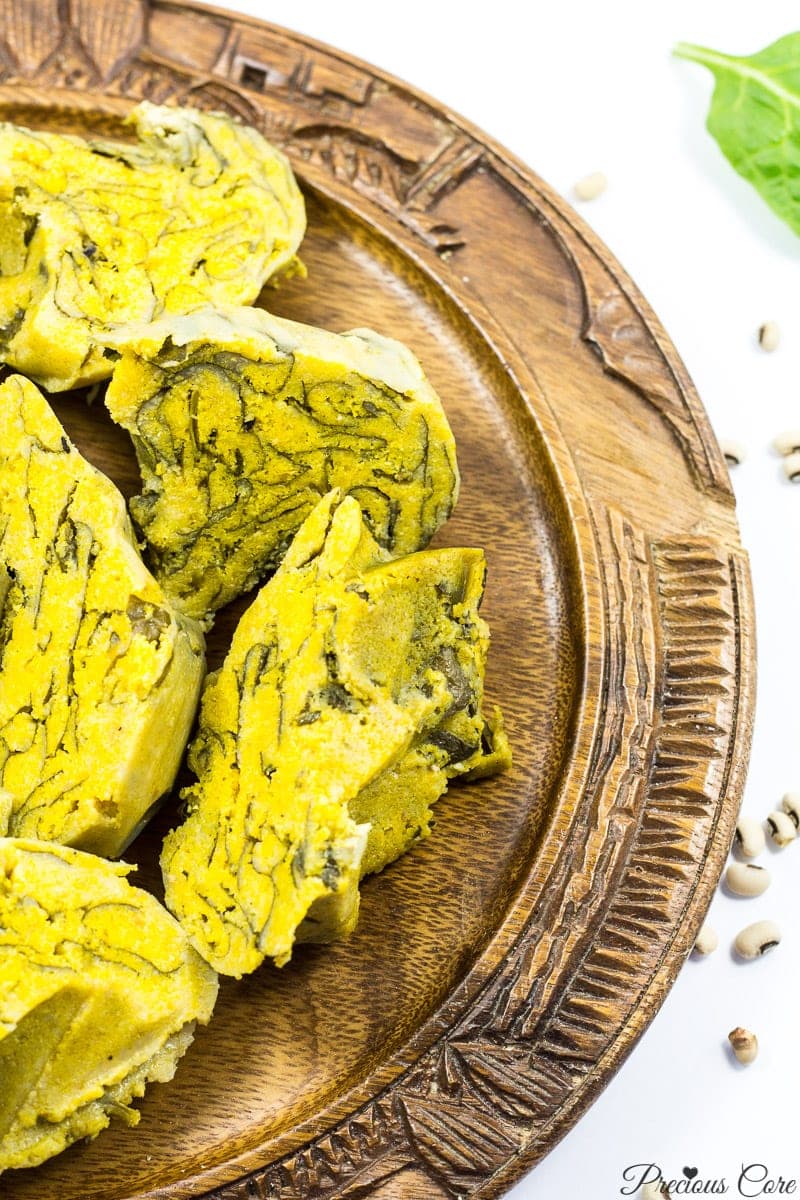 So how does this taste? Thank you for asking! It is savoury, spicy (with the heat from the pepper), moist, and spongy.
Making this could take some time but I promise you every bite is worth it! The bulk of the work usually lies in washing the beans. This includes peeling the beans and seperating it from its outer skin. I made
a video
 to show you how I do it.
I start by soaking beans in water for about 5- 10 minutes. Then I put it in a blender and pulse for a few seconds. Don't worry the blender doesn't grind it. It just takes the skin off. When I have peeled all of the beans, I put it in a large bowl and pour water into the bowl, above the level of the beans. The skins float and I drain them using a colander. I repeat the process until the beans are free of the outer skin. Watch 
this video
to see how I peel the beans.
I crush the beans into a slightly grainy paste using my fantastic blender. I can't recommend this baby enough!
(Yup, affiliate link.)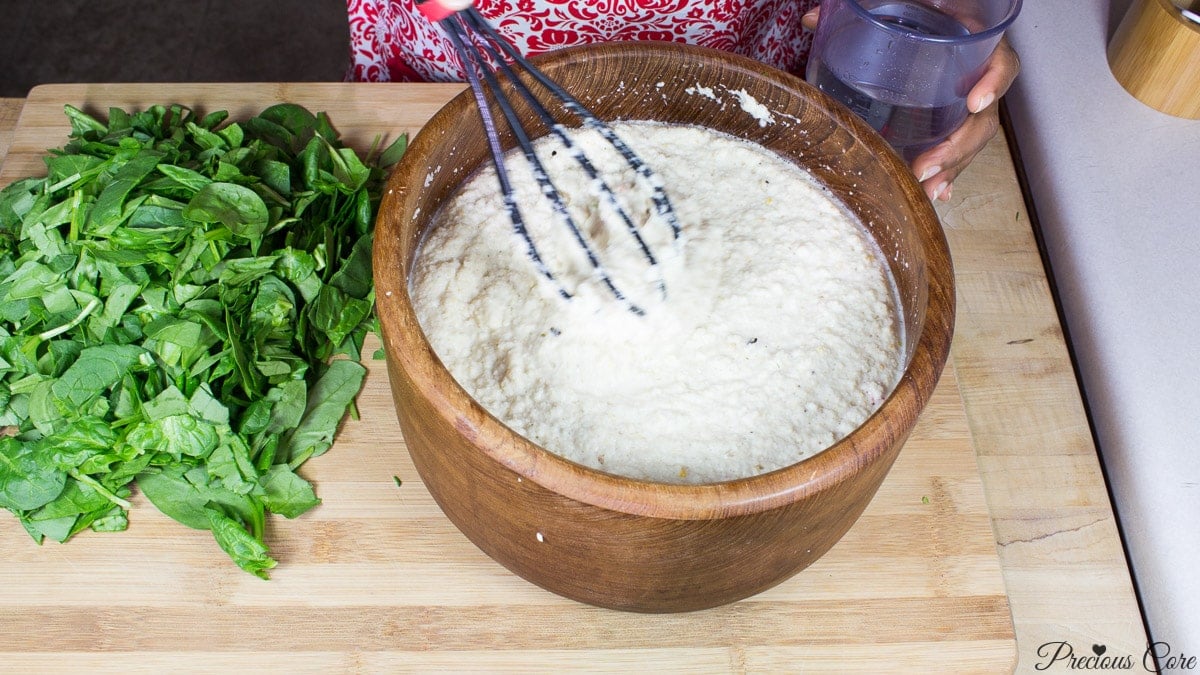 I use a whisk to whisk the hell out of my bean paste so it traps in air and is spongy just like "Mami Koki's." Mami Koki is the generic name for any woman who sells Koki Beans in Cameroon. I love those women.
I add in all other ingredients and mix. And by all other ingredients, I mean, palm oil, salt, spinach (a substitute for the traditional cocoyam leaves) and water. This is a really low maintenance meal. It doesn't require many ingredients. Some people add in Maggi (seasoning cubes) but that is not necessary at all.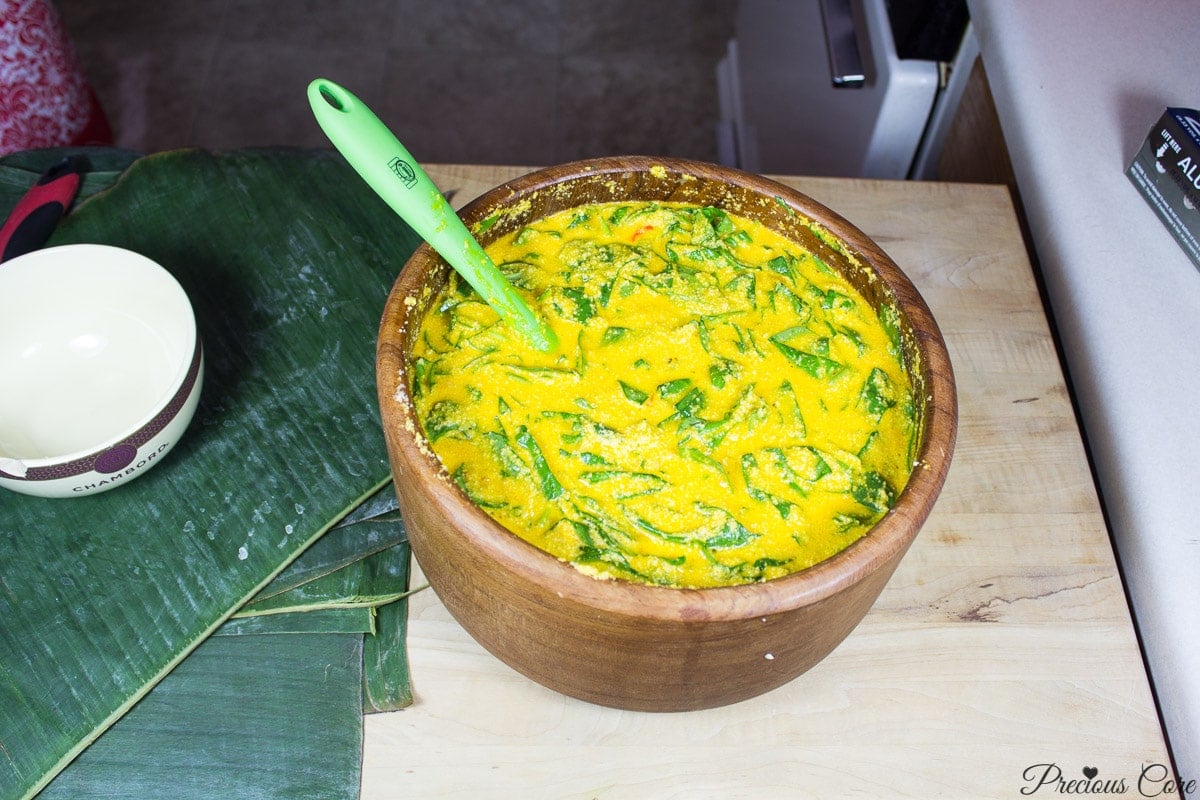 Now is the time for wrapping! Ideally, warmed plantain or banana leaves are used. I use banana leaves and foil paper. But if you can't find banana leaves, just use foil paper, preferably the non-stick one.
Look at that little cute bundle!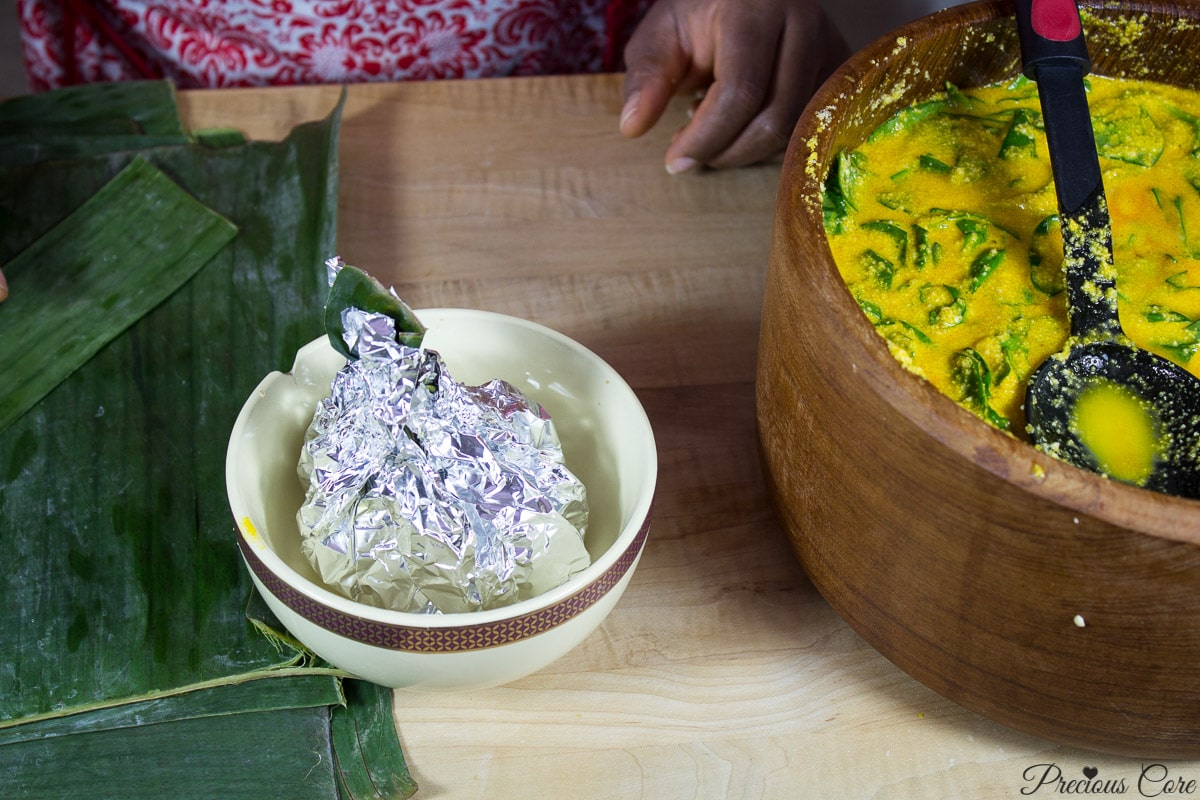 I love unraveling and enjoying it while it is still warm. The smell that hits me when I open a bundle is priceless. Oh la la!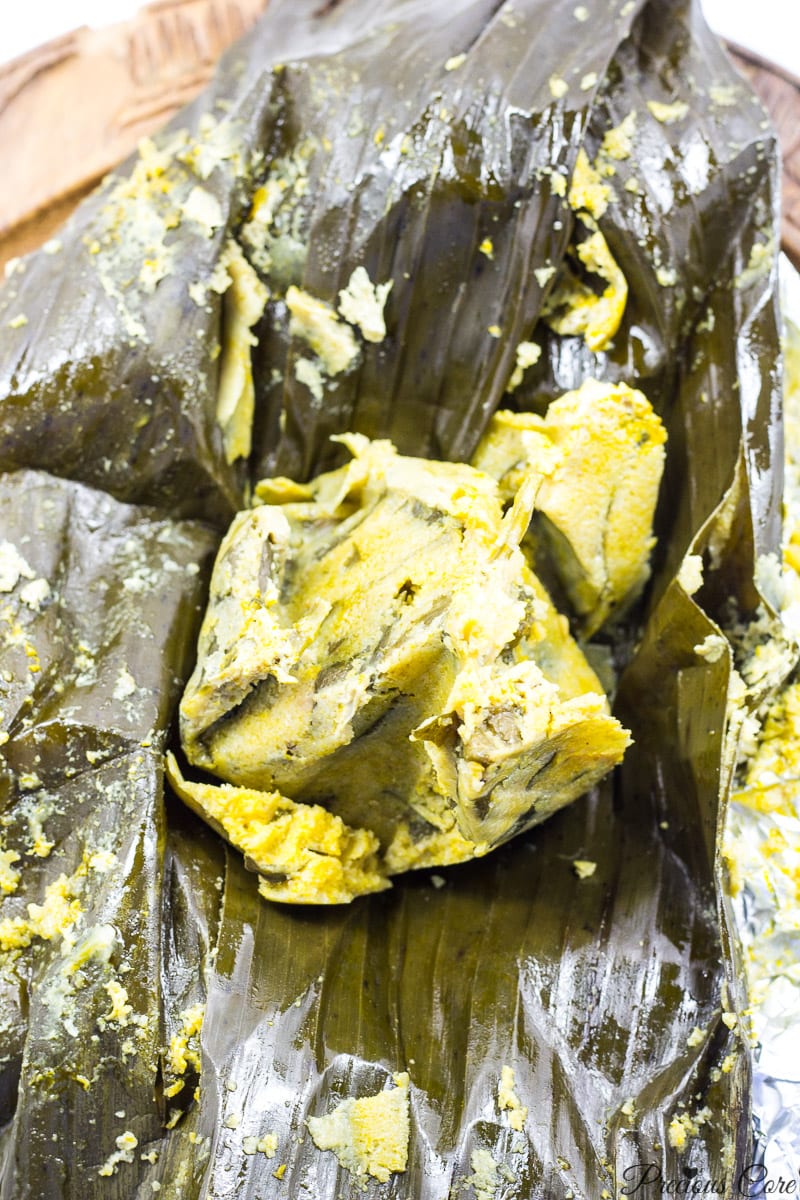 I love eating koki with boiled ripe plantains. They are a match made in heaven. Period.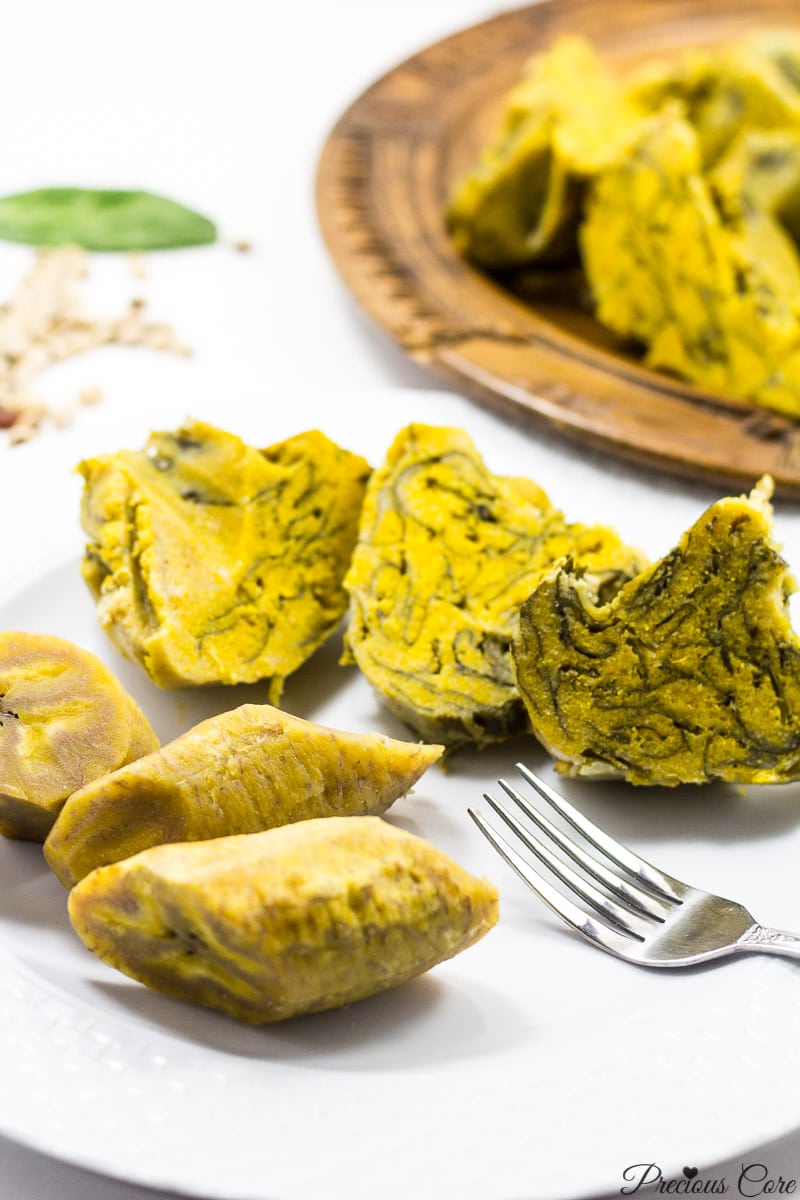 Watch the video to see me whipping up some dee-licious koki beans in my kitchen. Check out the printable recipe below.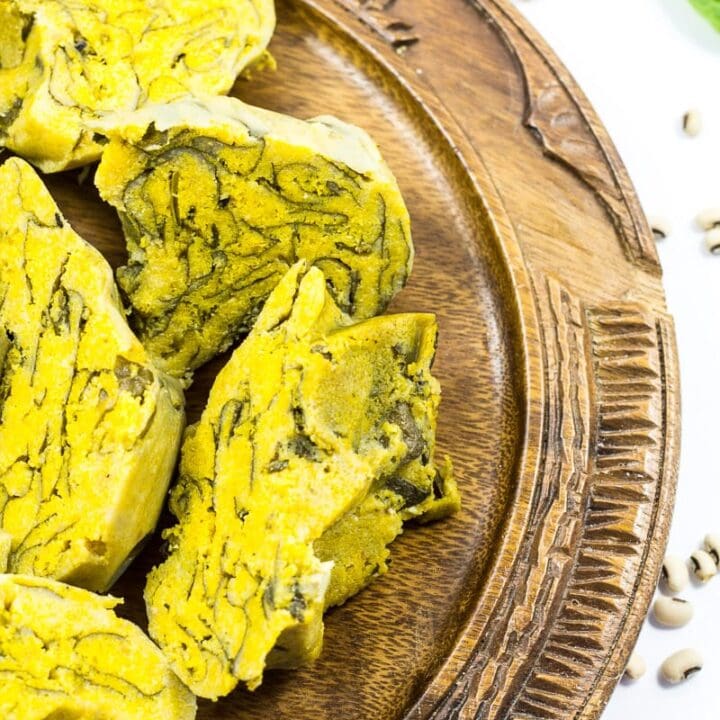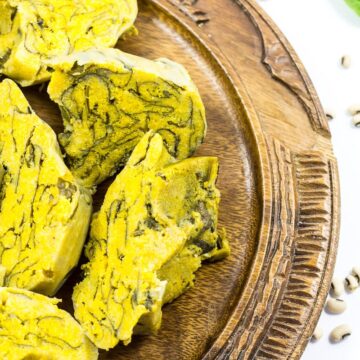 Koki Beans Recipe
A savory pudding made with black-eyed peas. It is moist, spongy and so tasty.
Ingredients
8

cups

black eyed peas (koki beans) - peeled, soaked and rinsed

1 1/2

cups

palm oil

1

bag

spinach (8 oz/227 grams)

1 1/2 - 2

tablespoons

salt

6

cups

water

5

chili peppers (or other hot pepper to taste)
For wrapping
1

bag

frozen banana leaves and/ or 1 roll aluminium foil (preferably non-stick)foil
Instructions
Put the soaked beans into a blender and blend together with 4 cups of water and all the pepper into a coarse paste. You need to blend your beans in batches. I blended mine twice so two cups of water went into each batch (To see how I wash and soak the beans before blending, please watch this video.)

Pour the ground beans into a large bowl.

Lightly warm the palm oil. Do not bleach it. Set aside.

Chop the spinach into large chunks. You can use as much or as little spinach as you need. Set aside.

Add salt into bean paste and mix, using an egg whisk so you can trap in air. This makes for a spongy texture.

Add oil into the bean paste while whisking continuously. Mix until the oil is well incorporated. At this point, taste to ensure that it is well salted. It should taste slightly more salty than it should be. When it cooks, the taste will balance up.

Now add your chopped spinach and gently fold into the mixture.

Prepare your banana leaves for wrapping by warming them over a flame or immersing them in hot water. Wash them thoroughly and cut into rectangles. If using just aluminum foil, no need to do this.

Wrap the koki by placing foil paper cut into a rectangle in a small deep bowl. The part right above the bowl should be lightly pressed to fill the bowl. Add on banana leaf cut into a rectangle or another foil paper. Pour in one cup of the bean mixture. Then wrap by bringing together all the edges of the inner foil paper or banana leaf then equally bringing together the edges of the outer foil paper to form a bundle.

Place the bundle into a pot lined with foil paper or banana leaves. Pour in two cups of hot water, cover all the wraps with more foil paper then bring to a boil. After about 15 minutes, add in about 1-2 cups of water. Let it cook for 1 1/2 to 2 hours. Be sure to check from time to time so it doesn't burn.

Unravel a bundle and serve warm with boiled ripe plantains or any starchy side of choice. Enjoy!
Notes
To get eight cups of soaked beans for this recipe, soak four cups of dried beans.
For a smaller quantity of koki beans, halve the recipe if you so wish.
Optional ingredients you could add in are Maggi (seasoning cubes) and onions. But those are not necessary. Koki is traditionally made without them. It tastes perfect without them.
Nutrition
Calories:
623
kcal
|
Carbohydrates:
69
g
|
Protein:
27
g
|
Fat:
28
g
|
Saturated Fat:
14
g
|
Polyunsaturated Fat:
3
g
|
Monounsaturated Fat:
10
g
|
Sodium:
2140
mg
|
Potassium:
1371
mg
|
Fiber:
13
g
|
Sugar:
8
g
|
Vitamin A:
2275
IU
|
Vitamin C:
11
mg
|
Calcium:
151
mg
|
Iron:
10
mg


*Recipe updated after first posted on March 31, 2016.