MAKE WE TOK DI TORI AS E BE
When Lum-Limunga's parents told her to marry Atangana the security officer from Freca, she did not foresee the drama that would ensue their union. Atangana was robust and had a face that hardly smiled. He didn't seem to want her. He wasn't pursuing her, buying her roses or anything like that. He was definitely not one of the sweet romantic guys Lum-Limunga had read about in the romantic novels. When he walked, he oozed an air that said, I am self-sufficient. I need no woman. He was not her ideal man.
In fact, if there was even an ideal man that was Lum-Limunga's type, she was yet to find him. She was not ready for marriage. As a fresh adolescent, she had other dreams. Like she wanted to try new hairstyles rather than being stuck on low-cut hair as she was forced to do in her secondary school days. She also wanted to attend a professional school to become a lawyer. She had ambitions. Marriage wasn't one of them.
Her parents were strict. Sir Williams Copperfield and his wife, Anne nurtured Lum-Limunga from when they adopted her from a German orphanage till now she was all grown and lived with them in Brisouca. She was their baby, their little girl. They had their own dreams for her. They didn't want Lum-Limunga to go into the world on her own. They wanted her to be with a man. If she didn't want Atangana, she could choose Emeka.
Emeka was short, had a permanent off-putting smile on his face and had a son out of wedlock. He was a rich business man and seemed to want Lum-Limunga more than Atangana did. But she didn't want him. He seemed too pre-occupied with raising his son that Lum-Limunga thought she would be the most insignificant aspect of his life.
"Do I really have to get married now?"
She asked her parents as they sat to eat dinner one evening.
"Baby," her mother said, lightly stroking her hair.
"We are your parents. We know what is best for you. Just trust us with this. We have chosen two of the best men for you. Just tell us which of them you want and we will send you to him. Trust us, you will be fine."
Lum-Limunga gave her mother a look filled with uncertainty. Then she managed to let out an "okay".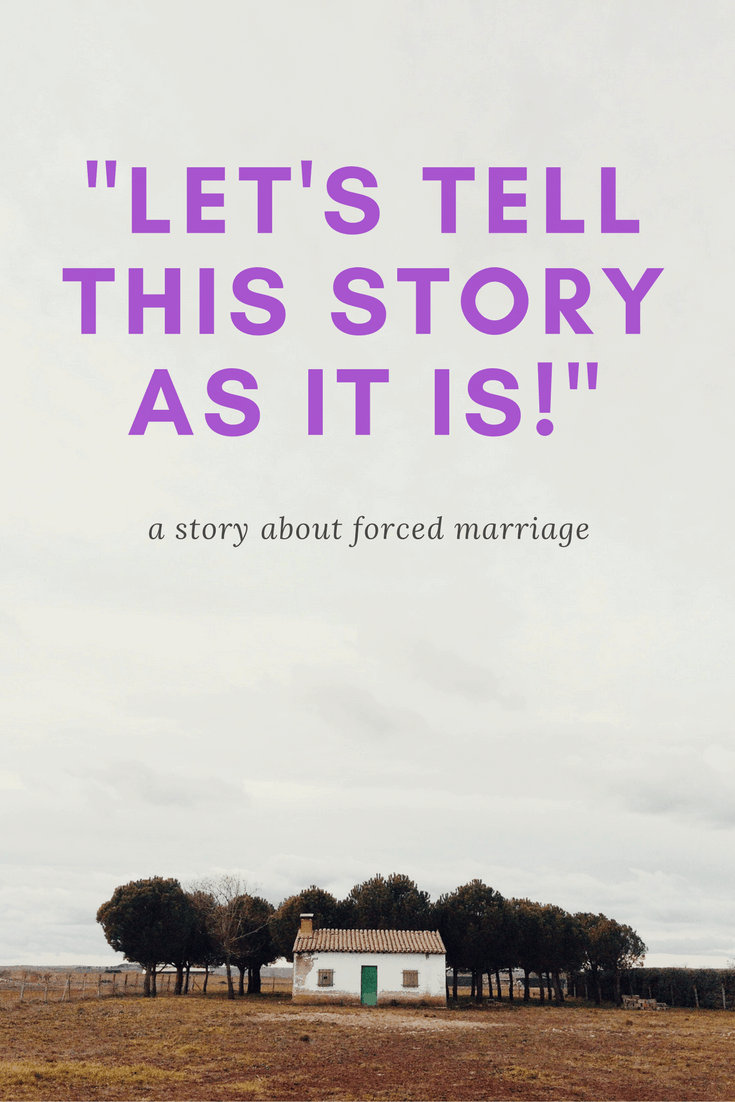 February 11, 1961. That is the day Lum-Limunga had to pick her man like a child would pick a toy from the toy shop. Only this time, the child neither liked the toy shop nor any of the toys.
Lum-Limunga wanted to be a Miss Independent. She had heard horror stories of how women got into relationships with men and their lives took sour turns. Stories of how men literally whipped life out of their women. How they didn't allow them be individuals in their own right. How they made every decision for them. How they assimilated them like colonial masters assimilated territories in those days. How the women merely existed rather than lived because they had gotten attached to those men. Lum-Limunga had heard those stories. And she knew two friends in this exact situation. She watched them die every day though they still breathed. Her heart bled for them. She didn't want to be a similar statistic.
She wanted to be on her own, live life on her own terms and do whatever she wanted. If she was going to get married, she wanted to make that choice on her own. She didn't want to be zoomed off to a man's house like she was a well-priced good in the market.
Her parents assured her that her marriage would be nothing like the horror stories she had heard. They said her would-be husband would protect her and make her more stable in life. The said they wanted nothing but the best for her.
So on this cold day, in the February of the early 1960s, she had to make a choice. She had to choose either Atangana or Emeka. She stood before her parents panting. Her left eye released a tear. Anne, her mother stood up and put her arm around her,
"Honey, you will be okay," she said.
With more tears coming out this time, Lum-Limunga looked at her foster mother and nodded her head in approval. She then grabbed a napkin from the side cupboard and cleaned the tears from her eyes and the watery snout that oozed out of her nose.
"It is Atangana. I will go live with Atangana."
Lum-Limunga made her choice. She chose Atangana over Emeka. Emeka had baggage she didn't want to deal with. Atangana seemed very unappealing but was was she to do? She was asked to choose between the devil and the big blue sea and she chose the big blue sea. She could not deal with "the devil" but at least she could swim in the sea.
Marrate oh, marrate oh

Oh marrate!

Marrate fine, marrate sweet

Oh marrate

(Marriage oh, marriage oh! Oh marriage! Marriage is fine, marriage is sweet. Oh marriage!)
The women in Lum-Limunga's hometown sang and wriggled their waists as they celebrated Lum-Limunga's decision to marry Atangana.
Her parents told her she was going to start living with Atangana, right from that day. Lum-Limunga obeyed them. So with no marriage certificate or church blessing, she packed her things and moved in with him.
The first few days of her marriage were bliss. Lum-Limunga could govern her own life. She only consulted Atangana so that they could plan together as a couple. She had some degree of independence. She wore her hair the way she liked. She even started attending law school- her lifelong dream. She was beginning to like the man. Maybe her parents were right, after all.
Then one day, Atangana slapped her. Because she asked him what he did with all the money in her account. The money meant for her tuition. The money she made from the oil business her parents handed over to her. He used his hand and applied pressure to her cheek.
Lum-Limunga ran to her kitchen to cry. She was livid. How could a man who professed to love her inflict hurt on her? That slap was the beginning of things. A series of evil things that characterised their arranged union.
In the years that followed, Atangana excessively controlled her. He told her how to wear her hair, what friends she could keep, who she could visit and what she could cook.
He controlled how she used the money she made from her lawyer job, forced her to speak, cerf, his traditional language instead of silgne, her own traditional language. He took over the oil business her parents handed over to her. His ways were simply despicable.
Any time she opposed him, he tortured her. He withdrew privileges from her. Like taking away her car keys and forcing her to take taxis to work. Like withdrawing every iota of compassion he had for her.
Sometimes, after treating her badly, he would go to an expensive store and buy her gifts. The gifts made her smile but that smile was often short-lived because in no time, Atangana launched another episode of torture.
This went on for years and years. In those years, Lum-Limunga was beaten, scorned, mocked, raped and maimed. Maimed. So maimed that she walked with her head down. She lost her self-confidence. She lived like a stranger in what was supposed to be her own home.
Yet every year, Atangana celebrated that day in the second month of the year. The day when Lum-Limunga got into a relationship with him. Such a paradox, it was.
One day, when she had had enough, she decided to write a note to Atangana:
"My dear husband, I would like us to talk. These years with you have been pure hell for me. I want us to go back to the way it used to be. To how I could make my own decisions, speak my own language and keep my own friends. Please let's talk about this. I want this union to work. I love you."
She slipped the note into Atangana's pocket as he left for work that morning. The note was the first thing he read when he got to his desk. He read it and then he laughed. He laughed so hard that his co-worker leapt from his desk to see if he was okay.
"I am not done with you yet!"
Atangana spoke to the piece of paper in his hands as though it were the woman in his house.
He did not say a thing about it to Lum-Limunga when he got home that day. He continued life as usual, violating the very essence of her existence. Lum-Limunga watched him everyday, hoping he would say a thing or two about the note she had left in his suitcase. He said nothing. She sent a second and a third note, with the same message, hoping to get him to talk with her. He didn't make an effort.
Then one day, as he got home from work, he met her waiting for him at the door. She grabbed him by his balls.
"You must talk today!" She exclaimed.
Atangana looked at her, feigning shock.
"What is it with you this woman? What do you want this time?"
"Wulilililililililililili!" she screamed.
The volume of their voices attracted neighbours who came into the scene
"Lum-Limunga, what is it?."
An older woman asked from the crowd that was gradually gathering to watch the man-and-woman-drama.
"Mama, ask her oo." Atangana said with an innocent-looking face that was a sharp contrast to the villainy that characterised his life with her.
Lum-Limunga released his balls then looked at him with shock written all over her face. She looked at the crowd and felt like crying before them. But what came from her heart was resilience.
"Wulilililililililililili! Whooosh!" She screamed, running around like a woman that newly lost her sanity.
"Make we tok di tori as e be!" (Let us tell this story as it is!)
She exclaimed in pidgin, her lingua franca, looking at the crowd with wide open eyes.
"50 years ago, my parents forced me into a relationship with this man!"
She pointed at Atangana who now had a face that looked like it wanted to laugh and cry at the same time.
"This man was supposed to love and cherish me. He was supposed to protect me. But what did he do? He beat me up. He broke my bones. He raped me. Yes, he raped me. He took away my car keys. He controlled the money I made as though it were his. He made fun of me. He laughed at me. He treated me like trash. And when I begged him to talk with me, he ignored me."
"Wulilililililililili!!!"
She screamed even louder this time.
"Look Atangana, your end is here. I will not allow you treat me as a lesser person."
"Give me back my life! Give me back my peace! Give me back my money! Give me back my everything!"
"I am done with you. I do not want this union anymore. We do not even have a marriage certificate in the first place. I'm going to move out of your house and live my life free from your wicked claws. A caged woman needs to liberate herself"
"No be so?" (Isn't it?)
She asked the crowd.
"Na so!" (It is!)
They answered.