Njanga Rice or Crayfish Rice or Palm Oil Jollof Rice or Palm Oil Rice or Native Jollof Rice is rice cooked with crayfish, palm oil. It is smoky, spicy, so good!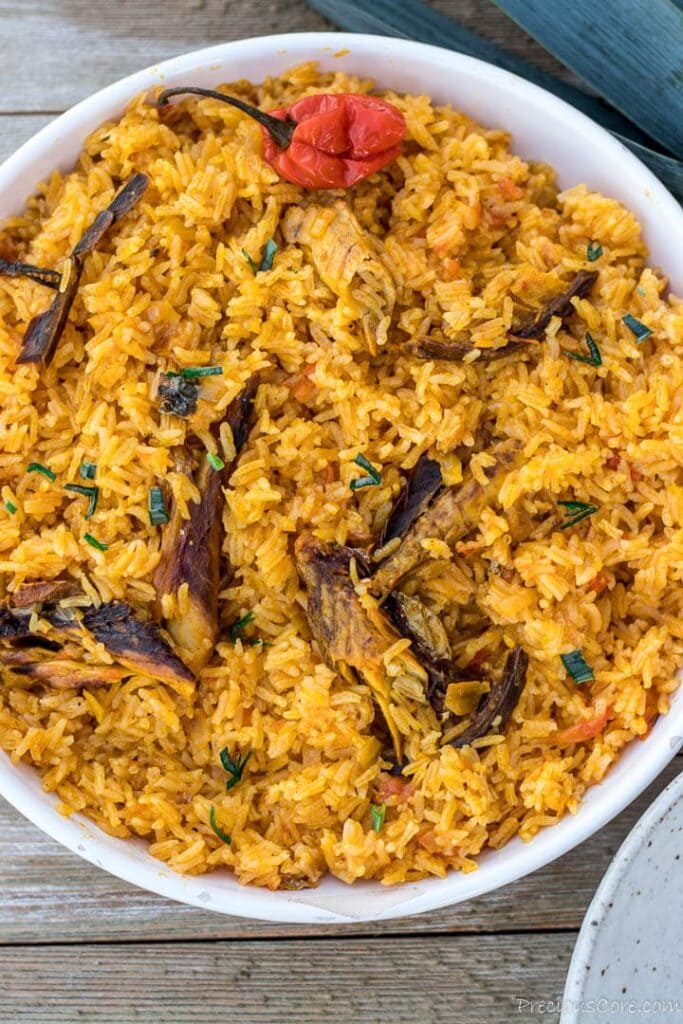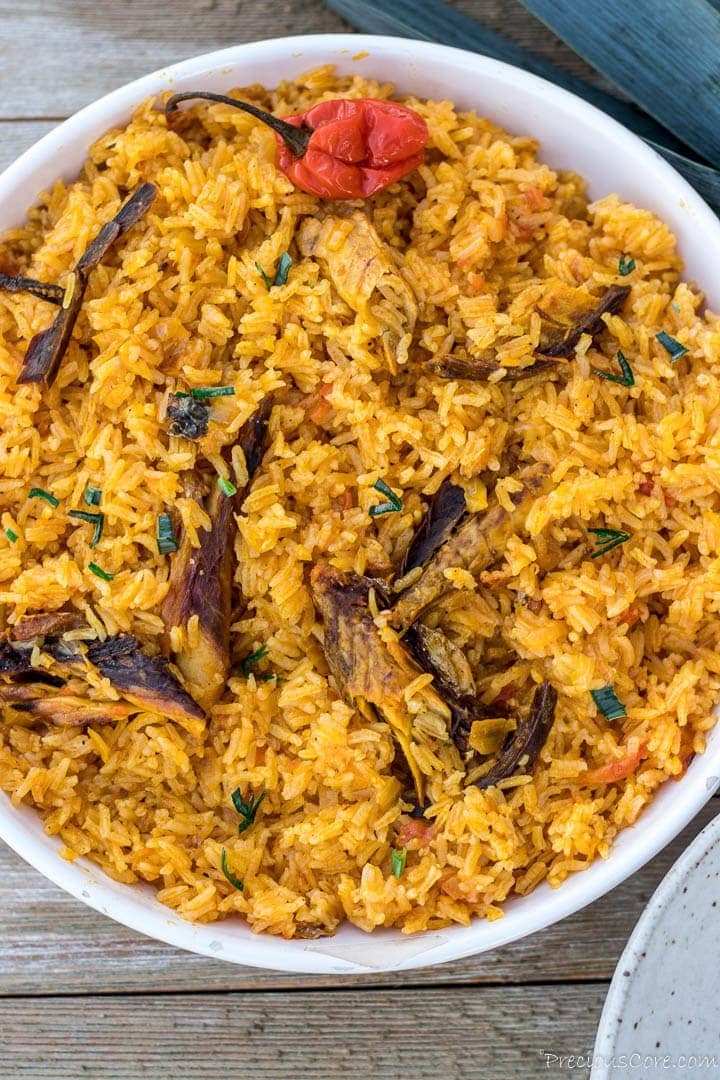 When I first wrote this recipe on the blog, it was totally unplanned. I woke up one day and made a quick early morning craving. It was so good so I thought I should share with someone.
It was Njanga Rice which I made with already cooked white rice. It tasted great because when you cook rice the fried rice way, starting with cooked rice, the ingredients aren't overcooked so the flavors are so vibrant. That's how I make my
Jollof Rice.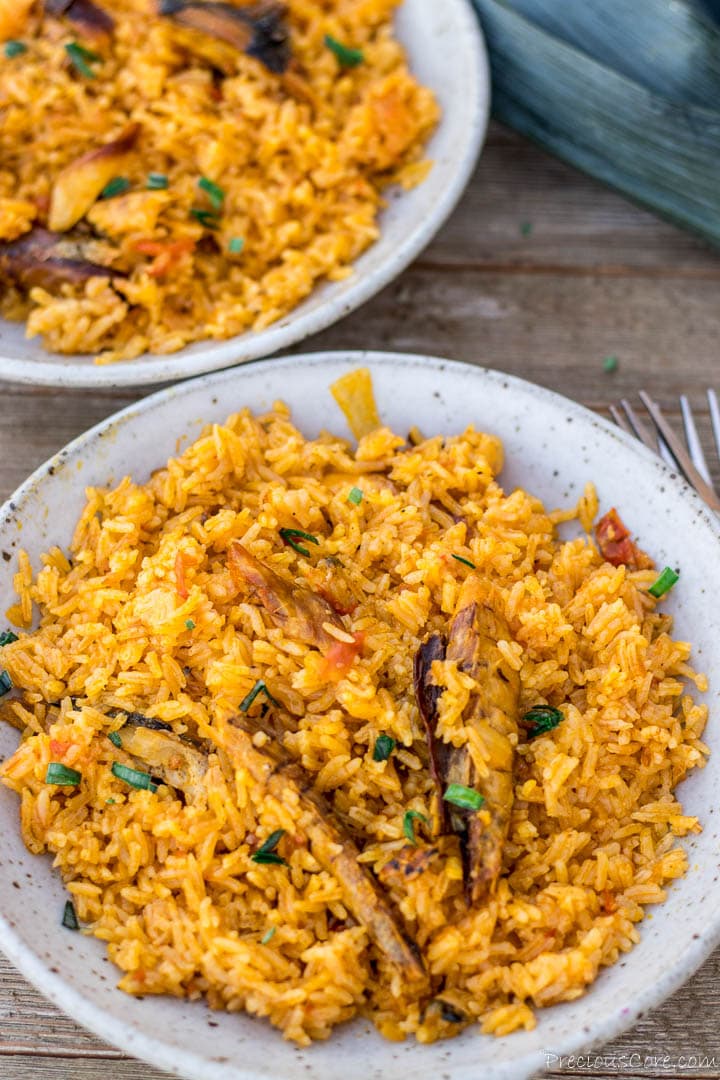 Then, I have now developed a recipe for Njanga Rice all made in one-pot which is epicly delicious and super easy to make. My husband couldn't stop eating!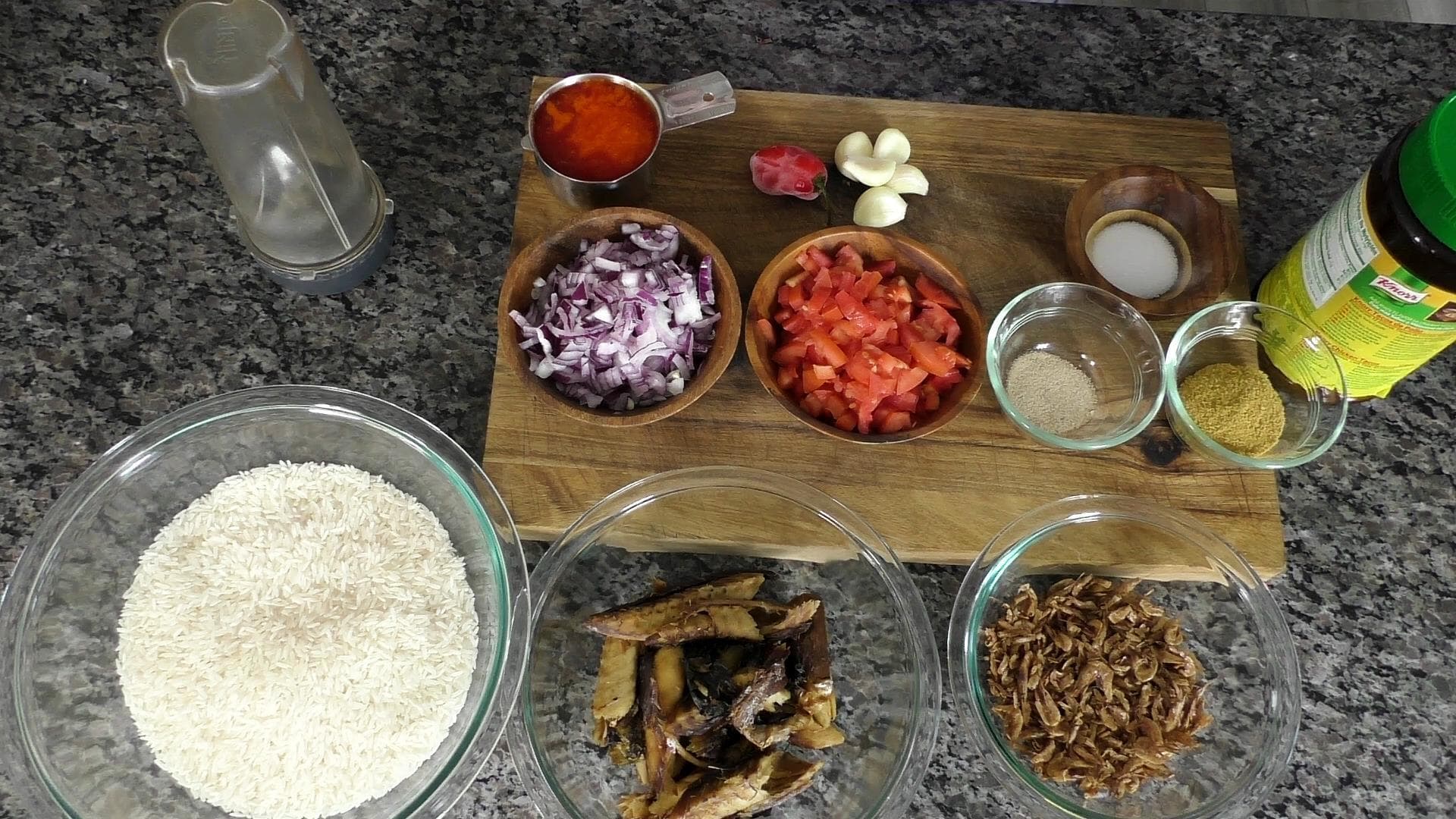 I have still included my initial recipe for making njanga rice with pre-cooked white rice so on days when you have white rice and need to make something tasty, you can still make some crayfish or palm oil rice.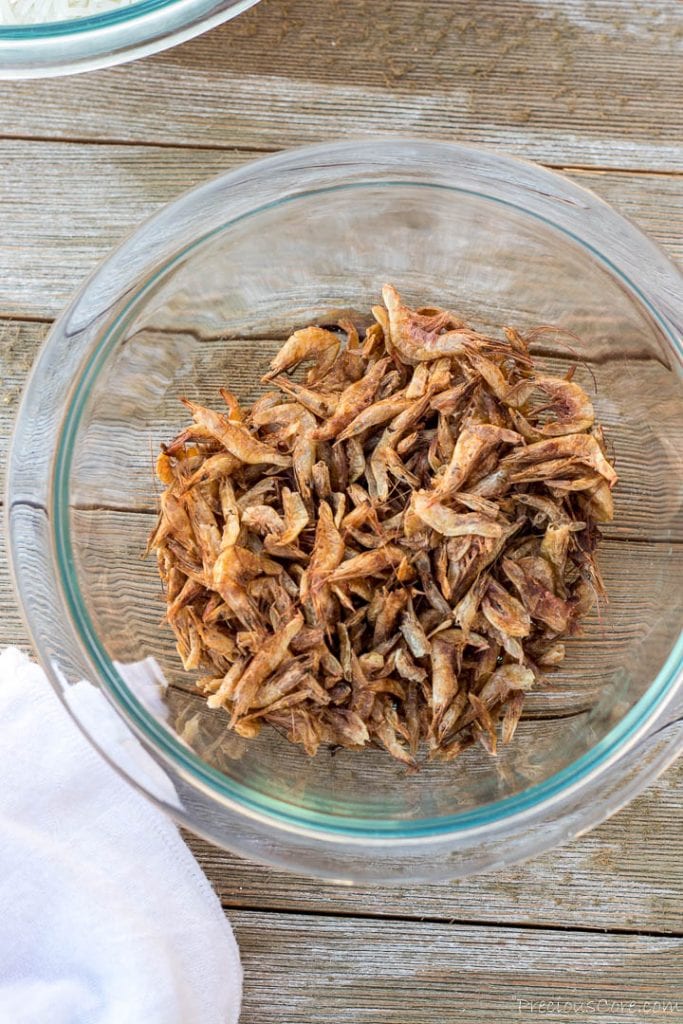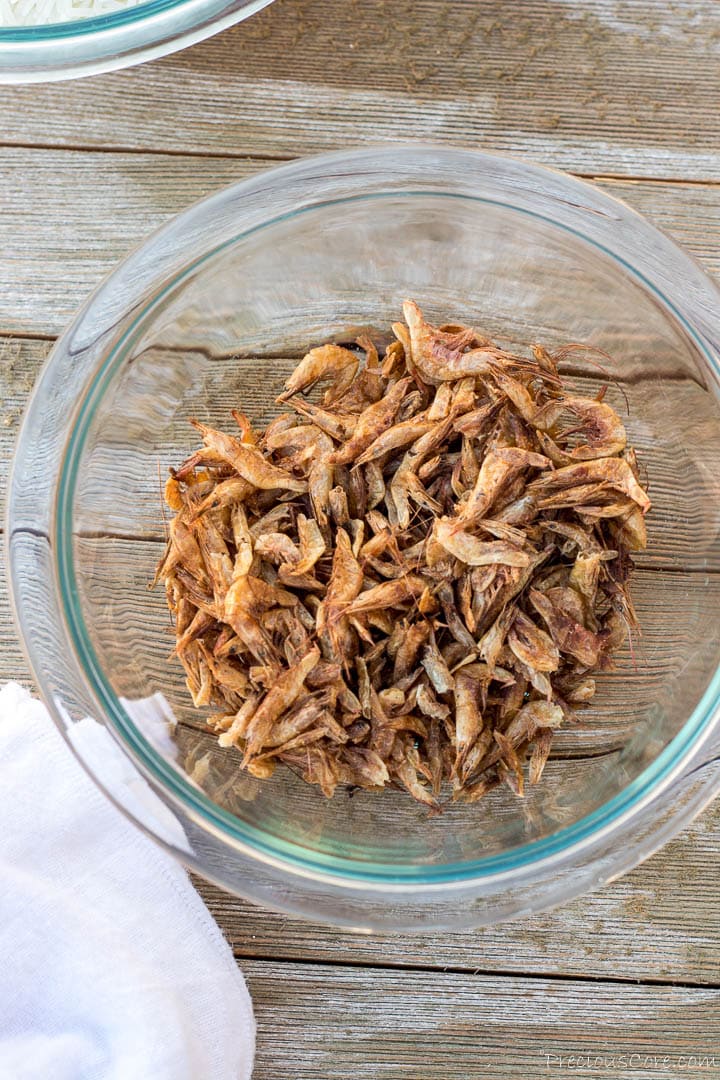 What is Njanga?
"Njanga" is the local name for crayfish in Cameroon. Crayfish is basically mini shrimp or prawns that are dried. Crayfish has a salty, earthy taste.
Combine crayfish with red palm oil, chili or habanero pepper, crayfish seasoning cube and rice and your taste buds will be zengeing for Jesus.
How To Make Jollof Rice With Palm Oil (One-Pot Method)
1. Heat up oil and saute onions. Add tomatoes and cook until they shrink. Add in blended garlic and stir. Add in coarsely blended crayfish and stir. These will form a great base for the Jollof Rice with Palm Oil.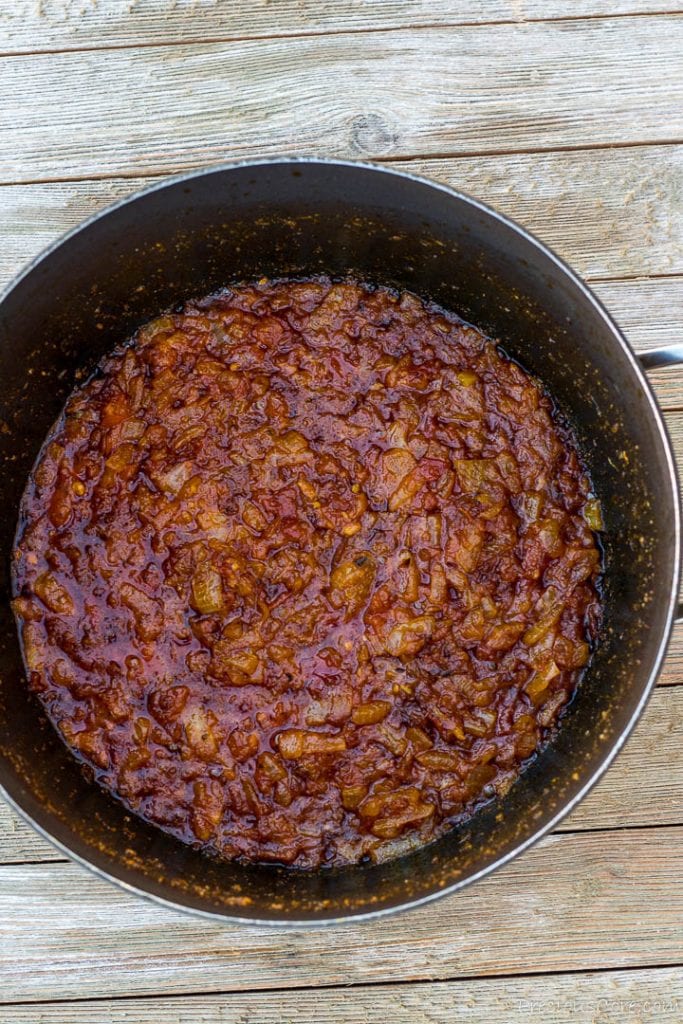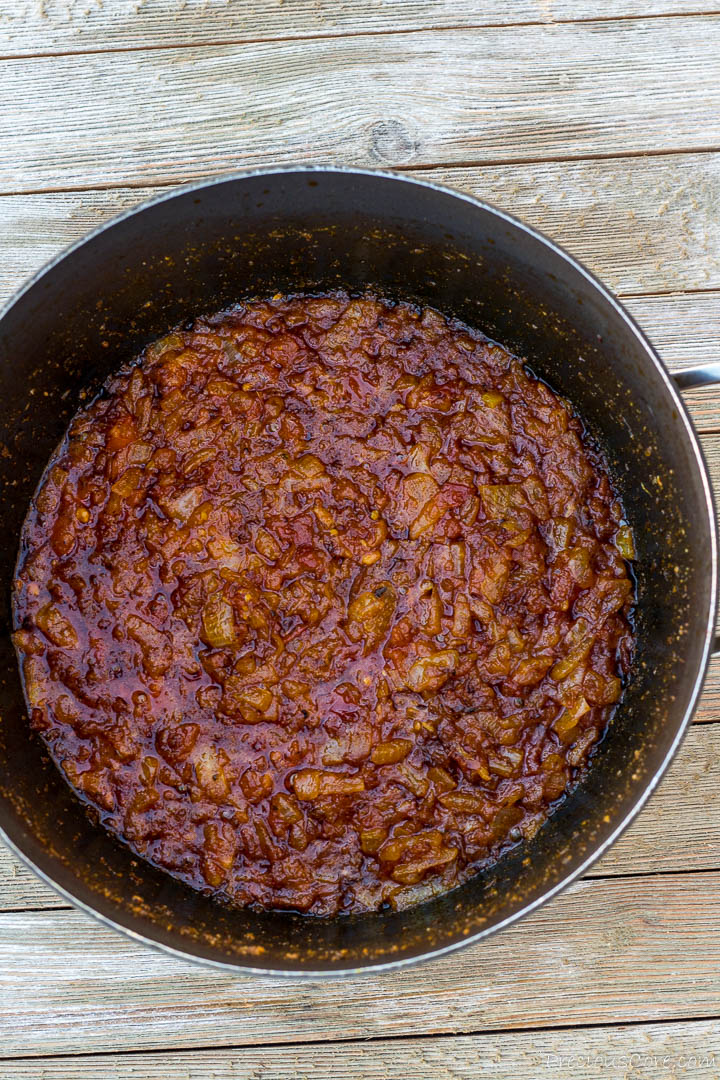 2. Add washed rice to the pot and stir.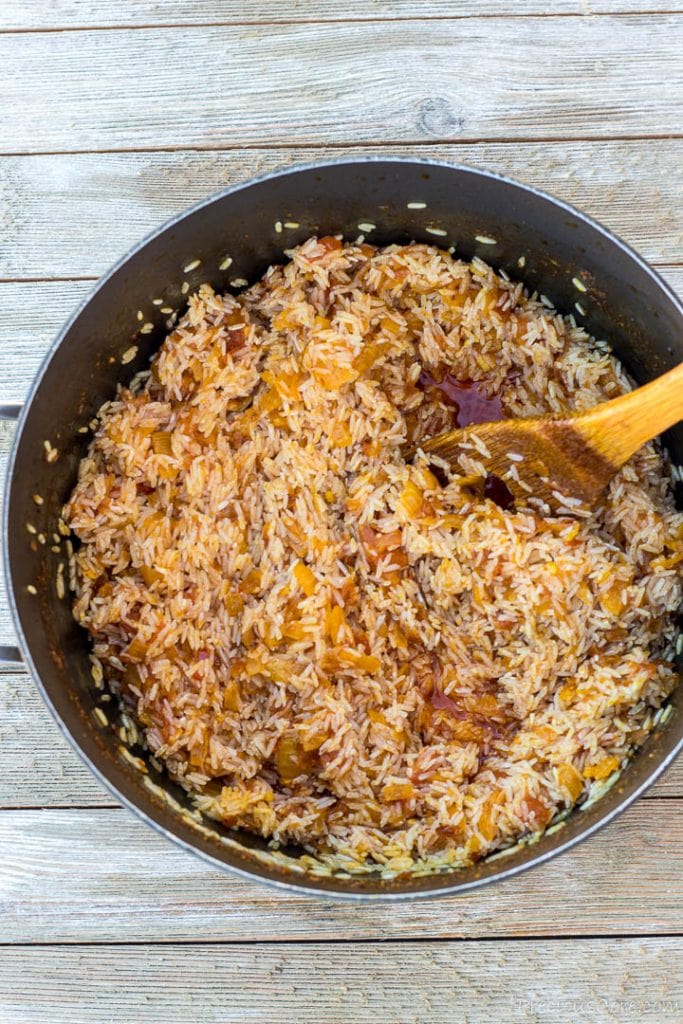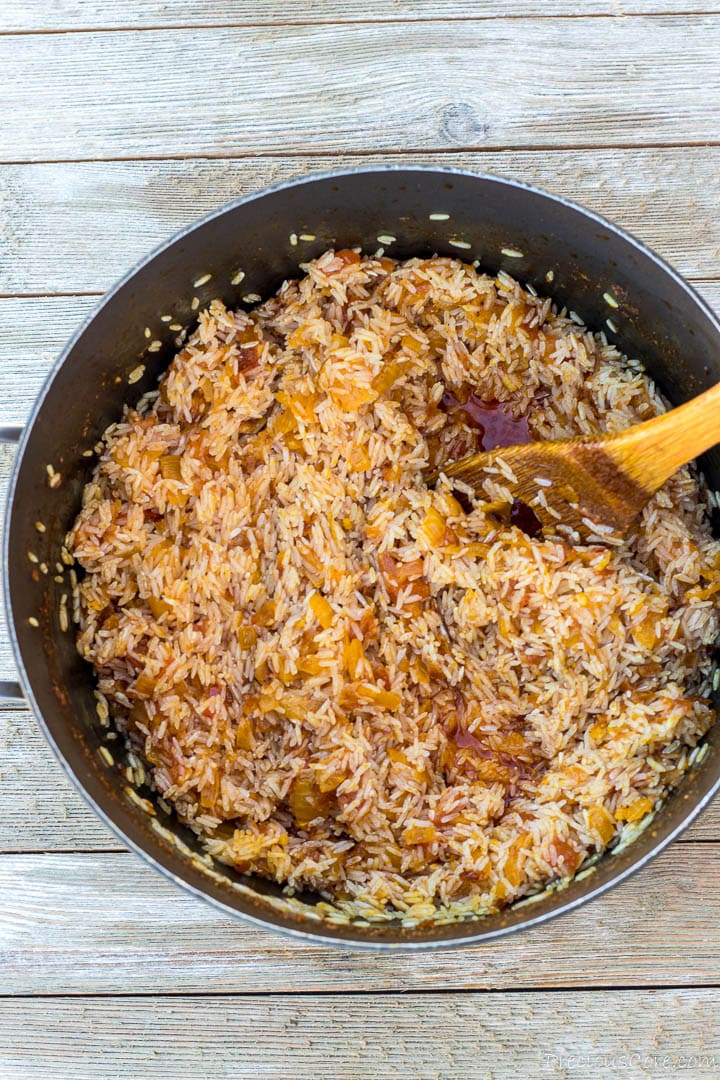 3. Add water, salt, seasoning cubes or bouillon powder, smoked fish, and habanero pepper. Cover the pot and let it cook until the rice is done.
4. Once the rice is done, let it rest covered for about 5 minutes.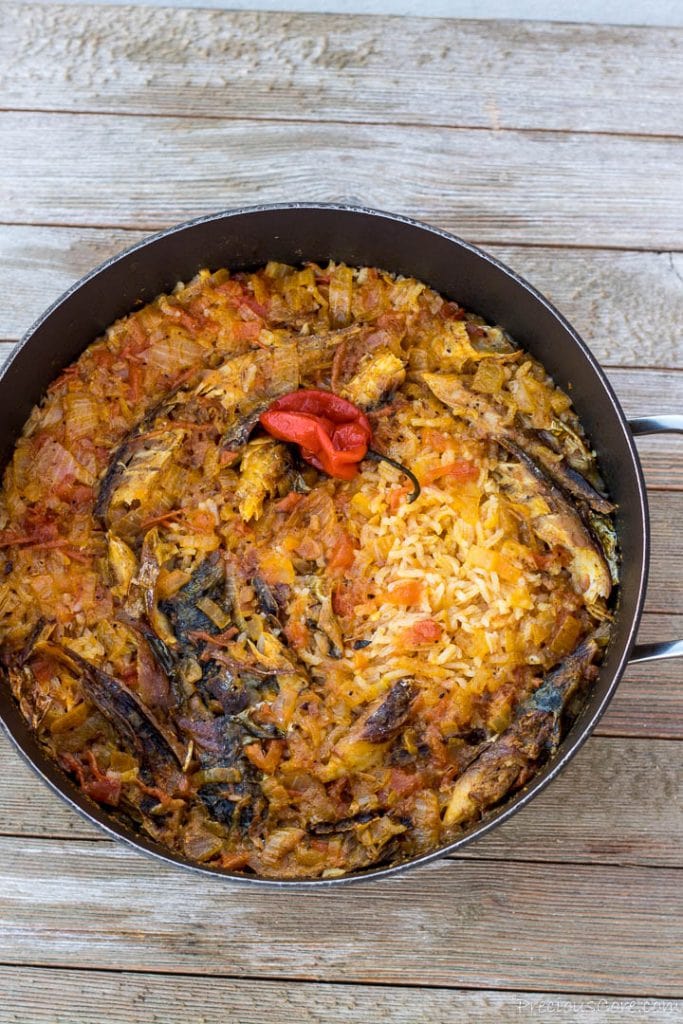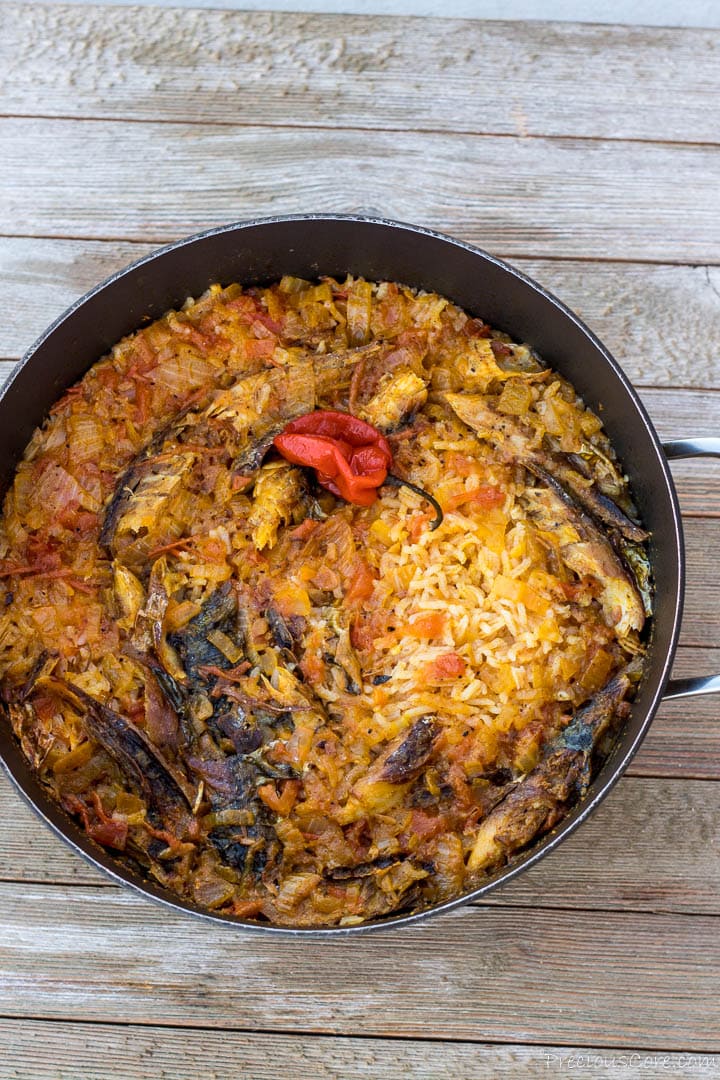 5. Open pot and fluff rice with a fork. Serve warm.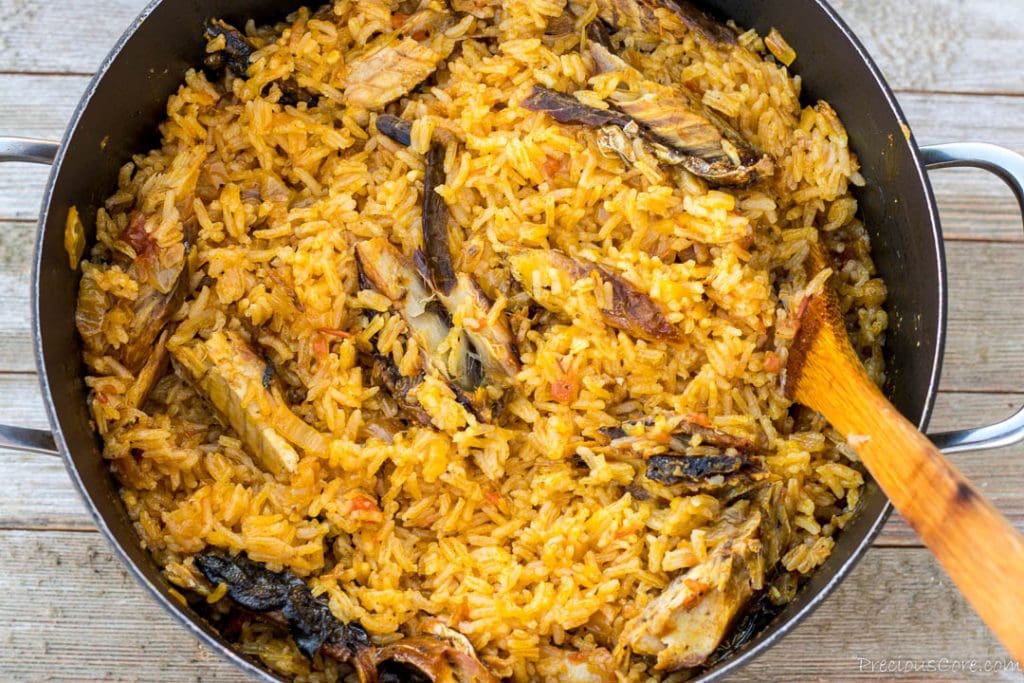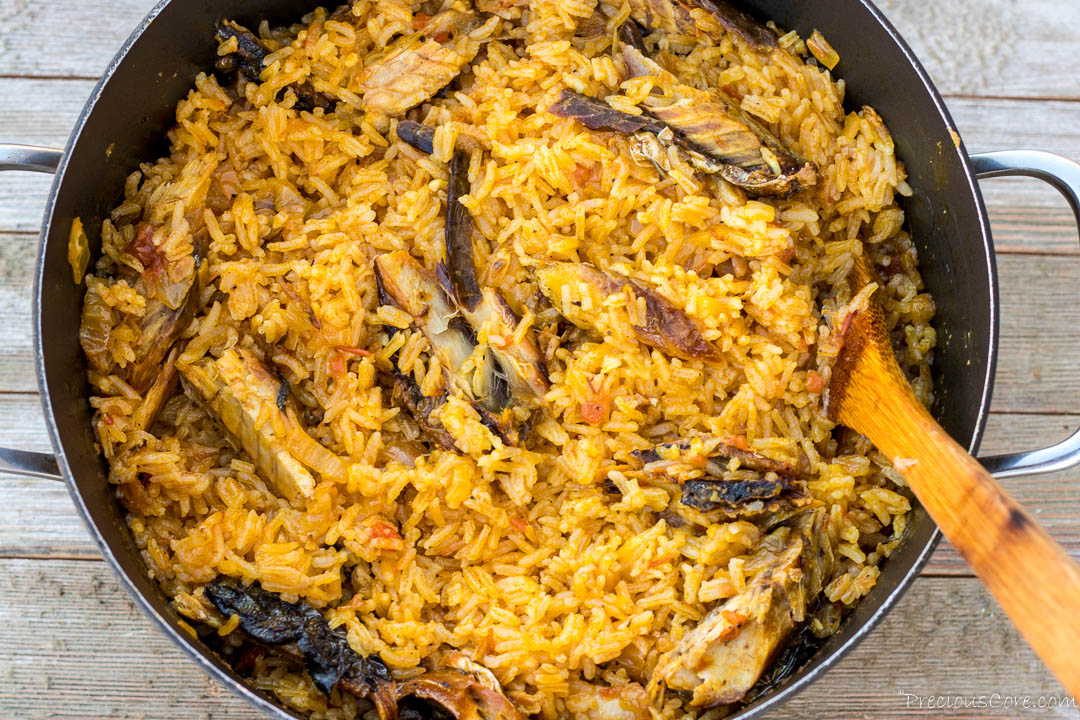 How to Make Njanga (Crayfish) Rice Also Known as Jollof Rice with Palm Oil (pre-cooked rice method)
Prep time: 5 mins
Cook time: 30 mins
Total time: 35 mins
Serves:4
Here is what you need to make Njanga Rice with Pre-cooked Rice
4 cups of boiled rice
2 medium tomatoes
1 medium onion
½ cup of palm oil
1 crayfish seasoning cube (maggi crevette)
2 Chili peppers (or 1 habanero pepper)
1 stem green onion
I finely chopped garlic clove
¼ cup crayfish
Chop onions, tomatoes, chili peppers, green onion and set aside.
Pour your palm oil in a clean pot and allow to heat up. Add in chopped onions and fry for a while. Add in chopped tomatoes and fry until it shrinks and acidity is much reduced. About 7 minutes.
Add in the crayfish, garlic, chili pepper, and green onion. Adding crayfish and garlic to hot oil like this unleashes a very lovely flavor.
Put in the cooked rice and mix well to combine being careful not to mash the rice.
That's it! That's really it! This is a simple way to make Njanga Rice or Jollof Rice with Palm Oil.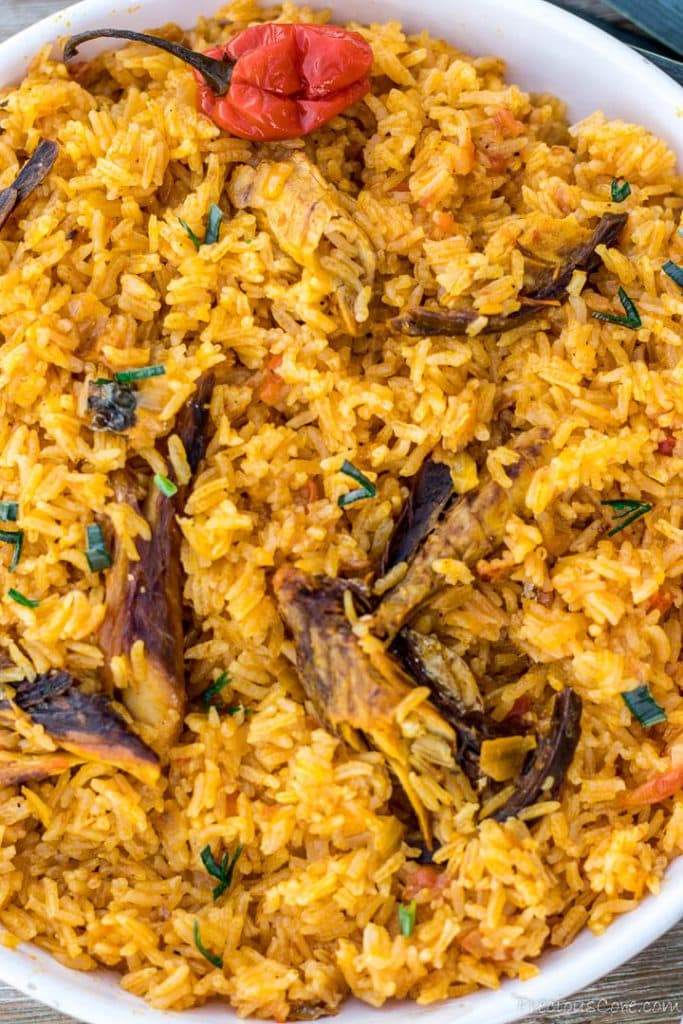 What does Njanga Rice taste like? Njanga rice is smoky, spicy, with a lovely fragrance from the red palm oil.
Palm oil rice tastes like home to me. This is a meal I grew up eating and just making it and inhaling the aroma connects me to home.
I love enjoying crayfish rice with some avocado or banana on the side. So so good!
Watch How to Make Jollof Rice With Palm Oil
Watch me making Jollof Rice with Palm Oil in the video below. If you haven't subscribed to my Youtube channel yet, SUBSCRIBE so you do not miss any of my videos.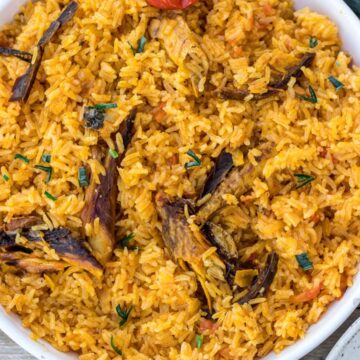 Njanga Rice - Jollof Rice with Palm Oil
Njanga Rice is Jollof Rice with palm oil and crayfish (dried shrimp).It is smoky, spicy and so good. Here is how to make the perfect palm oil rice.
Print
Pin
Rate
Ingredients
¾

cup

crayfish

loosely packed, see Note 1

5-7

cloves

garlic

peeled. I used 5 large cloves

¾

cup

red palm oil

see Note 2

1

cup

chopped onion

from about a medium onion

2

roma tomatoes

chopped

3

cups

jasmine rice

or other long-grain rice. See Note 3

5

cups

water

1

teaspoon

salt

3

teaspoons

chicken bouillon powder

substitute with 3 small Maggi seasoning cubes or 1 large Maggi crevette (crayfish Maggi). All can be gotten from African stores

½

teaspoon

ground white pepper

2

cups

smoked fish

bones removed. Substitute with dried fish. Smoked fish and dried fish can be gotten from African stores.

1

habanero pepper
Instructions
Place the crayfish into a blender and pulse so the crayfish is broken down. Do not grind it into a powder. Just break it down a little bit.

Blend the garlic cloves into a paste.

Place a pot (preferably non-stick) on high heat and pour in the palm oil. Let it heat up for about 3 minutes then add the chopped onions. Stir and saute until translucent. About 2 minutes.

Add the chopped tomatoes to the pot and let it cook while stirring from time to time until it shrinks. About 7 minutes. (While the tomato cooks, wash the rice and set aside)

Add the blended garlic to the pot and stir so it releases its aroma.

Add the crayfish to the pot and stir for about 30 seconds.

Add the washed rice into the pot and stir so everything is incorporated.

Add in 5 cups of water, the 1 teaspoon of salt, 3 teaspoons of chicken bouillon powder and half teaspoon of white pepper. Stir to combine.

Add the smoked fish and whole habanero pepper.

(Note:If you want the rice spicy, cut the habanero pepper in half before adding it to the pot. I add it whole because my kids can't tolerate so much heat. I press the whole cooked habanero pepper into my plate of rice to make it spicy).

Cover the pot and turn down the heat to low. Let it cook for 40 minutes then turn off the heat and let it rest covered for 5 minutes.

Open the pot, fluff the rice with a forkand serve warm.
Notes
1. Crayfish is dried shrimp from West Africa. I often get it from African stores. You can buy crayfish either whole or ground. I prefer getting it still whole so I can be sure it is not bad.
2. Red palm oil is a natural oil gotten from palm nuts. It is mostly locally produced, greatly used in West African cooking and highly nutritious. Red palm oil can be gotten from African stores or amazon.com.
3. I used jasmine rice because I love the flavor but you could use another long grain rice you like. You may need to adjust the quantity of water added to the rice depending on the rice you choose.
4. Watch the recipe video so I can walk you through how to make Njanga Rice
5. Nutritional information is an estimate.
Nutrition
Calories:
442
kcal
|
Carbohydrates:
27
g
|
Protein:
16
g
|
Fat:
30
g
|
Saturated Fat:
14
g
|
Polyunsaturated Fat:
3
g
|
Monounsaturated Fat:
11
g
|
Cholesterol:
51
mg
|
Sodium:
1024
mg
|
Potassium:
284
mg
|
Fiber:
1
g
|
Sugar:
2
g
|
Vitamin A:
243
IU
|
Vitamin C:
8
mg
|
Calcium:
49
mg
|
Iron:
1
mg